This weekend I took part in a virtual race organized by Ironman, specifically the Ironman VR3. This is the third virtual race organized, and this time it has been composed of the following distances:
1,5km run
20km ride
5km run
Therefore it is practically a sprint duathlon (but missing 1km run), although it is not necessary to complete the three activities consecutively, nor necessarily in that order.
But before I tell you more about my race, how about I first tell you about Ironman VR and how all this was born?
What's Ironman VR?
Ironman VR comes from Ironman Virtual Racing. With the COVID19 crisis, Ironman had to cancel all of their races worldwide, from now until June (and will surely continue to cancel later). This has meant the postponement of a lot of races for the last months of the year.
I was training for Ironman Marbella 2020 and I already received my cancellation share, if you had any race you were going to participate in shortly, the same thing would have happen to you.
https://www.instagram.com/p/B-K-MhWoklM/
After these postponements Ironman has sought another way to keep people around their brand and races, both for professionals and age groupers. A smart move since it doesn't look like we're going to be able to compete any soon, at least keep your brand fresh among the athletes.
So far, two races had been held up with different distances:
Beyond offering different distances, what Ironman is probably doing is analyzing which format athletes like the most and knowing what they are most interested in. Ironman VR1 had 11,057 participants and 6,692 finishers, while Ironman VR2 increased the stake to 23,034 competitors with 16,388 who completed the three distances within the allowed deadline. At the time of writing these lines, Ironman VR3 has 31,132 participants with 5,060 finishers, although it is still open and more than a day left to register and race.
As I said earlier, it is not necessary to perform all three races consecutively, nor should it be done on the same day. Ironman offers the entire weekend to complete it, from Friday 18:00 GMT to Sunday 23:59 GMT. The schedule was the same on the three weekends in which they held the competition.
To take part you simply have to register at Ironman Virtual Club and complete the distances and sports you are required. It doesn't matter which platform you complete them on, or if you do it outdoors if you are in a country that is not under confinement.
That is, even if the Pros uses Rouvy for the bike, age groupers can use any other platform, simply do it with on the bike trainer or complete it outside. This means that this races will be present not only during confinement, but may remain available in the future.
What's Ironman Virtual Club?
Ironman Virtual Club is the foundation on which Ironman VR is based. It is a training hub that allows you to connect with multiple applications with which you can synchronize your workouts.
You may have noticed that Strava is not among these platformsbut that is a "shitshow" completely different.
When you complete a workout and sync it to the platform you work with, it in turn automatically synchronizes with Ironman Virtual Club, appearing on your dashboard.
I have synchronized the Garmin platform (because it is the one I have also synchronized with Zwift), and it is the one that "supplies" the workouts to that panel.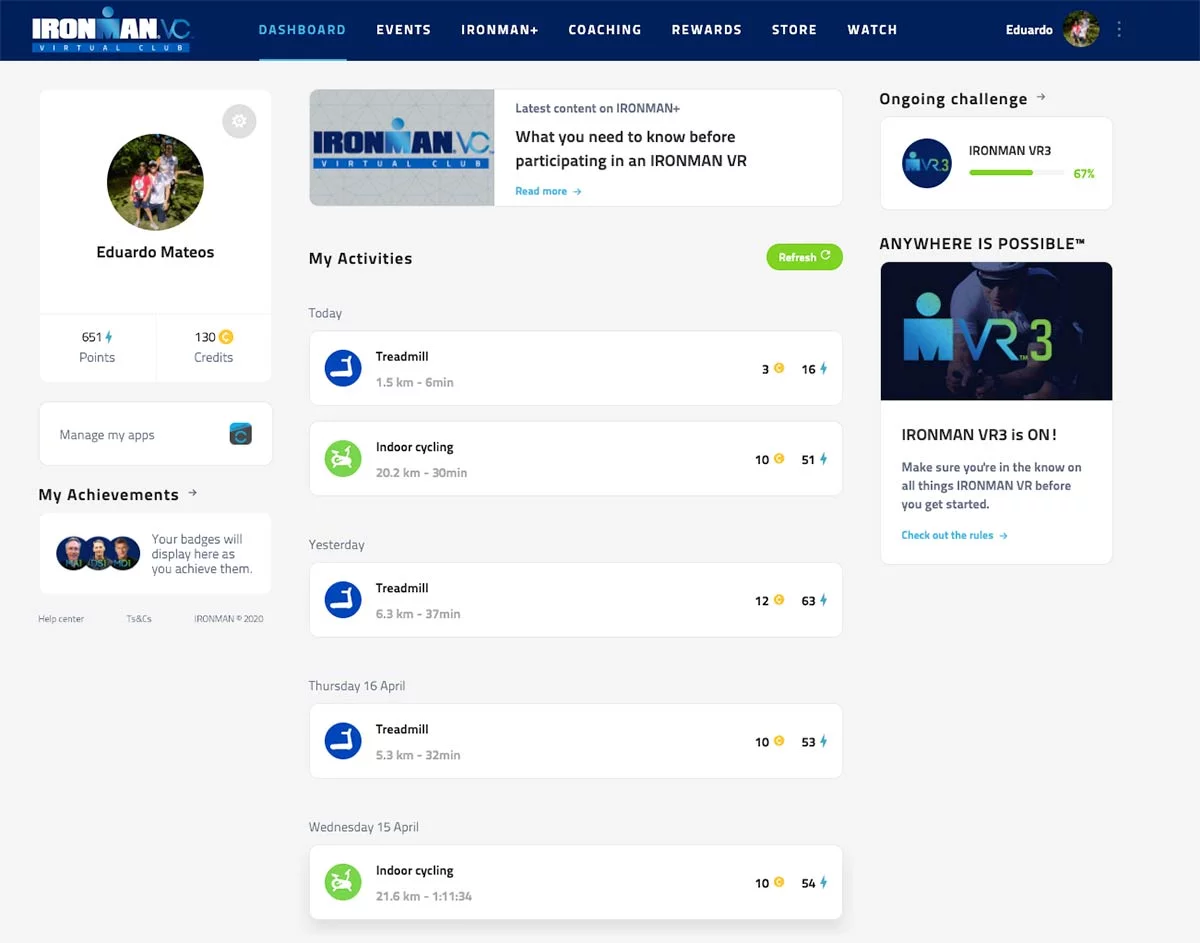 Uploading our trainings to this platform not only allows us to participate in Ironman VR competitions. As you can see in the dashboard image, when you upload your workouts the platform gives you credits depending on its duration and intensity. The more intense and longer it is, the more credits you will receive.
This is the way Ironman has sought to continue to give visibility to its sponsors. Obviously these sponsors had a signed contract and payments to make during 2020 (which Ironman wants to continue to receive), but without races there is no promotion. How has Ironman managed to offer this visibility to the sponsors? Through the "Rewards" section.
Those credits we get will be podran to exchange different discounts from various vendors, "coincidentally" from Ironman sponsors.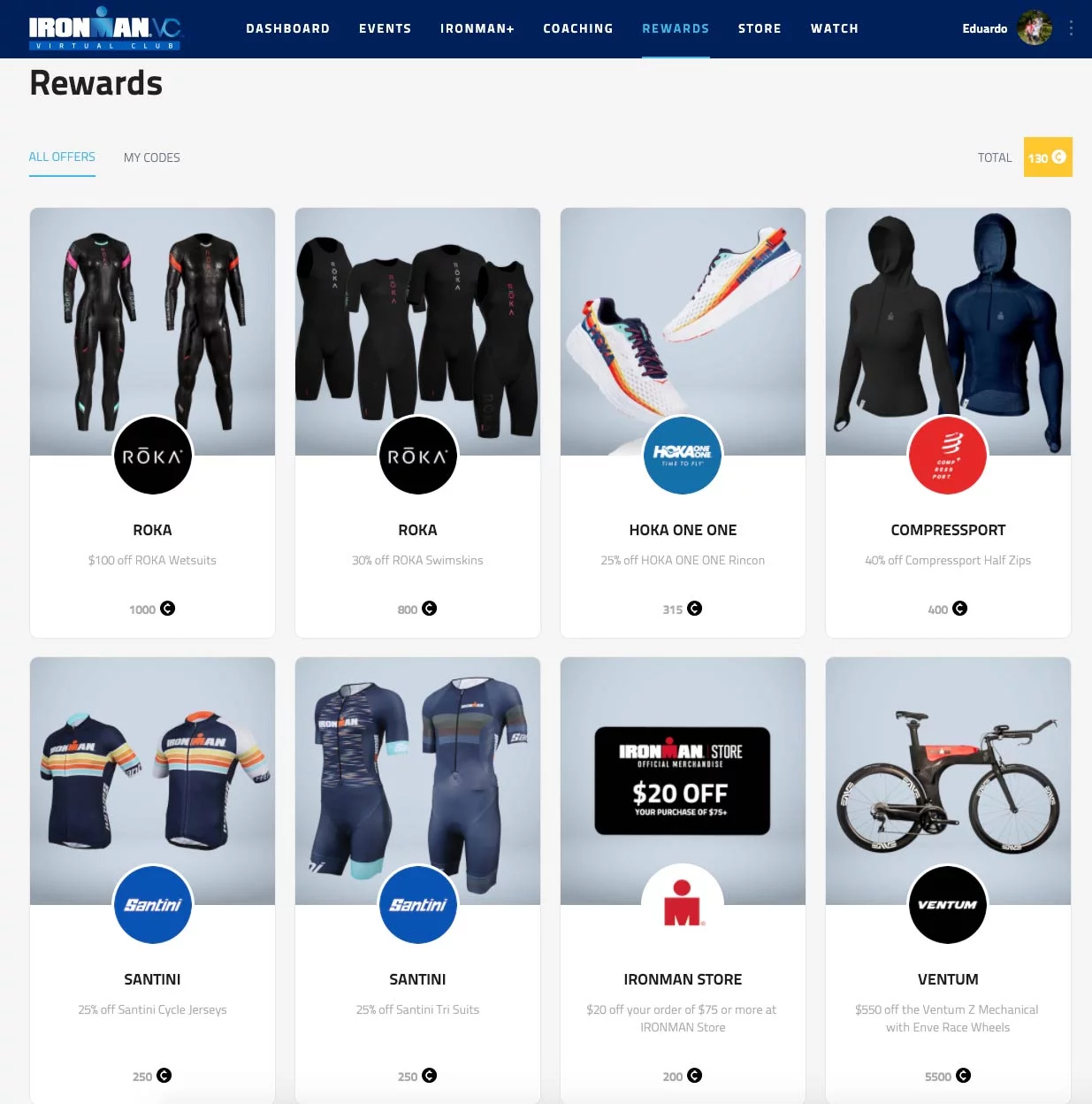 Summarizing all this fuss, Ironman Virtual Club is Ironman's new aggregator platform, while Ironman VR are the competitions that are held, for which you have to register in said web and synchronize the platform of your choice, as it's the way in which we deliver our trainings for events or competitions.
Is that clear? Well, wait, there's more.
Has Ironman built a platform overnight?
Ironman has a lot of cash, but money can't work miracles (nor buy dinosaurs). It didn't take too long since Ironman announced they were going to launch something until they made it official. No matter how many developers you can gather, it's impossible to create something from scratch in just over a week.
To develop the Virtual Club, Ironman has partnered with Sport Heroes, a company specialized in creating virtual events for different companies as corporate events. So the development was already done and it was all a matter of adapting the Sport Heroes product to Ironman's demand.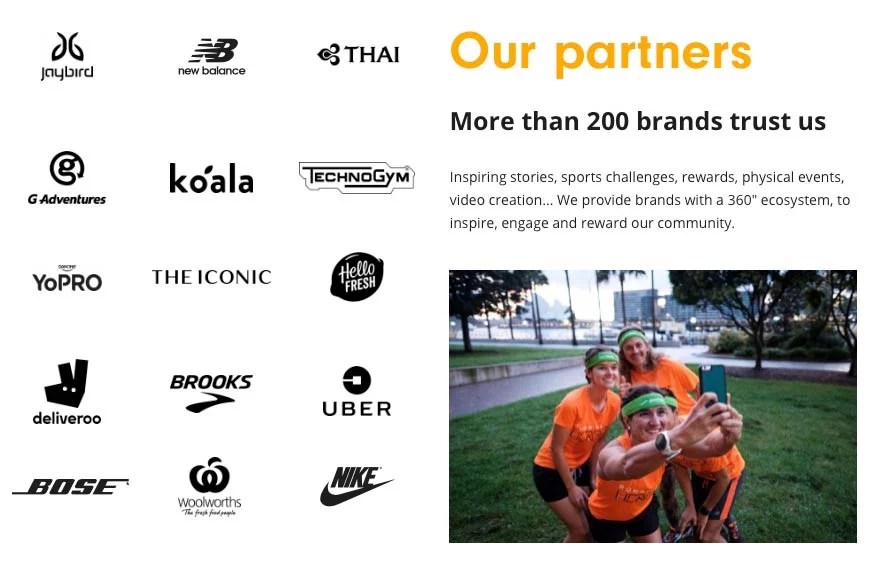 This is not the only partnership they've been looking for these days. If you've watched any of the Ironman VR broadcasts during these weekends, you'll also have seen that there are official PRO races. For them Ironman has reached an agreement with Rouvy, a cycling simulator similar to Zwift, Bkool, RGT, etc.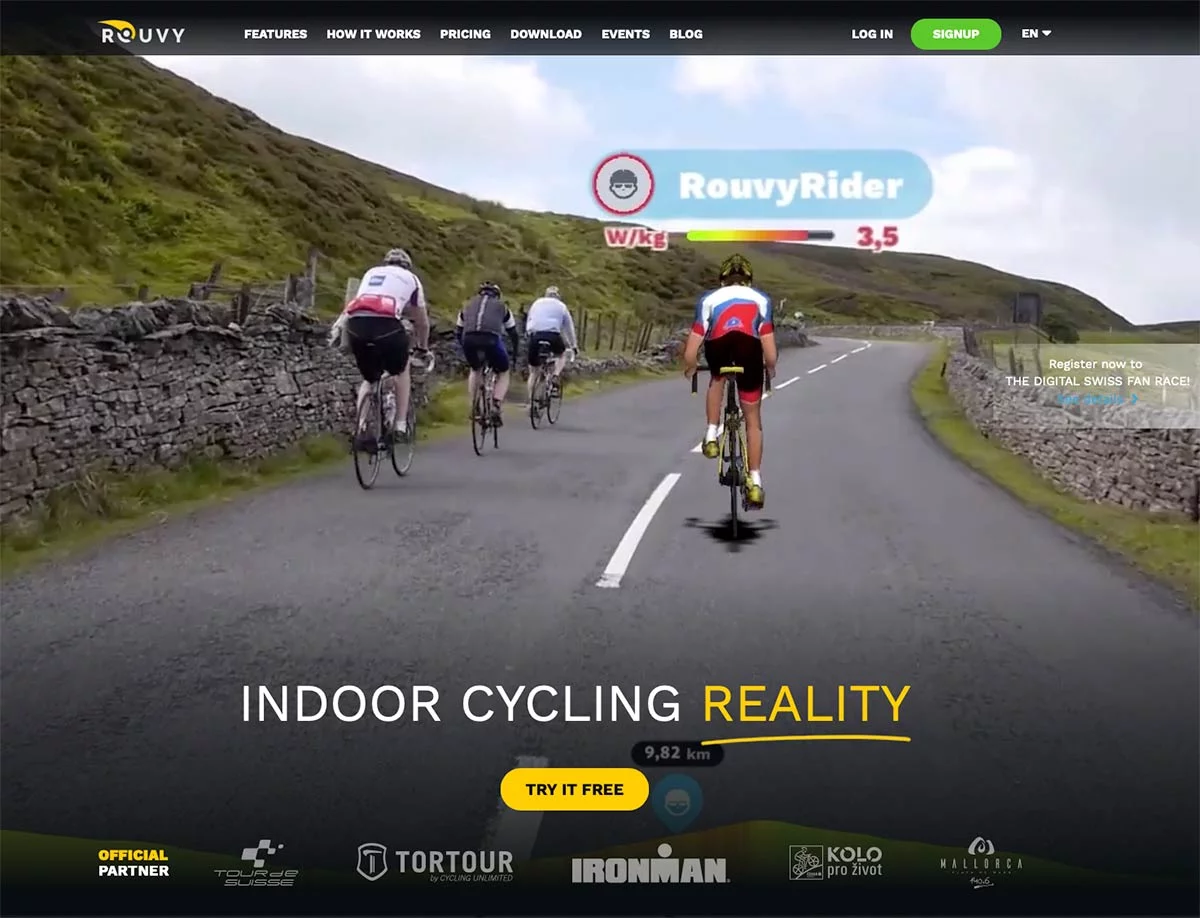 What this does is place virtual avatars in a real environment recorded on video. Ironman is using real race routes paths for those professional races, in which the winners take prizes in cash and also they can get a slot for Ironman 70.3 Worlds in Taupo (if it is held...).
In short, Ironman has not created anything, they have simply reached agreements with partners to be able to have a platform ready to bring its customers together in record time. A brilliant strategic move.
Racing an Ironman VR at home
Ok, enough introduction. I think I've already clarified what everything is and how you can participate in these races, so it's time to go to the meat and potatoes. What's it like to compete in an Ironman race at home? It is not a new concept because virtual competitions on different platforms have been present for a while, even before this confinement situation.
But this is the first time that it is a multi-sport competition that is independent of any platform. It means that I can use Zwift for my runs and my rides, you can run in Zwift and do the bike leg in Bkool, and another one can do it just outdoors because he's not confined.
As I said at the beginning, the window to complete all three races is 56 hours. I started my race on Saturday, doing the bike in the first place because it is the longest part and where I can perform better, so it is for the one I preferred to be with fresh legs.
The platform I chose was Zwift. It is a particularly important detail for the bike segment (and not so for the run). You're not just doing 20km on a trainer, you're inside a simulator. It implies that there are external elements such as climbs or descents, other cyclists to benefit from drafting, etc.
I used the Tempus Fugit route on Watopia, slightly less than 20km long and has hardly any elevation. As Zwift is right now, it is also a guarantee that you will find a cyclist with whom you can share efforts.
The first thing you need to keep in mind is that the Virtual Club does not cut the activity to select exactly 20km, you must manually start and stop the activity. If you do more than 20km and take 10 seconds to stop the training (which is what happened to me in this case), that adds to your total time.
Regardless of the time, distance or how long it takes to stop the activity, power does not lie.
Reviewing the power data I can say that I am satisfied with my performance. My maximum average power of 20 minutes was not far from the last FTP test I did a while back, and we must keep in mind that the cooling and ventilation conditions are not the same as with an outside ride, no matter how much fans we use. Those extra 6 seconds... I'll count them as a transition.
The end result is that I did a little more than 20km at an average of 40km/h. Almost 30 minutes nailed but for the extra distance and the time it took me to stop the activity in Zwift. Better than the segment of any triathlon I've done, but remember that you don't brake and accelerate out of the corners and the speed is constant at all times.
After a short break to lower my heart rate I opted to get on the treadmill and do the 1.5km run. I knew I was going to suffer because I haven't run for almost a month and it was very clear to me that the pace I was going to poder have on the treadmill would be far from what I did in the last duathlon I ran this year. The treadmill I bought arrived last week and I have only done two short workouts to "remember" the sporting gesture.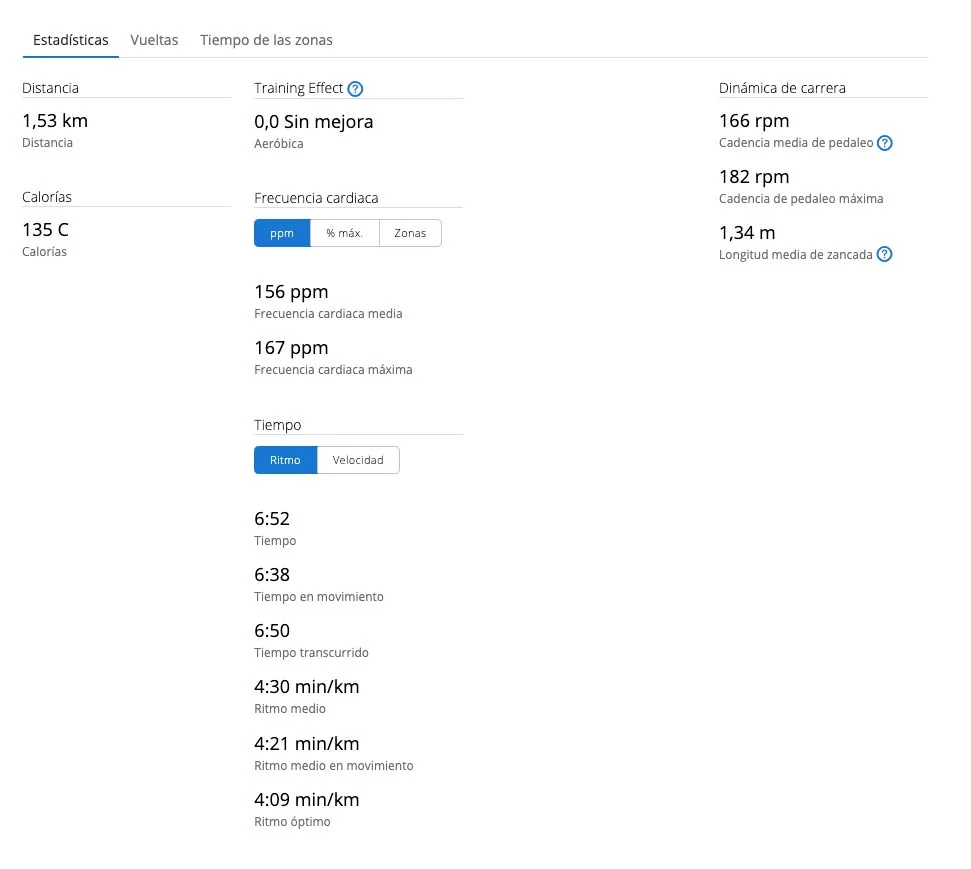 Again it took too long to stop the activity (14 extra seconds), something I should certainly consider for future occasions. However, the average pace in motion was 4:21 min/km.
After a month without running and before that being as much as another month running very little for discomfort in the soleus, it's not THAT bad. Obviously I know I could do better, but right now that's what I have.
Compared to any other competition, the obvious advantage is that you can stop and rest to face the rest of the race whenever we want to. I did both races in the morning, but I could perfectly have left the run for later in the afternoon.
It doesn't matter whether you're using Zwift as a simulation platform, or you're just running on the treadmill and recording with the watch. There's no drafting to benefit of nor any hills to climb, it's like running on the track.
With the short run already finished, I decided to leave the 5K race for Sunday. First because I had other things to do, and second because if I have a chance to face it more rested, it's absurd not to.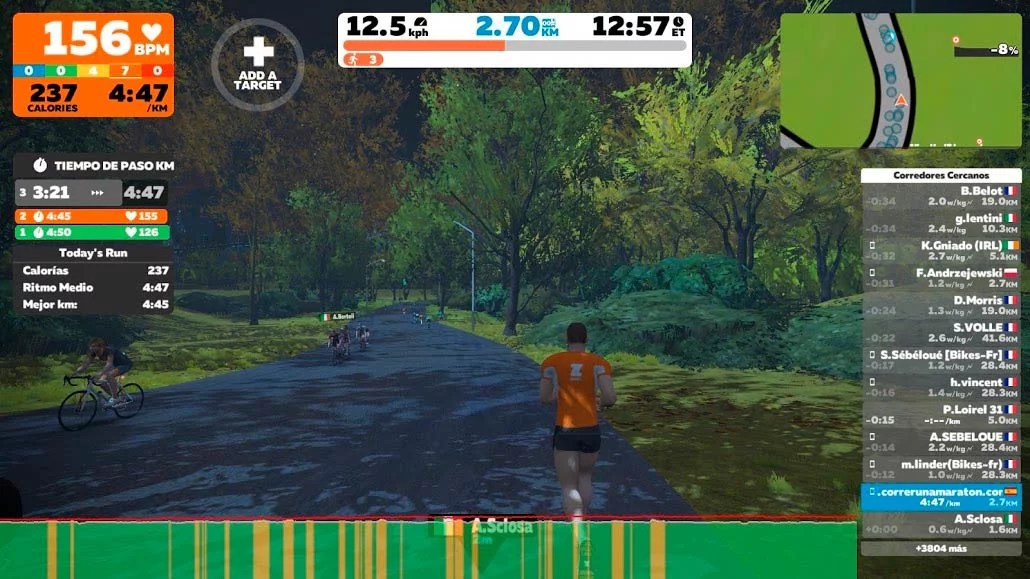 It should not be forgotten that the rules are the same for all competitors and the usual thing will be to do it this way. Furthermore, the most logical thing would have been to do an event on every day of the weekend (Friday afternoon, Saturday and Sunday).
Here's Sunday run, five kilometers through Central Park.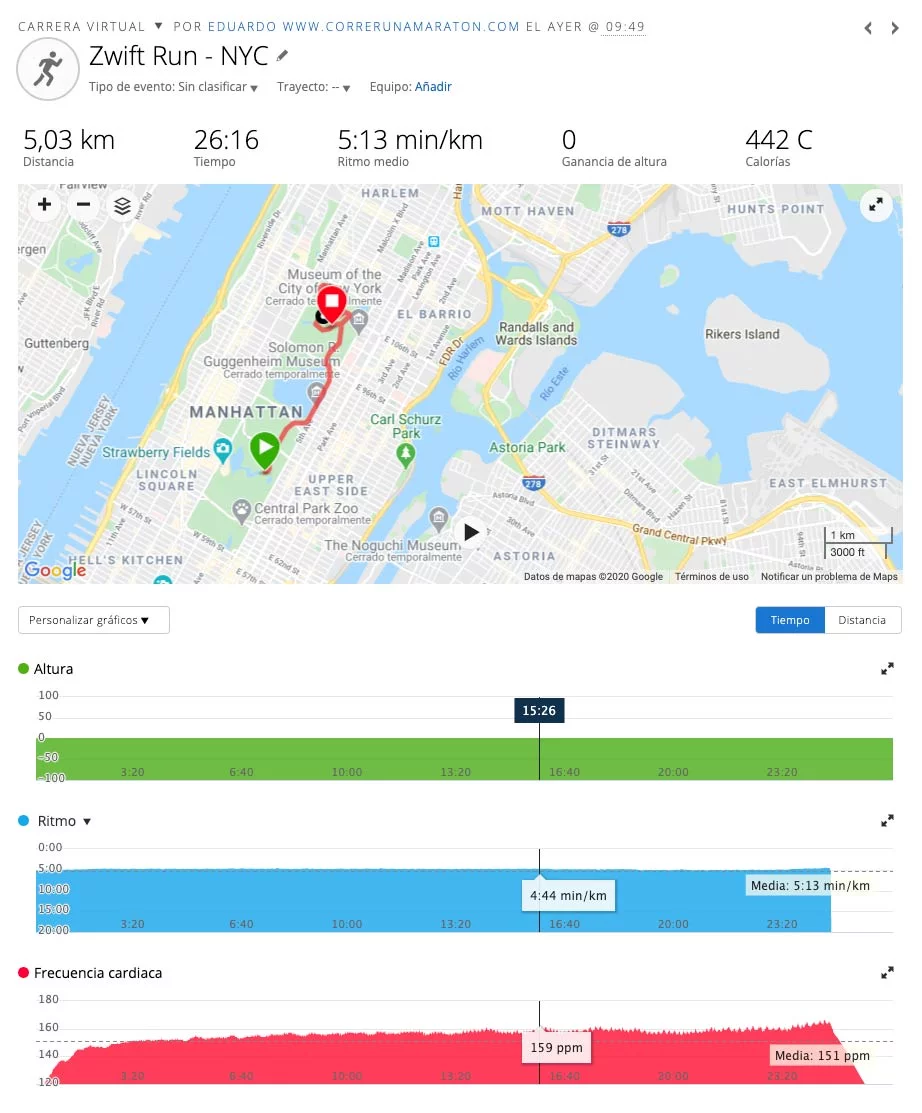 In the other segments I gave away a few seconds, and I counted them as "transition". Well, this time I don't know what I was thinking, but I lost two minutes of nothing.
2 extra minutes for not having stopped the activity when I stopped running, trusting that because Zwift's timer had stopped when I stopped running, time stopped as well. Well, it seems it kept counting. I'm already pretty slow (more so at this moment), so I'm not in the best position to give away two minutes :-).
As an indication of how my performance has fallen during the quarantine (well, the previous injury does not help), in the duathlon that I was able to compete this year i was able to run the 5K of the first run leg in 19:41. Yesterday I needed 24:21, that's almost five more minutes.
It's true that by kilometer 3 I already noticed the lack of ventilation; that running on the treadmill is not the same as doing it outside and that the effect of running following other competitors also helps psychologically; but there you can see what a month without performing the specific run movement produces in the body. Five minutes...
My official time was 1:03:36, which led me to the position 3.282 of 13,943, and 171 of my age group. Seen from that perspective, it doesn't seem like such a bad outcome.

This is where competitiveness comes out and the wish to do better. What if I hadn't had the clumsiness of stopping times late? What if I had pushed a little bit more in the 5KM race?
Well, there's already motivation to do better next time. And in the end, that's what this is all about.
The future of virtual races
After all this and having my own experience I can confirm that this kind of virtual race is still far from replacing a traditional race.
But it is also true that I have had a good time (ese es el objetivo), and regardless of what the outcome is compared to other competitors, an event of this kind can offer the incentive to have a goal to face when we have nothing else going on on the calendar.
Let's imagine for a minute that this COVID19 thing wasn't happening and that we don't have to be forced to train at home. You have a race schedule in which you signed for a 70.3 in April and the Valencia Marathon in December. In the end we have about 4 or 5 months left from completing the middle distance until you start preparing the marathon in a specific way.
Maybe it's too long without an incentive to train and you want to do some races to keep the spark. But it turns out that in August there aren't any in your area. It can be the perfect excuse to take part in an Ironman VR race, just keep that spark alive and have a goal to which you have reasons to train.
Clearly it's not going to become your A race. Not even the B race. But when all this happens I'm sure Ironman VR will continue to be around (mainly because it is a good showcase for both the brand and its sponsors).
And even if it's not present anymore, it certainly is a perfect incentive to spend these difficult time. If any of you have completed any of these races (or if you have signed up for the next Ironman VR4), give us your thoughts and results in the comments.
And with that... thanks for reading!