It has been a long time since I published a chronicle of a competition. Specifically since the Ironman 70.3 Marbella 2021but I think that the jump to long distance is worth to be told. In this time there have been other competitions like a couple of half marathons with MMP, a general podio in an asphalt race (well, ok, it was the Christmas race of the town 😂) and some other things that I've already been telling by Instagram. But I think an Ironman is worth telling, both for those of you who are eager to do one and for those of you who already have several behind you.
Ironman Austria has been the main competition on which I have focused the 2022 season and for which I have been doing all the specific preparation for this year. As you can imagine, preparing for a competition of this type requires months of preparation, with many weeks between 14 and 18 hours of training (to which must be added trips to the pool, showers, changes of clothes ...). Preparing for an Ironman involves a physical and psychological effort, and of course also for the family.
After all this time I can say that the Ironman is in the preparation, the day of the race is simply the confirmation. It's like an end-of-course exam, you're just going to put in the work you've been doing in the past.
Before going on with the chronicle of the race I want to do a little "tour guide". Possibly many of those who end up reading this chronicle will do it because it is a competition that they are considering, so that initial part will be something that will also help them.
Why Ironman Austria
There are many long-distance competitions to choose from all over the world. Even closer to home we have many events that are very worthwhile, so why should I go so far away to make my debut in long distance?
First of all I wanted to do a test of the Ironman franchise. It may seem silly but the fact of reaching the finish line and hearing "Eduardo, you are an Ironman!" is something that has been pursued for many years, seen in many videos or finish line finishes that I have attended. I wanted to live it in my own flesh.
Secondly, why Austria? I could have gone to Vitoria, Cascais, Vichy... many options closer and easier to manage; but the choice was Austria for several reasons. A swim different from all the others with the finish across the Lendkanal, a one-lap bike and a marathon where I had a reference that there is a lot of animation from the locals. Ironman Austria is an attractive race for many aspects, and that made it start as a favorite.
But then we have the most important part, poder include the competition as part of the vacation with the whole family.
Possibilities of travel to Ironman Austria
Ironman Austria is held in Klagenfurt, a city in the south of the country with many interesting sights around it. And although there are not many flights arriving there, there are multiple connections through many international airports with direct flights around it. All of these airports have direct flights from Spain and easy communication with Klagenfurt:
Munich
Vienna
Salzburg
Venice
Ljubljana
You can find cheap flights to any of these cities at poder, and then travel to Klagenfurt by train (for very little money) or by rental car. And you also have the possibility of arriving in one place and leaving from another, which is what we did.
Our trip was with arrival in Vienna, from where we took a train to Salzburg directly at the airport. After the visit to Salzburg we picked up a rental car with which we traveled to Klagenfurt. The choice to have a car was because of the vacation we had planned after the race, the arrival would have been by train without any problem.
In my case the bike traveled independently in a van to avoid having to carry it during the vacations. If your case is similar consider this option because it will be the most comfortable because you will have absolute freedom once the bike is delivered the same day of the race. It has a little more management and the availability of the bike depends on third parties.
We stayed in an apartment. I think it is the most comfortable option when we travel to a race because it gives freedom when preparing meals and is more spacious to poder store all the material of the triathlete (bike, wetsuit, clothes, etc). In addition you will have a washing machine where poder throw all the clothes after sweating both the competition itself and previous days.
Consider booking as soon as possible, as hotels get blocked by Nirvana very soon and then it is difficult to find options. I started by booking an apartment in a town 20km away with the possibility of cancellation, and I was looking every week until I found an apartment in the center of Klagenfurt.
Getting around the city is very easy. There is an extensive bus service so if you are not near the lake where all the Ironman activity is concentrated it will not be difficult to move around. However the day of the race will be more complicated if you want to use public transport, I did not have the feeling that there were many options that day. In my case I went by car to the starting line, as there is no parking problem (although you will have to walk a bit).
After finishing Ironman Austria we started our vacation. We had planned a day trip to Ljubljana that we ultimately cancelled because it required an additional insurance payment for the car for all the days of the rental, and we weren't sure if I was finally going to feel like kicking around a city the day after the race. But it's certainly a very real possibility.
The rest of our trip included visiting towns in the Austrian and German Tyrol (Kufstein, Alpbach, Hall, Seefeld, Mittenwald...) and of course Innsbruck. If you want to make a trip like this with multiple stops the car becomes a must.
We left the car in Innsbruck, from where we took a train to Venice, where we would do some more sightseeing to finally depart back from the Venetian airport itself.
As you can see the Ironman Austria trip is not limited to the small Austrian town but offers multiple possibilities if you are planning a slightly longer trip as a reward for the family to make up for so many weekends away from home.
The days before Ironman Austria
I arrived in Austria after a few days with a sore throat due to pharyngitis (although now everything is COVID), and with that strange feeling of when you are a little touched but you don't have a fever. On Wednesday I did a soft training in Salzburg, with a lot of uphill, where the sensations were not too good.
We arrived in Klagenfurt on Thursday afternoon. Before going to the apartment we passed by the Ironman tent to check in, make a brief stop and leave everything closed. As soon as we got out of the car we were hit by a slap of heat that increased as we entered the tent. Sweating like a chicken when all we had done was to walk in the shade... if everything continued like this it was going to be a tough marathon...
After leaving everything in the apartment back to the Ironman area. It was time for race training and I wanted to do it on part of the course for Sunday. Despite the heat the sensations were good, better than the previous day I was going with heavy legs.
On Friday I picked up the bike at 11 o'clock, then did a reconnaissance of the second section of the bike on the south side of the lake. The heat was still suffocating and, despite going very smoothly, it was quite hard for me. As you know, two days before the competition is when all the doubts come...
Saturday was just a 10-minute swim in the lake, with the water temperature quite good and confirming the more than predictable swimming without wetsuit. Well, the swim was what was needed, but the activation was completed with a sprint through the center of Klagenfurt when, returning for lunch, I realized that I had dropped my wallet on the bus ... but that's another story.
With that, homework was done. Day of doing nothing but eating and resting.
Ironman Austria, the race
Swimming
Estimated time: 1:05
Four in the morning and the clock starts to vibrate, it's the time I had set for myself to wake up. Breakfast, nutrition preparation for the bike and I go out to the transition area. I'm crossing with more people dressed with the same bags as me. Complicit glances, we don't say anything but we know that we are wishing each other luck in silence.
I arrive at the transition area and am greeted by the no wetsuit swim sign due to high water temperature. It was the most likely, but that was confirmation. Fresh water and no buoyancy aid was going to make the swim a bit slower and I would have to move my legs more but not something I was overly concerned about. At least I had the trap suit.
After leaving all the bags in place and prepare the bike I go to the start area. I warm up a little bit in the water and I place myself in the Rolling Start area. There are only minutes left to start a day that is going to be very long and I try to focus on the buoys.
The start was quite slow, taking almost 20 minutes from the time the first age groups got in the water. I was positioned at the front of the second group and even then it took quite a while. Helicopter, music, the usual Ironman fanfare at every start. Feeling of wanting to go all out mixed with caution.
Finally they give me the start and I jump into the water. Many months after preparing for this day I am finally starting the Ironman. I start looking for feet where I can swim comfortably, but everyone around me is slower than the pace I want to take, so I have to "climb" alone. After about 400m I reach a generous group and begin to swim at a comfortable pace without excesses, but still looking for changes because there were no stable rhythms.
In my head I had the swim segment perfectly structured. About 1,000m outbound, 400m turn, another 1,000m to the canal and 1,000m across the canal. Thinking like that is much easier than knowing you have to swim 3,800m, everything becomes shorter.
Good sensations, comfortable pace without pushing too hard. I reach the Lendkanal, the most iconic swimming spot in Austria. Everything narrows and I have to swim very close to a lot of people. Swimming here is much more complicated because we all fight to be at the feet of the one in front, and obviously there is no room for everyone. I get touched on the feet, slapped, pushed on the back and pushed under the water... I get all kinds of sticks. These last 1,000m are quite complicated, although every time I take my head out of the water to orient myself and look you can see and hear the whole crowd cheering. And is that the more than 1,000m swim through the channel is literally crowded with people.
After getting a little lost at the end of the swim and making the turn too late, I come out of the water in 1:11:12. 6 minutes more than I wanted to have done, but after the poles and doing it without wetsuit I'll take it for granted. Not that I'm too worried about it either.
Start of the long road to T1 where you have to run for almost 1 km. Time to T1 6:54.
Bicycle
Estimated time: 5:15
I get on the bike and settle in. This is where my race really begins. It's a one-lap bike with about halfway through the finish line again. So back to the mind games I can split it into two parts of 90km each.
I had recognized the first 90km by car, and I knew it was a pretty fast initial route. Some hills at the beginning without too much importance, but always controlling the power. Target at about 240w, being able to push a little harder on the climbs and concentrating on trying to be quite aerodynamic.
I'm overtaking some cyclists, but where I really start to recover positions is in the stretch of highway. We enter there at km 17 and it's practically a straight line that goes slightly downhill until km 34.
For many it will be the most boring part of the race, I would have podido be there all day with my head down and riding at more than 40km / h overtaking bikes constantly.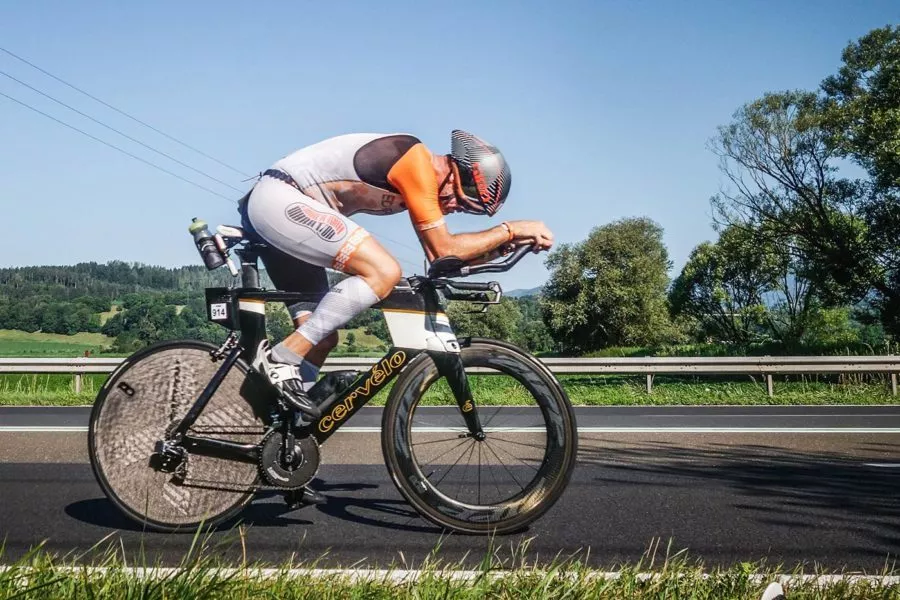 After leaving this highway area we find the first hill (of the 4 or 5 real ones that we are going to have during the whole race). Controlling power and climbing calmly. I'm very fresh.
First aid station and I pick up a water bottle (in the other two bottles I had nutrition). It doesn't last long because shortly after in a bumpy downhill I lose it being almost full. According to the "Bike Guide" that I had in the stem I have almost 30km to the next aid station. Well, that's the way it is, I'm not the first one to drop a bottle.
The fast sections continue, although somewhat more undulating than on the highway. At km 50 I'm already missing the water... the heat begins to press. I reach km 60 with a dry mouth and take advantage of the area to drink from the first water bottle, throw it away and take a full one to carry with me. New area a little faster and I reach km 70 where I knew that the family would be waiting for me.
Here begins another steep, albeit short, climb, followed by quite a few turns and not too fast descents. A pity, because at the points where it is podría to run, caution is called for to be attentive to the brake.
I complete the "first lap" in just under 2:40. The times are coming out even though I've been a little slower than I expected. If the second section was the same I was perfectly in the times set.
After passing the finish area there is an area of slides along the entire south side of the lake. It is a constant up and down and with many turns, so it does not allow to go fully coupled at all times. I make a brief "pee-stop" and continue along this route that I already knew from two days before. Sensations continue to be good, although the power has dropped a little. It's already about 110km and it's noticeable.
Two new climbs, the speed drops, the temperature rises and there is no wind at all. It starts to look like a kitchen and little by little we are cooking. I do not lack hydration at any time but the heart rate is gradually rising.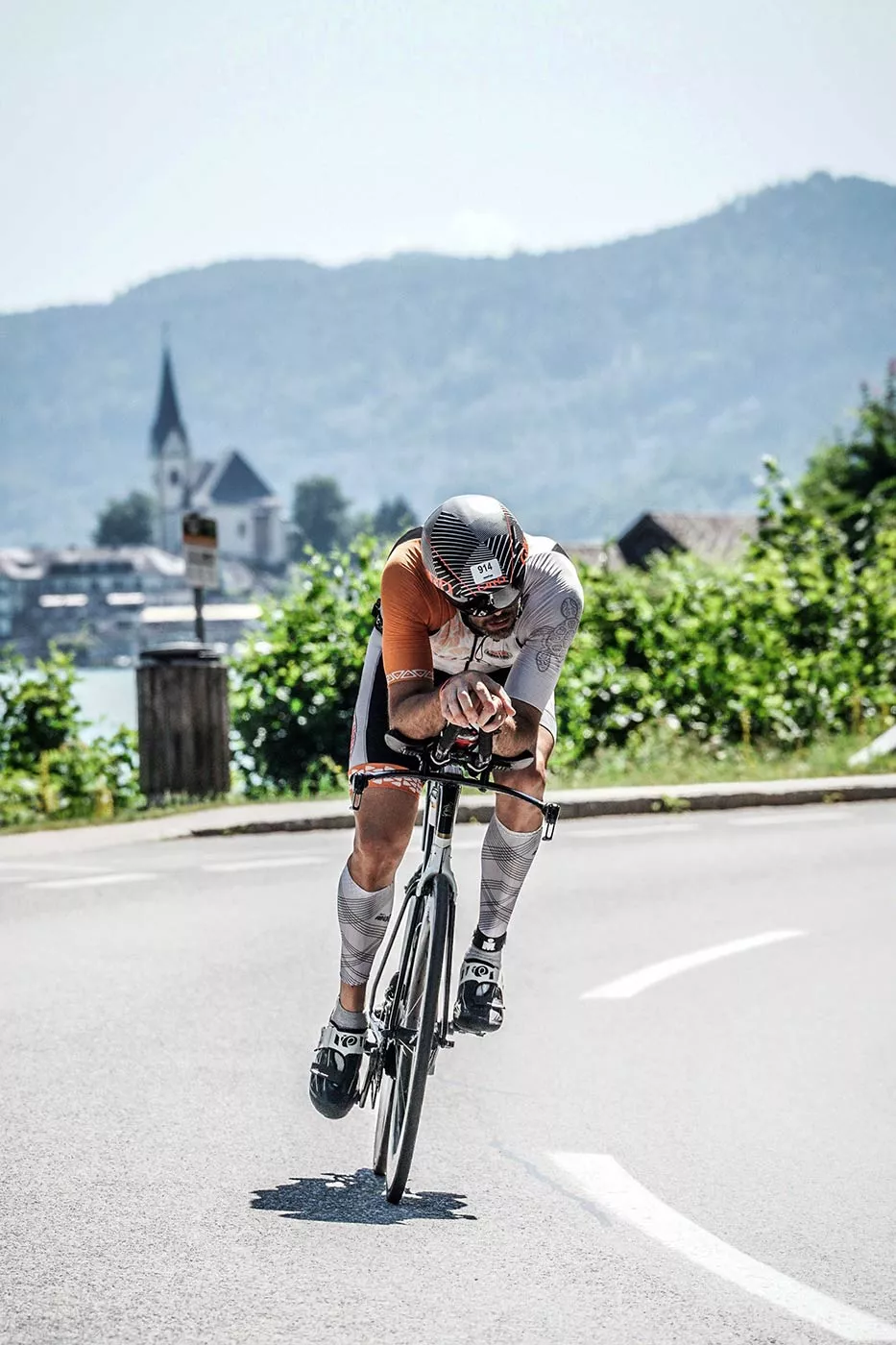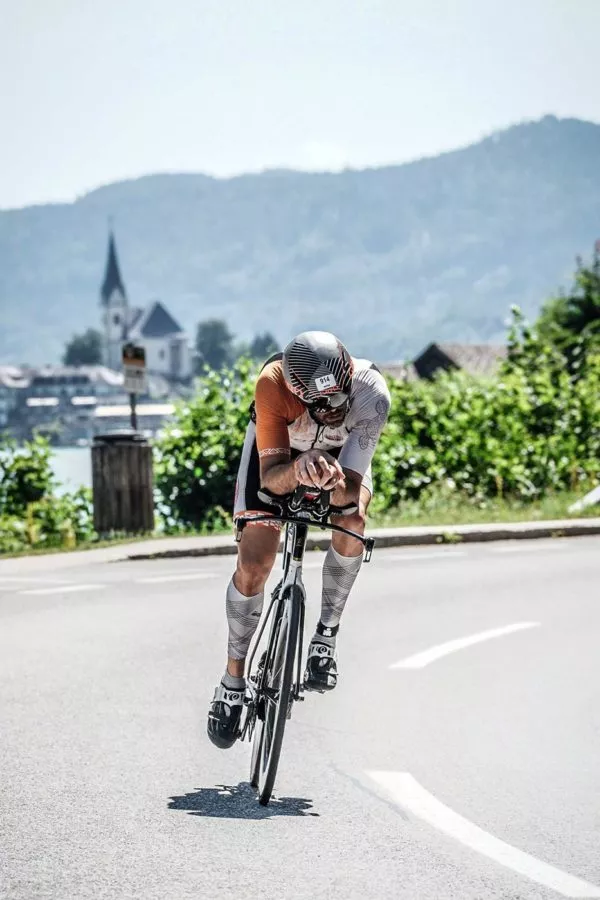 I complete the small loop and complete a small climb at the beginning of the big loop. It's now 150km over and I'm starting to feel a lack of power. The power is down to 200w and I'm still feeling oppressively hot. The penultimate hill is already hard and the soles of my feet begin to hurt, the Pearl Izumi are being excessively hard and are crushing me.
Kilometer 155 and I reach the last steep climb. It's not a pass, but at this stage of the race it looks like the Alpe d'Huez to me. Luckily I had ridden it before and I knew where it started, where it ended and what was there after completing the climb, so it helped mentally. I arrived at this point pretty cooked, very hot and absolutely no air. Still 20km to go and what's worse... a marathon that was going to be tough. But I had to grit my teeth, follow the meal plan and wait for better feelings.
The last few km are all easy downhill, so without pushing too hard I get good speed. I regain many of the positions I had lost in the last km, but the most important thing is that the fact of having been downhill for so long allows me to cool down a bit. I get to T2 in 5:35:28 without feeling as cooked as I was at kilometer 160, and looking forward to take off my bike shoes that are destroying the soles of my feet.
Running on foot
Estimated time: 3:30
5 minutes of T2 and it's time to go for a run. I got off the bike with pain in my right knee, something that had never happened to me before. Yes it is a pain that I recognized from long runs, but I had never had it with the bike. This is an Ironman, if you think you are not going to have any kind of pain you will have to sign up for another race.
I started off gently at a pace of 5:00-5:10 min/km. It seemed prudent to me to go soft given that I had finished the bike with regular sensations. But now it's another muscles and another gesture and in fact I don't even remember the pain in my knee.
I cross the park (in the shade) and meet the family. Brief stop to comment how I'm feeling (regular, but now I'm doing better) and it's time to keep running. I stop running at the first aid station, drink and take some sponges. It's hot as hell -later they showed me pictures of 43ºC in the sun- and everything to lower the temperature is going to help a lot.
I start running on the stretch parallel to the lake and increase the pace to 4:45. I'm really comfortable (I'm surprised myself) and I keep going at that pace, stopping running only at the refreshment posts to recharge well. But it's not hard for me to restart and set the cruising pace again.
Here more than ever it is crucial to divide everything into segments. Kilometer by kilometer, segment by segment. My hope was to at least get to the half marathon with a good feeling and then... whatever came out.
I complete the first turn to the Krumpendorf housing estate (how far it was!) in full sun and start the return to the park. Kilometer 10 and I'm at full sensations, first moment of euphoria in which I say "this is done! Then I tell myself that caution ... that the sledgehammer is just around the corner as I could see on the bike.
Return to the park area and head for the canal towards the center. Lots of atmosphere, lots of encouragement, great refreshment areas and lots of volunteers. I continue at my pace and fulfilling my plan, stopping at the refreshment posts and starting to run after each one of them. I'm mixing my gels with whatever I catch when I stop (water, water with salt, fruit, even pizza!) without any stomach problems.
I continue with speed control on and the kilometers go by. 21, 22, 23... Half marathon passed in a quite reasonable state.
New arrival in Krumpendorf and the sun is still shining. Overtaking corpses that are already coping with the effort as best they can. I start to remember my knee around the 26th kilometer, the one that bothered me when I got off the bike and that had gone off the covers until now. And I do it on the return stretch, next to the train track, in the sun and with a suffocating heat. And I stop to walk.
The euphoria of 10 was no longer present and I knew that there began the suffering. From that moment on the pace began to drop, the stops at the refreshment posts came earlier and finished later. And in any small slope I stop to walk so as not to punish my knee more. And the stops begin to come more frequently. Hello Mr. del Mazo, nice to meet you again.
Second pass through the park and begins the second trip to the center of Klagenfurt, this part took me forever. Running at tran-tran trying not to stop in many more places than "allowed": refreshment posts and ascents-descents.
I try not to let the pace drop too much when I run, and I do 5:30 cruises. They are getting shorter and shorter before the next stop, and each stop and start needs a whole procedure because the knee pain is getting worse and worse.
Less than 5 kilometers to go to the finish line. How many times have I done 5 kilometers? That's nothing!
I'm already entering the park, all the discomfort is forgotten. I hear the finish line, less than 3 kilometers to go and I'm already preparing the entrance to the finish line to look good in the photos 😂. I have to take off all the sponges that have been accumulating, close the zipper of my overalls and get ready... Because I'm already entering the finish line!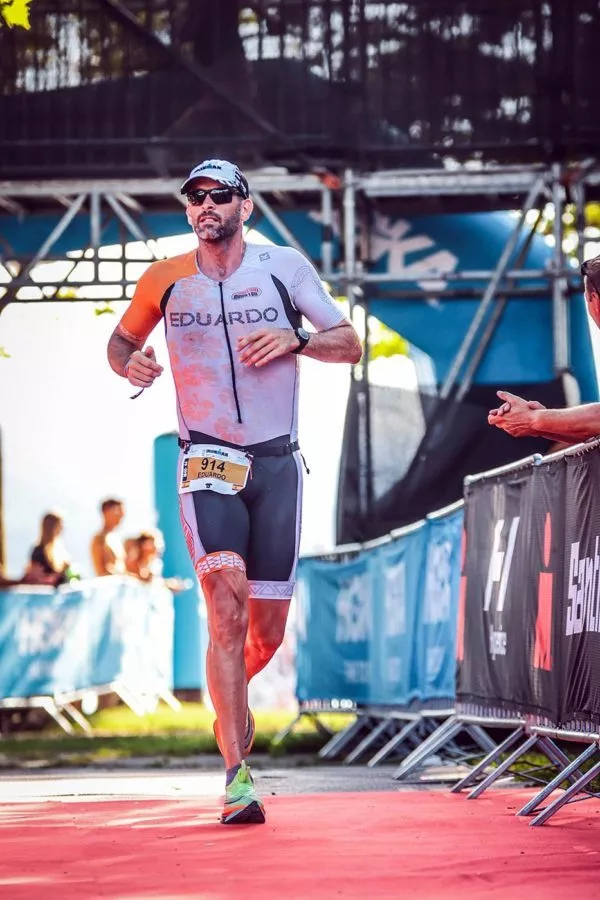 I ran the red carpet faster than I had intended. I always said that if you're not fighting for Kona, enjoy the finish line... but I didn't follow through. I can hear in the background the mythical phrase "Eduardo, YOU ARE AN IRONMAN!" with which all finishers are greeted.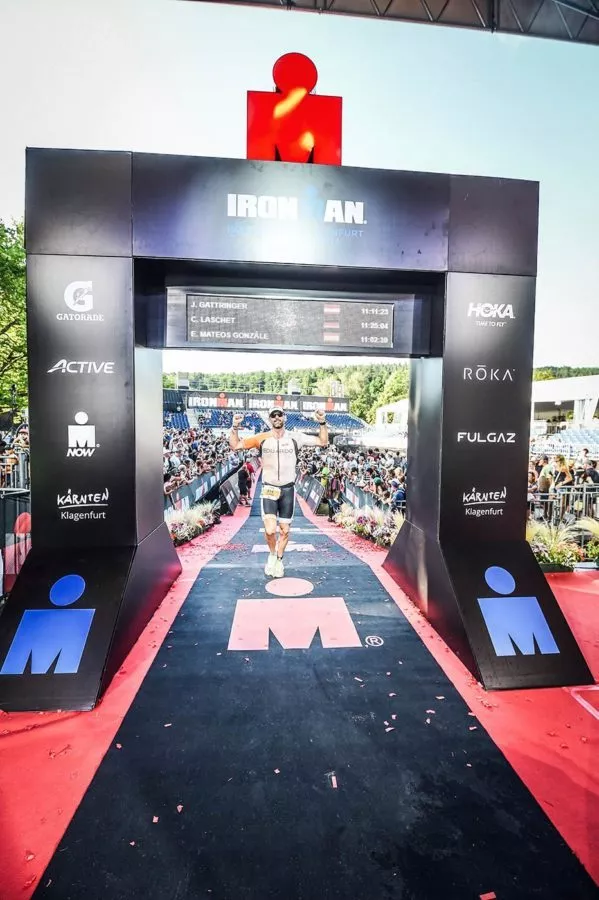 I completed the marathon with a time of 4:04 for a total time of 11:02. Too bad I didn't go under 11 hours, but I already have a goal for the next one. I wanted to have done it around 10:30, but being my first time in the distance and the hot conditions I'm more than satisfied, even if I had to walk a bit in the marathon.
I can make other positive readings as well. I followed the nutrition plan and it went quite well, without any stomach discomfort during the whole race and without feeling empty. There were very good moments throughout the day, like the first 100km of the bike where I felt great, including the stretch of the highway where I kept overtaking bikes.
The first 26 kilometers of the marathon were also tremendous, maintaining a lively pace and without declining, neither physically nor emotionally. From there on it got complicated, accelerated by the discomfort in the knee that led me to lower morale and consequently of rhythms.
Compared to a 70.3 it is a very different feeling. In middle distance you go stronger and closer to the limit. In long distance everything is focused on burning gas little by little to get to the end in good shape, everything is much more strategic.
After celebrating with the family, shower, massage and something to eat, we returned to the finish party both to enjoy those last moments and to cheer and applaud the last runners, well deserved. Whoever thinks that an Ironman in 17 hours has no merit should try to walk 42km at night, alone and after 3,800m swim and 180km bike pressured by a cut time that can send them home without a medal.
And with that... thanks for reading!