The Vichy Ironman 70.3 was my A race for the season. And after what I went through in the Half of Seville It is a race for which I have trained quite concentrated and that, dragging also something of the preparation for the race in Seville, I expected to have good sensations.
Of course, then you have to take into account the difficulties of each race, and in this case the biggest problem was the distance. Given the date the idea was to take advantage of the race to make a family vacation (or take a family vacation to make the race, depending on how you want to see it), so it is not simply to move there as quickly as possible. This time the option has been to go by car which, from Marbella, is a major pull.
Since the race was on a Saturday, we opted to leave on the previous Tuesday. It may seem like many days but our plan was to make intermediate stops so that the outward journey would not be so heavy. A first stop in Burgos and a second stop in Bordeaux meant that we arrived in Vichy on Thursday, at a perfect time to pick up our bibs and visit the fair, before making our way to the AirBnB apartment we had booked on the other side of the river.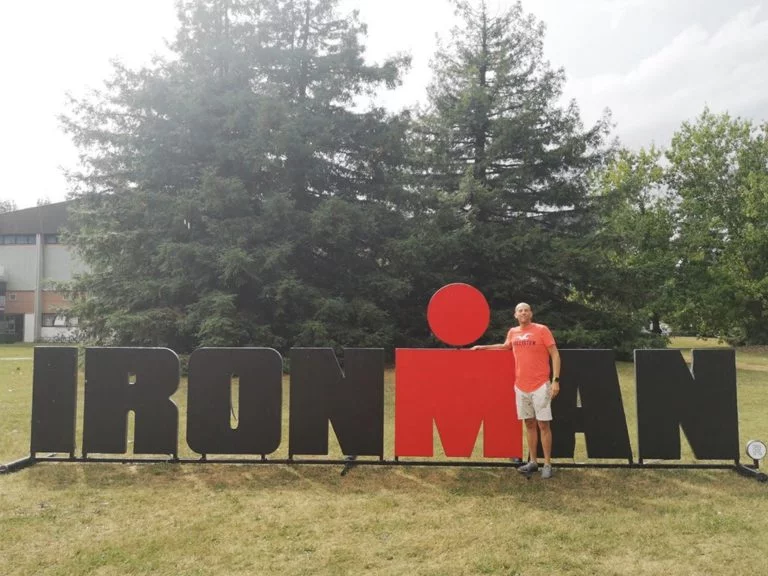 At the Hoka One booth they had a roulette wheel that you could participate in that first day just by passing by. So with so many facilities... well, let's shoot. Result?
My first victory in an Ironman!
All finished, prize under the arm and back to the car (which still had the bike on it) for the keys to our apartment, and I would still have time to go out and run 30 minutes at a gentle pace to let go of my legs after so many kilometers in the car.
On Friday I wanted to take the opportunity to swim a few metres. Thanks to an agreement between Ironman and the Vichy water centre, the participants had access to the 50m pool, perfect!
650 metres swimming and then we had to relax a bit in the spa area, but before that I had taken the opportunity to make a short bike ride, mainly to make sure everything was in place and working as it should, and to check the Vichy start circuit through the urbanization areas.
Back to lunch and in the afternoon there were many more things to do. Leave the bike in the transition area, prepare everything for the next day and at the last minute "pasta party" and then have the race briefing.
No matter how soon you arrive for a race like this, time flies by and in between you find yourself waiting for the bus to take you to the starting line.
Race Day
Saturday, 4 a.m. and it's time to get up. I have breakfast quietly so as not to wake up the whole family and start getting ready. I check the weather forecast again and decide that this time I will wear a "double layer", so I put on a compression t-shirt over the jumpsuit and off I go.
4:50 in the morning, Vichy was silent and cold from milk. 10ºC temperature and I just wear a sweatshirt over my racing clothes while I go to the last stop of my bus route. Despite arriving five minutes before the established time they were just waiting for me, so as soon as I got on I left in the direction of the pit area.
We arrived and who else and who else is still shivering with cold. I am listening to the conversation of the athletes next to me, English, and even they were cold. Imagine how I was, who had been preparing for the race at 32ºC-34ºC. So I barricaded myself there as best I could until 6am, when the transition zone opened.
Almost two hours ahead until the race, plenty of time for the last preparations (inflating the wheels, putting shoes on the pedals, etc), a last visit to the bathroom and eating a banana, fortunately in a closed place and protected from the cold.
Time passes faster than I thought and I immediately find myself in my neoprene (water at 22.5ºC) and heading for the exit.
Swimming
Swimming didn't seem to be a problem. Vichy has a river, but in that area there is a dam so it turns into a small lake. So there was no need to fight with currents, waves or anything like that. Besides, the circuit was very simple and perfectly marked. The only thing I had to worry about was swimming straight and if possible following some feet.
The start was as it is being imposed in Ironman events, in small groups every 6 seconds. It is a problem for those who fight for the lead position because they are not racing against other athletes but against the clock. But for the rest of the age groups it is a blessing, especially because it makes it easier for us not to pile up at the start of the bike.
I got into the 33-minute start zone, at the end. Little by little we move forward in the line (and I'm nailing the stones to the ground) and it's time to jump into the water from a floating platform, so the approach had to be not very energetic... First strokes in search of the first turn at a good pace. I turn right and start the first leg of about 800m trying to look for feet, but I don't find much to satisfy me. Either they go faster or they go slower, but nothing I can go comfortable with.
I'm taking some poles with me that even push me to the bottom, but nothing that we're not all used to already. Good sensations in this stretch and without many navigation problems.
I reach the final buoy and make the turn, another 50m and back to the start area. At this point I do miss a bit and get off the swim line, but not too much, so I run a few extra meters but nothing to worry about.
I come out of the water with a good feeling, I think I had a good pace for my conditions. As I run towards T1 I take off my wetsuit and take a look at my watch. 37 minutes.... first "shock", I thought I had swum much better than for that time and the mood drops a little. The official time is 37:37.
Although then I'd check into Strava that I really hadn't done that badly, there were just extra metres, something I could see by checking other participants' tracks. They all went over 2,000m.
I take off my neoprene and I put my things on the bike, I stretch a little bit because of a little pull on my leg and look for the exit. I see that I am not doing so badly because there are still many bikes hanging (position 62 of my age group), that raises my morale a little bit.
Bike
The cycling segment is the one that I usually do best, although in this case I had some doubts. There were no major climbs, but the first 70km were all false flat. There are about 600m accumulated and except for a small slope the rest of the meters would come from these areas that seem flat but are not. Also the asphalt was not outstanding for its quality, so I was not sure if I would be able to ride comfortably.
The start of Vichy is not exactly comfortable. We are still all very close together and there are some first slopes accompanied by many turns through urbanizations, so for the moment it is impossible to get comfortable without falling into a draft. I do what I can not benefit from going to the wheel of anyone and we go to the road where I can start pedaling.
It's still cold, it's cloudy and there's even a light rain. I can feel it on my body but it's not excessive, although I couldn't spare a pair of gloves.
I'm starting to overtake riders at a good pace and we still have the problem of being too compact. If I want to pass without making a draft I can't overtake just one rider so I have to push a little bit more than I have to, like this for a few kilometers until I can find my place.
We pass through several villages all cut by the same pattern. Entering the village, arriving at the main square next to a church, turning and leaving the village. This repeated several times led me to think that I had passed through this village before and that I was going crazy.
I'm still looking for my place but the panorama is beginning to clear up. I look at the numbers and we are always the same. We are going up or down positions, but I always see the same names, but I keep watching the distances to try not to fall into the drafting area. It's not easy because the roads are narrow and very rough. If we add to that the fact that the right side is quite bumpy and that traffic is only cut in our direction, it means that there is actually only room for a row of bikes. So either you go ahead or you have to be content with the pace of the group.
Another village and at the exit there is a small downhill, I take the opportunity to "go to the bathroom" dropping me on the way down (it is not easy to do) and I lose contact with the group that had accompanied me in the last kilometers, now I see other bibs. In this hustle and bustle I also lose the water bottle and in the front tank there is not much liquid left, so I'm nervously calculating if there will be much left for the next refreshment.
Before arriving at the refreshment posts I make contact again with the same group, and shortly after that a motorbike appears from behind with a judge who starts handing out blue cards everywhere. Unlike what is usual in Spain, in France there are no warnings, if you are caught on the wheel you are not warned, card and penalty. Which seems perfect to me, because here people go from warning to warning and meanwhile sucking on the wheel as much as possible.
Shortly after, the refreshment area with the penalty shop appears. It's up to the top, as if it were a day of sales. More than it was going to be filled with all the blue cards that had been flying. I pick up liquid, although I lose the first bottle, so I get the last one they're delivering and empty it into the tank. No idea what it was, but it's liquid and it's welcome. Behind the saddle I put a bottle with isotonic. Later I saw that what I had picked up was hot Coke... I would have preferred water.
After the blue cards from the judge, the panorama is much clearer and now we can ride calmly and watch the power. In fact, there comes a time when I am practically alone without bikes in front or behind. I see a new group on the horizon, so it will be a matter of hunting them down.
We arrive at the steepest ascent and I turn right and, as usually happens to me on climbs, runners begin to overtake me. Well, I'll catch you on the way down.
We are in a wooded area (Montpensier) with very nice views. Now the asphalt has changed and is much smoother, with the road wider. It invites to fly and, knowing that the last kilometers are downhill is what I intend to do.
Now we are a perfectly drawn row of bikes with the corresponding space between us and we are riding quite fast, about 44km/h. But it is the end and we are back in Vichy. 
Final time: 2:32:44, improving about 5 minutes the forecast I had made with Best Bike SplitI gained 11 positions in my age group, but mostly 165 in the overall count. It was a good cycling segment and I got off the bike quite satisfied, because I also managed to "fix" the swimming thing.
Career
I arrive at T2 and leave the bike in place and head for the changeover area. I do things calmly and don't speed up, I don't go looking for the best time at T2. I also take advantage of stopping in the bathroom to release fluid so I end up with a transition time of 4:50.
I go out parallel to the river where we had been swimming and I start running at the pace I had planned, rolling at 5:00 min/km in a comfortable way. At the moment everything is going well and according to the plan, and checking time if everything was going well I could be close to 5 hours and even, if at the end of the half-marathon I had the strength, get down at "four and a half". For that there was a long way to go, I was following my own. 
Most of the tour was roundtrip in the same lake where we had swum in the morning with a short raid in the center of the city. Everything was practically flat except for two or three short climbs to cross the bridges and go up from the river to the park. Quite comfortable terrain.
I continue to beat the time even with some kilometers at 4:50, the sensations are good and now the temperature is really good for running. But my classic stomach cramps are starting to make an appearance... bad sign.
I get to the second bridge and I get the first cramp, I stop to walk a bit and I do the refreshment walk so I can take everything easy. I go up to the bridge and run again, although I'm not so comfortable anymore. In fact the pace has gone up a bit and I'm in 5:10.
I finish the first lap and go for the second one, stopping again to walk in the refreshments. The stomach troubles are not back, but I want to make sure I drink and eat something with peace of mind. I continue running and I see the family for the second time and I still go with a good face, but the mood has dropped a little because I know that the stomach already wants to finish.
I cross to the other side of the river and reach the area of the park again, where I stop again to walk in the refreshments, but at the time of starting... the stomach is there, new cramp that forces me to stop.
I recover and do the downtown area a bit in the tran-tran, but I manage to get back into the rhythm when I get back to the river, but those last kilometers totally straight were going to take forever. 
I have to stop and walk every two or three days because of the constant cramps in my stomach and it has already become a textbook runner. I finish the long straight line that at times reminded me my worst moments in Seville and I get back to the bridge. It's done, the finish line is just across the river.
I draw some strength from my stomach and cross the finish line with a total time of 5:14:29, having completed the half-marathon in 1:54:17. Obviously I have lost many positions, dropping to 98th in the age group and 563rd in the overall.
Sensations after race
If I told you I wasn't happy with how the race went I'd be lying. Looking at it segment by segment I only have reason to be satisfied.
In spite of the excessive time spent swimming, after reviewing it afterwards the pace was good and constant. There were simply too many meters.
The weather on the bike was pretty good, even improving my forecast by almost 5 minutes.
For the half-marathon I would have liked to do it in 1:45, and that's what I was aiming for in the first lap of the race. Losing 9 minutes with the stomach aches is no big deal. And what's 9 minutes in a 5-hour race?
In addition, I have reduced my time in the distance by about 18 minutes, which is said to be early, so I have more than enough reason to be happy.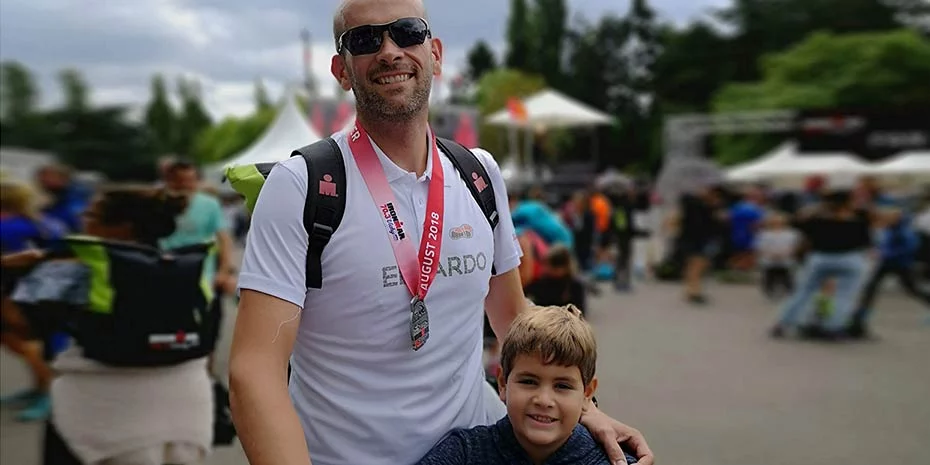 Even so there is always a but, and that is the blissful upset stomach. It is something that has always haunted me in all the Middle Distance I have done and it always appears in the same way and at the same time. What bothers me is that in training I am not able to reproduce it, so I do not fully understand what causes the irritation in the intestine. I do not even take bars or gels from the organization, I only take what I have tasted during training.
Too much liquid? Maybe, because it's true that it's my unfinished business. I don't drink liquids in a certain pattern, but simply to quench my thirst. Could it be a hydration problem? For the next one I'm already starting to write down sweat rates and thus perfectly adjust my liquid intake, unless it's to try solutions.
And with that... thanks for reading!