HEADS UP!!
The full analysis of the Garmin Edge 130 is now published. This article is only from the presentation of the model.
Click here to see all the details and opinion of Garmin's cyclocomputer.
Along with the new Edge 520 Plus Today a new model has also been presented, the Garmin Edge 130. It is a new small model that comes to compete with the simplest ranges, thinking especially in facing the Polar M460 or the devices of Lezyne or Sigma.
Of course it has GPS reception and software quite similar to the other units in the Edge range, but in a much smaller size. And don't be fooled by its size or by being theoretically low-range, it offers many possibilities including compatibility with potentiometers.
Garmin Edge 130, what does it offer?
If you want a good cycling computer with GPS but don't want to box up the more expensive units because you won't be using all their features, but still want to have the basics covered then the Garmin Edge 130 may be the right candidate.
Besides the small size in general, the other aspect that stands out in the new Edge 130 is its high contrast screen that, although it lacks color (which will not be necessary either), it has MIPS technology. Thanks to this, the screen has a much lower consumption than a standard screen with similar characteristics can have, since once the information of a pixel is written on the screen, it remains without further consumption. It does not become electronic ink, but its concept is similar.
It has very contained measures, with only 62x40mm and 17mm thick. To give you an idea of the size, a Edge 520 (which not long ago was considered a relatively small device) measures 73x49x21mm. That is, the new Edge 130 is almost 1cm less in height and width, as well as losing some thickness.
More comparisons? You just read that the new Edge's screen is very sharp, right? Well, despite being smaller than the 520 (with a resolution of 200×265 pixels), the new 130's screen is 303×230 pixels.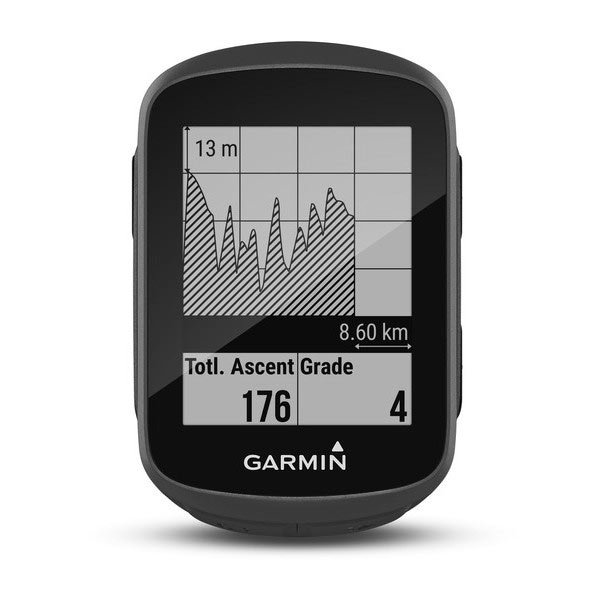 So... being smaller, you'll also have less battery power. No, because it also offers 15 hours of autonomy, and that's half the weight (for those obsessed with weight, only 33 grams).
But somewhere there will be the trade-offs to reduce size so much... It will be because it doesn't have GLONASS-enabled GPS, barometric altimeter, Bluetooth, mobile notification or navigation. Nor, because it has all that and more. Support for all ANT+ sensors (including lights, displays and power meters), VO2Max calculation, Strava segments, Connect IQ data fields, Galileo satellite support and even remote display support.
The trade-offs are given in other aspects. For example the data fields we can choose from where we can't get too demanding. You have the basic data of distance, speed, time, elevation, power and heart rate. And then some variation on those same metrics, like 3-second averages or half a lap. But we lack algorithms like TSS or IF calculation, or more detail on power distribution.
It includes navigation, but of course without a map. You can only have one line to show you the way. It also does not offer training functions, FTP calculation, roller control via ANT+ FE-C or advanced workout tracking.
In short, these are all the features present in Edge 130
Size and weight: 63x41x16mm, 33grams
Display and resolution: monochrome 1,8″, 303×230 pixel resolution with Memory in Pixel
Autonomy: 15 hours
Compatibility: GPS, GLONASS, Galileo, ANT+, Bluetooth (for both data transmission and sensors)
Integrated sensors: Barometric altimeter and accelerometer
Compatible sensors: Heart rate, cadence, speed, power meters, ANT+ lights, radar, Varia Vision
Includes route navigation (without map)
Customisable data screens and downloadable Connect IQ screens
Automatic turn, automatic pause, Virtual Partner (when creating a navigation route), automatic screen change, VO2Max calculation
Garmin Edge 130, availability and price
Like the Edge 520 Plus the arrival of the Edge 130 is imminent. It will have an official price of 199 euros and there will be two additional packs, firstly the mountain bike pack with specific support for MTP and silicone case and secondly the pack with pulse sensor.
My opinion
The Garmin Edge 130 is a very impressive device, not so much in terms of training possibilities, as it does not bring anything new that we have not seen in the rest of the range. It does when we consider how small it is and how little it does. Perhaps the only thing that stands out is the display
When it comes to choosing a device, you need to be clear about what it's going to be used for. Do you only want to start from a longer or shorter distance but don't care about the extended data? Do you participate in races or long-distance races but don't look very competitive? Then the Edge 130 can be perfectly valid for your use. However, if you're going to be a little more demanding or compete with more aspirations then you may not have enough.
Otherwise it covers the basics perfectly. It displays GPS and sensor data (and records them), altitude data with the barometric altimeter, synchronizes wirelessly with your smartphone and is fully compatible with Strava. It is not the cheapest, but depending on the usage profile it may be the most suitable.
And with that... thanks for reading!