The Polar V800 has good hardware specifications to be a useful clock for use in the mountains. Compass, altimeter and a low power GPS mode give it a range of up to 50 hours. But the Polar Flow is quite frustrating, because it doesn't allow us to load our own routes (at least for the moment), and we can only navigate a route we have already done and add it to a favorite.
Therefore this navigation function loses all initial interest, because... why do we want navigation instructions on a route that we already know and have already done? Yes, it is possible that we have discovered that route with a friend and want to repeat it, or it was too long a route to remember all the details. But wouldn't it be more practical to be able to import a route from one of the many free services, such as Wikiloc?
Well, while we wait for Polar to "get it together", we don't pod to stop training. So thanks to the Android app SyncMyTracks and to its new update (that I have had the opportunity to access in beta mode to help polishing and that at the moment is not yet in Play Store, it is necessary to wait a couple of days), it is already possible to import routes that others have made, although with some previous steps that we must make. A small price to pay to be able to incorporate this function that Polar has not yet added officially.
What do we need?
The list is not very extensive, but I detail it:
Android device (yours or a friend's)
Application SyncMyTracks
A free account in Runtastic or Endomondo (for this tutorial I will use Endomondo, but Runtastic would also be useful)
A free account at Wikiloc (or having the GPX file of the path in question)
2 minutes time before departure
Import GPX routes to the Polar V800
Obviously the first step we have to take is to find the route that interests us in Wikiloc (or have a friend send us the route on GPX, or through any other website) I have been looking for a mountain bike route, and I have decided on a circular route to the Embalse de la Concepcion and pass through the Castaño Santo, in Marbella.
You must click on "Download" to download the route. Select the GPX file with the original track, to have all the points and not have it reduced.
We have our route downloaded and ready to import into Polar FlowDon't you remember that Polar doesn't allow it yet? Well, it's time to make a detour first. You go to Endomondo, and click on "Add practice", that blue button on the right of the navigation menu.
On the next page, we must select the last option, "Import from file".
Select the file you just downloaded and press next.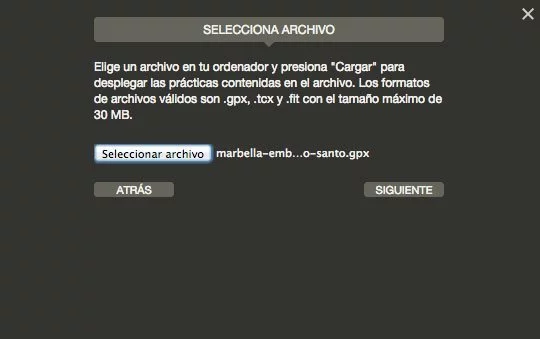 Before you save, make a note of the date that appears, then look for the activity on the calendar, and you don't want to have to browse through all the activities until you find it...
We already have the activity saved in Endomondo, as if it were an activity we have done. Go to the calendar to the date previously noted (in this case, February 20, 2014) and click on edit.
Now we'll make the adjustments. Put the name you want on the route, and change the date that appears to put today's date. The date is important, because now we're going to synchronize it and it's best that it's the last one, for greater convenience.
Remember I said at the beginning that the main drawback of navigation with the Polar V800 is that you have to make a route before you can navigate it? Well, you already have a route made, which you haven't. So let's transfer it to Polar FlowAnd to do that, we use SyncMyTracks and its "Export and import" function. You export from Endomondo by selecting today's date, with the address to Polar Flow.
And we've got our problem solved! Our own route made that we haven't made, straight into Polar Flow.
So, because you like the route, you add it to your favorites and name it whatever you want to identify it with. And you have your favorite route, ready to send to the clock.
All that's left is to synchronize the clock to get our favorites.
And we have our route ready to sail!
At this point you can go back and delete the activity in both Endomondo and Flow. Don't worry, even if the activity is deleted, the route will still be in the favorites.