About 2 months ago Huawei presented its new smartwatches: the Huawei Watch GT 2 Pro and the one that occupies this test, the Honor Watch GS Pro. Both models offer the same software features and only change something regarding the materials used, "premium" type in the Huawei (titanium and sapphire) and with a greater focus on sport in the Honor (lighter, steel and rugged design with military grade resistance). And in case you did not know, Honor is a sub-brand within the Huawei empire.
The Honor Watch GS Pro has built-in GPS to track your outdoor workouts, music storage and playback via Bluetooth connected headphones, a huge 1.39″ AMOLED display with great brightness and quality, optical heart rate sensor for both your workouts and to track all day activity and stress, immense battery life, and even many of the Firstbeat metrics (the same as Garmin). And all this for a price that at the moment does not exceed 200€.
I've been using this Honor Watch GS Pro alternately for a little over a month, and intensively in the last few weeks both during training and being my only daily watch. And the more I used it, the more I liked it (even in spite of its flaws, some of them important as we will see below). 
After all this time I have a lot of data and information, specifically about sport and activity, because that's what this website is about and the reason why you arrived to this review. That doesn't mean that I won't also cover the rest of the technical and operational aspects of the watch. The aim of this review is to cover all the good that Honor Watch GS Pro has to offer, but also the bad and what is not acceptable. 
So once that's clear, let's go with the in-depth review of all those details.
HONOR WATCH GS PRO
Overall operation - 7.5
Training possibilities - 5
Platform and applications - 6
Battery life - 10
Finishes and comfort - 9
Price/performance ratio - 7.5
7.5
TOTAL
The first impression of the Honor Watch GS Pro is impressive. A fantastic screen and a high quality construction, and all this despite an extremely interesting price. However, there are certain things that need to be rethink and that prevent the experience from being more satisfactory, although it will depend on your usage profile.
---
The good
Eternal battery life
Huge high quality AMOLED display
Good finish
Allows you to make and receive calls
Firstbeat metrics
The bad
There is no possibility to synchronize with other platforms or extract workout files
Does not allow to connect with external sensors
You can modify de sport profiles, but settings are limited
Chaotic menus
No route navigation (only back-to-start)
Limited compatibility with iPhone
Honor Watch GS Pro specifications
Find the best offer
Honor Watch GS Pro
Before going into everything that the Honor Watch GS Pro has to offer, I think it's best to take a look at its technical specifications. 
48mm diameter
13.6mm thick
1,39″ touch screen AMOLED display
454×454 pixels resolution
316L stainless steel bezel
Fluoroelastomer case and strap
Total weight 77 grams (the watch without strap weights 45.5 grams)
Meets military durability standard MIL-STD-810G
Water resistant to 50 meters
22mm standard strap
GPS + GLONASS
More than 100 sports profiles (including open water swimming, triathlon)
Barometric altimeter
Magnetic compass
Back-to-start navigation (it does not allow to upload GPX files for routing)
Battery life: up to 25 days in watch mode, up to 48 hours with GPS, up to 100 hours of GPS with battery saver mode. Full charge in less than 2 hours
Music playback from the watch (songs upload only compatible with Android phones)
It allows you to answer and make calls with a Bluetooth paired phone thanks to its microphone and internal speaker (no LTE)
24-hour heart rate monitoring
Activity and sleep tracking
Stress tracking
Blood oxygen saturation estimation (SpO2), manual activation
Advanced Firstbeat metrics (VO2max, Training Load, Training Status, Training Effect, Recovery Time, Calories, Run Training Plans)
There are some amazing features for a watch of its price, such as the huge AMOLED display of almost 1.4″ or the battery life. But let's go next with all those details.
Honor Watch GS Pro, the basics
If there is something that stands out above all on this watch is definitely its AMOLED display. Huge and of very high quality both in brightness and resolution and with a fairly small bezel. As a reference, I can tell you that a Garmin Fenix 6X Pro has a screen of the same size, but with 3mm more circumference (48mm Honor versus 51mm Garmin).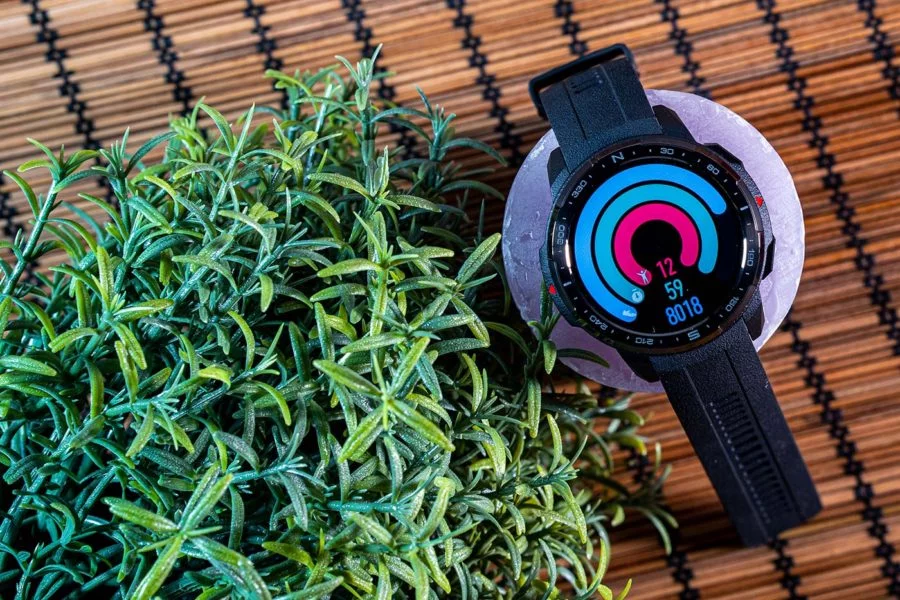 You can perfectly read the screen while being outdoors, there is no problem even in workouts performed under a fair sun.
You can operate the watch through that screen, with a very good touch response similar to that of a mobile phone. In addition, the watch has two additional control buttons, being able to configure the lower one for the function that interests us most.
Without being a watch we can consider lightweight, it is also not heavy given its size. The total weight is 77 grams, 31.5 of which correspond to the strap. It is not uncomfortable as long as you have a wrist that is able to support a watch of this size.
By default the watch screen is off, recognizing the wrist gesture quite correctly. It doesn't reach the level of accuracy of an Apple Watch, but it almost always responds quickly when raising your wrist. 
Something that would need to be addressed is the structure and composition of the menus. Accessing the menu we find a list of options that is too long, with up to 22 entries. Finding the option we're looking for is not always easy.
In addition, there are options that are repeated. For example, all "widgets" clock mode have their version within the options menu, where yes podemos access more information. Accessing the activity widget we will only see the summary screen without further detail, but if we do it through the option within the menu yes podemos slide from bottom to top to enter all the details.
If we navigate through the menus we can activate different watch faces for standby mode, in exchange for reducing battery life. But with the autonomy that this watch offers (up to 25 days in clock mode or 48 hours with GPS in performance mode), honestly, it's not something that concerns me at all.
My objection to these dials is that they do not match the dial we have configured. That is, it is not a low-power version of the dial we have selected, so there is no "continuity" at the user interface level when using the watch.
It is possible to set a "do not disturb" schedule, in which the display will not turn on when receiving a notification or when detecting a turn of the wrist, to prevent the watch from becoming a beacon in the middle of the night. If we have set a watch face to standby the screen will stay dark, or at least that is what it should. However on more than one night and more than two I have found that this option does not work properly and the screen is on in the middle of the night.
That's not the only issue with the scheduled Do Not Disturb mode. If we want to activate it manually (from the shortcut menu) for whatever reason, deactivating it will remove the programming settings of the mode, having to re-enter the menu to activate it manually. It's obviously not how it should work.
Continuing with the possibilities of setting the watch face, within the watch settings we can choose from a multitude of options, and if you do not like any of them we will be able to install any of the many others offered from the Huawei Health app.
From the main screen 1TP10We can access different options by sliding on the screen. If we do it from left to right (or vice versa) podemos see the different "widgets" that offer quick information on activity, sleep, heart rate, stress, weather or direct access to the music player.
Sliding from top to bottom we will find the quick access menu.
And if we do it from the bottom up, what will appear will be notifications.
The Honor Watch GS Pro only allows us to show notifications, but there is no interaction. It is not possible to respond to them (either with Android or iOS), but it is also not possible to delete them from the watch. It does not show smileys or images either.
These notifications are displayed only during "watch mode", not while we are performing a workout.
Where we find something that is unusual in watches of this type is in call handling. Most watches will simply show us the calls on-screen and at the most they will let us accept or reject it. But with the Honor GS Pro we can answer the call and keep the conversation from the watch thanks to its microphone and speaker.
And not only receive calls, we can also make them to numbers we have selected to appear in contacts or in the record of last calls.
To make use of this function it is necessary that we carry the phone with us as the call is made via Bluetooth. That is, the watch does not have LTE and does not allow you to insert a SIM card to work independently.
Honor Watch GS Pro works correctly with both Android and iPhone phones for all these functions, including also updating the weather forecast. However, we can only add music through the Huawei Health app on an Android phone, and first we will have to download that music to the phone itself. We can't do that with an iPhone or even through a computer. It also doesn't work with streaming music services like Spotify or Amazon Music if you were hoping to download playlists.
Finally, we do not have wireless payments, virtual assistants or the possibility to download apps to the watch.
Health, activity and sleep tracking
We already have assumed that a watch this type should keep a complete track of activity throughout the day. And not only of the day, but also of the night. As it could not be otherwise, the Honor Watch GS Pro will also keep track of this. 
Within the widgets available on the watch we have one for daily activity. Sliding from left to right (or vice versa) you can find it.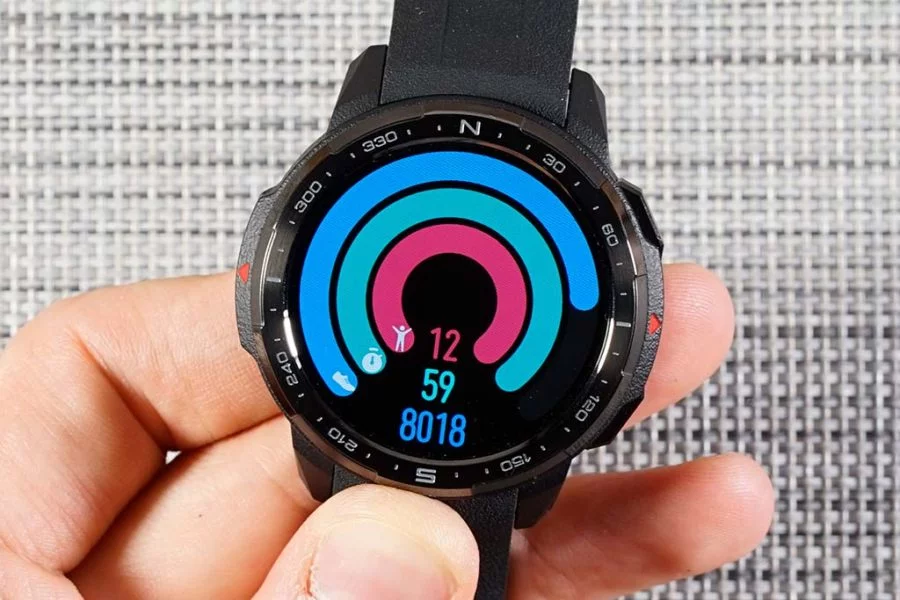 Indeed, these circles that represent our activity resemble those offered by the Apple Watch. They show us daily steps, active minutes and hours we have been active. To complete these objectives we need to:
Steps: Walk at least 10,000 steps a day
Active minutes: At least 30 minutes of active training per day (whatever sport)
Hours in activity: You have to get up at least once every hour, for 12 hours a day
Those are the objectives and we will not be able to modify them by others that better fit our routine.
In the widget itself we do not have more information, but if we access from the menu to the "Activity Logs" option 1TP10We will be able to see the detail of all this activity.
All data will be synced to the Huawei Health app, where you will have the data replicated as in the vast majority of activity trackers.
It doesn't feel good that, when it comes to counting the climbed meters, it doesn't matter whether they have been done running, climbing stairs or cycling.
The watch has automatic activity detection. If you are doing any of the supported workouts (walking, running, rowing or elliptical) and you have activated the option, the watch will alert you if you want to record what you are doing as a workout, counting since you started the exercise.
In the case of activities using GPS, the activity track will not be displayed at first, although the distance travelled data will be present thanks to what has been recorded by the internal accelerometer.
In general, Huawei's app is satisfactory in terms of basic data, although it does not provide reports with any detail beyond weekly or monthly summaries.
There is also sleep tracking thanks to the Huawei TruSleep algorithm, whose widget also has the same behavior as activity, although in this regard it offers us much less information.
In the app there is also no data that is too elaborate, although one thing that does stand out is that it is able to detect (and take into account) naps throughout the day. 
However, in terms of detecting the time of sleep it's not too accurate because if you are in bed reading or watching TV it will detect it as hours of sleep even if it shows it as a period in which you have been awake.
On the back of the watch we find an optical heart rate sensor that is always working, recording your heart rate throughout the day.
The activity widget provides all the details of the day at a quick glance; including maximum, minimum, standby HR and current HR.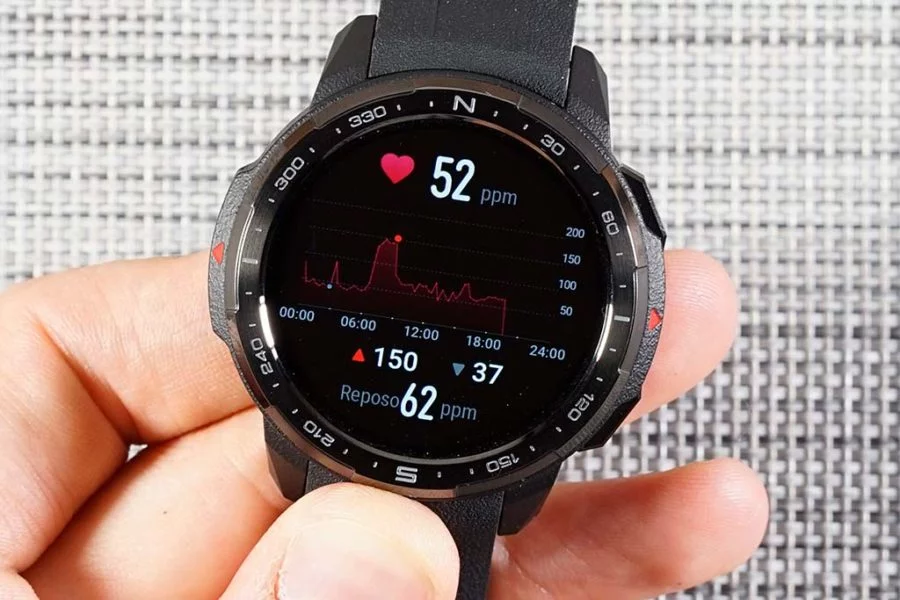 In addition to seeing the details on the watch, the Huawei app also collects all this data, offering details very similar to those of activity.
As for the validity of the data, I find that they are very consistent with those I get from other watches like Garmin or Polar. However, not everyone registers the rest HR in the same way. Some manufacturers will take the data of the lowest value of the day (which will normally be during sleep), and Huawei uses the value when waking up as a reference.
The same sensor provides blood oxygen saturation estimation (SpO2) records, but you will have to do it manually as there is no tracking throughout the day.
Oxygen saturation in the blood is something that is now on the mouth of many people because of COVID, but it is just another variable of a very complicated disease. And a low rate of oxygen in the blood is not something exclusive to COVID, it can also occur under other circumstances.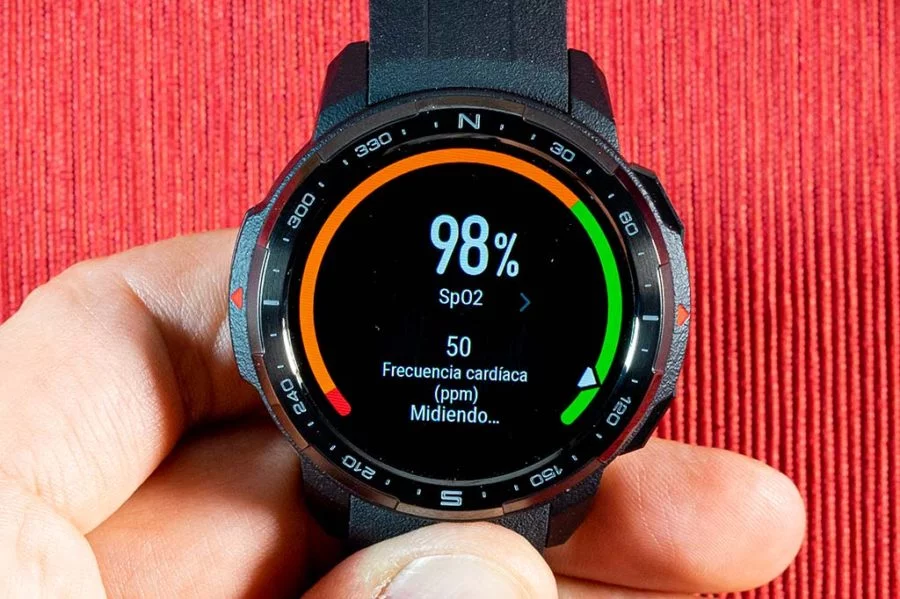 We also have stress tracking throughout the day, also thanks to the integrated optical HR sensor with Huawei technology. 
Assessing the reliability of this measurement is much more complicated, so we will have to believe what tells us there.
Honor Watch GS Pro and sport
If you are reading this review on this page it's because you are definitely interested in sport. And it's precisely the segment that Honor has focused this model on. This is not a smart watch that has sports capabilities, but a full-fledged sports watch.
Proof of this is that we have many Firstbeatperformance metrics, just like we can find in watches from other brands such as Garmin. In fact, the American manufacturer bought the analytic part a few months ago.
Specifically, these are the Firstbeat metrics found in Honor Watch GS Pro:
VO2Max estimation
Training load
Training status
Training effect
Recovery advisor
Run training plans
Calories
They are the same ones that we can find in the Garmin Fenix 5 and that you can see in the review of that watch.
In the Honor Watch GS Pro we find more than 100 sports profiles (including swimming in pool, open water or triathlon). Some of them are simply a different profile without contributing anything beyond a specific configuration, but others do provide extra functionality such as ski or rowing.
It is possible to configure each of the profiles, but the process is quite strange. Instead of finding the display settings within the profile options (along with the other settings) or being able to configure the profiles from within the app, to modify the data screens you have to start a workout.
Once the workout has started we find our data screens by default, swiping up or down. There are five different screens, plus an additional one for the training effect (which we can disabled). We may change the fields that appears in it, but we may not change the layout or what each of those screens are for.
That is, if a screen has four fields, it will be four fields that we have to choose from. But we can't modify it to three. The screen that only has one field will still have one fields, whichever you want, but only one.
In addition to the data that appears on the screen we have a ring that surrounds the screen that will indicate the heart rate at that time. And at the bottom the time of day.
To modify that field, as I say, we must start a workout (not before). Pressing some of the fields on the screen will show us the option to choose which one we want to change.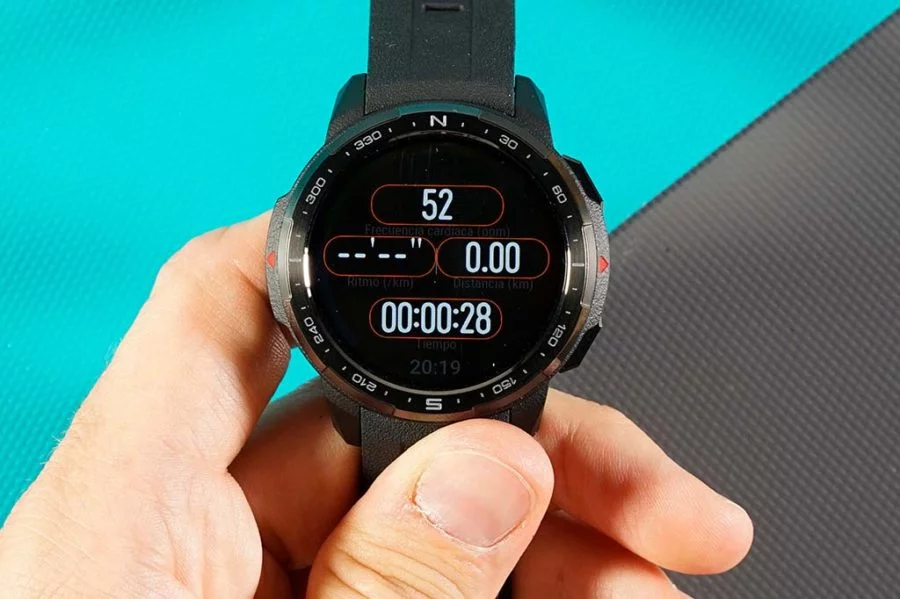 The possibility of choosing data is quite brief. Specifically this is what we can choose from: time, distance, heart rate, instant pace, average pace, average speed, calories, cadence, steps, total rise, total descent, total height, atmospheric pressure and time of the day.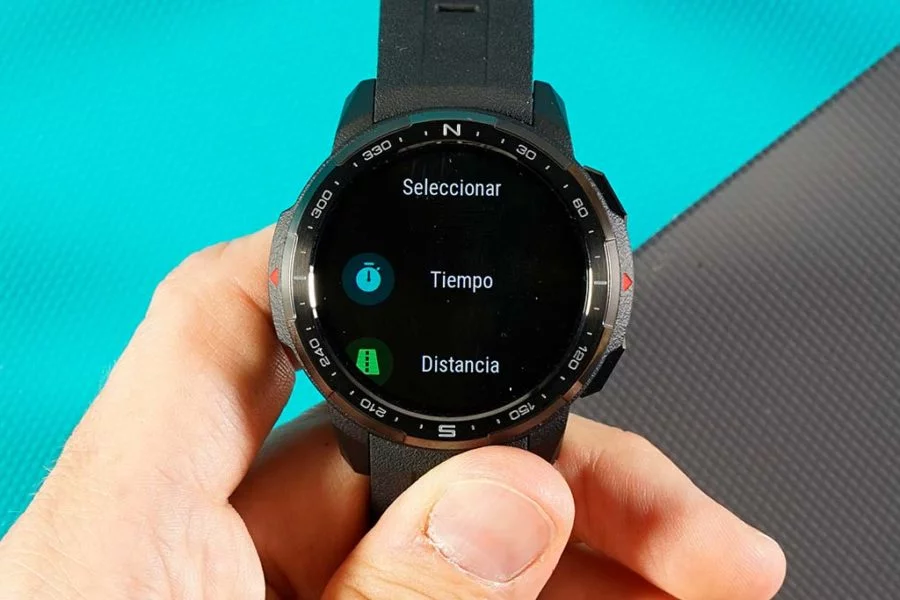 If we slide from right to left we find the music player and the map with the route we have taken, being able to make a "trackback" at any time.
It is the only navigation we find since there is no possibility of loading any kind of routes.
Following the issues with this watch, it does not support sensor pairing. Not even a HR sensor via Bluetooth. This is a really important omission because it forces us to use exclusively the optical sensor built into the watch, even in situations where we don't wear it on our wrist. For example, if we place it on the bike handlebar or on top of a jacket in winter.
We can't sort the sports list either. If, for example, you delete the run profile and want to add it again (it happened to me), it will remain at the end of the entire list, even if it is the most used one.
As for other configurations that podemos make in the sport profiles podemos select goals (distance, time or calories), warnings and alarms (automatic lap, lap through the bottom button and heart rate alarm), a virtual assistant as a "virtual partner" and in some profiles battery saving settings to reach up to 100 hours.
A fairly chaotic system that is not up to what we can expect from a sports watch. Huawei has a very good base, but it needs to work a lot more on its application to offer the minimum functionality that we can expect from such a watch.
Once the workout is finished we will be able to see a summary with all the statistics on the watch, along with quite aesthetic graphs.
That workout will be synchronized, at some point, with the Huawei Health app. And I say about sometime because the workout will show up... eventually. At least in the iOS app.
Therefore, the usual gesture you can have when returning from training, synchronizing the workout and reviewing details in the app, you'll need to change it by first seeing if the workout appears or not. The fact is that the data is synchronized (because the distance or steps appear in the daily activity summary), but for some strange reason sometimes it does not appear directly in the app.
Once the workout has appeared the values that we can see in the app are quite standard.
You'll say... well, I can also look at it on Strava. Well, no, you can't. Huawei Health app does not allow you to sync workouts with any external platform. Not only that, it also does not allow you to export the activity to any type of file, nor download it or send it via email. 
This is a huge problem, and something that I will never tire of criticizing all brands that do something similar. The data from those workouts belongs to the user, who is the one who has done them and should be the one who decides what to do with them and where to send them. No brand can have the right to "hijack" that data or limit its use with any other platform we choose.
So you won't be able to share a workout with friends on Strava, or with your coach through TrainingPeaks. You won't be able to send a relative a GPX of a route you've done so they can get to know it too. You won't be able to use desktop apps like GoldenCheetah to perform an analysis of your season or plan training load peaks. 
Well, there is actually a method to do it (which is the one I have managed to do to perform the sensor analysis you will see below), requesting the data via the GDPR form via Huawei and using Hitrava, a small application written in Python to convert the generic JSON file to common files in TCX.
But it is not a workable solution, because from the time you request the data until Huawei warns you that the download is available, it can take a day or two. 
And without a doubt, that is the worst aspect of Honor Watch GS Pro.
GPS and optical heart rate performance
Before diving into the comparisons and seeing how the internal sensors from the Honor Watch GS Pro perform, I would like to clarify how I perform the GPS analysis below: with the watches accompanying me in my usual workouts. Carrying the Honor and other models, and checking where problems appear.
I don't have a defined path to establish a score for the simple reason that there are other external factors that we should never forget. Things like clouds, leaves on the trees or simply the position of the satellite can alter the GPS results from one day to the next. 
I'll start with this run workout going back and forth on the same route. Along with the Honor Watch GS Pro, I am accompanied by the Garmin Forerunner 945 and the new Polar Vantage V2 .
Just start 1TP10We can see what is the usual behavior that we will find in the graphs of Honor. Huawei resorts to the same "trick" as Apple, making a somewhat exaggerated smoothing of GPS data. The result is very aesthetic and beautiful graphs in which accuracy errors are not perceived (precisely because they are smoothed), but that leads to the fact that in the twists and turns we are eating meters little by little.
The sharper the curve, the more you will notice that smoothing and the effect it has when cutting curves.
This is something that is even more noticeable in the Huawei Health app.
However, it also has its positive readings. This area of Puerto Banus is a point where there are usually issues with all watches (as is the case at that point with the FR945 track). I run under a row of leafy trees and with buildings on both sides of the street, so reception and triangulation is much more complicated than in an open space.
I marked the area I run through with an orange line.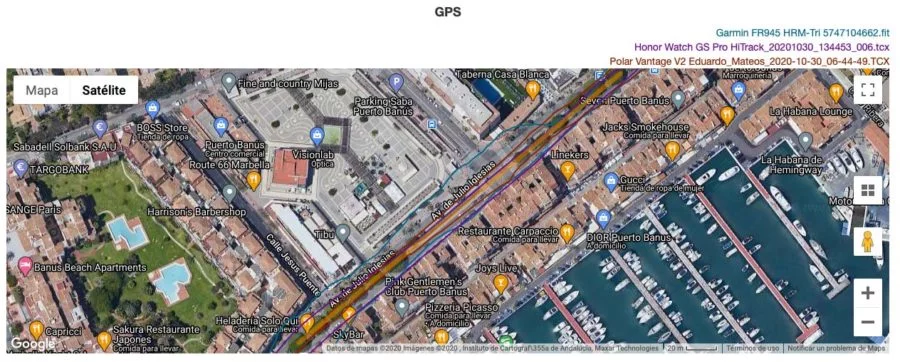 You can perfectly see how the 945 is going totally off the right line both back and forth. The Polar Vantage V2 has a pretty good behavior, while in one of the tracks the Honor nails the correct line; although on the return it also makes it straight, but displaced from the actual path. 
Ultimately, that smoothing is usually harmful... but when the situation gets complicated it can help not accumulate extra meters, and all with the intention that both distance and paces are more accurate. The hens coming in, the ones coming out, I guess.
Let's go with a bike workout now. It is usually easier to see tracks with good accuracy because the speed at which we move is higher, so the distance between points is greater and these are further separated.
In addition, on open road, signal reception problems are not usually present as there are no buildings or trees that hinder vision.
If we go check on straight roads where I ride faster you can see perfect performance on the part of the three devices. The Honor Watch matches perfectly with the track recorded by the Polar Vantage V2 and the Garmin Edge 830 .
However, further along the route, we found problems on the part of the Honor Watch. In this series of linked curves the Honor again accuses the excessive smoothing of the GPS signal, causing it to "eat" the curves both on the outward and return journeys. 
In addition, it not only cuts the curves but it's displaced with respect to the actual track, again caused by the smoothing carried out artificially with the aim of achieving aesthetic paths without saw teeth.
Let's now move on to an open water swimming workout. For a GPS watch it is one of the most complicated situations, because every time we put our hand in the water the watch loses satellite reception, so it has to perform the triangulation in the short time that the hand spends out of the water, and an algorithm performs the correction.
The Honor performance has been very similar to that of the Garmin Fenix 6 Pro Solar, which has shown the best performance in this training, except for the part on the beginning where it has made a somewhat strange turn.
But once I have crossed that point and after finding the right track, both Fenix 6 and Honor go on a par. Much better than the Garmin Forerunner 745 which had quite a lot of issues on the return and which, as you can see in the part I pointed out with the arrow, simply made a straight line.
The summary of all this is that the performance of the GPS is quite correct despite the excessive smoothing that Huawei applies to its algorithm. Is the precision of the Honor Watch GS Pro perfect? Not at all, it is far from it (like all other GPS watches), but it is totally acceptable even for the demanding ones when it comes to having a precise distance, putting the typical error margin below 1% in running or cycling activities. Even in open water swimming the performance is satisfactory.
Because I don't have a specific section to include it, I put below a capture to be able to compare the barometric altimeter. 
In the flat part at sea level there are some inconsistencies within the three devices. It is not something that seems remarkable to me, because we are talking about differences of one or two meters and I don't have a way of knowing which device is offering the correct measurement.
However, when the uphill begins all three devices align perfectly. Here we see how the Vantage V2 has some occasional issues, showing some irregular spikes, but both Edge 830 and Honor Watch GS Pro show very regular ups and downs without any other incident.
I now take a look at the optical heart rate sensor. It's an inside job, not outsourced from other manufacturers. But before I show you comparisons of different sensors, I'd like to recall some basics of optical sensors.
Keep in mind that a wrist heart rate monitor does not work the same way on all bodies. We're all different, and if we put things in the equation like skin tone, tattoos, body hair... the difference from person to person can be quite big.
In my tests it is not that the spectrum of users is very broad: it is me, myself and I. So what works well for me might not do it for someone else, or it might be better.
But the most important thing to keep in mind is that you have to follow some guidelines to wear the sensor. It should be tight (but not cut off your circulation), enough to keep the watch from moving freely on your wrist, leaving a separation of approximately one finger from the wrist bone. By following these details you will ensure that you get the best results that your conditions can offer.
Well, once we've cleared this up, let's look at some comparisons of optical sensors. I'll start with an easy workout at a steady pace, something that any sensor should be able to perform perfectly.
In general, the graph is quite correct between the two optical sensors of the Honor Watch and the Polar Vantage V2, compared to the HRM-Tri chest sensor of Garmin.
I have pointed out two sections in which the Honor loses a little thread and separates from the other two graphs, but there are no excessive differences or spikes. Why does the graph appear that way? I think the motive is similar to that of GPS, Huawei uses excessive smoothing which causes lower values to appear on the graphs and lines with fewer saw teeth than in the other two members of the comparison.
In fact in the following workout you can see a very similar performance in the sections I pointed with the arrows. The Honor graph is parallel to that of the other two watches, but always offering a lower reading.
The part marked at the beginning within a circle is simply a log error, it can happen at times and it's not something that concerns me too much because it's not common.
Back to the smoothing issue, it's something that can only be seen in the graphs when reviewing the workout, the truth is that comparing values at the mid-training and with constant intensity the reading given by the three devices was the same.
The difference in the graph seems important, but the actual separation is not more than 3 or 4 beats at the points of greatest separation. 
At the end of that same workout I did 6x 30" sprints, here you can see that zoomed in.
The reference graph is the blue one, as it is that of the Garmin chest sensor. The Honor graph doesn't have too much delay in the up/down, or at least not very different from that of the other competing models, as you can see in the comparison with the Vantage V2.
I now move on to a pure interval workout, but this time on a bike and doing it on a bike trainer (where there are no vibrations and other movements that hinder the correct tracking).
It may not be too comfortable to see the differences with all three graphs, so I'm going to remove the Vantage V2 for a moment, which has quite a few incorrect peaks, to see it more clearly.
You can see that there is hardly smoothing here and that both graphs are very similar. Yeah, there's some delay in the heart rate records, but that's how the optical sensors work. I'll zoom in some of those intervals so you can see it more clearly.
Overall the performance in indoor cycling is quite good. What about outdoor cycling? Well, again it is relative to the average of optical HR sensors, offering downright performance.
In this case the Vantage V2 has been somewhat better, within that it also does not have a correct record. 
This is the usual performance of optical sensors in cycling, not something exclusive to the Honor. But the problem is that it is not possible to connect with an external heart rate sensor, so it will be totally impossible to have correct values in our rides. 
All in all, the optical heart rate sensor of the Honor Watch GS Pro is aceptable. It does not stand out for its reliability, but it is not a bad thing. It has the same smoothing problem as GPS, which Huawei applies simply to get more beautiful graphs and I don't think the watch is malfunctioning, but they are not exaggerated differences or erratic operation.
However, my main objection is the inability to use an external HR sensor, something that Huawei should reconsider, especially since it is quite normal in any other manufacturer.
Do you want to help the site? Buy Honor Watch GS Pro here
I hope that this in-depth review has helped you to decide if it is a valid device for you or not. All the work I do you can consult it without any cost, but if you want to support the page and by doing so the work I do, the best way to do that is to buy your new device through the links I provide .
And if you don't buy it today, remember to stop by when you do! Through these links you will not only get a competitive price and the best customer care, but also I will receive a small percentage at no additional cost to you. That's what allows me to keep offering you reviews like the one on this page.
Find the best offer
Honor Watch GS Pro
You are not going to buy it, you already have it or Amazon is not an option; but you like the reviews I perform and you want to show your support for the site? Then consider signing up for a VIP membership. Above all you will be helping to support the site, but you will also enjoy unique benefits.
If you have any questions, remember that you have the comments section at the bottom, where I will try to answer all your questions.
Honor Watch GS Pro opinion
Huawei, or Honor in this case, has a great hardware but half-cooked software. The Honor watch offers many positive things, especially if we consider its current price of 199€. It's not only its magnificent (and huge) AMOLED display or eternal battery life; it's also that both GPS and optical sensor work reasonably well.
But it is a pity that it is weighed down by the choices that have been made when developing the software. Everything around training is not properly structured, and it is probably because there is no one in the development team who not only practice sport, but who does it competitively. The training interface is aesthetic and fluid... but there are a lot of things that should be reviewed.
Then we have the inability to export the workouts in any simple way. This, in 2020, it is unacceptable, especially considering the amount of APIs available between different software manufacturers and companies; and considering that the workout file is already stored in the cloud, they would simply have to convert the JSON information into a generic file like a TCX, and at least leave us send it by e-mail. It's something that any developer could do in just over an hour.
At least Honor have shown that it is perfectly possible to make a watch with a magnificent AMOLED display and more than three days of battery life. The truth is that I don't know how Huawei gets it, but the autonomy offered by this watch is brutal.
To whom do I not recommend this watch? Someone who wants a lot of training data and metrics. If your thing is the detailed analysis and structure the season from there, Honor Watch GS Pro presents, today, many impurities to polish.
However, the GS Pro can be a great choice for someone who is more casual in their workouts. Those who train simply to stay fit and enjoy the sport but have no competitive interest. In this price range I can't think of any other watch that offers a display of this quality for your day to day and with a battery life that will not disappoint even the most forgetful of the charging cable.
Although I'd like Honor to keep working on the software and polishing all that stuff we've been seeing. Because it's a software update away of being a great product, as the device itself doesn't present any issues.
And with that... thanks for reading!