It got dark. I'm not talking about a concept of time, but also metaphorically. The light just went out on me little by little. But I'll start from the beginning because it's a long road.
The day before, arrival in Seville
I arrived in Seville with my homework done, a fair bit of training but with a good feeling in general. Certainly the weather we had this winter was not very helpful, but one way or another I managed to avoid the worst days of rain, although some of them were impossible to skip and I got wet like any other son of a neighbour.
The race was to be held on Saturday afternoon, so our intention was to arrive in Seville on Friday before nightfall, accompanied by the suffering people I drag along with me in all these stories, trunk full, bicycle on the roof and loaded with desire.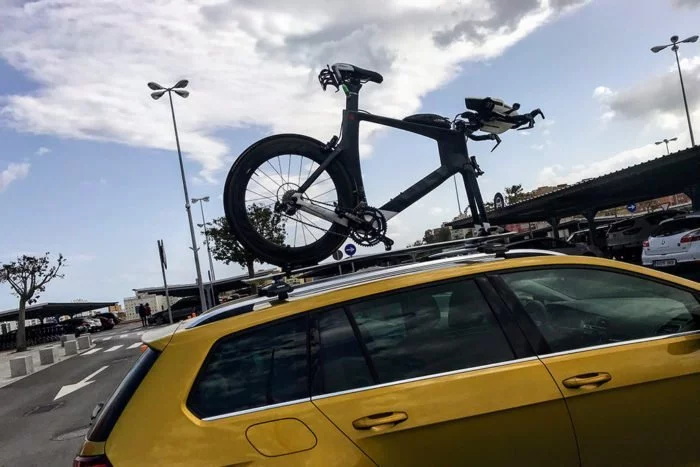 Although it didn't exactly catch us on the way, I decided to go for the bibs that same day and leave one less thing for Saturday morning, hoping to have a quiet morning and, who knows, even spend some time with the family (yes, yes...).
Driving around Seville on a Friday afternoon is not easy, there is a lot of traffic and proof of this is how long it took us to get to the delivery point. It was not at the race fair, but a point had been set up in a shopping centre on the outskirts. After a bit of queuing I pick up a bag and a finisher's jersey and we can finally set off for the centre of Seville in search of our accommodation.
When I get to the center the number one problem of the whole weekend. Under the bike on the roof, I ride it, we start loading things and I have nothing else to do but fall on the bike against the car. Not trip, no. All my weight on the bike and lean against the car.
After panicking I look to see if I have broken a wheel or cracked the frame. Luckily everything seems to be in order. I look at the car and some nice scratches on the door. I check the bike and... yes, problem. The rear wheel has gone off-centre. I check the car door and no, the scratches are not polish, they are stay for ever...
There I am, a Friday at 8:30 pm in Seville, with a race in a few hours and a wheel with problems. The situation begins to panic, because obviously at that time no one is going to attend to me anywhere. And to see who I find on a Saturday morning in Seville first thing to do my repair and not anyone else's...
We go downtown while I remember that the organization was going to have a free workshop at the pit entrance. I see that the people in charge of this are the people from Expobikesso I'm contacting them on Facebook to see if they're going to have a centerfold there.
We finished dinner and I already have an answer, there will be no centerfold but they were going to find a solution for me. Indeed, 11 pm and someone is looking for a solution to a problem that has nothing to do with it and for which I will not be charged a penny. 12 pm has passed and we are still talking trying to find a solution, his regular mechanic has had an accident and will not be at the Expo, but he offers me the details of a friend store or the possibility of going to his store at 11 am on Saturday. I repeat, all this after 12 pm. Eternally grateful.
Race day, next time I hope it'll be a little more smooth
After breakfast I load the bike in the car and set off for Dos Hermanas, about 25 minutes from where I am. My nerves are eating me up because there are so many things to do in a short time. The race starts at 3:30 pm, the pit closes at 2:30 pm and before all that I must have eaten at a reasonable hour. And I would like not to have to eat like turkeys...
After a slightly lighter than advisable route to take a bike on the roof, I arrive at the Two Sisters' tent at 11:10. Second in line to get a hand on a bike, another participant of the Half has won me the pole. I take a walk to get some air and come back in a while, they are already getting a hand on the wheel. It is confirmed that it has a solution and I finally breathe (not only for the race, but for the wheel?).
It's 11:50 when I leave the store, I'm still stuck on my ass and the next stop is the transition area. Instead of continuing to ride the bike I had decided it was best to leave it already prepared in the box, although I would have to come back later to put all the nutrition in, so the 14:30 deadline remains the same.
The weather has been improving, the rain forecast is for the afternoon and you can see the sun with few clouds. It seems that the start of the race will be quiet, so I decide to leave shoes on the pedals with rubber and everything well prepared.
I run out and go back to the car, which was parked quite far away because there was a PP congress in the hotel outside the CEAR La Cartuja, that is, a large safety zone so I had a walk. Next stop I pick up the family from the center and go to eat.
I try not to eat like a turkey and take it easy, I pick up all the hydration I had prepared in the morning and we leave on the way to the starting area. It's already around 2 pm so she is not in her best moment, but things are calmer and the time is controlled. Shortly before arriving at the starting area it starts to rain very hard, and I remember everything I had left on the bike without protection...
We park not too far away and while it's raining we get closer to the pit area. While I leave the nutrition I have fun emptying my helmet of water, since I had managed to form a small pool and I decide that finally I will put on my shoes directly in T1 and walk out with them, for two clear reasons:
The rain had made a good patatality, and the ground had become soft, so there was no problem in destroying the coves too much.
I had no desire to wear wet feet, at least no more than I would accumulate in case of hypothetical rain.
Finally, around 2:30pm, I had everything in place, fixed and set up... a stressful morning that certainly doesn't help any race, but when things don't work out... I still had an hour to go to the bathroom, put on my wetsuit calmly and breathe easy for the first time since early morning. And even warm up a bit on the Guadalquivir.
Swimming segment
At 15:30 we started to get in place, first the women and then the men. For the start we would start from the water on each side of a wooden pontoon that went into the river and that was halfway through each 900m lap. We would complete one lap, get on the pontoon to jump back to the other side, complete the second lap and go up for the second time in search of the T1.
The judges were still ordering us to stand closer to the pontoon (in theory by touching it with our hands) and there was a loose buoy that was getting in the way a little bit. I was standing to the side, behind it, looking... when suddenly the official start is given and it catches me almost at the end and still fighting with the buoy. It's time to get to work.
The Guadalquivir is not a very dirty river, but it is very muddy because of the amount of sediment in the water. That means that the visibility underwater is only a few centimeters, so once in the water you have to sharpen the other senses. I try to find a wake that marks my way and I start at a good pace. As we have left quite messy there are not many hits at first, although the arrival at the turn changes everything. It forms a funnel and we begin to pile up. Here if I get some stick and I almost sink, so I leave the second turn a little wider and decide to start swimming alone, because although in the group would be able to follow some wake to help, the constant blows to the feet were beginning to overwhelm me.
I reach the pontoon and there is some retention, I have two or three triathletes ahead of me going up so I have to wait a few seconds. I go up without much trouble and I jump head first hoping not to lose my glasses on the way, so chin to chest and pray.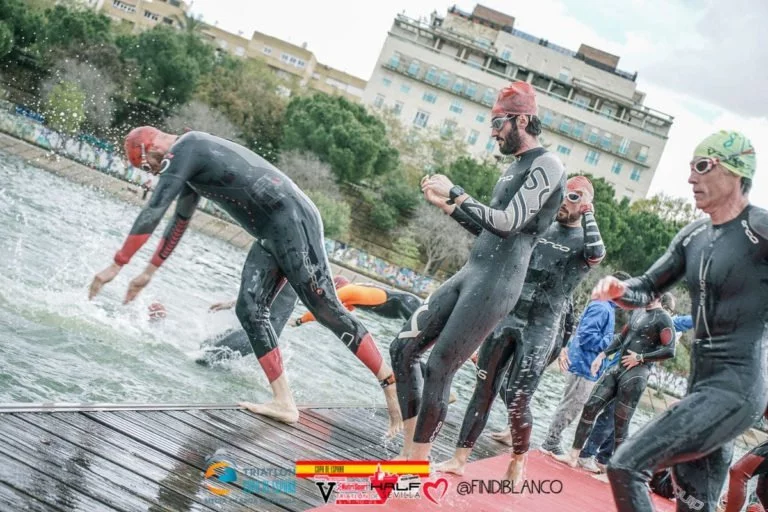 Arriving at the end buoy, I get the femoral biceps on my right leg, so I do both turns limping a bit on that leg without being able to do the full kick. I get a little lost and go too far to the shore, correcting the trajectory when I realize the mistake.
New arrival at the pontoon and it's time to go up. This time it's much harder because the arms don't have the same strength as before, so after two or three attempts and doing the kibble I manage to get out of the water carefully so that the femoral biceps don't complain again. Final time when we reach T1 of 33:12, going down in two minutes the time I was hoping to get. This is going well!
Cycling segment
I make the transition calmly and try to loosen up my right leg a little bit, which was giving me problems. I put on socks to do the bike segment because the day promised it was going to get ugly (and it did) and I line up the pit exit with a total transition time of about 4 minutes. A little slower than I'm used to, but I've made it comfortable and without major incidence.
Ahead there are 93km which by profile doesn't seem too complicated. Quite flat and a couple of not too aggressive climbs. Before starting it didn't look bad and it seems to fit quite well with my characteristics.


Peeeero, there's always a but...
I'm not getting ahead of myself. The exit is through the Parque del Alamillo on a much worse than ideal asphalt. In fact, I could see quite a few problems with punctures. In this area, obviously, you can't squeeze, don't get attached or anything like that. After going out on the open road towards La Algaba, the storm starts. A lot of side wind, the kind that moves you around, accompanied by rain. That's in addition to the asphalt being quite broken. It really looks good.
Luckily the rain stopped not much later and it respected the rest of the race, but the wind did not abandon us all afternoon. I do not know how it was, but I had the feeling that I was always against it. After a while fighting against the wind, we changed it for the beginning of the climb to Olivares. I take this opportunity to start with the nutrition at the same time that we pass by the first refreshment post. Here I still continued with strength and desire to overtake.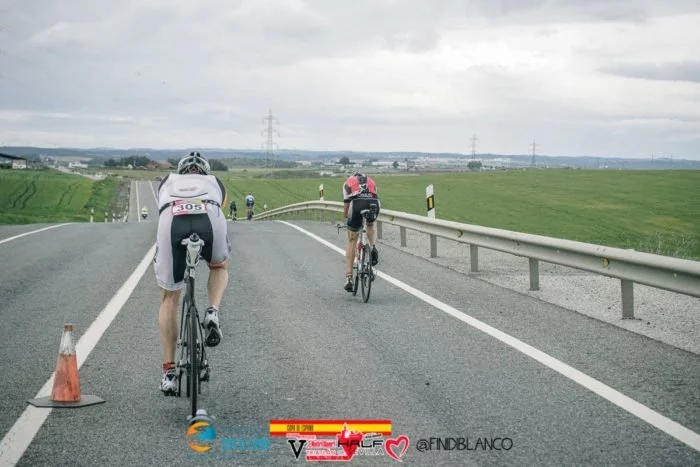 After crowning the first small peak we headed downhill and on the way to the second climb of the day. "From a distance it looked like it was going to be an easy and fast stretch, but the reality is that it would be quite uncomfortable because of the continuous succession of slides that completely cut the rhythm. I couldn't ride comfortably, and I was starting to feel the cold. Although it seemed that I had everything under control.
I start to climb towards Las Pajanosas, a small pass that is not hard because it is an affordable but long climb. It was kilometer 60 and I already noticed that something was not right. The power was not coming out of my legs as much as I wanted to. My intention was to stay in a range of 250-270W, but I had a hard time doing it. In Cascais I had to restrain myself from exceeding that figure and in any training session I could hover around those numbers without any problem.

It wasn't the only numbers that weren't in, the heart rate was also low, at 120-130 beats, with a clear downward trend. And it was still cold.

Kilometer 65 and I kept going up. I was no longer getting any nutrition and I drank without desire, with a slight feeling of nausea. I was already tired of cycling and I was looking forward to going down to run. And that this happens to me at km65 is not normal because at this point I'm still fresh as a daisy. But not that day. At the start I had heard that after the last climb it was 25 kilometers down. This is mine, a place to ride.
We arrived at Las Pajanosas and the descent began. It is indeed a more rolling area, but I did not count on the headwind. It was difficult to exceed 40km/h and, despite not having set high power figures (I stayed at 213W on average) I was beginning to notice muscular discomfort in my legs. At the same time I was doing the time calculations and I saw that the goal of hovering around 5 hours was not going to be achieved by much of a margin. And with the cold I was wearing and the feeling I had in my body even less. I forget about time goals and simply prepare to run, knowing that I will have to go on the defensive from the race KM1.
Running segment
After 2:55 on the bike according to the clock, I arrive at T2, where luckily I had left a pair of dry socks. I take the time to change them, shoes and go for a run.
I start according to plan B of going on the defensive and do the first km in 5:30. I feel like a mobile chicane, everyone is overtaking me. I continue to have a bad feeling in my body and make a first stop to empty my bladder to see if it helps. I continue my rhythm and face the exit from the park, but I start to have intestinal cramps. Again like in Portugal, but this time much earlier... Of course, I know that this time it is not because of the nutrition because I have been much more careful, but the cold has affected me.
I stop for 5 minutes in a portable toilet and continue jogging. But the headwind and the humidity of the river keep splitting me in half. I continue as I did on the bike with the unusually low heart rate, which doesn't help me to warm up. And as I jog at a close pace at 6 min/km I see how all those names I have been overtaking on the bike are about to complete the first lap.
This is the point where the abandonment goes through my head. In fact, if I had seen my wife and son at that moment I would have done it. I had my body cut, the mentioned cramps and the feeling that the 15 kilometers ahead of me were not going to be pleasant at all. But I didn't see them, what I did see was the finish line from the other side of the river. There I decided that I was going to cross that finish line sooner or later, so I bent my head and continued.
I make the first refreshment station walking and eat what I can to continue on my way. I'm already slowing down from the 6min/km before and a war of walking/running starts constantly, this time without coinciding with any refreshment station. The wind keeps blowing, the humidity of the river has already reached my bones and it's getting colder.
I complete the second lap and again I have to stop at the portable toilet with considerable pain that was making me walk more than I wanted to. And again the bad times in Portugal come to mind, but at least I wasn't cold there.
I'm already on the second lap and there are less and less people left on the circuit. We all have the same face and we move around like zombies. There was no more sunlight, although it was dark for me quite a while before. It starts to sparkle again and I'm already counting the kilometers one by one. We gather 3 or 4 triathletes to go back through the park area with the only illumination of the moonlight and only the Alamillo Bridge as a reference to guide us. It's not long now.
After more than two and a half hours "running" I reach the finish line. I have arrived in 6:09 after completing the slowest race segment of all participants (that's what the classification says). Someone has to have that honor, right?
In conclusion...
No, it hasn't been a good race, neither in terms of results nor sensations, but it's the beautiful part of this type of race, the final result is unpredictable and there are a lot of variables at play that can make everything go well or end up in a hole.
But it's not just another race, you learn everything. Just like I learned in Torre del Mar Olympic Games Last year I had to be very careful not to go out with wet or dirty socks, this time I learned that wasting one or two minutes putting on a layer if there is a bad weather forecast is very well invested. It is possible that I was not in condition to have finished at 5:00h-5:15h even if I had not had the problems, I will never know. But all those with whom I exchanged position on the bike did finish in those times.
The final reading, regardless of everything, is positive. To begin with, it's another half-distance completed, with better or worse time, but completed. What I've already commented on, and also not less important, is that it hasn't meant excessive wear and tear as it would have if I had been able to push much more. This puts me in a good position to face the next goal for 2018, the Vichy Ironman 70.3 in August.
So there is nothing left but to get up and keep learning to make a good race clean of problems.
And with that... thanks for reading!