Episode 5 of podcast BETWEEN THRESHOLDS. And what is today's episode about? Well, as I had been announcing on social networks, TrainingPeaks. But not talking about the application in a generic way, but going into detail on how to use TrainingPeaksso what we have ultimately created is a complete TrainingPeaks guide so that you can learn about all the possibilities it offers.
I have the advantage of having the wisdom of José Manuel Plaza because, as a cycling and triathlon coach, he eats breakfast, lunch and dinner with TrainingPeaks, he is around this application all day long.
Sincerely, I think we have podido make a piece of podcast loaded with details and very useful information for all of you and that whether you use TrainingPeaks frequently or not, you will find it very interesting.
I will simply use these lines to leave you the notes of the episode, which you will be able to consult while listening to it and thus have reference both in text and audio of what are the metrics, graphs, images of interest and recommended bibliography.
Let's get down to business.
What is TrainingPeaks
TrainingPeaks is an application that allows you to keep a perfect quantification of your training, at least in the Premium version. Remember that the free version will serve you both as a library of your workouts and when poder work with your coach, receive workouts from him and poder synchronize it to your device directly.
Some of you have asked us the question of how it is similar to Strava... it may seem that they are similar, but the use and destination of one and the other are very different. Strava is a social network that has a small part of quantification and training analysis, but it is very basic. Its main advantage is that everything is very easy and simple to understand, but it doesn't have too much background.
As for TrainingPeaks, a distinction must be made between the two modes of use.
Free TrainingPeaks1TP10: The free version allows you to synchronize your workouts from the platform you use, 1TP10, you will see your workouts and see their metrics, but you will not have access to training load. It will also serve as a library where you can have your history sorted by date.
It is useful if you are going to work with a trainer through this platform. He/she will create a workout, you will view it and even download it to your device, and after completing it, it will automatically sync so you can review it. You will not have access to training loads, but the trainer will have all that data.
TrainingPeaks PremiumThe price of the Premium version of TrainingPeaks is 9,95€ if you choose annual payment, or 19,95€ if you choose monthly payment. Normally you should choose the annual plan, especially if you can combine it with a discount from your federation (or any other, as I explain in the podcast).
In addition to the free features, here you will have access to all the training load metrics, graphs, control of your season and the possibility to create an annual training plan.
Devices supported by TrainingPeaks
We must differentiate between "what goes up" and "what comes down". TrainingPeaks is a web application, which means that it is in "the cloud". So what we "upload" are the workouts we have done with our watch or our cycling computer. And what we "download" are the workouts that our trainer has prepared for poder to follow them comfortably on our device.
Virtually all platforms have the ability to upload data (because it is free for the manufacturer), while few pay the fee to TrainingPeaks for poder to download workouts,
Synchronization of workouts with TrainingPeaks
These are the platforms that, after linking with TrainingPeaks, will automatically send your training:
Garmin

Polar 

Suunto

Wahoo
In addition, you can also podransmit data or synchronize platforms (e.g. to transfer all workouts since a certain date) via cell phone applications.
For Android: SyncMyTracks
TrainingPeaks Proprietary Metrics
Let's go with the metrics found in TrainingPeaks. Everything in the application is based around them, so knowing what each one is and where it comes from is crucial to use TrainingPeaks.
TSSTraining Stress Score: Training Stress Score. It depends on the volume of the training (how long it was) and the intensity of the training. A 1-hour training session at a threshold pace (race pace, or cycling FTP) is equivalent to 100TSS.
There are slight variations in this metric depending on where the intensity data comes from.
- TSS: with potentiometer, for cycling or running
- rTSS: for running paces when there is no potentiometer, based on the normalized pace (NGP: Normalized Graded Pace).
- hrTSS: for cycling training without power or any other training in which we only have a pulse sensor.
- sTSS: swimming training
ALL-IMPORTANTYou must have well defined zones and thresholds for the different sports. If they are not well defined, the TSS will be calculated incorrectly and is the basis of everything in TrainingPeaks.
IFIntensity Factor or intensity factor. It is a percentage with respect to our threshold (FTP, HR or race pace). An IF of 0.85 in a workout would be to have done it at 85% of our maximum capacity.
ATL (Fatigue)Acute Training Load: Acute Training Load (short-term). It is the average TSS of the last 7 days. An ATL of 100 assumes that the average daily TSS of the last days has been 100TSS in each training (which can be varied, but in total it would add up to 700 divided by 7).
CTL (Fitness)Chronic Training Load: Chronic Training Load (long-term). It is the average TSS of the last 6 weeks of training. Same as ATL, but takes into account the TSS of the last 6 weeks and divides by 42.
TSB (Form): It is the result of CTL minus ATL. For the previous day. Negative numbers means that we are increasing load (both by volume and intensity), and an acceptable figure can be up to -30, beyond that number means to be increasing the load too high.
The goal is that, when we go to compete, our TSB should be around 0 with some margin both above and below.
Recommended CTL values
You already know that the CTL is your chronic training load, or the average volume and intensity you've been training over the past 6 weeks.
The table you will see below is the one we refer to in the podcast as reference values. In the podcast you will find on the TrainingPeaks website.
The ranges in general are very wide, but it is good for poder to delimit what would be a recommended minimum CTL for each type of test. And from there... "the sky is the limit".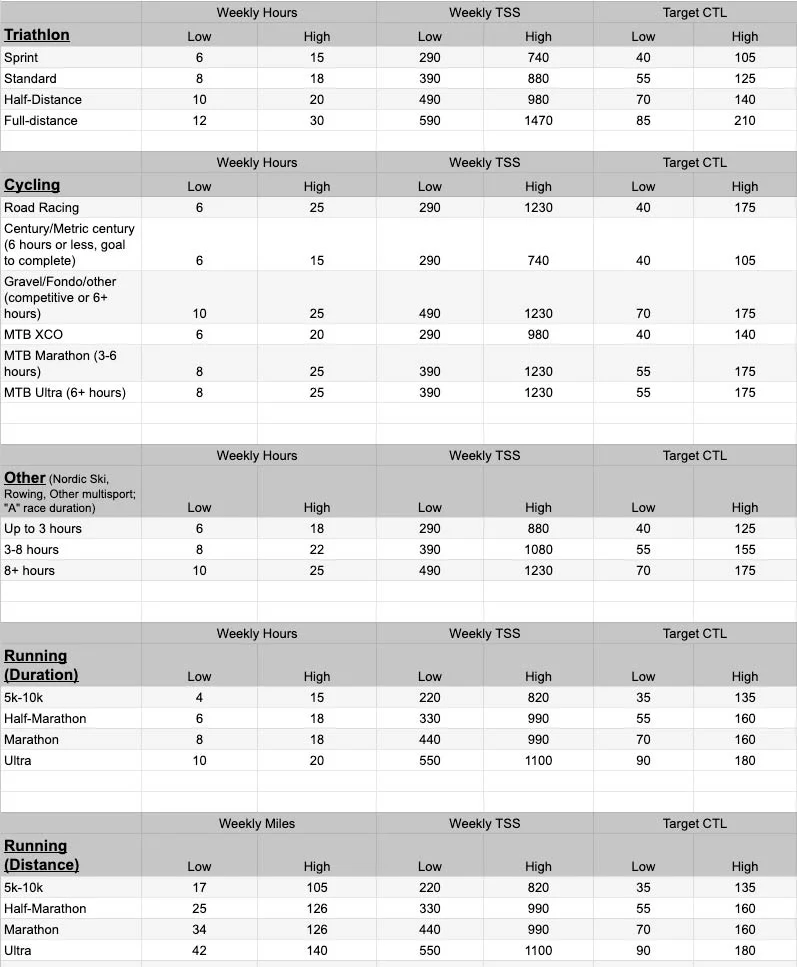 For example, to run a marathon, the minimum recommended CTL would be 70, with about 55 kilometers of weekly running and an average weekly ATL of 63 (440 weekly TSS between 7 days).
For an Ironman we would have to increase to a minimum CTL of 85 with an average weekly ATL of 84.
As I say the range is very wide, but it serves as a good basis to prepare your training plan or even to know if you are going to be able to prepare for a particular event. For example an ultra distance race if you are not going to have time to accumulate a CTL between 90 and 100.
Annual Training Plan (ATP)
You can create a training schedule based on training hours, TSS per week or a target CTL for a given competition.
Based on the data entered, TrainingPeaks makes an estimate of what is the weekly load that you should train to safely reach the determined target. TrainingPeaks will create the planning, but then 1TP10We can play with those weeks to give more or less TSS to each of them and, if we go over, we will have a warning.
Recommended bibliography
Running and training with potentiometer - Hunter Allen and Andrew Coggan
Triathlon 2.0 - Jim Vance
That said, I think we have left a tremendous episode that, despite being loaded with information, you will not find it burdensome or heavy to listen to.
Where can you listen to it? Well, on the usual platforms, you can choose your favorite:
Or from here, at the bottom of the page.
And remember, send us your comments, we appreciate all your criticism to improve and offer you what you are looking for. Leave us your comments on the platform you use to listen to us!and don't forget to send your rating!
If you rate us with 5 stars more 1TP10 people will be able to discover it, because the platforms will put it above in its corresponding section.
Thank you!