Update - Problem fixed
Have you been out to train since January 1 and found really horrifying tracks? Relax, you're not the only one and your watch isn't spoiled. It is a present fault in the Sony GNSS chipset that, for better or worse, is equipped in all recent new devices of all brands.
Where is the source of the problem located? When we synchronize a watch, it automatically does a cache download with information about what will be the location of the satellites in the sky to, that way, make triangulation much faster.
This is why with modern devices we can get the "Ok" of our device in a matter of seconds when a few years ago it was normal to have to wait for minutes.
But these days, as there is an error on the part of Sony (which is who has to supply that information cache to all our devices), that information is not being updated so we not only have much longer triangulation times, it is also accompanied by horrible GPS tracks.
But I repeat, it's not a problem with your device or your brand, it's something global and that Sony has to fix.
In fact, Garmin watches will tell you that the CPE file is expired, and as much as you sync it will not be updated.
Synchronizing a Suunto watch will show you an error when it comes to optimizing GPS values.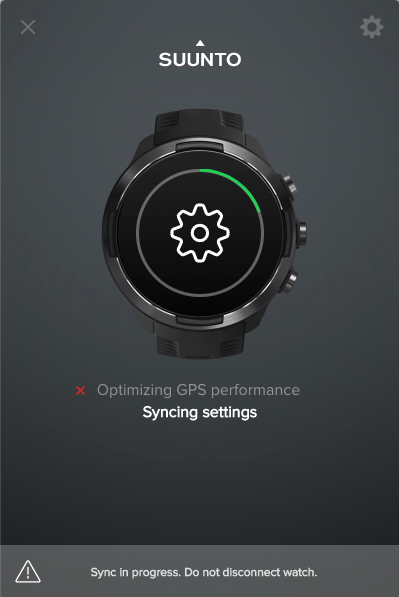 However Polar is not reporting error in the A-GPS data download, which does not mean that the data you download is correct (although I haven't used Polar these two days).
COROS meanwhile indicates that the file is up to date and that you don't have to download anything yet. In fact with COROS I have had good tracks these two days.
Solution to the GPS problem
It's clear this is first-world problems... but it's definitely an awkward situation. Solution to the problem? Well, there is not much to do, because it is not something that depends on us or manufacturers directly.
In the case of Suunto and Garmin, since the A-GPS data has expired, you should not have that error induced from the beginning. The only thing to keep in mind is that you will have to wait a little longer before starting your workout to ensure a good triangulation.
If you have been training these two days, you can use the comments below to tell us how the track was and if you've already noticed strange things about it.
Update January 3rd
Sony has worked on the weekend and the problem is already fixed. Everything goes back to normal and your GPS records should be as they always have been.
In fact, Suunto already does GPS optimization correctly.
And Garmin also updates the CPE (which comes from Connected Predictive Ephemeris) correctly.
So you're out of the excuse for not training today. Because being cold outside doesn't qualify as an excuse, I'm sorry...
And with that... thanks for reading!