Usually, when a device supports navigation, the manufacturer includes utilities to create routes to be followed in our brand new clock or computer. Moreover, we can even use platforms without having a product of that brand - as is the case with Suunto Movescount-.
Pero si te ocurre como a mi seguro que no tienes una «utilidad de cabecera» para hacerlo y recurres a diferentes opciones según el día. En mi caso si es para una ruta de montaña utilizo Movescount, si es para ciclismo en carretera opto por Garmin Connect. En el remoto caso que tenga algo más de tiempo para hacer una ruta con más detalle me voy a RideWithGPS. Y por qué no decirlo, también he usado la creación de rutas de Strava. Pero si hay algo que tengo claro es que si quiero hacer una ruta lo más rápido posible y sin calentarme mucho la cabeza abro la pestaña de Google Maps.
In the end I end up doing the route in Google Maps and in a different tab I open the application that I can think of in that specific day and I end up creating the route, but always consulting with Google. I don't know the exact reason for this behavior, I suppose it's the extreme simplicity when designing a route, because it won't be for lack of options in the other platforms.
But there is another possibility, which is to export to a GPX file the route you have designed in Google Maps and load it in the platform you want. And that's why I wrote this article today, so that you know this possibility and use it if you find it interesting.
Create the route on Google Maps
As it is obvious here you won't need much help as everybody knows. You will simply add points for the places you want to pass and Google will design your route. In this specific case I am going to do a return route going up to the Refugio del Juanar, passing by the road of Los Caracolillos de Ojen. The vast majority of this route is part of the cycling segment of the Ironman Marbella 70.3. In your case you will logically use the route you prefer, but this is the one I will use as an example.
With the route traced, let's get to the important part, passing it to a file in a generic format that the vast majority of programs and applications can understand. To do this, simply copy the resulting address after adding all the points.
In the case of the example I am using, the address would be as follows:
What makes Google Maps so convenient is that you can create a route with three or four points, but if you are interested in passing through a particular point simply by dragging the midpoint everything will change in a matter of seconds. And you can choose whether you are a cyclist or a pedestrian so that the route selection is consistent.
Once you have created your route let's go to the next step: getting a GPX file.
Convert a route from Google Maps to GPX
This is where the key is. You just have to enter the page www.mapstogpx.com and paste the address from Google Maps that you have previously copied and click on the LET'S GO button.
Tras pinchar en ese botón se descargará de forma directa desde la página un archivo GPX. El nombre simplemente es «mapstogpxXXXXXXXX_YYYYYY.gpx», donde las X e Y son fecha y hora en la que has creado tu archivo.
Congratulations, you now have a generic path file to work with.
Passing the GPX route to the device
So far the procedure is generic for everyone whether you have Garmin, Suunto, Wahoo or whatever.
GPX route in Garmin
In the case of Garmin you will have to do the process through the browser on your computer or mobile phone, as the app does not allow you to upload the file directly. To do this, you must access your panel and in the menu on the left click on Training - Journeys and, in the window that opens, go to Import.
Once imported, it will open the route, which you will be able to modify or alter. You will simply have to select Save Route and then Send to device, selecting which one you want to send it to. And once selected, synchronize that device and you will receive the route that you can select from the menu.
GPX route in Suunto
The procedure in Suunto is very similar. When you access the control panel you simply have to click on the blue button at the top to select the route planning option.
Se abrirá la ventana de creación de rutas. Desplegando el menú de la izquierda encontrarás la pestaña de «Mi Biblio» donde están todas las rutas que hayas creado, y donde se sitúa la opción de Importar ruta.
With the route already loaded you must select the clock that you will use on your route to have this route available, having to click on Save so that everything is recorded.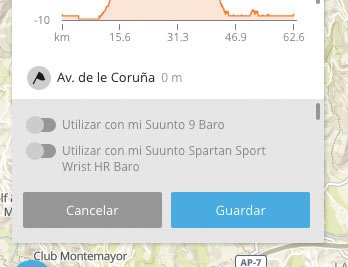 All you have to do now is synchronize the clock with your computer or mobile phone and you will have your route ready to navigate.
GPX route at Polar
In Polar you'll have to upload your route through the favourites option, which you can access by clicking on the star at the top of the navigation bar, next to your name.
After importing the route, it will appear in the list of your favourites, where you can select which clock or computer you will synchronise it on.
I don't happen to have any Polar devices that support navigation in my account right now so I can't show you the last step, but it's simply to make sure that that favorite is available on the device in question. And of course, after all this, sync to find that route in the device menu.
—
There you go, direct method of bringing the Google Maps route directly to your device, all in simple steps.
And with that... thanks for reading!