The wristband and activity monitor industry is becoming increasingly overloaded. It's mature now, and it's hard for manufacturers to surprise us with anything. In essence, they all do the same thing: count steps, calories and help you keep track of your activity. They did that a couple of years ago, so now we have to make more demands on Garmin Vivosmart HR.
Smart notifications or more control over your activities is already becoming a must, and in this case Garmin adds the optical pulse sensor to that whole recipe to create a bracelet with a stunning look.
I have to thank Garmin for temporarily releasing the Garmin Vivosmart HR bracelet. Once the test is completed it has been sent back. I always like to make it clear, so you know that I do not receive compensation of any kind from the manufacturers. The reviews I do are totally independent and there is no pressure of any kind to give a favorable opinion.
Don't forget that if you want to show your gratitude for the content I make and want to help support the site, you can buy the Garmin Vivosmart HR bracelet through the links I provideThat way I get a small commission for each device (or any other item you buy), which is what allows the website to continue and covers some of the work I do.
Now that we're clear, let's go with this review. Everything you wanted to know about the Garmin Vivosmart HR bracelet: the good, the improvable and the bad.
Unpacking
The Garmin Vivosmart HR bracelet comes in several versions: three different colors (blue, purple and black) and two sizes (normal and extra large). The box and its contents are common as there are no versions that include sensors of any kind.
On the side of the box there is a guide to know which size will fit your wrist. Generally the normal size will be valid for everybody, and the only reason to choose the big version is that you have a quite thick wrist. I am a wide wrist and the normal size is perfect for me, so in your case the normal version will probably be the best one too. However you can download the size guide from here.
Esto es lo que encontramos dentro de la caja. Poca cosa: la pulsera, el cable de carga y algo que más que un manual, podríamos decir que es un «ma», porque es bastante escuento. Lo cierto es que para aprender a usar la pulsera tampoco lo necesitarás, para eso tienes esta prueba.
Let's go with the wristband. It has a multi-function button that will serve to turn it on and off (if you hold it down), enter and exit the menu or start or stop an activity. For everything else you'll use its touch screen, both sliding and tapping it to select options.
The screen is 25.3 mm x 10.7 mm in size and has a good resolution of 160 x 68 pixels. The graphics and typography shown are of quite good quality.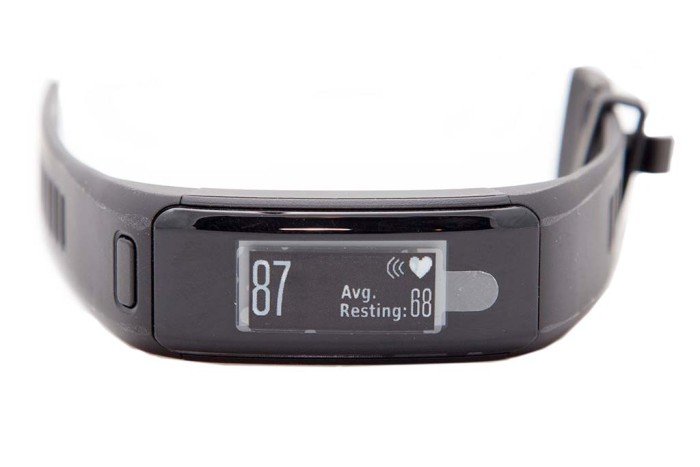 When you turn around, the jewel in the crown appears: the new Garmin Elevate, developed entirely by Garmin. The sensor is surrounded by three green LEDs. They will not only record your heart data during your activities, but also take constant measurements 24 hours a day.
However, it will not be constant, but depending on the movement it will record data more or less frequently, to save battery. When you are training the recording will be the normal in this type of devices, recording data every second.
New device from Garmin, new connection cable. It doesn't fail, there is always a new connector. You will probably use this cable only to charge the bracelet, since the usual thing is that the synchronization is done by connecting it to your mobile phone.
The battery charge is very fast and the duration is about 5 days between charges.
The bracelet is waterproof up to 50 meters, so you can swim perfectly with it on, but keep in mind that it doesn't measure any activity in the water, but you don't have to worry about getting in the shower or swimming with it on.
Monitoring of the activity
The monitoring of the activity that makes the Vivosmart HR bracelet is, in its basic functions, the same as any other monitor of the brand activity. However the incorporation of the optical pulse sensor allows to add some additional functions not seen until now.
Before we get to those specific functions, let's take a quick look at where Garmin Activity Monitors are currently located (either as a wristband or integrated into a GPS watch).
The Garmin Vivosmart HR tracks your daily activity by estimating the steps you take, giving you an approximate distance traveled and consequently your caloric expenditure on activity. It does this automatically without having to activate any specific operating mode, simply by putting the wrist strap on and going about your day.
It also has an inactivity alert, which will be displayed on the wristband screen as a bar that is completed as time goes by without you walking for a while. When the bar is completed you will receive a warning asking you to move. If you want to set the activity bar to zero you will have to walk for about one minute, about 100 meters.
So your goal will be to fight against that bar, trying to keep it from appearing on the screen and as soon as it does, move to make it disappear.
If you scroll the watch screen you can see the steps you've taken so far, along with the step target for the day. You can set this target manually through Garmin Connect or, as is the default and I find it much more interesting, dynamically. It will be the wristband itself that will vary the target, based on your activity over the past few days, by moving that target up or down day by day.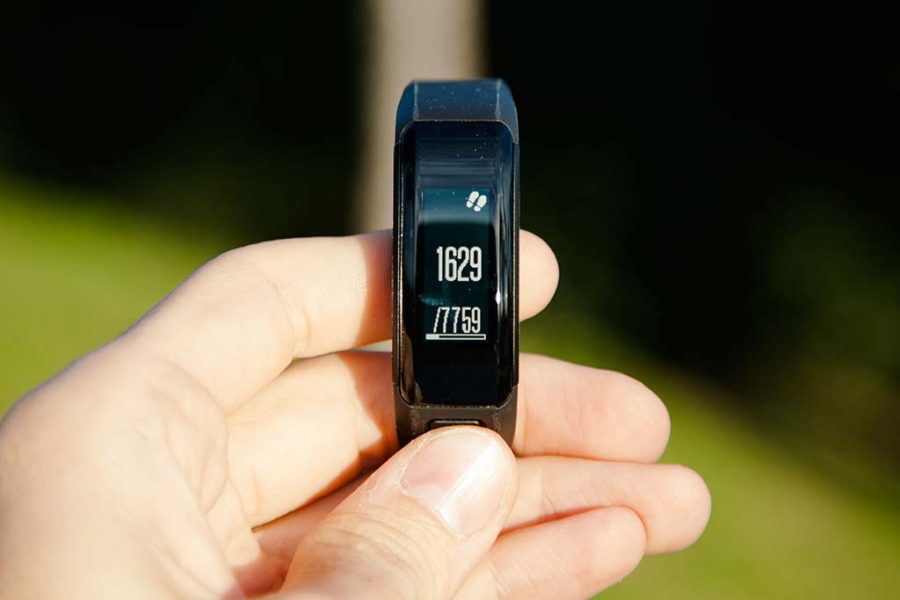 These estimated steps also translate into distance that you will see on the screen if you continue to scroll through them.
The distance is calculated by multiplying the number of steps by the distance travelled in each step. By default, it is automatically calculated based on your height. However, within the Garmin Connect options you can set a step length for walking, for more accurate data.
If you start from a known distance (e.g. an athletic track), you just have to count the number of steps you take to go around, or have the bracelet count them for you. Then you enter that distance and number of steps in Connect and will calculate the length of your stride directly. Personally, when you walk, I let the calculation do it automatically.
Another estimated value is the calories consumed. This includes the calories you burn off during the activity along with the calories you need to live. That is, if your basal calorie intake is 2400 (this depends on your age, sex, height, weight, etc.) and you do an hour of exercise burning 600, the total consumed at the end of the day will be 3000 calories.
So far, the usual behavior of the activity monitors. But there are some other metrics present in the Vivosmart HR. To start the counting of floors climbed.
To make the estimate the Garmin Vivosmart HR has a barometric altimeter capable of calculating the height. The detection is the same as the steps, approximate, because there is a dwarf inside the bracelet that knows if you're climbing stairs or not.
The calculation is made by the variation in height along with movement. That is, if there is variation in height (by atmospheric pressure) along with movements that correspond to the ascent of steps, the bracelet will know that we have gone up one floor. Therefore if you go up six floors in an elevator there will be a change in height, but as there is no movement it will not compute those floors. The objective is to go up ten floors during the day.
Another new feature of the Garmin Vivosmart HR is that it will now also mark the minutes of intense activity. Several organizations (such as the WHO) recommend 150 minutes of intense activity per week, which I think is a more interesting approach than the classic goal of daily steps, especially for use by people like us, the athletes.
On more than one occasion, it may happen that the day after a long or very intense outing, you get a break. The activity monitor would tell you that you are not reaching the minimum step target that day and that your fitness is going to get worse, when the truth is that the day before you have taken a beating.
To all these screens are added those of the intelligent notifications and other functions that depend on the connectivity of your mobile phone, which I will tell you about later, but I leave you a gallery of all of them.
But wait a minute. You don't like having it upright? Well, don't worry, because you can change the orientation and put it horizontally. And depending on which wrist you wear the bracelet on, it will be oriented to one side or the other.
And then you'll be able to see it on the screen horizontally, instead of vertically.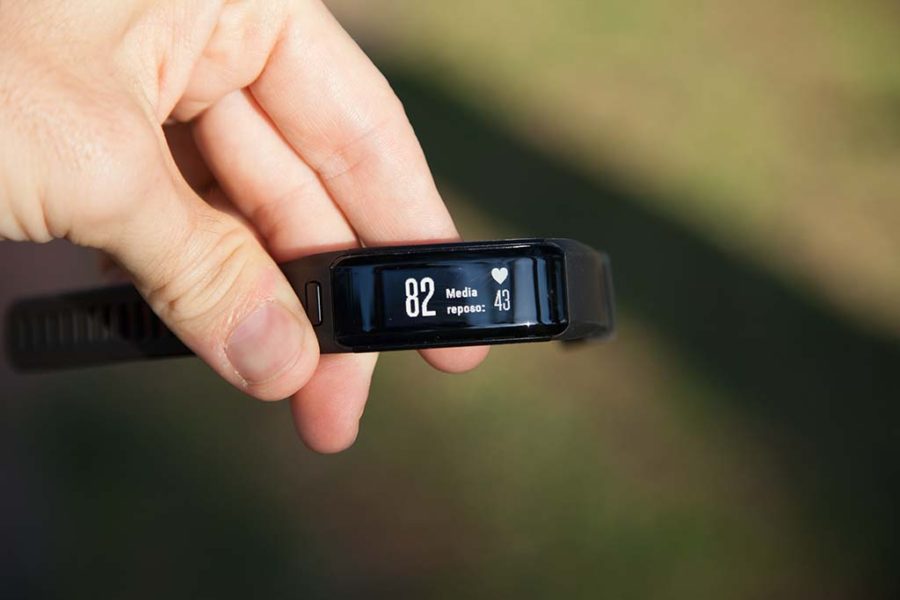 After data synchronization, you can find all your activity reports in Garmin Connect, both on the web and in the mobile application, where you can review your daily activity.
You can check the data both in its corresponding section and in the control panel that you can configure to see the information at a glance as soon as you access the web with your user.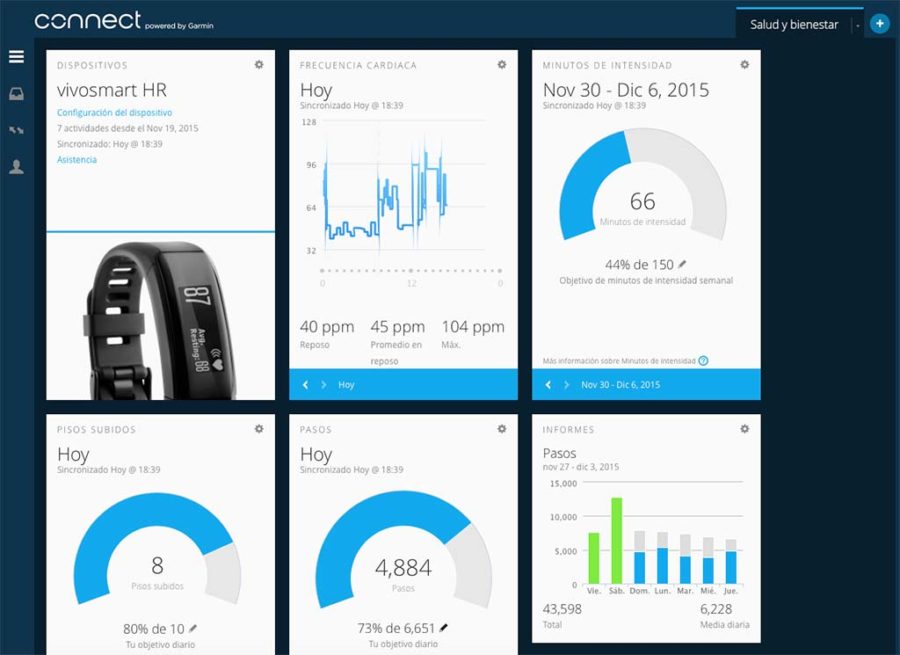 Sleep monitoring
In addition to tracking your daily activity, and like almost all activity monitors on the market, the Garmin Vivosmart HR also tracks your sleep. There is no need to activate any specific mode, as the recognition of sleep periods is done automatically at the server level.
The automatic calculation works quite accurately, although if you're used to lying in bed reading or watching TV before you go to sleep, the data may not be up to the minute. You can edit your sleeping hours manually from Garmin Connect.
Comparing the readings of a Garmin Forerunner 230 and Garmin Vivosmart HR, each on a wrist, the results are very similar.
This is a clear example of detection starting too early. The pink lines indicate moments of being awake (as it was), I was simply in bed writing with my laptop. But you can see how in both cases the time to go to sleep is the same, 12 o'clock at night. Likewise the time to wake up is the same.
Beyond the hours themselves, what is important is the effective rest time, which normally coincides with the period of deep sleep. These are the values that should be most important to us.
In addition to sleep levels, Garmin Connect also features a sleep movement chart.
At the level of relevance, the truth is that I do not find what importance it can offer, nor what information we can obtain from these data.
24/7 pulse monitoring
But if there is one thing that stands out above all else on the Vivosmart HR, it is the ability to measure heart rate throughout the day. This is nothing new in the industry, as Fitbit already offered it a year ago on its models Charge HR and arises.but it works a little differently.
Data sampling is based on movement. To try to save as much battery power as possible, the data logging time varies depending on the activity being performed. If the activity is low (sitting or sleeping, for example) data will be logged every 10 minutes. When you are in motion the logging time decreases, based on the intensity of movement, but always in a variable way. In the case of Fitbit it is every second in training and every 5 seconds in the day to day.
For example, on a day with little movement, the graph will appear in this way, with reading periods quite disconnected from each other.
But when there are moments of activity (or when training is recorded) the sampling time will be every second, the industry standard.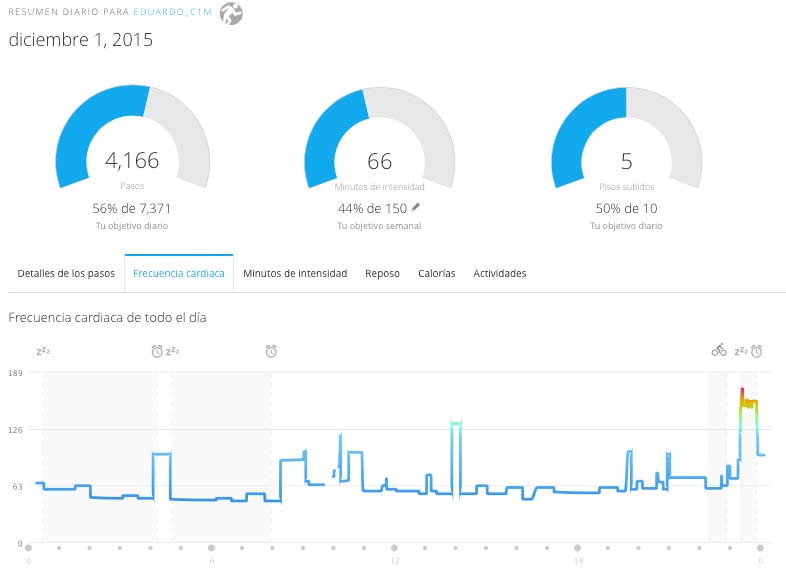 In addition to 24-hour monitoring, you will also have your resting heart rate calculated.

This data is more useful than you think. It is a clear indication of how you have recovered from a workout and when it is a good day to do an intensity workout. If the minimum heart rate rises quite a bit from the average it is a symptom of fatigue, so be careful with the workout you do because you can fall into the dreaded over-training.
Strangely enough, sometimes data is not synchronized with Garmin Connect, even if you have been wearing your wristband all day.
Knowing those ranges will take some time. I know that my resting CF is around 40-42 ppm, so when I see it above that figure I know something is up (for example, Friday in the chart above).
Running with Vivosmart HR
Within the Vivosmart HR options, the first one that appears is that of performing a workout (marked by a monkey in running attitude). It will create a separate activity, which you can later review in Garmin Connect. If you do not start your activity, when adding minutes of exercise intensity and calories it will be exactly the same, but you will not be able to review the specific data after synchronization.
Vivosmart HR puts a lot of emphasis on running training. It has no GPS, so rhythms and distances will be estimated by the steps you take. Automatically and based on the height data you enter in the initial configuration, a stride length is set, which you can modify manually from Garmin Connect.
When you go for a run, you have several screens that you can configure with specific data. The choice is not very wide, but it is within what you can expect from a device of this type. You have four pages of data (plus the time) in which you can configure one or two data. The metrics you can select are distance, calories, heart rate, heart rate zone and time of day.
When you're running, you can switch between screens by sliding your finger across the screen, passing between them.
You can stop the activity by pressing the multi-function button, and you will be asked if you want to save the activity or discard it.
When you've finished running, after synchronisation you'll find your training data in your control panel, with distance and pace estimates, both in figures and graphs. All the information is pretty basic, so if you need more advanced information you should look at the Forerunner range.
As far as recording distances, it mainly depends on how you have set up your stride length. In this table you have examples of some trainings I have done, comparing them with other devices, both with the automatic adjustment and after adjusting the stride length.
| | Vivosmart HR | Other device |
| --- | --- | --- |
| Night out 19 November | 6.07 km | 5.69 km (FR230) |
| Progression at night | 8.62 km | 8 km (FR230), 8.04 km (Ambit3) |
| Night out loaded with gadgets | 8.34 km (manual pitch correction entered) | 8.47 km (Fenix 3), 8.29 km (FR230), 8.32 km (Ambit3) |
| | | |
Vivosmart HR and other activities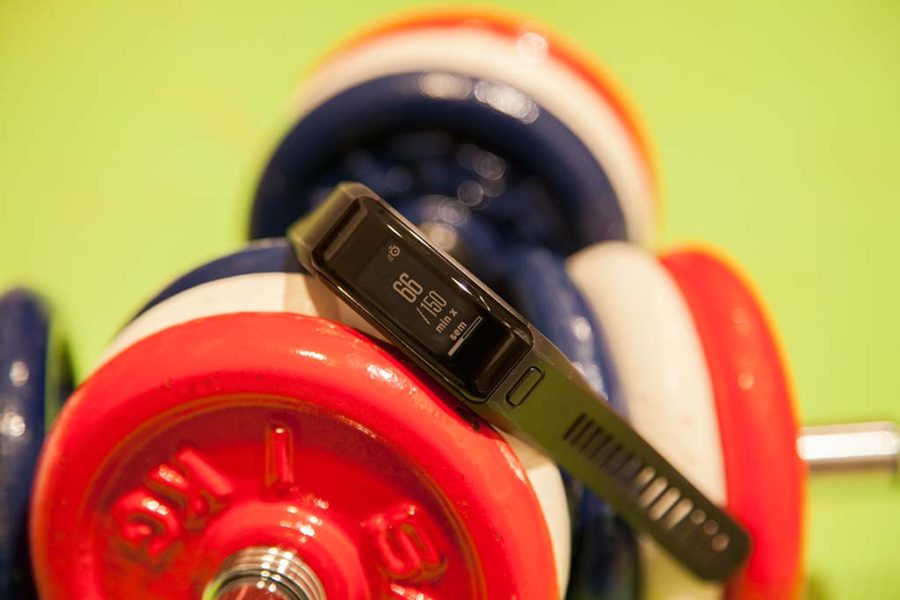 Of course you can not only measure running training, you can also use the bracelet for your activities in the gym, spinning, cycling or whatever. The procedure is the same, the difference is that logically you will not have data on distance traveled. But the calories will still be counted.
For example this cycling activity.
The only relevant data are calories consumed, activity time and heart rate graphs. Unfortunately there is no possibility to pair the bracelet with a speed sensor that would get accurate data on distance traveled, something that the previous model, Vivosmart, did.
Another sport in which I wanted to test the sensor has been during swimming. First of all I want to make it clear that although the Vivosmart HR is submersible, it is not designed for swimming, nor does Garmin ever propose it. But my geek side asks me and I test it, to know if it is possible to use the bracelet for swimming training in which, despite not having specific metrics (distances, strokes, etc), we could take advantage of the sensor data.
And the answer is... no. By recording a swimming activity together with an Ambit3 the pulse results are totally disparate, with erroneous readings. The algorithm is probably not prepared to eliminate the noise produced by the impact of the bracelet in the water with every stroke we take.
Pulse transmission
And accompanying the optical pulse sensor, another star feature of the Garmin Vivosmart HR is the ability to retransmit pulse data via ANT+. That is, the Vivosmart HR would become a pulse sensor and could be used with any ANT+ compatible device such as Forerunner watches or Edge cycling units.
It is a quite important point of the device, and a selling point for many potential buyers. Mio Link as an optical pulse sensor or for a little more money to be able to get hold of this device, which is much more complete and has more features in many aspects; you will most likely choose the Garmin option (if you don't need Bluetooth connectivity).
La activación de esta función podría ser más sencilla. Algo así como una pulsación prolongada del botón en la pantalla de frecuencia cardíaca (por defecto la pulsación prolongada apagada el dispositivo), o dos toques en la pantalla táctil. En su lugar hay que entrar en el menú de configuración, acceder al submenú «Heart Rate», después a «Broadcast Mode» y por último activar la función (que por cierto, aún no ha recibido traducción para estas pantallas).
After activating it, you will see a transmission icon on the heart rate screen, which indicates that the function is active. In this mode you will not be able to access any other bracelet function. You will not be able to check activity data or access the menu (although notifications will be shown). You will only be able to see the heart rate screen.
But if activating the function required navigating through the menu and entering two different options, to deactivate the function you simply have to press twice on the screen, once to display the screen to deactivate the function and another to confirm the option. But it is very easy for this to happen in an undesired way when pressing on the screen or simply due to drops of sweat or rain, as the screen cannot be blocked.
When you have activated the option, you simply have to perform the sensor search from your watch or device.
And with everything ready, you can start your training.
Once completed and synchronized the activity will include the heart rate data obtained from the Vivosmart HR on your wrist.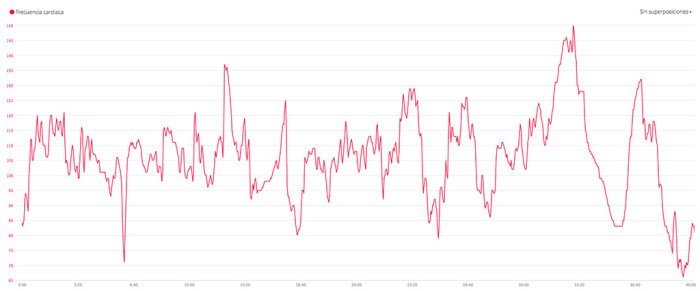 Now let's talk about the accuracy of the data read with the new Garmin Elevate sensor.
Optical heart rate sensor
If there was one main reason I wanted to try out the Garmin Vivosmart HR, it wasn't because of its activity monitoring capabilities, but because it was the least of my worries, as in that respect it is very much on par with the other offerings on the market.
The main innovation is that it incorporates an optical pulse sensor integrated into the device itself. It is not the first Garmin device to offer this (the first was the Garmin Forerunner 225It is the first device announced to incorporate the sensor that Garmin calls Elevate.
And not only is it important that it's Garmin's first optical sensor, but the same sensor is the one we'll see on their watches, starting with the Garmin Forerunner 235.
So there's a lot to test to determine whether or not the new Garmin Elevate delivers what it promises: to be as good as the Mio sensor it was previously equipped with. To do this, there's nothing better than pitting it against other pulse sensors. And thanks to the graphical comparison, see how it compares to them.
This first graph corresponds to steady-state training. The Garmin Forerunner 23o was paired with a premium band HRM-Run sensor. After finishing the training, instead of stopping the activity I continued to record it while continuing to walk, to evaluate how well it recorded the recovery period.
The graph starts surprisingly well. Usually on cold days the start of activity is more problematic for optical sensors. Good proof of this is the Garmin Forerunner 225, which until after two or three minutes I didn't start getting a correct pulse readingIn this case, they are quite close to each other at the beginning.
The development of the rest of the activity is very similar, marking the same pulses. In the 16:40 minute there is a pronounced peak in the graph of the Vivosmart HR, but I attribute it to a correction in the adjustment of the bracelet and not to the sensor itself, since it is a fast peak in which also my rate drops, probably by being checking results or that same adjustment.
Where he does not behave so well is in the final zone of training, when we enter the recovery of pulses, where he loses quite noticeably.
Another training with the same suspects. The graph of Vivosmart HR this time is purple. This day, with a little more cold than the previous one, you can see how in the beginning is somewhat slower to raise the pulse. It is a training in progression, with the last kilometer at an average of approximately 4 min / km.
Except for the first minute and a couple of strange peaks that come out of tune, the measurement is totally parallel to the one made with the HRM-Run sensor. Until that last kilometer where I increase the pace. It is likely that at that moment the pace will cause the reading problems.
In optical sensors, the complicated part is not in the sensor itself. That's easy to implement. The complicated part is the algorithm that deals with processing the reading and eliminating the noise produced by the movement. And I think that at that last moment is what you can appreciate, the difficulty to process the reading correctly due to the intense movement of the sensor. Even so we talk about differences of 4 or 5 pulses for a few seconds, the result is still satisfactory.
Now we go to a graph that I love, because you can see perfectly represented the errors that the cold causes in each type of sensor.
It's the classic example of behavior. First of all the sensors that go in the chest, are the ones that are giving tremendously high readings. In that period of the training I was still warming up and the pace was quite comfortable. And it's not only that I know this kind of failures that are produced by the cold and the lack of humidity (I hadn't wet the sensor tapes before going out), but I've run enough time to know what my feelings are according to the pulse.
At the same time you can see the problems with the optical sensors when it's cold. The blood flow decreases so it's more complicated for the sensor to read.
Interestingly, all three graphs are joined at virtually the same point (actually the first to arrive at valid data was the Suunto Smart Sensor), from which they share data throughout the training. By enlarging the graph you can see that all three sensors show the same results.
The light is not totally blocked by the device, so finding moments when the reading is not correct will be more common.
There are moments when you slightly lose track with peaks outside the correct reading. Even so, the recording is moderately correct, until the final stretch in which, probably because you are pedalling standing up and turning your wrist, it is possible that light enters the sensor area confusing the reading.
The truth is that I am missing a comparison I was doing tonight, facing Vivosmart HR with the Mio sensor and the HRM-Run in an interval training. Double bad luck, because at the beginning of the second interval a puncture in the calf made me stop. And when it was time to save the activity to have, at least, the warm-up and the first interval and rest, by mistake I deleted the activity.
From what I was seeing while I was training the conclusions were the same as the ones commented until now. Slightly slower start (today especially by the Mio sensor, which until 5 minutes marked 80ppm) than the sensor in the chest. Good performance during warm-up and part of the interval work, but slow in reacting at the time of recovery.
In short, it's a new sensor with points that still need to be improved and polished, but the overall results are quite satisfactory. If I had to evaluate it we would be talking about a 7.5, but hoping that it will improve even more with the software updates that will come.
Intelligent Connectivity and Notification
As is common with all newly released devices, the Garmin Vivosmart HR takes advantage of Bluetooth connectivity and its good resolution screen to display notifications from your mobile phone. This feature is compatible with iOS and Android phones.
Vivosmart HR will vibrate and display the notification you receive on your mobile phone.
It also allows you to access all the ones you have in your notification center and have not deleted.
But notifications aren't the only wireless features you can use - you can also control your phone's music player, have a screen to check the weather, or control a VIRB camera.
You can activate or deactivate these screens from the mobile application, leaving only those of interest to you.
Thanks to the permanent connection to your mobile phone, the activity data will be constantly synchronized.
So you don't have to connect the wristband to the computer every few minutes to analyze your activity data, minute by minute.
Errors, failures and problems
When we talk about failures or things to review can be due to two fundamental causes: By design of the device or technology used, such as the lack of a specific function (such as distance measurement when running. It does not have GPS, so the distance is estimated); or by a failure of the device or its software. The first case is because the device is like that, is the way it has been designed and thought. The second is a more important problem because it is something that should work, and it does not.
I don't mention these bugs in the previous sections simply so that in the future, as Garmin fixes these problems (because I hope they do), it's much easier for me to come to this specific section and indicate that the bug has already been fixed and on what date it happened. Otherwise I would have to go through the whole article and modify specific paragraphs, which is much more laborious.
Well, once that has been clarified, I will also be clear with the Vivosmart HR. Garmin should not have put this device on the market when it did, simply because using it gives me the impression of using a development version that is not yet ready for sale to the public.
Right now it is not only failing on new functions in the range, which might be understandable, but it is also failing on such basic elements as counting calories twice.
Garmin has released a product that is not finished and is not ready to be presented to the general public. These are the main failures I find of features that, in many cases, should not even be expected to fail:
Duplicate calories of activity - Fixed, probably in version 2.90. The Vivosmart HR, like any activity monitor, tracks activity during the day. It also has an exercise tracking function, allowing you to have that specific activity with data on heart rate, time, calories, etc. The problem is that if throughout the day we burn 3,000 calories and also make a workout in which we burn 600 calories, the total of the day will not be 3,600, but will appear as 4,200 calories (because those 600 calories are counted in the specific activity and, besides, is added to the daily activity).
In these images you can see two days of activity. On the left side the measurement made with the FR230, on the right side with Vivosmart HR. As you can see the calories at rest are the same, but it counts the calories in activity in duplicate.
And here, exactly the same. Calories during activity include duplicate workout calories, counting your specific activity and adding those same calories to the overall daily activity count.
This is totally unacceptable. If there is one thing an activity monitor has to do, it is provide us with calorie consumption data. For your potential client it is the most important thing, since many structure their diet according to the calories they consume (usually to lose weight). If your activity monitor tells you that your total calorie consumption is 3,500, and you eat 3,000 to have a deficit at the end of the day, but the reality is that your actual consumption has been 2,800, it is a very bad business. Not only are you not going to lose weight, but you are going to gain it.
UPDATE
The main problem with Vivosmart HR, which was calorie accounting, has now been satisfactorily resolved. There has been no official announcement or reference in the updates, but it was probably after the major update to version 2.90. 
Autolap function – Solved through Garmin Connect. When running we always like to activate the automatic lap function, usually every kilometre. It allows us to receive a warning every time we complete a kilometre and we can calculate the pace at which we are running.
When you run, the bracelet vibrates every time you estimate you have reached a kilometer (this estimate will depend on the values entered for the step length). So far so good.
The problem comes when you want to review the activity and see how your training went. In Connect those laps do not appear and there is no division. The only thing that appears is the block training, without separating each kilometer of the training, so the function lacks the possibility of further analysis.
ANT+ retransmission stops working – Fixed in version 2.60When using the Garmin Vivosmart HR as an external sensor with another compatible device I have found that there are many disconnections. They occur without any notification and although the device continues to show that it is transmitting, the truth is that the unit that receives the data loses the connection. To reconnect you have to disable the transmission and enter its corresponding menu to reactivate it, which is extremely tedious, especially in the middle of training.
For example, in this cycling training I had paired the Garmin Vivosmart HR sensor with a Garmin Edge 520. After a while I saw that it was not receiving a signal (even though there was pulse data on the screen when I started the activity). After deactivating and re-activating the function, it worked again without any further disconnection.
In this case, exactly the same thing happened, leaving much of the training without pulse data.
I repeat, all this without any error appearing on the screen of the Garmin Vivosmart HR and maintaining at all times the symbol that the transmission function is activated. You only realize the failure if the screen that records the activity has a specific screen for the heart rate. And since that HR can be seen on the bracelet itself, in many cases it is not usual.
Screen that cannot be locked - Fixed in version 3.10. The touch screen cannot be locked. While this may seem purely arbitrary during use, it is most noticeable when it is raining or when you are in the shower. Or simply when you sweat. Every drop of water that falls on the screen is interpreted as finger pressure. Normally nothing happens, but a shower can cause the unit to start entering the different menus by altering the device settings, deleting activities, etc.
The minutes of activity are not always reflected - Revised in version 3.10. New to Garmin Vivosmart HR is that now, in addition to a step target, we have an activity target. 150 minutes per week as recommended by several organizations. In Connect we find this information regarding those minutes of activity.
The problem is that those minutes of activity it computes are totally arbitrary. It may be that after a workout the minutes of activity are computed. Or it may not. For example, cycling workouts usually don't show up unless they are really serious.
Mi suposición es que no sólo tiene en cuenta el sensor de pulso para contabilizar la actividad, sino que también tiene que haber un movimiento que, en el caso del ciclismo, no existe. Pero entonces llámalo «minutos de carrera» o «minutos de mover brazos en círculos», pero no «minutos de intensidad».
Garmin has to give the idea a twist, because obviously not all users will have the same activity. 120 ppm for someone who is untrained can be a leisurely ride through the countryside, while for someone fairly fit it can be the heart rate they have after four hours of cycling.
Display visibility with illumination - This is where we enter the terrain of failures without any solution. The visibility of the screen in full daylight or with artificial light is very good, from any angle. The same as indoors if there are lights on. A quick look at the wrist serves to have all the information.
The problem comes when we have to activate the illumination (by a touch on the screen). The readability is complicated, and we have to focus the view quite a bit because the illumination is very low. Also the angle of vision with this type of illumination is very small.
I would show you an image, but the truth is that it wouldn't look the way it does in reality. Especially because by retouching it I can make it look perfect, or look worse than it does.
Impossible to connect ANT+ sensors - Y ésta es la sección de «Garmin, no entiendo por qué haces esto». A pesar de que el modelo que le precede, el Garmin Vivosmart, permitía conexión a sensores externos (de pulso y de velocidad para ciclismo); inexplicablemente esta opción no se encuentra presente en el Vivosmart HR. Bueno, tenemos el sensor óptico integrado, aunque en según qué momentos nos puede interesar usar un sensor de pulso en el pecho; pero lo que se pierde es la posibilidad de emparejarlo con un sensor de velocidad de ciclismo.
Strange, when the hardware is perfectly capable of receiving ANT+ signals and the previous model offered the possibility, and the only thing that happens is that doors are closed to the possibility of selling an additional sensor and cover another type of use.
While some of these things can be considered as concessions to design or autonomy (for example, low screen illumination), there are some that are unforgivable. And they make you wonder what kind of tests are done at Garmin before launching a product to the market, if they have done any with the Vivosmart HR. I understand that launch dates are important depending on which campaigns, such as the Christmas season, but you cannot launch an unfinished product to the market.
Fortunately, many of these bugs can (and should) be solved with firmware updates. But a customer does not have to buy a product that is not finished. And the truth is that, today, the Vivosmart HR is quite green.
My opinion
Update 2 February
Garmin has been polishing the initial details. The main problem, the duplication of calories during the activity, has been solved. The retransmission of ANT+, another of the main points of sale of Vivosmart HR, has also been solved. Right now Garmin is polishing other featuresThe intensity minutes for activities other than running or detecting raised floors.
In the last few workouts I have also found some improvement in the heart rate graphs, so the sensor has also received some improvement. Also, Garmin has added a heart rate graph with the data from the last 4 hours, so after these improvements I can fully recommend Vivosmart HR.
Update 2 April
New update, more news. Garmin listens to its users and reads the reviews, because it keeps correcting everything I highlighted at the time as problems in the bracelet. The new version 3.10 adds the display lock, which can be set to automatic lock or manual lock (leaving the button pressed to display the off or lock menu).
But that's not all that's new in version 3.10. Like other new features, you now have an additional screen in the weather forecast, if you click on the day's forecast you will access the forecast for the next 4 days, which is quite convenient. And not only that, Garmin has also improved the algorithms for heart rate at rest, minutes of activity, floor ascent and increased vibration intensity for notification and call alerts, and a number of other errors have also been corrected.
All in all, a big step forward.
From what I pointed out at the time, I only have two problems left, the visibility of the illuminated screen (which cannot be improved by software updates) and the absence of connection possibilities to ANT+ sensors, which does not affect all users. So, if the question is whether I recommend this bracelet, I have to say that just as I criticized Garmin for launching a device that was very green (as you can read in the paragraphs below), now I have to be fair and, once they have solved almost all the present problems, I can't do anything but recommend her totallyI think with the price you have on Amazon there is no better choice on the market right now.
-- Original opinion
The truth is that I tried to like the Vivosmart HR. In many ways it is a very interesting unit, because not only provides many possibilities to those who are only looking for an activity monitor, but it is the perfect bridge to upgrade devices for users of earlier models that do not have the latest advances (optical sensor, notifications, activity monitor). That is, it allows users of watches like Garmin Forerunner 220 or 910xt access to features of contemporary models, leaving the clock exclusively for training can use Vivosmart HR as a device of daily and also as a pulse sensor. And all this at a price that I consider quite interesting.
As Garmin polishes the device, I will have to edit the test again and, above all, the ratings you find at the end of the article, to reflect the reality of the device. It is clear that with a new sensor there can be slight problems with the algorithm that have to be touched up over time. Strangely enough, even though the sensor is not at 100%, I do think I could give it a 7.5 grade.
But it's things like double calorie counting or minutes of intensity that get me out of my head. You can't miss something that basic in this device. It's like a GPS watch counting twice the distance in every workout. It's missing the core of the product, its most important mission.
Am I being too hard on Garmin? Some of you may think so, but you can't come to market with an unfinished product. And I say this not only from the customer's point of view, but especially from the manufacturer's. Of course, software problems will be solved in time, and in 6 months (I hope less) all these words will be a thing of the past.
What these updates will not be able to solve is the lack of confidence of the client. Also, as I do this test there will be other means that also perform it and find the same problems. I do track updates that appear on the devices (in the weekly summaries you can find it) and I come back to edit the articles to make them as relevant and current as possible.
But there will be many others who will do the analysis, write down the problems and so leave it forever. And all that will be recorded in Google, so the potential customer who looks for opinions within a year, before buying the product will find reviews that indicate that Vivosmart HR is a source of problems.
With all this I'm not saying that you shouldn't buy it. In fact, I can think of certain cases in which, despite the initial problems, it is the best option (and some I will give away at this time). What I'm saying is that you shouldn't do it if these problems can affect your use, at least until they have been solved.
Once Garmin puts things in order, Vivosmart HR clearly has the capacity to become the best activity monitor on the market. And not only in terms of performance, but also in terms of price/quality ratio, since for 149 euros it is capable of doing many things. And the latter is not something that is often said about Garmin.
Did you like the test?
My hope is that these tests will help you get to know the device fully before you spend your money, so that you know at all times whether or not what you are going to buy fits your needs. I guess you have realized that each of these tests takes many hours of work. If you like what you see here and want to support the site, you can buy your Garmin Vivosmart HR (or any other item) through the links you can see belowNot only will you get a good price, but you will also return a small commission for the page, which is how it is sustained. And best of all, it is free of charge for you.
Do you have any questions? Do you want to comment on what you think of the device? Leave your comment below and I assure you that you will receive a reply. And don't forget to share this test with your friends because I'm sure they will be interested too. Do it on social networks or, as we have done until a few years ago, by word of mouth.
Buy Garmin Vivosmart HR
There are three colors available: blue, purple and black. And in each color two strap lengths, normal and large. If you want to know which size is convenient for you, you can download and print this fileNormally, the standard size is valid for everyone, but if the circumference of your wrist is greater than 188mm you will need the large size. I have a fairly wide wrist and with the normal size I feel perfectly comfortable.