Did you feel like reading the whole test? It's already completed, so you can click here to access itThis thread is the presentation of the bracelet, the most complete and relevant information is the one you will find in the test.
After the presentation last week of the new ForerunnersWith the Forerunner 235 with optical pulse sensor developed by Garmin, it was expected that Garmin would incorporate its new sensor to one of the devices that have more reason to wear it, the activity bracelets. And by the way, Garmin has already given its optical sensor a name, "Elevate". The new Garmin Vivosmart HR follows the trend of this type of devices, combining in a small bracelet a touch screen to display information along with a series of sensors (accelerometer, altimeter, optical sensor) that will give all the necessary data to measure our exercise and the level of intensity of your day to day.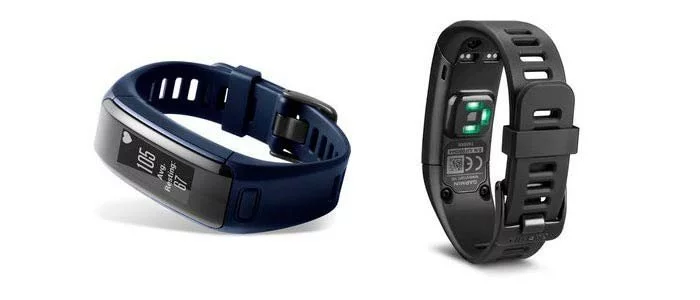 This is not a simple update, there are several new features
The Garmin Vivosmart HR bracelet is not a new product line. Just over a year ago the original Vivosmart was introduced, which linked Vivofit with mobile notifications. Today Garmin continues with the product range incorporating this new model.
Contrary to what we might think, it is not a simple aesthetic renovation taking advantage of the inclusion of the optical sensor, there are several new features that were not present in last year's model, many of them will serve to catch up with other similar competitive products (especially Fitbit Charge HR).
Constant pulse tracking throughout the day (even without doing an activity), thanks to the new Garmin "Elevate" sensor.
Possibility to send the pulse to other ANT+ devices, working simply as an external optical sensor
It now incorporates a barometric altimeter, which will serve to estimate the number of stairs you have climbed
Touch screen with backlighting
Receive smart notifications from your phone (iOS and Android), including messages, calls, email, social networking, music control, and more
Up to 5 days of autonomy
Waterproof, up to 50 meters
Estimation of steps, distances and calories
Measurement of weekly exercise intensity, setting a target of 150 minutes of aerobic activity per week (WHO recommended time)
Warning and Inactivity Bar
Dynamic daily step target (can also be set manually, like stairs)
Vibration alerts
Clock
It is very clear who is in Garmin's sights, and it is none other than Fitbit. Not only because of the optical sensor of the new Vivosmart HR, but also because they have taken the opportunity to present a new intelligent scale that clearly rivals the Fitbit Aria, of which I'll talk to you in a separate article.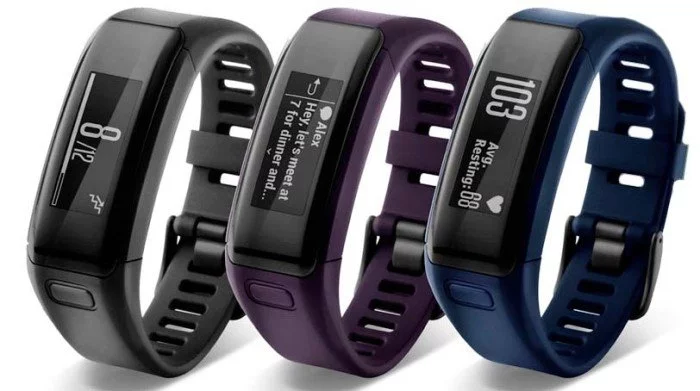 Rivals: now there's a lot to choose from
Last year there was a clear winner in the activity monitor sector, and it was none other than Fitbit Charge HRIt was the only device that offered an optical sensor capable of monitoring pulse both within the activity itself and continuously throughout the day. Mio Fuse was also a good candidate, although the optical sensor only came into operation when we started an activity, so it did not monitor daily but allowed connection to other devices via ANT + and Bluetooth, something that the Fitbit bracelet did not contemplate.
This presentation joins that of Polar last week, with the Polar A360But it puts the Finns in a rather awkward position. Yes, the A360 has a larger screen and much higher quality, but it's significantly more expensive and also doesn't do continuous pulse monitoring, something that looks like it will become a de facto standard for activity monitors.
Fitbit has the Charge HR, which as you could see in the test performed at the timeBut the screen is smaller and the smart notifications are much more limited, as it only warns us of calls and SMS messages, but nothing else. Also, although in the tests I did I had no problem with the waterproofing of the bracelet, the truth is that it does not have any waterproof certification. And although it has no problem being under the shower, I do not know if I would dare to swim with it on a continuous basis.
The comparison between Fitbit Charge HR and Garmin Vivosmart HR, to the points the clear winner is the newly introduced model, although there is still to check the operation of the optical pulse sensor, is the new Garmin Elevate is still an unknown. And it is something basic, because if the operation is not accurate the other features are ruined.
However, a very important detail of the new Vivosmart HR is that it allows sending the pulse signal by ANT + to compatible devices, ie watches and cycling computers with ANT + connectivity (such as Garmin Forerunner or Garmin Edge), as well as phones that have ANT + connectivity. This detail is very important, as it can complement very well with those other devices as optical usage sensor, which will act as an activity monitor when you're not in your cycling activity, for example.
What we will surely see from Fitbit is a reduction in the sale price of Charge HR in the face of the Christmas season, at least to stand up to this new Vivosmart HR. And something new will be ready, because the current bracelets were presented almost a year ago at the CES in Las Vegas, and in this time they will not have been stopped.
Garmin Vivosmart HR, availability and price
The availability date is practically "for now". In fact, in the United States, reservations are being accepted as of today, and it is announced that it will go on sale exclusively on November 1 at the Best Buy chain of stores.
There will be three colors available: black, dark blue and dark purple; although in computer images there is not much difference between them. As for the price, we are talking about 149 euros, a quite reasonable amount considering all the possibilities it offers and the prices set by the competition.
—
It is now possible to make a reservation through Amazon. Buying through the links I provide helps to maintain the site, so if you like what you read, don't hesitate!
https://www.amazon.es/dp/B0171NKAR6&tag=c1mes-21