Garmin today announces a new activity monitor, this time integrated into an analog watch. This Garmin Vivomove differs from the rest of the Vivo range in that it has a much more traditional look, as it is a classic analog watch with some added fitness functions.
In a market where it seems that smart watches are not yet fully set and where activity bracelets are not for everyone, some companies understand that perhaps the solution lies in opting for an intermediate solution. Withings understood that long agoToday, Garmin has landed with its new commitment to try to plug any cracks that may exist in its current range of Vivo products.
Therefore, this Vivomove joins the rest of its siblings, each offering a different characteristic to the taste of all. The range is structured as follows:
Garmin Vivofit 3: Basic Features, with MoveIQ for automatic activity detection
Garmin Vivosmart HR: Notifications and optical pulse sensor
Garmin Vivomove: Analog clock with activity monitor
Garmin Vivoactive: Smart Clock with GPS
Garmin Vivoactive HR: Smart watch with GPS and optical pulse sensor
Garmin Vivomove. What do you offer?
Mainly aesthetics. Something that won't go out of place wherever you are. Activity bracelets are not to everyone's taste, just like smart watches, especially in more formal settings.
As with the Withings Activité, behind a much more classic facade "hides" an activity monitor capable of tracking your daily activity, recording steps to estimate distance traveled and calories burned. At night it also monitors sleep, and all this information will be synchronized with the Garmin Connect app via Bluetooth Smart, staying connected to your cell phone at all times.
However, this constant connection is not used to notify of any event on the phone. There is no vibration for alerts, notifications or even alarms. In fact, even the time is not automatically synchronized (as the Withings Activité does), and to set the time you must use the crown located on the right side of the watch.
In the inner part of the sphere there are two half moons, which is where you can have the information regarding your activity.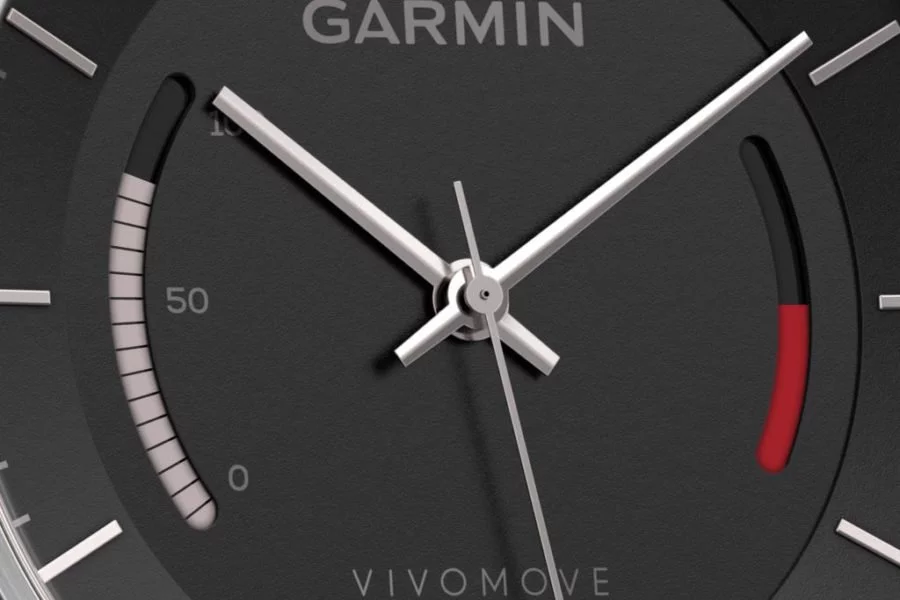 On the left, you can find your activity goal for the day. As with all Garmin devices, this bar marks how you feel about your daily step goal, which can be set manually or dynamically: if you reach your goal the next day, it will go up a little higher; if you don't, it will try to loosen the rope a little.
The crescent on the right side is the inactivity bar. It also has the same function that we are used to seeing in Garmin, if you remain inactive for an hour the bar will light up in red until halfway through, and from then on warnings will be added every 15 minutes if you remain inactive. The only way to reset that counter is to get up and walk for a couple of minutes.
The Garmin Vivomove does not need to be recharged, since like Vivofit 3 it uses a battery (CR2025) that lasts approximately one year. Once that time has elapsed, you simply need to change it, just like any other watch. It is water resistant (up to 50 metres), although it does not have specific swimming functions.
The dial is 42mm and allows you to replace the straps with any standard 20mm strap, as well as any of those offered by Garmin as an option. Because speaking of options, there are different finishes depending on the material of the watch and the strap, of course with different selling prices.
Garmin Vivomove. Availability and price.
The Garmin Vivomove will be launched on the market in the coming weeks, so 1TP10You can get your hands on one "right now". As for the prices of the different options, they are as follows:
Garmin Vivomove Sport, in black and white and with a silicone strap, at a price of 169.99
Garmin Vivomove Classic, in black or white with gold dial and leather strap, for £219.99
Garmin Vivomove Premium, with stainless steel or gold watch case and leather strap, for £299.99
–
Support this siteYou can do this by buying your Garmin Vivomove through Amazon.
https://www.amazon.es/dp/B01DWJP4KQ&tag=c1mes-21