On the occasion of the Mobile World Congress in Barcelona, Garmin presented the Vivoactive HR. Although its presentation was not expected, it was not strange, since little by little the Garmin Elevate optical sensor is invading the entire range of Garmin watches. Already present in different models of all Garmin ranges, the GPS version of the Vivo range was not going to be less.
The Garmin Vivoactive HR in the test has been temporarily loaned by Garmin, and will be returned to you as soon as I publish the test. As you know there is no fee from the manufacturer to publish these tests. My opinion is absolutely independent, so you can know first hand what the device looks like and what it offers before you place your order, so you buy for sure and don't waste your money.
If you like the work I do and you want me to keep doing it, buy your Vivosmart HR through AmazonThat way you get a good price and fantastic service and I get a small commission back which pays for part of my work. And it doesn't have to be the watch itself, you can also buy diamonds or any other item you need. Every little bit helps!
I've spent a few weeks training with the Vivosmart HR and you can read my detailed opinion of everything it has to offer. Are you ready? Then let's get down to business.
---
RATING
Overall operation - 8.5
Training possibilities - 8
Platform and applications - 8.5
Battery life - 7.5
Finish and comfort - 6.5
Price/performance ratio - 7.5
User Rating:

3 ( 34 votes)
---
The good
Support for many sports and not just running: swimming, skiing/snowboarding, rowing, golf (with course download)...
Barometric altimeter
Compatible with the latest version of Connect IQ
Touch screen, but also with physical buttons
24/7 pulse monitoring without excessive impact on the battery
Without being a smartwatch, the notification support is quite good
Compatible with any ANT+ sensor, including lights and glasses
The bad
Too much plastic
No possibility to synchronize advanced trainings (intervals, etc.)
Maximum three data per screen
---
(
2387 opiniones de clientes
)
(
1529 opiniones de clientes
)
---
Garmin Vivoactive HR
The presentation of the Vivosmart HR is the usual: good quality box in which you can see highlighted some of its details, as it has optical pulse sensor, or that is valid for many sports.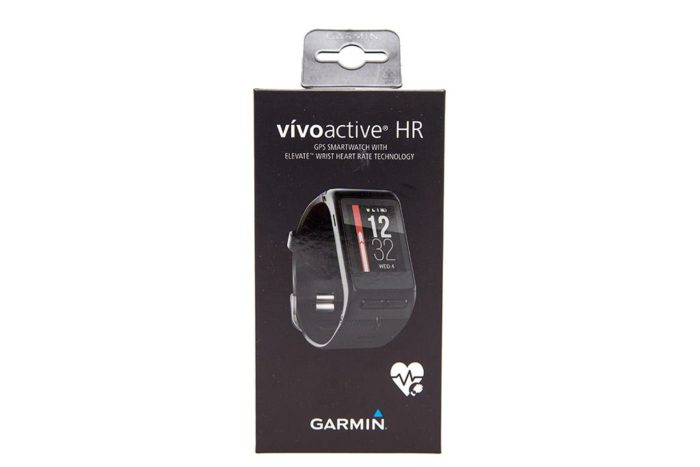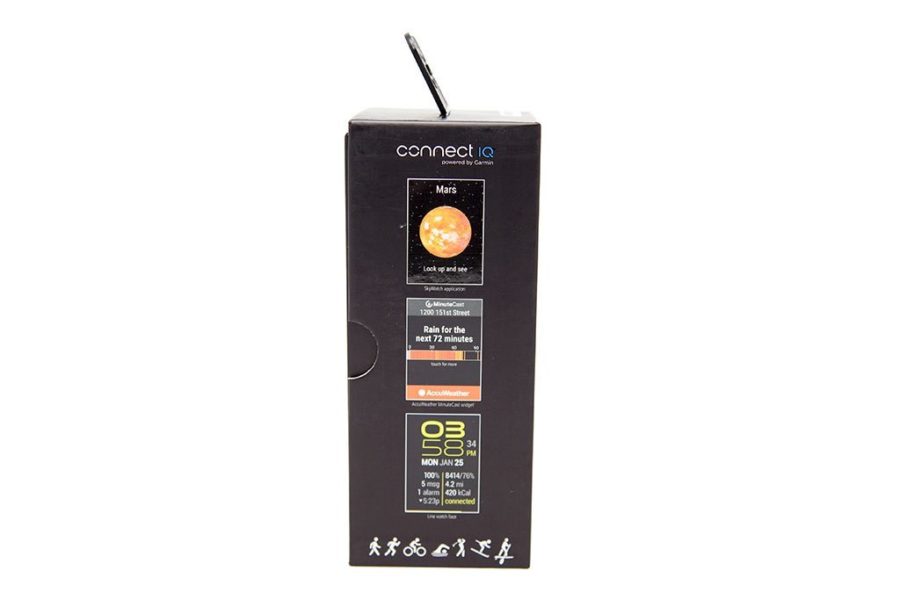 But let's open the box, what matters is inside. And what a coincidence, both the inside and outside screen indicate the same time.
Thanks to the optical pulse sensor, the content of the box is very brief. You will simply find the watch, the timing and charging cable and the instruction manual. You can forget the last one, because after reading this test you will not need it. When you finish reading you will know exactly what you can do with the Vivoactive HR.
Compared to the original Vivoactive it has not only changed the design, but also added two buttons on the front of the watch instead of the sides. These two buttons and its touch screen is sufficient to operate the Vivoactive HR.
The left button is used to mark laps during the activity, go back in the menus and if you hold it down the off menu will appear (which includes options to activate the do not disturb and screen lock mode), while the right button is used to start and stop the activity. On the time page a tap will allow you to select the activity to be carried out, while if you leave it pressed you will access the complete clock menu.
The Garmin Vivoactive HR, compared to the original Vivoactive, is also thicker. And it also has the small optical pulse sensor bulge. But at 11.4mm thick it's not uncomfortable at all. Its other measurements are 30.2mm wide and 57mm long. Together with its 47-48 grams of weight (depending on the length of the strap) it's a watch that doesn't feel strange on your wrist.
The optical sensor is the same one we are used to see in many other Garmin devices, there is no variation in hardware. And as you can see in the sticker, the watch is waterproof 50 meters. It couldn't be any other way, because one of its main uses will be swimming.
The strap is quite wide, 30mm. In case of breakage it can be easily replaced and it is also possible to buy different colored straps to match. Right now they are available in black, white, yellow and red.
And in case you didn't think so... yes, the timing and charging cable is new, so you won't need any of the cables you currently have around the house.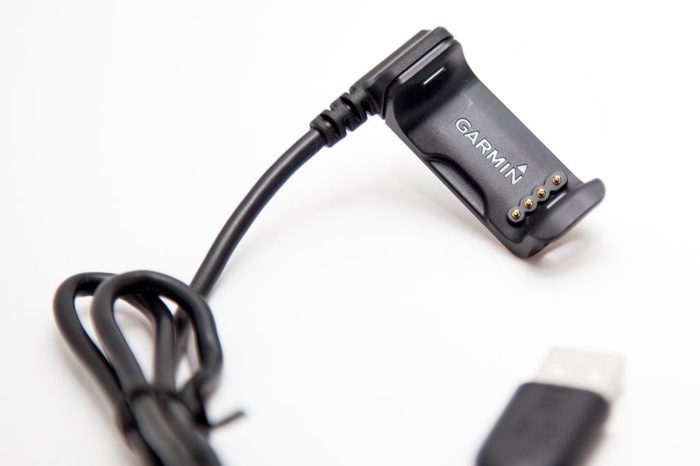 The design, however, is quite good. The connector fits on the sides of the watch and is perfectly hooked. You can move the watch or leave it hanging without fear of it falling out or being disconnected.
And once presented, how about we take the sticker off the screen and start banging away?
Activity monitor
The Garmin Vivoactive HR activity monitor is probably the most important aspect of the watch. Being a Vivo device, it is clear that daily activity is one of its main focuses. This activity monitor is similar to what we are used to seeing in other Garmin models, but there are new features in some of the widgets present and in the way the information is presented.
Cuenta los pasos de forma aproximada, a partir de lo que podrá dar una estimación de distancia recorrida y de las calorías consumidas. Hay un objetivo de pasos diarios que deberás intentar superar y, en caso de conseguirlo, recibirás una notificación en la pantalla para premiarte. Ese objetivo lo puedes configurar de forma manual o como viene seleccionado por defecto (y opción que prefiero) de forma dinámica. Por defecto el objetivo se establece en 5.000 pasos al día, bastante fácil de alcanzar. Pero se irá ajustando de forma dinámica día tras día para intentar exigirte un poco más que el anterior. Si no llegas al «cupo», relajará ese objetivo de pasos para el día siguiente.
You can review this data in the different widgets, which you can access by sliding up or down the screen. You can place them in different order or add different ones (both Garmin's own and third-party developers') through the different applications, but the most convenient is with the phone and Garmin Connect.
But there are other differences from the original Vivoactive, partly due to new software features that have been added in this time, but also due to differences in terms of integrated sensors, as the Vivoactive HR has a barometric altimeter and can therefore record the number of floors climbed.
El primero que puedes encontrar es el widget de «Mi día». Un resumen rápido de cómo estás avanzando en tu actividad diaria. Aquí vas a encontrar los minutos de actividad acumulados durante la semana, pisos subidos, pasos y calorías consumidas. Esas calorías incluyen tanto las de actividad como el consumo basal de calorías (las que consume tu cuerpo simplemente para mantenerte con vida).
There is a second widget, which by default is not installed but can be added from the Connect IQ tab of Garmin Connect. It provides almost the same information, although you will also have the distance estimation.
But unlike the my day widget, if you click on the screen you can access the log of floors gone up and down, as well as the steps of the last week.
And in the same way you can also have a calorie-eating widget.
Again, clicking on the screen will expand the information, showing the calories consumed in activity during the last seven days.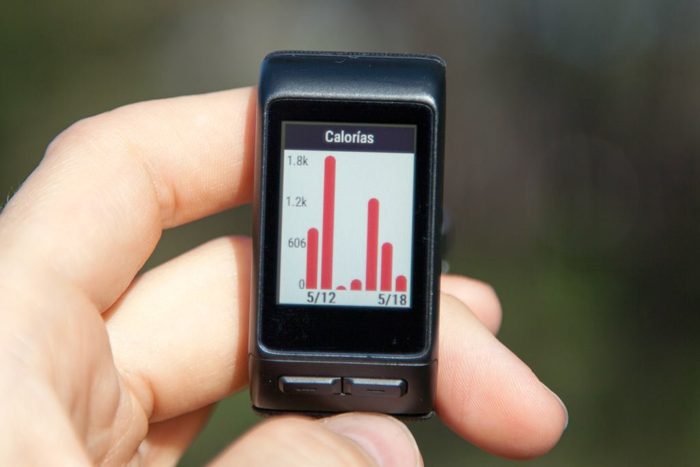 On the main time screen you will have (unless you switch to any other Connect IQ option) a bar with an inactivity warning. You should try to keep the bar completely red. After one hour with no activity a first white bar will appear, along with a warning to get you moving. From then on successive markers will be accumulated every 15 minutes. You can restore the counter by getting up and walking for a couple of minutes.
The Vivoactive HR is the first Garmin device that I've tested that features the Move IQ function. It allows you to automatically recognize a workout and give you credit for it, without having to start a separate activity. Please note that it has its limitations and is not intended to replace the manual activity tracking that you initiate when you start your workout in the gym, for example.
It's more geared towards capturing those walks separately by taking the dog out or walking around the centre. You won't see anything on the clock to indicate that it's recording an activity, nor will you have access to it in any way. It's simply managed directly on the server to display, after synchronisation, all the data in Garmin Connect.
You can see that this is quite new, because I haven't been able to find information about the activities in the web version of Garmin Connect, and the only way to access it is through the calendar in the mobile application.
Each color represents a different activity, or a specific record of activity for that day. In gray are the Move IQ events that we can consult.
The information you record for each activity is very basic - approximate duration and start time, but does not specify calories, steps, distance or any other metrics.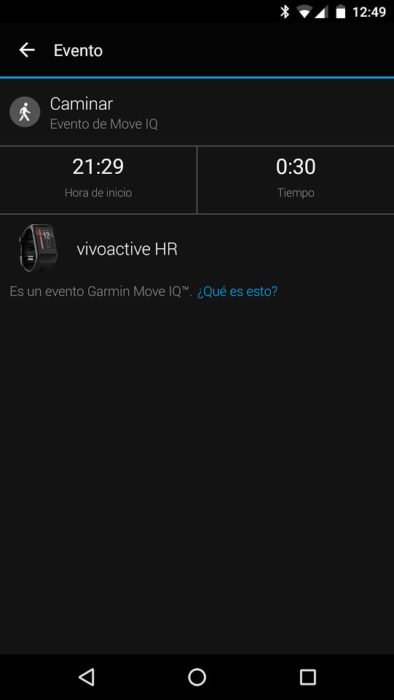 Para estos eventos no hay uso de GPS, ni seguimiento de frecuencia cardíaca por segundo. Es el servidor de Garmin Connect el que disecciona los datos del acelerómetro para determinar si ha habido actividades prolongadas. Y no sólo para paseos, sino también es capaz de reconocer eventos de natación o ciclismo. Por ejemplo un baño en la playa o un paseo en bicicleta, actividades para las que no quieres iniciar una actividad por no ser un entrenamiento específico ni tener intensidad elevada, pero que no dejan de ser «hacer ejercicio». Es probable (y deseable) que la información que veamos en el futuro para estas actividades se amplíe.
But as it is evident, if you want the maximum number of data you will have to start the activity in the application of each one of them.
And just as the analysis of that activity is done directly on the Garmin servers, the analysis of your sleep is done in the same way. You only have to wear your watch while you sleep and the next day, after synchronization, you can see basic information about the quality of your sleep.
In general and observing the data over different days, the time at which it records the beginning of sleep is usually correct, although there are always situations where it interprets that I have gone to sleep when I am, for example, reading a book in bed. But where it does not fail is at the time of waking up.
There are three states. Light sleep, deep sleep and moments when you have woken up. And how are you able to identify each of these states? By analyzing the movements you make while you are asleep.
It is extra information that it provides, although the truth is that there is not much more you can do with this data.
Another new feature that Garmin has added to its activity monitors is the intensity minutes, which allow you to go one step further than the classic recommendations of walking X steps during the day. Because what happens the day you do 2 hours of gymnastics? What if instead of running, that day you had to do 90km of cycling? Clearly in both cases you will have exceeded the daily activity goal, but it will not be reflected in the final steps of the day and the clock will interpret that you are below the goal. Thanks to the intensity minutes you can have a global vision of all your activity and allows you to see it more accurately than simply counting the daily steps.
Several organizations, such as the World Health Organization, recommend at least 150 minutes of moderate intensity per week. This would be equivalent to 150 minutes of light walking or 75 minutes of more intense activity, such as running.
What Garmin Vivoactive HR will do is accumulate all those weekly minutes so that you know how your activity has been and if you have fulfilled your objective. And as in the previous cases, there is a specific widget to control it.
You can see the minutes of activity for the day, and below that, the total minutes for the week at a moderate and strong pace (which the Garmin Vivoactive HR will count double in order to reach your goal).
If you click on the screen, as you can imagine you will be able to access the minutes of activity broken down by each day of the week. Unlike the calories, in this case the widget shows the information of the week and not the last 7 days. Therefore at the beginning of the week there will be days that will still appear empty.
After synchronization, you will be able to find all this data in your Garmin Connect account, both of your activity during the day and the quality of your sleep, and you will be able to make different reports of days, months, etc. Here are a few examples of how you will be able to see this information once synchronized.
And of course, in the mobile application as well.
But if the activity monitor is something that's very important in the Garmin Vivoactive HR, it's precisely because it has an integrated optical pulse sensor. This sensor, in addition to being used during your training and running, is also present throughout your daily activity, recording your heartbeat at all times. Here's how it works.
Constant pulse monitoring 24/7
Thanks to its optical pulse sensor, the Garmin Vivoactive HR allows you to track your heart rate throughout the day. It is an option of the activity monitor and to have this information simply wear the watch on your wrist.
The recording is variable and depends on your activity. If you are sitting at the office working and not moving, the optical sensor will not activate to save battery power. But if you are walking or doing other physical activity the recording will be more constant. This can be seen perfectly in the synchronized data.
At the bottom of the graph, you can see the movement. In the periods where there is more activity, the heart rate record is every minute or every two minutes. However, when there is no movement, hours can pass without taking data. All this is in reference to the activity record during the day to day, if you are doing a training, it will take the data to the second.
Although the recording frequency is higher than Vivosmart HR, it is still far from what Fitbit offers in its devices, which record the heart rate at rest every 3 seconds.
In Garmin Connect, in addition to having the full graph for the entire day, your resting heart rate will also be recorded.
This data gives you a lot more information than you might think at first glance. By knowing your average resting heart rate over time, you can tell when your training is too aggressive, when you are pushing too hard and need to think about doing some recovery training or when you are about to get sick.
When there is accumulated fatigue or some physical problem, that average heart rate will tend to rise. In my case I know that if my resting heart rate is approaching around 50 beats per minute, I have either trained quite intensely or I am incubating a good cold.
You can also find a widget with information about your heart rate on the clock itself, but in this case it corresponds to the last 4 hours. On this screen you can see your heart rate at the time along with the average for that day. Below you will have the graph of those four hours, showing more detail than what is later synchronized with Garmin Connect. The numbers above the graph are those that correspond to the minimum and maximum for that period.
If you press on the screen you will have the average heart rate graph at rest for the last seven days.
For reasons I don't know, the data is not the same as it is in Garmin Connect. My guess is that in Connect it records the absolute minimum of the day, while the clock shows an average of the minimums recorded. But it would be a detail if Garmin agreed and displayed the same information in both places to avoid confusion.
Running with the Garmin Vivoactive HR
Although the Garmin Vivoactive HR is a multi-sport device that will allow you to enjoy a multitude of activities, perhaps it is in running that it will be most comfortable. As an athletic watch, it is not as complete a device as a Garmin Forerunner 235But in return it offers many other things that FR235 does not offer and that you can have in this Vivoactive HR.
With respect to the 235 presents some limitations in terms of configuration. In the Vivoactive HR you can configure up to three different screens, with two or three fields for each. It is not necessary that you have the three screens activated, if you want the most basic data such as time, distance and heart rate and you do not want anything else, you can deactivate the other two screens.
As for those fields that you can configure, the list is quite extensive. There is a lot of information that you can display on the screen and you can choose it from a very extensive list.
You can even activate a field to show the altitude or positive meters ascended, thanks to the Vivoactive HR has a barometric altimeter, something that for example the 235 lacks. And in addition to the altimeter, has a built-in thermometer (at that time the degrees are selected in Fahrenheit, not that it was boiling eggs. Do not worry, can be set in Celsius), but if you wear the watch on your wrist the data provided will not be much use, as it will be completely influenced by body heat.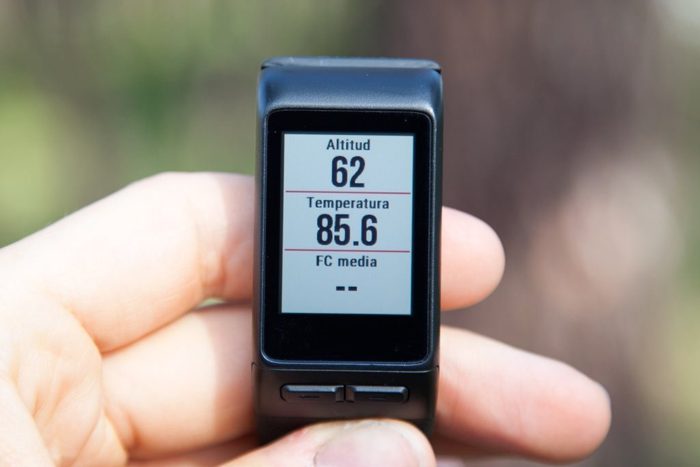 This data is normally related to clocks intended for the trail and the mountain, but the addition of the barometric altimeter chipset to measure the ascended and descended floors is what makes it possible to have those fields that are usually not present in a device of this range.
There are other settings that you can configure, such as auto pause, automatic screen switching, or different alerts; that you can customize with any event or that are pace, time, distance, heart rate or run/walk alerts
You can set lap marking either automatically at the distance you choose (e.g. the usual 1 kilometer) or manually by pressing the left button. You can activate one option, the second or both together.
Usually, for a constant race pace you want to keep track of the laps automatically, and for specific work days like series or fartleks you prefer to mark the laps manually, so you can easily separate each work and rest period to be able to analyze it after synchronizing the activity.
In addition, you will have information on screen every time a lap is marked, either automatically or manually. Although compared to other devices, the information is quite brief and not configurable, only the lap number and the time it took to complete it will be displayed.
The Vivoactive HR has an optical pulse sensor that you can use for all your workouts, but you also have the possibility to add additional sensors, for example a pulse sensor for when you train in winter and prefer to wear your watch on top of a jacket. You can save as many sensors as you want, even if they are of the same type (e.g. several pulse sensors) and activate or deactivate them as you wish.
As for GPS, the Vivoactive HR is compatible with GLONASS satellites, so in addition to the American satellite network (GPS) you can also use the Russian satellite network (GLONASS). Activating this option can increase the number of satellites available to the device and potentially improve positioning.
It doesn't mean that when you turn it off it will not work, nor that when you turn it on it will work much better. You will simply be adding a greater number of possibilities to have a good positioning. If using only GPS you get triangular with 9 satellites, activating GLONASS and triangular with a total of 14 will hardly improve the performance. On the other hand if with GPS there are only 4 satellites and with GLONASS there are 10, you will see a substantial improvement.
Keep in mind that the use of the GLONASS satellites option increases the battery consumption, so everything will depend on the records you get without the GLONASS activated. My recommendation is that if you run in clear areas without trees or buildings, you can take the GLONASS deactivated and be calm knowing that you will have a good positioning. But it is something that will depend totally on your location and your use, so it is you who must try one option or another.
Unfortunately, data recording is not a new trend at Garmin, which was to equip all of its models with data recording per second. The Vivoactive HR only allows for intelligent recording, unlike Forerunner 230 and 235. This can cause you to find points when analyzing the tracks where the path is cut, skipping a curve. In this image for example you can clearly see how the Edge 520 has rounded the curve perfectly while the blue Vivoactive HR has cut the curve.
Update (20 July 2016)
Garmin has released an update, currently in beta channel, which adds the option of recording data per second to the Vivoactive HR. This option should be available soon in production versions.
If you click on the image and the wide, you can see perfectly the points where the Vivoactive HR has recorded a GPS point, because you can see perfectly the peaks on the route, while the route drawn by the Edge 520 is much more rounded.
The GPS reception is good, on par with other models and sometimes even improving the reception in complicated places of other models. For example in this image both Fenix 3 and Forerunner 230 make a rather erratic graph in that stretch of complicated coverage (trees and buildings), but the Vivoactive HR has a very good behavior coinciding the path both to the go and return.
This does not mean that it will always work perfectly, because when there are complications, any watch can be separated by a few metres from the correct route.
In this case both Fenix 3 and Ambit3 Vertical are the best recorded route (the left side of the road), while Vivoactive HR moves a few meters beyond where it should.
As you've seen, when running the performance with respect to the Garmin Forerunner 235 is very similar. What's the difference then? Well, in the Vivoactive HR you won't be able to set up advanced workouts or have VO2Max estimation (although some users are finding this data synchronized in Garmin Connect, but not within the clock options), recovery recommendations or race time estimation. What you do have is the ability to display records for different distances.
These records are for running and cycling, in the latter case and thanks to the barometric altimeter there will also be a record of the longest distance climbed (positive meters).
Cycling
Everything you have read so far from the race can be applied perfectly to the cycling part. The configuration possibilities are the same as for your running training, however, when training on the bike you may want to add some additional sensors, such as those for speed and/or cadence.
Once paired, you can choose to have the wheel measurement detected automatically (via GPS measurement) or enter the diameter manually. Obviously the first option is the most convenient and perfectly valid.
Clarify that the Vivoactive HR is not compatible with power meters, at least officially; although there are Connect IQ applications that allow you to pair the clock with your potentiometer (provided it has ANT+ connectivity). At the moment these power data can only be displayed on screen, although this is expected to change in the near future.
Unlike race training, instead of showing the pace in minutes per kilometer you can see it in kilometers per hour. That is, instead of being able to select pace fields, you will select speed fields. The rest of the settings in terms of alerts, laps and so on are the same; but you must keep in mind that running and cycling are two different applications with different settings and you can configure the data screens and alerts independently, as well as the auto lap, which normally in cycling is recorded every 5 kilometers.
You can wear the watch on your wrist or mount it on a handlebar mount, but in that case you'll need to pair it with a pulse sensor via ANT+. Garmin has an official mount, but any other mount is equally valid, for example this one from Polar.
Swimming
First of all, two clarifications: the Garmin Vivoactive HR, just like the normal Vivoactive, has support for swimming in a pool. But only in a pool, it does not have an application for swimming in open water (for which you would have to look at a multisport watch). And as for the pulse sensor, it cannot be used during swimming, and always remains off. The optical sensor cannot be used under water at the moment, as the data obtained is not always correct. I have tried putting the watch in any other mode (without swimming metrics) and comparing the heart rate data with data from a pulse sensor in the chest, and sometimes the data from the optical sensor is valid, but in many others it is not.
So until that gets better, the optical sensor cannot be used in swimming. Unfortunately it is also not compatible with the HRM-Swim and HRM-Tri sensors, so it is not possible to have a heart rate from your swimming sessions.
The clock uses the internal accelerometer to count the number of times you put your hand in the water during your swim and to know when you have reached the end of the lane and made the turn, so it is important that you enter the correct length of the pool. In fact it is the first thing that asks you when you first open the application, and then you can modify it from the configuration options in case you go to a longer or shorter pool.
The display configuration is very simple. There are three fields, of which the lower one is always fixed. It is a double field with the total training time (including breaks) and the distance covered.
The other two fields can be configured to suit your needs: rhythm, interval times, SWOLF, strokes... whatever you want.
Alerts are also available (as in the other applications), with warnings for example for distance, calories or time.
During swimming the touch screen is disabled, so the control is done with the two buttons underneath it. And make sure you select the swimming application before entering the pool, because once the screen is wet it's quite complicated to select options. That's why the screen is not operational during swimming.
Swimming starts with the right button, and it is the same button that you will have to press to stop the training and finish (by selecting it on the screen). If you want to separate different series or you want to take a break, you can press the left button. You will switch to pause mode, which you will be able to identify because the background of the screen changes to black (white by default).
You do not have the option to count the exercises separately and be able to enter the distance. For example, if you swim holding a table with your arms outstretched, with other more advanced models you can activate this mode and later indicate the distance travelled (manually). In the case of the Garmin Vivoactive HR you do not have this option so in these exercises the distance may not be registered correctly. If there is no movement of arms or it is not regular you will be confusing the accelerometer.
What it does offer is the detection of different styles, although it is not always as precise as you would like. But it is not all the fault of the clock, also the clarity and the technique of your style. This can be seen when synchronizing the activity, where you can access the different times, rhythms, etc. As you can see, the rest periods and the time of them are also shown.
It is not the only information that will be shown to you, but you will have the complete details of your activity with a multitude of details and graphics.
If you need help understanding all the parameters it indicates, Check out the second part of the Garmin Connect data interpretation guide.
Other activities
Don't think that the only thing you can do with the Garmin Vivoactive HR is run, bike or swim. It supports many other applications. In fact, far from being a watch designed for triathlon (swimming, cycling, running), it is not at all. The reason is that although it has all three applications, it does not have a multisport mode that allows you to switch from one to another without finishing the recording, as other watches designed for that discipline do. If you are a duathlete or triathlete, the Vivoactive HR can be used for your training, but you cannot record a complete competition by separating each of the sectors individually, as you can see at this link.
But there are many other specific applications for other sports - something that, for example, other watches in the Forerunner range don't have and which is also what makes this Vivoactive HR special. They are as follows:
Golf
Walk
Rowing
Paddle Surf
Ski/snowboard
Cross-country skiing
Running / Cycling / Indoor walking
Indoor Rowing
Strenght
I won't go into detail on each of them, mainly because there are many of them that I haven't practiced in my life (rowing, cross-country skiing or paddle surfing, for example), and because others are simply the version of the same application without the use of GPS.
Where there is something more special is in the application of skiing or snow, because it allows you to track the activity when you go down the slopes, stopping automatically when you reach the end and wait for the lift to return to climb. For this function makes use of the barometric altimeter enjoyed by the Vivoactive HR.
As for golf, you can take a look at the Garmin Vivoactive testI was talking specifically about the golf application and what it had to offer, but nothing has changed.
Optical heart rate sensor
The optical pulse sensor of the Garmin Vivoactive HR has several possibilities of use. In addition to the one you have seen in the activity monitor section and the more than obvious use during sports activities, there is the possibility of using the watch as an optical pulse sensor for other devices that connect through ANT+.
The option is buried in the clock menu. To access it you must go to Configuration - Sensors - Frequency Card and activate the option to transmit heart rate
After activating the option on the screen you will only be able to see your FC and you will not be able to use any other options on the clock.
To use that data in any other device you will simply have to search for sensors from, for example, an Edge cycling computer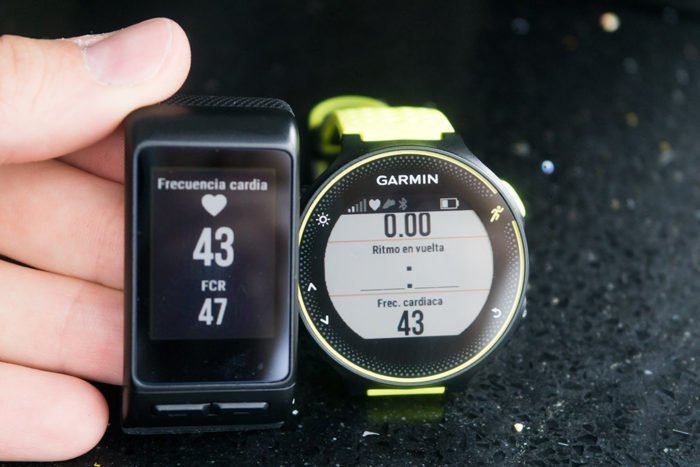 While this is an option that makes a lot of sense in the Vivosmart HR, as it is a device without GPS and much simpler, I don't think the typical user of this watch will appreciate this option very much, but it is there in case you want to use it at some point.
But beyond the options it offers, what matters is the quality of the data. That is, that the data obtained by the sensor is correct. I have seen a slight improvement over other watches that equip the Garmin Elevate sensor, but since a picture is worth a thousand words, I have prepared a few graphs that will be equivalent to... 10,000? Well, I'll let you judge by how many words you change them.
I have tested the sensor of the Garmin Vivoactive HR by comparing it with a fleet of different sensors, both optical and pectoral. In this first graph the Vivoactive HR is confronted with two optical sensors as Mio Link and Scosche RHYTHM+ of more than proven quality, plus a chest pulse sensor as Stryd.
As you can see in the picture, except for the cold start where all sensors suffer (both optical and traditional chest sensors) and a few moments where Mio Link has a strange peak, all four graphs line up perfectly, pulse up or pulse down.
When doing series the behavior has improved slightly. It still suffers from a certain delay in recovering the correct heart rate after an interval and start with the rest. In the graph below you can see it clearly (in purple the Garmin Vivoactive HR). But it does not always happen, in this case has only happened in the first interval, while the second has traced the record of the other two sensors (one optical and one in the chest).
Extending the end of the first interval we can see that at the beginning of the recovery it starts correctly, but something distracts it for a few seconds and gives us a slightly higher reading than the real one, to get back to the correct frequency later on.
During the rest of the activity the behaviour is totally satisfactory. Some dissonant peaks can be appreciated, but we are talking about a difference of 2 or 3 pulses per minute.
Another training in which we can see how the same circumstance is repeated. A correct start, the same as during the rest of the activity, except for a strange peak in the middle of the activity. I certainly cannot confirm if this rise is a punctual error of the watch or has been produced by moving the watch on the wrist. But at the progressive end and by pressing it, the same circumstance is repeated. The Vivoactive HR recovers more slowly and needs a few seconds to understand that we have stopped the activity. As soon as it understands this, it quickly matches again the frequency reading of the other two sensors.
So there's nothing we haven't already seen in other Garmin watch models that feature this sensor, such as the Forerunner 235 or Garmin Vivosmart HR.
In this training session you can see how in the initial part, during the race at a constant pace, the three sensors fully coincide in their reading.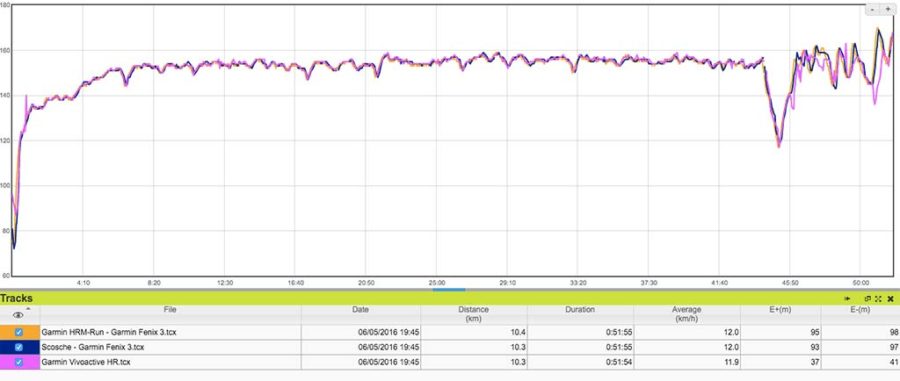 At the end I had to do 20 squats followed by 50m sprints at maximum intensity, which is where you can start to see differences, so I'm going to enlarge it for you to see more detail.
When you reach the squat section, all three sensors respond correctly, with no delay from the Vivoactive HR. But running at maximum intensity is lost at some points. It is not an easy test, since the intensity is very high in very short periods and also with a lot of arm movement (which causes the watch to move from its place).
Where I have seen changes is in cycling use. If you have read previous tests of devices with the Garmin Elevate you will remember that the results when cycling were disastrous. Well, that has changed slightly.
This training I can classify as surprising. In fact I had to look at the graph several times and several points, because I thought that the Vivoactive HR had been paired with one of the other two sensors and was simply repeating those data. But no, I could confirm that the three graphs coincided almost perfectly, only with slight differences in some points that served to confirm that, indeed, there were points with small differences of a pulse between one sensor and another.
The improvement is important, but it doesn't become totally perfect. Here you can see this other cycling training, where there are many coincidences, but the third block of work is where it is lost definitively, probably due to the accumulation of sweat. At that moment the most appropriate thing would have been to remove the watch, dry the sensor and put it back.
But just as there are fantastic days and almost good days... I have encountered situations where, without understanding the reason, simply finding the slightest similarity in heart rate measurement is pure chance.
¿El motivo? No tengo la menor idea. Tengo una teoría, y es que el día estaba «raro» con cambios de temperatura e iba abrigado. A ratos hacía calor y con manga larga sudaba bastante, por lo que con la posición del brazo todo el sudor terminaba llegando a la zona del sensor. Es algo que al correr no ocurre, porque el sudor en lugar de ir en dirección a la mano, lo hace hacia el codo y no se acumula en la zona de la muñeca.
The sensor has improved slightly in its use for cycling (and other non-running activities, such as gymnastics), although at the moment it can't be scored on cycling activities. But again, the progress is remarkable and I hope that Garmin will continue to make progress with the sensor management algorithm, both for running sessions with pace changes and for cycling and gymnastics.
Battery life
Garmin announces an autonomy for the Vivoactive HR of up to 8 days in clock mode (with the optical sensor active). This is with notifications, connectivity and other options activated and without performing any activity that activates the use of GPS or lighting. In my case between each charge, with almost daily workouts of greater or lesser duration, on the fourth day I had to think about putting the clock in charge. The usual battery life has been 4-5 days in combined use.
Garmin also indicates that use in GPS mode can be up to 13 hours, and in the test I ran, it passed that figure with flying colours.
The test is performed with the GLONASS option turned off, so if you activate GPS+GLONASS it calculates that you will have about 20% less battery life. The result is quite good, surpassing by many hours the Garmin Forerunner 235 that has its Achilles heel in the battery.
Clock, lighting and other considerations
Don't forget that in addition to all the above, the Vivoactive HR is a clock. Notice that it also tells the time. Incredible, isn't it?
The first thing to note is that the design of the sphere can be changed through Connect IQBy default, the watch has a fairly simple digital face, which is what you've seen in the activity monitor images, but you can change the design of the watch to Garmin creations or to community creations through the application section of the Garmin application (either on your computer or in the Garmin Connect application on your mobile phone).
This way you can wear your watch on a daily basis with a more personalized look.
In the Vivoactive HR, when programming alarms, there are more options. The snooze alarms are programmable, you can choose which days you want an alarm to sound independently, since before you could only select weekdays or holidays. So now you can have an alarm for weekdays at 8 am and for Sundays put a different one at 7 am (long pull!) And as the Vivoactive HR has no ringing tones, only vibration, you will not wake anyone but you.
And you also have a timer and a stopwatch, which is something more than one and two ask me in the comments of the different tests. Yes, this Vivoactive HR does have a stopwatch and a timer.
En cuanto a la iluminación echo de menos la posibilidad de mantener la pantalla encendida en todo momento, y es que parece que es una opción que sólo queda reservada a modelos de gama superior. Mis entrenamientos suelen ser casi siempre de noche y si hay algo a lo que doy mucho uso es precisamente a la iluminación de la pantalla. No obstante, el Vivoactive HR trata de suplir esa carencia a través de la activación por gestos. Puedes activar esta opción desde el menú de «Retroiluminación».
By activating that option, the screen will turn on both when you interact on the screen or the buttons, as well as when you turn your wrist to look at the clock. So when you run, you can turn your wrist to look at the screen, and the screen will turn on. Although I'd prefer to keep it always on for a quick look without having to make the full gesture.
The light quality is sufficient, and nine power levels can be selected.
Compared to previous Garmin models the amount of light is clearly less, but I don't think this is a problem when training, I think there is plenty of light.
And I would also like to remind you that the screen uses transflective technology. Unlike a normal LCD screen that has very bright and colorful colors but loses visibility with light, in the case of Garmin watches it is the other way around, since transflective screens use light to reflect it behind the screen and give visibility to the content.
Therefore, the more ambient light, the better the display will look and there is no need to use backlighting, which drains the batteries of other smart watches.
Of course, the clock screen will also show the notifications from your mobile phone (which you can turn off if you are not interested). You can also configure which applications you want to receive notifications from. When you receive them, they will be shown on the screen and you can open it to read the content in more detail. You can also access these notifications from the available widget, where you will have a list of all the pending notifications to read.
Errors and bugs
Most of my trial time has been with the initial software version, 2.20. In that version, this list was much longer. However, Garmin launched an update correcting some of those errors, which has allowed to shorten this list substantially. Peeeeero, that update has not solved all the errors and there are still translations to be done.
The behavior of the optical pulse sensor is as it is, as you have seen in the corresponding section. But more than an error or a failure, I consider it to be another characteristic of the Garmin Elevate sensors, and that is that for the moment they are not up to the Mio Link and Scosche RHYTHM+ that give such good results, especially when used in cycling.
This first update to polish the clock has come quite early (even before it was officially released in Spain), have not taken as long as with Vivosmart HR that needed a few months of shooting.
Therefore, the Garmin Vivoactive HR, although not without its occasional failures, is a clock that comes to market when it is quite rolled.
My opinion
The Garmin Vivoactive HR is a small device that can do a lot of things. It doesn't stand out in any of them, but everything it does does is good. At first it may seem like just a steroid activity bracelet, but the possibilities it offers go far beyond that.
It may be perfect for many people who play many sports, but none of them in a competitive way. The Vivoactive HR is capable of doing many things and serving many sports, but when it comes to setting it up it is limited (as well as simple, don't forget). Runners may miss advanced training, cyclists may miss the scarcity of data screens available and support for power meters. Swimmers may fall short in terms of controls available in the pool and the lack of outdoor swimming. And triathletes will yearn for a multi-sport mode.
But if you simply enjoy sports and equally enjoy walking, jogging 10 kilometers in the park, biking, skiing or paddle surfing; I can't think of a better option to recommend you. Garmin has come up with a complete but simple to use watch capable of meeting the expectations of the vast majority of non-competitive sportsmen and women (who, let's remember, are the majority).
Buy Garmin Vivoactive HR
You can get your Garmin Vivoactive HR through Amazon and help the site by purchasing it through this link.
(
2387 opiniones de clientes
)
(
1529 opiniones de clientes
)
Remember that if you make the purchase through the link you will be helping to support the page, and all without any cost to you. This way you save and I get back a small commission that will help the purchase of new devices to perform the following tests.
Don't forget to share the test in your social networks and with your friends, so that they can also be informed. And don't hesitate to comment and subscribe to the comments, many times you will find answers to questions that have not been dealt with in the text of the test. You can use the test comments as a forum and share not only your doubts, but also your opinions of the computer with the rest of the readers.
Thank you for reading and supporting the page!