With the Garmin Venu Sq , the Venu family is expanded and added along with the original Garmin Venu. This new variant is an option with some features cut off from the original model and now moving to a squared aesthetic, which is what gives it its name.
The new Garmin Venu Sq is available in two versions, the normal one and a second with music (called Venu Sq Music, of course). It is cheaper than the original model, which it does not replace but complements, adding almost all the functions of the Venu but at a much cheaper price.
I've already done a number of workouts with the Garmin Venu Sq, so we know each other perfectly and I can tell you all the good and ugly that the new Garmin can offer you. 
As always, this review was done with a test unit provided by Garmin. Once the review is completed I will send the watch back, so there is no compensation to try to get a favorable opinion. All my opinions both in this article and in the rest of the website are completely free and without pressure from any manufacturer. If you find this review useful, please use the purchase links you see on the page, as they help maintain this website.
Once that is clear, let's go with the full review.
GARMIN VENU SQ
Overall - 9
Training possibilities - 8.5
Platform and applications - 9
Battery life - 8
Finishes and comfort - 7
Price/performance ratio - 9.5
8.5
TOTAL
A new member for the Venu family but with a much cheaper price. And despite being much cheaper it has all the features that the vast majority of the audience needs.
---
The good
Low price
Many functions oriented towards sports
Good quality display
Good battery life
The bad
Blunt aesthetics. Doesn't look like a Garmin
It feels rather cheap due to the materials used
The notifications might be hard to read due to the small font
Garmin Venu Sq specs
Find the best offer
Garmin Venu Sq
As I always do, let me detail all the specs first.
It allows to play music on the Garmin Venu Sq Music Edition, including Spotify and Amazon Music. 4GB internal memory.
Wireless NFC payments with Garmin Pay.
Smart phone notifications.
Possibility of downloading Connect IQ applications.
WiFi for syncing and downloading (only on Venu Sq Music).
1.3″ diagonal LCD touch screen with the ability to stay on as an option.
240x240 pixels resolution.
With touchscreen (as it is a smart watch), but there are also two buttons to control the watch.
Ambient light sensor
Aluminium bezel, Gorilla Glass 3 protection for the glass.
40.6 mm wide.
Weight: 37,6 grams.
Battery life: Up to 14 hours with GPS, 6 hours when listening to music (in Music Edition) and up to 6 days in smartwatch mode.
20mm wide silicone strap, with Quick Release system
Optical heart rate sensor Garmin Elevate v3 with Pulse Ox (pulse oximetry to identify the different phases of sleep)
SpO2 estimation throughout the day, manual or only at night.
Respiratory rate tracking.
Function Body Battery showing the remaining energy and recharge with rest.
Stress monitoring
Sleep tracking.
Hydration monitoring to keep track of the fluid you've been taking throughout the day
Estimated sweat loss after workouts.
Menstrual Cycle Tracking
Breath tracking. 
Breathwork for respiratory workouts
Garmin Coach and advance workouts compatible.
Incident detectionThe watch will send a message asking for help to the contacts you have programmed in advance. The watch does not have a LTE connection, so you need to carry the phone with you as it will be in charge of the communication. It can be activated automatically (if it detects a fall or similar), or manually if you find yourself in a difficult situation
I think it's clear that Garmin has focused on Venu Sq to compete directly against new Fitbit models, especially the Fitbit Versa 3. But also with Apple Watch Series 3. All these models move in the same price range around €200, where the range of access to watches geared to monitoring health and physical activity is.
It is not simply a cheaper Garmin Venu, by size it can be considered a watch very similar to the Garmin Vivoactive 4s. The truth is that right now Garmin's range of smart watches for activity tracking is quite complete, with small differences between them both in performance and logically in aesthetics.
Ordering them by MSRP, this could be a quick summary
Garmin Venu Sq (199€): Square LCD display, all health tracking functions and small size with 40mm width. With Garmin Pay.
Garmin Venu Sq Music Edition (249€): Above Venu Sq adds the ability to play music and WiFi sync.
Garmin Vivoactive 4s (from €279): Transflective round screen, 40mm diameter, music, Garmin Pay, WiFi. It has barometric altimeter as the main differentiator as well as the animated workouts.
Garmin Vivoactive 4 (from 299€): Same as 4s, but with a 45mm diameter screen.
Garmin Venu (from 349€): Same as the Vivoactive 4s, but with 43mm diameter AMOLED screen and higher quality materials.
In a fairly progressive scale, Garmin adds different options and possibilities, beyond a change in aesthetics.
However, you can see how Venu Sq stands at both ends of the summary I made earlier, between the two models of the Venu range are the others. Is there really that much difference between Venu and Venu Sq? Well, that's what we'll see next.
Differences between Garmin Venu and Garmin Venu Sq
Naturally, the most visible difference between Garmin Venu and Garmin Venu Sq is the screen format. The Garmin Venu has a round bezel, while the Garmin Venu Sq is square. I didn't need to explain this to you, but there are other things to keep in mind.
The Garmin Venu uses an AMOLED display, while the Venu Sq display is LCD. It is not only the technology used in the panel, but also the resolution (390×390 pixels on the Venu by 240×240 pixels on the Venu Sq).
The bezel of the new Garmin Venu Sq is made of aluminum, while the bezel of the Garmin Venu is made of stainless steel.
The Garmin Venu has barometric altimeter that is used to track climbed floors as well as altitude accumulated during workouts. The Garmin Venu Sq doesn't have it.
From the square display model, only the Garmin Venu Sq Music offers music playback. The original Garmin Venu offers it as standard. The same goes for WiFi connectivity.
There are no animated workouts in the Venu Sq (yoga/cardio/pilates/strength). They're in the Venu.
There is no gyroscope on the Garmin Venu Sq, it is present on the Garmin Venu.
In other words, the Garmin Venu offers a "premium" experience in terms of presence (display and materials) and by offering the barometric altimeter, but in terms of software there are no differences beyond the fact that the Venu Sq does not count the number of floors climbed.
Garmin Venu Sq as a smartwatch
When Garmin premiered the Venu Sq what caught the eye was its squared aesthetic. After many years since their last squared watch (the Garmin Epix in 2015) we had a model with this design again.
Why opt for this type of configuration? Because their main rivals in the sector, against whom Garmin wants to fight with this model, use precisely that design. Apple Watch Series 3, Fitbit Versa 3, Fitbit Sense... they're all square, and they're all about the main goal of Garmin.
That same design can make the Venu Sq somewhat blunt. In fact, if not for the Garmin logo on the glass, it would not be easy to guess the brand of the watch. 
The materials chosen for the occasion also do not help. With the exception of the small aluminium bezel, which is easy to scratch, the watch is made of reinforced polymer (a derivative of plastic). That also includes the buttons.
Design and manufacturing quality is not what stands out most in this model, although it should not be forgotten that this is a model that aims to achieve a low product cost, and yet offers many software features. It does not give the appearance of a "premium" product, but it does not pretend to. And Garmin doesn't charge as such either.
The Garmin Venu Sq display is LCD. The colors it offers are not as vivid as the AMOLED screen on the Venu, but it is much more vivid than any of the Vivoactive ones. The lens is Gorilla Glass 3 with scratch protection.
This is a touchscreen, just like the Vivoactive and Venu, and we also have two control buttons on the right side.
Buttons can make a noticeable difference from other models, at least in sports use. The fact is that being able to pause or start an activity or mark a lap with the use of the button is infinitely more comfortable than doing it via a touch screen.
Following with the screen, the default behavior is that it stays off until we press a button, turn the wrist, or receive a notification. However, this can be modified from the control menu and set the screen to be always on.
Naturally, there will be a small impact on battery life, as indicated by Garmin when enabling the option. If you prefer to save energy, you can leave the original setting, which is also not so uncomfortable because the watch responds really well to the wrist gesture.
Garmin announces a maximum battery life of up to 6 days without enabling the always-on display (and up to 14 hours of GPS or 6 hours if we listen to music while training), so it all depends on what you want to sacrifice.
I've been using the watch with the screen always on. Selecting this option also has a lower power dial in which the wallpaper is turned off, showing only the time.
However, not all watch faces support this low-power mode. For example, if you design one through the Face It feature of the Connect IQ app (choosing a photo from the gallery or taking), it doesn't offer that possibility.
They can be configured from the watch itself, both in design and in the complications you want to show (distance traveled, steps, date, etc.), or downloaded from the Connect IQ app. Although there are not too many to choose at this time, developers have to offer support for the square screen format of Venu Sq.
Connect IQ is precisely the most "intelligent" part of this watch, which allows you to install applications, data fields or widgets in addition to the watch faces themselves. However, keep in mind that it is not as advanced as a watch with Wear OS or an Apple Watch, the applications are simpler and mostly sports-oriented. But sport is the main reason why you want to buy a Garmin watch, isn't it? 
Notifications are also one of the strong aspects of the watch. There are no changes to other Garmin watches, and the Venu Sq offers the same possibilities as all models of the brand offered earlier.
So you can see all the notifications from your phone, or select only the apps you're interested in. You can also choose whether you want notifications to show directly on the screen, or turn on privacy mode where they are only shown when you rotate your wrist. And access all of them from the widget that is available for that purpose.
You won't be able to respond to notifications from your watch (beyond predefined messages if you're using an Android phone), but you can delete them from the list.
The only thing that might stand out in the Venu Sq is that perhaps the font used is too small and forces us to look too much on the screen to read the messages.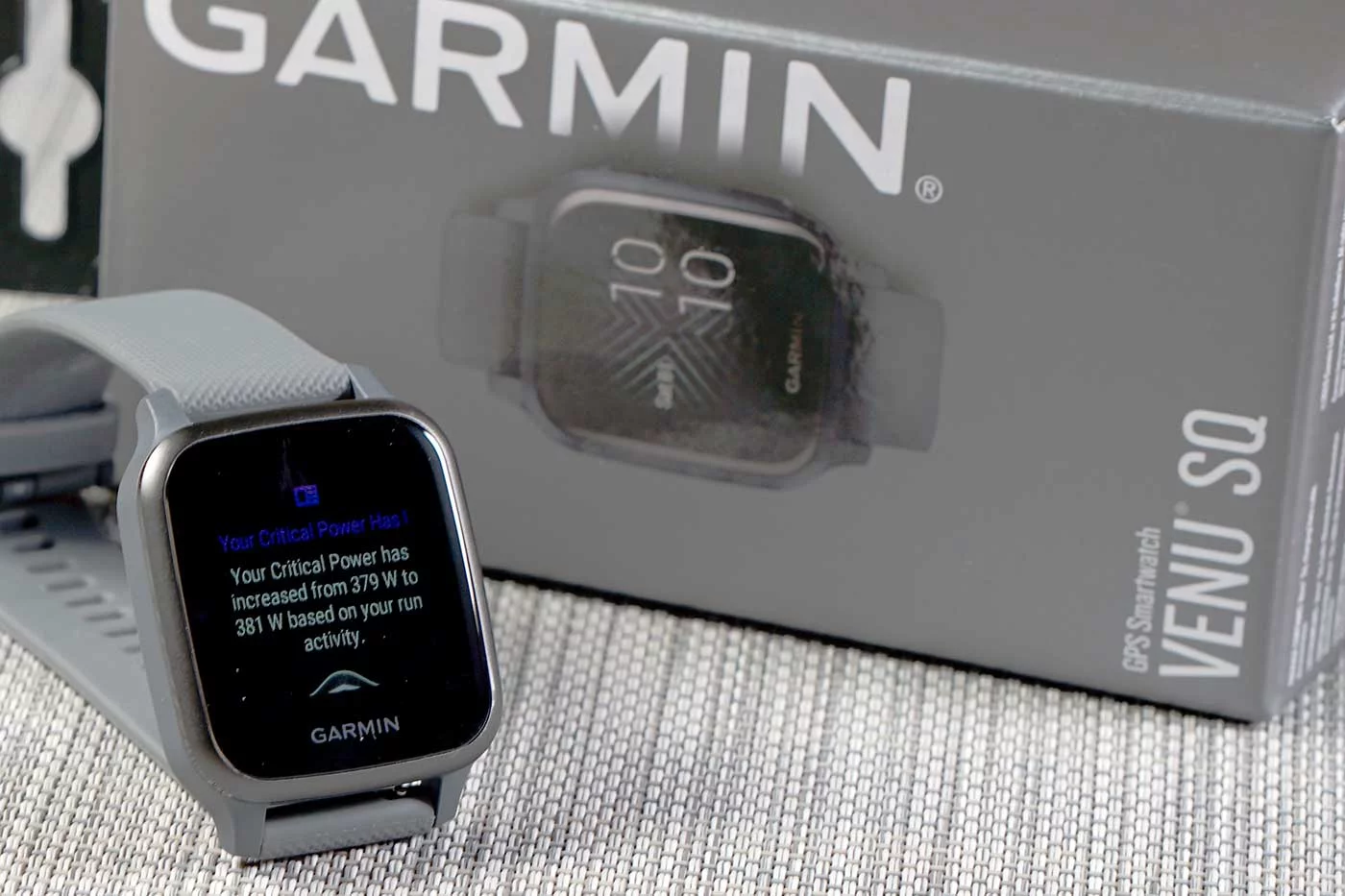 And not that I have eyesight problems, luckily my eyes are fine, but it's the only Garmin where something like that happened to me.
The user interface is the classic Garmin UI. There are slight changes to some of the menus to better adapt it to the eminently touch use of this watch. For example, swipe prompts to access sport profile options.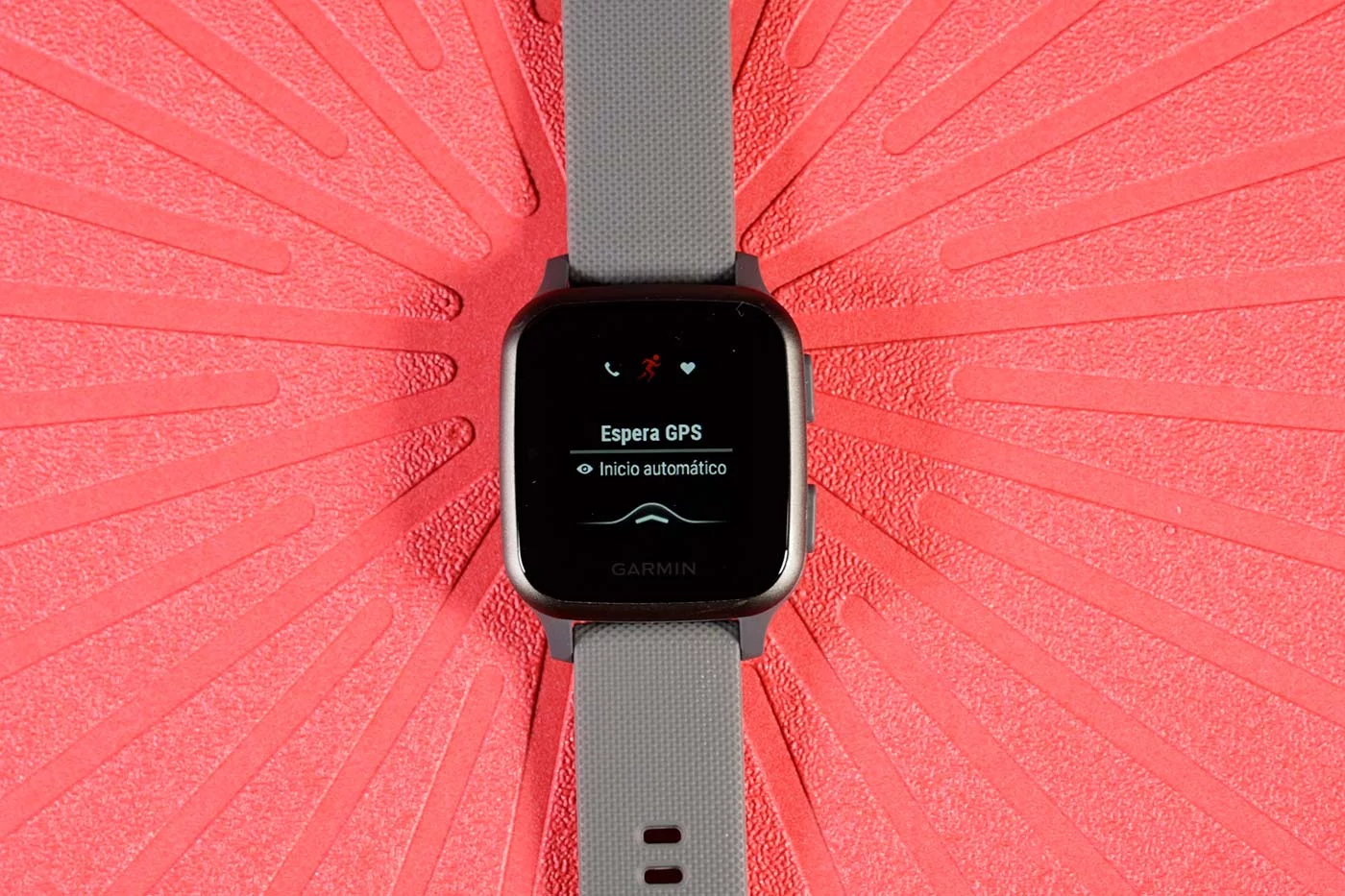 It has those little touches, but still, as with the original Garmin Venu, in this respect they are somewhat behind any other manufacturer. The Garmin interface already feels somewhat outdated and doesn't take advantage of the benefits of an LCD or AMOLED display at all.
To give you an example, the heart rate chart after finishing a workout is simply horrendous, a monkey with Photoshop could do much better.
What we also have are wireless payments via Garmin Pay. The problem with wireless payments is always the limitations of supported banks (they rather develop a complex application one their own than gives a penny to any other company).
Currently the list of supported banks is quite limited, although you always have the option of using Curve as a card aggregator (you can sign up by downloading their application from your phone's app store).
Adding the card to the watch is a simple process done from the Garmin Connect app. Just enter the data and confirm through a validation message from your bank.
The watch allows us to add a shortcut to wireless payments by swiping from left to right, or in the quick access menu that can be accessed by holding down the top button.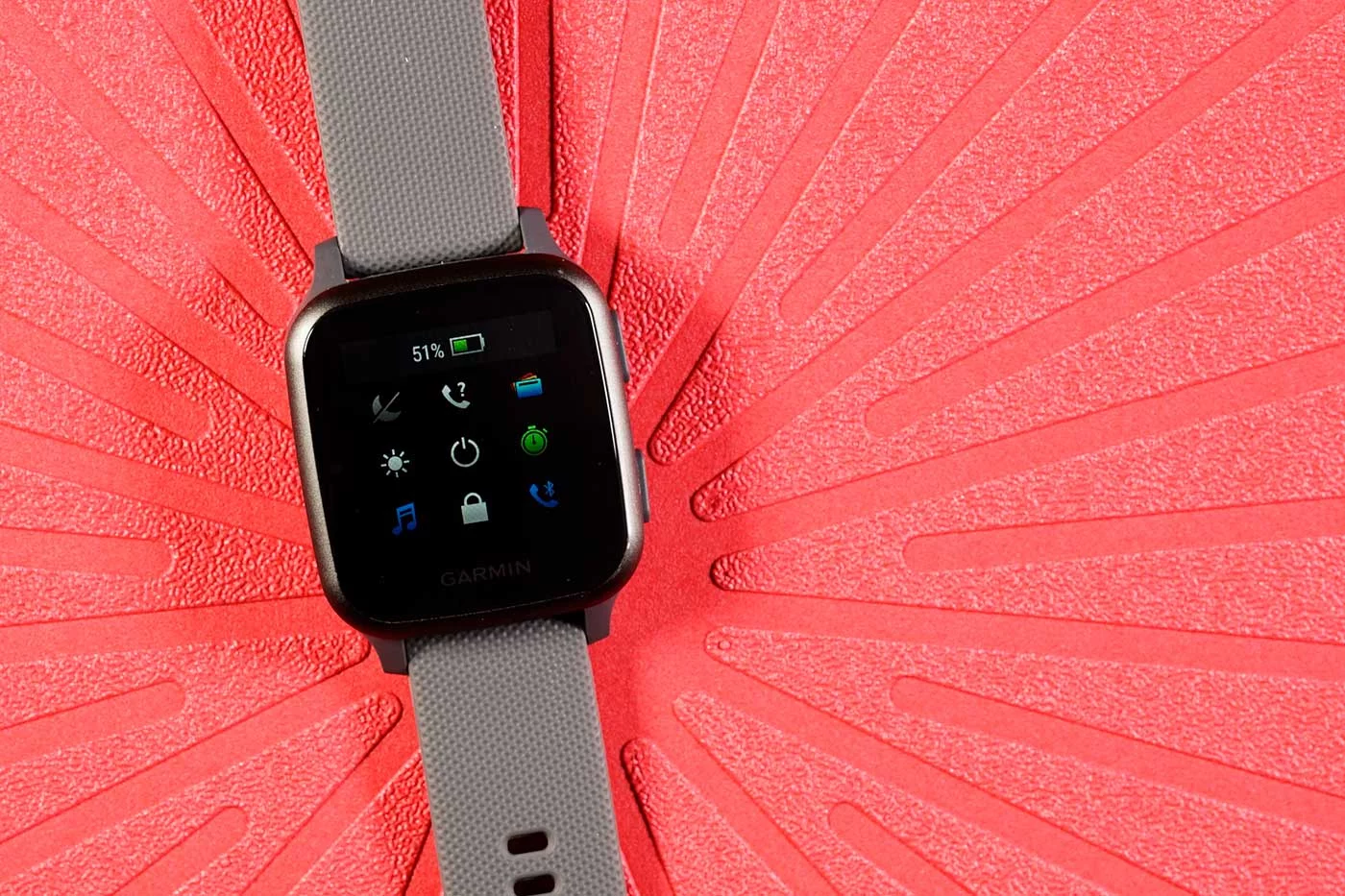 Your payments will always be protected because when you create the wallet on your watch it will ask you for a pin that you must enter before you can make a payment.
Once entered, you will have about 30 seconds to make the payment, then you will need to re-enter your PIN in order to make payments again.
Finally, I want to remind you that there are two versions of this watch. There is the normal one (which is the one I have reviewed) and the one that includes music. It cost an extra 50€ and gives the watch the ability to play music that you download to the watch; either traditionally with the data cable via Garmin Express or as it is done in 2020, syncing playlists from our favorite online platform (it has support for Spotify and Amazon Prime Music).
Once you have entered music into your watch you can listen to it at any time (both during a workout and day-to-day), simply pairing a Bluetooth accessory like a headset or a speaker.
The Garmin Venu Sq Music also includes WiFi sync, which allows you to download your selected music. And it will also allow you to sync your watch to transfer your activities to Connect.
Sports possibilities
As I said earlier, if you are interested in a Garmin watch it is because you are primarily interested in sports.
To begin with we have daily activity tracking, monitoring steps/sleep. This does it without starting any workout and without needing GPS, as it will simply use the internal accelerometer.
You will be able to see all the details on the watch within the activity widget itself.
And naturally, it will sync with the mobile app where you can see all the details of your day to day.
Activity is not the only widget intended for health, there's also information about heart rate, body battery function, breathing rate or estimation of blood oxygen saturation (SpO2).
By clicking on each of these widgets you can expand the information about it and see each of them in greater detail.
And just like activity or sleep, you can see all that on Garmin Connect, both on the mobile app and on the web.
As for daily activity, the difference we have from the Garmin Venu is that the Venu Sq does not have a barometric altimeter, so you will not have information on the number of floors ascended throughout the day.
But where the Garmin Venu Sq shines above any other smart watch is when it comes to doing sports or training. And it's not only because of the typical Garmin sports features or the analysis possibilities of its platform, but also because Garmin offers compatibility with different options that were previously only available for the higher-end models.
For example, Venu Sq is compatible with Garmin CoachGarmin's "intelligent" training platform in which, based on a certain type of test and a date, it establishes a training calendar, which will be adjusted if for whatever reason you have not podido perform any of the training sessions. However, these are exclusively for running and not for other sports.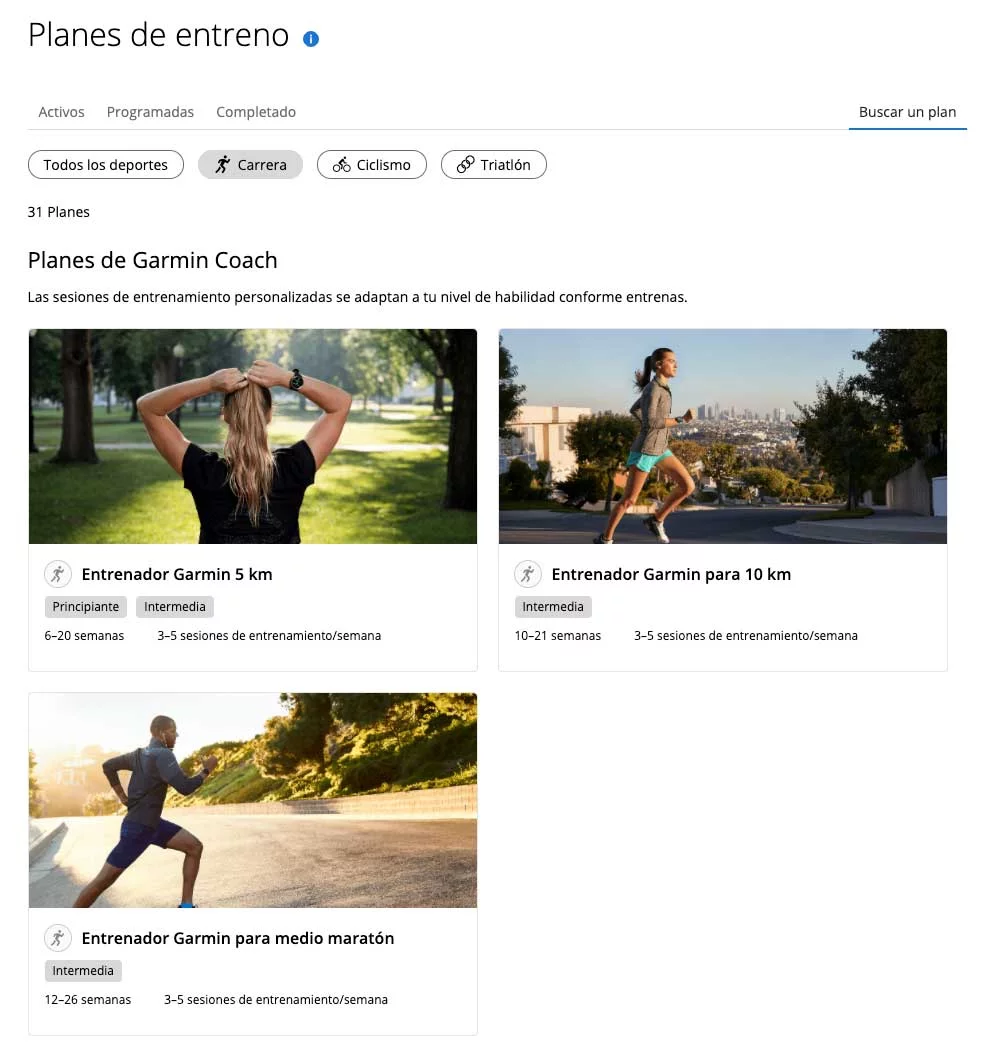 You can also make use of classic Garmin training plans, where there are no adjustments if you haven't done a session or the rest wasn't the most appropriate. Or download them from an external service such as TrainingPeaks. 
At this point you will wonder what differences does Garmin Venu Sq have with the Forerunners?
Well, basically three: configuration possibilities, supported sensors and performance/recovery metrics.
Starting at the end, in Venu Sq you won't find performance metrics of any kind. There are no indication of rest, accumulation of training load, etc. Will you miss it? Well, it depends on how and what you're training for. If your use is simply to go to the gym and someday go joging/walking, or even some sporadic competition, you don't need it. That is the main use for which it is intended anyway.
As for sensor support, you will have no running metrics or the possibility of using potentiometers in cycling. All others will bear them, in particular:
Heart rate (Bluetooth and ANT+)
Footpods (Bluetooth and ANT+)
Stryd (ANT+)
Cycling speed and/or cadence (Bluetooth and ANT+)
Bike lights (ANT+)
Bike radar (ANT+)
Tempe for measuring temperature (ANT+)
Golf club sensors (ANT+)
And finally we have the possibilities of configuration within sports. But speaking of sports, in the Garmin Venu Sq you can find many sports profiles available to practice: running, treadmill, indoor or outdoor walking, biking, indoor biking, swimming pool, golf, skiing, snowboarding, cross-country skiing, paddle surfing, strength, cardio, yoga, pilates, elliptical, climber, outdoor or indoor rowing, others.
It should be noted that there are special profiles that have a proper functioning of each activity, it is not just that they count the duration and that's it. Thanks to the accelerometer of the watch in golf you can track the hits, in rowing sports you can count how many times you row and give specific metrics per minute, just like swimming. 
Each sport profile allows a different configuration in terms of data displays, alerts, GPS settings, autolap or automatic scrolling. In other words, you can set the running profile differently from cycling, with the metrics that interest you in each of them.
You can edit three pages of data, with up to three data on each page. That is the most important limitation with regard to Forerunners, as the list of available metrics will also be somewhat narrower.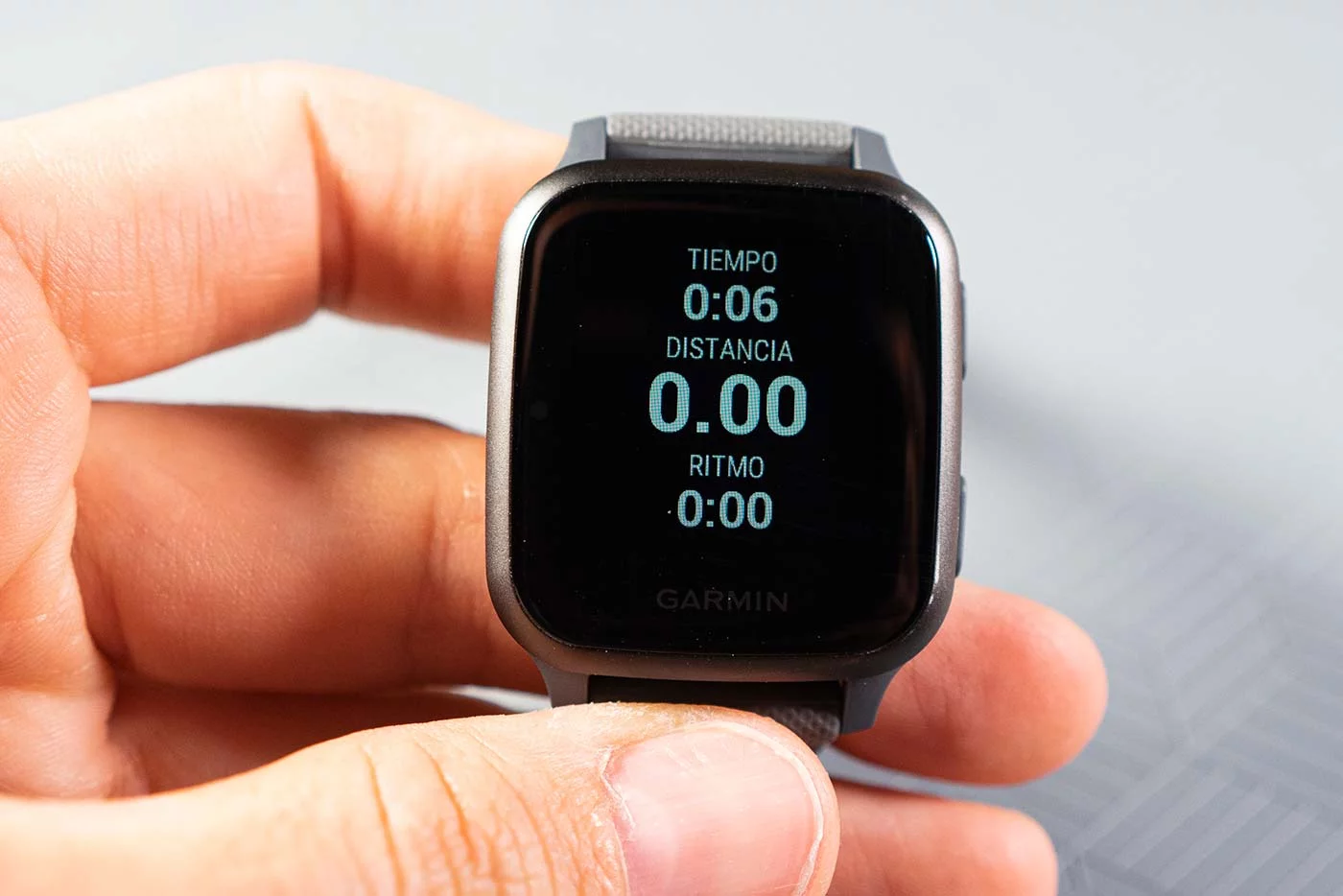 And to continue to highlight the differences with respect to the Garmin Venu (the round one); the yoga, pilates and strength profiles do not include videos with animations to perform the exercises. 
After the workout, the watch will show you all the data on the screen as a summary. You can see it quickly there or, of course, in the app or on the web after syncing with your phone or data cable.
The training platform is usually one of the big forgotten things when it comes to choosing a smart watch, however it is much more important than you think if you are quite turned towards the sport. Garmin does not disappoint and offers multiple analysis possibilities for your workouts, both in the app and on the web.
In addition, we have integration with many external platforms such as Strava, TrainingPeaks, etc. If you prefer to do your analysis in any other app you can sync with them automatically.
Heart rate and GPS accuracy in Garmin Venu Sq
In the Garmin Venu Sq we find the latest Garmin Elevate optical sensor, its third iteration, which also includes the estimation of blood oxygen saturation (SpO2).
Unlike in models like the Forerunner 245, Venu Sq allows us to enable monitoring throughout the day (although I warn you, battery is significantly affected). This measurement will be done through a red light that you will see light up on the back of the watch from time to time.
However, using this option will significantly shorten the battery life. Although you can choose to use it exclusively at night, helping the watch identify the different phases of sleep. Reliability of this estimate? It's hard to evaluate. 
Oxygen saturation in the blood is something that is now on the mouth of many people because of COVID, but it is just another variable of a very complicated disease. And a low rate of oxygen in the blood is not something exclusive to COVID, it can also occur under other circumstances.
In fact, when Garmin introduced this feature, they did it on the Garmin Fenix 5X and was intended for mountain use. This is something that mountaineers have used for many years, because in case of an ascent done too fast the oxygen saturation in the blood can get too low and become dangerous. 
The technology used in sensors is the same that has been used for years, but its reliability in a watch is relative. At least in terms of constant measurement, since usually the tests done in hospitals are with the patient still in a bed or chair. In short, it is not something that is intended to be used while walking or running, but to make point-in-time measurements. 
One of the possibilities it offers us is to take records exclusively during the night. In this way it will help measure sleep quality, provide us with records at rest (which is how they should be taken) and will not consume as much battery. I think it's the best option of all.
Of course there is also HR tracking throughout the day. This option, although it has a small impact on battery life, is not as important as the case of SpO2 estimation. We can see that daily heart rate at any time through the watch widget, or in the Garmin Connect app itself. 
Let's talk directly about the optical heart rate sensor while practicing sports, which in the end is what someone buys a watch like this Garmin Venu Sq. But before I show you comparisons of different sensors, I'd like to recall some basics of optical sensors.
Keep in mind that a wrist heart rate monitor does not work the same way on all bodies. We're all different, and if we put things in the equation like skin tone, tattoos, body hair... the difference from person to person can be quite big.
In my tests it is not that the spectrum of users is very broad: it is me, myself and I. So what works well for me might not do it for someone else, or it might be better.
But the most important thing to keep in mind is that you have to follow some guidelines to wear the sensor. It should be tight (but not cut off your circulation), enough to keep the watch from moving freely on your wrist, leaving a separation of approximately one finger from the wrist bone. By following these details you will ensure that you get the best results that your conditions can offer.
Well, once we've cleared this up, let's look at some comparisons of optical sensors. First of all, I'll start with an easy workout. Accompanying the comparison is the Polar Vantage V2 and the Garmin FR945 paired with the Polar H10 chest sensor.
Constant pace throughout the workout, except for 30-second intervals at the end. Running at a constant intensity is the most basic thing an optical sensor can do, so it is the minimum requirement for any watch. In the case of the Venu Sq it performs without problems (they are also not seen on the graph of the Polar Vantage V2).
The intensity changes are somewhat more complicated. This workout ended with 6 short 30-second sprints. The behavior that we can see in the optical sensors is the same as always, they do a correct reading, but with a delay (because they do not make a direct measurement but it is an estimation thanks to an algorithm).

Let's go on to a different training. Two blocks of 25 minutes of tempo run. More intensity, but constant paces. Same members in the comparison, but the FR945 this time is paired with the Garmin HRM-Tri sensor.
On this occasion, the Venu Sq start is wrong for a few minutes, something that happens occasionally and that may be due to a bad band adjustment or an algorithm failure. And do not think that it is something exclusive to optical sensors ... it can also happen in chest HR sensors.
Apart from that specific error, there's nothing else to highlight in the part that corresponds to the Venu Sq. But there are many points indicated for the Vantage V2 graph with specific peaks in the heart rate reading, something that happens in the latests Polar with too much assiduity.
Finally we go with a pure interval session. Warm-up, five surges to get into the matter and the proper 400m intervals.
I have highlighted with a purple arrow a somewhat late start of Venu Sq, but do you remember what I just told you about the chest HR sensors failing from time to time as well? Well here is an example. Around minute 5 there are two HR peaks during warm-up that don't make any sense and shouldn't be there. They are also present in the last intervals, in that case and in all probability because the strap has moved. In fact, both the Vantage V2 and the Venu Sq perform the measurement correctly.
And leaving aside those initial failures ... the truth is that the performance of the Venu Sq throughout the training is quite good. 
In summary, I would not have any problem when training using the optical sensor of the Garmin Venu Sq (except for cycling, there I would want a strap), as it is sufficiently reliable even in the most difficult conditions. Let's now go over the GPS.
Like the optical sensor tests we have seen before, the GPS comparisons are done in the same way: with the watches accompanying me in my regular workouts. Carrying both the Garmin Venu Sq and other models, and checking where the problems appear.
I don't have a defined path to establish a score for the simple reason that there are other external factors that we should never forget. Things like clouds, leaves on the trees or simply the position of the satellite can alter the GPS results from one day to the next. 
I will start with this long workout of just over 15 kilometers, as there is a lot to look at.
The start is quite complicated for the Venu Sq. At this point I already run almost a kilometer so it should have good triangulation already. It's true that I was still warming up and I was not going very fast, but that was not an excuse for both the FR945 and the Vantage V2 to make a correct track.
Later on the Venu Sq (with the outline in blue) still has not warmed up. At this point the Vantage V2 is the one that offers the best performance, making the turns where it has to even if it has a slight momentary deviation.
Here I am already reaching the turning point. The Vantage V2 still performs better than the other two Garmin watches, marking the track on the correct path followed (through the parking area), while the other two Garmin watches are slightly offset to the left.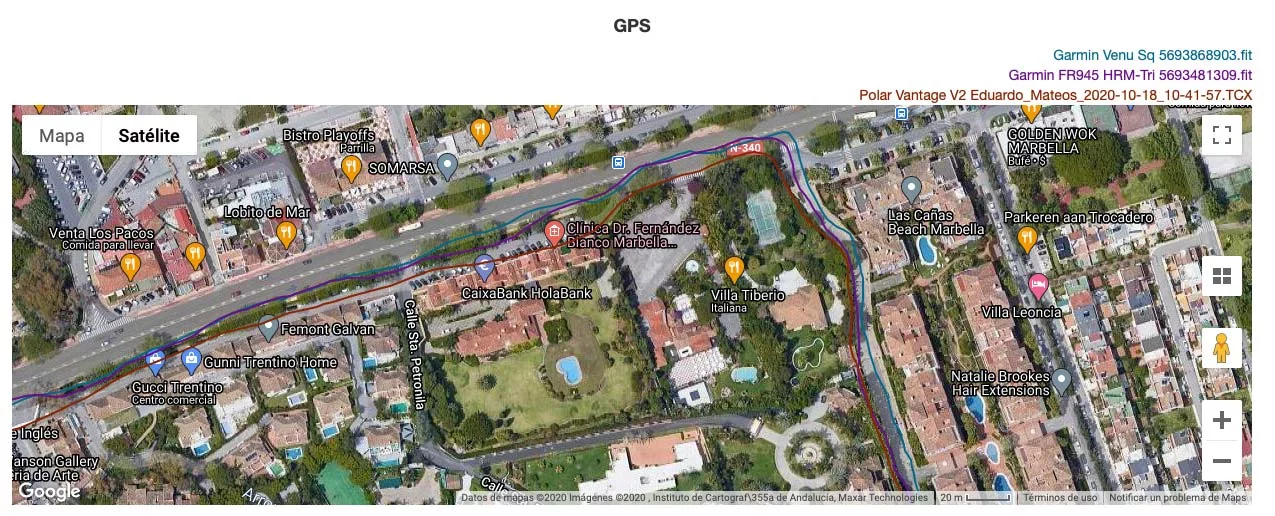 But once on the promenade with full visibility of the sky and without tall buildings around, there is no major problem for any of the three components of the comparison. 

Coming to the end of the workout, I use this turn very frequently because it is a very fast change of direction in a confined space. There is a slight cut by all three watches, but it's not overly noticeable.
In the next workout I will focus on the central part of the boardwalk, where I have done intervals repeatedly (back and forth).

Here I have expanded that area and, without going into deep detail yet, you can see how the only route that differs from the others and that has detours through the beach area is the purple one that corresponds to Venu Sq.
Zooming in much more you can see that the Venu Sq is the one with those twists that do not correspond to reality. It's not overly worrisome, but they are there. 

In short, the Venu's GPS tracks aren't bad, but they could be better. There is still work to be done, although the base is not bad at all. Do not forget that the antenna design is new because Garmin has not had a square dial watch for a long time so there are still things to polish.
Buy Garmin Venu Sq
I hope that this in-depth review has helped you to decide if it is a valid device for you or not. All the work I do you can consult it without any cost, but if you want to support the page and by doing so the work I do, the best way to do that is to buy your new device through the links I provide .
And if you don't buy it today, remember to stop by when you do! Through these links you will not only get a competitive price and the best customer care, but also I will receive a small percentage at no additional cost to you. That's what allows me to keep offering you reviews like the one on this page.
Find the best offer
Garmin Venu Sq
You are not going to buy it, you already have it or Amazon is not an option; but you like the reviews I perform and you want to show your support for the site? Then consider signing up for a VIP membership. Above all you will be helping to support the site, but you will also enjoy unique benefits.
If you have any questions, remember that you have the comments section at the bottom, where I will try to answer all your questions.
Garmin Venu Sq opinion
The Garmin Venu Sq is probably the best Garmin of the year. It does not include any features that we have not been seen before, nor are there any surprising elements and certainly the design does not surprise. 
However the price is VERY competitive and that is what makes this Venu Sq stand out. Sometimes to have the best product you don't have to be the one that offers the most features, you just have to offer what the vast majority of the audience wants at an interesting price. It's something Garmin had completely forgotten.
This absence of new features also has a positive reading, which is that the operation is almost perfect in every way. There are no weird things, and we don't have to wait for updates to solve minor maturity errors.
Garmin wants to steal sales from both Fitbit and Apple (within their most affordable offer). In order to do so, they have adopted a similar aesthetic to these and has included the vast majority of the features-set in the watch.
As a smartwatch it meets the basics: access to simple apps and support for wireless payments. And Garmin can place a watch at a lower entry price for those who are not interested in music playback.
If I have something to object is the user interface design. Aesthetically it's not up to it, and sometimes functionally neither. For example, it is not always easy to turn on or off an alarm, as the button to do so is very small. Like the Garmin Venu, we have a very aesthetic display but it is quite unutilized.
Despite these details, the Garmin Venu Sq is a watch that, being oriented to a particular audience segment, perfectly meets what it's asked of it. It monitors my daily activity, records all my workouts, the battery life is quite reasonable, it shows my notifications, allows me to make payments from my wrist or play my Spotify lists...
And on top of all that, it is comfortable and light.
And with that... Thanks for reading!