The Venu family stands out for its AMOLED display, as is the original model. They are also the most focused as smartwatch. It does not bring anything different than any other Garmin model does not have, but for the Venu 2 we already see a slightly redesigned user interface.
The Venu family stands out for its AMOLED display, just like the original model. They are also the most focused as a smartwatch. It doesn't bring anything different that any other Garmin model doesn't have, but for the Venu 2 we already see a slightly redesigned user interface.
For the new model Garmin has changed some features around battery (now offers fast charging and increased life), renewed health features and also holds the title of being the first watch compatible with the Connect IQ 4.0 platform. Oh! And the new Garmin Elevate optical heart rate sensor.
After a couple of weeks reviewing the watch with a Venu 2S loan, I'm already ready to tell you all about the new model. As you know, once the review is published, I will send it back to Garmin, so there is no compensation of any kind for performing the review. That is, what I write below is what I think about the watch, without any pressure from the manufacturer. And if you do like the work I do in the reviews and want to support the website, you can do it by making your purchases through the links published. Thank you for your support!
Below you'll find all the new features of Garmin Venu 2. And if you prefer it on video you can find it below, or by clicking here to watch it straight on YouTube.
GARMIN VENU 2 / VENU 2S
Overall - 9
Training possibilities - 8.5
Platform and applications - 8
Autonomy - 7
Finish and comfort - 7.5
Price/performance ratio - 6
7.7
TOTAL
The Venu 2 (and Venu 2S) is a smart watch with a strong focus on sport and health. Within its segment it is probably the model that has the most focus on sports, but as a smartwatch it may be a little bit of an underperformer.
---
The good
Finally an UI adapted for touchscreens
More battery life and fast charging
Two different sizes to fit all wrists
The bad
With the display mode always on, battery life is drastically low
Few apps to be considered a smartwatch
High price
Garmin Venu 2, what's new and specs
To talk about the new features, being the second version of a device the most correct thing is to compare it with the original model and to see what are its main features. It is true that after the Venu Garmin introduced the Venu Sq, but it is simply a lower-cost watch that did not introduce any new developments.
Available in two sizes: Garmin Venu 2 in 45mm and Garmin Venu 2S in 40mm
New optical heart rate sensor Garmin Elevate (v4), which now allows the estimation of heart rate variability (HRV)
Extended battery life:

Garmin Venu 2: Up to 11 days in smartwatch mode, 22 hours with GPS use and 8 hours with GPS listening to music
Garmin Venu 2S: Up to 10 days in smartwatch mode, 19 hours with GPS use and 7 hours with GPS listening to music

Fast charging. 10 minutes charging extends the battery life up to 1 day in watch mode and 1 hour of GPS with music
Power save mode to extend the battery by disabling some functions
Renewed user interface, best suited to a smart watch with AMOLED display
Connect IQ 4.0 compatible (more powerful apps with associated widgets, better graphics more adapted to AMOLED displays)
Smaller screen bezel with the AMOLED display being more predominant: 1.3" on Venu 2 and 1,1″ on Venu 2S
Health Snapshot, a two-minute session to learn key metrics and provide them through a report
Sleep tracking. straight on the watch, without having to sync with Garmin (released on the Fenix 6 and that slowly has to go to other models)
Physiological age, which was already present in Garmin Connect within the maximum VO2 section but is now present in a widget
Animated workouts, which now offers HIIT in addition to cardio, yoga, strength and pilates
Specific profile for HIIT workouts with timers and number of repetitions
Graph of muscle groups worked in strength training (similar to what was introduced by COROS)
Those are the new features, but there are another ones that were already present in the original model and that logically remain in the new Garmin Venu 2.
PulseOx estimation
Sony GNSS chipset (like all the rest of the Garmin and other manufacturers' range)
Two buttons to control the watch, as well as touchscreen
18mm wide silicone strap with Quick Release system
Music playback, Both synchronized from your computer and from streaming platforms, highlighting Spotify and Amazon Music.
Wireless NFC payments with Garmin Pay
WiFi connection for synchronization and download
Function Body Battery showing the remaining energy and recharge with rest.
Stress monitoring
Menstrual Cycle Tracking on the watch.
Hydration monitoring to keep track of the fluid you've been taking throughout the day
Estimated sweat loss after training
Breath tracking. In addition to being recorded in the Yoga profile workouts it is a function that will also be available 24 hours a day, helping to monitor the quality of sleep as well
Incident detectionThe watch will send a message asking for help to the contacts you have programmed in advance. The watch does not have a LTE connection, so you need to carry the phone with you as it will be in charge of the communication. It can be activated automatically (if it detects a fall or similar), or manually if you find yourself in a difficult situation
So there are a few more or less important features that, as always, I prefer to expand in detail separately. That's what I'll explain to you next.
Garmin Venu 2 101
Without a doubt, what stands out about Garmin Venu 2 is its AMOLED display. With good contrast and good resolution. The toll is a higher battery consumption.
It has a touchscreen, although we have two control buttons which are welcome. While we are practicing sports they will allow us to pause and resume the workout as well as set laps. It is the minimum requirement for a watch where the sports side becomes so important.
While working out the only thing you need to use the touchscreen for is if you want to change the screen.
Unlike the original model, the Garmin Venu 2 is available in two sizes. The Garmin Venu 2 has a diameter of 45mm and the one you'll see in the pictures and that I've been testing, the Venu 2S with a diameter of 40mm.
What has not changed is the behavior of the screen. As was the case with the original Garmin Venu, the AMOLED display remains off by default, turning on if we turn the wrist. It does not have a bad behavior, but it's not as good as an Apple Watch can be.
The Garmin Venu 2 offers the ability to enable the always on display mode, but if we do so battery life will drop dramatically, even if we have a low-power mode.
With the screen turned off, the watch is able to reach up to 10-11 days of battery life in exclusive use as a smart watch (twice as much as the previous Garmin Venu). To do this we need to enable the low power mode.
Enabling it means making a lot of changes to multiple settings, but if you're going to be away from a plug, it might be worthwhile.
Without enabling the low power mode, battery life is around 7-8 days, but if we turn on the always on screen it will go down to about half or even less.
With the always on display, the live screen watch face is also activated. They include animations that can be seen when the screen is "active", but when the watch is at rest the screen switches to a low-power mode with less brightness, mainly black and no animations. That's why the always on display mode is only compatible with Garmin faces.
I've been using the watch both ways, and keeping the screen on along with using GPS to train, I had to recharge the watch every 4 days approximately.
Another thing that the Garmin Venu 2 has received is fast charging, which is quite appreciated. It doesn't mean that the battery is fully charged in a breeze, but if you're going to do a work out and you have no battery, putting it on charge for 10 minutes will allow you to have enough juice for 1 hour of GPS. Or for an extra day of use as a smartwatch (without keeping the screen always on).
If battery life is one of the important changes of the Garmin Venu 2, so is its redesigned user interface. One of my main complaints with the original Garmin Venu was that Garmin didn't take advantage of the fantastic AMOLED touchscreen. All the software was too similar to the rest of the models in the range.
These changes can be seen directly from the dial of the watch itself. The new Venu 2 allows you to add "complications" to the watch faces. Elements such as steps, intensity minutes, floors, body battery, etc. Now you can have all that information in the watch face.
The widgets section has also been redesigned. They are now displayed more graphically and with more use of colors, precisely to take advantage of the AMOLED display features.
Each of the lines shown in these widgets is a summary of information from an app that opens when you click on it.
Because that's one of the changes with Connect IQ 4, the new version of the app platform and which is released on the Garmin Venu 2. Widgets are no longer widgets, but are associated with a specific app.
So, if we click on any of those lines we will enter into the app in question, where we will be able to check all the details relevant to that metric or data. For example, if we click on the weather we will be able to see the current forecast.
But if we keep swapping down on that screen you can see forecast by hours, days or more information relevant to weather.
Connect IQ 4 is not only seen in this part of the applications, it can also be seen in all animations when opening menus, the quick access menu, etc. The screen does not simply change but there are animations to change from one another.
And the change in the user interface is not only in terms of the widget list. Every activity profile now has an image at the top instead of just text.
Finishing these 101 guide of the Garmin Venu 2, simply remember that it allows music to be played, both music you've synced to the watch or from the music you've downloaded from compatible platforms, such as Spotify or Amazon Music.
With regard to music there is no change with respect to the original Garmin Venu or any other watch in the Garmin range that supports music. The watch will be paired with Bluetooth headphones and from that moment you can play music, both during a workout or on a day to day.
Apart from the music that you save on your watch, the most interesting thing is the download from online platforms. In my case I'm a Spotify user, so that's what I use the most.
Setting it up is very simple. Simply open the corresponding application and it will ask you to enter your username and password on your mobile phone. Once done, you need to select on the watch which lists you want to have synchronized on the watch and then download everything via WiFi.
Each time you put the watch to charge, it will sync the playlist. So if you have selected a dynamic list, or have added more songs to a list created by you, it will download those new songs to the watch.
Another favorite feature for users are wireless payments, at least if you have a supported payment method. If your card is compatible, you can set it in your wallet via the app, setting a security PIN code that the watch will ask you before going to make a payment.
Finally we have notifications. These are simple notifications, in the sense that you can simply see the text you have received, but it doesn't show images or allow you to read a full email. It doesn't support answering them either, the most we can do is use predefined answers if you're an Android user. iOS does not allow that feature.
With this I think I have already covered quite well the basic functions of the Garmin Venu 2 as a smartwatch, and their differences from the first model and other models in the Garmin range. So I think we can move on to talk about health.
Health tracking
Health tracking is something that is becoming increasingly important, especially for users with a less intense sports profile. The Garmin Venu 2 has a number of metrics and also launches a new feature: Health Snapshot.
This is another app, as if it were a sport profile. This app will take baseline data from five health metrics for 2 minutes.
During the test we do not have to do anything, just sit while the watch performs the record of pulse oximetry, stress, heart rate, heart rate variability and breathing rate.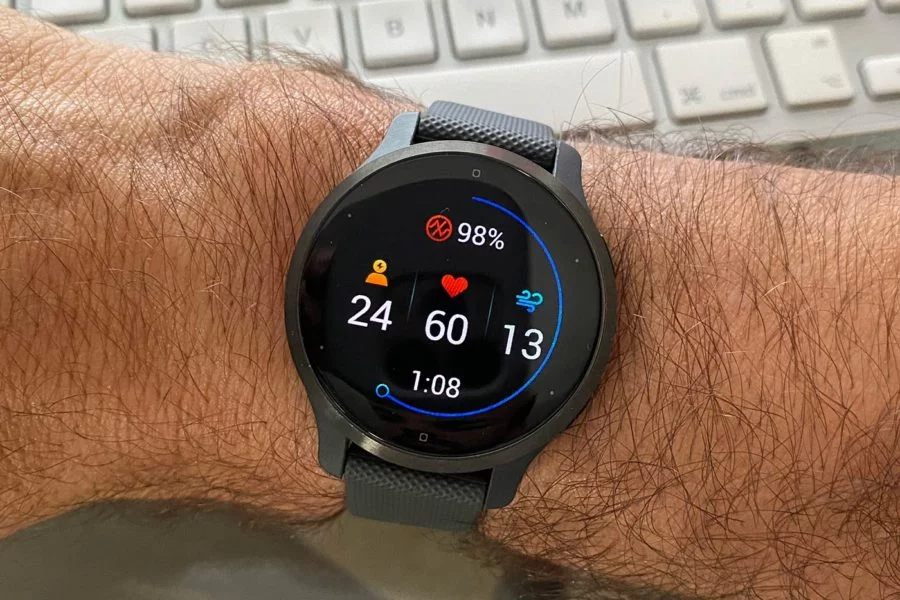 After two minutes, the watch shows the summary of all recorded data.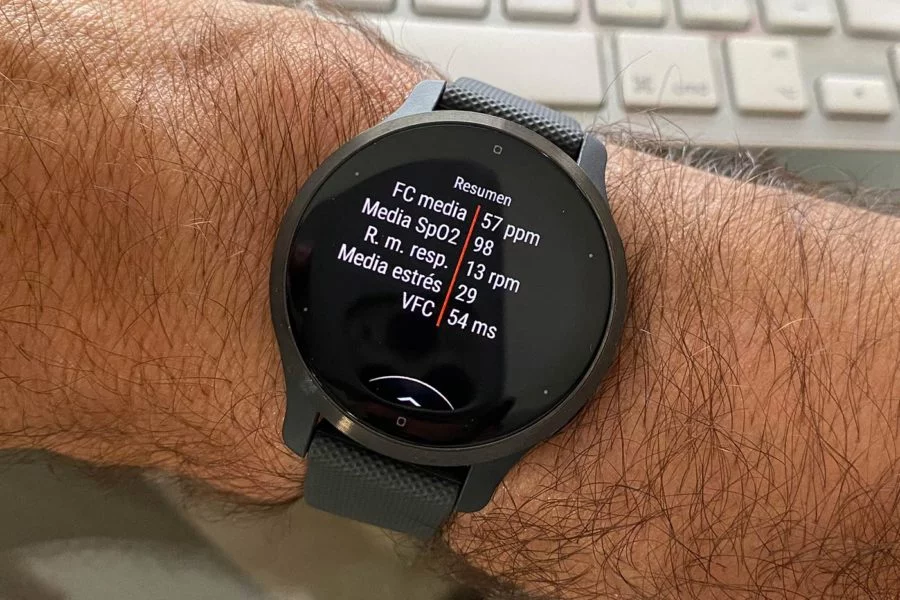 But more importantly, you'll sync them with Garmin Connect. This allows you to create reports on a regular basis and even share them with medical professionals.
We also have the latest version of sleep tracking. It premiered with the Fenix 6 and gradually has been reaching other high-end models. But the Garmin Venu 2 already offers it from the beginning.
Until now all Garmin watches already supported sleep tracking, but the amount of information they provided was quite limited, and they displayed it exclusively in the Garmin Connect app.
The watch recorded sleep, but until we didn't synchronize with the platform we didn't have access to the rest data. Now it is the watch itself that processes the data and displays the information through a widget, without the need for a synchronization with the platform. It also offers us a score for the quality of rest.
Here is the information it shows:
Total time you've stayed asleep
Score assessing what your rest was like, from 0 to 100
Sleep quality level
Line with the different phases of sleep that we have been going through (what you could see before in Garmin Connect)
A short summary of how was your rest
As with all widgets (which I remember are now apps), if we swipe your finger we will have all the other details of the sleep log.
Naturally, this data is also synchronized with the app.
Body Battery and stress measurement were already present in previous models, but Garmin has updated the algorithm making it more accurate.
Body Battery is a feature that measures our energy available as the day goes by. It's like we're a battery and we're losing charge throughout the day. Recharging is the rest period during the night.
The new algorithm is associated with the sleep record we've seen before, and that's why it's now better adjusted. The night recharge will be more faithful and will depend on the fact that we have rested well. It was easy to reach 100% every night before. Even at 3 or 4 in the morning it already considered that we were fully recovered, now we need more effective rest and the climb is much more gradual.
Body Battery is also closely related to stress tracking. The more stress, the more "your remaining battery" goes down.
The watch also records the breathing rate. And like the rest of these metrics it does that thanks to the optical heart rate sensor, so you need to have it turned on if you want to be able to get all these health metrics.
There are also changes regarding the oxygen saturation estimation in blood, or pulse oximetry. The new sensor on the Venu 2, the Garmin Elevate V4 (released with this model) includes two infrared sensors instead of just one. That was added exclusively for the PulseOx function.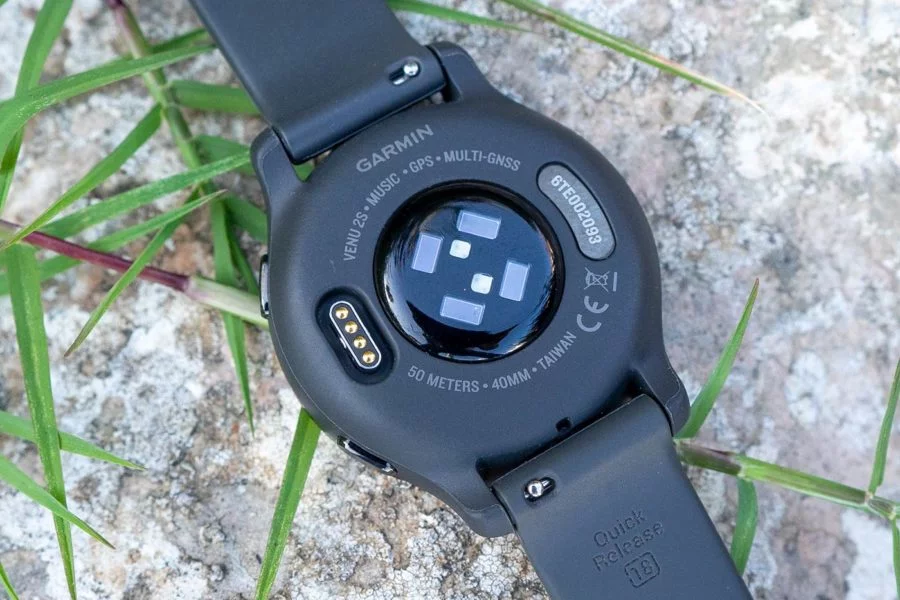 It is fully disabled by default. If you want to have data you need to enable it, and there are two options: always on or only during the night. Keep in mind that it is something that consumes a lot of battery, so it's totally at your choice.
What are these metrics for? As a one time reading they are not very useful, but seeing a trend over time you will be able to be warned that there is something that is not working properly with your body.
Finally and as a basic feature of any such watch, obviously the daily activity tracking. This includes steps, ascended floors, calories consumed, heart rate or intensity minutes. Each of these values has its own specific widget where you can query the data on the watch or, like everything else, in the application as well.
With this we have now health features covered. Let's talk sports.
Garmin Venu 2 and sports
You may consider that as a smartwatch the Garmin Venu 2 is not up to its competition. The truth is that it is an aspect where even though they have improved it, we still find limitations. However, if there is a reason why you buy this watch and not any other, it is because you want a watch for working out. And in that sense it does not disappoint.
Both in terms of configuration and training options, what the Venu offers is superior to what we see in other watches such as the Apple Watch.
The data screen configuration is inherited from the Forerunner range, with a maximum of 4 data per screen to choose from. 12 data in total are available to choose from as there are three screens available to configure.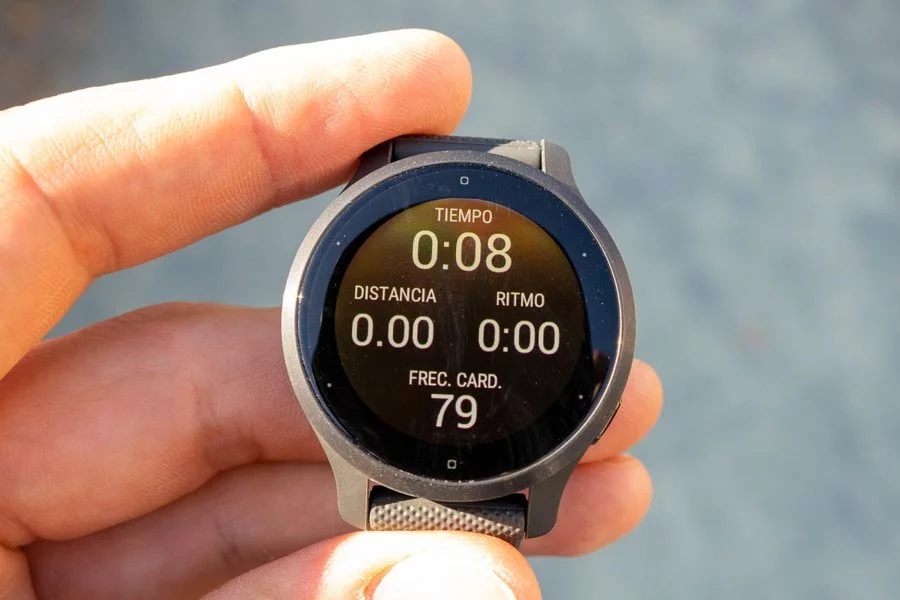 The Venu 2 continues to support advanced workouts. That is, you can define an interval workout (or for example HIIT) in the app, and then run it on the watch. When you want to perform that workout, the watch will guide you in each of these phases.
Scheduling those workouts through the app is really easy. We also have Garmin Coach's adaptive training plans. This training platform (which has no cost), will offer you a training guide depending on the race distance you choose.
You will be able to mark which are your usual training days and which one you prefer to be the one of the long run. The advantage of this platform, moreover, is that it is an open plan. If one day you don't train because you had some unavoidable commitment don't worry, the plan will adapt automatically. These are the different options that you can find in Garmin Coach.
One of the things that are most doubtful about is the screen visibility. It is perfectly visible indoors, much better than any other Garmin watch. But outside the AMOLED screen is not far behind. It has more than enough brightness so we can see the data even if we are in full sunlight.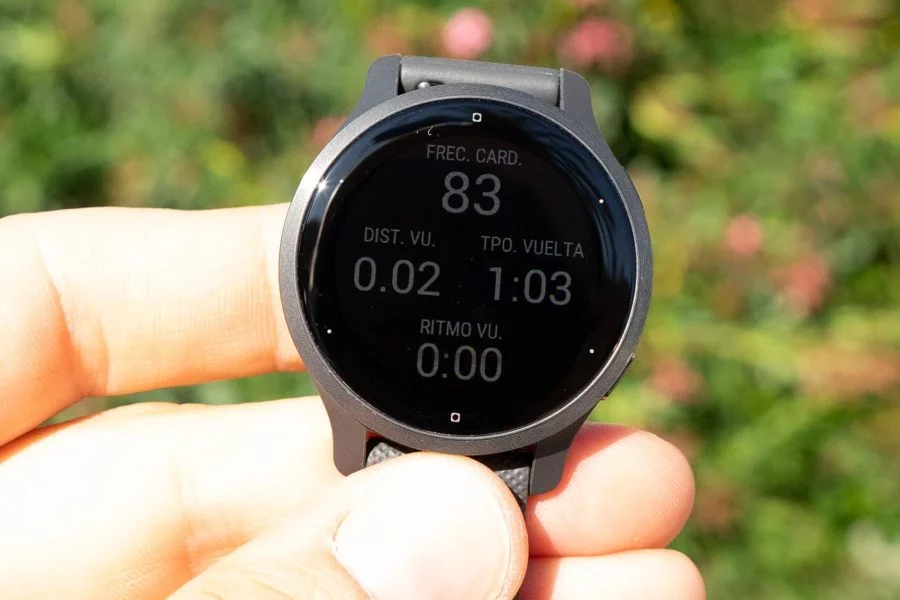 Obviously in that situation it doesn't look as good as a transflective screen (the one used by any other Garmin), because they are designed for such situations. But it's not something that's uncomfortable.
During training, regardless of the settings you have selected, the screen is always on. It has two modes of operation. By default the brightness of the screen is reduced to save battery, and when we raise our hand to check the data the brightness increases to be able to see it clearly.
There is a slight delay in increasing the brightness. Even sometimes it does not detect the wrist turn correctly and does not switch the screen on. It could be better... but there are also other watches that make it worse.
User interface changes are also found when we check some workout we have on the calendar. The way it displays information is much clearer than on a Forerunner watch, making better use of the space and features of the screen.
Let's talk new stuff. There are two new profiles. Well, a new profile and a redesigned one. I'll start with the one that is completely new, HIIT. The novelty of this profile is that it allows you to set different timers to do high intensity interval workouts.
AMRAP: as many repetitions as possible. We select a time and the goal is to do repetitions until the timer is over... or you die.
EMOM: Every minute on a minute minute. We select how many exercises we will perform and how many series. We will have to do repetitions for a minute the number of exercises we have chosen, and then start again depending on the number of sets.
Tabata: 20 seconds at maximum effort, 10 seconds break. As before, you can select how many exercises and repetitions.
Custom: You choose your way of dying.
We also have the possibility to perform training sessions, which you can create in Garmin Connect or download some of the ones that are already prepared.
On the watch you can select the workout you want to perform, both those that are loaded by default and those you select and download.
Before selecting the workout you can see what it is composed of.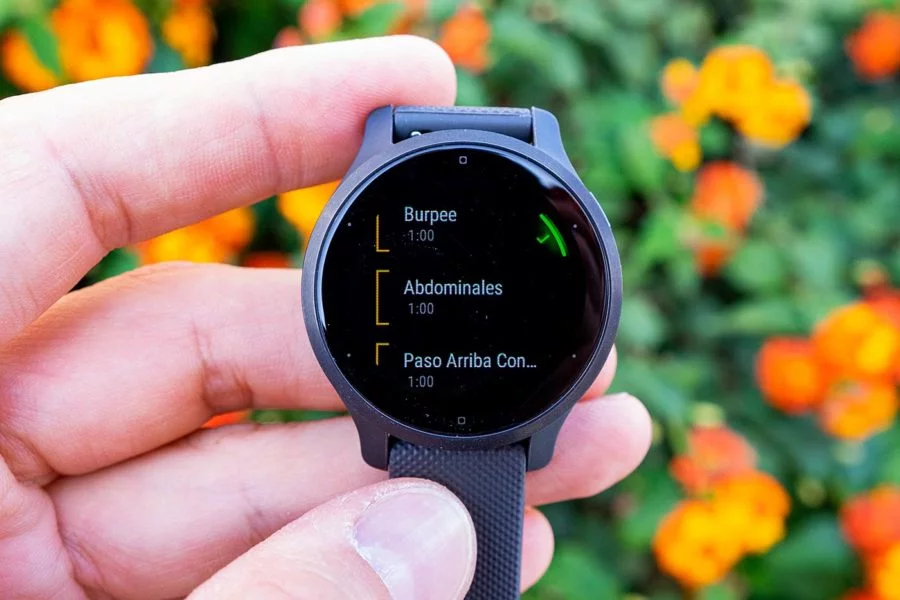 If you click on one of them, you will be able to watch an animated video of what the exercise is like, in case you don't know it directly by name.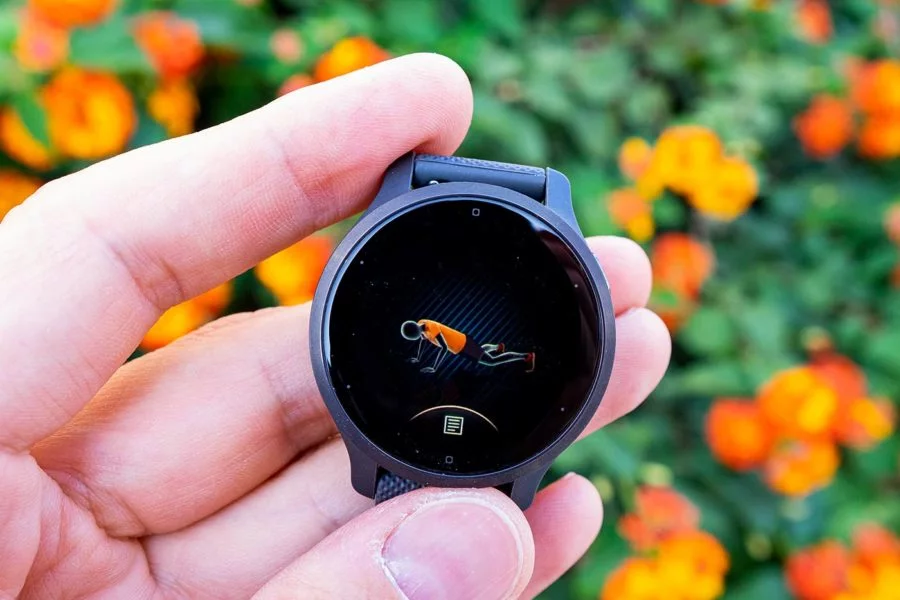 There are several data screens that we can move through. The last of them is the list of all the workouts again and, clicking on them, you will see an image of which are the muscle groups that affect the training performed.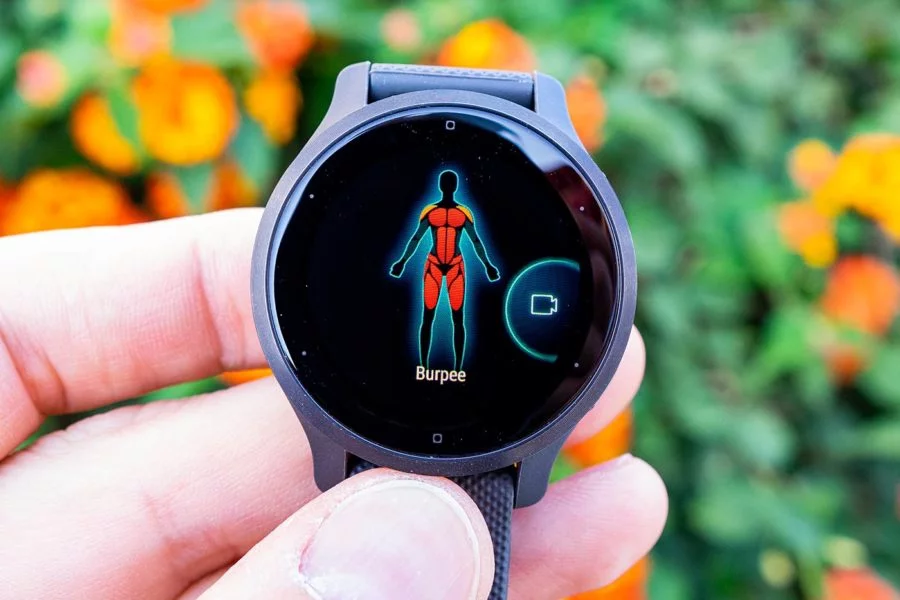 Depending on the color with which it is represented means that you will have more or less soreness in that muscle. And if you press the camera button you can see the exercise animation again.
As for the strength profile it was already present in previous models, but now we have the same muscle groups image that will affect the session, in the same way we just saw for HIIT workouts.
Other than that, everything else is identical to the HIIT profile.
Finally we also have some changes to the end of activity screen, again to make better use of the screen features. At the top we can see a small map of what we have traveled during the activity and, if we click on it, we can see the heart rate graph.
Scrolling down we find the summary of basic workout data that, honestly, Garmin could have taken care to represent a little better.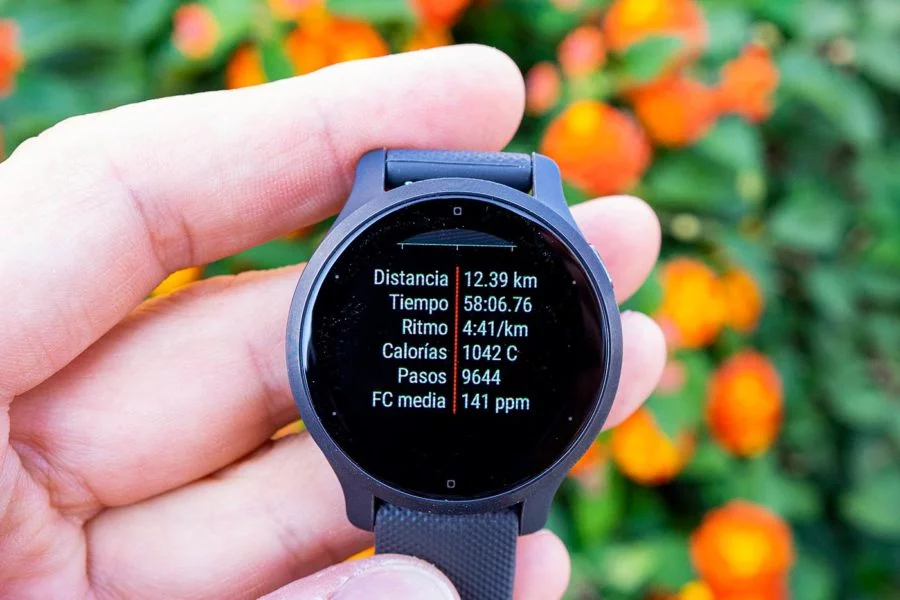 Additionally we can see details of each individual lap.
Or a zones time chart.
This activity summary has improved a little from what Garmin has us used to. But they still have a lot of work ahead, there are brands that have a much more detailed and aesthetic end of workout screen (Suunto for example).
What hasn't changed is that after synchronizing your watch you'll be able to see all the training details on Garmin Connect or any other platform you have paired (Strava, TrainingPeaks, etc).
GPS and optical HR sensor performance
Both optical HR sensor tests and GPS comparisons are done in the same way: with watches accompanying me in my usual workouts. Carrying both the model object of the comparison and other models and checking where the problems appear.
I don't have any route defined to set a score, for the simple reason that there are other external factors that we should never forget. Things like clouds, tree leaves or simply satellite position can alter GPS results from day to day. That is why I prefer to make this type of comparison rather than have a predefined route and value it from this.
As for the optical sensor I usually perform the test comparing those same watches, and some of them are paired with a chest sensor which is the one I use as a reference, usually a Garmin HRM-tri or a Polar H10. Sometimes I also use the Polar OH1+ on my arm.
Keep in mind that a wrist heart rate monitor does not work the same way on all bodies. We're all different, and if we put things in the equation like skin tone, tattoos, body hair... the difference from person to person can be quite big.
In my tests it is not that the spectrum of users is very broad: it is me, myself and I. So what works well for me might not do it for someone else, or it might be better.
But the most important thing to keep in mind is that you have to follow some guidelines to wear the sensor. It should be tight (but not cut off your circulation), enough to keep the watch from moving freely on your wrist, leaving a separation of approximately one finger from the wrist bone. By following these details you will ensure that you get the best results that your conditions can offer.
Let's go with the examples. I'll start with this one-hour workout at a progressive pace. For this I carry the Garmin Enduro, the Garmin Venu 2S and the COROS APEX Pro, the latter paired with the Garmin HRM-Tri sensor.
It is a version of my usual route, quite easy at the level of GPS reception because I run mainly by the promenade and do not touch too many urban areas.
In this training I left the Venu 2S purposefully with intelligent recording. The reason is simply to show you the difference that exists with recording by seconds, as I explained on Instagram.
In non-urban areas there is no problem on the part of any of the three members of the comparative. There's total visibility of the sky and the behavior is impeccable on the three of them. However, as soon as I start making some turns it is when the Venu 2S starts to stand out, as I pointed out to the right of the image.
Is it because of a watch failure? No, it's mostly what was commented on the Instagram video. When smart data recording is selected, the watch is not saving all data points so problems arise as soon as there are changes in direction.
What you can see is that the lines are not so curved, they are not adapting to the turns that we are doing on the ground for the simple reason that the watch records a point every several seconds.
In this image below you can perfectly see how while the watches that are recording per second make curved tracks, the Garmin Venu 2S composes its track based on straight lines.
Beyond that detail with regard to data recording, the only place where complications can be seen is when passing through the main street of Puerto Banús.
On the way back (from left to right) I go under a row of trees, while on the turn it is close to the buildings.
In the picture I pointed you the direction I was headed. I have also pointed out a point where the Venu 2S opens the curve too much.
Otherwise, the rest of the workout is quite boring and without too many things to show. Which is basically what happens with the heart rate on this one. Despite not being a constant intensity training, it is quite progressive without high pace changes.
The only thing we can see is how the Garmin Enduro and Garmin Venu 2S optical sensors always have some delay, compared to the chest sensor of the COROS APEX Pro.
But let's see a pure interval workout. 10×1000 in the same straight, doing the same route over and over again.
Here the Garmin Vivoactive 2S is already configured as it should, with data recording per second to prevent strange situations in turns. Or at least if there are strange situations they are due to a bad record of the watch, and not to the settings chose.
At this point I'm still warming-up at an easy pace. There is a separation between the tracks because the Enduro is on my left wrist, the COROS on the left hand and the Venu 2S on the right wrist. So such separation exists in reality.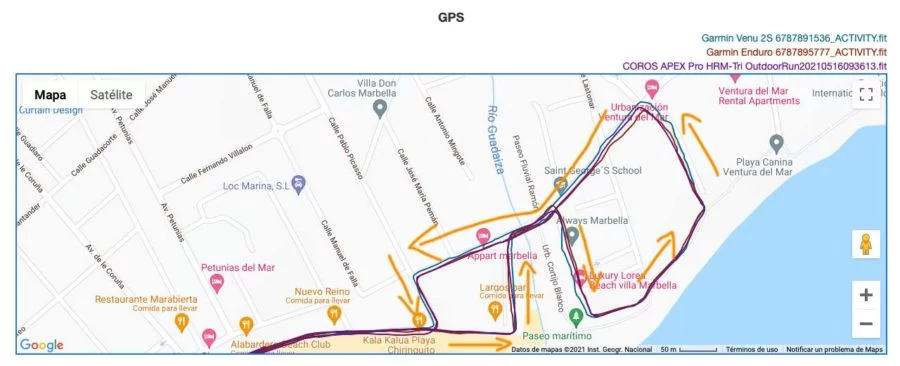 I wanted to show the path that I followed in each of the turns, so that you can have the correct reference. Both Garmin Enduro and COROS APEX Pro have behaved quite satisfactorily, while the Garmin Venu 2S, although it has done quite well, has had some doubt about the turns. But nothing I care about or catches my attention.
How about the section where I performed the intervals?
Completely straight lines from all the members of the comparison, there is not a single point where anyone has deviated minimally, even when I am walking very slowly during recovery.
As for the total recorded distance is very similar in all three devices. Again, the small difficulty of having been standing drinking water or walking very slowly at the end of each interval, which may introduce some parasitic movement.
As for the heart rate during those intervals...
Absolutely perfect graphs on the Garmin Enduro and Garmin Venu 2S optical sensors. Each and every intervals have been perfectly recorded, without extraneous spikes or erroneous measurements.
Obviously it doesn't mean that everything is perfect. If we zoom in in one of these intervals you can see what has already been mentioned above about the ups and downs with some delay by optical sensors, but it is something normal because of the way this technology works.
Before we finish let's see a ride. Gravel riding, to be more accurate. Slow climbs and downhills are not excessively fast, so it's not like a TT bike ride where point separation is high and causes tracks to look very nice.
You can see in the northernmost area of the lake, where there are more constant climbs and downs with constant curves. As you can see there is not a single incident on the part of Garmin Enduro or Garmin Venu 2S. Both match perfectly with the record made by the Garmin Edge 830.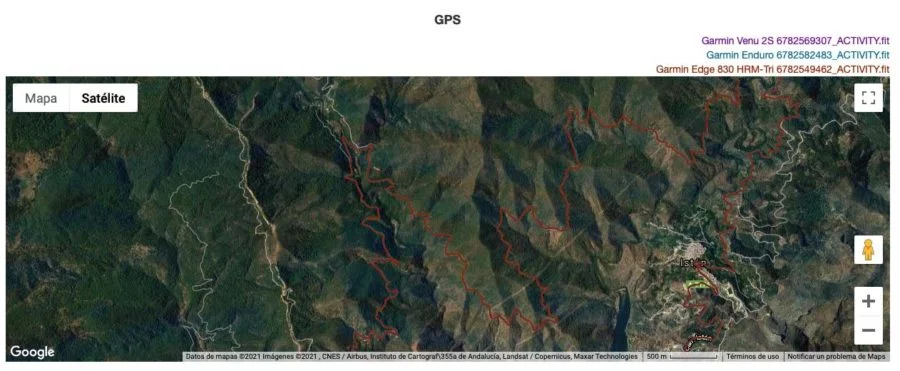 If I have to get fussy, zooming on a roundabout you can see different creative ways to take that roundabout... but that's it.
Where there is something more surprising is in the heart rate graphs. We have two different optical sensor versions. The Garmin Enduro uses the previous Garmin Elevate sensor, while the Garmin Venu 2S already uses the latest version in which there are up to four optical sensors.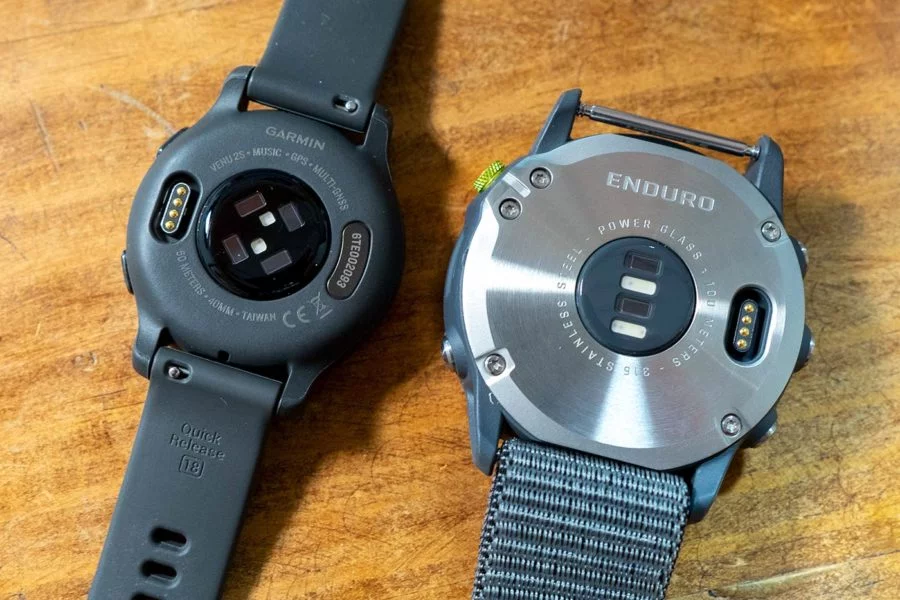 Although that is not the only thing to take into account, also the weight of the watch and the total volume. During the most important bumpy areas I could perfectly notice how the Enduro was moving on the wrist. It became even uncomfortable because, by its size, it ended up knocking on the wrist.
With the Garmin Venu 2S it was like I was wearing nothing. In fact, it was just there to record data, because I didn't remember it all day long.
I've marked the point in the middle of the workout I was stopped to take some pictures.

As you can see, the Garmin Enduro stands out, whose graph is quite separate from the other two. But the truth is that Garmin Venu 2S is not seen too much...
But let me remove the Enduro line from the graph and compare the Venu 2S only against Garmin's HRM-tri HR sensor (and I'll mark again the area where I stopped).
They are not exactly the same lines, but it's very close to it. A rather anomalous result achieved by the Venu 2S in this workout because usually, in cycling, the wrist HR readings are quite poor.
So I'll have to corroborate if it has been a situation of one in a million, or if the new Garmin Elevate v4 on the Venu 2 really improves performance in cycling.
As I did before, I'll remove the Garmin Enduro line from the graph, because it is quite hindering the visualization and truth told it doesn't have too much precision.
On this occasion the performance has been somewhat worse than in the other workout. There are times when the two graphs match, but others (those marked with the circle) when they don't.
I have the feeling that the better performance of the sensor is due more to the smaller size and weight of the Venu 2S, and not the new sensor.
Finally and because there is no other section to include it, a comparison of the elevation data. All three devices in the test had barometric altimeter, so everyone should record the same readings.
At no time have I've done any calibration but fortunately all three start from the same point. The Edge 830 is automatically calibrated by mapping data, but the other two just have atmospheric pressure.
Around the middle of the workout the Garmin Enduro is slightly separated from the other two graphs, remaining constant in its overestimation. But both Garmin Edge 830 and Venu 2S fully match.
It is not a major failure or error, it is simply how technology works, because it depends on the reading of atmospheric pressure.
There are no significant differences in the resulting data.
The final summary of this whole section is that the Garmin Venu 2S has good GPS performance. There are small errors at some point, but it is perfectly normal and does not represent any real issue.
As for the new optical heart rate sensor I think Garmin has climbed a step, although theoretically where it has evolved most is in accuracy with regard to the estimation of blood oxygen saturation.
In all my running workouts the operation has been practically perfect, if we consider as normal the slight delay in the ups and downs of intensity. In addition, it has also improved in cycling, although most likely it is due to the low weight of the watch. Despite that improvement I still recommend using an external HR sensor when riding a bike.
Do you want to help the site? Buy your Garmin Venu 2 / 2S here
I hope that this in-depth review has helped you to decide if it is a valid device for you or not. All the work I do you can consult it without any cost, but if you want to support the page and by doing so the work I do, the best way to do that is to buy your new device through the links I provide .
And if you don't buy it today, remember to stop by when you do! Through these links you will not only get a competitive price and the best customer care, but also I will receive a small percentage at no additional cost to you. That's what allows me to keep offering you reviews like the one on this page.
Buy Garmin Venu 2
Buy Garmin Venu 2S
You are not going to buy it, you already have it or Amazon is not an option; but you like the reviews I perform and you want to show your support for the site? Then consider signing up for a VIP membership. Above all you will be helping to support the site, but you will also enjoy unique benefits.
If you have any questions, remember that you have the comments section at the bottom, where I will try to answer all your questions.
Garmin Venu 2 / 2S opinion
I like the Garmin Venu 2. I think Garmin has made a good overall update of the whole watch and it is not a simple aesthetic facelift.
The user interface renewal was very necessary for the kind of watch it is, and takes much better advantage of the features of its fantastic display. It has also improved battery life, we now have fast charging and some new features in terms of software such as sleep tracking on the watch.
It is a good advance, although there's still room for further work. For example, battery life with the always on mode enabled, something that other manufacturers have better worked out and that in the case of Garmin means reducing drastically battery life.
However, I think it's too expensive. With a price tag of €399, it dangerously enters into the Apple Watch territory, the undisputed king of smartwatches. Yes, the Garmin is much more focused on sports, but then we can also opt for other models even from Garmin, including the Garmin Fenix 6. And if you want a smartwatch focused on sport you have the Suunto 7, with many unique features although you can't say that it's better "in everything".
Anyway, saying that a Garmin has a high price is no news. It always happens and always will. And even though these high prices they sell them like hot bread, which means that users are willing to pay for them.
And with that... thanks for reading!