Garmin Varia Vision es una apuesta bastante especial por parte de la firma americana. Presentado por sorpresa en el CES de Las Vegas de 2016, nadie esperaba que Garmin se aventurara en el sector de los conocidos como «Head-Up Display».
Varia Vision is, in short, a remote data screen. But Garmin has not invented a new product, neither in concept -which is similar to what Google presented a few years ago with Google Glass-, nor in the sports approach of the device, since Recon Jet, now in the hands of Intel, has been on the market for a few years (although in that case it is a totally autonomous device). But what is special is precisely in that detail: it is not autonomous, it is an accessory that is added to your current device, both for good and bad.
The test unit has been kindly loaned by Garmin, and as with all loaned devices, I will be returning it in the next few days. There is no counter-performance for a positive or less negative opinion from the brand. My opinion is totally independent and from the point of view of someone who plays sport like you.
I've spent a few weeks trying out Garmin Varia Vision, so I have a pretty clear picture (I'm a word game cracker) of what Garmin's new product offers and what it doesn't. Come with me and we'll find out together.
Unpacking
Garmin Varia Vision is a relatively simple product, and as simple as it is, you won't find much inside the box.
The presentation is the usual one: an elongated box, very similar to the one of the other Edge devices for cycling. Although with that touch of golden glow behind the Varia Vision it seems more like you are buying Raphael's last album (by the way, did you know that it has a uranium disk?).
La sencillez sigue latente en el momento que abres la caja. Porque lo único que te vas a encontrar es «un palo». O una varita mágica, pero se quedaría bastante corta para que Harry Potter pudiera hacer cualquier hechizo, porque sólo mide 60mm de largo (y 19,7×19,8mm de grosor).
In short, if you give this to someone who doesn't know it, they're not going to have any idea what it's for. And probably the first thing they want to do is stir coffee with it. But I advise against it, because the water resistance is certified to IPX7, enough to withstand the weather when you ride your bike: rain, snow or even accidental immersion at a depth of 1 meter in case you fall into a puddle. But sorry triathletes, you can't use it with the swimming goggles.
Underneath the device itself you'll find the rest of the tidbits: the manual (that big unknown), the charging cable (which you'll also use to update the device when there are new firmware versions), a couple of mounts, different rubber bands to fit various types of mounts and a case where you can store your Varia Vision when you're not using it.
El soporte es de un concepto similar al de las unidades Edge, en el sentido que debes colocarlo y girarlo un cuarto de vuelta. Pero a diferencia del soporte para la bicicleta, en este caso no hay un «click» que bloquee el dispositivo en una posición, ya que es necesario poder desplazar el dispositivo hacia arriba o hacia abajo para una correcta ubicación.
You can mount the bracket on the left or right temple of the glasses, because the screen will turn in to always show the information in the right direction. But this and more I will explain in the next section.
Basic operation
One of the best things about Varia Vision is the ease of installation it offers. Using a quick release bracket is a fantastic solution, not only because it is totally universal and can be mounted on your current glasses, but because putting it on and taking it off is quick and easy.
As you have seen before, you have two mounts to be able to install on two different pairs of glasses, together with a lot of elastic bands of different lengths that will allow you to adapt the mount to the size of the temple of the frame.
Once attached you can leave the stand there as long as you want, as it doesn't bother at all.
El dispositivo se coloca de la misma forma que colocas el Edge en su soporte, girándolo. Y como no tiene un «click» que lo bloquee, podrás ponerlo más arriba o más abajo para encontrar el punto ideal para tu visión.
In addition, the arm that supports the screen is flexible, so you can move it closer or further away from the glass of the glasses.

In addition to having a flexible arm, the stand itself can be rotated up or down a few degrees to allow you to find the right angle to view the screen correctly.
In the photos you will see it installed on the right temple, but you can also do it on the left temple, since there is an accelerometer that detects the orientation and rotates the screen automatically. Simply place it on the eye where you have better vision or where you have less focus problems near/away (which, in my case, is the right eye).
In any case, I think that installing it on the right side is the most logical, since the vehicles that will be incorporated on that side will normally have to give way to us (it is assumed...), therefore where you will want to have the greatest visual clarity is on the left side. Roundabouts, crossroads or detours, it will be the vehicles on the left that you will have to give way to, so they are the ones that you are most interested in having controlled and where you do not want to have any kind of blind spot.
In the device you will find only one button, the power on/off button of the device.
The unit is controlled from a touch panel on the side, and you simply slide your finger from left to right or vice versa to switch between screens. It's imperceptible to the naked eye, but it's the rubbery touch surface below the Garmin logo that acts as the screen's holding arm.
There are vibration alerts for different events. Notifications from the phone, turns, warnings of approaching vehicles if connected to a Varia radar, etc. Depending on what event is notifying the vibration will be more or less powerful, and the truth is that sometimes it can be somewhat annoying (try putting a vibrator on your head). What it does not have, however, are sound warnings.
Configuration
Since there are no buttons you can touch on the device itself, all settings must be made from your Garmin Edge (or Garmin Vivoactive HR which, as of this writing, is the only compatible watch in theory, although it must still be updated to support it).
Before setting up the screens, you will first need to pair them up by going to your Edge's sensor menu and performing a device search.
Once you find it, you simply add it and it's connected forever. You'll find it in the sensor menu and easily identify it by the glasses icon.
If you enter the sensor options, you will see the different options you can modify.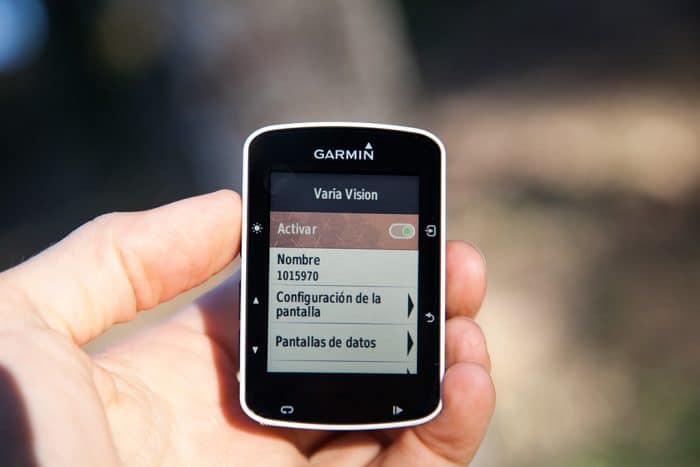 First you'll find the screen settings, where you can vary the brightness, the background colour or the automatic screen switching. You can also choose to set the screen colour automatically, so that the background will be white during the day and black at night, to avoid being blinded by low ambient light.
The following menu allows you to configure the different data screens.
The displays are completely independent of what you set up on your Edge, so you can have some data on the computer and different data on the display. This is great because you can leave the data you want to monitor constantly on the display (power, cadence, heart rate, etc.) and leave the less important data for the Edge display, such as speed, distance travelled or total workout time.
And don't think that you will only be able to see a few data. The amount available is overwhelming, and not only as a data field, but you will also be able to show different bar charts. It is also possible to configure the number of data to appear on each screen, from only one to a maximum of four. However, the charts can only be placed in wide fields (for two data), since they need that space to show, in addition to the bars, data such as average and maximum. Therefore, you will only be able to select the bar charts in screens with one, two or three data; but not when there are four selected.
There are five screens that can be configured with the data, and also screens for segments, navigation and virtual partner can be activated.
On the Edge screen you can see both the screen layout you are choosing and the location of each screen, and as you make changes (e.g. select 3 data items on a screen and one is speed), they will update directly on the screen, so in addition to seeing the layout on the Edge screen you can see how it looks on the Varia Vision.
Next I leave you with a series of photos where you can see the different configurations that you can select. In these screens you will see two blocks, it doesn't mean that all the data that you see in the images are the ones that you can select to view, but that two options are shown in the same image.
And this is how some of them will look on the Varia Vision screen.
As you can see, he's a bit shy and doesn't like to be in pictures. Without a doubt, one of the devices that has made it more difficult for me to take pictures of him and show them to you so that you have all the information. The quality of the image is much better than what you see in pictures, but it's difficult to get a totally clear image from the small Garmin Varia Vision screen.
Using Garmin Varia Vision
Beyond the configuration possibilities, the important thing here is the day-to-day use. How does it look? Is it comfortable? Does it avoid having to constantly look at the Garmin Edge screen? All that and much more is what I'm going to try to answer below.
First of all, let's talk about the quality of the screen. It's good, very good, both in terms of colour quality and resolution. It's 428×240 pixels, which for such a small screen size produces a very vivid image, with non-pixel graphics and good quality. The brightness of the screen is good and thanks to the built-in ambient light sensor it can automatically change from a white to a black background, avoiding that when there is little light, either at night or when entering a tunnel, you are blinded by the pupil closing due to the excessive lighting.
In addition to the ambient light sensor there is also an accelerometer, so you can put the screen on either side of the glasses, and the image will rotate to be displayed correctly at all times. Not only that, when you put the wheel in a ditch and fly over the handlebars falling acrobatically on your back, you can still see the screen. The important thing is the important thing, and that's to check if your average power has dropped, not if you've hurt yourself.
As far as comfort is concerned, I haven't had any problem with it. The weight is not high and once mounted on the glasses, even if they are light, they don't produce an excessive imbalance. However, it is possible that the glasses fall a little bit on that side, although it will depend on each frame. In the case of the glasses that I use, you can see that they are slightly tilted on the side where Varia Vision is installed.
Obviously, the peripheral vision on the side where you place the screen can be affected. It is not in vain that we are putting something in front of our eye. The vision to that side is slightly blocked but it is not excessively uncomfortable. That is to say, it does not prevent me from seeing what can be approached from the right, but for example it can be uncomfortable if I am talking to someone on my right. You do have to take into account that it creates possible blind spots of vision.
This is taking into account that we are talking about a normal helmet. When the case is aero there are already other types of complications that will depend directly on the helmet itself.
On the model I have, I had no problem using it, even though the helmet is above the glasses. This causes me to be unable to access the side control panel, so the only option left to change the screen is to do it automatically.
But as I say, this depends entirely on each helmet.
Hay libertad a la hora de colocarlo. Puedes ponerlo más arriba o más abajo, pues la pantalla puede girar para ajustarse al ángulo apropiado con respecto al ojo. Yo he encontrado que la ubicación más cómoda es «en el centro de la mirada», que es donde más rápido podrás fijar la vista.
I've tried wearing it on the bottom or top, but it hasn't been comfortable in the sense of having to take your eyes off the road quite a bit when you go looking for the image in such a separate place.
But you have to be thin on your eyes and not have a problem with near-far focus. Those who suffer from eyestrain may have a harder time mounting it, precisely because of the time it takes to focus.
En la primera salida la sensación es extraña. Tras los primeros metros lo que piensas es que resulta molesto llevar algo delante del ojo que te impide ver la carretera con claridad. Claro, llevas «eso» ahí delante y vas pendiente todo el tiempo.
But as the minutes go by and you forget about the screen and bring something new, the integration is good. And I have to say that in the time I've been using Varia Vision I've barely looked at the Edge's screen more than once or twice at each output, and more out of instinct than a need to read information.
The information shown on the screen is the one you have selected when setting it up. You have the possibility to make the screen change automatically or manually by sliding your finger on the side. Personally I prefer the second option, because it makes me quite nervous to look at the screen and not see the information I am looking for at that moment, having to wait for the desired screen to appear (although it is possible to select the automatic screen change speed).
There is a small delay in the information shown, but it is not important. It is variable and depends on the quality of the signal. If you put one next to the other it is just imperceptible, but if we mount the Edge on the handlebar and we have Varia Vision in place then we can see that there is some lack of synchronization.
We're talking about about a second or a second and a half. That is, if you look at the time on the Edge screen it can be 50:13 while you see 50:11 or 50:12 on the Varia Vision screen. But that's not a big deal, because I can't think of a situation where those tenths of a second could be a problem. Not for training data, not for traffic information, not for navigation.
Because, yes, you can also use it to view navigation information.
On the Varia Vision screen you can also see the navigation alerts, i.e. turn notification before reaching the detour.
This depends directly on the cycling unit you are using and the route you have prepared. In my case, I have tested it with a Garmin Edge 520, which does not have guided navigation as the Edge 1000 does (therefore, you cannot indicate that you want to go shopping at X supermarket, but you must create the route in advance), but it does have point-to-point route tracking. The difference is that in the first case the Edge 1000 knows that you have to turn within 2500 meters on a street, while navigation with the Edge 520 is limited to following a series of points (breadcrumbs), usually a few meters apart. But you can also prepare navigation routes with turn warning through Garmin Basecamp or RideWithGPS.
Within the Varia Vision setup menu you can activate the specific navigation screen.
Once activated, this screen will only appear if you are following a route. If you have not selected a route on your cycling unit it will not appear.
En dicha pantalla podrás ver las siguientes indicaciones de navegación (giro, continuar, lo que sea oportuno) y la distancia restante hasta dicho punto. Con el Garmin Edge 520 lo que ocurre es que realiza navegación de ruta punto a punto, por lo que prácticamente es una sucesión de «continúe recto» de forma constante.
To be fair, the case of navigation with the Edge 1000 would be much better since the list of indications would be the real ones provided by the device, not a mere succession of points as in the case of the Edge 520.
In addition to having that screen, if the device supports it (Edge 1000) or if the route file includes turn warnings (routes created in RideWithGPS or warnings included from Basecamp), a turn warning will also appear on any of the data screens you have active at the time, along with the remaining distance.
This warning appears as an overlay on any currently active screen to prevent you from missing a turn. It is also accompanied by a warning vibration.
Garmin Varia Vision and Garmin Varia Radar

Varia Vision, Varia Radar y los Edge 520 y Edge 1000 son totalmente compatibles entre si. Varia Vision forma parte de la red de iluminación Varia y por tanto en la pantalla podrás tener los datos de tu entrenamiento junto con las notificaciones de vehículos acercándose de la misma manera que lo tienes en tu Edge. Es decir, los datos seleccionados en las diferentes pantallas junto con la barra de puntos que te indica que hay «algo» acercándose por detrás.
But there is another option, and that is to use Garmin Varia Vision as a screen Garmin Varia Radar Not only can you see the image at a larger size than if you are viewing the Edge data (in which case the traffic information on the right side of the screen will be smaller), but, just as when used in conjunction with the Edge, Varia Vision will vibrate when a vehicle approaches to warn you of the danger.
But it's much more fun to watch it live, so I've prepared this little video for you. No, it's not a Ms. Pacman game...
This way it is possible to remove the Garmin Edge screen or the Garmin Varia Radar screen itself from the equation. It is true that this makes it a very expensive Varia Radar screen, but if you use Varia Vision in your workouts and also ride your bike in the city, it is another interesting option instead of having to use the Edge or buy the Varia Radar screen.
Running with Garmin Varia Vision
Yes, Varia Vision is a device that can only be paired with cycling units, at least for the time being. The new Garmin Vivoactive HR will be the first watch to feature direct compatibility, and although there are no announcements or beta versions of firmware as yet, it is quite likely that this compatibility will also reach other models in the range, especially the 92oxt and Fenix 3 or future models.
One of the curiosities I had was whether you could really run with Garmin Varia Vision. Whether or not you can in principle should not depend on the device itself, but on what we have linked it to.
Although I already have a unit of the new Vivoactive HR, it is still waiting for a firmware update to enable compatibility, so I did the initial test by going out and running with a Garmin Edge 520 in my hand. The device was the least important thing, I just wanted to experience first hand the sensations of running with a screen in my glasses where I could see the main data such as rhythm, heart rate or laps.
The training I tested it on was going to be short (only 20 minutes of light filming), I didn't have much to lose, I just armed myself with all this stuff you see below (I wasn't just testing Varia Vision) and set out to train.
The sensations were variable as I progressed in training, but can be described as follows:
As soon as I started running I noticed the main problem. With lightweight glasses like mine the constant bouncing movement makes it almost impossible to see the data on the screen. But by holding the glasses (and therefore with more balanced glasses) the data could be read quite clearly on the screen.
After five minutes of running, the feeling of seeing the data in front of the eye was the same. But the problems of holding the glasses began. Being heavier made the glasses move more easily, so I had to keep putting them on constantly. And they kept bouncing on my nose with every stride I took.
After 15 minutes I was fed up with the glasses. Too much weight hitting continuously on the bridge of the nose. So I decided to remove the Varia Vision from the glasses and put it in my pocket, finishing the training in a normal way.
I'm not saying that Garmin Varia Vision is not suitable for racing training, it can be, but unlike any road cycling activity (in the mountains we would be in the same situation), the data on the screen is practically unreadable. As I have already pointed out, it is something that will also depend directly on the model of glasses and the fit of the glasses on your face, as well as their weight.
My glasses are light, so Varia Vision is heavier than the frame itself, making it uncomfortable to run. It's possible that with another model of glasses the situation is different, but I still might not run comfortably using the screen mounted on the glasses. And that's talking about only 20 minutes of running, I don't even want to think about how much suffering it would have been to carry it over a long 20km run.
Supported devices
At the moment the list of compatible devices is quite short. At the time of the product's release (which is when I performed this test) it is only possible to use it with a couple of Garmin cycling computers, at least to display data on the screen. It also allows you to connect to the Garmin Varia radar independently (or in conjunction with the Edge), but it will be the most expensive screen for viewing traffic you can imagine.
Finally, Garmin has also announced support for the Garmin Vivoactive HR, although it is still awaiting an update. In short, these are the models supported today:
Garmin Edge 1000
Garmin Edge 520
Garmin Vivoactive HR
Garmin Varia Radar
However, a couple of days ago ANT+ Alliance (responsibility of Dynastream, a Garmin company) just announced the creation of a new profile: EXD (Extended Display). This profile creates a communication standard between fitness devices and remote displays. It is the one being used by the Garmin Edge 520 and Edge 1000 to display data on the external display of the Garmin Varia Vision; initially it was a private channel communication but now it will open as a public ANT+ channel.
So this will open up the possibility of use not only to other Garmin devices (watches like Forerunner 920xt or Fenix 3), but also to devices from other brands. To do this they will simply have to update their devices and add the option to use an external display, but having the EXD profile will make the development work much easier. You can read all the details of the EXD profile announcement here.
Initial software failures
It's a new device from Garmin. Did you think it would be free of initial software bugs? Of course not, it has bugs in the software that still need to be polished. But at no point are those bugs major or a deciding factor in not buying Varia Vision. Here are some of those bugs that I've been able to see in the time I've been using the device:
The temperature at the top of the screen is displayed in degrees Fahrenheit, even though the Garmin Edge setting is in the metric system. And there is no option to change it.
There are data that appear and disappear, for example, maximum heart rate or power. Sometimes the field appears empty and when you return to the screen later it is displayed again.
Some data is inconsistent. For example, you may be suffering like a wild boar going up a slope that appears on the Edge display as 12% and you see on the Varia Vision display that it is marking -1%.
The delay between the Edge's indications and what is shown on the Varia Vision screen (about one or two seconds) causes the navigation indications to be displayed with some delay as well. And the distance will depend on the speed you are travelling. If you are climbing at 15 km/h the delay will be imperceptible, but if you are gliding at 40 km/h it can perfectly be 20 meters difference.
Accented characters do not appear correctly, i.e. the type of text encoding is wrong.
As always, software failures that will be polished in successive versions and that occur due to the lack of revision of the different software versions before launching it to the market. Knowing how Garmin devices are in their initial launch, they are even few compared to what we are used to seeing.
My opinion
Garmin Varia Vision is a good product, and in a way it's a joy that Garmin also thinks about other sectors than those it typically exploits, firstly because it explores different market segments and secondly because it shakes it up, and that's always good for the end consumer.
But just as I say that Varia Vision is a good product, I also think it is expensive. Not only because of the price of the screen itself (we are talking about 400 euros), but because we start from the need to pair it with another device that also has a cost, as it has no function on its own.
Obviously it's not something that is necessary and that will mean a drastic change in your training or races. What's more, until now you have lived without needing it, and I won't be the one to tell you that this new product is going to mean a before and after in the way you ride a bike. Contrary to what I think of Varia Radar (which I think is essential, safety is priceless) I think Varia Vision is expendable, at least at its current price and even at half its price. It's a possibility that can be added to our training, but it's far from being of the utmost importance.
Es algo que Garmin sabe y por ello su política de precios. El cliente potencial es el «early adopter», saben que inicialmente se venderán pocas unidades a un precio elevado. Es el curso normal de cualquier producto que llega al mercado, sobre todo porque es una nueva categoría de producto para Garmin que, lejos de ser un producto totalmente novedoso, sí lo está popularizando. Es una cuestión de distribución y facilidad de acceso al producto por parte del comprador. La facilidad de encontrar un producto de Garmin no es la misma que de marcas como ReconJet, con una cuota de mercado mucho más marginal.
There are many things I like. The quality of the screen is very good. Not that you will see Casablanca in Full HD on it, but it completely exceeds any expectations you may have. The frame is ingenious and comfortable to use. It offers multiple placement possibilities so everyone can find an ideal position for their particular use, without creating too many blind spots.
But I think that all this does not justify such a high price because I consider that it does not mean such a big change when training or competing. I do not like the price (the one of the unit itself plus the one you have to add in the other device that controls it) and maybe it would reduce a little the autonomy -of about 8 hours- in exchange for lightening the unit, especially thinking about its possible use in race.
Buy Garmin Varia Vision
Garmin Varia Vision is on sale in Spain since a few days, and you can find it at the best price on Amazon. Remember that if you make the purchase through the link you will be helping to support the page, and all without any cost to you. This way you save and I get back a small commission that will help the purchase of new devices to perform the following tests.
And even if you don't purchase Varia Vision, remember that you can use the links on the right for your next Amazon purchase, whether it's sports technology or underwear (whatever you need most at the time) - that works too!
Don't forget to share the test in your social networks and with your friends, so that they can also be informed. And don't hesitate to comment and subscribe to the comments, many times you will find answers to questions that have not been dealt with in the text of the test. You can use the test comments as a forum and share not only your doubts, but also your opinions of the computer with the rest of the readers.
And with that... thanks for reading!