The Garmin Varia Radar is not new to Garmin's product portfolio, they already had a similar product in the catalogue for over three years. The new Garmin Varia RTL510 retains all the good things about the original model, but has been refined over three years in which the technology, especially the LED lighting, has improved considerably.
Both this RTL510 and the original model are based on the design of a South African company called iKubu, which developed them, and before they introduced the product to the market, Garmin bought the company to be able to sell the product under its name and commercial umbrella.
I've been using the original Garmin Varia Radar since it came on the market back in 2015, and I'm still as happy with it as I was on the first day. It's something that just works, something that you can't say about all Garmin products these days. I see that it's common to all users because on the Garmin forums you won't find any user complaints either, at least not about the device.
The new model (now called the RTL510) improves on the main details of the previous one. The design changes and is now somewhat more aerodynamic (we all want something more aerodynamic), as well as improving the light capacity and range possibilities.
That's what I'm going to focus on in this test, which I'll try not to take too long. In the end, this is just a light passing on other information to a remote screen, so there's not much else to talk about either. But that information can save your life.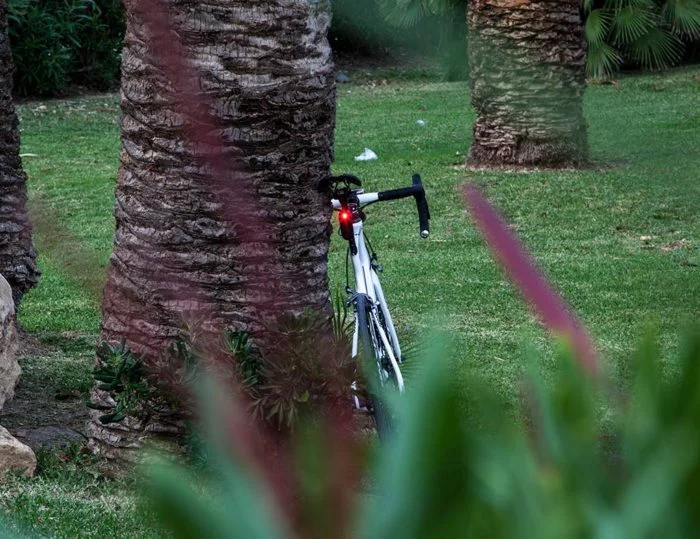 Summary
Overall - 9
Battery life - 8.5
Finishes and comfort - 9
Price/performance ratio - 7.5
8.5
TOTAL
With more light, more range and more modes of use, what could be missing from the Garmin RTL510?

See price

User Rating:

4.55 ( 1 votes)
---
The good
More lighting power than the previous model
More modes of use
Significantly greater autonomy
As a radar, it fulfills perfectly
The bad
No longer includes the rigid seatpost mount
The other frame included has not changed in design. Depending on the profile of the tubes of the bike it can be problematic
---
Garmin RTL510 Support
Find the best offer
Garmin Varia RTL515
I'll start with the less technological part of the device, in this case the bracket. Like all other Garmin devices, the RTL510 radar uses the quarter-turn system. I don't have to explain much about it, because it's the same one you use on the Edge. You put the device in, turn it a quarter-turn and it's anchored in place.
The RTL510 only comes with the universal holder, identical to the one that came with the original Varia Radar RTL5o0. What's more, I haven't even taken a new photo, I'm simply reusing the test photo from three years ago.
When installing it on the bike, there are several pieces. The base with the quarter turn support is what is shared. It is the rigid plastic piece you see at the top left. You must add some of the two rubber pieces you see on the right. The first is for aerodynamic seatposts and the second for round seatposts.
You only have to introduce the rubber piece inside the support and hold it with one of the two rubbers underneath.
If the seat post is round there is no problem because it will be perfectly supported, but if you have an aero bike this is where the problems can arise, as it is possible that neither of the two will fit correctly.
In my case, I have no problem placing it on the Cervélo P3. I would even say that the bracket has been made with that bike in mind, because the light fits perfectly into the Cervélo's stem. I can now take as many potholes as I want, that the light will not move from its place.
On the road Ceepo... not so much. The aerodynamic profile is not the same and it turns out to be a little wider than the one used by Cervélo. So even though the bike is aero, the use of the aerodynamic seatpost adapter is ruled out because it does not fit correctly, it would have to be wider.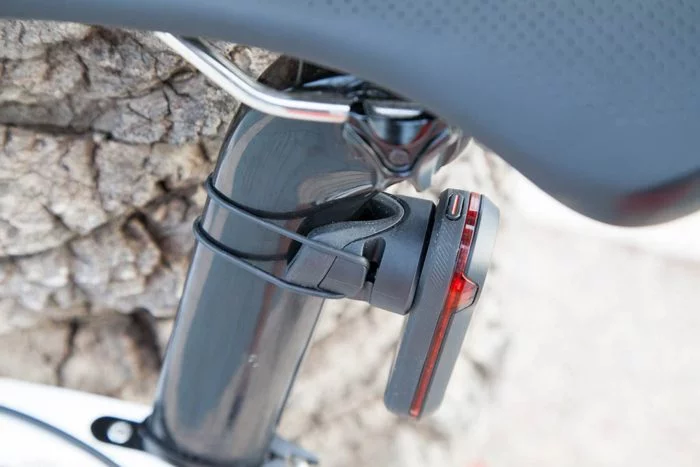 I have to use the second option, with the round tube adapter, so the bracket does not fit perfectly on the bike, but there is no danger of losing it because the rubber pads prevent it, but it may be slightly displaced to the left or right
Every bike is a world, and here the DIY skills that each one has come into play. The advantage is that it makes use of the quarter-turn bracket, which opens up a world of possibilities. Going back to my particular case, I have carried the previous model for a long time with the old rear hydration system that I used, using a quarter-turn bracket from the Edge.
But my main criticism is that it no longer includes rigid support for round seat postIt was unquestionably the best solution for standard seatposts, although it is true that the support included performs the same function although aesthetically it is a less clean solution.
You see that when it comes to installation everything depends on each individual case and there is no one solution that can be applied to everyone. The positive side is that by using the quarter-turn stand system it offers a lot of freedom to apply any idea you have. As long as you can place the stand in any way on the back of the bike, you can mount the RTL510 in complete safety.
Supported configurations and devices
The positioning part of the bike is the most complicated because of the aerodynamic frame shapes, but once you have managed to find a firm place, the configuration part is child's play.
In terms of compatible devices it was something to consider with the original model because it was something new in the market. Today almost any Garmin device is compatible. And not only Edge units, also watches like Vivoactive 3, Fenix 5 or FR935. You can see the full list on the Garmin website.
In fact any other device using the ANT+ system could use the radar, simply its manufacturer would have to adapt the light and radar profile, as it is a totally open standard.
When you pair it with your device you should treat it as any other sensor, simply turn on the light by pressing the button for one second and search for sensors from the clock or Edge unit you are using.
When the radar unit appears, select it and add the sensor.
You've already added it? Well, that's all you have to do. You can go out there now and pedal. Simple, isn't it?
This is the basic setup to have everything paired up. This is the most basic mode of operation and you really don't need anything else. From this point on your device screen you will see alerts for approaching traffic and you can switch between different light modes simply by pressing the button on the RTL510.
Lighting modes and settings from the device
One of the differences that we found in the new model with respect to the first Varia Radar is that there are more modes of use. In the original model we only had two options: fixed light or blinking. The maximum light capacity of the first model was 15 lumens, something in which it did not stand out.
The RTL510 has three modes:
Fixed lightIn this mode it gives 20 lumens constantly and the autonomy is a maximum of 6 hours
Night blinking. Realmente no es parpadeo, porque nunca se apaga. Pero la iluminación varía por «pulsos», subiendo y bajando la intensidad. La iluminación máxima es de 29 lúmenes y la autonomía también de 6 horas
Daytime blinkingThis time it's blinking in the sense that it's turning off and on. These blinks are 65 lumens, so it's really bright. It's the same intensity of light as the first model of the famous Bontrager Flare RT and it makes the original Garmin Varia pale with only 15 lumens of maximum intensity. In this mode the autonomy goes up to 15 hours, an impressive figure if we consider that we also use it in radar mode
Light offYour light is off, but the radar still works and shows warnings on the unit.
When you pair up the radar, the RTL510 also becomes part of the lighting network. This allows you to make adjustments to the blink modes from the device itself or, depending on the device, select different modes where it is the Edge that commands the lighting by changing modes depending on the day's situation.
In the manual he makes it clear that this is something specific to the Edge 1030, but this menu is present on all devices.
If you go to the menu Sensors>Lights>Network options>Light mode you can choose different operation options, and copy directly:
Automatic: automatically adjusts the light intensity and light mode according to the ambient light and time of day. This mode is recommended for commuting to work or on the road.
High visibilityLighting: Sets the light intensity to the flashing mode or brightest setting available.
TrailLighting mode: Automatically adjusts light intensity and light mode according to ambient light and time of day. This mode is recommended for mountain biking.
IndividualLighting: Allows you to customize the light intensity and pattern of all lights on the network
By selecting the last mode (Single) you can select the flashing mode at any time by selecting any light on the network.
Radar operation on the road
When you turn the RTL510 on, the Edge screen will display an icon that indicates the radar is connected, similar to the one that represents WiFi. This icon is the top of a column where the vehicles that are following us will appear. Each one of them is a point in this column.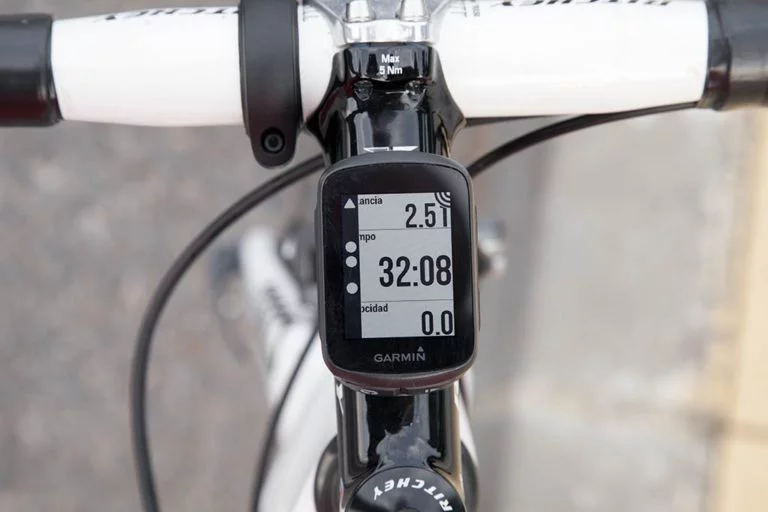 As the white dots rise on the screen it means that they are vehicles approaching you, which is represented by the WiFi icon I mentioned earlier.
When a vehicle enters the radar range, the Edge unit will beep (and vibrate if we are talking about a clock) and a halo will appear on both sides of the screen indicating an alert situation. This halo can be orange or red, depending on the speed at which the vehicle is approaching.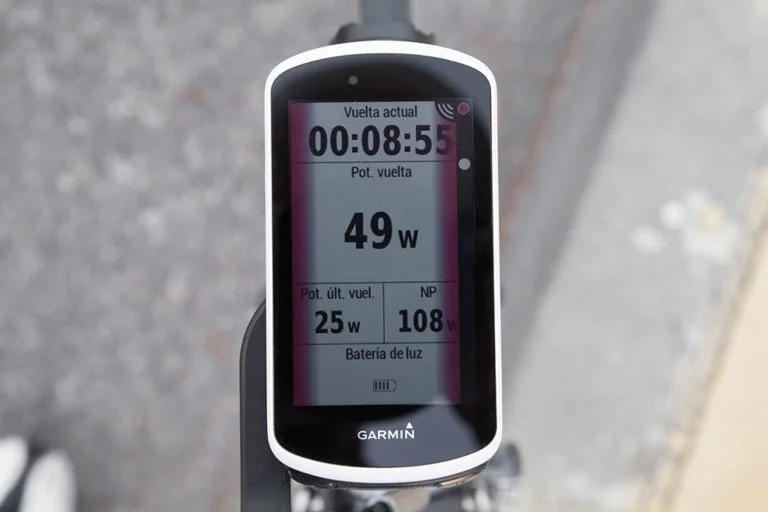 When the last vehicle present on the screen overtakes you, the dot representing it will disappear from the screen and the previous halo will turn green, indicating that there is no more danger behind us, at least for the time being.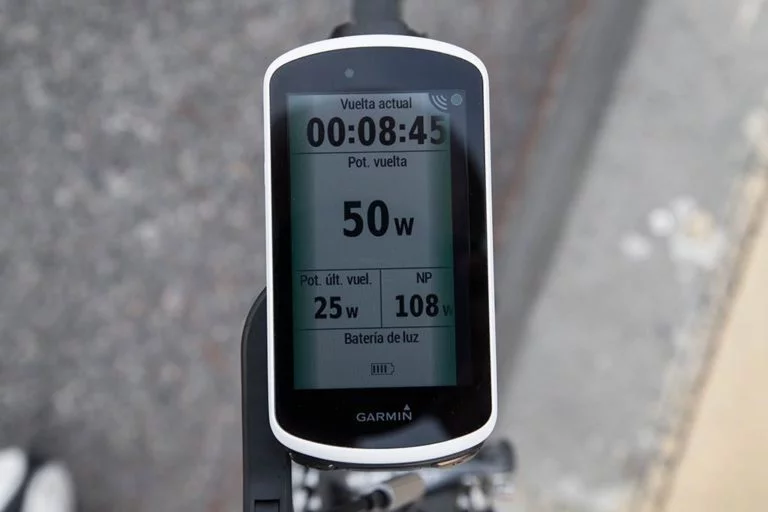 The distance at which it detects vehicles is about 140 metres, although my impression is that Garmin is being a little conservative, as in some situations it has detected vehicles that are a little further away.
This is all about the radar's indications, at least for us. Regardless of which lighting mode you have selected, when you approach a vehicle the radar will change to a different blinking pattern than any of the other blinking modes to draw the driver's attention to us. This is true in any of the modes you have selected.
There is also the possibility of acquiring the radar in a pack with a specific unit (Varia RDU) that shows the same information through colored LEDs since it does not have a screen. But honestly, it is not worth it since the price difference is quite high.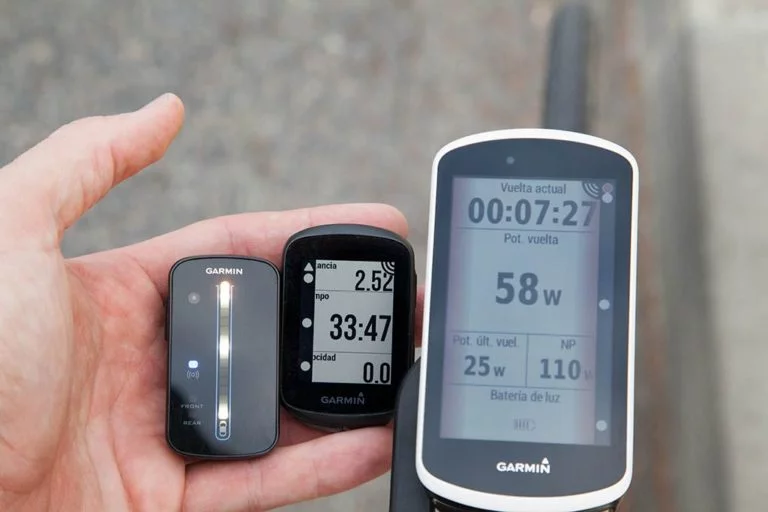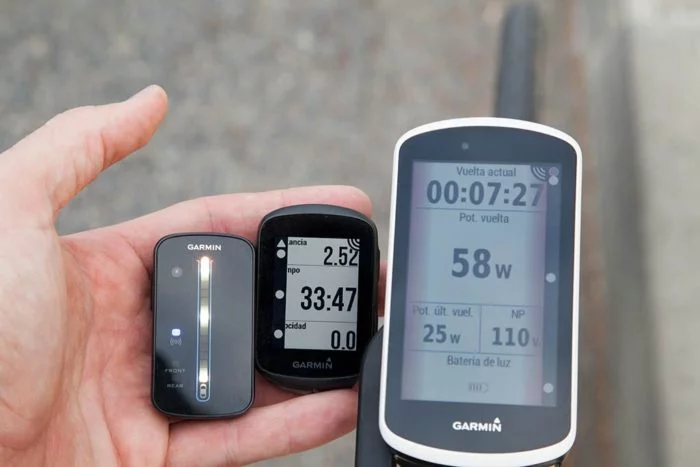 Frequently Asked Questions
Why do I want such an expensive light when I already have a light on my bike?
Varia Radar is not a light. Or at least it's not just a light. The radar part is even more important in this device because it allows you to know at all times if there are vehicles approaching us.
Do you detect parked cars or cars in the opposite direction?
No, because those vehicles will have what is called negative speed. That is, you are moving away from them and therefore it is interpreted that there is no danger. The radar only identifies differential speed so it can perfectly differentiate when there is something approaching us.
Do you detect bicycles riding behind me?
Yes and no. There has to be a noticeable difference in speed, it will not notify you just because you have a bike behind you even if it is going to overtake you. Suppose you are riding at 35km/h and a bike is approaching from behind at 37km/h, there will be no warning. However, if it is a platoon riding at 52km/h you will see it on the screen. The same is true for the rest of the vehicles regardless of their size. What is important is the difference in speed and not the volume of the approaching body - in fact when you are stopped it will also detect if someone is running in our direction.
I have received some phantom notifications, but more due to occasional interference than to system failure. In particular, I have located a point where half of the time I pass by, it launches a warning even though there is no vehicle circulating. But it is always at the same point.
It can also happen that you see a point on the screen and it disappears without you getting ahead of it. It may be because it has stopped, taken a detour or simply been behind you for a while at your same speed.
Can I use Varia simply as a light?
Of course, it doesn't need to be paired with another unit to work. You won't have any warnings of any kind, but the cars will be able to see your taillight.
Do you warn if there are groups of cars?
Yes, both on your device screen and on the Garmin Varia screen (if you buy it with this option) you will see a dot for each vehicle behind you and it will differentiate them. The only thing that will not differentiate is if these vehicles are driving together. And likewise, trucks or vehicles with trailers will identify them as one vehicle and not two.
Do you detect vehicles in my lane or in parallel lanes as well?
The radius of action is wide, so if you're driving on a multi-lane road or a multi-lane highway, you'll be warned of all vehicles coming toward you, whether in your own lane or the one next to it, and if you're driving in a parallel lane to a highway, you'll be warned of those vehicles, too, not just the ones that might be in your lane.
Will you warn me about motorcycles or other small vehicles?
Positive to both. I have been overtaken by both motorcycles and mopeds, and in both cases I have received the notice correctly.
Can I connect the RTL510 with several Edge units, or with an Edge unit and the Varia display? 
One of the advantages of ANT+ is that a slave sensor can be connected to a multitude of master devices. This allows it to be connected to a clock, the Vario display and a compatible computer. In fact, I have it connected to four or five devices on my outputs without any problem.
Does the RTL510 radar replace common sense? 
No, no matter what you see on the screen you should always make sure before you make any movement. Radar warnings cannot and should not replace logic.
I've seen that there's also an RTL511. What's the difference?
The RTL511 is a model intended for countries such as Germany, where the law prohibits the use of lights in flashing mode. In Spain this type of light is already allowed by regulations.
I have the original Varia Radar. Is the new one worth buying?
It is a decision that is up to you, and you alone. The operation and options are exactly the same in the RTL500 and RTL510, both will do the same. But it is equally true that the new unit has more autonomy and is more powerful, which means theoretically more security. In my opinion, any expense you make in security is not an expense, it is an investment.
I have some questions you haven't answered yet
Well, below you can find the comments section. Don't hesitate to post it!
Garmin Varia Radar RTL515
En mayo de 2020 Garmin ha presentado un nuevo modelo, el RTL515. Se trata de una ligera renovación respecto al modelo original, el RTL510. Son pocos los cambios que han llegado con la nueva versión.
Compatible con Bluetooth, además de ANT+ como hasta ahora.
Nuevo modo de uso: «peloton», para usarse en una grupeta y evitar deslumbrar a ciclistas que circulen por detrás.
Autonomía ligeramente aumentada en el modo de parpadeo diario (16 horas en lugar de 15). En el resto de modos sigue teniendo la misma duración de batería: 6 horas en modo fijo y en parpadeo nocturno. En cuanto al nuevo modo «peloton», tiene una autonomía de 8 horas.
Quizás la novedad que más llama la atención sea la de añadir soporte para Bluetooth. El RTL510 simplemente se puede emparejar con ciclocomputadores Garmin Edge, algunos relojes de Garmin, la pantalla RDU y recientemente Hammerhead Karoo, los Wahoo ELEMNT y Stages L50/M50. Esa conexión se hace a través de ANT+.
Bluetooth
Ahora, gracias al Bluetooth, podremos conectarlo también al teléfono móvil. Por un lado a la aplicación que Garmin ha lanzado (muy simple, simplemente reproduce lo que hace el RDU).
Pero también se abre a poderse usar con aplicaciones de terceros, para lo que tendrán que actualizarse previamente. De momento, RideWithGPS ya ofrece compatibilidad.
Modo peloton
La segunda novedad es un nuevo modo de funcionamiento denominado «peloton», cuya finalidad es poder activarlo sin que pueda molestar a la visibilidad de los que circulan en la grupeta por detrás nuestro.
Es un modo en el que la luz permanece siempre encendida, pero con menor luminosidad que en el modo fijo que teníamos hasta ahora con el RTL510 anterior (y que sigue presente en el RTL515).
Mientras que en el modo fijo la luz emite 20 lúmenes de intensidad, en el modo pelotón serán sólo 8. Esa bajada de luminosidad hace que en dicho modo la autonomía pase de 6 a 8 horas de máximo.
Por tanto, se añade ese modo a la lista de los que ya estaban disponibles, siendo estas las luminosidades que ofrecen y la duración de batería máxima en cada uno de ellos:
Iluminación fija: 20 lúmenes y 6 horas de autonomía
Iluminación fija modo peloton: 8 lúmenes y 8 horas de autonomía
Parpadeo nocturno: 29 lúmenes y 6 horas de autonomía
Parpadeo diurno: 65 lúmenes y 16 horas de autonomía
Sinceramente… nunca nadie se me ha quejado de la luminosidad de la luz. Pero bueno, es un modo más, puede ser útil en algunos casos.
Por cierto, también es posible apagar la luz y convertirlo en sólo radar… aunque para eso está el nuevo modelo RVR315.
Comprar Garmin Varia RTL510 o RTL515 Radar
I hope that this complete analysis has helped you to decide if it is a valid device for you or not. All the work I do you can consult it without any cost, but if you want to support the web and with it the work I do, the best way to do it is to buy your new device through the links I provide below. And if you don't buy it today, remember to stop by when you are going to do it!
Through these links not only will you get a very competitive price and the best customer service, but I will also receive a small percentage without costing you any additional outlay, which is what allows me to continue offering you proofs like this on the page.
Find the best offer
Garmin Varia RTL515
You are not going to buy it, you already have it or Amazon is not an option; but you like the reviews I perform and you want to show your support for the site? Then consider signing up for a VIP membership. Above all you will be helping to support the site, but you will also enjoy unique benefits.
If you have any questions, remember that you have the comments section at the bottom, where I will try to answer all your questions.
Garmin Varia RTL510 Radar Review
What can I say about the Garmin RTL510? Well, compared to the original Varia radar it has more range, much more light capacity and more blink modes. Obviously, I like it. As light is much superior to the model it replaces, as a radar it works exactly the same. If I have to put a negative point it is the absence of one of the mounts - which I can only use sporadically on the MTB anyway because it is the only one with round tubes... and I take it out twice a year - and that the other mount has not evolved at all in all this time.
That it's an expensive light is clear. Certainly much more expensive than any light purchased in Asia. The usual problem with the latter is that they always advertise as 800 lumens, 25 months of autonomy, and then neither is true. We can compare it to more reliable models like the Bontrager light, but it also doesn't have the radar function.
The RTL510 is the kind of product you never thought you'd need, but once you have it and use it, you can't live without it.
Of course, everyone has their own requirements and needs, and many of you will tell me that it is not expensive, but that it is extremely expensive, and I totally agree, but if that 30 or 40 euros difference could mean that an absent-minded driver would notice me first and allow me to get home in one piece.
A light or radar will not save you from being run over, nor will it make you get 1.5m instead of 60cm of space when you pass. But it can mean that that absent-minded driver will see you 400m earlier instead of 150m, or that that absent-minded cyclist who is pedalling on a deserted road will know that a vehicle is coming and will allow him to be alert.
And with that... thanks for reading!