And we continue with March offers. It is certainly being very interesting in terms of prices and devices. This joins the offer which already started on the weekend for the Garmin Edge 1030 and now a few more come together, perfect if you are looking for a gift for Father's Day (which is coming next week on some European countries).
We can say to gift someone... But I also include gifting you. It's always good to look for an excuse to celebrate YOU.
Most of these offers are limited in time (e.g. Garmin's on Amazon are only today), but also in units. So if you see something that interests you, I wouldn't hesitate much and buy without much delay. I also leave you some additional links so you can check that the offer is worth it and that it is not the typical "hook" purchase.
Garmin GPS watches
Garmin Fenix 5
Without a doubt, one of the classics of these days, the Fenix 5 continues to be a good option for those looking for a basic mountain watch.
Just because you're looking for a basic watch doesn't mean that the Fenix 5 is limited... it's not, it just doesn't enjoy the latest features you can find on Fenix 5 Plus or Fenix 6.
But if you don't need a huge battery life, music or maps... go ahead with it (although it's not its best historical price).
---
Garmin Forerunner 645 Music
The Garmin Forerunner 645 Music is priced at the same level as the Forerunner 245 Music. This is a tough decision, because you have to choose between the two at the same price. It might seem that the top-of-the-line model is obviously better at everything... but it's not that simple.
The 645 has things like the barometric altimeter, Garmin Pay or steel bezel, but in the FR245 we find the new GNSS chipset from Sony with longer battery life (important with music playback) and the latest optical heart rate sensor. The choice is yours.
Remember that using the code NEWES, being your first purchase, you will save 10€. What, you are already a client? Then open a new account...
➡ Garmin Forerunner 645 Music review 
---
Garmin Forerunner 735XT
Good offer, although it is not a "bargain"
It is the basic Garmin model for triathlon but it meets the requirements of almost everyone. The only thing I can miss is the absence of barometric altimeter, otherwise it is a great option for both training and competition.
➡ Garmin Forerunner 735XT review  
---
Garmin Vivoactive 3 Music
This is a very capable watch for both runners and sportsmen in general. Don't be afraid that it is not a Forerunner watch, it is perfectly suited to accompany you in training for any type of competition and even for marathons.
The only difference between the normal and the one on sale is that the Vivoactive 3 Music plays music autonomously, saving the songs on the watch itself. Supports streaming platforms such as Spotify or Amazon Prime Music.
---
Garmin Forerunner 45
Just arrived last year and we find it on offer... Well, it already has a price that I consider interesting. That's the main objection I put to it when I tried it, so that's already saved.
It is far more capable than what has usually been the case with Garmin's low-end watches, and is available in both sizes: 45/45s.
---
Garmin HRM-Dual
It's not all going to be watches or bike computers. Garmin has also launched different offers on sensors, all of them interesting.
We have the HRM-Dual on offer, which is the latest addition to Garmin's full range. It is a basic sensor (no accelerometer so there are no running metrics), but offers dual communication via ANT+ and Bluetooth, being able to receive heart rate data on devices that use both technologies.
For example, you can train on the bike trainer by sending the data to Zwift and to your watch. Or train in the gym in the same way.
---
Suunto GPS watches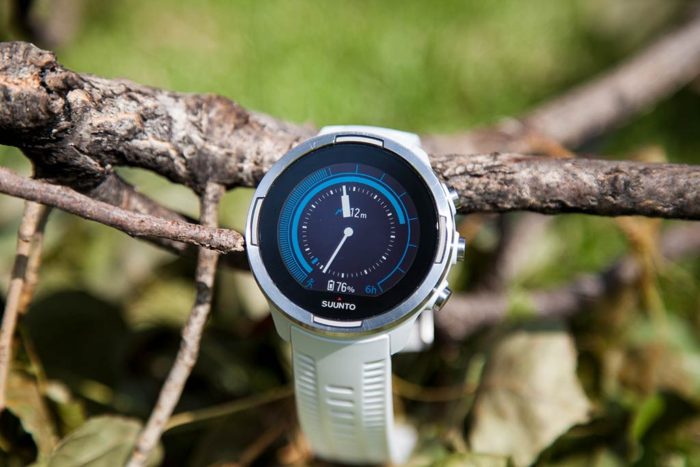 Suunto 9
There are two reasons why the offer is good. Firstly because it is a couple of euros cheaper than the last time it was on sale (so it is minimum price), but more importantly... at this price you can get any of the colours available.
In the past only black was on offer, but this time there are all the others, including yellow which is usually the most sought-after. This is the normal version, without a barometric altimeter.
No doubt a great watch (in every sense) that has improved in functions and GPS quality after the last update.
---
Suunto 3 Fitness
The Suunto 3 Fitness is a very small and lightweight watch that, although it does not have GPS, you can use the one on your mobile phone (provided it is connected). Let's say it's an activity tracker with advanced functions, because what stands out is that you can schedule adaptive workouts that, depending on our training load, will be modified day by day.
It is not a watch that have ever stood out, mainly because of its price. In fact Suunto has relaunched it now with a new strap at a price of 229€.
Now you can get the original Suunto 3 Fitness (which, as I say, is exactly the same as the new model) for only 99€ on Amazon Germany. As I say at its original price is not too interesting, but at more than half the price then we are talking.
---
Garmin GPS bike computers

Garmin Edge 1030
A 40% discount that leaves it at 354€. Do you want it cheaper yet? Well, better yet, because with the code NEWES you can save 10€ more if you are a new customer (or if you create a new account, but I didn't tell you that). You can check the offers on other sellers to confirm that this is indeed a really good opportunity.
➡ Garmin Edge 1030 full review
---
Garmin Edge 530
There are no bargains in the sense of lowering it substantially in price, but the offer of €250 is quite competitive.
Later on you will have the Edge 520 Plus offer, but my recommendation if your use of the bike is moderately high (especially in route navigation) is to opt for this Edge 530.
The user experience is simply beastly compared to the previous model, not only because of the extra features available but mainly because of the processor speed.
In fact, I think Garmin sells this computer too cheap. It could perfectly have a higher price and still be interesting.
What's new? Many things, for example ClimbPro, a feature that helps you a lot when you're dealing with one hill after another. Or dynamic performance metrics, just like what we have in higher-end watches like the Garmin MARQ, Garmin Fenix 6 or Garmin Forerunner 945. And then nutrition and hydration alerts, anti-theft alarm, a lot of new MTB features... It's a VERY complete device.
---
Garmin Edge 520 Plus
For many it is the most interesting option. But I think there are far better options even if you have to spend a little more.
The main problem with Edge 520 Plus is that its processor is slow for the demands required to make efficient navigation. Calculating a route (or finding an alternate route) can take too long, which is not the case with Edge Explore and certainly not with Edge 530.
That doesn't mean it's not an interesting option. If you're looking for a cheap bike computer for your workouts and you don't care about navigation, then the Edge 520 Plus is an interesting option if only because it's like the Edge 520, a model that's a great choice for training.
---
There you have it, a lot of devices at a very good price that can be the perfect gift for a sportsman father... or to give yourself a treat, you also deserve it.
And with that... thanks for reading!