Today Garmin presents a new family of potentiometers, starting from the Garmin Vector 3 but now extending the compatibility with different types of cleats for both road and mountain. A total of 6 models are presented, depending on the cleat or if the measurement is on one side or both.
But the most interesting thing about this family is not that there are different models for different cleats, but that they are all interchangeable with each other and open up all kinds of possibilities. But I won't get too far ahead of myself, I'll explain this in detail later because I think it's undoubtedly the most interesting thing about the Garmin announcement.
This new family of Garmins only brings even more prominence to pedal potentiometers, a market segment that has been in quite a turmoil lately. Favero appears to be on the verge of announcing pedal axles compatible with Shimano bodies., Wahoo to announce its POWRLINK ZERO potentiometer soon based on SpeedPlay (after acquiring the brand and relaunching it a week ago) and not forgetting that SRM has recently launched the X-Power for SPD (and they are completely out of stock).
In short, as much as SRAM killed the PowerTap P2 pedals, this Garmin release just goes to show that pedal potentiometers are more alive than ever.
New Garmin Rally range, available versions
There will be a total of 6 different versions depending on their compatibility with cleat type, and whether the power measurement is done on one side only (and doubles the power) or records the power independently.
These are the available versions:
RK for Look Keo cleats
RS for SPD-SL cleats (Shimano road)
XC for SPD cleats (Shimano mountain)
And then, depending on whether you measure total power or multiply one side, these would be the options for each of the shims listed above.
100 for single-sided measurement
200 for measurement of both sides
Combining the acronyms and numbers we will poder know what type of product of the Garmin Rally family it is. So, the Garmin Rally XC200 corresponds to pedals measuring on both sides for Shimano SPD cleats; the Garmin Rally RS100 will be for Shimano SPD-SL cleats measuring only one side (and doubling the power) and so on with all the others.
Garmin Rally, interchanging pedal bodies
Just because you buy a road pedal (RS or RK) doesn't mean that you won't use it later on in the mountains. And vice versa. The most interesting thing about the Garmin proposal is that the pedal axle is the same in all cases. Not only that, it's also the same pedal spindle as on the Vector 3, so if you have one of these you'll also poder ride the wave of the cleat change.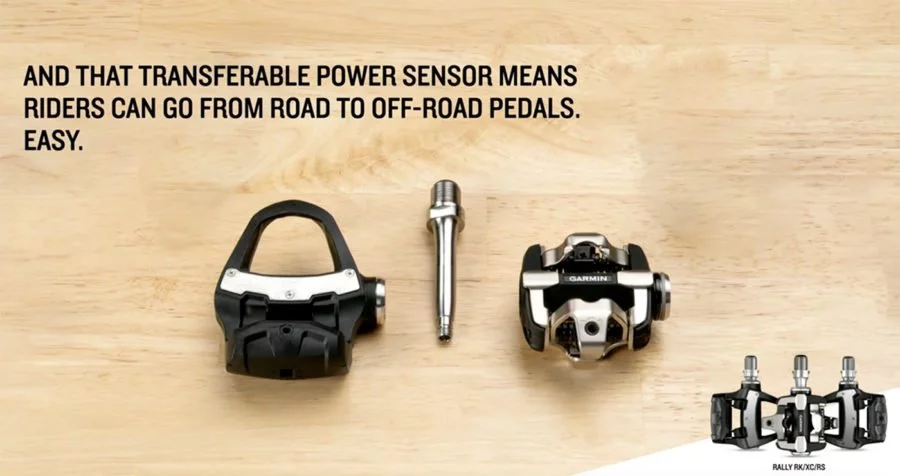 Garmin will have conversion kits for sale for their pedals, so podrue will fit a new body to your current axle. So if you buy the Garmin Rally RK200 and in a few months you switch to gravel or mountain, podrás will continue to do your training based on power and using the right shoes.
Likewise, as with the current Vector 3, you can also buy a less expensive 100 version and in time purchase the upgrade to a 200 version.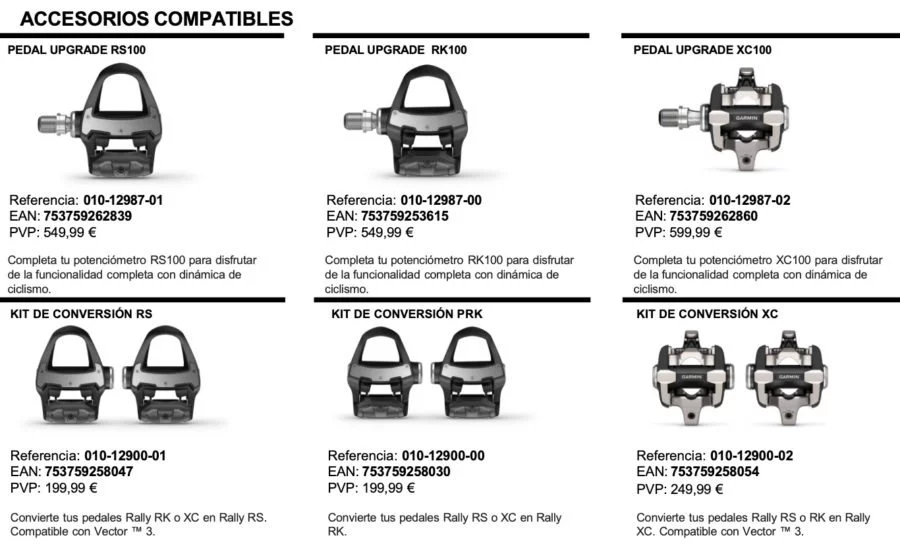 How difficult is the operation? Frankly low, changing the body of the pedal is something really simple, the only thing we have to do is to loosen the nut that joins the axle with the body and then it will be released. Here you can see the exploded view of the pedal.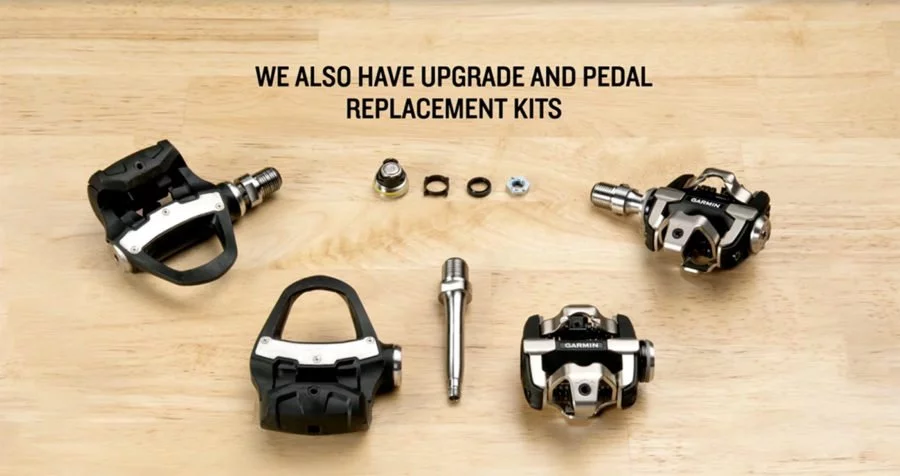 I recently did that operation on some Favero Assioma to replace a deteriorated pedal body and it is really a quick and easy operation.
Garmin estimates the necessary time in 5 to 10 minutes, with the idea of making the changes according to the season in which we are. Although there is nothing to prevent you from constantly changing the axle every week, the axle will not deteriorate because you are assembling and disassembling the pedal body.
Redesigned battery holder
When Garmin Vector 3 first came to market it had quite a few reliability problems. After much testing, analysis, overhauling of parts and spending a lot of money, Garmin realized that the source of the problem was the type of battery holder. A few cents part ended up costing Garmin probably tens of thousands of euros as well as a good number of dissatisfied users.
Garmin already solved this issue with the Vector 3, although for the new version of Garmin Rally announces a battery holder with a redesign of the contacts, as well as metal threads on the body of the pedal where the cover is housed.
As for the type of battery used and the autonomy of use, nothing has changed. It still offers up to 120 hours of use with 2 LR44 button cells in each pedal (or 1 CR1/3N).
Cycling dynamics and connectivity
The cycling dynamics are still present in the Garmin pedals, something that has already made its debut with the Vector 3. It is worth remembering that they are only available in the case of dual pedals (the 200).
The Garmin Rally 100 will send power and total cadence data, while the Garmin Rally 200 will have power balance and advanced cycling metrics.
What are these cycling metrics? Well, to save me some time on a day rather full of news, I'll copy you directly from the article I wrote when Favero added it to his Assioma pedals..
Left/right balancePower distribution: How you distribute your power between your left and right leg. It doesn't have to be 50%/50%, nor do you have to have the same balance throughout the workout (with fatigue comes decompensation).
Left/right pair effectivenessHow much do we use each pedal stroke to move forward effectively (and not to lift the pedal, for example)? Ideally, we would be on the 100%, but as we are not machines...
Pedal FluidityHow fluid our pedalling is, if we apply the force constantly or if we have peaks of momentum. Again, it would be ideal to have a 100%, but this is practically impossible to achieve.
Power phaseIndicates in which part of each turn of the connecting rod we apply force.
Pedaling position

This metric is much easier to understand as it simply details how much time you spend sitting or standing.

Deviation from the center of the surfaceIndicates at which point on the pedal our foot exerts more pressure, whether to the left or to the right. It would serve to help us place the cleats correctly centered in the shoe to ensure a more uniform transmission of power to the pedal.
All these metrics are present in Garmin Connect after synchronizing the activity.
In terms of connectivity, Garmin Rally supports both ANT+ and Bluetooth simultaneously. In addition, it is worth noting that when connecting to applications via Bluetooth (for example with Zwift), the Garmin Rally pedals will appear as a single device with full power, instead of appearing as a right pedal or left pedal.
Garmin Rally Specifications
And more than specifications, what will interest you is to know what is the weight. In the end we are talking about cycling components and some of them, in order to save a gram, MA-TA. So here you have the comparison directly from Garmin (and I save me writing it).
Obviously the weight indicated is for the pair of pedals, not the weight of each one of them.
The weight difference between the Rally RS and RK compared to the XC Mountain Bike version is remarkable (more than 60 grams per pedal). But Garmin emphasizes in its presentation that for the MTB version they have focused more on durability than on lightness.
They have shown a video of the tests to which they have subjected the pedals, and certainly the punishment to which they have subjected them looks to have been quite important.
Garmin Rally, availability and price
I do not yet have a date of arrival on the market, but everything seems to indicate that they will soon be available in stores. The prices for each version are as follows:
Garmin RS100 Rally: 649,99€
Garmin Rally RS200: 1.099,99€
Garmin Rally XC100: 699,99€
Garmin XC200 Rally: 1.199,99€
Garmin Rally RK100: 649,99€
Garmin Rally RK200: 1.099,99€
If you don't want to spend that much money right now and prefer to go step by step, this is the price of the upgrade options for the 100 to 200 models:
Upgrade for RS100: 549,99€
Upgrade for RK100: 549,99€
Upgrade for XC100: 599,99€
As for the prices of the conversion kits, I have previously put it in an image but to have it all conveniently ordered I list it below:
RS conversion kit (Shimano SPD-SL road cleat): 199,99€
RK conversion kit (Look Keo cleat): 199,99€
XC conversion kit (Shimano SPD mountain cleat): 249,99€
And again remember that the conversion kits are also compatible with the current Vector 3s, so probably the smartest move can
cost you the same, 229€.
Opinion Polar
Opinion Garmin Rally
When I heard about the latest news from Garmin I said "well, an update of the Vector 3, little more to tell". Then I saw that in addition to the Look cleats and as a novelty, it included the possibility of having cleats for Shimano road and mountain. Great, because the possibilities multiply and now there is a different product for those who want other options.
But when they explained to me about the conversion kits, the light went on. Finally a company that fully understood what we cyclists are looking for, and that we have more than one bike we train on.
I'm sure you're not the first to have thought of such a solution. In fact one of the common modifications among Assioma pedal users is to install Xpeedo mountain pedal bodies, but it usually requires some additional modification to the shoe to make it all work.
Although others have thought of it before, surely Garmin is the only one with the financial capacity to poder to carry it out, producing and keeping in stock the different options and being able to design a potentiometer in which all the electronics can be inside the pedal axle.
As for retail prices, if you plan to use it on more than one type of bike, it seems even cheap to me.
It is clear that if you only want a potentiometer for a road bike you have cheaper options, such as the same ones. Assioma de Favero. But if what you want is a SPD pedal for mountain biking things start to get complicated because there are hardly any options on the market. And if you are looking for a solution for mountain in winter and road in summer ... we only have these new Garmin Rally.
And why is the XC solution for SPD cleats more expensive than the others? Well 1TP10I could start listing reasons for materials used, metal body and a lot of other things. But the reality is that the reason for the price is the competition, or rather the lack of it. Right now the only mountain pedals with a power meter are the SRM X-Power, which "coincidentally" have the same price that Garmin has set for their XC200. So there we have the real answer.
In short, a proposal that is positive for the consumer, at least for those of us who train with more than one bike. And that's good for the market.
And with that... thanks for reading!