Eurobike is just around the corner, so news is getting around and so are the skids when it comes to previewing products. This time it's happened to Garmin, who are presenting the Garmin Edge Explore 1000 during the show (which starts tomorrow) but have mistakenly revealed it on Twitter and on the UK press website. In fact, they have removed the press release from the website, so information is quite scarce right now.
As the name suggests, the Edge Explore 1000 is a development from the Garmin Edge 1000 that Garmin showed us just over a year ago. Aesthetically, it is the same, except that the colour of its housing has changed, and is now pearly white.
Otherwise, the screen remains 3″ capacitive touch screen with automatic light adjustment, offering up to 15 hours of battery life and compatibility with GPS and GLONASS satellites. It also features Bluetooth, like all the latest Garmin models, which will allow you to display on-screen notifications as well as make use of the Livetracking feature.
Where there is a difference is in the performance of the two models, mainly in terms of training. On the Edge Explore 1000 we have no possibility to schedule training, only three data screens can be configured (instead of five), there is no support for Shimano Di2, nor can different activity profiles (such as run, training, intervals, etc.) be created.
In short, Garmin tries to provide a user-friendly navigation unit, eliminating options to simplify the user menu.
This new Explore version takes the navigation possibilities even further, with a mode that allows you to discover new routes. The Edge Explore 1000 comes loaded with a specific bike road and path map, elevation data, points of interest, and address lookup capability. You can learn about new destinations by creating your route directly from your device, simply by entering a target distance and the direction you want to go, and the device itself will allow you to choose up to three different routes you can select to take.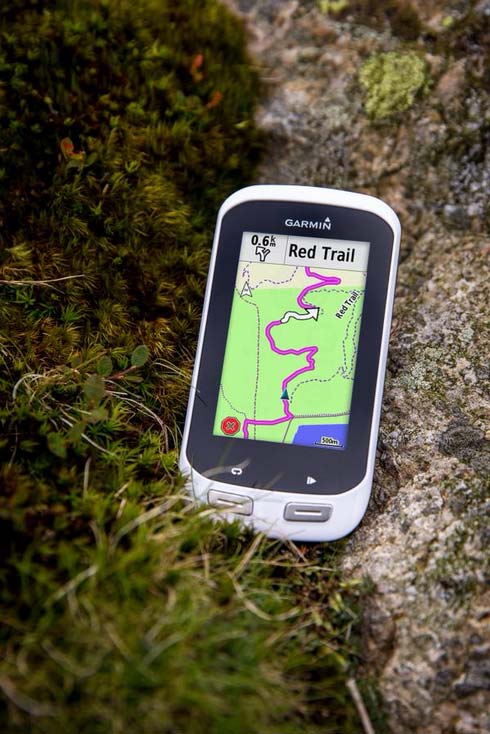 Of course, if you don't feel like having the device do the work for you, you can also create your own routes, either on the device itself by entering a point of interest, for example, or by downloading routes from Garmin Connect or other different applications. In addition, the computer has the possibility of expanding the memory via an SD card, in case the internal storage does not provide enough space to load all the maps you need.
Accident detection
With the introduction of the Garmin Edge Explore 1000 the Americans also show us a new function, the ability to detect accidents. Thanks to the internal accelerometer the device itself could send our position automatically (or manually) in case of an accident, to the programmed emergency contacts. It will do this through the phone paired by Bluetooth, so for this function to be available you need to carry your phone with you, as the Garmin device has no connection of any kind.
In other words, in the event of a serious accident or strong impact, it is the device itself that will ask for help. Before sending the message or email there is a timer that allows you to deactivate the function, in case it was a wrong warning or that, despite having fallen, you did not break in half.
In addition to the distress message itself, the Edge Explore 1000 has an audible alarm to warn of your position in case it is not possible to find you with the naked eye (e.g. you have fallen into a ditch).
And what about false activations in case of potholes or jumps? This shouldn't be a problem, because according to Garmin, one of the factors it analyses is also the speed. So if there is a strong impact as a result of a big jump, but the speed continues, the Edge Explore 1000 will understand that there has been no incident. On the other hand, if you were travelling at 30 km/h and after a strong hit the speed goes to 0, then the alarm will be activated.
And a couple of questions you'll be asking yourself...
Is it possible to see this function in the Edge 1000, through an upgrade?
No. A pesar de que tanto estéticamente como funcionalmente son casi iguales, es eso, «casi». El Edge 1000 no dispone del hardware necesario para activar la función, en este caso el acelerómetro. Tampoco el resto de la gama dispone de acelerómetro, a excepción del Edge 520, que es el único que podría recibir la función por vía de una actualización.
On a security level, of course the Edge Explore 1000 is also compatible with the new Garmin Varia radar and lights.
Garmin Edge Explore 1000, Availability and Pricing
The Garmin Edge Explore 1000 will be available throughout the third quarter of the year (right now) and will have a recommended price of £449, only £50 less than its cousin the already well-known Garmin Edge 1000, at least in terms of retail price as it is easy to find it much cheaper (for example, -- on Amazon Spain).
–
Support this siteYou can do this by purchasing your Garmin Edge Explore 1000 through Amazon.