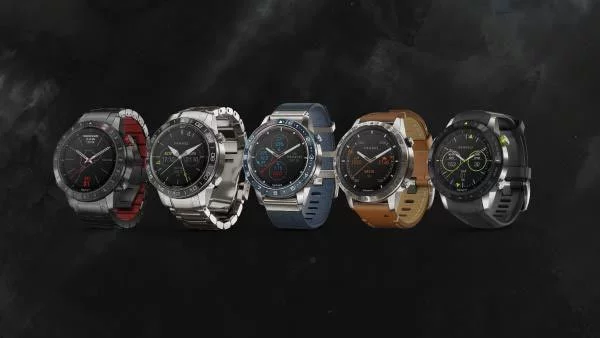 Garmin announces today the product family Garmin MARQAnd it's a family because there are several models that are slightly different depending on the type of use that they are going to offer. If you are a Garmin user or if you know a little about the range, you can tell that all Garmin MARQs start from the same base: the Garmin Fenix 5 Plus.
Specifically, there are 5 different models depending on whether they are designed for aviation, navigation or sport. And all (except one) start from a model already present in Garmin. These are the new models that are coming:
Garmin MARQ Athlete - The most basic version, a Fenix 5 Plus dressed as a Sunday.
Garmin MARQ Aviator - Inspired by the Garmin D2 with aviation-specific software.
Garmin MARQ Captain - It comes from the Garmin Quatix, a navigation-oriented watch.
Garmin MARQ Driver - A model that is totally new to the Garmin range as until now they had nothing to do with driving.
Garmin MARQ Expedition - It would be like Athlete but with added features for hiking and mountain.
With the MARQs, Garmin is elevating its status to the premium watch segment. In fact, they will not be sold in traditional channels for Garmin, but you will have to go to jewelry/watch stores and see Garmin next to the Rolex and Omega on display.
That's another change in Garmin's policy, although it remains to be seen if it will work for them. It seems pretty risky at first, because the traditional Garmin customer looking for a running device won't go to a jewelry store, just like if you're used to buying marine units from Garmin it would make more sense to see it at the marine store.
But it's equally true that this way Garmin can open up to customers who may not have known about your product until now, and that way can be effective. What I see as more complicated is that the staff in that kind of store can explain to the customer what a Garmin MARQ offers. Because beyond the quality of the finish on the watch, what sets Garmin apart from any other model is simply its software.
Common features of Garmin MARQ
Regardless of whether there are 5 different Garmin MARQ models aimed at totally different segments, they all have a number of elements in common. As I said at the beginning, they are all based on the Garmin Fenix 5 Plus.
These are the specifications common to all of them:
Maps for route navigation of the region where you buy the watch. In the case of Spain, you will have the maps of Europe (so be careful with purchases outside Europe), including a database of golf courses around the world and, as a novelty, ski slopes (not available in any other Garmin until now)
Garmin Elevate sensor with PulseOx, including SpO2 measurement (same as Fenix 5X Plus). In theory this is a new generation with more changes
Playing music, both from files you sync to the clock and support for Spotify
32GB of storage for maps and music
Wireless NFC payment with Garmin Pay (with supported bank cards)
Support for all common sports: running, cycling, swimming, multisport activities, etc. In that sense it is exactly the same as the Fenix 5 Plus
The user interface has undergone several changes, improving graphics and the like. All the menus and operation are basically the same as they are in Garmin, but they have a new look. I'm sure we'll see this in future Garmin models just as we did when they launched CHRONOS.
There is one important new development, and that is that Garmin has switched to Sony's GPS chipset in the MARQs, which is giving such good results in terms of range, both Suunto and Polar have already done so, and although the range data they are getting is fantastic they are still trying to work on GPS reception, not as good as it should be.
Just like in the software aspect I am sure we will start to see this Sony chipset in future Garmin models, so I am looking forward to see what Garmin is capable of doing and see if they suffer as it is happening with the rest of the manufacturers.
Garmin MARQ model-specific features
What you have seen in the previous point are the common specifications among all the models, but as it is logical that there are five models designed for very different uses, there are specific characteristics for each of them. I leave you a small summary for each of them.
Garmin MARQ Athlete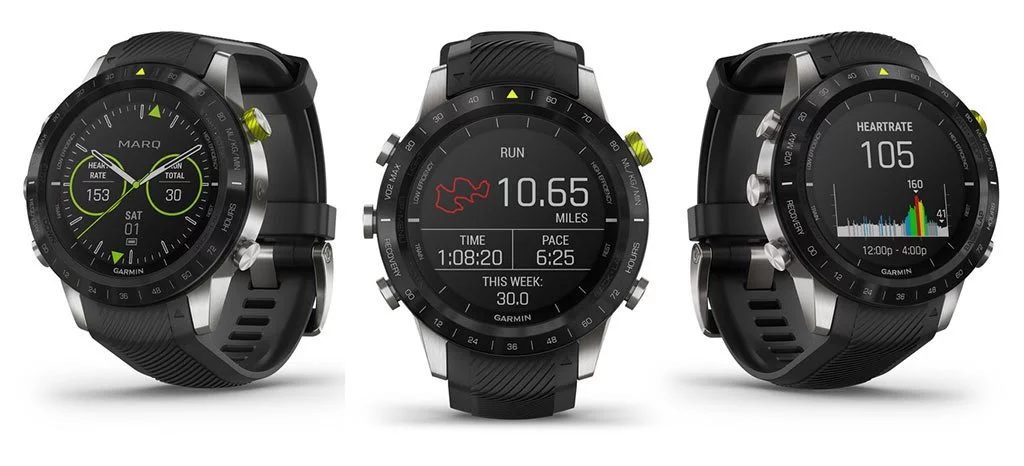 As I told you at the beginning, the Garmin MARQ Athlete is basically a Fenix 5 Plus dressed as a Sunday. There are some improvements in terms of the user interface, but the basic operation is the same.
It is the "cheapest" of all. Note that I put it in quotation marks, because we are talking about € 1,500 watch. Yes, both the case and the bezel is made of titanium and the crystal is sapphire.
In short, Garmin is focused on offering premium materials in this range, although in this finish the strap is made of silicone... a bit of an ugly touch for a 1,500 euro watch, they could well add an additional leather strap.
Garmin MARQ Aviator
Based on the latest Garmin D2, the MARQ Aviator offers specific features in both its software and watch design.
The bezel includes the indication of the GMT zones, having an indicator on screen at all times to mark the current zone in which you are. It has a global database of airports, NEXRAD weather radar and in case of having Garmin aviation elements, the information can be incorporated into the watch.
It is also made of titanium, to which is added a belt made of the same material, which makes the price rise to 1,950 euros.
Garmin MARQ Captain
This is the model that comes from the Garmin Quatix range. As with the MARQ Aviator, the MARQ Captain allows you to connect to specific Garmin units, in this case the marine units, allowing you to control some of these Garmin products.
Of course, it's not the only thing it incorporates; it also has other specific navigation functions such as wind speed and direction, tide information, race bezel, tacking aid or communication with the Garmin GHC20 autopilot unit.
As for the watch, it differs from the previous ones in that the bezel is made of ceramic and has a nylon Jacquard strap. Its price is 1,850 euros.
Garmin MARQ Driver
The MARQ Driver is perhaps the most striking of the five. I am a great fan of the motor world and in my younger days (I am still young...) I frequented the circuits quite a lot.
With this model, Garmin has created a totally new category because, unlike the previous ones, they had nothing similar. In fact, not only Garmin but no other manufacturer, since it is the only watch that has more than 250 circuits installed around the world: Nürburgring, Spa, Suzuka... names that all motoring enthusiasts find hilarious.
The specific functions it provides are an automatic autolap based on position, track timer, live Delta time, Lap Time repeatability score...
The only problem I see is that being based on GPS position and being inside a car, the reception may not be the same. Any tenth of a second is crucial, so it is not comparable to a lap timer with fixed installation on the dashboard.
It is the most expensive of all the MARQs, with a price of 2,500 euros, and like the MARQ Captain the bezel is ceramic. It includes a hybrid titanium-silicone strap, as well as a silicone strap.
Garmin MARQ Expedition
Finally we have the MARQ Expedition. It is quite similar to the MARQ Athlete, although it includes a couple of software functions specific to the mountain. It displays altitude and barometer data on the dial and has a specific expedition profile offering constant GPS tracking with up to 4 weeks of autonomy, with data recording at 1 hour intervals.
The titanium bezel is engraved to be used as a compass, and the strap is made of Italian vacchetta leather, all for 1,750 euros.
https://www.youtube.com/watch?v=NFl1UVd-ZQY
Garmin MARQ's opinion
After the introduction of these new Garmin models, the Fenix 5 Plus no longer seems so expensive. But they are not comparable products as they are intended for quite different segments. What remains to be seen is whether Garmin's entry into the luxury watch segment will work for them or they will have to return to their traditional sales channel.
Of the five, the only one that has no competition of any kind is the Garmin MARQ Driver, neither at Garmin nor at any other manufacturer, which is perhaps why it is the most expensive of all, as it provides features that no other watch has ever offered. The others may be more or less interesting because they can be compared with current models from both Garmin and other manufacturers.
Would you buy a 2,500 euro GPS watch? No way, especially since this is a product that has a much more limited life than a similarly priced Omega. The Omega will never go out of fashion, nor will it be replaced by a more technologically capable model.
But that does not mean that there is no market for these products. I live in Marbella and I am quite used to see very different "rhythms of life". Maybe for me a 2.500€ watch may seem expensive, but for someone with much more money than I can even think of it is a simple whim.
Apple tried to enter the luxury segment with the Apple Watch and they had to leave with their tails between their legs. The problem they faced was similar, they offered a very expensive watch that would be obsolete in a year.
Although it is also true that in their case they did not offer a differentiating element beyond materials or belts, these Garmin MARQs do go beyond simply improving materials.
It is still interesting, not only to see if Garmin manages to enter a market that until very recently was totally reluctant to smartwatches; but also because we have seen things that will undoubtedly come in more "mundane" models of the American manufacturer. Things like the Sony chipset, the novelties of the user interface or the new optical pulse sensor. I have no doubt that all of that will be coming to the next Garmin models in the very short term.
And with that... thanks for reading!