After a 2021 year in which Garmin was rather quiet compared to the usual of its release schedule (well, in general all manufacturers), it is starting strong this 2022. Today it announces the Garmin Instinct 2 in all its versions, after having recently introduced the Garmin Venu 2 Plusthe family Garmin Fenix 7 and the new Garmin Epix 2.
When I say that Garmin presents the Instinct 2 in all its versions, I mean it in the broad sense of the word (or words). And is that what Garmin initially launched as a single model became an unexpected success and gradually were multiplying the different versions, including models for surfing, camouflage, e-sports or solar charging. A total of 20 different versions.
Well, to all that is now added another smaller size for those who prefer a smaller watch, the Garmin Instinct 2S (40mm in diameter). The Garmin Instinct 2 maintains the same size of the original model, although with a slightly different aesthetic. And for both models there will also be Solar, Tactical and Camo editions.
Garmin Instinct 2 Specifications
The best way to see what the changes are with respect to the original model is to set out a complete listing of all its specifications, and I also detail what is new and what was already currently present.
Two different sizes: Garmin Instinct 2 in 45mm and Garmin Instinct 2S in 40mm
Several versions: standard, Solar, Camo, Tactical Solar, Surf and Surf Solar. Plus a special Dezl edition for truckers.
Higher screen resolution: 176×176 pixels instead of 128×128 pixels of the original model
Display resolution of 156×156 pixels on the Instinct 2S
New Garmin Elevate v4 optical pulse sensor
Estimation of blood oxygen saturation (SpO2) with the new sensor
Different aesthetics, with a slightly more rounded bezel
Meets military standard MIL-STD-810G
New sport profiles such as HIIT, yoga, climbing, virtual running...
Includes multisport profiles for duathlon, triathlon, cross training...
Support for more sensor types: Potentiometer and smart rollers
Downloading data from sensors with swimming memory such as HRM-Tri, HRM-Pro and HRM-Swim
Compatible with advanced stroke metrics from these same sensors
Support for Bluetooth sensors
Possibility to transmit optical sensor data to other devices
Power Manager for configuring the different power consumption options (not in the original Instinct)
With training load/training status (not in the original Instinct)
Acclimatization to heat and altitude
Daily training suggestions (not in the original Instinct)
VO2Max estimation (not in the original Instinct)
Mountain biking dynamics (not in the original Instinct)
Metric Body Battery (was not in the original Instinct)
Breathing rate tracking (not in the original Instinct)
Stress tracking (not in the original Instinct)
Recovery time (not in the original Instinct)
Garmin Pay on solar-charged models (not on the original Instinct)
Connect IQ support (not in the original Instinct)
Incident detection (not in the original Instinct)
Configuration of sport profiles through the telephone
The Solar model allows unlimited autonomy when used exclusively as a smartwatch.
Extended autonomy up to 28 days as a smartwatch (unlimited with daily solar charging). I will talk about the battery later as there are many combinations.
Price: from 349€ (50€ more RRP than the original model) and thereafter depending on the different versions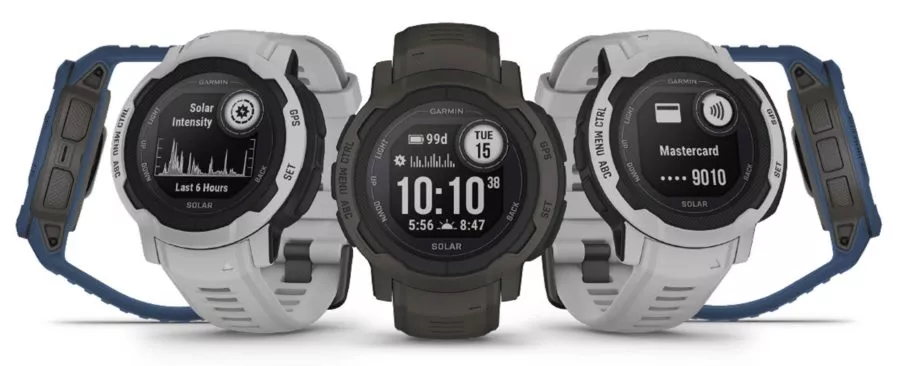 So the Garmin Instinct 2 gets lots and lots of new features that weren't in the original model, but none of them represent anything new within the Garmin range. What they are doing is giving the Instinct 2 full sports watch status within the model range itself.
It's pretty much a Fenix range model with no map navigation or music playback features. But it gets features like full Connect IQ support (clock displays, data fields, apps), wireless payments with Garmin Pay, VO2Max estimation, Power Manager to manage battery life and a bunch of other features that can already be considered basic within the range.
And speaking of battery... that's what the Instinct 2 represents for Garmin. Their first watch with which they can advertise unlimited autonomy thanks to solar charging.
Autonomy in the Garmin Instinct 2
Once again, it is time to talk about autonomy, as was the case with the presentation of the Garmin Fenix 7. It seems to be the brand's main bet for the new generation of models.
So that you can see the differences and duration I have prepared this quick table that you can use as a reference.

The first thing that strikes me is the battery life in smartwatch mode. These Garmin models are already at COROS levels in daily use mode. That means there are noticeable changes to the platform at the processor level. That contrasts with the autonomy with GPS use which is obviously not bad, but not "brilliant".
The second part to highlight is that Garmin is going to take advantage of the development of solar technology with this model. Thanks to its Power Glass and the specific design that simulates two screens, where the frames that separate them allow the reception of solar energy, it allows to hang the sign of "infinite battery" in some of its modes.
You can use the 45mm Garmin Instinct 2 as a smartwatch (receiving notifications and tracking your daily activity) without having to charge it at all as long as you spend about 3 hours a day in full sun. For some people this is no problem in their daily activity, and maybe for others it means one or two battery charges a year.
Specific versions of the Garmin Instinct 2
There are different versions for the Garmin Instinct 2. The sport base is the same for all but in each of the "finishes" features are added for a different focus. So for example the Surf versions have specific functions for water sports and the Tactical includes night vision support and other features for field operations.
These are the different versions:
Garmin Instinct 2/2S standardIt is the basic model of Instinct 2. It is available in 40mm and 45mm.
Garmin Instinct 2/2S SolarThe standard model with solar charging. Also available in two sizes, Instinct 2 and Instinct 2S.
Garmin Instinct 2/2S CamoNo solar version, but with the two sizes of 40mm and 45mm. It has no special functions and the only difference with the standard model is the camouflage decoration.
Garmin Instinct 2/2S SurfBoth in standard and solar version. It is offered in both sizes and has specific activities for surfing, windsurfing or kitesurfing. It also offers tide information, the Surfline app or integration with Surfline Sessions.
Garmin Instinct 2 TacticalOnly available in 45mm and with solar charge. It has a somewhat different aesthetic and as specific functions night vision mode, hidden mode for GPS, "Kill Switch" to erase all memory, jumpmaster mode or tactical activity. Basically focused on military use.
Garmin Instinct 2 DezlOnly available in 45mm and without solar charge. With specific training sessions for truckers' break times, break planning and linking to Garmin Dezl series navigators.
Uff... A lot of models that, combined with the different colors available for each version gives a total of 20 different models that Garmin has presented today. That added to the 22 Fenix 7 of a few weeks ago and the two Epix 2, plus the 2 Garmin Venu 2 Plus of the beginning of the year results in a total of 46 new Garmin models so far in 2022 (6 weeks). Almost nothing...
Garmin Instinct 2/2S, availability and pricing
The standard versions are available basically right now, and the Surf and Tactical versions may take another week or so to be on the market.
In terms of prices there is a good variety that I detail below:
Garmin Instinct 2/2S standard: 349€
Garmin Instinct 2/2S Solar: 449€
Garmin Instinct 2/2S Camo: 399€
Garmin Instinct 2/2S Surf: 399€
Garmin Instinct 2/2S Surf Solar: 499€
Garmin Instinct 2 Tactical: 499€
Garmin Instinct 2 Dezl: 399€
A quick summary of the scaling according to the different "options" would be as follows:
349€ base price
100 per solar charge
50 per special edition (Camo, Surf, Dezl)
Opinion Garmin Instinct 2
The original Garmin Instinct was an unexpected success for Garmin, especially in the United States. A watch with G-Shock aesthetics that came to market as a simple possibility within the range of Garmin and ended up selling very, very well. That led Garmin to later create different versions to expand the success a little more, but it was weighed down by some initial decisions that made it a somewhat basic watch for many users.
With this renewal Garmin gives the Instinct range a specific and important space. In fact today is scheduled an official presentation for journalists by the brand at 16h, something they only do with important news for the brand.
Many features are added to the Instinct 2 of the Forerunner range such as VO2Max estimation, SpO2 tracking, many daily activity metrics... And as the most important part the battery life, very good in smartwatch mode and that in the solar charged versions allows to have the unlimited life label.
With this renewal, Garmin consolidates its position in the mid-range of Outdoor watches, something that previously did not complete because to be present it had to pull old versions of the Fenix at a discounted price or the Instinct itself, which did not meet everyone's needs.
And with that... thanks for reading!