A new episode with some variation from the previous one... and that's because in the 16th episode I find myself alone in the face of danger! José hasn't podido joined us for the occasion because his agenda is full, but we hope to see you soon because we have a lot of things to do about biomechanics!
What's on today's menu? An update with some of the industry news that hasn't been discussed on the page because they are minor updates and individually don't support an article. But all this combined allows me to explain it to you in the podcast and add this article with notes on the episode. A textbook Win-Win.
The Garmin scale... which is still a scale. And it does what you would expect from a scale. In addition to weight it also displays body fat percentage, water percentage, muscle mass, etc. Up to 16 registered users. WiFi connectivity synchronizing with Garmin Connect.
It now has a color display showing a progress graph with the trend of the last 30 days.
It also shows the difference in weight between the last time you weighed yourself and the current one. Beyond weight control, useful for example to calculate hydration strategies. A very interesting product until I tell you that it costs 150€. Yes, a good stick.

Garmin Instinct Esports Edition
Garmin enters the ESports segment with this watch.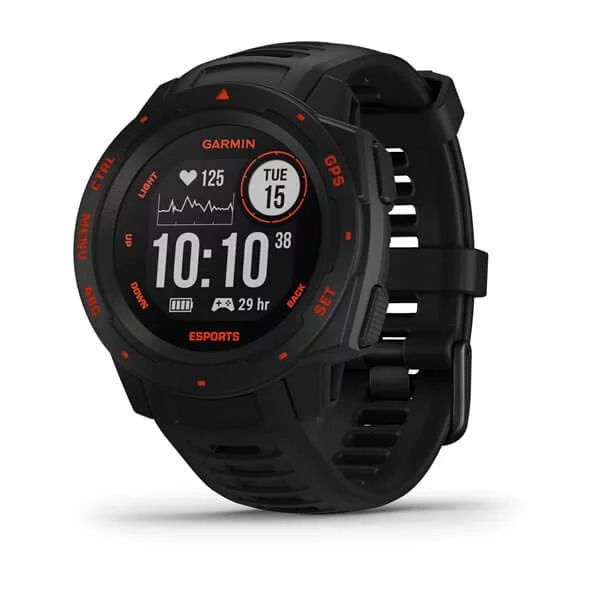 This is a regular Garmin Instinct (not the solar), with a specific design and a new sport profile. This profile is similar to the Virtual Race profile in that the watch itself does not record anything, but simply acts as a sensor transmitter via Bluetooth.
Apart from that profile, it is a Garmin Instinct exactly like any other on the market.
However, the interesting part is the new software they have developed, called STR3AMUP! This software allows three metrics to be included in broadcast videos or recordings:
Heart rate

Body battery metric (say remaining energy)

Stress level, which is a metric that fluctuates quite rapidly.
This is an interesting move because it enables Garmin to enter a segment that it would otherwise have little chance of entering. And it does so without making too high an investment.
Perhaps most remarkable is the choice of the Instinct as the origin of this new "drift", rather than any other model in its range. It should not be forgotten that this is a watch that was initially designed for mountain use, with barometric altimeter, GPS, etc. In other words, several things that, in principle, the target user for whom it is intended will not make much use of. 
In any case, it is possible that if Garmin gets some return from this new product (not only in terms of sales, but also in terms of brand awareness), 1TP10We may see the Esports profile on other models of the brand.
And in 2020... maybe Garmin pod would think of an edition for Zoom and work video calls. I'm sure more than one of them would be caught in a lie when asked a question and their heart rate and stress levels would go up.
COROS has released an update for the vast majority of its watches, introducing new sport profiles for water sports, as well as full integration with TrainingPeaks (which is the part that interests me the most).
So far COROS allowed us to upload our workouts automatically to TrainingPeaks as soon as we synchronized the watch. This does not change, where the novelty is that now there is synchronization in the opposite direction.
That is, podhen download the training plan you have created in TrainingPeaks (or the one your trainer leaves you) and then synchronize it with the watch. Once there, podhen perform the training in a guided way, indicating at all times target paces and interval durations.
As for water sports, they are as follows:
RowingIncludes data such as pace, distance, stroke length, stroke ratio, etc.
Indoor rowingFor indoor rowing. It is compatible with the Conecpt2 rowing machine via Bluetooth (although it is not essential to use this mode).
Calm watersMainly for SUP
Whitewater: For downhill activities such as kayaking, rafting, etc. With metrics for speed, distance, strokes, stroke ratio and more.
Windsurfwith data such as distance, speed, heart rate, etc.
SpeedsurfDirect synchronization with the platform GPS-Speedsurfing.com. The objective of this sport is to achieve the highest possible speed in the water. Metrics include cast detection, maximum speed, alpha speed, etc.
Not all watches will receive all the new features, but almost all will:
VERTIX CHOROS and APEX Pro CHOROS: to be upgraded with all of the above
APEX CHORUS and PACE 2 CHORUS: Will not have the whitewater, windsurf or speedsurf profiles.
Endomondo to close at the end of the year and MyFitnessPal sold to private equity firm
A couple of weeks ago Under Armour announced the intentions they had for some of the platforms they bought years ago. One day they found themselves with money in their pocket and decided to buy out:
Endomondo

MapMyFitness platform (MapMyRun, MapMyRide, MapMyWalk)

MyFitnessPal
They paid a lot of money for all of them, not that they bought cheap with the intention of investing. 
The result is that after all this time (and without them having done too much movement on them either) they have decided to close Endomondo and sell MyFitnessPal to a venture capital firm.
Mind you, they will keep the MapMyFitness platform, probably because it makes a lot of sense when it comes to poder selling running shoes and apparel to the platform's millions of users.
It is striking that Endomondo closes without any other end. Probably because as a platform it brought little profit, and finding a buyer who can monetize such a platform is not easy (just ask Strava).
Where can you listen to it? Well, on the usual platforms, you can choose your favorite:
Or from here, at the bottom of the page.
Do you have a specific podcast topic you'd like us to cover? Do you have a training or watch question you'd like to discuss? Enter the podcast page and you will find a form from which you can podrás send us a message with whatever you want.
Send us your comments, we appreciate all your criticism to improve and offer you what you are looking for. Leave us your comments on the platform you use to listen to us!and don't forget to send your rating!
If you rate us with 5 stars more 1TP10 people will be able to discover it, because the platforms will put it above in its corresponding section.
Thank you!