Garmin's new top of the range triathlon segment is now with us all. Garmin Forerunner 945 were the same ones we had with the Fenix 5 Plus family: maps, music and Garmin Pay.
However, FR945 arrived with a few surprises, as well as the Fenix 5 Plus family with a few more surprises.
This time Garmin has changed the approach. The Forerunner 945 is now not the lightweight version of the Fenix 5 Plus; it is the plastic version of the Garmin MARQ AthleteSo in addition to receiving the 5 Plus news we also have a new GNSS chipset, extended range, pulse oximetry, more detailed training load metrics, temperature and altitude acclimatization estimation, etc.
In short, the Garmin Forerunner 945 is the brand's most powerful model to date.
I've been testing the FR945 for more than a month in my running, cycling, swimming and other activities trainings. It's a unit bought by me in a shop, it's not a loaner watch of the brand. That means that I've actually paid the 750 euros that the FR945 is worth in the triathlon pack. And all this, mainly, to tell you how the new model behaves. I could recite the benefits of the features sheet to you as they do in other places, but then you wouldn't have the real information of its operation that only here you get.
If you like this analysis and find it useful in deciding to buy your next GPS watch, please use the links on this page (well, you can buy that GPS watch you want or anything else). You won't pay more than it's worth, but the seller returns a small percentage which helps cover the costs of hosting the site, buying the watches and, obviously, my job.
So, since I know the watch perfectly and have subjected it to all the tests that I have deemed appropriate, do you think that I should tell you everything you need to know in detail? Well, here we go.
Summary
Overall - 9
Training possibilities - 10
Platform and applications - 9
Battery life - 10
Finish and comfort - 8.5
Price/performance ratio - 7.5
---
The good
It has everything that Garmin has to offer. And when I say everything is EVERYTHING
Up to 36 hours of autonomy (without using music)
Sensor with pulse oximetry estimation
Acclimatization to temperature and elevation
Garmin Pay support
Includes map navigation
Play music directly from the clock, including syncing with Spotify
Automatic incident detection for any sport, or for manual activation at any time
The bad
Aesthetically there is hardly any difference from the previous model
The strap does not adopt the QuickFit system (although we could buy such a strap and use it)
High price. No one said having all the features of Garmin in one watch was cheap
Find the best offer
Garmin Forerunner 945
Garmin Forerunner 945 pack
What's New in the Garmin Forerunner 945
If we compare the new Garmin FR945 with the FR935 we can see that both are exactly the same, at least aesthetically, because except for small details of marks on the lens or the colour chosen for the model in the pack, there is nothing that differentiates them. It takes a very trained eye to know if you are in front of a 935 or a 945.
But that's on the outside. Inside the story is very different, here are all the changes to the Forerunner 945.
You want the fast version? FR945 is a Garmin MARQ Athlete As it is, all the novelties that arrived at the MARQ (a 1,500 euro watch) are in the FR945.
Do you prefer the detailed version? Of course I have it too. Here's the list with all the news.
Maps detailed color route navigation, which can be created directly from the clock
Music playback autonomously, including support for Spotify
Support for Wireless NFC payments with Garmin Pay (for banks and associated cards)
New GNSS chipset from Sony, joining the general trend of all manufacturers to offer extended rangeNow capable of up to 36 hours of battery life with GPS use (or up to 10 hours if using the music playback function)
New Garmin Elevate sensor with PulseOx for SpO2 estimation. FR945 offers the same blood oxygen saturation monitoring as the Fenix 5X PlusThis is in contrast to FR245, which, despite having the same sensor, does not make this measurement.
Performance Metrics including adjustments for altitude and heat (already seen in the Garmin Edge 530 and Edge 830) In addition, the training load is now more detailed, highlighting the focus of the training
Add ClimbProThe "Distance to Go" screen: Automatically displays the remaining slope and distance ahead on each significant hill on a route
Incident detectionIt sends a message to the chosen contacts in case of a sudden deceleration or any situation that the watch may assume to be a fall. It is conditional on carrying the phone with you as it will be the one to take care of the communication (the watch itself is not capable of doing this)
It's a performance above the Fenix 5 Plus and Fenix 5X Plus. There's nothing in the Fenix range that the FR945 doesn't have, and yet there are things in the Forerunner 945 that the Fenix 5 Plus doesn't have (and you won't see).
Not to prolong this unnecessarily, if you already know the Garmin family to a greater or lesser extent you will not find many things out of place in the FR945. The main news is related to the training metrics that I will detail later. And if you do not know all the details of what it offers you can always take a look at the basics that you will find in the Fenix 5 Plus.
Which is not to say that I don't give you all the details here, just that in Garmin's case it's starting to get a little repetitive, both for you and for me. And given the enormous amount of features available, we'd be here for hours.
So I prefer to focus on this test rather than on analyzing its novelties and tiptoeing around the (many) functions it has: map navigation, music playback, wireless payments... 
Garmin Forerunner 945, what you need to know
The Garmin 945 is the top model in the Forerunner range. It's primarily a watch designed and built for triathlon (preferably medium or long distance), but that doesn't mean it's not a good choice for those who just run, or just cycle, or just do a lot of sports.
Why? Because in addition to having sport profiles for swimming, cycling or running; there are a lot of different possibilities such as skiing, rowing, golf, etc. All of them with specific metrics for each sport or, in the case of golf, with thousands of courses stored in memory.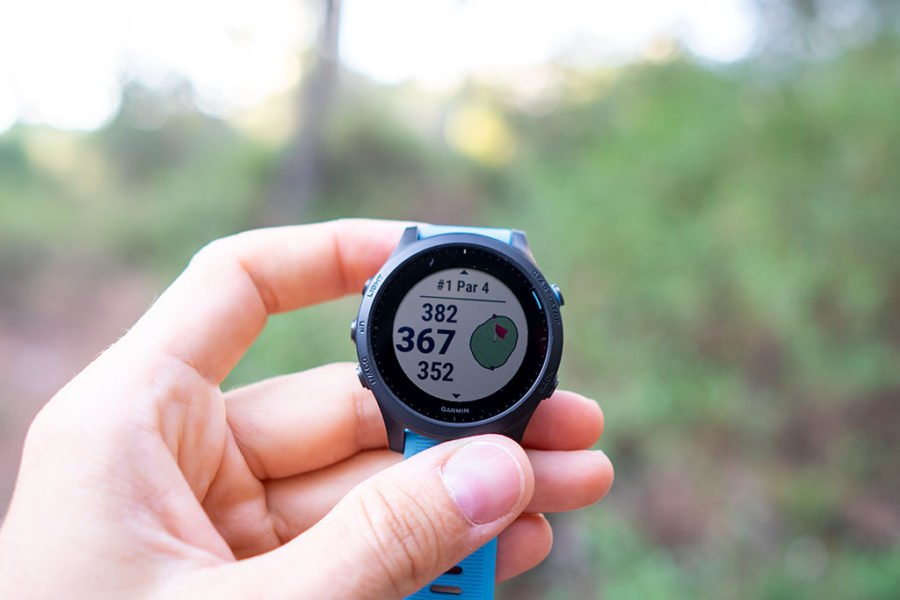 It is also a very good option for trail runners. Its autonomy is fabulous and it offers the same possibilities as the Fenix 5 Plus range. In fact, thanks to the new GNSS chipset by Sony the battery life is longer than in these, besides being a lighter watch.
Let's go over some of the most important details.
Garmin Elevate v3 sensor
---
Also new is the optical pulse sensor. The new Garmin Elevate v3 is the same as the one we first saw at the MARQ, and a renovation on the one that mounts the Garmin Fenix 5X PlusLike the latter, it also constantly monitors SpO2 (estimated blood oxygen saturation).
You can do this in the watch itself through a widget, where you will see the comparison of oxygen saturation with respect to the altitude. 
This function is primarily intended to monitor oxygen saturation when we are at altitude, and more specifically when we are ascending. In my case, as I am always at sea level, I do not get any benefit beyond checking that everything is correct in my body.
Of course we can view reports of pulse oximetry details in the application or on the web, as is usual with all Garmin activity functions.
It can be turned on or off as you like, and if it is turned on it will have a significant impact on battery life, so this is something to keep in mind if you are not planning excursions to high altitude areas.
Possibilities in sports
---
When it comes to sports, you can configure all the activities it offers in a completely individual way, each with its specific settings, both in terms of options and behaviour, as well as data screens.
By default the data screens can display up to four different metrics, although there are different options in the Connect IQ application store to have screens with more data. 
The Garmin Forerunner 945 allows you to connect to both ANT+ and Bluetooth sensors, and you can have different sensors of the same type stored (for example, several pulse sensors or several potentiometers if you have one on each bike), and the watch will connect to any of them in the vicinity.
Navigation
---
The mapping and navigation possibilities are exactly the same as you can find in the Fenix 5 Plus, so I won't go into too much detail (you can find out everything that it offers precisely in that test by clicking here).
It is a function that is becoming increasingly important in watches. Perhaps not so much in the 945 because it is more focused on triathlon than adventure, but it is no less important. In the end many long-distance triathletes prepare ultratrail events at another time of the season, so having maps on the watch will be of great help to them.
But remember that the FR945 (just like the Fenix 5 Plus) includes the maps of the geographical area in which it was sold. So if you buy the watch in Europe the maps you will have will be the European ones (along with basic maps of the whole world). And if you buy it in Asia, those will be the maps you will have. So be very careful where you buy the watch...
The maps are with Digital Elevation ModelThis means that in addition to looking like a traditional map it also contains topographic information, so there is complete altitude data for any point on it. This allows us to be able to calibrate the altimeter at any time at a known altitude.
You can explore the entire map by moving or zooming in to select the point you want to go to. As the maps are available, the clock will plot the route using the available roads to get to that point, rather than showing you the way in a straight line.
Speaking of creating routes, not only do you have the ability to go to a specific point on the map or navigate a downloaded route; you can also create different routes from the clock itself to a saved location, nearby points of interest (a gas station to get water, a hostel to stay overnight, etc) or a circular route.
This last option is fantastic, especially if you are in some unknown place. You can enter the distance you want to travel and direction and it will give you three different options.
To do this you don't need a phone, an Internet connection or any previous planning, everything is done directly on the clock.
Finally, remember that the Forerunner 945 includes the option to ClimbProIt separates the route into small individual fragments, each of which is one of the climbs present on the route. When we reach one of them, a specific screen will appear with information on what we have ahead of us, allowing us to manage our effort: remaining distance, metres still to be climbed, average gradient and route profile.
It is a possibility that is only shown when you have a navigation route activated because, logically, the clock would not be able to know where we are going in any other way. It is not something exclusive to route navigation by running or walking, you can also use it in cycling.
Smart options
---
As for "smarter" options, the Garmin FR945 allows you to display notifications from your cell phone in exactly the same way as the other Garmin models.
There's one new feature, though, and that's that there's now a new privacy mode that will only show the notification when you turn your wrist or press a button, instead of appearing on screen in front of dozens of prying eyes. This option is disabled by default, but you can select it directly from the menu.
Another important new feature is the ability to play music directly from the clock. Forerunner 645 Music to the market a year and a half ago, is a function that we have seen in different models of the range regardless of their price.
The addition of Forerunner 945 was to be expected, offering 16GB of total storage of which half can be used to store audio files, with the rest of the memory being for the clock's own operating system as well as the installed maps.
Garmin allows us to synchronize music files directly from our computer or through music platforms. Logically, the second option is much more convenient and better adapted to the year 2019, in which practically nobody keeps audio files stored on their computer anymore (and that's for those who haven't already discarded the use of a computer at home...).
And while we are listening to music we will have messages that we will receive while we are training, like the summary of return or the rhythm by return.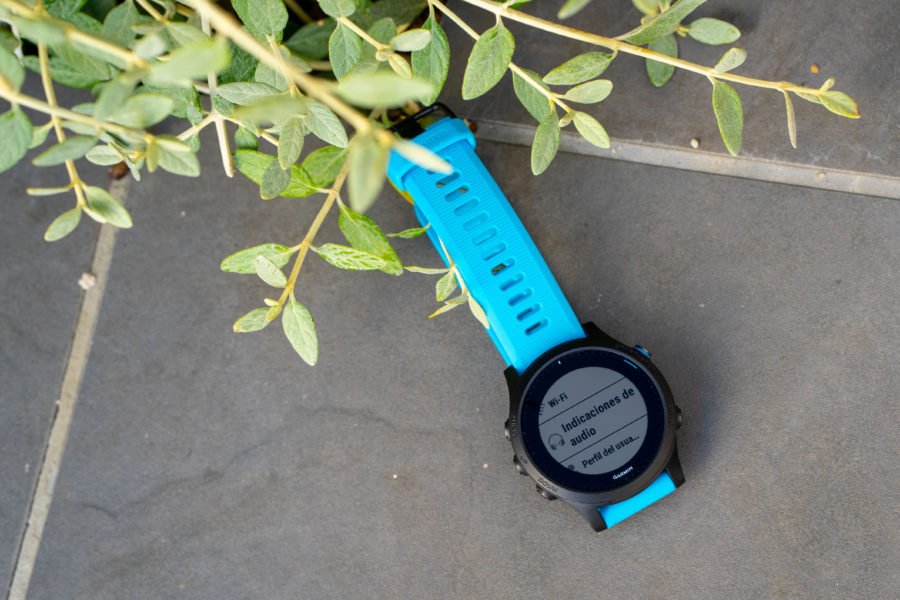 In short, nothing that we had not already seen in previous models, so if you want to have more details you can the specific section in any of the previous tests, like the Forerunner 245 for example.
Wireless Payments with Garmin Pay
---
Garmin Pay is another feature that has been gradually introduced on all Garmin models, and like music, it also came to Garmin for the first time with the Forerunner 645. 
Although market entry is somewhat slower than the possibilities for music playback since this does not depend exclusively on Garmin, it has to be the banks that individually offer compatibility with this wireless payment system.
Currently the list of supported banks in Spain is quite limited, only Santander or OpenBank cards are supported, along with VISA cards from La Caixa. No other bank has shown interest in offering support for Garmin Pay. While we have the possibility of contracting a prepaid card through boonso you won't have to change banks.
Just like your phone's wireless payment, you can pay for your purchases by simply moving your watch closer to the payment terminal.
It may seem silly when you usually have your credit card, cell phone, money on you... but now think of a workout you've completed while running or cycling and you feel like eating or drinking something because you've dried up... that's where Garmin Pay can make all the sense.
You can pay with your watch anywhere that accepts wireless payments. You don't need to sign up for Garmin Pay, so once you have a compatible card you can pay at thousands of locations.
Adding the card is very simple, simply from the Garmin Connect application on your mobile and by capturing the card data with the camera you will have it registered on the clock.
After including the card in the clock, when you want to make a payment you simply have to access the quick access menu by holding down the upper left button and look for the purse option. 
By default it is added to this menu, but remember that in the clock settings you can change which options you want to appear in this quick menu.
For security reasons, you must enter the security PIN you have selected when you save your card.
It will not ask you again within 24 hours, unless you remove your watch from your wrist (to avoid being charged to your card in case of loss).
Once you have entered the PIN you can select the card you will use to make the payment.
You bring the clock to the dataphone to make the payment and that's it. The clock will vibrate confirming that the payment has been made and you can go on with your life. 
Is it absolutely necessary to have this function on a watch to practice sport? Not at all. Is it extremely comfortable? Without a doubt. 
If your bank supports Garmin Pay, don't hesitate to set it up and make use of it.
Once we've gone over the most important details of the Garmin Forerunner 945 it's time to get your hands on the main course, the advanced training metrics.
Advanced Training Metrics
Garmin's goal with Forerunner 945 is to offer an advanced watch that's as advanced as possible, and to that end the watch provides a multitude of metrics that you can analyze later to help with your training.
Although its main market is triathlon (especially medium and long distance), that doesn't mean that if you're not a triathlete it's not a model for you. It's true that it's its main focus, but it covers a huge amount of very different sports; from rowing to trail to skiing, and all of them with specific metrics.
And to be that advanced watch that Garmin wanted to achieve, they've incorporated into the Forerunner 945 the latest Firstbeat They are spread across different parts of the clock (and of course the application reports), but all the data starts in the same place: your training.
When we save the training we have screens that were not present before, starting with a detail of the route we have traveled.
By pressing the main button, the start-stop button, we will rotate through the most important metrics of our training: Training Effect, VO2Max, recovery time and training status.
That's the main information shown above. Of course we can access the usual basic information on laps, training data, etc.
This is where the path in the new training metrics present in the Forerunner 945 begins, and that is Training Effect (the effect of our training) now provides much more detailed information, separating and identifying the type of training we have done to classify it into three types of physiological effect for our body: base, aerobic and anaerobic. Each will be colour coded, with blue for base training, orange for aerobic and anaerobic purple.
Each of them has a very different effect on our muscle fibers and, depending on what we are training for, our training will focus more on a more specific aspect of one of them. That is why it is important to differentiate our work and to know how training is affecting our fitness.
Just because the watch identifies an Activity with a particular Training Effect it does not mean that it only counts as such. For example in the previous Activity the watch has identified that the main improvement obtained has been Tempo. However it is a training where I have included changes in pace (as a series) in the climb so I have had some anaerobic training. 
Below the workout summary it clearly indicates this, giving a value of 3.4 for aerobic and 2.5 for anaerobic (both on a scale of 5). Why is it not an anaerobic type workout if I have done series? Because in addition to series, I have also rolled at a lower pace in warm-up, cool-down, etc. Therefore that workout will add up to figures for base, aerobic and anaerobic workouts (see below for what it is used for).
That screen shows more information, such as that I have accumulated a load of 161 with this training.
If we scroll down here we get more information on how this training has benefited us.
This information is the basis with which, as we carry out our trainings, the Training State is built. We already knew this screen from previous models, however it also incorporates small novelties, since now this algorithm can also take into account the acclimatization to temperature and altitude. 
At the bottom of the screen there are small icons to indicate if you are in an acclimatization period. Consider them as unlocked achievements. In this image for example, I have managed to unlock the heat acclimatization achievement.
Heat acclimatization occurs for cycling or running training above 22°C. Garmin assumes that acclimatization occurs with a minimum of 4 days training at that temperature, while we will lose acclimatization if we stop training in high temperatures for 3 or more days.
Therefore to obtain acclimatization data we need to record temperature data. These are taken from the same data source as for the time widget, i.e. the connection to your mobile phone.
And here is an important factor, you should synchronize the clock with your mobile before starting the activity and make sure that the time widget is showing correct and updated data. This synchronization can be done, at most, up to 3 hours before you perform your workout. 
In the example of the previous image and without doing any later synchronization, if I train from 14 to 15 it will take into account the training to show the acclimatization since I will be training at 27ºC. If I train at 18 and I don't do a new manual synchronization from the application, the forecast will not be updated so it will not apply any acclimatization factor since I don't have information of the temperature. I know I will be hot, but the clock will not.
The fact that I have to make sure that the data is updated is a failure on the part of Garmin, because it should be a totally transparent process for the user and force this update automatically every 3 hours, since the clock is always connected to the phone.
As for acclimatization for altitude it is a similar procedure, but in this case it takes into account the values recorded by the barometric altimeter. Acclimatization begins in training above 850m, reaching up to 4,000m. Adaptation to altitude will occur after 21 days, and will be lost after 21-28 days.
I have not managed to see any message of acclimatization to altitude, of course living at sea level I do not have it as easy as with the heat. I have done parts of workouts above 850 meters (some cycling workouts where I have climbed above 850 meters), but I have not been "living" at that altitude, so I have not had time (or need) to adapt.
And what is this acclimatization data for? Well, it allows you to adjust the VO2Max values taking into account environmental factors. Less oxygen or higher temperature makes the body work harder, so now the metrics will take these values into account and adjust the VO2Max and all related metrics.
If we press the main button in the Training Status screen we will access all the information regarding our training, where we will find more information that was not present before, starting with the graph of the 7-day training load.
This is where I can see the breakdown of how my last few days of training have been, along with the colour coding I indicated to you earlier.
Each bar has a different length, and its height corresponds to the training load on that particular day. If you ever bend over and do exercises of different intensity, it will also be reflected on the bar as you will be stacking exercises to add up the total load.
For example, on Sunday of that week I did a one-hour walk (classified as base and with little load), and later I swam in open water. The training load of both workouts is added up, differentiating how much has corresponded to the base training and how much to the aerobic.
It also shows on screen the training load accumulated during those 7 days (612), and confirms me that I am in the optimal range (446-988). According to that information and as I haven't done my session yet on Thursday, it is telling me that I could do a pretty strong training without risk of overtraining (up to a load of 376). 
This can also be seen in a Garmin Connect report, similar to what Polar does with its Training Load feature.
That is, I've been in the optimum range almost all the time... except today, I better get my act together because it seems I've been slacking off too much (yesterday was a break).
Going back to the clock, if we press down again we will find more data of training loadbut this time for the last 4 weeksThe analysis of data from our training is completed.
What stands out here is how we have focused our training over the last month, differentiating between the three values indicated in Training Effect and establishing what the optimum value would be.
Referring to this data, the algorithm recommends me to increase a little the anaerobic work, although I am near the optimal point, and to reduce the aerobic.
Do you remember, going back to the beginning of this section, that although my series training with the bike had been categorized as aerobic, I had also achieved a score of 2.5 in anaerobic? All that is adding up for the 4 week load, adding to the graphs the corresponding parts of each training to give us an overall view.
In other words, that workout has not only given me aerobic load, but even though it wasn't listed as an anaerobic workout, it has also given me that load to do the total follow-up.
If we press the main button the watch will give us information about the load along with possible tips. As I have been doing a balanced workout it tells me that if I keep this up I will manage to improve the lactate threshold, VO2Max values and resistance.
If I have not focused on training in this way, he would give me advice on how to improve it, indicating whether I should introduce gentler workouts or work on intensity more.
You can also find all this data in Garmin Connect.
The information is the same, but is buried in dozens of other options, reports and menus. Looking at the data on the clock is much easier and faster for me.
As for the metrics themselves, I've found myself using them a lot more these last few days than I have in the past, and they've been especially useful in planning the intensity of my training or shaping the weekly schedule that my coach sends me.
Because in spite of doing a guided training, when I have a "50 minutes hard run" I am the one who has the last word about the intensity at which I am going to do it. And based on the data that the watch is storing I can decide with a good perspective if I'm going to do that run at Z4 as initially planned or better go down to Z2-Z3 to recover from past workouts.
Optical heart rate sensor
One of the new features of the Garmin Forerunner 945 is the optical heart rate monitor, version 3 of the Garmin Elevate, which also offers the oxygen saturation estimation that I indicated to you further back.
Aesthetically it is different from the previous one precisely because of this detail, since it needs a third red LED to perform these measurements. By adding one more LED, it changes the arrangement of them on the sensor area.
But since I've talked about it before, I'll focus now on the operation of the wrist heart rate monitor when you're playing sports, which is the part of the sensor that worries you the most.
As a reminder, keep in mind that an optical pulse meter will not work the same for everyone. Tattoos, body hair, skin tone... all of these can create a big difference between people.
These tests are performed with a "broad" spectrum of users: one, which is me. What works for me may not work the same way for someone else, or may work better.
The most important thing to keep in mind is that you have to wear the sensor correctly, tightly (but not like a tourniquet) and leaving a separation of approximately one finger from the wrist bone. If you make sure you follow these details you can be sure you will get the best possible results for your skin color conditions, etc.
I'll start the comparison with an easy-paced workout. It couldn't be simpler.
For this training he wore FR945 itself on one wrist, while on the other one was the Garmin Forerunner 245He also wore a chest pulse sensor, the Polar H10, paired with the Polar Vantage M.
What can we see in this graph? All three are practically the same. There is only a small difference in the FR245's, around the 26 minute mark, which I am sure occurred when I adjusted the watch strap. It is at this same point that I slightly change the intensity of the workout, when I reach a steep climb.
Let me zoom in on that area. Leaving the point error aside, I want to focus on the ups and downs of the graph. We can see that even though the optical pulsometer reaches the correct pulse values, there is a slight delay compared to the chest sensor.
It's something that happens when I start to increase the intensity like when I'm recovering and it doesn't vary much from what I've been used to seeing in the past on other similar sensors.
Then I go to a slightly more complicated training, where I mix segments at more intense rhythms with other areas of up and down slopes, that is, quite a lot of variation in intensity because of the terrain.
Which models do we have in the comparison? Well, besides the FR945 itself, I have a Suunto 5 on the other wrist, and as a data validator again the Polar H10 sensor paired with the Polar Vantage M.
Noting the strange start of Suunto 5 during the first few seconds, we see that the situation is very similar, although you can see a better overall performance from the Garmin's optical sensor than from Suunto, which is more likely to delay changes in intensity.
Until the 6th minute I do a short warm up, where everything is more or less the same in the three graphs. At that point I start a segment of about 10 minutes at a rate of 4:10-4:15min/km, which is this part you can see enlarged below.

Forerunner 945's graphics are almost perfect; slightly better than the Suunto's which, while not bad, stands out more than the chest sensor we assume provides the most accurate data.
At 16:30 I stop to cross a street and that's where I start the up and down zones, alternating the changes in intensity. 
The behaviour continues to be repeated. Very good from the FR945 that practically nails the changes in intensity to the second, while a couple of seconds delay can be seen in the Suunto 5 graph.
Being a triathlon watch it is also important to talk about the data recorded when riding a bike. Historically all the optical sensors integrated in the watches have provided regular, if not directly bad data. 
It is something that happens specifically with sensors located on the wrist, it is not a problem with optical sensors in general. In fact with sensors such as the Polar OH1wearing it higher on the arm, the record is very good. 
It is not a problem of sensor design, it is simply something related to location and the greater or lesser ease of recording heart rate intensity. 
So I didn't expect the FR945 to improve and show perfectly valid data when training with the bike even though there is a new sensor, but I ended up a bit surprised (though not with the 945).
This doesn't mean that the performance is as good as during the race, but I know that there has been an improvement. It won't make you forget the breast sensor forever, but an improvement is an improvement and when it happens I have to highlight it.
Here's a workout that I liked very much because it clearly summarizes the status of the optical pulse sensors today, and also helps me to show you how the sensor responds to changes in intensity typical of training series.
This time, in addition to the Forerunner 945 and Suunto 5, I was using a Garmin HRM-Tri chest sensor, paired with a Garmin Edge 1030. This is a two-part workout. After an initial warm-up (and a road part that I like to finish as soon as possible) I had to do a 4×5 minute, with a 1 minute break between sets. After the intervals, a very smooth lap. 
I'm going to zoom in on the different areas, although I think it's pretty clear which one by taking a quick look at the image above.
This is the first part, heading to the small port where I will do the intervals. 
In general, all three sensors have needed an initial warm-up until they start recording correct values. This is common for everyone, so the first few minutes are always going to be erratic. Perhaps in this case Suunto 5 has taken the longest time to come into action, because it doesn't join the other two sensors until I start pedaling hard to try and save the busy part of the road.
As we have seen so far, FR945 reacts to changes relatively quickly. Not as fast as the chest sensor, but it behaves better than Suunto 5.
Let's move on to the interval part, including the last stretch of the climb which, although not at the same intensity, does have a good volume of work.
Very good result by the FR945 in tracking the intervals. It practically traces the graph of the Garmin HRM-Tri sensor. Again Suunto 5 shows a bit slower reactions, along with some erratic behavior sporadically.
In the first of the breaks, however, it is the HRM-Tri that fails as it has a sudden drop in pulses, while both optical pulse sensors record data in a very similar way.
So far we have a good score for the FR945, recording well the changes in intensity typical of a training series, with the difficulty of being also during cycling. 
But when we don't have the same intensity, the result is different, there is not the same precision.
That's the second part of the training. Until minute 53:30 or so I'm just standing there filling up the water cans, and that's where I start the descent. What until now was a nice graph in which all the sensors were practically parallel, is now a mess of different colors.
But let's remove the graph from Suunto 5, which is really bothering more than helping, and see clearly what Forerunner 945 has recorded.
It certainly improves visibility, and now it doesn't look so bad. In many points both graphs are parallel (especially when the intensity is above 110-120 beats per minute). When there are areas where I circle more quietly there are many more errors. 
But I have to say that the result, compared to what I was used to seeing a few years ago, is quite satisfactory.
Which is not to say that it is enough to use on the bike, it isn't. And even more so if we cycle on a regular basis (as the 90% of 945 buyers will do). It's good to see that things are getting better, but as I said before you should continue to maintain your friendship with the chest pulse sensor.
Finally, I would like to add a novelty that Garmin has launched, for the time being, in betaWith firmware version 2.64 Garmin allows you to activate the optical pulse sensor during swimming, something that both Polar and Suunto allow but that at the moment Garmin did not contemplate in any of its models.
More than other manufacturers, Garmin is forced to perform this movement by its own pressure. With the new training load algorithms, heart rate data is paramount, without it no load is accumulated at all.
So even if you do three days of swimming at 4000 meters each day, it will not accumulate any charge at all as it does not include pulse data. Activating the sensor underwater will do so, although the result will be variable.
That doesn't mean that the watch is not compatible with HRM-Tri or HRM-SwimOf course it still maintains compatibility and in fact both sensors are part of the triathlon pack, it simply adds another possibility to going to the pool with the sensor, something that many are reluctant to do. 
What is the result of the underwater sensor? It is even more complicated than cycling, and much more so than running. Keep in mind that with each stroke the watch will move due to the opposing force of the water. Furthermore, even if we press it hard, nothing can prevent the water from passing between the watch and the wrist making it difficult to read.
I've done a few swimming tests both in the pool and in open water, and these are the results.
I'll start with a pool training. It's a short workout and I was mainly testing the sensor's benefits under water, so I just warmed up at normal rates until the 7th minute, followed by a couple of long hard intervals, ending with a cool down period.
For the test I wore the FR945 on one wrist, together with the FR935 on the other being paired with the HRM-Swim sensor.

The results are bad in general. There is quite a difference in the data measured by the two sensors, and above all the slowness of the optical sensor's reaction to changes in intensity is very marked.
During swimming at a constant pace? Well, as data to analyze, it's not useful for me either, but if the purpose is to identify the intensity of the exercise and then add it to the training status... well, it's something else. This way, this training will count towards the overall activity. And if it's the way to avoid the embarrassment of taking the pulse sensor to the pool and not looking like an idiot, then I'll take it for granted.
This wasn't the only swimming training I've done, I've also tried open water swimming.
To tell you the truth, I don't like this workout in either way. The optical sensor's record is too high. In swimming the heart rate rises as much as during the race, mainly due to the horizontality of the exercise, so I know quickly that the data it has recorded is not correct.
Going back to past swimming activities, in my last two Ironman 70.3 I averaged heart rate values between 135 and 143 beats per minute, with maximums of 149 and 151 respectively. And that's a competitive effort, so the probability that during a training session I'll be usually above those 150 beats is very remote, if not nil.
However, I don't like the HRM-Swim sensor graphic either, it doesn't give me confidence. There are many very flat areas, very little variability. The optical sensor graphic in that sense is much more detailed.
But, well, I remember that this is just a beta version and it hasn't reached the production version yet. It remains to be seen how and when it will officially arrive, and what improvements Garmin may include over time. Not that the competition is much better off in this regard, both Polar and Suunto are facing similar issues.
What's the bottom line after all this? I think there's some improvement in the new FR945's optical pulse sensor. These aren't amazing changes, but I don't think as the technology stands today there can be much greater differences either.
My opinion about the optical sensor remains the same as before. For me, it is perfectly valid for racing training where there are not too many sudden changes in intensity (i.e. anything other than interval or series training). However, for cycling I always use the chest sensor, even if the improvement is promising in this field.
GPS operation
Garmin has adopted the new Sony chipset for all its new models; from the MARQpassing through the Edge 530 or Edge 830 review and, of course, in Garmin FR945.
This GNSS chipset is the same one that both Polar and Suunto have also incorporated into their new models, with Garmin being the latest to arrive at the party. Why have all the manufacturers switched to Sony? Battery life.
Sony has managed to design a GNSS chip with much lower power consumption than we have had so far, allowing manufacturers to offer much longer battery life figures without having to increase the battery size or compromise overall clock performance by lowering the processor frequency.
But this change does not come without bringing other problems into the equation. All manufacturers are trying to tame the Sony chipset and find a balance between power consumption and location accuracy.
In fact Garmin has also had its share of problems, especially with open water swimming, but also with Galileo (beyond the service drop of these last few days).
Just like the optical sensor tests you saw earlier, the GPS comparisons are done in the same way: with the watches accompanying me in my usual training. I wear both the FR945 and other models, and check where the problems appear. I don't have any defined route where I set a score for the simple reason that there are other external factors that we should never forget.
Things like clouds, leaves on trees or simply the satellite position can alter the GPS results from one day to the next, which is why I prefer to do this type of comparison instead of having a predefined path and assess it from there.
I will start with the most serious problem with the Forerunne 945 today: open water swimming. As of today, there is a "bug"This is a firmware bug that Garmin has not yet managed to fix and that is not exclusive to the FR945. Obviously the MARQ Athlete also suffers from it, internally they are still the same watch.
It is not a fault that always happens in every training, but it is quite repetitive. And annoying. I prepare for my open water training, wait for the GPS signal in all the watches, and even some minutes more to ensure good satellite coverage, and start the activity when I am still out of the water to avoid any kind of mistake.
The problem is that the watch suddenly stops recording satellite data. The activity continues, the timer does not stop, but it stops counting meters. The fault appears sporadically and without any common denominator. 
Here's an example. As soon as you get out, after having covered only 30 meters, it's over. However, time continues to pass and the clock keeps counting strokes, but there is no GPS data, distance or rhythm.
Obviously this is an extremely annoying problem, not only because it does not work properly, but also because we are at the top of Garmin's range for multisports - a 600-euro triathlon watch that is not capable of registering all three segments of a triathlon correctly.
Imagine you've just started an Ironman where you're looking for a better record, and after 50 meters you run out of swimming data... Disastrous, it's something Garmin must give top priority to.
As I say, it doesn't always happen. When the clock doesn't stop abruptly, the track is reasonably good, within the difficulties of swimming in open water.
Here you can see a comparison between Forerunner 945 and Suunto 5, each on a wrist, and the Polar Vantage M went under the cap to make sure it was always above water and didn't lose signal, to try to get perfect route data.
Clearly that wasn't the case, it seems that the race mode (which is the one I used on the Polar) didn't like the low speed we've been swimming and it has a totally erratic track, worse than the watches I was swimming with.
I'll widen the area of the gyre for you.
And for gaining clarity, by eliminating the track of the Polar.
You can see that the line of the 945 is quite good, improving somewhat the record of the Suunto which is a bit more erratic (still the Suunto have improved a lot in open water, a few months ago it was totally discouraging).
In this case the watch does the complete swimming training, the graph ends where I stop it. Both the Polar and the Suunto I stop them later, when I go out to the beach, that is, after the critical point of the first meters it seems that there are no more problems with swimming.
But let's go back to the mainland and run, which is probably what you will do most with the FR945. I start with a very simple training to analyze, practically a straight line in one direction. Perfect visibility of the sky because the whole route is parallel to a highway. And no clouds in the sky.
In other words, conditions in which I expect a perfect record of all the watches I wore.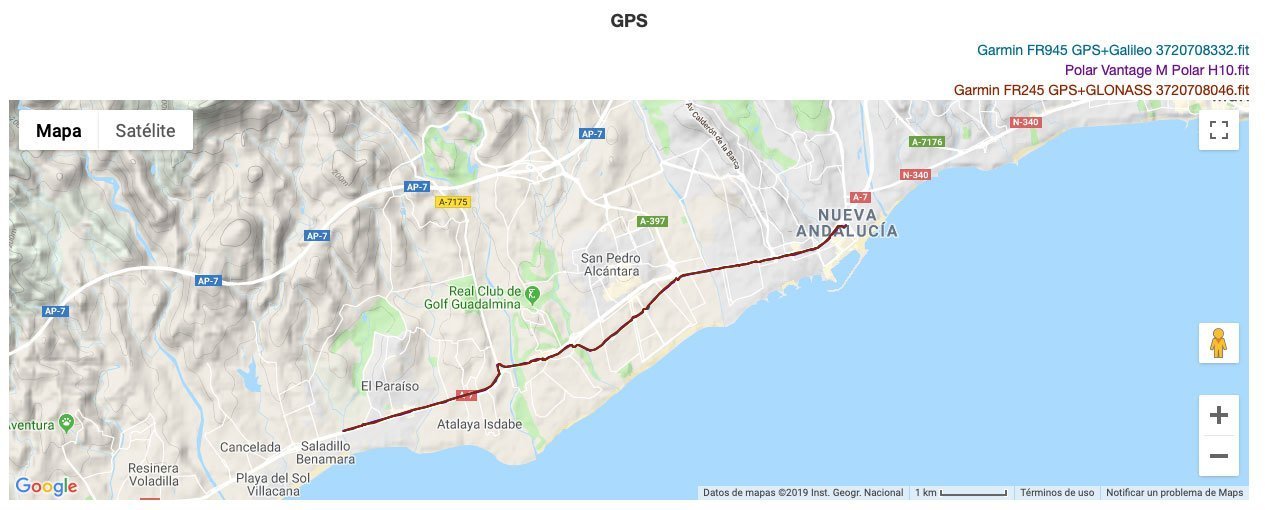 In this training I was wearing the FR945 with GPS+Galileo configuration, the FR245 with GPS+GLONASS and the Polar Vantage M.
It is an interesting test because FR245 and FR945 share their GNSS chipset. Obviously the antenna design is different so I don't expect the behaviour to be identical, but similar. 
Why do I say it's interesting? Because Garmin has acknowledged that they have not yet worked out the GPS+Galileo configuration too much, in fact they recommend using GPS or GPS+GLONASS for the time being.
But they're not the only ones who have to polish up the behaviour of the new chipset. Polar also has a task ahead of them, because since the launch of the Vantage I've seen a regular behaviour with them. The track is about 8-10 metres away from the original route, and it's consistent with that error.
Instead of swerving briefly and returning to the right place, it stays in the fault. It is also a straight line so there is no impact on the instantaneous pace or total distance, but the track usually appears wrong.
I've marked the areas in yellow.
In the meantime, both Garmins behave correctly. Not perfect, because sometimes they deviate 30-50cm from the right place, but quite precise at all times.
A little further down the line it's the Forerunner 945 that makes very strange movements, probably due to its GPS+Galileo configuration. A few days ago Garmin released a beta version to try to improve operation in that configuration mode for all devices.
The rest of the training was quite correct, even in spite of the configuration I had on the FR945.
Here's another example of a circular route.
In this case I replace the Vantage M with Suunto 5 (and so I also take advantage of obtaining data from it for its next test), which is configured with GPS+Galileo. Seen at first sight and from a distance it seems that all three behave perfectly.
But I always like to zoom in and, above all, look at the sharpest turns to try to find erroneous patterns of behaviour by the algorithms. 
In the image above you can see that I am running under an area of trees, making two 90º turns with little distance between them. The result is that all three behave almost perfectly.
Yeah, there's some separation in the tracks, but we're talking about a few inches.
We have another tricky turn ahead of us. Very good results from both FR245 and FR945, while Suunto 5 is well intentioned but records the turns with some delay.
As I say, it's a precise moment, but it's not the usual one. Here's another area with numerous turns where all three clocks mark almost exactly the same track.
How would you like to compare it to the Forerunner 935 to see if it improves or worsens its predecessor? Ask and you will be rewarded.
Here I replace the Vantage M with the FR935 which, after a couple of years on the market, has reached a very good maturity in terms of GPS records. I consider that today it is a watch that has a fairly reliable GPS (which is not perfect).
To compare the turning area we've seen before, I zoom in on the same spot.
Well, here's the FR935 that behaves the worst all the way around, making more wrong turns than the other two and going off course constantly.
Another curiosity. In this workout I did stair repetitions. Breaks, short runs, very variable movement speeds... all hell for the algorithms, which are designed to make records at higher speeds, without so much turning and at constant rhythms. 
Well, none of the three of us have any problems, though.
A little bit of forest? Of course, I've looked for those situations too.
But before we get to the forest, we're going to cross a tunnel about 25 meters long and see how it behaves.
In the turn facing the tunnel Suunto 5 arrives already somewhat forced because it cuts the turn, while both Garmin and Polar have no major problem. None of the three has a strange behavior when passing underneath and the deviation is minimal even losing the coverage (that's pure algorithm work), recovering signal quickly when leaving the complicated area and having no problem in the subsequent turns.
But let's go to the woods, which is what I was looking for in this training.
I remind you that blue is the colour corresponding to FR945, red to Vantage M and purple to Suunto 5.
At the entrance to the difficult zone Suunto 5 is more in line with reality, following the route of the road, but further on it is the one that deviates while both Garmin and Polar are more in line with the correct path. Even so, in these difficult conditions, all three have proved to be quite reliable.
And what about cycling? Well, as usual there are no problems of any kind.
Even in the slowest areas it behaves perfectly.
In short, Garmin still has work to do on two fundamental issues: firstly, the problem of swimming in open water, which should not be overlooked at any time because it is a triathlon watch, but they must also work on the reception of Galileo satellites.
Otherwise I have found good results in all the tests I have done, which does not mean it is perfect. No watch will be.
But when there are errors, they've been prompt and resolved quickly (not like Polar, which persists in error), nor is it prone to constant spin trimming. If Garmin corrects the above points, they'll have a fairly reliable device on the Forerunner 945 (and 245 and future models with this chipset) with hardly any penalty for range.
- Update September 2019
Garmin has released the 2.50 update for the sensors, which improve the performance of GNSS for open water swimming. I personally have had no problems in the last days of summer.
Buy Garmin Forerunner 945
I hope that this complete analysis has helped you to decide if it is a valid device for you or not. All the work I do you can consult it without any cost, but if you want to support the web and with it the work I do, the best way to do it is to buy your new device through the links I provide below. And if you don't buy it today, remember to stop by when you are going to do it!
Through these links not only will you get a very competitive price and the best customer service, but I will also receive a small percentage without costing you any additional outlay, which is what allows me to continue offering you proofs like this on the page.
Find the best offer
Garmin Forerunner 945
Garmin Forerunner 945 pack
You are not going to buy it, you already have it or Amazon is not an option; but you like the reviews I perform and you want to show your support for the site? Then consider signing up for a VIP membership. Above all you will be helping to support the site, but you will also enjoy unique benefits.
If you have any questions, remember that you have the comments section at the bottom, where I will try to answer all your questions.
Opinion Garmin Forerunner 945
And coming to the end... What's my opinion of the Garmin 945? Well, it might be enough if I tell you that it's become my default watch when I'm not trying anything else. Previously the FR935 was my main watch, so it makes sense that now it's the Forerunner 945 that will take its place.
Obviously my case is special and won't apply to most users as my refresh cycle is much higher. If you have a Forerunner 935 you may not find enough reasons to change a watch that cost you a bundle not long ago. The truth is that an FR945 won't make you a faster triathlete. It won't improve your swimming technique, give you an extra 10W on the bike or make you increase your pace at your lactate threshold on the run.
It's no less true that the base price of the watch has also increased by 100 Euros compared to the model it replaces. This was something we could have expected, as it is exactly the same movement that Garmin made with the arrival of the Fenix 5 Plus on the market. But the market has shown that this is not an impediment and the public is willing to pay these prices. I remember that my first Garmin was an FR410 (after a few Polar) for which I paid about 130 Euros many years ago... The price escalation is notorious (its performance as well), but it is clear that the public pays for it.
So the watch costs too much? It's not cheap, but we can also look at it another way: the only model on the market that is up to its standard in terms of performance is the 1500-euro Garmin Marq Athlete. Seen like this it may look like a bargain...
You don't need me to know what an expensive watch is, you already knew that before you started reading the first line of this analysis. What you would like to know is if that price is reflected in what one expects when spending that amount of money. 
You don't have to hide your flaws, you have them. "bug" GPS in open water swimming is an unforgivable failure, not in a watch of this price but in any watch that boasts of being multisport. The synchronization of time data, so vital to the metrics it boasts of, should also be improved to be absolutely transparent.
- It seems that the open-water GPS failure has been corrected -
But let's not forget how good it is, which is a lot, a lot. After all this time I find that this time I'm really paying attention to the training load metrics indicated by the clock. Despite following a plan prepared by a trainer, I use those metrics to plan the intensity at which I'm going to do each session.
That's because it's very easy to understand, it's correctly detailed on the clock and I don't need to do a 10-minute pre-analysis in front of the computer to decide whether I should press more or less on the next start.
It's the main new feature, but let's not forget the other features I enjoy now that I didn't have in the 935. Music playback for long runs, Garmin Pay to know that I can go out and train comfortably without a wallet, Climb Pro to manage my efforts, faster to do anything with the watch (like creating a route to a certain point). And all of this makes my experience of use very positive, which in the end is what it's all about.
And with that... thanks for reading!