It is finally official. Today is the presentation of the Garmin Forerunner 945 LTEGarmin's first watch with mobile connectivity intended for worldwide distribution (first came the Vivoactive 3 LTEbut in a very limited way). As its name suggests, it has mobile connectivity through 4G networks, i.e., we do not need to carry a phone with us to use some of its functions -which we will see later-. But there are sure to be several surprises.
The first is the name. It is strange that on the same day that Garmin introduces its new 55-series model (the Garmin Forerunner 55), Garmin is launching yet another model in the 45 series to cover the higher end of the range.
The second surprise is the name. Aesthetically the FR945 LTE is very similar to the FR945... but they are two different models.
More surprises? Yes, its size. LTE is smaller than the regular Forerunner 945. The overall size of the watch is reduced by making the bezel smaller, going from the 47mm of the 945 to 44.4mm of the 945 LTE. But the display remains the same size. To put it in perspective, the Forerunner 745 measures 43.8mm.
Well, let's go with all the full features of the new model. I leave you below analysis of all the details. Do you prefer it in video? Then click here to go to YouTube or press play below.
Garmin Forerunner 945 LTE, features
What I will do is detail what the main features of the new Forerunner 945 LTE are, specifically pointing out the new features and functions specific to LTE connectivity.
Smaller size, it goes to 44.4mm in diameter (47mm has the Forerunner 945)
Same 1.2″ screen with 240×240 pixels
Weighing 49 grams, it is practically the same as the FR945.
Same autonomy: up to 35 hours without music, 12 hours with music and 7 hours with music and LiveTrack via LTE. Up to 2 weeks as a smartwatch
New Garmin Elevate v4 optical pulse sensor, the same one that debuted in the Garmin Venu 2 a few weeks ago
LTE connectivity for tracking and messaging functions (requires subscription through Garmin, no need to change carrier)
Incident alert with fall detection or manual activation, to send a message to your emergency contacts
Assistance Plus function, sending an emergency request to an emergency rescue coordination center (not available in all countries)
LiveTrack independently, even without the cell phone on your handset
Messages from viewers. You will be able to receive text and audio messages (only if you have a headset) from family and friends.
Automatic notifications to family and friends during events, similar to what some races offer with their tracking apps
Automatic intervals (information is still a bit scarce)
Support for Connect IQ 4.0
In short, the new features of the Forerunner 945 LTE all revolve around mobile connectivity. I'll talk about this connectivity below, but I'll tell you in advance that you'll obviously have to sign up for a subscription, but it has nothing to do with your current plan.
What remains the same as the current Garmin Forerunner 945? The following
Music playback and synchronization with platforms such as Spotify, Amazon Music, etc.
Wireless Payments with Garmin Pay
Route navigation with maps
ClimbPro 2.0, for both ascents and descents and with pre-alerts
Daily training recommendations for running and cycling
Complete performance metrics (training effect, load, recovery, etc.)
Health functions with blood oxygen saturation estimation, Body Battery, stress monitoring, etc.
Sleep recording directly on the watch
Ultimately, the new features are mainly around LTE connectivity and that new automatic intervals feature. Regarding intervals, the information I currently have is that the watch is able to sort intervals automatically and will create an additional data page where 1TP10We will be able to see the fastest and slowest laps sorted and ranked. Very reminiscent of the Sprint function of SuuntoPlus.
But well, let's move on to talk about mobile connectivity, which is certainly the most important part of the new FR945 LTE.
Garmin LTE Subscription
The first thing to note is that in order to use the LTE features of Garmin you will have to take out a monthly subscription. Without that subscription you will have nothing.
It has nothing to do with your current phone contract, nor can you put your current phone number on the watch. There is no SIM card slot nor does it have eSIM support.
Furthermore, to clarify as soon as possible, LTE connectivity does not mean that you can receive calls or text messages from your regular number on the watch. That's not what it's intended for. LTE connectivity simply enables the features I'll explain later (tracking and security, messaging for viewers and sharing live events).
This subscription is contracted with Garmin and podrás can be contracted directly from the Garmin Connect application. These are monthly plans that you can contract month by month, or for a full one-year period.
The price of the monthly plan is 7,99€.. If you subscribe annually, the monthly payment will be 6,99€. Therefore you have two possibilities depending on what you think your use and needs will be.
At the moment this subscription is only compatible with the Garmin Forerunner 945 LTE, it will be interesting to see what will happen when other Garmin models with LTE come out. Rest assured they will come, starting with Garmin Edge cycling.
Features through LTE subscription
The purpose of the LTE subscription is to provide connectivity functions independently, without having to carry the phone with you. They are useful for tracking, assistance and emergency:
Automatic and manual assistance messages
Assistance Plus
LiveTrack over LTE
Live shared events
Viewer messages
And by the way, there are two different watches depending on the market for which it is intended. On the one hand we have a model for North America (Canada, USA, Mexico) and New Zealand. On the other the one for the rest of the world.
Support messages via LTE
The assistance function is already an old acquaintance within the Garmin ecosystem. If you remember, the watch is able to automatically detect if you have had a fall while you are doing a workout (i.e. it doesn't work in watch mode without recording activity). It does this because it detects a major deceleration or a sharp turn.
When it detects the incident, the watch triggers an audible alarm to alert us that it has detected the incident. It serves to alert us in case it is a false alarm, or if you have really had a fall, it can also serve to alert others. If after 30 seconds you do not stop the alarm, the watch will understand that you need help and will send a message to your emergency contacts requesting assistance, along with your position.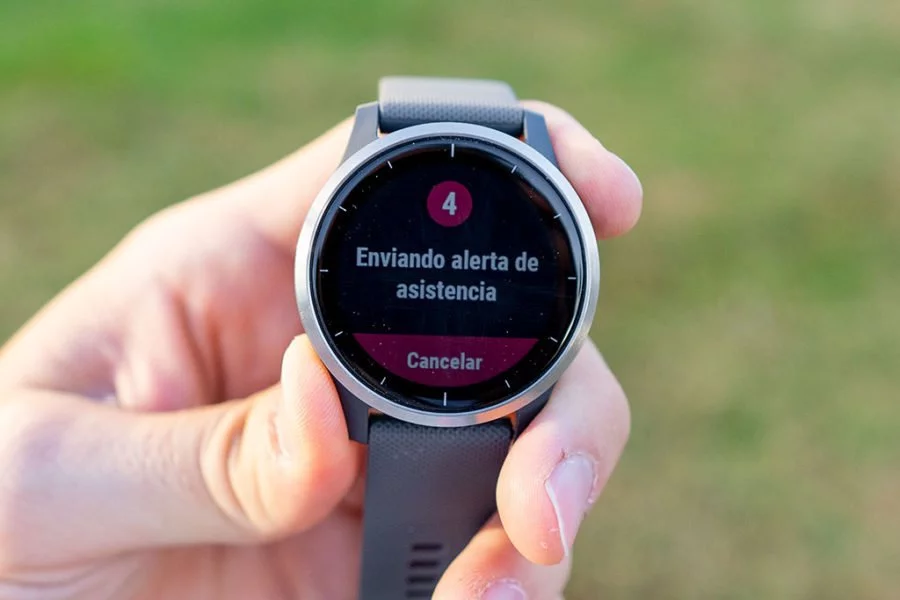 This assistance message can also be sent manually. Maybe you've tripped and sprained your ankle. Or any other situation where you don't feel safe.
The obvious new feature is that these help messages will be sent directly through the watch, regardless of whether you have your phone on you. That's what LTE connectivity is for.
Assistance Plus
Assistance Plus is a further step in requesting assistance. It's a feature for real emergencies, not if you've sprained your ankle on the boardwalk.
If you are running in the mountains, fall off a cliff and break your leg, it might be a good time to activate this feature (pray you are in a covered area, of course). If you activate Assistance Plus, the watch will contact the IERCC of Garmin (International Emergency Response Coordination Center). From there, a protocol will begin to be established contacting emergency services on your behalf, contacting emergency contacts, etc.
Please note that Assistance Plus is not available in all markets.
LiveTrack over LTE
There is not much to explain regarding the LiveTrack function via LTE. It is the same function that we currently have, only that we do not depend on the Bluetooth connection with the cell phone (which, to tell the truth, is often quite unstable).
Thanks to LiveTrack those who choose 1TP10 will see your location in real time, including training data such as pace/speed and heart rate.
In addition, if you have loaded a route, podrán will also see which route you are going to follow and where you are currently located.
Live shared events
Very similar to LiveTrack, but these are automatic notifications that your selected contacts will receive. If you have tracked a participant in an important event such as a big marathon, Ironman or similar, the concept is the same.
The people you choose will receive an automatic notification as you progress through the event.
As a messaging system, the watch sends your contacts a message indicating your race data. Which can be bidirectional to some extent, as we will see below.
Viewer messages
Finally we have the messages from viewers. While you are running 1TP10You will receive text or audio messages from family and friends. If they are audio messages, to listen to them you will need to wear headphones connected via Bluetooth as the watch does not have a speaker.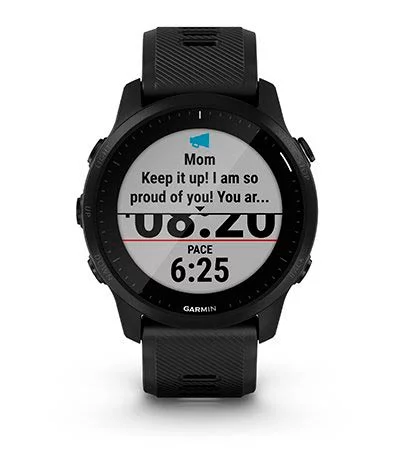 It was originally intended to encourage you during the race. But I'm sure the function will end up being used more to order you the bread back from your weekend training or to ask you where **** you are, when you are already 30 minutes late from the time you said you would arrive.
With respect to this function I am intrigued to see how different organizers and federations view it. For example, Ironman specifically prohibits the use of communication devices during the race. The same goes for the Spanish Triathlon Federation, USA Triathlon, ITU and I'm sure all the other federations.
The reason is simple. Anyone 1TP10Could receive a message indicating your current position with respect to your competitors. To know if you are ahead of the second, so you can slow down a little... If you are approaching the third and you are going to catch him in 3 kilometers... In short, the competition is totally distorted.
Garmin Forerunner 945 LTE, availability and pricing
The Garmin Forerunner 945 LTE will be available soon. Garmin says "this summer," which could be three weeks from now or three months from now. But I'm leaning more towards the first option.
As for its price, it is €649.99 for the normal version (available in white or black) and €799.99 for the pack version with HRM-Pro and HRM-Swim sensors, which is yellow.
Review Garmin Forerunner 945 LTE
I have the impression that many are going to be left cold after this announcement. Possibly because they were expecting a 955 with more new features (are there really any features left to be added?), or because they wanted the mobile connection to be used for more than just tracking and assistance.
But I know that there is another large number of users who were waiting quite eagerly for a watch of this type, especially for its assistance function. And Assistance Plus for use in case of emergency can be quite interesting.
But also keep in mind that we are working with LTE coverage. If you don't have coverage with your cell phone where you're going, you won't have it with this watch either. So if that's your main destination, you might want to think more about a solution like the Garmin InReach which uses satellite signals.
There are also many others who are forced to go out to train always carrying their cell phone for emergencies. While in a bike training it does not matter to carry the phone (I would say it is mandatory), going out to run with the phone is quite uncomfortable.
With the FR945 LTE podrás have a form of contact for emergencies, as family and / or friends podrán send you a message to the clock at any time. But remember, you will not receive messages from your regular phone number.
In short, the FR945 LTE comes to meet specific usage needs. Only if you have those needs is it a watch that makes sense for you. In any case, I recommend that you subscribe to the Telegram channel so you can receive a notification as soon as the full review of this Garmin Forerunner 945 LTE is available.
And until then... thanks for reading!