Two years after the arrival on the market of the Garmin Forerunner 45, its successor has arrived. The new Garmin Forerunner 55 is an upgrade, especially with respect to software features carried over from its big brothers.
The fact that the access model to the Forerunner range is a simple watch without many software features is a thing of the past. It is not that Garmin is benevolent and wants to offer features to those who do not want to spend so much, simply the competition presses and Garmin must act accordingly.
Daily training suggestions, PacePro, Connect IQ... all of these are features that were reserved for the mid-range and are now also available in the entry-level Garmin.
News Garmin Forerunner 55
Buy Garmin Forerunner 55
Naturally, the direct comparison must be made with the model that it replaces, the Garmin Forerunner 45The model was already quite capable for the segment in which it operates.
Basically what Garmin has done is to take the same base and add software features. Here are the differences from the Garmin Forerunner 45:
It is only available in one size with 42mm circumference, although the thickness has been slightly increased (from 11.4mm to 11.6mm).
Same 1.04″ display with 208×208 pixel resolution
Full support for Connect IQ. The Forerunner 45 only allowed to change the dial.
Receive the training suggestions function, only for running training (but not cycling).
More sport profiles: track running, virtual running, pool swimming, HIIT, yoga, pilates, breathing, etc.
PacePro function for race strategy, created through the mobile app
Recovery advisor
Cadence alerts in addition to pace and speed alerts
Estimated completion time for a specific distance
Race time estimation based on your training (for 5K / 10K / half marathon / marathon)
Fitness age
Daily respiration rate record
Up to 20 hours of autonomy with GPS use (Forerunner 45 was 13 hours), up to 2 weeks as a smartwatch
Switches to 4 data per screen instead of 3
All this joins the list of features already present on the Forerunner 45:
It keeps the same Garmin Elevate v3 pulse sensor, it does not adopt the new Elevate v4 released with the new Venu 2
PulseOx estimation
Body Battery function
Garmin Coach for creating dynamic workouts
Accident detection
VO2Max estimation
Support for ANT+ and Bluetooth sensors
In short, the Garmin Forerunner 55 adds features that were previously exclusive to the high-end. For your reference, PacePro made its debut with the Garmin Fenix 6. The track and field running profile of the Garmin Forerunner 745. Training suggestions with the Garmin Edge 1030 Plus. The common denominator is that they are all high-end models.
Training suggestions on the Garmin Forerunner 55
This is probably the most interesting feature added to the Garmin Forerunner 55. When you don't have a workout in mind (from your coach, Garmin Coach or any other platform) the watch will suggest a workout for each day based on your VO2Max, your cumulative training load and your level of rest.
However, you must keep in mind that the watch does not know what you are training for. There is no way to tell it that you are preparing for a marathon in November. The watch doesn't ask what we are preparing for, and it doesn't know when we are going to race. So there is no progression with the goal of achieving a peak of fitness, because there is no definite date for that peak.
The duration and type of workouts will be taken into account from past workouts, so if you do long rides it will still offer you that type of workout, but those suggestions should not be a consequence of what you have done so far, but should come based on what the user needs.
It is an option that can be interesting to maintain a level of fitness and performance, but it is not intended to pursue a goal. For that you would have Garmin Coach, which is also present in the Forerunner 55.
Garmin Coach (the "smart" workouts of Garmin) does allow you to select a type of test and a specific date, so that progression will exist. However, it is a much more rigid training as it will not take into account as many parameters as the suggested workouts.
PacePro Lite on Garmin Forerunner 55
On the other hand, the Forerunner 55 features PacePro. Garmin calls it "Lite" because we don't podemos create the race strategy directly on the watch, since we have no navigation routes function or maps. But we do podemos do it directly in Garmin Connect.
PacePro performs a pacing strategy adapted to a distance or course, to meet a given goal based on values such as elevation changes, but mainly by the choices you have made.
It is not intended for use in training, but is designed for race day, especially for middle or long distance races (half marathon, marathon).
PacePro asks us to indicate how hard we want to run the climbs and whether we want to run positive, negative or at a constant pace (for example, dividing a marathon into two half marathons and running the second one faster would be running positive).
Based on the data we have defined (and if possible with the route of the test to take into account the differences in levels if any), PacePro creates a race plan and tells us at each lap (for every kilometer, for example) the pace we should take.
We can create the PacePro strategy from the mobile application or from Garmin Connect on the computer.
As you can see, we have two options: to select a route (which you must have created in advance and which you can do from the GPX file provided by the organizer) or with a given race distance.
Of course, if you have the file or the route created the options are extended. But let's make a simple example for a marathon.
I have selected a goal time of 3:30, from which you have set the target pace. You can do it the other way around, setting the average pace that you will follow and that will give you a final time.
After clicking on next you have to select if you want to do it in positive or negative. In my case I have selected to do it slightly in negative, for which it has given me the objective rhythms to fulfill for each kilometer, starting at 5:08 and doing the last kilometer at 4:50. As you can see, the evolution per kilometer follows a tendency to go a little faster each time.
This way of creating the strategy does not take into account anything else. It would be valid to do a totally flat marathon, but it is impossible to find anywhere 42km totally flat, unless you are going to do it in an athletics track.
Let's repeat now the same operation, but now starting from a track. I will use as example the Madrid Marathon, which as you know is anything but flat.
This time we choose the option to select route (or field... bad translation, Garmin... bad translation), and we must select the target time. For comparison and to see the differences, I select again a final time of 3:30.
Now a map is presented with a colour code, indicating where we are going to run faster or slower. An option is added, "effort in ascent", which allows us to indicate how we want to face the ascents and at what intensity we are willing to do them.
Obviously, if you tell him you want to do them slowly you'll have to compensate by being faster on the flat and on the downhills, because the final goal is to finish in 3:30. I've chosen a slightly negative pace strategy again, but remember that it's not about pace but about the effort we're going to put in. We run from less to more.
Compare the result of PacePro for the Madrid Marathon to the one we had previously obtained without including the route with the slopes. The times it gives for each kilometer are totally different and much more variable, because now it is considering not only the rhythm strategy, but also the slopes and the intensity we have set for them.
In the case of creating the strategy from a route we can also select that the intervals are created not only by kilometer, but also by miles or changes in elevation.
In this way we avoid that if in a section of 1km there is a rise of 12%, the objective time that we see for that km is very deviated with respect to the real rhythm that we take until we find that slope.
COROS Track run mode
More high-end stuff. Track running came with the Garmin Forerunner 745. This profile is specifically for use on a running track. The watch uses the first two laps you run to "memorize" the data from that track, and from that point on, the recording will be accurate.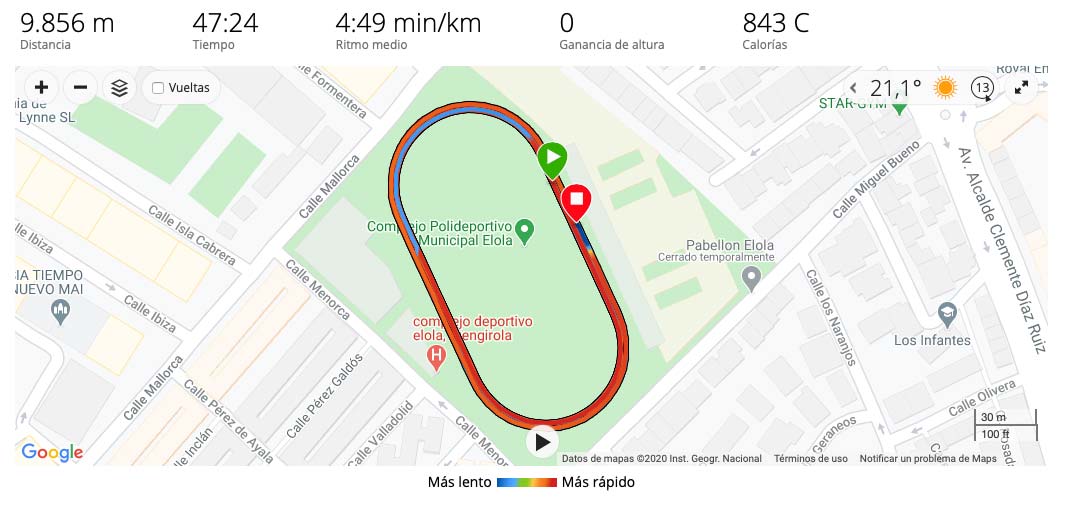 But beyond having a more or less beautiful track, the interesting part of this sport profile is that the measurement is virtually accurate (margin of error of one or two meters).
Garmin Forerunner 55, availability and pricing
The new Garmin Forerunner 55 is now available. In terms of price, it is at the same level as the Garmin FR45 which it replaces/complements: 199€.
You can buy it in 4 different colors: gray, turquoise, white and black.
Buy Garmin Forerunner 55
Review Garmin Forerunner 55
The Garmin FR55 has received the logical upgrade. At least the one that Garmin has been accustomed to lately for its lower-end models.
The other positive reading that pod can make is that the arrival of the FR55 makes Garmin reduce the price of the FR45 by 30€, at least in terms of its official price.
But I think this time Garmin has got the price better than with the release of the FR45 a couple of years ago. 199€ is still a high price for an entry-level model, but now there are many more features that can justify the price.
Undoubtedly what stands out the most are the training suggestions. With the FR55 it is already available in all the steps of the Garmin range, and I think that the typical user of the Forerunner 55 is the one who will benefit the most from this feature, as it does not have workouts guided by a coach and this helps to carry a more or less orderly planning.
But there are many other things. Running on a running track, virtual race for use in applications such as Zwift, PacePro for racing, full support for Connect IQ... It's a remarkable upgrade on many fronts.
Of course, all these features come because the competition is tightening. I say this thinking mainly of the PACE 2 CHORUSThe watch, which has the same price, has other interesting functions such as power estimation during the race, barometric altimeter, new training load tracking features in your application... In this fight that manufacturers are having, there is only one beneficiary, the end user.
But I repeat, the arrival of 55 is also good news for users who don't need all those features as the Garmin FR45 is still a very valid model that has been reduced in price by Garmin.
In any case, wait for the complete test that will arrive in the next weeks/months.
And with that... thanks for reading!