The new Garmin Forerunner 25 comes to replace the Forerunner 15, which replaced the Forerunner 10. We've seen small improvements in each of the models, but the most important change comes with this new version, as in addition to providing a major jump in screen quality, it adds Bluetooth connectivity, which will allow you to synchronise activities as well as receive notifications from your mobile phone.
I always like to clarify where the devices being tested come from on this page. There are two options, either you buy them directly from the store so that you can offer the analysis as soon as possible, or the brand provides a test unit. In this case it has been Garmin that has kindly provided a unit, and once it is completed you will go back to where you came from; that is, Garmin does not give anything away in exchange for a positive or "not negative" opinion of any of its products. The tests are carried out completely independently, without any pressure from the manufacturer.
Remember that if you want to show your gratitude for the tests I perform and want to help support the site, you can buy the watch through the links I provideThat way I get a small commission for each watch, which is what allows this website to continue and covers some of the work I do.
Now that that's all clear, let's get on with the test. The good, the less good and the bad of the Garmin Forerunner 25.
---
RATING
Operation - 9
Connectivity - 9
Design, finish and comfort - 9
Battery life - 10
Applications - 9
Price - 7
---
The good
Absolute simplicity, perfect for those who don't want to complicate their lives and don't want to spend hours configuring it
Synchronisation of activities with the phone, without the need to connect to the computer
Displays all phone notifications on the screen, like a smart clock
Extremely lightweight
The bad
Limited on-screen data possibilities (in exchange for ease of configuration)
If you have "concerns," it may soon be too short.
It is not possible to leave the lighting on permanently
---
https://www.amazon.es/dp/]B0144D4VSU&tag=c1mes-21
Unpacking
The Forerunner 25 box is the classic Garmin box, made of cardboard with a plastic window through which we can see the watch. On the front icons you can confirm if the version you received is the one with only the watch or, as in the case of the test model, if it is the pack version with a pulse sensor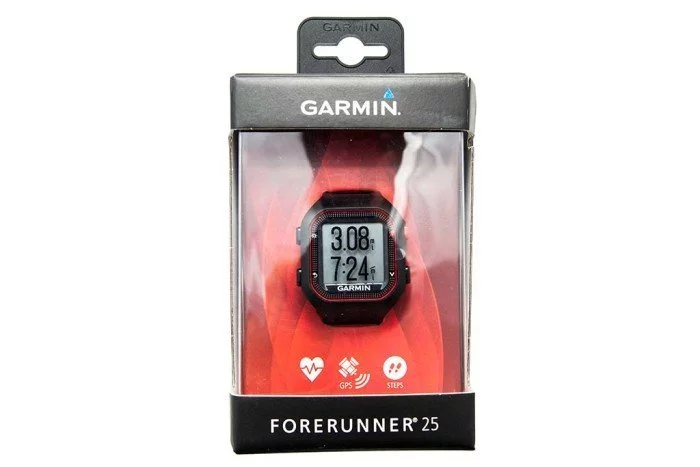 In this case, and since it's the pack version, the sensor is included, which I'll tell you about later. You'll also find the watch and the sync and charging cable, which will be relegated to a charging cable. Normally, you'll pair it directly with your phone via Bluetooth. Oh, there's also an instruction manual included that's so short, you can save on taking it out of its plastic bag. The best thing is to read this test, so you'll know how to use Forerunner 25.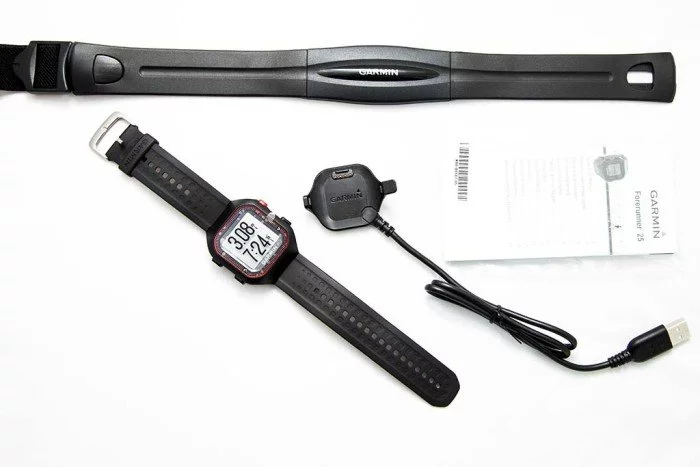 This new Forerunner 25 is a major change from the model it replaces, the Forerunner 15. And the first thing that podemos notice is the improved quality of the screen, which goes from a poor resolution of 55×32 pixels in the FR15 to a more than decent 128×128. It is an important change, not only aesthetically (the truth is that the previous Forerunner 15 had a "shabby" air, even gloomy), but in terms of readability. In addition, the screen has gained in contrast, having a magnificent clarity in broad daylight.
There are four buttons to control the whole device, being the main ones the ones on the right side. The red button (in this case, in other colors it will be the one that matches the model's color) is the one we will use to start and stop activities, as well as to confirm menu actions, while the lower one is the scrolling one. There is only one of them, so the scrolling will always be downwards, so if you miss the option you wanted to select you will have to go back to the beginning of the list and make sure you don't miss it in the second pass. When you are training that same button will allow you to pass between the different data screens.
On the other side of the clock we have the power button, which will also serve to illuminate the clock screen. Below this you will find the back button (to exit the menus) which will serve to manually mark laps as well as to show the different fields of the activity monitor.
The synchronization and charging pins are not protected against corrosion and are not necessary, as they do not wear out. The only thing you should bear in mind is that you should wash your watch after every use, as you do not want to let your sweat stay in that area.
Don't worry about getting your watch wet, as it's waterproof up to 50 metres, which will even allow you to swim with it (although it doesn't have a swimming profile so it doesn't offer specific metrics).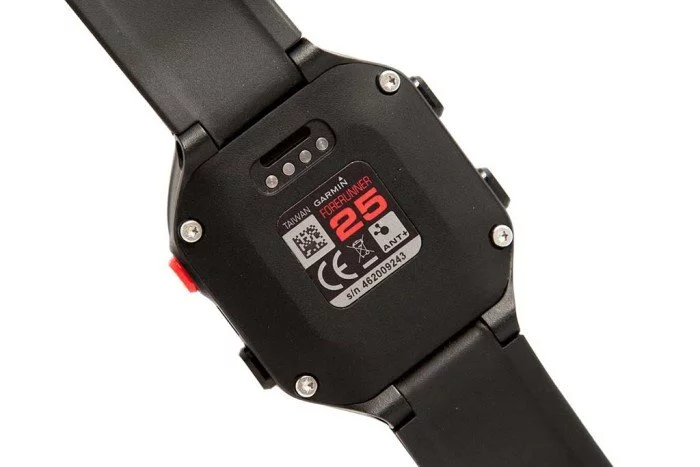 The design of the charging cable is changing. No longer using a difficult to adjust clamp, it is now a base that attaches to both sides of the watch "hugging" it perfectly. That allows you to leave it charging safely in any position, even hanging from a socket.
The pulse sensor included in this model is the basic version, made of quite hard rubber. The truth is that it is not the most comfortable sensor available, and as I indicated in the test of the Edge 25should disappear to leave only the premium tape pulse sensor. Hopefully the arrival of the new sensors HRM-Tri make the premium model downgrade its category and be included in all models from the lower ranges, with the HRM-Tri being reserved for the top-of-the-range versions.
And once we've reviewed what's included in Forerunner 25, I should tell you a few things about the colours and sizes in which Forerunner 25 is available.
Colours and sizes
Unlike other watches, the Forerunner 25 is offered in two different sizes, giving a more compact option to ladies, who are usually forced to wear fairly masculine watches. Not only will they differ in the size of the watch, but also in the colors in which it is offered. These are the colors that are offered.
Size smallPink/white and purple/black
Large size: Red/black and black/blue
Therefore, the dimensions and weights vary depending on the model in question. While the largest model has a 40x40mm case, the female model is reduced to 36x36mm, much more suitable for a narrower wrist. In both cases the depth is the same, 13.9mm. This reduction in size implies a narrower strap in the model for them, and with the reduction of material used also comes a lighter weight, from 39 grams to only 31. Garmin Vivoactive like the lightest GPS watch.
The toll that has to be passed through the smaller size is to have a slightly smaller screen, going from 23x23mm to 18.5×18.5mm. However, the resolution remains identical at 128×128 pixels. This is a frankly remarkable step from the Forerunner 15 that it replaces, as it now offers a screen with very good contrast and resolution.
Running with FR25
The Garmin Forerunner 25 was created with one main purpose, to run, and all the options it offers are based on that purpose. However, you should be aware that it is a simple clock, both in terms of the features offered (more than enough for the type of user it is focused on) and when it comes to configuration. This means that there are no long menus to activate or deactivate options, nor complex functions that you won't understand if you are not a very advanced user.
When it comes to displaying data on screen, it is possible to set up two different screens, and you can select two different data on each screen. They look quite generous in size, so a quick glance at your wrist will allow you to see the most important information.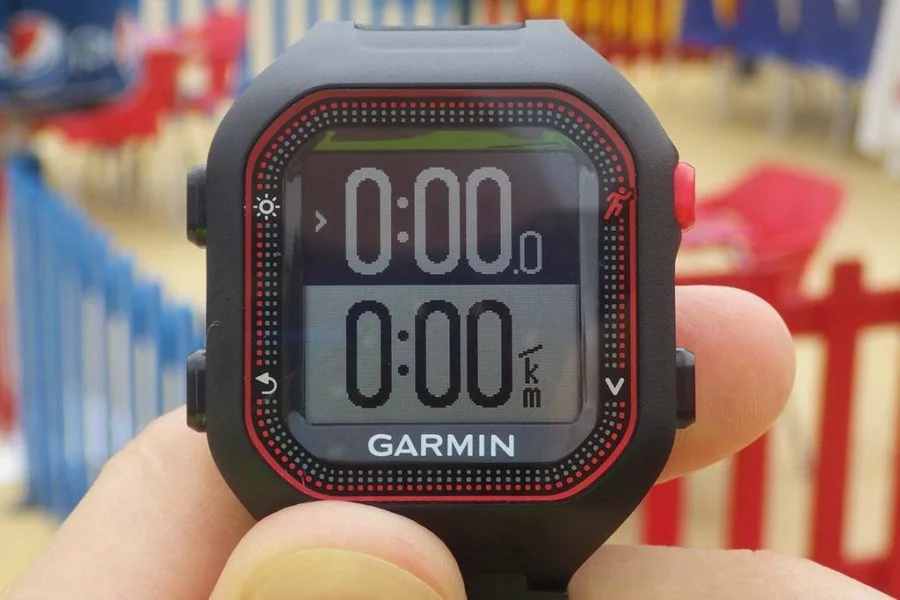 These are the different variables you can select:
Weather
Distance
Rhythm
Calories
Return time
Return distance
Rhythm of return
Average pace
In addition to these variables you add on the data screen, when you connect a heart rate sensor a third screen is added showing the current heart rate and the zone you are working in.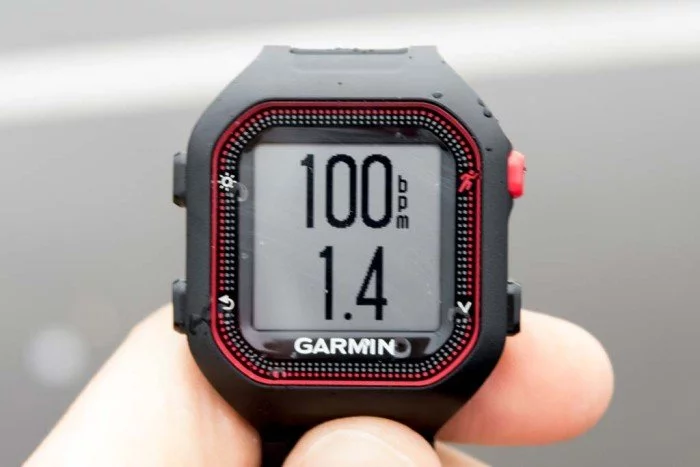 And there's a fourth screen available, where you can see the time and the remaining battery level.
Other options you can configure are the way to mark laps and the autopause. The first one will allow you to activate or deactivate the automatic lap marking function, as well as the distance it will mark (default 1 kilometer). You can also activate or deactivate the lap button. In case you activate it, when you press the back button (the lower left one) you will create a lap, regardless of the distance.
You can define settings up to two to three bikes in your training computer.
As for the automatic pause function, you can activate it so that the recording stops automatically when you stop (when you are at a traffic light, when you talk to your neighbour, etc.).
Finally, the clock allows you to choose various running modes. You access this menu from the start screen. If you scroll down before pressing the start button, you will find the following: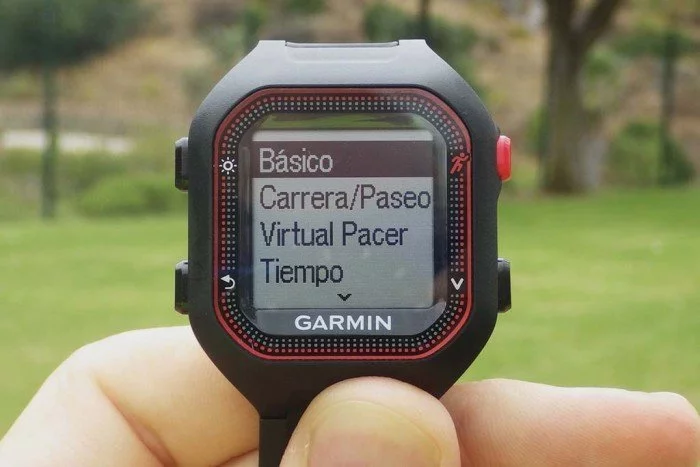 The basic mode is the mode you will normally use. The other modes allow you to select different targets, and each one will add a screen with data of what you have set as a goal. The available modes are as follows:
Basic
Career/walking
Virtual Pacer
Weather
Distance
Calories
In running/walking mode you can set a time for walking and a time for running. This is especially useful for those of you who are just starting out and cannot yet keep up with running for a long time.
Virtual Pacer allows you to enter a target pace and see on screen whether you are ahead or behind your virtual opponent. The time, distance and calorie modes do not need much explanation. You select the final goal and FR25 will discount as you complete your workout.
The last option you can edit is to set a heart rate alarm. Forerunner 25 allows you to select between zone 1 and zone 5 (which is automatically set in Garmin Connect or which you can edit with your choice of keystrokes).
Or you can set the heart rate zone manually, either from the top or the bottom. When you do so, the watch will beep whether you go over the marked range or are too relaxed. Both are independent, so you can set only the top range, the bottom range or both.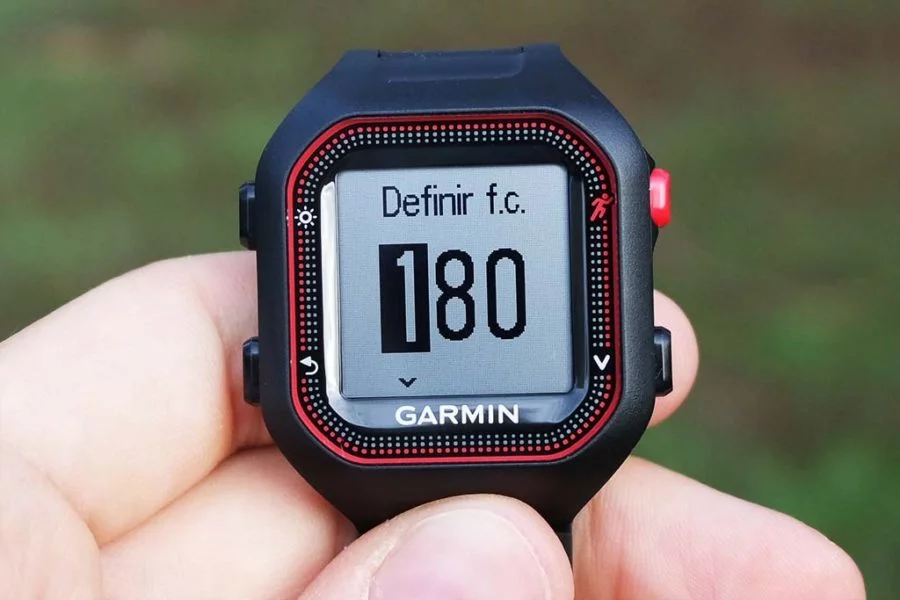 Starting to run is as simple as pressing the activity button and waiting for the watch to receive a satellite signal and, if you have the sensor, to connect to it. The display will indicate that you should wait while it searches for satellites. It is on this screen that you can access the race option settings.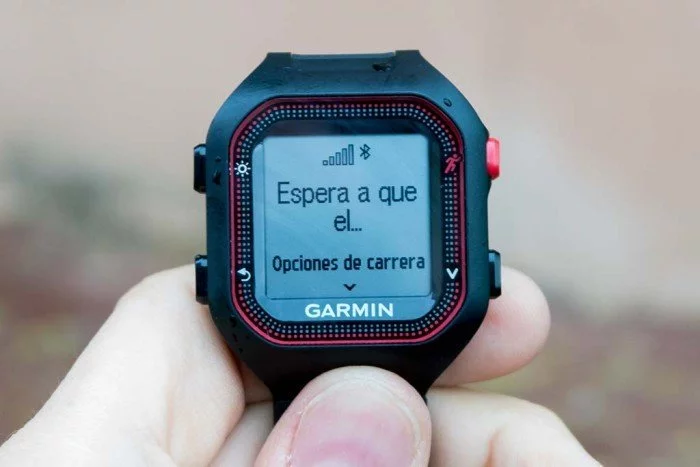 Once you have completed the search bar, you will quickly move to this other screen, where you can start the activity.
Forerunner 25 supports satellite caching, which speeds up the initial reception time. This cache is downloaded with every sync you make with the watch (via cable or Bluetooth), so if you have the watch paired with your phone it will always be up to date. And since the best way to know how long it takes to receive a satellite signal is to see it for yourself, here's this video to check it out. The search is done 50 kilometres from the point where I finished the last activity, which was two days earlier. So the satellite location was not memorised.
The instantaneous beat is displayed in multiples of 0:05, as is now the custom with all Garmin watches. This means that, by displaying instantaneous beat, you will go from 4:40 to 4:45. However, if the metric you have selected is the average beat or lap beat, that will go to the second.
The rhythm shown is very stable, firstly because the data recording is not done every second as in the higher range clocks, and secondly because the rhythm is filtered, so that it is not exposed to the classic ups and downs produced by the existing error when receiving the correct positioning (the typical error, with full signal, is 1-3 meters). So that you can see the difference, this graph will show it clearly.
The purple line is the rhythm measured by the Garmin Fenix 3The blue line is the file obtained with the Forerunner 25. Both final average pace and distance have been the same in both cases.
So where's the difference? Well, the way the instantaneous pace is displayed on screen. Forerunner 25 is much more stable, and if you're working out at 4:45min/km continuously, that's what you'll see on screen for the whole workout (if you keep up the pace). Why does the Fenix 3 vary so much on the graph? Well, because the pace is not filtered and it's much more responsive to changes in speed, so when you're doing a workout with changes in pace (such as sets), the Fenix 3 updates the pace on screen before the FR25.
Normally I always criticize Garmin for continuing to use intelligent data recording, but in this case and with this model, I must agree with them. Their target audience probably does not perform series training and rhythm changes several times a week, so a more stable rhythm will generate much less doubt about the operation of the watch. Garmin's intention is to have a model that is simple and clear to use, and this is the best way to achieve this.
However, at no time is the pace shown wrong. In fact, in a training session conducted in conjunction with the Suunto Ambit3For some strange reason, the Ambit3 was determined to set a faster pace than the real one, even though the lap time was automatically set to the same kilometer.
And again, this way of taking data doesn't mean that the distances don't match reality. In fact, in all the training I've done combining it with other devices, the resulting distance has always been very similar.
[table id=82 /]
On the street, Forerunner 25 won't be the only place you'll be able to run. You can also use it indoors, running on a treadmill. Thanks to its internal accelerometer, you'll have distance and pace data, not as accurate as when you're running with GPS enabled, but pretty accurate. This measurement is done thanks to the clock's internal accelerometer, which is the same one used to get the data used by the activity monitor; and also for outdoor running cadence measurement, something the Garmin Forerunner 25 is also capable of recording.
You cannot select this cadence data for your data screens, but it will be recorded in the FIT file of the activity and you will be able to consult it in Connect after synchronizing the clock with your phone or computer.
Using Forerunner 25 in other activities
Even though the Garmin Forerunner 25 is a watch designed for runners, it doesn't mean you can't use it for any other activity that involves physical movement (even your nights out). But you should keep in mind that after synchronizing your activity, you'll have to change the sport you're doing to keep track of your overall workout.
You can also use it while riding, since in the options you can choose between showing the pace (min/km or min/mile) or changing it to speed (km/h or mi/h).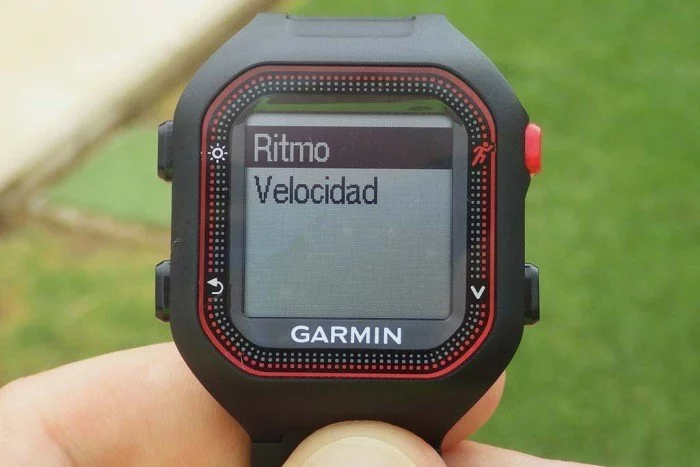 After completing the activity, you must remember to enter the history section and delete the new records, as you will most likely have broken all your race records. Later, in its specific section, I will talk more about them.
It is also possible to use the watch for any other activity, both with GPS on and off, such as weight training sessions at the gym or spinning classes. You will not have extensive data on the activity, but if you do it with the pulse sensor you can have data on calories consumed, as well as the corresponding pulse graph. For example, this running technique session
Activity monitor
The activity monitor reached the lower end of the Garmin range with Forerunner 15. As you might expect, it's also found in Forerunner 25.
So with the FR25 you can not only record all your workouts, but also track your daily activity and your night's rest. During the day it will estimate the steps taken (remember, this is not a real measurement, but a mere approximation), which will translate into distance travelled and calories consumed. And in case you sleep with the watch on your wrist, you will also have the analysis of your rest the next morning.
You can find the basic data of the activity monitor in the main screen of the clock. By default the date will be shown below the time, but we can change this value by pressing the back button.
When some time passes and you haven't moved, an inactivity warning bar will appear below the Activity Monitor settings, receiving a warning once it is complete to notify you that you have not moved for a long time, and recommend that you activate. To remove this warning you will have to walk for a while, about 100 meters.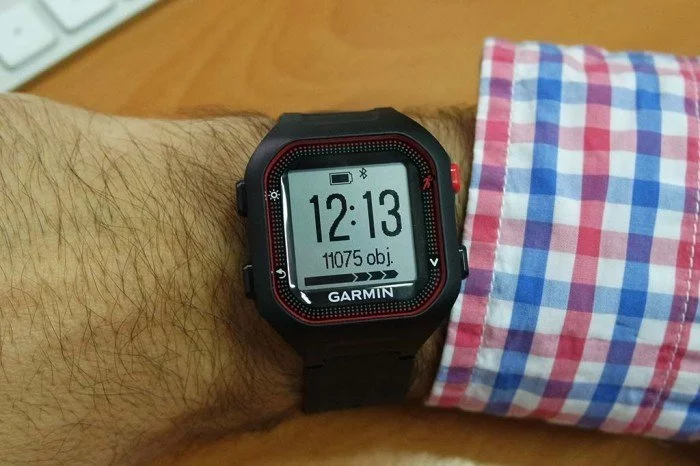 Normally, instead of the notification bar, you'll see a rectangle that will be filled in as the day goes by, if you walk. Your goal is to fill the bar completely, in which case you'll be notified. So what's the goal? Well, by default it's set to a dynamic goal, so it will adjust to your activity every day, so it's realistic and achievable. But you can also set a goal manually through Garmin Connect.
The daily activity data can be consulted directly on the clock screen, accessing the history menu.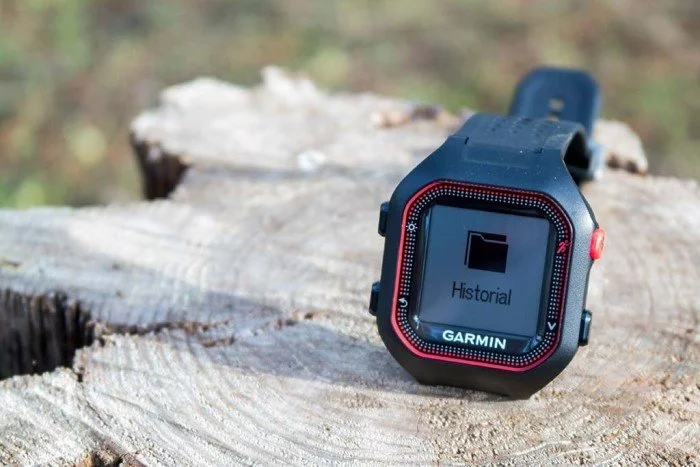 Where you can choose a day and see the steps taken and their comparison with the objective set, as well as the estimate of distance and calories consumed.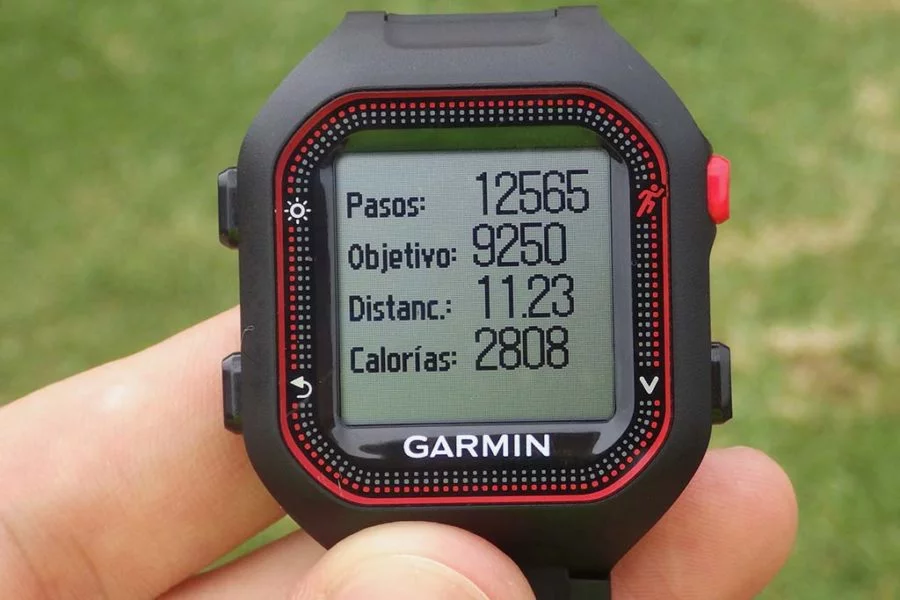 Although the most convenient way to check the data is on the web or in the mobile application, after the corresponding data synchronization, if your phone is paired with your clock, this synchronization will be done automatically throughout the day.
As this activity data is uploaded, you will be able to access the Garmin Connect website to view activity not only from past days, but also from the current day. You also have the ability to synchronize your Garmin Connect and MyFitnessPal accounts, sending activity data from Connect to MyFitnessPal, and receiving calorie data from MyFitnessPal.
Within these steps are also those that you go through during your training, because they also add up to reach your goal.
In Garmin Connect, you can access comprehensive activity reports to see what your daily, weekly, or monthly trend is. These graphs show the targets you have achieved and the months in which the target has not been met (in my case, June).
The Activity Monitor not only records your daytime activity, but also your nighttime activity by monitoring the quality of your sleep and identifying the phases of your sleep. There are three different phases: deep, light and awake sleep. Each phase is determined by the movements you make during the night. Garmin has been recording this data automatically for some time now and there is no need to activate any specific mode before going to sleep, as the identification will be done at the server level, after synchronising the data.
As with activity data, sleep data will be synchronized with Garmin Connect and you can review it later on the web and in the mobile application.
If you see that there may be some miscalculated data, you can always modify the schedules manually. Usually the detection is accurate, but sometimes it can happen that if you are reading in bed and you move little, identify that you have already gone to sleep, when you still had enough to do (the end of that novel, which became interesting ...).
As for the step calculation itself, you must keep in mind that it is an estimate, and as such it does not have to be exact. It is not, but it is quite close to reality. In fact, using several activity monitors simultaneously, the steps recorded are very similar.
There are days when the calculation performed by both devices are closer than others, but they are always in the same range of steps and distances.
Notifications and connectivity
One aspect that the new Forerunner 25 has seen improved is that of mobile notifications. New to the range (FR15 did not have them), it comes much better than its cousin the Edge 25If only call and SMS notifications are accessible on the cycling unit, Forerunner 25's notifications are complete. What's more, when you turn on Bluetooth, a new menu option appears, allowing you to access all the notifications on your phone.
Not only will you receive the notifications on screen when you arrive at your phone, where they will be displayed briefly, but you will also be able to access them at any time from the comfort of your wrist, since within that option you will have them all.
These notifications are received because it is the Garmin Connect application that acts as a bridge between the clock and your phone's notification system (for iOS and Android). By default there are a series of notifications enabled for the most common applications (classic mail, WhatsApp, etc), but from the application you can add others that you have installed, such as Inbox or any other application that sends you notifications of any kind (sports scores, messaging, etc).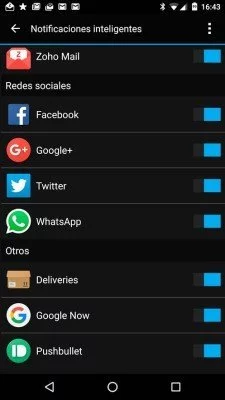 Within the clock menu you can access the notifications menu, where you will find all the notifications that you have not yet read or discarded.
If you want to read any of them, simply select it and press the main button to access it.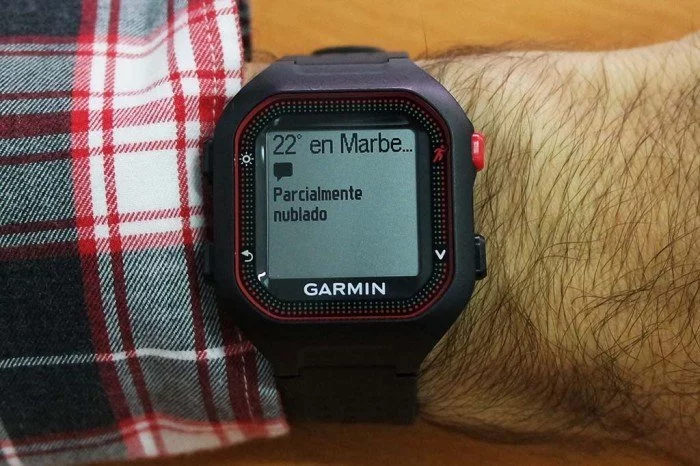 In addition to notifications, the Bluetooth connection will also be used for automatic synchronization of activities, either because you have your phone with you while you train or because it connects to your phone as soon as you return to where you left off. This makes synchronizing activities a real piece of cake, since it doesn't involve any effort on your part. No searching for the sync cable, turning on the computer or pressing any buttons on the watch or phone. It simply connects and synchronizes whatever is pending. Magic!
Finally, Forerunner 25 also offers LiveTrack functionality. Operation is similar to the rest of the Garmin range (both watches and cycling units), where the phone sends GPS data as ANT+ sensors from the watch to the Garmin website, so the phone's battery is barely affected (since it's not with the GPS connected) and simply sends data regularly to the cloud platform.
Anyone you provide the tracking link to will be able to see your activity, check how your career or training is going and see that you are indeed still alive.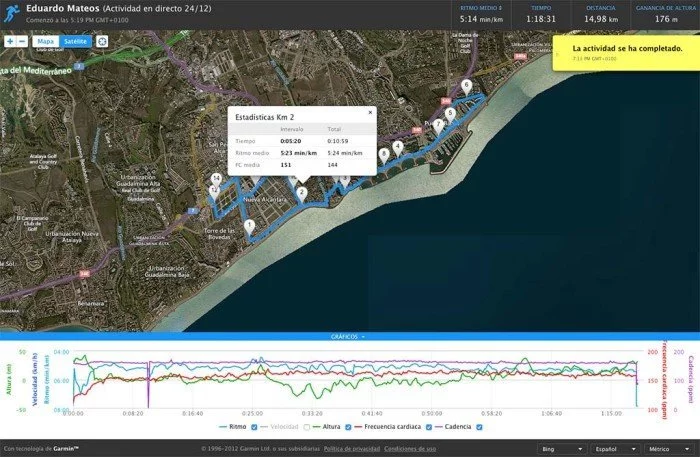 Pairing is done through the Garmin Connect application (not through the phone's Bluetooth options) and needs the application installed to work. But once you've made the first pairing you can forget about it altogether - pairing is constant and automatic (also for activity data).
Clock and lighting
As a clock it is a very simple device. It shows the time of day (which can be set to 12 or 24 hours) and the date. What it does allow us is to set the time automatically at each GPS connection.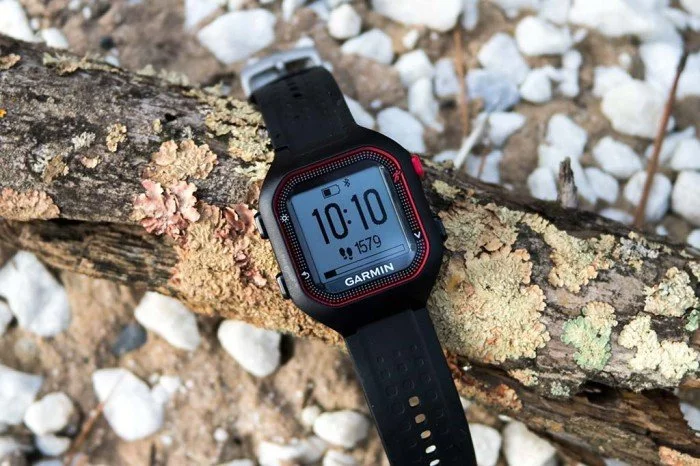 The only additional option offered in this mode is to be able to set an alarm, which will be simple and without any kind of repetition (i.e. you cannot create an alarm to wake you up every day at 7:00).
Other Garmin models offer various options, not only for automatic or manual illumination, but also for specifying how long the display remains on.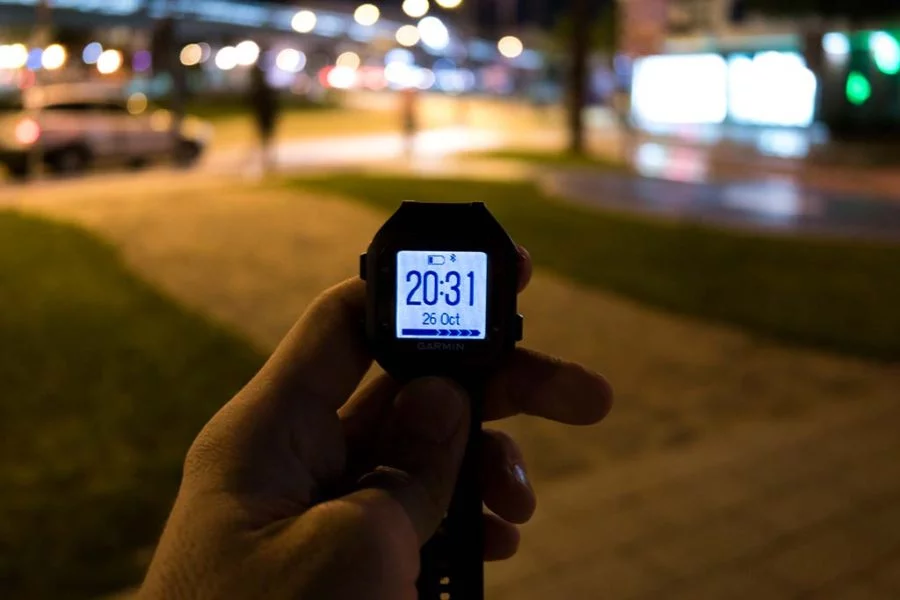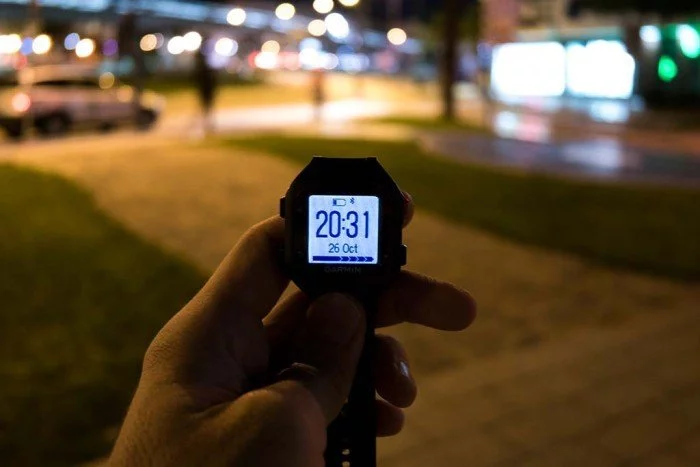 It does not allow you to leave the light on indefinitely, something of great importance for those of us who train at night, forcing you to press the light button every time we want to see some data from our training.
Battery life
I was quite surprised by the battery test (pleasantly). Garmin announces an active battery life of up to 10 hours using the GPS (up to 10 weeks in clock mode).
To check this, there's nothing easier than doing an activity of at least that length. So with the watch fully charged, I started an activity, leaving it on the roof, waiting for the battery to run out. Then I went to sleep. One of the most stressful tests I put watches through...
In the morning, when I had to leave, it had been active for over 9 hours and was already giving low battery warnings. Instead of leaving it in the same place, I chose to take it with me, and put it in the car.
After arriving at the destination, I was still recording the activity, so I had to leave it there too. And I was already spending the 10 hours of activity extensively. The final result is what you see in the image, almost 12 hours recording activity continuously.
Given the size and weight of the watch, which is quite small, it has a fantastic performance, more than enough to finish any event, even a marathon, regardless of your level.
Personal records
Forerunner 25 also features the personal records feature we've seen on other models. The watch will keep the best records you get from your races or workouts, but they're the ones you get with the watch, because by default it doesn't synchronise the records you've previously stored in Garmin Connect. To do that, you'd have to log in to Connect and send the records data to the device. Otherwise, you'll improve the records bit by bit.
So in the first few races you'll be getting data far away from your real marks, like in my case with the first training with the Forerunner 25. I'm slow, but I'm capable of going down from 5:20 in a kilometre. If I try hard, I'm sure I'll be able to get it down to 5:19.
The records stored are for the following times and distances:
Best time for 1 km
Best time for 1 mile
Best time for 5 km
Best time for 10 km
Best time for half marathon
Best time for marathon
Longer distance traveled
Remember that the watch only has a running profile, so if you do a cycling activity, for example, you should be careful with the records you store, but you can always delete the record or tell the watch that you want to keep the previous record.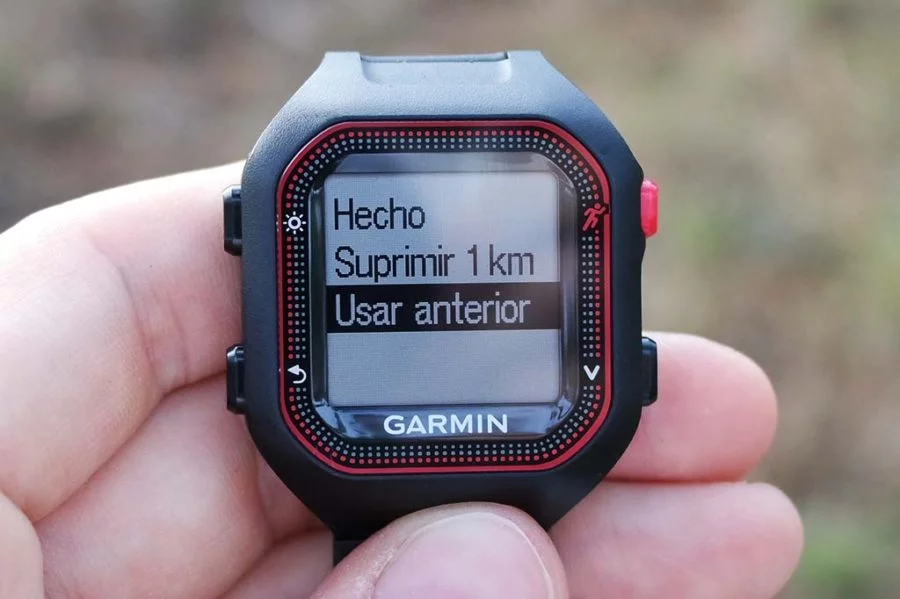 It's the only way not to break world records on every bike ride.
Garmin Connect on the web
Garmin Connect is the website where you will find all the information you synchronize from your watch, both training and your day-to-day (and night-to-night) activity. There are also a number of other features, such as activity reports, the mileage log in your shoes, etc. All these functions are free and included with the purchase of the device.
This is the main page that you can find when you log in to Connect. You can organize it as you prefer, adding or removing windows as you like. At the top right you can find a "+" button, which will allow you to create more desktops, for example one for your workouts and another for your daily activity.
The section that you will consult most will be that of your activities. Here you will find absolutely all the information about your race. At the top you will find a map with the route taken along with the basic details of the workout, such as distance, time, average pace or calories.
Below you have the graphs of the different variables. You can enlarge each of them to see it bigger, as well as compare several values with each other.
At the bottom you can see the extended details of the workout, with more specific data than you find at the top.
If you click on the interval tab, you can find the partial detail of each lap. If you mark the laps automatically it will be for each kilometer covered (or the distance you have selected), although you can also deactivate the automatic laps and mark them manually; perfect if you have structured workouts such as 7km smooth, 4km at running pace and 5km smooth. That way you can see the specific data of each section of that workout.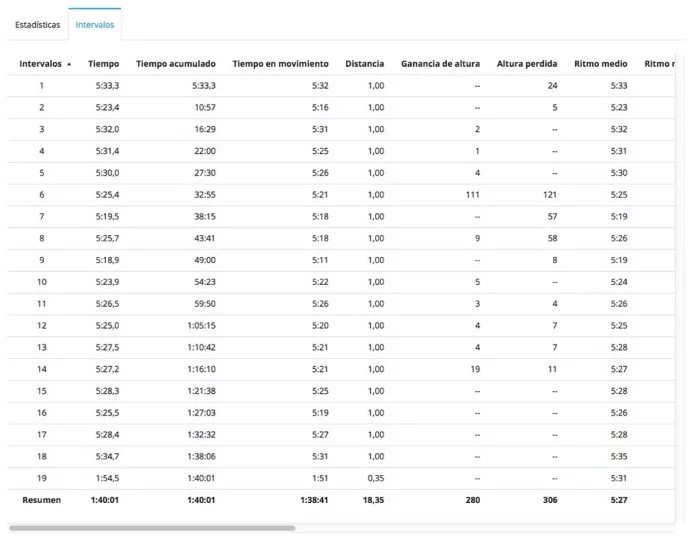 And if you're still short of information, it's also possible to automatically synchronize your Connect account with other platforms, such as Strava or Endomondo, so you have plenty of options to choose from.
Garmin Connect on your mobile
In the Connect mobile application, available for Android and iOS devices, you will find the same information as on the website, organized in a different way but essentially the same. And that information will be both from the training carried out and specific data on activity, sleep, use of equipment, etc.
In addition, this application has seen an important update, renewing all its aesthetics last week. I leave you a gallery of images so you can see what kind of information you will find and how it is represented in this new application.
Installing this application on your phone is also essential, since in addition to serving to synchronize your phone automatically with Garmin Connect, it is also the mandatory gateway for notifications from the phone to reach your watch. It is the common link between the two, and it is also here that you can specify which notifications you want to receive and from which applications, adding any applications that are not listed by default or removing any of those included immediately after installation.
My opinion
I'll be honest with you, I love to try this kind of device from time to time. Simple, easy to use, and they do everything you ask of them - and not a thing more. Forerunner 25's ease of use is commendable. There are no complicated menus, no options buried within other options, and you don't need to wander through undescriptive menus until you find the option you're looking for.
Simplicity is precisely one of the selling points of this model. It is aimed at those who do not want to complicate their lives with 10 pages of data, data and more data. And although the potential customer it is aimed at is the casual or beginner runner, it is not exclusively limited to them. In fact, during my training sessions I have already seen more than one runner with an FR25 on their wrist, and they were certainly not beginners and did not have the pace to be one.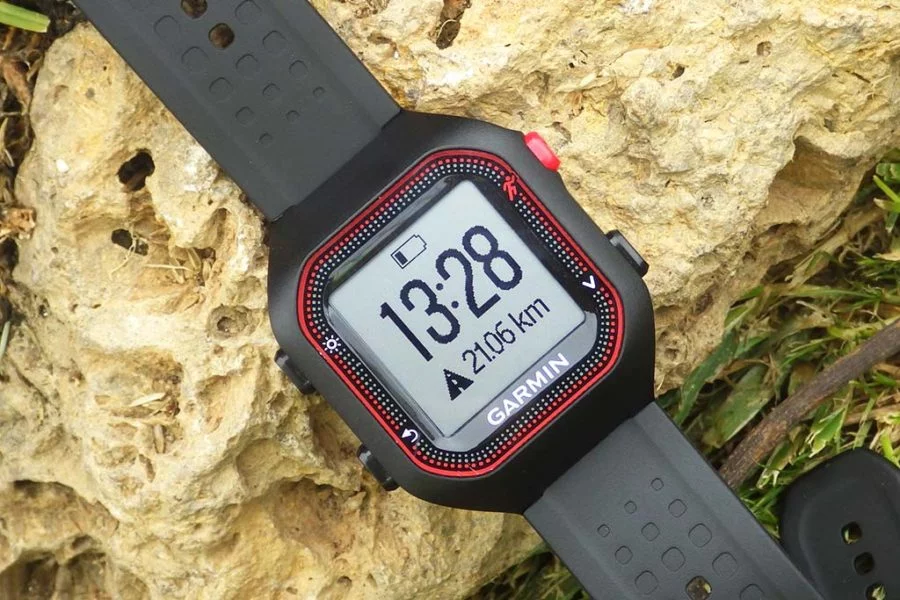 The qualitative leap from the previous model is important. Aesthetically it has improved, especially thanks to a higher quality screen. In terms of software it's quite similar, but now it allows you to select the values you want to have on each data page, instead of being restricted to what Garmin thinks is right for everyone.
The most important new feature is Bluetooth connectivity, allowing you to synchronize your watch very conveniently without having to constantly connect it each time you perform an activity, and notifications work very well.
I really can't say anything bad about the FR25, apart from not allowing the light to be left on permanently. The only thing it can pale in comparison with other competitive models that offer more features for the same price, like the Polar M400Although they are in the same price range, they are two very different products, and for someone looking for something basic and simple, the Polar can become too complicated.
In short, is the Garmin FR25 the right model for you? If you are looking for a simple watch, regardless of your level, the answer is a very big YES. If you don't need any more features, don't pay for them.
And here's the proof. Thanks for reading it! Since you've managed to read this far, continue on down a little further as you'll find two great ways to help the page.
Did you like the test?
I hope that this test will help you in your buying decision. If you already have it, I'm sure it was much more explanatory than the instruction manual. As you know, performing each analysis requires hours and hours of constant dedication. If you like the work I do here and want to help the site and show your gratitude, you can buy your new device (or any other item from the Amazon store) through the links belowYou will get a competitive price and also return a small commission which is very helpful. And this is done at no cost to you. Everyone wins!
If you have any questions or think I should have commented on something else, you can leave a comment and I will get back to you as soon as possible. Or just comment on what you think of the watch. Share this test with your friends, don't be selfish, I'm sure they like it too. You can do it through social networks or, as we have done all our lives, by word of mouth.
Buy Garmin Forerunner 25
If you want to support the web, the best way to do so is to buy your new device through the links below. As I indicated above, Forerunner 25 is available in four different colors (two for each size). And then you can choose to buy the watch in a pack with or without the pulse sensor, depending on which option best suits your requirements.
https://www.amazon.es/dp/B0142FJL7G&tag=c1mes-21
https://www.amazon.es/dp/B0144D4VSU&tag=c1mes-21
https://www.amazon.es/dp/B014AW8HIA&tag=c1mes-21
https://www.amazon.es/dp/B014AW8IE8&tag=c1mes-21
And the corresponding models in pack with pulse sensor
https://www.amazon.es/dp/B0140ULMHK&tag=c1mes-21
https://www.amazon.es/dp/B0144CZ1GW&tag=c1mes-21
https://www.amazon.es/dp/B014AW8HJE&tag=c1mes-21
https://www.amazon.es/dp/B014AW8RZS&tag=c1mes-21