If you are a runner, there are many reasons why you should be interested in the new Garmin Forerunner 245The FR245 is right at the top of the range: it's not as expensive as the top-of-the-range models, but it has almost the same features as them.
I have been using the new Garmin Forerunner 245 Music for over a month. It is not a loaner unit but I bought it so that I could play it for as long as I needed, and of course also so that I could keep it close by and answer any questions that come up that are not covered in this (difficult) test.
If you like this analysis and find it useful to decide the purchase of your next GPS watch, please use the links you will find on this page (well, you can buy that GPS watch you want or anything else). You will not pay more than it is worth, but the seller will pay me a small percentage which is what helps to cover the costs of hosting the site, buying watches and, obviously, my work.
Once I've explained everything and after more than a month of getting to know each other, I'm ready to tell you all the good and bad things about Garmin's new model. Are you ready? Here we go.
Summary
Overall - 9
Training possibilities - 8.5
Platform and applications - 9.5
Battery life - 9.5
Finishes and comfort - 9.5
Price/performance ratio - 8.5
9.1
TOTAL
The Garmin FR245 Music is a great choice if you're looking for a reliable, all-round watch to go with you on your workouts. It's taken almost all of Forerunner 645's features and put them into a more affordable option. And it's even got more range and a more up-to-date pulse sensor. For this price, no other model offers a longer specification list than the Garmin Forerunner 245.
---
The good
It has almost all the functions of its higher-ranking siblings
Optical pulse sensor is slightly better than the previous version
Career dynamics, training status, training effect...
It has a lot of features that have never been seen before in a Garmin of this price
The bad
Without Garmin Pay
No magnetic compass
Not that I would expect this, but for some people the absence of a barometric altimeter can be a problem, especially since it does not track ascended floors or does not allow you to be compatible with the Connect IQ Garmin Running Power
Garmin still has work to do on the new satellite chipset
Garmin Forerunner 245, at a glance
Find the best offer
Garmin Forerunner 245
Garmin Forerunner 245 Music
The Garmin Forerunner 245 doesn't have any new features we've ever seen, but it does have many features that we used to were only present in higher-end devices.
If we compare it to the Garmin Forerunner 235 (which is the model Forerunner 245 is coming to replace) you'll find many options that weren't available before. They're not just related to software features, there are also hardware changes in the new model.
New Garmin Elevate 3 optical sensor with Pulse Ox (pulse oximetry estimation)
New chipset Sony GPS for greater autonomy, compatible not only with GPS but also GLONASS and Galileo
Adds music playback (Forerunner 245 Music only) and support for streaming platforms such as Spotify or Deezer
Performance MetricsThe same as the ones we can find in the high range from Garmin Fenix 5 This includes Training Status, Recovery Status, Training Load, etc.
Career Dynamics MetricsAgain, this is the first time we have seen it in the 2xx range. However, you will need an HRM-Run or HRM-Tri pulse sensor, or the Running Dynamics Pod in order to obtain data on stride length, ground contact time or vertical oscillation ratio among others
Navigation complete route planner (without maps), with digital compass
New security and tracking features with incident detectionYou can send an alert to the chosen contacts in case you detect a sudden deceleration or any other situation that could lead to a fall. You can also send a help message simply by pressing a button
Profiles of swimming pool and gym with repeatability
Allows to pair sensors ANT+ and, besides, BluetoothThis is the same as the other current models, but the 235 did not offer it. However, it is not compatible with cycling potentiometers
Connection WiFi for workout, activity and music synchronization (Garmin FR245 Music only)
Compatible with training plans of Garmin Coach or with advanced trainings created directly on the platform
42.3mm sphere diameter and only 38.5 grams in weight
Lens with protection Gorilla Glass 3
Autonomy of up to 24 hours with use of GPS, or up to 6 hours if we are playing music
Add Virtual Partner and Virtual Racer
New widgets with Body Battery and stress monitoring
If you thought Forerunner 245 was simply an FR235 with the added ability to play music, you were very much mistaken. In many ways the FR245 is identical to the top model, the Forerunner 645 that was introduced last year.
What do you mean, you want to know how the two models compare? Well, ask and you shall receive!
Garmin Forerunner 245 vs Garmin Forerunner 645
If you take a look at the list of features on the Garmin Forerunner 245 and Garmin Forerunner 645, you'll see that they're both pretty much the same. So it's only natural that you'll start thinking about why there's a theoretical price difference between the two, if they both offer the same...
There are a few differences you should be aware of, but here are the features that Forerunner 245 doesn't have:
The Garmin Forerunner 245 does not support Garmin PayPerhaps this is what has caught my attention the most, as Garmin is trying to incorporate wireless payment on all of its devices, as it is an additional source of income for Garmin
There is no barometric altimeter Therefore the height measurement will be done exclusively through GPS (which is not exactly the most reliable thing in the world) It's enough to run on asphalt but if you intend to tackle slopes you might miss it
Due to the absence of a barometric altimeter, in the FR245 there is no monitoring of ascended floors
And for the same reason it is also not compatible with Garmin Running Power
It has no Strava function. I mean, there's no Live Strava segments nor Strava Beacon
While the FR245 is made entirely of plastic, the 645 has a stainless steel bezel
There are no profiles of skiing, snowboard or rowing sportsThey are present in 645
You must not forget that since it is a model that has just arrived on the market it also has some of the new features present in the whole range and which are not in the 645.
Thanks to Sony's new GNSS chipset the autonomy of the FR245 is far superior, especially if we talk about its operation with GPS only use, with 10 hours more battery life in favor of the 245. Pulse Ox.
Thanks to the new wrist heart rate monitor there are two new things that FR245 will track: Body Battery and SpO2.
So if you have doubts between the two models you'll have to think about which options you prefer. But let's get to the point and see how it works.
Use and enjoy training
There aren't many changes in this new Garmin Forerunner 245 but, at the same time, many things are new or different. The user interface has changed, adding icons next to the different menu options. Thanks to the new processor it's now a little faster. But the important thing is that if you come from any other Garmin model you'll still feel at home.
With each new model, Garmin adds a unique face to the model, this time showing the total distance you've run in the current week. It only shows kilometers recorded in the running profile, if you've cycled 300km or walked 95km it won't appear on that screen.
Don't worry, you can select any of the classic options directly from the clock menu or you can download any other from the new Garmin Connect IQ App Store. Or use the Face It option to customise your own face with the photo of your choice.
Widgets have also seen improvements. When you use it, you'll see changes in the effect when you slide screens, but I'm talking about new information.
To give you an example, we now have the new Pulse Ox widget that shows you the last oxygen saturation reading (taken at night, if you have the option enabled), or that you can take at that very moment.
As I was saying, this is not the only new widget that Garmin has included in FR245. We also have the History and Last Activity widgets.
The notifications and the calendar also show a different image. And speaking of notifications, it now shows the colored emoticons. But we still can't answer messages from the clock (it only allows to send some previously established texts, and only in Android phones), it doesn't show the photos that are sent to us, and when it comes to see the messages, it only shows the first lines. So you can forget about reading those 500-word work emails directly on the clock.
Forerunner 245 is fully compatible with the advanced workouts you can design in Garmin Connect, both in the application and on the website.
Speaking of training, another novelty is the Garmin Coach adaptive training plansIt's a free training platform that allows you to choose a target distance, to be performed in a given time. Once you select your target, Garmin Coach will ask you which days you want to train and you can even choose one to be the day of the long roll.
Once the workout is created, it's not a fixed thing that you have to stick to, Garmin Coach will modify the workout plan to suit you. If one day you haven't trained as you should, it will be taken into account in the following days' workouts, adapting them to those changes. 
I leave you this gallery so that you can see for yourself what it offers and what you can select.
You know the best part? IT'S TOTALLY FREE!
I haven't tried them personally because my main sport is triathlon and my training is guided by my coach, so I can't tell you more about how it works. Anyway, I guess you understand the concept of how it works.
Let's talk about sensorsThe Garmin FR245 is compatible with both ANT+ like BluetoothSo if you come from a different brand (mainly Polar, Suunto or TomTom) and already have a pulse sensor, you can be pretty sure you'll be able to use it with your new watch.
I'm not forgetting that FR245 has an optical pulse sensor, but as you'll see later on there are occasions when you'll prefer to keep using the classic chest sensor.
Heart rate sensors aren't the only ones you can pair with the watch, it supports all of these:
Heart rate (ANT+/Bluetooth)
Footpods (ANT+/Bluetooth)
Speed and/or cadence for bike (ANT+/Bluetooth)
Smart lights (ANT+)
Garmin Running Dynamics Pod
Garmin Varia Radar
Garmin Varia Vision
Garmin VIRB cameras
Garmin Tempe Temperature Sensor
But speaking of heart rates, the Garmin Forerunner 245 includes the latest revision of the Garmin wrist heart rate monitor that includes the Pulse Ox feature, which we first saw on the very expensive Garmin Fenix 5X Plus. The new sensor is called the Garmin Elevate 3.
In addition to the pulse oximetry estimation there are also small changes in the pulse measurement (I will expand on this later). But before we go any further... What is pulse oximetry and what can you do with the data it provides?
Pulse Ox takes an estimated reading of your blood oxygen saturation. It does this at night, provided you have the function enabled, so you can get advanced sleep metrics.
Although in principle on FR245 Pulse Ox only works at night, you can take a SpO2 reading at any time of the day through the Pulse Ox widget.
What it lacks is the ability to monitor it throughout the day, something that is present in the top-of-the-range models.
But in those the approach to this metric is different, being oriented to climbing and hiking in high mountains. Anyway, if you don't usually go around high peaks or move in altitude, you don't lose much.
Press Ox is that red light that lights up from time to time on the back of the clock (not to be confused with Amsterdam's red light district).
Returning to the sport part, Forerunner 245 has more features than the model it replaces, but not as many as we can find in Forerunner 645.
Garmin orients the FR245 (and therefore the entire FR2xx range) as a watch exclusively for runners, so it does not have as many functions as the FR645, but we do have more possibilities than before.
We have sports profiles of career (outside, inside track and belt), cycling (exterior and interior as well) and also andar, swimming pool and other indoor sports such as elliptical or weight training.
So... what do we lose with respect to 645? Well, other sports like rowing or skiing. And obviously we don't have the multi-sport profiles we can find on FR945 either.
Each sport I mentioned above allows individual configuration; almost all options are customizable; from data pages to alerts, automatic lapping, GPS configuration and so on.
What it means is that you can have a running profile not only with the data pages you need specifically for this sport (pace, etc.), but also other settings such as alerts or automatic laps for sports like cycling, where you will also prefer to see speed instead of pace.
Besides the data pages, this is all you can set up:
Alerts (heart rate, run/walk, pace, time, distance, cadence, calories)
Metronome
Automatic return, also allowing you to select what data you want to see when it is displayed 
Automatic Pause
Automatic Scroll
GPS Modes (GPS, GPS+GLONASS, GPS+Galileo, Ultratrac)
To define your data pages you can select from one to four data pages per screen, as well as add some of the default pages; such as the activity map, music control and race dynamics. And by the way, the font that Garmin uses now is different, a little more rounded than the previous one.
I have talked about running dynamics, yes, because this is another option inherited from the superior models and now found in the FR245. You must remember that in order to display these metrics you will need an external accessory: Garmin HRM-Run, HRM-Tri or the Running Dynamics pod.
When you're done training, you can sync your activity with the Garmin Connect online platform, using Bluetooth if you're in close proximity to your phone, or WiFi if you've set it up on your Garmin Forerunner 245 Music (regular Forerunner 245 doesn't have WiFi). If neither option is viable, you can always use the USB data cable.
After syncing, you can review your workout on the Garmin platform, both in your phone application and on the website. And as a bonus, Garmin Connect also includes the list of songs you've been listening to while you've been running. It's completely private and only you will see it, even if you share your workout with a friend.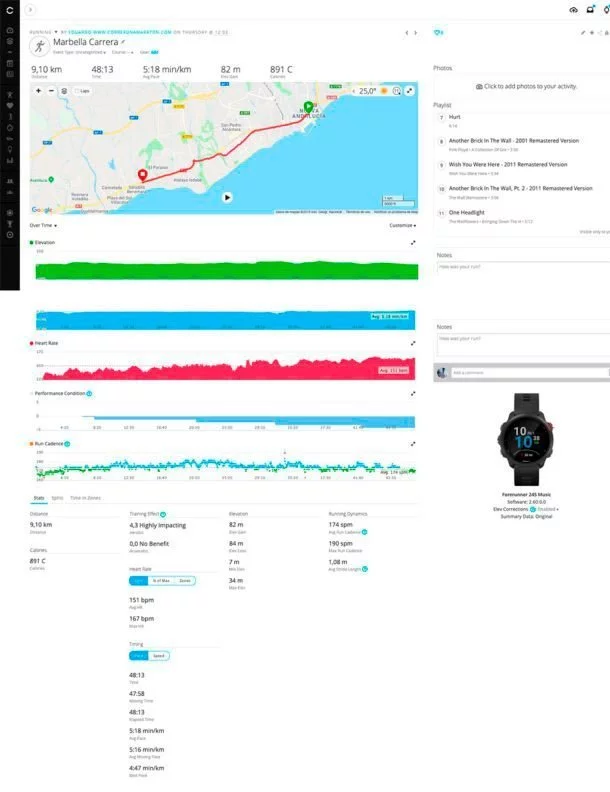 Route navigation is another feature that was not present in the mid-range in the past, but has made an appearance in the Garmin Forerunner 245.
It's exactly the same as the one we have in the FR645, so it's a slightly cut-down navigation compared to what you can have in a Fenix series watch. And I'm not talking (exclusively) about the maps in the Fenix 5 Plus, but about another set of slightly more advanced navigation features.
Make no mistake, this is not a criticism. It's simply that the navigation we have in Forerunner 245 is slightly simpler than the other models. Is that bad? Not necessarily. It's perfect for the occasional route use you may need, but it doesn't have the feature level of the more advanced models.
On the Garmin Forerunner 245 we have three specific functions for route navigation:
TravelsTo follow predefined routes that you have created from the app, from the web or imported from external services
ActivitiesThe following is a list of activities that you have completed in the past
Saved LocationsNavigate to a saved location, which you have marked from the clock (only directly, not with a guided path)
The reality is that the function you are going to use is the "Routes" function. With this function you can easily create a route in Garmin Connect.
You can create it manually or import an external file, whichever you like, but if you want to create a route, it's much more convenient to do it from your computer. The Garmin Connect application also allows you to create routes, but it's a pain.
It allows you to set your starting point and then you can keep putting more points on the map, but it's anything but intuitive. You can design the route... but it's going to take you a while to get there.
But on the other hand you have the option to create a route with the "Automatic" option, as you can see in the screenshot above. It is much more interesting because you simply select a starting point, the approximate distance you want to travel and in which direction you want to go. From there the app will calculate an option for you automatically.
This is the perfect option for those of you who travel and don't want to rack your brains trying to figure out which routes to take when you get to your destination. You'll get a navigation route that's based on Garmin's popular route feature, called Trendline. With data from thousands of activities uploaded to its servers, Garmin knows which routes and trails are used by other users in that same area.
After creating your route (from the web, application, imported or whatever) you can synchronize it directly to your clock and, when you are about to start your adventure you can enter the options to load the route you have synchronized.
From then on, the clock display will show a route like the one below.
If you enter the navigation options you will also be able to zoom or scroll the map to see different details
So what are the functions you're missing from the Fenix range or Forerunner 945? Obviously in the case of Forerunner 245 there are no maps, but it also doesn't have functions like points of interest, Sight 'n Go and the like. But perhaps most importantly, in FR245 we don't have a magnetic compass.
This means that the clock will know where you are looking only if you are moving, but if you stop at a fork to try to decide which way to go, the map will not move with your movements.
That's the main drawback we found in FR245's navigation, apart from this detail it's something totally functional for your escapades in the forest.
Training and Performance Metrics
One of the most interesting aspects of the new Garmin FR245 is the advanced performance metrics. This was the main feature shown on the Garmin Fenix 5 and Garmin FR935, and now they have finally reached the mid-range.
This is a collection of algorithms that, far from being developed by Garmin, is the work of the Finnish company Firstbeat. With many years studying and developing heart rate functions, they are the ones behind most of Garmin's features. Just take a look at your website to see the number of proprietary algorithms available in Forerunner 245.
All this data is available on the clock through a widget. Let's say it's the cover for all the performance metrics that Garmin (and Firstbeat) call Training Status.
The data shown on the display will change each time you complete a workout, updated with the latest activity and putting it in context with what you have been doing up to that point. It will also change if you don't train, reflecting for example that you are recovering.
This information is extracted from the VO2max estimation, something that was already present in previous models.
This estimate will be reliable after several weeks of data recording, so before you have consistent information you should have done some workouts with different intensities. It is a metric that needs to be adapted to you and how you train, you should wait at least that long for weeks of varied and serious workouts before you begin to see meaningful data. 
Within that same widget we also have access to the recovery status, including the remaining hours until you are fully recovered.
The main news is that now, in that sum of hours, you will see the recommendation you should take into account about your next training, if you can train normally or it is better to take it easy.
Below is the training load screen, where you will find the indication of COPD accumulated in the last 7 days.
>> What is COPD? Excess oxygen consumption after exercise (Excess Post Exercise Oxygen Consumption).
Training Load is just a concept, a figure that represents the physiological demands you've been experiencing with your training, taking into account that each of us has a different level of endurance.
That means that this number is entirely personal, and will also vary with the time of the season you are in. A training load of 600 may be optimal for me, but it is surely a week's rest for a professional.
And in the same way that training load can be very high when I'm out of season, or relatively low if I'm training for a specific competition.
This metric uses historical data to determine if your training load is correct or if you are increasing your load too quickly.
As I said at the beginning, all this data is summarized in the initial screen of the widget.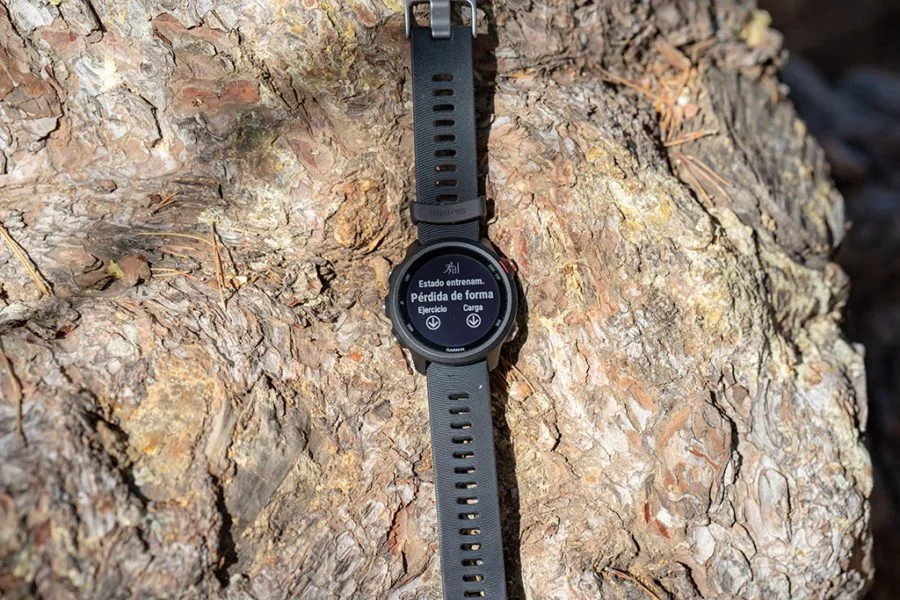 It is divided into two values: exercise and load. The arrows indicate how the training is affecting you. Here what we especially do not want to see is that our fitness (exercise) decreases while we increase the load. That means that we are working too hard but without much benefit, so you should increase the intensity of the training. 
The news doesn't end here. After completing a training session we have a new screen, called Training EffectHere he separates aerobic and anaerobic work.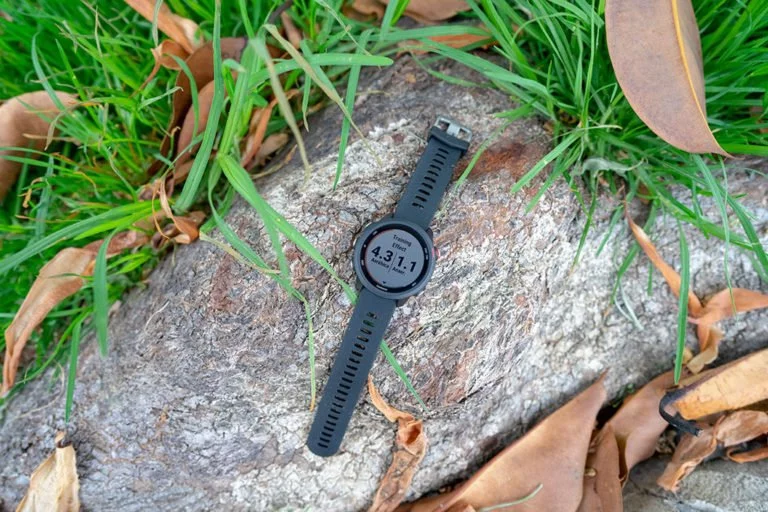 These two metrics indicate how the workout you have just completed will affect your fitness. Being separate, it allows you to better categorize the aerobic and anaerobic impact of your workout, since depending on what you are training for, you will prefer to improve one or the other aspect. Because the physical changes you are looking for by training for a 5km run are completely different to those you are looking for in a marathon.
This data is not only displayed on the clock or when you enter history, it is also available in data synchronized to Garmin Connect.
Are the values shown valid? I think in general they are quite real. The workout shown was mainly a steady pace start, but including three or four short intervals. This has resulted in an aerobic effect of 3.5; considering that it was not an excessively long workout I think this is correct.
I also got an anaerobic effect of 1.3, thanks to the short intervals I did. It wasn't a training series as such, just a few changes of pace and not too difficult, so I wouldn't expect a higher number.
Now, how about a near-threshold pace roll? I started out easy, increasing the pace slightly in the last few minutes of the workout, but with the sole intention of increasing the mileage. No intervals or a pace that would be too much for me.
Presumably for this workout we should find good aerobic value, without affecting anaerobic capacity too much, right? At least that's what I intended with this workout (because I'm going through a solo injury). So what does the Garmin Forerunner 245 say about it?
Yes, it seems that we are in tune. You can see that it was not a recovery training as the heart rate was over 160, but as I did not make any change of pace I entered Z5, there is no anaerobic improvement.
In this sense, the information provided is good because it is perceptible and the average user can use and understand it. The key is to know how to mix your workouts so you don't get stuck doing the same thing all the time.
The first version of Training Effect was a simple value that gave a qualification to our training, but without differentiating in any way. We could get the same value for a long run of 3 hours as for 30 minutes of intervals. And, obviously, they are two exercises that produce very different effects on our body.
Music playback
When you buy the Garmin FR245 you have two options: With or without musicIf it's the non-music version that interests you, then you can move on to the next section. Are you a music lover? Then don't go anywhere, stay here with me.
Well, I lied to you anyway. Music isn't the only thing that's different, the selection of colors available also varies between the Garmin Forerunner 245 and Forerunner 245 Music. It's not just the color of the strap, but also certain accents on the watch. 
In the case of choosing the version without music, you can opt for grey or maroon. Which as I say is not only the strap, also the accents are different. There is a ring on the main button and a small line next to it.
You don't like those colors? Then you can choose from three other colors, but only available in the 245 Music version: black with red details, white (with black bezel) and light blue.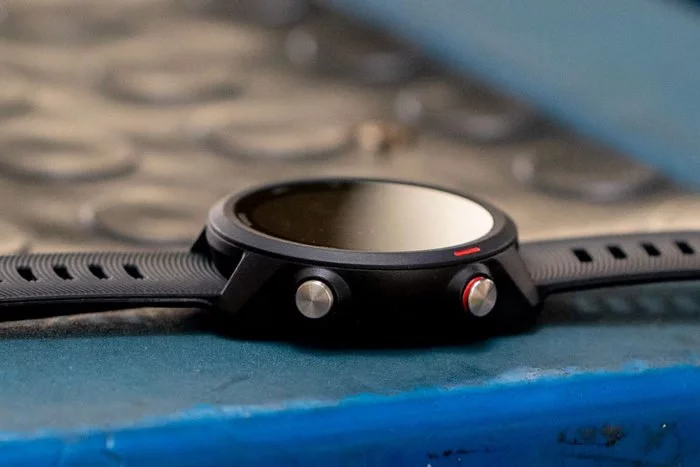 But hey, enough talk about colors, we're here to talk about music. Only the Garmin Forerunner 245 Music has the hardware to make it all work, including memory to store files and the ability to use Bluetooth to stream music (to a headset, speakers, your car, or whatever you want), as well as WiFi, which allows you to sync music wirelessly - and your workouts and other data as well.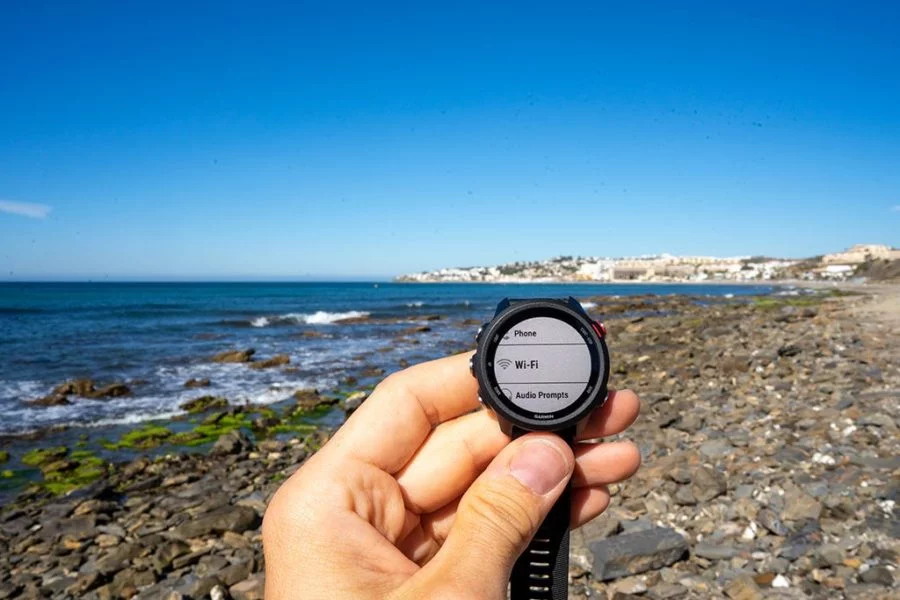 In terms of available memory, the watch has a total of 4GBWe have a total of 3.6GB of available space that is shared among all of the stored files, with the rest reserved for use by the system. This includes not only music, but also the rest of the training files, applications, etc. But all of this takes up very little space, leaving almost all of the space available for music. According to Garmin's calculations, about 500 songs in total.
From here we have several options on how to transfer music. The classic option, in which we simply transfer files manually to the clock; or do it 2019 style, synchronizing the music from our favorite music streaming platform. I'll start with the manual method.
Manual music sync to the Garmin Forerunner 245
We can do this through the Garmin Express application or, if you use Windows, by dragging files directly into memory. By connecting the clock to the computer and activating the computer's MTP mode, we have access to the two available memories.
(I will use the examples of 645, but in 245 it is all exactly the same).
On a Mac, you only have access to main memory, not media memory. But there's a catch, if you install the Android file transfer application (Android File Transfer) you will be able to see that memory and operate normally with it.
However, it is more advisable to do so through the Garmin application, since the corresponding playlists will be created for each album you synchronize, and you can later access the music through the names of artists, albums, songs, etc.
Simply select what you want to sync and send it to your device.
Synchronization with music platforms
Manual music synchronization is fine, but I bet 5 real fleece that many of you don't save any music file on your computer anymore and depend totally on streaming platforms. You don't have to worry, because FR245 also allows you to synchronize your playlists to the clock.
Right now Garmin has applications for Deezer, iHeartRadio and yes, Spotify too!
How does it work? First, you need to install from Connect IQ the application of the music provider of your choice -Spotify, Deezer or iHeartRadio-Once downloaded, you can find the app among the music provider options on the clock.
All the information I will show will be in reference to SpotifyAnd based on the number of downloads from the different platforms, it's the one most of you choose.
Adding music and podcasts
I'm going to assume that since you're a regular Spotify user, so you already have different playlists created on the platform, this works for both lists created by you and lists created by others (whether other users or Spotify), as well as dynamic or latest playlists. And you'll also be able to sync podcasts that you've subscribed to.
You only have to mark what you want to listen to and, once done, it will use the WiFi connection to download the files, which you must have configured in advance. You can do it from the clock, but I recommend that you do it from the application on your computer or phone as it is much easier to write the password there than to do it on the clock.
However, it has to be a private network with a password, it is not possible to do this in open networks such as hotels, airports or similar access points.
I found the download to be reasonably fast. Not as fast as if you were downloading from your computer, but it's not an eternal process. I downloaded a playlist of 200 songs in about 15-20 minutes. But the best part is that it doesn't require the user's attention at all.
Remember that this is the first download, so if you want to update the list tomorrow because you've added 10 new songs, you'll only have to download those 10 songs, not the whole list again. And unlike other platforms like Deezer, it seems that in Spotify the limit is set by the amount of free space in the clock memory (Deezer limits to 500 songs stored in memory).
Playing Music on the Garmin Forerunner 245 Music
Once we have everything synchronized to the clock it's time for the party. You can play music while you're training, but also at any other time. Simply access the music option through the widget or by pressing and holding the lower left button on the clock.
You'll be asked what you want to play. You can add headphones in the same way you add any other sensor, and you can have more than one audio output source paired (but you can only play music to one device at a time).
The playback screen has direct access to three functions through the buttons: pause, next song and play menu. The outer circle indicates how much of the song has been played and how much is left over.
From the menu you can access the rest of the options, such as modify the volume, change the song, activate the shuffle mode or return to the music library.
You may wonder what the sound quality is like. It's not bad, but it doesn't offer any advanced codecs like apt-X or AAC. Data transmission is up to 328kbps, which is pretty decent but not perfect.
Remember that data transmission is digital, so the headphones must have a good DAC (digital audio converter) to enjoy good audio quality.
But considering that you will use this option mainly while training with a headset and that you will be more focused on keeping the rhythm in the intervals... it is perfectly valid.
The only problem you might have would be the signal cuts. But that depends on many things, and the watch wouldn't be the only one to blame. If you have cuts it could be perfectly well the watch; but also the headphones, the distance between the two, other things you have on you that are causing interference, or simply where you're wearing the watch.
I haven't had any disconnection problems with the different types of headphones I've tried, from Jaybird to AirPod copies. Maybe I can remember some cut-off occasion if I was walking with my hands behind my back, but not while running at any pace.
Garmin FR245 Wrist Heart Rate Monitor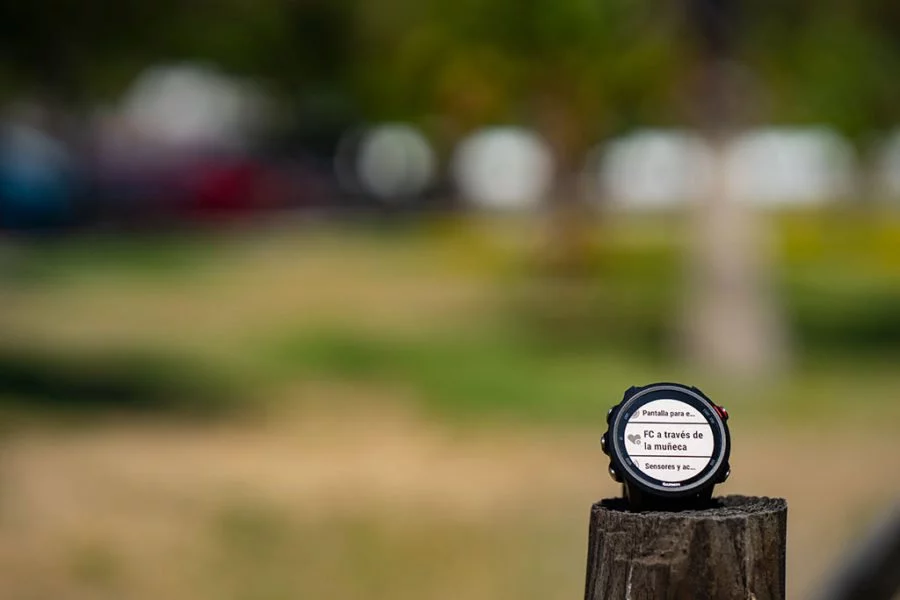 As I said earlier, the Garmin Forerunner 245 comes with the latest Garmin Elevate optical heart rate sensor. This is version 3, in theory the latest and most advanced Garmin.
The main difference from previous units is the Pulse Ox sensor and the red LED required for this particular function, but it also has some improvements that should make it better than version 2.
Based on this my expectation was to find something with a slightly higher registration than previous versions, but I also didn't expect to find an abysmal change. The optical sensors have been around for quite some time, if they had a wide margin of improvement it would have been done already, but it is possible to improve them by 1-2%, which is what I expected to find.
I'll make a little spoiler before I go into all the comparisons: Don't keep your chest sensor in the drawer yet, you're going to keep using it.
And as a reminder, keep in mind that an optical pulse meter will not work the same for everyone. Tattoos, body hair, skin tone... all of these can make a big difference between people.
These tests are conducted with a wide spectrum of users: one, which is me. What works for me may not work for someone else in the same way, or may work better for them.
But the most important thing is that you have to wear the sensor correctly, tight (but not as if you were making a tourniquet on your wrist) and leaving a separation of approximately one finger in relation to the wrist bone. If you make sure to follow these details you can be sure that you will get the best possible results for your skin color conditions, etc.
I'll start the comparison with an easy-paced workout. It couldn't be simpler.
For this training I was carrying an FR245 with me, both using the wrist heart rate monitor (both use the same sensor). The Polar H10 sensor was carried to validate data, and was paired with the Polar Vantage M.
What can we see in this graph? All three are practically the same. There is only a small difference in the FR245's, around the 26 minute mark, which I am sure occurred when I adjusted the watch strap. It is at this same point that I slightly change the intensity of the workout, when I reach a steep climb.
Let me zoom in on that area. Leaving the point error aside, I want to focus on the ups and downs of the graph. We can see that even though the optical pulsometer reaches the correct pulse values, there is a slight delay compared to the chest sensor.
It's something that happens exactly the same when I start to increase the intensity as when I'm recovering.
I start with a smooth and easy pace and finish with three different intervals, similar to a fartlek. This time I compare Forerunner 245's optical sensor with that of the Polar Vantage M. And with those two, I'm wearing a Garmin FR935 with the Garmin HRM-Tri sensor to try and figure out which one of them gives the best result.
At the beginning of the training you can see three perfectly aligned lines, but there is also some hesitation at the end with the intervals.
As there is not much to assess in the first part, I will focus on that end of the training with the changes of intensity.
As you can see, the same situation is repeated as before. There is a slight delay in the time of the climb and descent, but in this case the FR245 is somewhat faster than the Vantage M. Both Garmin and Polar offer the same heart rate data, but the Polar needs three or four more seconds to reach it.
There is also a peak around the 33-minute mark, both on the FR245 and the Vantage M graphs. Why is this? I had to cross a street, and it seems that neither of them were happy about the sudden stop. We must not forget that all this is based on an algorithm, so if there are dramatic changes it will be reflected in how it displays the information.
The plan was to do 6×400 with a 30-second break between sets, but clearly I can't even count, and in the end there were 5... well, it's the thought that counts.
They are not as intense as I would like, but being in full recovery is what I dare to do at the moment.
This time I change things a bit again. Obviously I still use the optical pulse sensor of the FR245, but I add the new Suunto 5 to the comparison, and the Garmin FR945 is paired with the Polar H10.
At first glance we can see that already during the warm up there is some problem with the FR245. Maybe I didn't wear it tight enough, because I remember to adjust the strap but already quite late in the training.
So that's no excuse, because even if you lose the first interval, from the second one you already recover. It's rare because usually in easy conditions like this heating the optical sensors usually make it almost perfect, in this case it's clear that it took some work to start recording correctly.
I will now expand the interval section.

Clearly, the first one is bad. Suunto 5 does it much better, although in recovery it also gets lost.
The second and third are not bad at all. The third has a somewhat strange peak, but within the usual range of optical sensors, but after making the recovery correctly in the fourth interval it makes a frankly bad start again.
This time it was the Suunto 5 that performed best, although when the Garmin Forerunner 245 had a good interval the truth is that the graph is quite positive.
Time to change gears, let's pedal. I know I said this is a running clock, but who doesn't like to take their bike out for a spin once in a while? 
In the case of cycling the optical sensor logging data has always been typically bad, so I didn't expect the FR245 to improve it too much. But I ended up a little surprised.
I'm not saying he's as good as running, but he's improved quite a bit. It won't make you forget about the sensor in your chest, but an improvement is an improvement and I have to stress that.
This is a simple cycling workout, just starting with the warm up (well, more than warm up is going to the zone I use to do my intervals), so the first few minutes are spent between traffic lights and roundabouts. Remember what I just told you about the algorithms? Well, you don't like this too much either.
For this test I used the HRM-Tri sensor paired with a Garmin Edge 1030, comparing it to the optical sensors in Forerunner 245 and Forerunner 945. The light blue line corresponds to Forerunner 245, while the red line is that of the HRM-Tri sensor.
As I said, there are three different parts to training: travel, intervals and cool down.
The scrolling part is pretty bad, so I'll just focus on the part of the intervals that is really interesting, because that's the focus of the exercise. It was just 10×70″ with a rest period of 50″. It's this part that I extend.
Let me tell you that I was surprised at how the little FR245 recorded the intervals. The first two show quite a bit more lag than usual, but the rest are practically perfect. Much better than in the case of the Forerunner 945 which does a pretty lousy job, considering it's a multisport watch and you'd normally see quite a bit more cycling than that "running-only" watch.
Not that I'm saying it's enough to use on the bike, it's not. But it's good to see things are getting better.
As for the cooling down period, it is simply easy to pedal, and we have the same problems as at the beginning of the training.
In general I see an improvement compared to previous models. Maybe it's the hardware or just the usual software adjustments that occur every time a new model comes on the market, but the improvement is there.
It's not enough to make you forget about the chest sensor, you still have to use it for cycling and interval training; but I can tell you that I trust the optical sensor perfectly for easy training and even races where the pace will be constant. The truth is that it works well as long as there are no excessive changes in intensity.
Garmin Forerunner 245 GPS Reception
Just like the optical sensor tests you saw earlier, the GPS comparisons are done in the same way: with the watches accompanying me in my usual training. I wear both the FR245 and other models, and check where the problems appear. I don't have any defined route where I set a score for the simple reason that there are other external factors that we should never forget.
Things like clouds, leaves on trees or simply the satellite position can alter the GPS results from one day to the next, which is why I prefer to do this type of comparison instead of having a predefined path and assess it from there.
In any case, With the new Forerunner 245, GPS comparisons are importantGarmin has changed the GNSS chip to the new one from Sony, which is the one adopted by almost all manufacturers (whether Polar, Suunto...). On the one hand, it allows to significantly improve the clock's autonomy, but the associated problem is that the tracks they have been showing have been worse than those of older chips.
First I will start with this training in Seville with two interesting "rivals": On the one hand the Forerunner 935 with a frankly good performance after all the updates it has been receiving. And secondly the Polar Vantage M, which equips the same satellite chipset as the new Forerunner 245.
Both Forerunner 935 and Forerunner 245 are configured to log GPS data every second and with the option of GPS + Galileo. Meanwhile the Polar Vantage M does not allow configuration, but natively supports GPS+GLONASS (by October it will also support Galileo).
This is the chosen route: mixed, with a start that should be very easy because it has no sign problems (parallel to the Guadalquivir River), but on the way back very complicated areas through very narrow streets of Seville.
In this second part of the route I don't expect a good record of the track because given the characteristics it's impossible, with very narrow streets of even a little more than 1 meter with hardly any visibility of the sky, but I'm interested to see how it recovers the signal when I get to a more open area.
This is the first part of the training, going down the park next to the monument of Christopher Columbus in search of the river.
It is an easy area because of its wide parks and avenues, if any of them is lost here it would be a bad sign. However, the three clocks are almost always on the route, the same is true for the section parallel to the Guadalquivir.
Continuing along the riverbank the result is identical, as well as making the turn and returning along the same route. So far the two Garmin and the Polar coincide fully, so there are not many obstacles to be overcome (at the moment). It is also worth noting that the bridge where the Hotel Ribera de Triana is located is crossed underneath, so the signal is lost momentarily. None of them has presented any problem either on the way there or on the way back.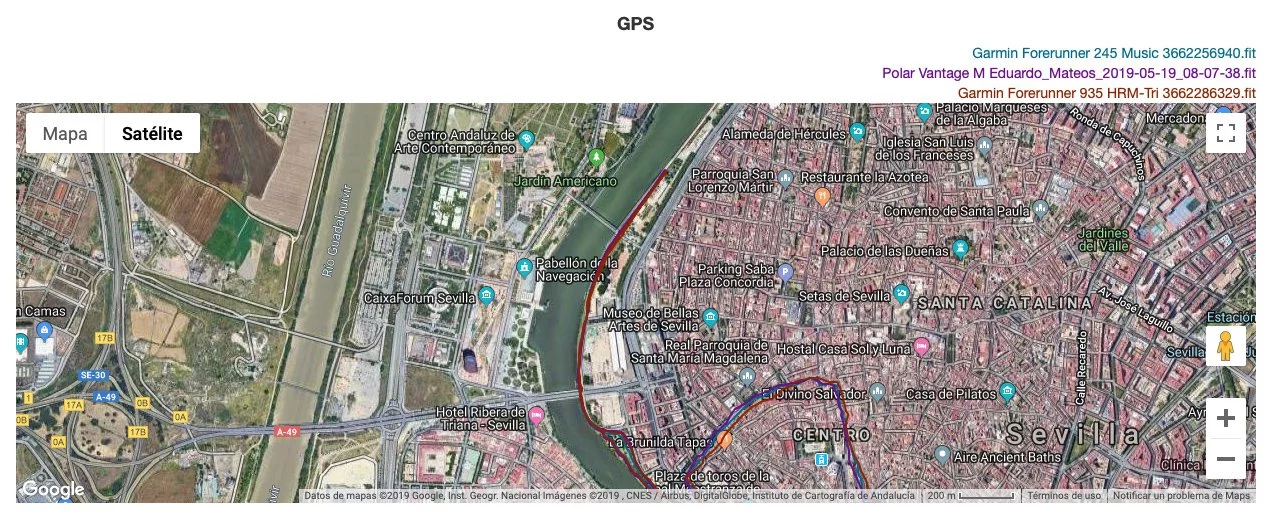 Obviously when you enter from the centre things change completely, the coverage is very bad because the streets are extremely narrow. No clock is going to give a good signal in those circumstances, but it is interesting to see how you recover when things go wrong.
In this first section of the entrance on Reyes Católicos street, the three make the right turn, with FR245 being the one that best maintains its composure in the face of difficulties. FR935 loses quite a few metres and wanders over the buildings.
The Forerunner 245 behaves reasonably well, very similar to the Polar Vantage V. However, the entrance looking for the Sierpes street is bad for the three of them, as they already arrive at that point with many difficulties, being the Rioja street extremely narrow. In fact, given the conditions it doesn't even seem that bad to me.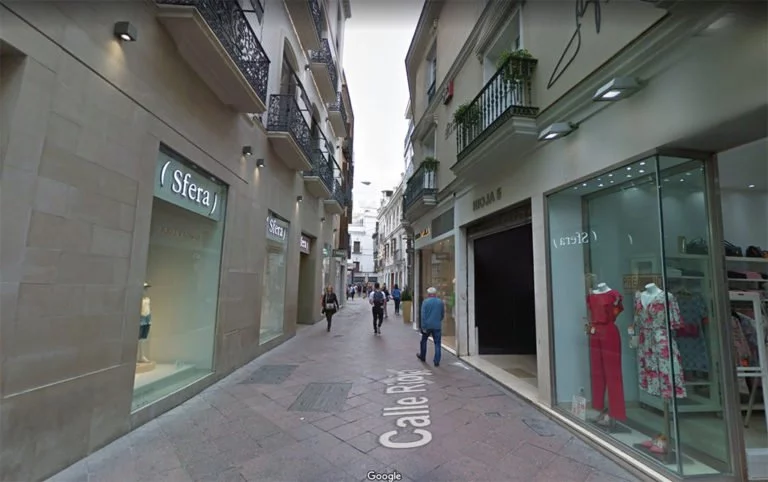 The descent along Sierpes Street towards the Town Hall is very similar. Slightly wider but also presents the same problems. In this part of the route what I want to analyze is the arrival at San Francisco Square where the clocks can get signal again.
FR245 and FR935 soon join up and plot the same route, while the Polar Vantage M, as seen in its test, is consistent in its mistakes and maintains the original course.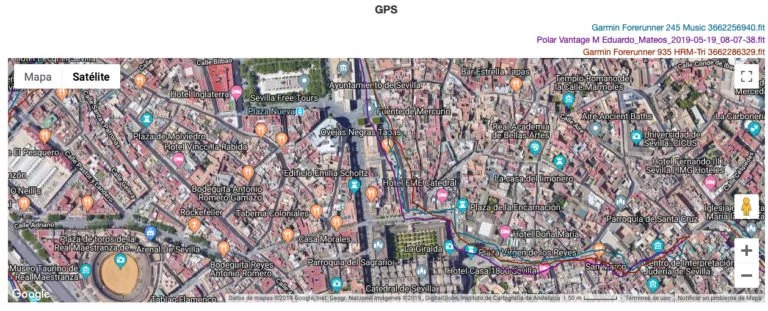 However, when the Forerunner 245 arrives at the cathedral it makes two strange and too abrupt turns, denoting that it has lost the signal and is simply joining those two points with a straight line.
We are going to change completely and I show you now a training much easier to handle. It is practically a straight line, in one direction and with perfect visibility of the sky. With these conditions I hope that the tracks are simply perfect.
This time I have the FR245 configured with GPS+GLONASS, and I have "upgraded" from the FR935 to the FR945, using the GPS+Galileo configuration. The Polar Vantage M remains unchanged.
By expanding and checking different areas I see some problems, but all related to the Vantage M and FR945, not to the Forerunner 245. For example, this is a problem I usually see in the testing of Polar Vantage. The track is separated about 8-10 meters from the original route, and it shows consistent with that error.
Instead of swerving briefly and returning to the right place, it stays in the fault. It is also a straight line so there is no impact on the instantaneous pace or total distance, but the track usually appears wrong.
I've marked the areas in yellow.
In the meantime, both Garmins behave correctly. Not perfect, because sometimes they deviate 30-50cm from the right place, but quite precise at all times.
A little further down the line it's the Forerunner 945 that makes very strange movements, probably due to its GPS+Galileo configuration. A few days ago Garmin released a beta version to try to improve operation in that configuration mode.
The rest of the route was quite normal and I could not find any flagrant error on the part of FR245.
It's the general trend I've seen in my training with Forerunner 245. Not perfect, because no watch is perfect, but very good for most of the course. Here's another example of a circular training.
In this case, instead of the Vantage M, we have the Suunto 5, configured with GPS+Galileo, and as you can see with the naked eye, the result is virtually perfect on all three watches. 
I always like to take a look at the sharp turns, trying to pinch the algorithms that use the marks, but even if I make two 90º turns in a row it doesn't seem to upset any of them.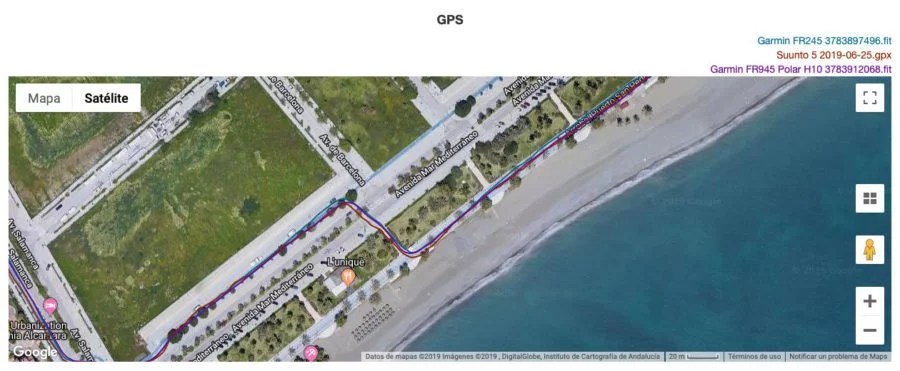 There is a slight separation at the end of that image by FR245, but we are talking about centimeters.
The same goes for this other turn, where both the FR945 and FR245 do better than the Suunto 5 which seems to be a bit surprised, but after the last turn Forerunner 245 deviates slightly from the trajectory, maintaining the error, but soon gets back on track.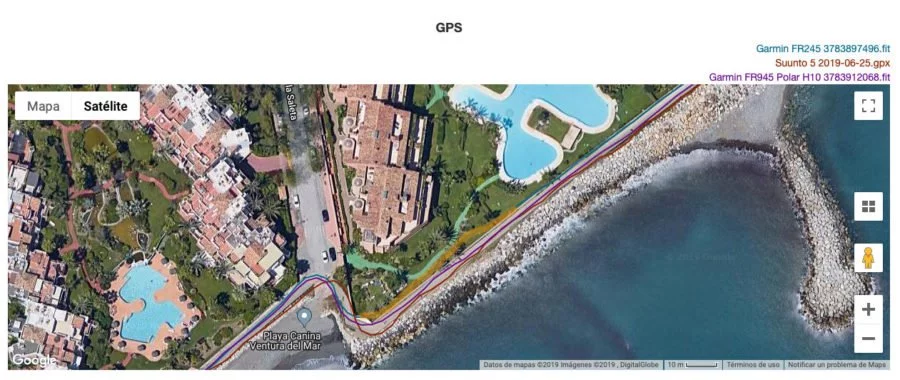 As I say it is a punctual moment, but it is not the usual one. Here you have another area with numerous turns in which the three clocks mark almost exactly the same track.
So, final opinion? Despite being in its preliminary firmware versions, the Garmin Forerunner 245 has shown a quite solid behavior, and sometimes better than other models using the same Sony GNSS chipset (Polar and Suunto).
But the results are not perfect. Proof of this is that Garmin is working on the GPS firmware and has recently released an update to try and solve some of the first problems I noticed when we selected the Galileo option.
Buy Garmin Forerunner 245
I hope that this complete analysis has helped you to decide if it is a valid device for you or not. All the work I do you can consult it without any cost, but if you want to support the web and with it the work I do, the best way to do it is to buy your new device through the links I provide below. And if you don't buy it today, remember to stop by when you are going to do it!
Through these links not only will you get a very competitive price and the best customer service, but I will also receive a small percentage without costing you any additional outlay, which is what allows me to continue offering you proofs like this on the page.
Find the best offer
Garmin Forerunner 245
Garmin Forerunner 245 Music
You are not going to buy it, you already have it or Amazon is not an option; but you like the reviews I perform and you want to show your support for the site? Then consider signing up for a VIP membership. Above all you will be helping to support the site, but you will also enjoy unique benefits.
If you have any questions, remember that you have the comments section at the bottom, where I will try to answer all your questions.
Opinion Garmin Forerunner 245
Garmin has tried to make the best running watch for the mid-range. Has it succeeded? I honestly think so.
The Garmin Forerunner 245 meets all the requirements to become the best-selling Garmin model, simply because it incorporates many of the features previously reserved for the high-end at a cheaper price.
Garmin's upgrade for its best-selling model was successful, both in terms of design (it's reasonably small, but with a very acceptable screen size) and in terms of everything it includes in its software: route navigation, more sport profiles, performance metrics, etc.
It is true that none of them are new, but we must not forget that most of them are functions that a little more than a year ago were in watches such as the Garmin FR935, whose price is practically double.
Not everything is perfect. Garmin still has to work on the firmware of the new Sony chipset, but so do the rest of the competitors. In this sense, all of them have suffered a greater or lesser impact in pursuit of a greater autonomy, at least in the combination of GPS+Galileo. In its GPS+GLONASS configuration I have not had excessive problems.
And as I said at the beginning, there are a couple of things I miss: wireless payments via NFC and barometric altimeter, both of which are available on the Garmin Vivoactive 3, a cheaper and simpler watch than the Forerunner 245.
Leaving aside the slightly improved appearance of the GPS and the absence of these two functions, the FR245 Music is a very serious watch that I have been able to train with perfectly. All these improvements that Garmin has added to the FR235 are the icing on the cake, making it without a doubt the best model in the mid-range of running.