Actualizado 30 septiembre 2020 – Añadido prueba específica sobre los nuevos Fenix 6 Solar
The Garmin Fenix 6 (or, rather, the Fenix 6 series) has arrived earlier than expected, at least from the date of presentation I had in mind. Until now the Fenix range had been presented at the CES in Las Vegas, which is held in January every year. But if you want to take advantage of the most important sales campaign of the year (Christmas) this is not the best time.
Garmin decidió adelantar el lanzamiento y lo hizo coincidir con una fecha también emblemática, la UTMB o Ultra Trail Mont Blanc. Matan dos pájaros de un tiro: llegan con la nueva gama perfectamente distribuida a las fechas importantes y «they make noise» en un terreno donde típicamente Suunto, su rival en la categoría de Trail, ha sido siempre más fuerte.
The Fenix 6 not only renews the range, but also brings some order to it. The Garmin Fenix 6 comes to replace the Garmin Fenix 5while the Garmin Fenix 6 Pro does the same for the Garmin Fenix 5 PlusIt's not just a range arrangement, there are a few NewsPacePro, battery modes, more autonomy, smaller frame size, user interface changes...
I have been able to test the Fenix 6 for several weeks in different types of training, from trail competitions and mountain training to simple asphalt races or bike rides of more than three hours. The tested unit has been temporarily loaned by Garmin, and will be sent back after the analysis is completed.
I want this to be clear, because all the tests I carry out are done as objectively and impartially as possible. There is no compensation of any kind from the manufacturer, either in cash or in kind.
If you like this analysis and find it useful to decide to buy your next GPS watch, please use the links on this page (well, you can buy that GPS watch you want or anything else, anything goes). You won't pay more than it's worth, but the seller returns a small percentage which is what cost coverage of hosting the site and, obviously, the work I do.
Isn't that an option? You might want to get VIP membership to not only help the site, but to benefit from everything that is included.
I won't keep you any longer, let's go with the complete test of the Fenix 6 and all the specific novelties of the different models of which the range is composed.
Garmin Fenix 6
Overall operation - 8.5
Training possibilities - 10
Platform and applications - 9.5
Battery life - 10
Finishes and comfort - 9
Price/performance ratio - 7
9
TOTAL
While it may seem like a simple range upgrade, the Garmin Fenix 6 series represents a complete hardware upgrade. New GNSS chipset, new optical sensor, smaller screen frames and of course software improvements. But all this comes at a price...

User Rating:

Be the first one !
---
The good
Except for making you lunch... he does pretty much everything else, including mountain or triathlon
Finally comes the reduction of the frame size, now the screen of Fenix 6 and Fenix 6X are visibly bigger
New data screens, now with support for 6 data and even 8 on the 6X
Autonomy is reaching unsuspected limits, and frankly, it has reached a point where adding more doesn't make much sense either
Solar charging on the Garmin Fenix 6X Solar
The bad
New Garmin model, new price increase
The normal Fenix 6 does not support music or maps. It is very strange in a watch of this range
There is still room for improvement in the GPS and optical pulse sensor records
Find the best offer
Garmin Fenix 6
Garmin Fenix 6S
Garmin Fenix 6 Pro
Garmin Fenix 6 Pro Sapphire
Garmin Fenix 6 Pro Titanium Sapphire
Garmin Fenix 6S Pro
Garmin Fenix 6S Pro Sapphire
Garmin Fenix 6X Pro
Garmin Fenix 6X Pro Sapphire
Garmin Fenix 6X Pro Solar
Garmin Fenix 6 range, models
Before we start talking in detail about the Fenix 6 and move on to the analysis, I think it is best to make clear how the whole Fenix 6 range is now structured, because there are changes from the past: the Pro nomenclature has been added. However, we still have three different sizes: 6S, 6 and 6X.
Garmin is trying to bring some order to the Fenix range, which went wild last year when they introduced the Fenix 5 Plus. No quisieron llamar a ese modelo «Fenix 6» sino que optaron por hacer un modelo intermedio, y de aquellos polvos vienen estos lodos…
Por tanto ahora no sólo tenemos la distinción por tamaño, sino también por denominaciones con diferentes prestaciones entre ellos. Estos son los «acabados» disponibles en este momento:
Standard version: There is no type of denomination (i.e. Garmin Fenix 6). It has no maps, music or WiFi. With Garmin Pay. It uses Gorilla Glass 3.
Pro version: It's the same as the standard version, but it adds full maps of the continent where you buy it (Europe, America, Asia), 32GB of internal memory, music playback capabilities and WiFi connection.
Sapphire version: It has the same features as the Pro version, but it changes the Gorilla Glass protection for a sapphire lens.
Solar version: Initially it was only present in the 6X. It is now possible to opt for solar charging throughout the range, regardless of whether the watch is standard or Pro version. It replaces the Gorilla Glass with one called Power Glass that offers solar charge, and sapphire crystal is not an option.
Additionally, depending on the case, you can choose between titanium or other types of belt finishes.
As far as sizes are concerned, as I said before we continued with the three versions, but now there are other differences between them:
Garmin Fenix 6S: 42mm de diámetro, correa de 20mm de anchura, pantalla de 1,2″ y 240×240 píxeles de resolución. Hasta 25 horas de autonomía con GPS 1 segundo (luego hablaré de los modos de batería). Disponible en acabado normal, Pro, Zafiro y Solar.
Garmin Fenix 6: 47mm de diámetro, correa de 22mm, pantalla 1,3″ y 260×260 de resolución. La autonomía aumenta hasta 36 horas y, al igual que el Fenix 6S, está en acabado normal, Pro, Zafiro y Solar.
Garmin Fenix 6XPro: 51mm diameter and 26mm strap for a 1.4″ screen with 280×280 pixels resolution. 60 hours autonomy and, in this case, there is no normal version. Only Pro, Sapphire and Solar.
So from this point on it's a matter of choosing and combining with the combinations you want. It's like riding a Mr. Potato.
New Garmin Fenix 6
Naturally, a change of model must add a few new features, not just a name. This is not just an update of the software to incorporate the new features of Garmin Forerunner 945These are the new functions:
–NEW- PacePro, indication of pace taking into account the unevenness of a route and the strategy we want to follow to complete it.
–NEW- Power Manager, customizable battery modes that can be changed during the activity (by copying to the Suunto function), also indicating how the use of each function affects battery life.
–NEW- Expedition battery mode with very low power consumption and GPS use, to achieve a range of weeks (20, 28 and 46 days in 6S, 6 and 6X).
–NEW– Carga solar en el Garmin Fenix 6X Solar (y desde 2020 en el resto de la gama), hasta 6 horas de autonomía adicional en modo GPS. 
–NEW- Data display with up to 6 metrics including color coding, and up to 8 on the Fenix 6X.
–NEW- Smaller screen frames which leads to a larger screen for Fenix 6 and Fenix 6X.
–NEW- New visualization possibilities for the maps, creating layers both to show the popular routes (Trendline Popularity) and to see them in high contrast or other display modes.
–NEW- New display for the widgets, grouping them into a smaller view that can be enlarged in the usual way.
–NEW- Watch dials with more complications on display.
–NEW- Maps of ski resorts with slopes and difficulty (green, blue, red, black), but only in the Pro and above. The normal one does not have maps of any kind.
–NEW- Possibility of using the optical pulse sensor during swimming (although this has been in beta mode on FR945 and FR245).
Sony GNSS chipset for longer range, with support for GPS/GLONASS/Galileo (present in Forerunner 945).
Advanced training and performance metrics from Firstbeat (present in Forerunner 945).
Acclimatization for temperature and altitude (present in Forerunner 945).
Incident detection with both manual and automatic warning (present in Forerunner 945).
New Garmin Elevate V3 pulse sensor with Pulse Ox for the entire range (found in Forerunner 945).
ClimbPro to separate a climb into several segments (present in Fenix 5 Plus), although it now includes color coding according to slope, as in Garmin Edge (not yet released, it will come in a future update).
In this analysis I want to focus mainly on some of these new functions. It is the first time we have seen them in a Garmin watch and it is not so clear what they are or how they work.
That doesn't mean I don't talk to you about the rest, although on more than one occasion I will lead you to the Forerunner 945 testI would like to thank you for not unnecessarily prolonging this analysis to infinity with things that are very recent.
Basic aspects
Aesthetically the Fenix 6 presents few differences It takes a highly trained eye to distinguish the new one from the Fenix 5 or Fenix 5 Plus, but if you look for two or three seconds you'll see how perfectly the screen en bigger than before.
The Forerunner 945 and the Fenix 5 / Fenix 5 Plus share the same 1.2″ screen. Here you can see it compared to the Fenix 6 and its screen with almost 3mm more diameter.
Where Garmin has cut out is in the frame around the screen, which now looks huge on the 945.
The Fenix 6S has a screen the same size as the Forerunner 945, but in only 42mm diameter instead of the 45mm of the 945.
The Fenix 6 also come with specific dials, not only the model itself, but within the same range each finish has its own particular dial. I say this because you may have been looking at images rendered on the Garmin website and want to use that cool dial that comes out in the photo on the website, resulting in it not being available on the watch you just bought.
For example, of all these spheres you see in these images, none is available on the Fenix 6 that I used for the test.
Obviamente en el caso del Fenix 6X es normal que su esfera sea específica, es el único que tiene carga solar (actualización 2020: el acabado Solar también ha llegado al resto de la gama) y por tanto las gráficas que aparecen sólo aplican a esa función. Pero en el resto de los casos el único motivo es reservar las esferas más «results» para los modelos más caros.
The user interface has also received a major change, it's one of the things I like best about the Fenix 6. Now instead of having an endless list of widgets to pass around screen by screen, Garmin has reduced them in smaller lines but showing all the necessary information.
This way of representing the information is much more intelligent, because in a single screen we will have access to many more data than before. If we want to enter any of them to see their detailed information we will be able to see it exactly as before.
Following the changes in the user interface, along with the increase in screen size has come the possibility of selecting screens with up to 6 data. Well, the increase in size has not been the determining factor, as 6S maintains the screen of 1.2″ and also has screens of 6 data (until now the maximum was 4, except for options available through Connect IQ).
That's on the Fenix 6S / Fenix 6 (both normal and Pro), but on the Fenix 6X we have up to 8 data to be able to display simultaneously. 5 or 7 data is of course also a possible selection.
In addition to the increase in the amount of data on the screen, the possibilities offered by the upper and lower data have also been modified, as we can integrate small graphs that also extend the information of our training.
For example, here you can see that I have selected the lower field to display the heart rate through a colour chart, which will vary according to the intensity of the training.
As for sports, the Fenix 6 includes the latest in advanced algorithms from Firstbeat: advanced training metrics and heat and altitude acclimatization.
Upon completion of a workout we have more detailed information for Training Effect, differentiating between aerobic and anaerobic load. It also indicates which area has benefited the most from this workout (not to say that it is the only area worked on).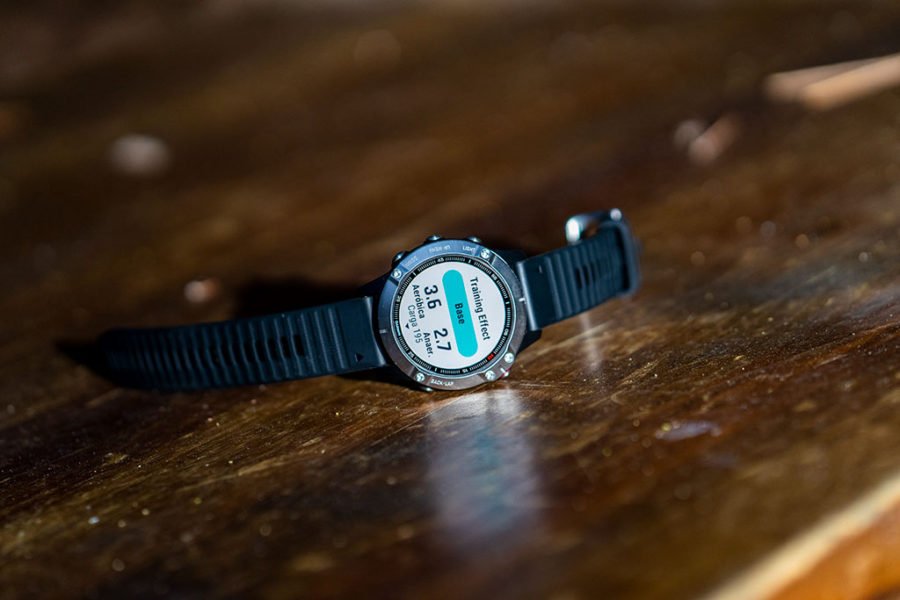 These are the data that are being accumulated in the training load metric, which as I say now differentiates what the load focus is that we are having with our training in the last four weeks.
All of this is used as a basis for building the Training State. We already had that screen in the previous Phoenixes, but now there are another novelty: acclimatization to temperature and altitude.
On that screen, at the bottom, you will see some small icons that will show you if you are in an acclimatization period. It is as if you have unlocked an achievement. In my case I have done it with the heat acclimatization one, being in the south of Spain it is easy to get it in almost any month of the year.
It is produced for cycling or running training above 22ºC. Garmin assumes that acclimatization occurs with a minimum of 4 days training at that temperature, while we will lose acclimatization if we stop training in high temperatures for 3 or more days.
In order to take this data into account we must have synchronized with the phone in the last 2 hours before starting the training, so that the clock can download the temperature data (not obtained from the internal clock thermometer).
Acclimatization for altitude is somewhat similar, except that this time it will take into account the data recorded by the barometric altimeter. Such acclimatization will occur for training we have done above 850m and up to 4000m. Garmin estimates that acclimatization occurs after 21 days of training in these conditions, and is lost after 21-28 days when we are not at such an altitude.
Therefore, it is not only a question of reaching this altitude in training, but a constant of training under these conditions.
Why is this acclimatization taken into account? It allows us to adjust the VO2Max values considering those ambient values, so all related metrics will be conditioned also to temperature or altitude during our trainings.
In the Garmin Forerunner 945 test I wrote a whole section about this new feature. If you want to have all the details about it I recommend you take a look. In this analysis I prefer to focus on what is specifically new about the Fenix 6.
Main novelties of the Fenix 6
So far we've done a quick review of long established functions or, as in the case of training or acclimatization metrics, which I've detailed more in tests of other models.
In this test I want to focus on those specific new features that have arrived with the Fenix 6 (and that will also arrive to the Forerunner 945, for example): PacePro, solar energy and charging manager. Let's go with the first one.
PacePro
---
If there's one thing that stands out about the Fenix 6, it's PaceProAt least this is one of the functions that Garmin has highlighted most in the presentation of the new model. It is present in all Fenix 6 models, because although it depends on route navigation (it is an added function), the watch does not need to have maps to make use of it.
The only difference is that in the Fenix 6 Pro you could create a path directly in the clock and then add a PacePro rhythm strategy to it. However it has limitations because you won't be able to adjust the different options you'll see later. So whether you have the Fenix 6 or the Fenix 6 Pro, you'll almost certainly end up creating PacePro strategies directly from the application and not from the clock.
In the presentation of the Fenix 6 Garmin was not very clear how to define or explain PacePro. It simply talks about rhythms adjusted according to the slope ... but nothing more.
However, what PacePro does is help you to make a rhythmic strategy adapted to a distance or route, to fulfill a determined objective based on values such as elevation changes, but mainly because of the choices you have made.
It is not an option designed to be used in your daily training (although it can be used to help us train at a progressive pace), but rather when it comes to competition, especially in medium or long distance races, where it is interesting not to burn your cards at the first change. A 5KM race is different, you go full throttle from the beginning and there is no other rhythmic strategy than trying not to fall off the group. The theory sounds fantastic, later I will show you that it has certain limitations.
As I was saying, PacePro is a race plan that will be associated with a certain distance or navigation route. From there it will ask us to indicate how hard we want to make the slopes and if we want to run in positive, negative or constant pace (for example, dividing a marathon in two halves and making the second one faster would be running in positive).
Based on the data we have defined (and if possible with the route of the test to take into account the differences in levels if any), PacePro creates a race plan and tells us at each lap (for every kilometer, for example) the pace we should take.
We can create the PacePro strategy from the mobile application or from Garmin Connect on the computer.
As you can see, we have two options: to select a route (which you must have created in advance and which you can do from the GPX file provided by the organizer) or with a given race distance.
Of course, if you have the file or the route created the options are extended. But let's make a simple example for a marathon.
I have selected a goal time of 3:30, from which you have set the target pace. You can do it the other way around, setting the average pace that you will follow and that will give you a final time.
After clicking on next you have to select if you want to do it in positive or negative. In my case I have selected to do it slightly in negative, for which it has given me the objective rhythms to fulfill for each kilometer, starting at 5:08 and doing the last kilometer at 4:50. As you can see, the evolution per kilometer follows a tendency to go a little faster each time.
This way of creating the strategy does not take into account anything else. It would be valid to do a totally flat marathon, but it is impossible to find anywhere 42km totally flat, unless you are going to do it in an athletics track.
Let's repeat now the same operation, but now starting from a track. I will use as example the Madrid Marathon, which as you know is anything but flat.
This time we choose the option to select route (or field... bad translation, Garmin... bad translation), and we must select the target time. For comparison and to see the differences, I select again a final time of 3:30.
This is where we see the differences and how our options are widened.
Ahora se presenta un mapa con un código de colores, indicando en qué puntos vamos a correr más rápido o más despacio. Se añade una opción, «esfuerzo en ascenso», que nos permite indicar cómo queremos afrontar las subidas y a qué intensidad estamos dispuestos a hacerlas.
Obviously, if you tell him you want to do them slowly you'll have to compensate by being faster on the flat and on the downhills, because the final goal is to finish in 3:30. I've chosen a slightly negative pace strategy again, but remember that it's not about pace but about the effort we're going to put in. We run from less to more.
Compare the result of PacePro for the Madrid Marathon to the one we had previously obtained without including the route with the slopes. The times it gives for each kilometer are totally different and much more variable, because now it is considering not only the rhythm strategy, but also the slopes and the intensity we have set for them.
In the case of creating the strategy from a route we can also select that the intervals are created not only by kilometer, but also by miles or changes in elevation.
In this way we avoid that if in a section of 1km there is a rise of 12%, the objective time that we see for that km is very deviated with respect to the real rhythm that we take until we find that slope.
Once the strategy is synchronized to the clock, you can select it in the sport profile you'll use and see some details, such as lap times, altitude, etc. You can also combine PacePro with the possibility of using the navigation map.
After activating PacePro a new screen will be added, where we have all the relevant data. 
That screen needs explanation, because dressed that way you won't be very clear what each thing is. So let's go with the marks I've put on the image:
It's the pace you must try to follow on the lap in order to fulfil your pace strategy.
Current pace of the turn.
Distance remaining to complete the current lap, which you can use to try and adjust your target pace for the remainder of the lap (e.g. because there is a 300m steep drop-off), or simply as generic information.
Diferencia real en el total de la prueba con respecto al tiempo objetivo. Indicará si vamos más rápido o más despacio de lo que hemos marcado inicialmente y por cuanto (en este caso nos dice que vamos a llegar a «meta» 17 segundos más tarde de lo que inicialmente se había establecido).
In addition to this screen, you can also select different PacePro data to add in a normal data screen to view with the rest of the information.
These are the options available:
PacePro indicator
Rhythm of return
Target return rate
Return distance
Remaining turn distance
Next target lap rate
Next return distance
Total time (positive/negative)
¿Here's what I think about PaceProI think it's a good tool for the race day, but it has its limitations. For example, what I said earlier about finding a climb to 12%. Even if you've selected to have your laps marked by elevation changes, it may be that that climb doesn't have a constant slope, and of the 700m lap there are zones at 3% and others at 16%. 
The result may be that you're running much faster than PacePro tells you to and you decide to slow down so you don't get burned, to find that you still have to get to that slope you're going to have to walk on.
The clock knew it would arrive in that area, but it hadn't told you. However, you had slowed down because you thought you were going too fast. It's true that if you study the route well, you'll know these details beforehand, but that's one of the drawbacks.
As far as the scope of use is concerned, I find it strange that it has made its debut with the Fenix 6, whose buyer profile is the mountain runner. I did a night trail race with PacePro activated for the route, and the truth is that it didn't help me much more than to estimate the final time at the finish line during the race.
PacePro has route data and knows the elevation profile in advance. That's true, but it's equally true that there are many more variables to consider: is it a wide lane or a path between brambles? Is the descent to 5% fast, or is it muddy and full of rocks? Do you run during the day or at night? And so we can get dozens more cases.
PacePro can only consider the elevation when creating the strategy and adjust the pace with the variable you tell it to. But it can't know if that descent it tells you you can do at 4:30min/km is going to be impossible because you have to duck to avoid a trunk or jump tree branches.
However, in asphalt races the result can be very positive, and here the main limitation to your pace will be the slopes you encounter, except perhaps the first few moments of the race due to the crowds that form.
En definitiva, es una buena herramienta a usar en una carrera, pero siempre que seas muy consciente de las limitaciones que ofrece. Pero si tengo que elegir, prefiero guiarme por una métrica que admite cambios instantáneos como la potencia (aunque no sea un dato «real»).
Energy Manager
---
The second feature that debuts with the Garmin Fenix 6 is smart battery profiles. Garmin has called it Energy Manager (o Power Manager).
It's a very interesting performance we first saw in the Suunto 9Garmin has taken the concept and given it a twist, improving on Suunto's approach in some ways (although the Garmin adaptation lacks something like FusedTrack, with fantastic performance).
Power Manager is located in different places, allowing you to save energy from clock mode to sport profiles. It also now talks to us in days or hours of use, instead of percentage of battery. It's not that the percentage has disappeared, in fact it can be activated again.
But now, with each change in the energy profile we make, we will know more or less clearly how it will affect autonomy.
All changes can be made from the new Power Manager menu.
Don't miss out!
TELEGRAM CHANNEL: The best deals on the minute and alerts with the latest news. Subscribe!
INSTAGRAM: Follow the day to day and reviews for other different things
We can define options for the power saving mode or for the power modes. The first one is to be applied in the clock mode and allows us to modify the display settings (to use a low consumption dial), the connection with the phone, the activity monitor, the 24 hours heart rate or the backlight; while the second one is what we will use in the sport profiles.
The good thing about Garmin's implementation of the Power Manager is that with every change we make, we'll see the impact it will have on total autonomy. For example, if we want to keep the phone connection on when we activate power-saving mode (which is the default option), we'd lose 26 days of a full charge.
This is for the clock mode, but you can also define new settings for the power modes (or edit the presets).
By default we have the classic UltraTrac mode (with everything off and GPS on UltraTrac for maximum range) and a jacket mode that simply disables the optical sensor (for wearing the watch on the sleeve of a jacket). 
As with the economy mode, in the power modes we have different options that we can alter:
GPSNo change, off, normal, UltraTrac, GPS+GLONASS and GPS+Galileo
PhoneDo not change, disconnect, connect
CF in the wristDo not change, turn off, activate
Pulse oximetryDo not change, turn off
MapAllow, disable
DisplayAlways on, with automatic switch-off
BacklightingDo not change, turn off
External sensorsAllow, Disconnect
These are the different options that we can modify and, as I said before, in each of them it will be shown how it will affect autonomy.
When performing an activity, within the options we can choose which is the energy mode we want to use for that training. 
You can set the energy mode both at the start and during the activity, i.e. if you feel that there is a danger that you will not be able to get the battery to complete your training, you can change the mode at any time.
Finally, it's worth mentioning the new Expedition mode, which is actually another application (like a sports profile) whose objective is to be able to have an activity with GPS recording that can last for weeks. It's not something totally new at Garmin, it's a direct legacy of the Garmin MARQ Expedition.
How do you get weeks of autonomy (up to 56 days on the Fenix 6X Solar) by using GPS? Well, logically, by limiting the use of positioning as well as the rest of the sensors.
In Expedition mode all sensors are deactivated (phone, heart rate, low power screen, etc) and by default GPS points are obtained every hour.
However, this interval can be changed up or down (from 15 minutes to 90), or it can be configured so that when it is night, it does not register the GPS until the next day, avoiding any more consumption than necessary when you are not going to move.
Cuando este modo está activo tendremos una esfera de reloj de bajo consumo, mostrando la información más relevante. En la parte inferior veremos cuántos días llevamos de «expedición» y cuántos puntos de GPS hemos registrado.
If we press the button to scroll down we have the second page, with a summary of the total activity: distance traveled in the day, total, time, etc.
However, it lacks any kind of accuracy in recording a route with fidelity. Between each saved point it will simply create a straight line. The distances will be very relative, and all depending on your speed.
You can see this example of activity recorded on a car trip. There are only two points recorded and it is completely obvious what else you have done between the two records.
There are no turns, no curves and consequently the actual distance has been quite a bit greater than the one he has scored.
It is available on all models (not exclusive to the Fenix 6 Pro or Fenix 6X) and is intended for a very specific usage profile. Personally I would never take advantage of it, but it is always nice to have more options to choose from, although combining it with a feature like Suunto's FusedTrack would be perfect.
Garmin Fenix 6 Solar
In the Fenix series, the X has always had a unique and novel feature. The Fenix 5X included maps, something the rest of the Fenix range didn't. With the arrival of the Fenix 5 Plus and the popularization of maps, it was then Pulse Ox and Pulse Oximetry estimation that the Fenix 5X Plus debuted.
Ahora Pulse Ox ya está en toda la gama de relojes, por lo que Garmin se ha tenido que «inventar» algo nuevo para su Fenix 6X, algo que sea lo que marque el camino de futuro para el resto de la gama de Garmin.
Pero la diferencia en esta ocasión es que Garmin no ha esperado a un Fenix 6 Plus o un Fenix 7 para llevar la carga solar al resto de modelos de la gama, ya está presente en el resto de los Fenix 6 y puedes comprar cualquiera de sus tamaños con el cristal de carga solar, independientemente de si el acabado es Pro o no.
Estos son los modelos disponibles que ofrecen carga solar:
Garmin Fenix 6S Solar
Garmin Fenix 6S Pro Solar
Garmin Fenix 6 Solar
Garmin Fenix 6 Pro Solar
Garmin Fenix 6X Pro Solar
Al igual que ocurría con el Fenix 6X Solar, los Fenix 6S Solar y Fenix 6 Solar no son más que una versión diferente del modelo, digamos, original. En los tres casos simplemente añaden la tecnología necesaria para realizar cargas solares y, de esa manera, aumentar ligeramente la autonomía total del reloj.
Para conseguir esta carga gracias al sol, Garmin ha incorporado una tecnología que denomina Power Glass.
El cristal del reloj es capaz de transformar la luz del sol en energía. Hay un pequeño anillo en la parte externa de la pantalla que absorberá el 100% de la luz recibida.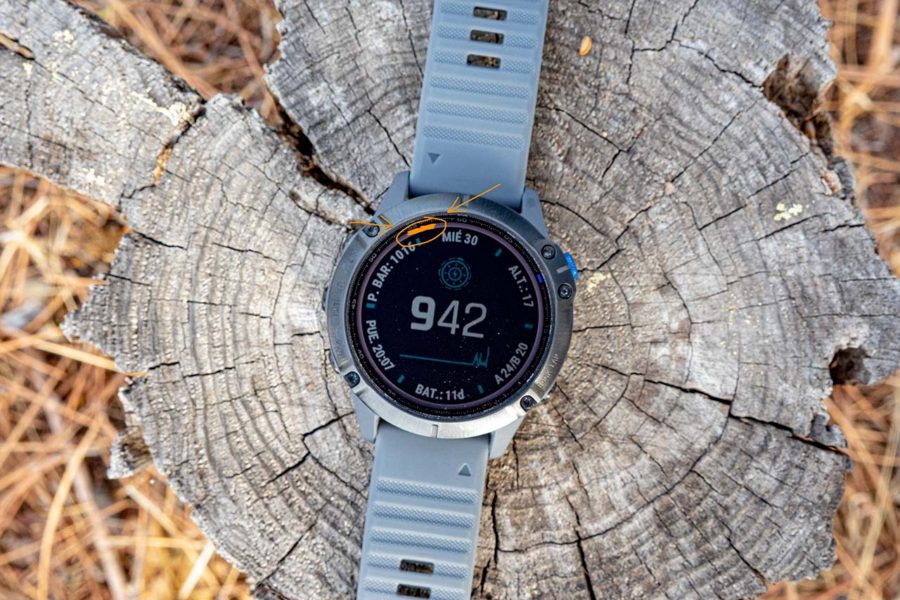 It's like the photoelectric cells in a Casio calculator for life, but it's not the only thing that transforms sunlight into energy. Underneath the screen is another solar panel that logically receives less light (because it's covered by the screen), but its size is much larger. This panel only transforms 10% of the energy, but since its size is much larger than the small outer ring, the contribution it makes is also important.
En cuanto al material de la lente, los Fenix 6 Solar tienen un recubrimiento de Corning Gorilla Glass 3, como en el resto de la gama.
What does solar charging bring to the watch? You won't have infinite battery life regardless of whether you're using GPS or not; it simply helps extend the already very good range of the Fenix 6X Pro even further, but it won't let you live far from an outlet.
Autonomía Garmin Fenix 6S Pro Solar: En uso como smart watch pasa de 9 días en el Fenix 6S Pro a 10,5 días (un día y medio adicional). Con uso de GPS hasta 28 horas en el Solar, por 25 horas del normal.
Autonomía Garmin Fenix 6 Pro Solar: En uso como smart watch pasa de 14 días en el Fenix 6 Pro a 16 días (dos días adicionales). Con uso de GPS hasta 40 horas en el Solar, por 36 horas del normal (4 horas adicionales).
Autonomía Garmin Fenix 6X Pro Solar: En uso como smart watch pasa de 21 días en el Fenix 6X Pro a 24 días (tres días adicionales). Con uso de GPS hasta 66 horas en el Solar, por 60 horas del normal (6 horas adicionales).
All this data is talking about exposure to a light source of 50,000 lux. On a sunny day the illumination varies between 32,000 and 100,000 lux so in theory these are figures that would not be difficult to achieve.
Logically, if we make use of an extended battery mode, the more additional battery will be provided, because we will be spending more time in sunlight.
The performance is better than I had initially thought, but it is equally true that we are stretching a range that, without using this technology, already covers the 95% of regular use. I can't think of any activity where I need more than 60 hours of range, at least that is far from my plans!
Bien, pero todo esto es lo que dicta la teoría, y siempre es mucho más interesante hablar de práctica. Empezando por la esfera de reloj específica que ofrecen los modelos Solar. En la parte de arriba tenemos el icono de un sol, que nos indica la intensidad solar que está recibiendo en este momento.
Esta foto está tomada en el interior, sin incidencia solar directa. No hay ningún segmento de ese círculo marcado, lo cual significa que el reloj está recibiendo cero energía.
Sin embargo esta otra está tomada intencionadamente en una zona con sol y sombra, lo que nos da 7 puntos de intensidad (de un total de 10).
En caso de estar a máxima intensidad el icono del sol pasará a estar totalmente completo.
Debajo de la hora también puedes ver cuál ha sido la intensidad de las últimas 6 horas, para ver cómo ha ido afectando a la carga del reloj (o el tiempo que has pasado tomando el sol).
Y también disponemos de un widget específico con la misma información, pero con una gráfica ligeramente más detallada.
En Garmin Connect, dentro de los ajustes específicos del reloj, también podemos encontrar un informe de la intensidad solar.
En cuanto al rendimiento de batería, que es lo más importante… ¿de verdad vamos a notar algo? Pues depende.
La primera prueba que he querido hacer es comprobar si activando el modo de ahorro de energía (sólo mostrar la hora sin notificaciones, sensores, etc), más allá de poder mantener la batería… ¿es posible obtener algo de recarga?
Para ello he simulado una situación posible en una excursión de montaña de varios días. A las 9:49 de esta mañana he activado el modo de ahorro de energía del reloj, y lo he dejado en el tejado (sujeto con una cuerda, no quisiera ver mañana una gaviota con un Fenix 6 Solar en el cuello…).
En ese momento el reloj marcaba 27 días de autonomía restante en ese modo, y 20h con uso de GPS si fuese a hacer ejercicio con los ajustes que tenía en ese momento.
Unas dos horas y media después he recogido el reloj del tejado, esperando ver algún pequeño progreso. Puedes ver que la intensidad solar durante ese periodo de tiempo ha sido total.
El resultado es que seguía indicando 27 días en el modo de ahorro de energía y las mismas 20h restantes en actividad. Así que esa recarga no ha servido para mucho más que, quizás, simplemente «vivir» de la energía del sol durante ese periodo de tiempo sin gastar nada de batería (aunque el modo configurado apenas representa un impacto en la autonomía).
Segunda prueba, simulando una actividad de larga duración a pleno sol. Para ello repito emplazamiento, pero esta vez situando un FR945 a su lado configurado de la misma manera en cuanto a ahorro de batería, etc. En ambos casos la batería se encontraba al 100% al inicio de la prueba.
La prueba se inició a las 14:25. Cielo prácticamente despejado en todo momento  El Fenix 6 Solar estaba en todo momento orientado hacia el sol. A mitad de tarde hubo un momento de bajada de intensidad (probablemente alguna nube), pero volviendo a recuperar la intensidad hasta que paulatinamente se puede apreciar cómo el sol se pone algo más tarde de las 20h.
Es decir, en la prueba he tenido unas 4 horas de casi pleno sol y otras 4 horas en las que no ha habido carga alguna.
¿Resultado en el rendimiento de la batería? Aquí lo puedes ver. Tanto el Garmin Forerunner 945 como el Garmin Fenix 6 Solar anuncian una autonomía máxima de 36 horas con uso de GPS. Es cierto que la comparación directa no es totalmente fidedigna, pues el 945 ya tiene un año de uso y la capacidad total de la batería no será la misma, pero son los medios más apropiados con los que cuento en este momento.
He marcado con la línea vertical el momento aproximado en el que la intensidad solar baja del 15%, tras algo más de 4:30h de actividad. Pero no hay un cambio de tendencia notable cuando el reloj ha estado cargando o no.
Además de la gráfica tenemos la tasa de consumo de energía, siendo en el Fenix 6 Solar un 0,86% menor.
Así pues… ¿Solar o no Solar? En mi opinión es una opción que no merece la pena, o sólo lo hace en casos muy específicos. Pero en un reloj donde la autonomía es ya de por sí realmente buena, el añadir «ese poquito más» (un máximo del 10% adicional según los datos de Garmin) no representa un cambio significativo.
Es como si te compras un coche capaz de hacer 1.000km con un depósito y que, pagando un extra, pudieras recorrer 1.100km. No hay duda que al final es más distancia pero… ¿realmente lo necesitas?
Sinceramente, la llegada de la opción Solar al resto de la gama Fenix 6 me sorprendió bastante. En primer lugar porque era la firma del 6X como tope de gama, y en segundo lugar porque como hemos visto tampoco afecta tanto al rendimiento.
A pesar de eso y como ya hemos visto en el Instinct Solar (con mayor superficie solar, mucha más autonomía gracias al sol e incluso un modo «eterno»), hay modelos o situaciones en los que cobra más sentido
Piensa por ejemplo en un futuro Edge 1040, con una pantalla muchísimo más grande que la de cualquier reloj. O un GPS de mano de la serie eTrex. Las posibilidades que tiene son enormes, pero hay que valorar dónde ofrece sentido. ¿En la gama Fenix? Yo no pagaría más a cambio de poder tener esta opción.
Rather than touching specifically on route navigation or maps, I want to focus more on the differences between the various models of the Fenix 6. I don't want to go any further than necessary on the subject of maps, as this is something that is already perfectly covered in the Fenix 5 Plus test and there's not much change about that.
I'll focus on what's specifically new, recommending that if you're not familiar with the possibilities offered by the maps you take a look at the Fenix 5 Plus test I linked to earlier.
The first thing to remember is that there are two different models, and pay close attention to this. The normal Fenix 6 has no mapsFor that you have to buy the Fenix 6 Pro, which does have maps (and music playback).
But not having maps doesn't mean you can't make navigation routes. There's no problem creating a route from the application or from the computer, either created by you or downloaded. Then you synchronize it with the clock and you can follow the route without any problem, receiving warnings when you have to make a turn.
Although we don't have maps we also have the rest of the functions that are based on routes and navigation, such as PacePro or ClimbProBoth features need to have created a route in advance, but do not require a map on the clock to be displayed. 
It logically changes the way the screen looks and how the available roads look even if they are not on the route. Here is an example of what the same route looks like on a clock that has maps (on the left Garmin Forerunner 945, on the right Garmin Fenix 6).
It is clear that the possibilities offered by map navigation are enormous compared to simply making a route with the track of it.
What's the benefit of having maps? For example, you can create routes from the clock without depending on an external device. Simply by browsing the map or choosing a point, the clock will plot the route directly. Useful if you're somewhere out of range, so your phone wouldn't be able to access the online maps to create the route. Or because you want to change your destination halfway through the route.
También permite calibrar en cualquier momento el altímetro a una altitud conocida, porque son mapas DEM. Es decir, cuentan con modelo digital de elevación. O funciones como «Around Me», etc.
Y ahora me preguntas: «vale Eduardo, pero qué hago si la música no me interesa especialmente. ¿The Fenix 6 Normal or the Fenix 6 Pro?»
When you are about to use the navigation, you should choose the Fenix 6 Pro (or 6S/6X Pro), not because you will create the routes on the clock, or at least not exclusively, but because of the other possibilities it offers en route. 
Imagine that you have created a route at home, you have been looking at the map and you have designed something affordable of 18km and 600m positive to do in just over 2 hours and come back with time to be with the family. Everything is great and you have studied it well, right? 
You start your route and after 8km it turns out that what seemed simple on the map has turned into a rocky area in the bushes where you can't run. 20 minutes later you're a little over 1km ahead. Obviously you choose to turn around because you're going to miss your appointment, and nobody likes to crawl through the bushes.
With the Fenix 6, all you have to do is activate the back to start option and it will show you the same path you used to get there. You go through the brambles again and the remaining 8 km. In the end, you arrive at the time and you get a slap on the wrist for being so late. 
If in the Fenix 6 Pro you activate the lap to start, when having maps it will look for the fastest route to the point of origin where you have left the car. That equal there is no other way and you have no more remedy that to retrace the walked thing, but also it can appear another one of only 5 kilometers that will save you the ballot. And that calculation will do it to you in a few seconds. 
The normal Fenix 6 will also not calculate an alternative route for you in case you go off course because, say, you just found a river that wasn't there before or wasn't on the map. You have two options: turn around or cross. 
If you have the Fenix 6 Pro you can choose another route and the clock will change the route you have to follow to reach your final point if there is another crossing point 1km away. Once you have crossed the river you will not have to go back to the initial route, but if there is another more favourable option it will trace the route through that new path.
So I insist, the normal thing to do is to consider the Fenix 6 Pro and discard the Fenix 6. Unless there is a greater price difference in the future (currently it is 100 ?), the possibility of having maps is very worthwhile.
As for the new features in the maps of the Fenix 6 Pro, we can now choose different themes or display modes. In particular these are the ones available: high contrast, dark, ski slopes, sea maps and popularity.
Me encantaría enseñarte fotos de cómo se ven los diferentes modos… pero el que tengo de momento es el Garmin Fenix 6 normal, que no dispone de mapas. Esas fotos tendrán que esperar hasta que Garmin tenga disponible una unidad Pro en cualquiera de sus versiones. De momento te dejo con fotos «de archivo».
In those images you can see a high contrast theme, and on the right different color coded ski slopes.
Optical pulse sensor and Pulse Ox
In the Garmin Fenix 6, we find the latest optical pulse sensor from the American company, the Garmin Elevate v3. MARQ and shortly after that he arrived at the Forerunner 945The Fenix 5X Plus has a pulse oximetry estimation system, which was introduced a year and a half ago and is the light that lights up in red on the back of the watch.
In the simplest models - such as the Forerunner 245-, Pulse Ox is used exclusively during the night to make estimates of the different phases of sleep. In superior models such as Garmin? you can activate it during the day to make estimates of the amount of oxygen in the blood.
It is not a function designed for sports performance, but is dedicated to its use in health and more specifically in the mountain. Knowing the level of oxygen saturation allows you to know how your body is acclimatizing as you go up the mountain.
There are two ways to get a reading. The first is manually and through the pulse oximetry widget itself (which is similar to the heart rate widget). The measurement takes a few seconds (or even minutes), and it is recommended that you remain still and, if possible, keep your watch at heart level while doing this.
The manual measurement can be done at any time, but as I said, there is also the possibility of having it always active (at the cost of some impact on the watch's autonomy, something that the Fenix 6 has plenty of). 
Regardless of whether you activate the constant measurement (what you see in the picture as Acclimation), the sleep pulse oximetry measurement can also be activated individually.
By activating the acclimatization option the clock will take readings throughout the day that you can consult in the widget itself; not only during the 24 hours of the current day as you have seen before, but also the history of the last week.
However, you must bear in mind that activating this function will reduce the autonomy, although if there is something we don't have to worry too much about in these Fenix 6 it is precisely the battery life, of which we have more than enough.
But now let's talk about the optical pulse sensor when practicing sports. As a reminder you should keep in mind that a wrist pulse meter does not work the same way on every body. We are all different, and if we also put things like skin tone, tattoos, body hair into the equation... the difference from person to person can be quite big.
In my tests it is not that the spectrum of users is very broad: it is me, myself and I. So what works well for me might not do it for someone else, or it might be better.
But the most important thing to keep in mind is that you have to follow some guidelines to wear the sensor. It should be tight (but not cut off your circulation), enough to keep the watch from moving freely on your wrist, leaving a separation of approximately one finger from the wrist bone. By following these details you will ensure that you get the best results that your conditions can offer.
I'll start with a mountain training, because maybe that's what you'll do most if you're interested in this model. As you know, when running in the mountains, the intensity changes constantly, especially if there are numerous climbs and descents on a continuous basis.
For this test, I'm wearing the Fenix 6 on one wrist, along with a Forerunner 45 on the other wrist (same sensor, but a much lighter watch). Forerunner 945 paired with a Polar H10 and another optical sensor, the Polar OH1+I simply record the activity with.
In this case it is the Fenix 6 that suffers the most. I count up to 7 peaks at the beginning of the activity that are irregular.
I'm going to enlarge that first section to see it in more detail.
Except for peak number 1, the rest are very sudden climbs that, in my opinion, are caused by the weight of the watch. The first minutes of this training are on a very steep climb (average slope of 19%), so the brace is quite high, which can cause the watch to move due to its high weight. However the Forerunner 45, much lighter, has not had that problem at any time.
In the rest of the training, with much more normal slopes, you can see how the behaviour of all the sensors is on par. 
I will now move on to a trail race: three hours of many ups and downs not as fast as we would like. In this case I was also carrying a Polar Vantage M in order to be able to check data later from the Polar H10 sensor which, in theory, had been paired with the watch.
It seems that I hadn't, because after synchronizing the activity there is no heart rate data, but the chafing that the sensor produced on my chest still lasts today, so it's proof that I was wearing it...
Well, I'll have to do the analysis with only two sensors. Although as you can see on the 99% of the race there's an absolute match.
But at a quick glance you can see that there are a few peaks where there are discrepancies, and coincidentally it's the Fenix 6 that always stands out with these kinds of peaks, just like in the previous example.
You can see that the pattern that these sudden HR rises follow is the same as we have seen in the previous example. It is always the Fenix 6 that shows the peaks. Or almost always, because in the next image where I have marked with the first arrow, it is the FR945 that has had a momentary peak.
I have also marked a second point where there is a difference in the measurement, too bad we don't have the data from that third sensor to see which of the two watches was measuring correctly. The circles are the ones that correspond to the peaks of the Fenix 6.
But if we continue to move forward in time we keep seeing the same peaks. Very high and sudden rises for a short period of time.
And one more new peak. But here are two other areas where the measurement is clearly different.
When there are not such rapid changes in intensity or the exercise is quieter it is exactly the same as any other optical sensor, virtually without any problems.
Here's an example, a simple pre-competition activation training, at a fairly leisurely pace and without changes in intensity.

There is a first moment where there is a noticeable drop by the sensor I was wearing on my chest, the Polar H10. I don't remember making any stops in that training. However, the other two sensors don't mark a similar data either, so we will leave it in mystery...
What about pure serial training? Well, here it is.
This is the last training I did last night with the Fenix 6, after receiving an update for the sensors that includes a correction for the optical sensor. Certainly in this training we have not seen a single peak that we have seen in the previous examples.
Apart from these peaks, the intervals are perfectly defined and coincide perfectly with the data collected by the chest sensor (an HRM-Tri). However, both the rise and fall of intensity show a delay in the case of the optical sensors of the Fenix 6 and the Vivoactive 4, which is the usual behavior of optical sensors.
Here's the second and third extended interval.
You can see how the Forerunner 945's graph is always faster in ascending and descending than the Vivoactive 4 and Fenix 6's optical sensors. Even at rest in the second interval the Vivoactive 4 has a little more delay.
As I say, this is normal optical sensor behavior, but it doesn't mean it's desired. This kind of interval is still the Achilles heel of optical sensors on the wrist.
Where I have seen some improvement is in cycling. In the past the optical sensors were more wrong than right. In this case the data from the Fenix 6, without being perfect, is quite accurate for most of the training. 
Pero como siempre digo, los datos deben ser correctos en todo momento. De nada nos sirve tener datos de frecuencia cardíaca «casi buenos». Una cosa son los picos puntuales que apenas desvirtúan el objetivo del entrenamiento porque es algo totalmente imperceptible más allá de la gráfica (y con el sensor de pecho también podemos tener ese tipo de kennels) and a totally different one is that a major part of it is not correct.
Finally, I would like to point out that the Fenix 6 has been the first watch to officially allow the activation of the optical sensor during swimming. Before, both FR245 and FR945 had enabled it in beta versions (now already in final firmware).
How does the Fenix 6 optical sensor work in swimming? Let's assume that Garmin directly recommends that you use the HRM-Tri or HRM-Swimso I guess it's a good clue as to what we're going to find.
The results are usually variable between different sessions, let's say the data are simply approximate. 
You can see that this is common and not exclusive to the Fenix 6. Of the three sensors I had, there is not one moment when the three graphs are overlapping. Or maybe there is, when I complete a 500m block and do the rest period.
El resto del tiempo simplemente marcan «algo parecido». ¿A cuál de los tres hago caso? La teoría nos indica que es el HRM-Swim el que va a dictaminar cuál es la gráfica correcta porque es el que está destinado de forma específica a esta función. Pero si tuviera que apostar, sinceramente, no pondría la mano en el fuego por ninguno de los tres.
So, if it's not going to help us make a detailed analysis of the session, what's the point of being able to measure the heart rate with the optical pulse sensor? Well, it's so that the load of that training can be counted, since without heart rate data there's no possibility of knowing the intensity, so it wouldn't apply any kind of load and would distort that overall metric. 
Not that entering data that is not totally correct does not detract from it... but at least it is something that now appears (before it did not, even if you did a 5,000m training session it would not add up to the load because it could not include the intensity).
To sum up everything about the optical pulse sensor, I think that in the case of the Fenix 6 there is some room for improvement. All the tests I have done so far on watches with this sensor have been quite satisfactory, in fact you can see above how the FR45 and the FR945 get better results using the same sensor. 
What is the difference between those two and the Fenix 6? The weight of the watch, and that is that the more weight there is the more movement when running and the more likely it is to have movement in the wrist.
In general the result is almost always good, but I have seen clearly that there are peaks in the graphs that should not be there, and that other watches with the same sensor do not have them. It is true that in the last training and after receiving an update those peaks have not been repeated, so it seems that Garmin has been filing those details that are still pending.
The pulse sensors on the wrist are improving little by little, but at the moment they cannot be considered as accurate as the chest sensors (note that the chest sensors are not as accurate either). Personally I have no problem using it for constant pace shoots or even intervals where I prefer to work by pace or power and not by heart rate, but for cycling and more specific training the chest sensor is still non-negotiable.
GPS Performance
Of course, the Fenix 6 includes the Latest GNSS chipset by SonyYes, the one that has retired all other chipsets by 2019 on almost every device on the market.The reason? Your low battery consumption is key to the autonomy figures that not only the Fenix 6 family watches have, but any of the latest models on the market.
Logically, in the new Fenix we have the possibility of using the combination of satellites that we choose: GPS only, GPS + GLONASS or GPS + GalileoToday Garmin recommends choosing the GPS + GLONASS option, as it is the one that has been worked on and polished the most. In fact, it is what is configured by default in the clock, and we no longer have as much problem in the use of battery as we had before.
I do hope, however, that Garmin will continue to work on the GPS + Galileo option, since in theory it should be the one that offers the best results. 
Just like the optical sensor tests you saw earlier, the GPS comparisons are done the same way: with the watches accompanying me in my regular workouts.
Carrying both the Fenix 6 and other models, and checking where problems appear, I have no defined route to establish a score for the simple reason that there are other external factors that we must never forget.
Things like clouds, leaves on trees or simply the satellite position can alter the GPS results from one day to the next, which is why I prefer to do this type of comparison instead of having a predefined path and assess it from there.
Let's start the comparison with this short pre-race activation training. A simple course, but the difficulty is in the low pace at which I'm running, which is not conducive to nice graphics.
However, what interests me in this test is not how it records at low speed, but the specific comparison between the three models I have: Garmin Fenix 6, Garmin Forerunner 45 and Garmin Forerunner 945.
All three are Garmin. All three use Sony's GNSS chipset. However, the results are mixed, which proves that not only the chipset is decisive in obtaining good results. Things like software and antenna are equally or more important than the chipset itself used.
This is the beginning of the route. As with optical sensors the beginnings are always more complicated, as the clocks do not yet have a high number of satellites registered. If we add to that running parallel to tall buildings makes it difficult.
In this case it is the Fenix 6 that is closest to the royal route, although obviously I wasn't loaded with glasses doing so many laps, but both the FR45 and the FR945 are quite a few meters away from that route.
Later on you can see how the three clocks are wrong. My passing line is marked in orange. As for the tracks, they are all straight, but offset to a greater or lesser extent. Both the Fenix 6 and the Forerunner 45 are offset by about a metre, while the FR945 is slightly further away.
But now we can see that the track is stabilizing. There are not so many lurches in the graphics anymore, although we still need to add the precision of marking correctly the place where I have passed.
Further on (after about one kilometre from the exit) I arrive at the open area of the promenade and quickly the three clocks are in tune again.
In the following image I have marked in orange which was my real route to enter that turn, in which you have to avoid a short fence. 
None of the three succeed in making the turn correctly, making a kind of loop that is not real. Of course I'm also asking you to record the change of direction made in a tile correctly, but that's what the difficult tests are for, right?
I don't want to stay there alone. Once we continue the path parallel to the river, the Fenix 6 seems to be unclear about where we are going, while the other two clocks are in a perfectly straight line.
And it's not the only trouble spot for the Fenix 6. Further on it has detours and curve cuts again. Curiously enough it goes off the road to come back, and so on. 
Both Forerunner 945 and Forerunner 45 are perfectly aligned at this point.
Now we are going to do some mountain, theoretically for what this clock is more prepared. In this route I go around a small peak that, except for a small section that is made by a forest, has very good satellite reception. The only present difficulty, besides the mentioned zone of trees, is in the low speed in the slopes of 20%. The models used are the same as in the previous case, so the same is applied again about the chipset, software and antenna.
In general the results on this route have been better than in the previous example. The reason may be that it was a day without many clouds, while in the activation training the sky was very overcast (it was during the cold drop days of late summer 2019).
We found a curiosity: Google maps are not always correctly aligned, something that can be seen in this image.
I have marked the area where I have gone up and down the mountain. Having three clocks recording the route that gives a total of 6 tracks, which appear perfectly aligned both in the ascent and in the descent. However the track does not coincide with the path we see in the image, but are parallel to it. So there are several possibilities:
In a few months the road has been eroded and relocated, while the original road has been covered with undergrowth (the satellite photo is from 2019)
All three clocks have failed to rise and fall, coinciding in exactly the same error
Although there is a path I have decided to climb the slope to 20% doing cross country, because I am that great
Google does not have the image aligned correctly
I'm almost stuck with option 4... Which means you don't always have to trust these satellite images.
Next I go with the point where the forest area I mentioned before is crossed. In the satellite image we can't appreciate the path, but the three clocks make a quite aligned route. There is only one that shows a different track: the Fenix 6.
That difference continues to be repeated during the rest of the route.
Once again Forerunner 945 and Forerunner 45 mark the same route above the trail, with the Fenix 6 being the only one that deviates. 
Let's follow the example of the mountains, in this case a 23km trail race that touches all the poles: fast areas, slow climbs of more than 30%, very lush forests or practically desert plains... It's a good test area with many points that put the GPS in trouble.
For this test I leave the Forerunner 45 and change it for the Polar Vantage M, which I carry in my backpack.
This is the initial and final section, the first time we pass through an area of forest and which is done by a path parallel to the river no more than 40cm wide. Same path to go and return and yet there is not a single graph that coincides on the other. 
Is it normal for this to happen? Unfortunately yes. When the difficulties are high there is no device that is able to receive the signal correctly. Compare it with the track further to the left passing by the dam where there are no trees, the graphics have nothing to do with it.
In this area there was not much tree cover, however it also presents some difficulty due to the speed of the climb and the constant changes of direction. I have highlighted that part of the route where there is no consensus. There is only a cut by the Fenix 6, however it is curious that the deviation is in all three cases in the direction of the clock.
I mean, the Fenix 6 was on the left wrist, and its graphic is a few centimeters off to the left (in the direction of travel). On the right wrist was the FR945, with the Vantage M also on the right side of the backpack. And the graphic of those two is a few centimeters off to the right. Patterns... you always have to look for patterns...
At the point I have marked with the arrow we have another error by the Fenix 6, while the other two watches have not had as much trouble identifying it. Again it was an area with a lot of tree coverage. 
However, I have highlighted the rest of the points where the ability to receive GPS signal is good. Indeed, there are no problems on the part of any of the three models.
But there is evidence of errors on the part of the Fenix 6, places where without much apparent reason they go off course. 
That is, there are areas where errors are understandable and you can see why the other two clocks also suffer in their charts. But these areas that I point out with the arrow should not be so much of a problem and yet it does.
The truth is that when difficulties come, it is the Phoenix 6 that always tends to suffer more than others.
But I repeat, this is something that happens in difficult areas. When there is no vegetation at all, we have no problem.
In short, the result is not bad, but it should be better, especially in difficult areas. I do not mean that it should be perfect at all times, there are places where the result simply cannot be better, neither in the Fenix 6 nor in any other.
But Garmin must work on the Fenix 6 GPS reception and tune it up more when the coverage is more complicated. All the watches I used in the comparison used the Sony GNSS chipset, and the ones I used during the tests that don't appear here too, so that can't be the excuse. Garmin must improve the firmware to increase the quality of the GPS reception, putting the Fenix 6 at least at the same level as the rest of the current Garmin models.
Buy Garmin Fenix 6
I hope that this in-depth review has helped you to decide if it is a valid device for you or not. All the work I do you can consult it without any cost, but if you want to support the page and by doing so the work I do, the best way to do that is to buy your new device through the links I provide next. And if you don't buy it today, remember to stop by when you do!
Through these links you will not only get a competitive price and the best customer care, but also I will receive a small percentage at no additional cost to you. That's what allows me to keep offering you reviews like the one on this page.
Find the best offer
Garmin Fenix 6
Garmin Fenix 6S
Garmin Fenix 6 Pro
Garmin Fenix 6 Pro Sapphire
Garmin Fenix 6 Pro Titanium Sapphire
Garmin Fenix 6S Pro
Garmin Fenix 6S Pro Sapphire
Garmin Fenix 6X Pro
Garmin Fenix 6X Pro Sapphire
Garmin Fenix 6X Pro Solar
You are not going to buy it, you already have it or Amazon is not an option; but you like the reviews I perform and you want to show your support for the site? Then consider signing up for a VIP membership. Above all you will be helping to support the site, but you will also enjoy unique benefits.
If you have any questions, remember that you have the comments section below. I will answer all your questions as soon as I pass by.
Opinion Garmin Fenix 6
As with every version of the Fenix family, Garmin's Fenix 6 has the most capable watches in its entire range, even surpassing the MARQ Athlete or MARQ Expedition, and the Fenix 6X Solar is the only solar-powered watch in its entire range. 
Unfortunately, as with every version of the Fenix family, the price has been increased again, and Garmin does this because it knows it is unrivalled in the marketplace, no other competing product is capable of matching the Fenix 6 in performance, not even close. But I don't think anyone is surprised at this point that a Garmin Fenix is expensive, it's already a given.
Ever since the Forerunner 945 was introduced and I knew the new features of this one weren't going to make it to the Fenix 5 Plus I was already clear what the new features of the Fenix 6 were going to be, although we have some new features not only in things like PacePro or power modes, but also in the redesign of the widgets (something I love).
PacePro has quite a few limitations, but for road racing it's possible to get a good performance out of it, but I think the power modes are very well thought out and provide not only a lot of possibilities, but also quite a lot of information about how each option affects the watch's range.
Overall my experience has been good, but not perfect. There are things that need to be improved, especially in terms of GPS reception (now that the optical sensor seems to be at least at the same level as the rest of the Garmin range).
No creo que a nadie le sorprenda que un reloj de Garmin llegue al mercado con «bugs» que haya que solucionar (en realidad ni de Garmin ni de ningún otro fabricante). Eso sí, ninguno de esos ha impedido que haya podido utilizar el reloj como principal en durante estas semanas, y podría seguir haciéndolo si no fuera porque ya se encuentra a la espera de ser devuelto de camino al fabricante.
If you have any questions you know, leave them in the comments below and I will get back to you as soon as possible.
And with that... thanks for reading!