Today the new range is presented Garmin Fenix 6. And when I speak of "range" it is because after the Fenix 5 and the Plus that followed it, it wipes the slate clean to bring some order and clarity.
They do it under the UTMBProbably the most important ultra trail race in the world. There's certainly no better place to show up than that.
Basically that's what I told you a couple of weeks ago through the filtered information, but there are some news about it and, above all, totally clear details.
The Garmin Fenix 6 are offered in different sizes and possibilities depending on their price (or in other words, depending on what you pay you will have more or less benefits).
It's clear how important the Fenix is to Garmin. It has grown from a single model to a range within Garmin's outdoor segment. Today there are up to 9 models (because there are more variations, depending on the strap), so I'm going to try to explain what's what...
Garmin Fenix 6 range, models
Until now we had had a differentiation by size: Fenix 5 in normal size, Fenix 5S for the smaller one and 5X for a bigger one that always had some special function. But what separated them was mainly the size.
Last year the range was renewed with the Plus; adding maps, Garmin Pay and music playback to all models.
What about the Fenix 6? Now we have not only distinction by size but also by designations, because not all of them offer the same thing. Therefore, we have the following "finishes", so to speak:
Standard versionNo denomination (i.e., Garmin Fenix 6 and dot). No maps, music or WiFi. With Garmin Pay. Use Gorilla Glass 3.
Pro versionGarmin Pay: Complete maps of the continent where you buy it (Europe, America, Asia), 32GB of internal memory, possibility of playing music and WiFi connection, of course with Garmin Pay and also Gorilla Glass 3.
Sapphire versionSame as the Pro, but replace the Gorilla Glass with sapphire glass.
Solar versionSame as the Pro, but replace the Gorilla Glass with Power Glass for solar charging. 6X exclusive.
And then in some cases we can choose titanium or different types of strap. As for the sizes we still have 3, but not in all of them we have the same finishes.
Garmin Fenix 6SUp to 25 hours of autonomy with GPS 1 second (I'll talk about the battery modes later). Available in normal, Pro and Sapphire finish.
Garmin Fenix 6The Fenix 6S has a 47mm diameter, 22mm strap, 1.3″ screen and 260×260 resolution. The autonomy increases up to 36 hours and, like the Fenix 6S, it is in normal, Pro and Sapphire finish.
Garmin Fenix 6X51mm diameter and 26mm strap for a 1.4″ screen with 280×280 pixels resolution. 60 hours autonomy is required and in this case there is no normal version. Only Pro, Sapphire and Solar.
So it's all a matter of choosing size and finish. If you want a small Fenix, with maps and you don't care about the glass, then yours is the Fenix 6S Pro. Choose and combine.
Here is a huge gallery with a lot of images of the new Fenix 6.
New Garmin Fenix 6
The Pro finish isn't the only new thing on the Fenix 6, of course. As I told you in the filtered details a few days ago, it's not just a hardware upgrade, there's also a software update to catch up with what the Garmin Forerunner 945with some new additions:
–NEW- PacePro, rhythm indication taking into account the difference in level
–NEW- Power Manager, customizable battery modes that can be modified during the activity (copying to the Suunto function), also indicating how the use of each thing affects the battery life
–NEW- Expedition battery mode with very low power consumption and GPS use, to achieve a range of weeks (20, 28 and 46 days in 6S, 6 and 6X)
–NEW- Solar charging on the Fenix 6X Solar, up to 6 hours of additional autonomy in GPS mode
–NEW- Data display with up to 6 metrics including color coding, and up to 8 on the Fenix 6X
–NEW- Smaller screen frames which leads to a larger screen for Fenix 6 and Fenix 6X
–NEW- New display possibilities for the maps, both to show as a layer the popular routes (Trendline Popularity) and to see them in high contrast or other display modes
–NEW- New display for widgets, grouping them into a smaller view that can be expanded in the usual way
–NEW- Watch dial with more complications on display
–NEW- Maps of ski resorts with slopes and difficulty (green, blue, red, black)
–NEW- Possibility of using the optical pulse sensor during swimming (although this has been in beta mode on FR945 and FR245)
Sony GNSS chipset for longer range, with support for GPS/GLONASS/Galileo (found in Forerunner 945)
Advanced training and performance metrics from Firstbeat (present at Forerunner 945)
Acclimatization for temperature and altitude (present in Forerunner 945)
Incident detection with both manual and automatic warning (present in Forerunner 945)
New Garmin Elevate V3 pulse sensor with Pulse Ox for the entire range (found in Forerunner 945)
Climbpro to separate a climb into several segments (present in Fenix 5 Plus), but now includes color coding according to slope, as in Garmin Edge
So if you think I'm going to talk in detail about some of those features, now that we have official data to know what each thing is, especially regarding PacePro and solar charge.
PacePro
---
PacePro is the main new feature of the Garmin Fenix 6. It's a software feature that helps you keep a correct pace at all times by adjusting the target pace with respect to the slope. It's not something we'll be using frequently as it's more intended for use on competition days, unless you're interested in doing a certain circuit in 57:38 in your training... although I don't see it.
PacePro is a race plan that will be associated with a certain distance or navigation route. From there it will ask us to indicate how hard we want to make the slopes and whether we want to run in positive, negative or constant pace (for example, dividing a marathon into two halves and making the second one faster would be running in negative).
With this data PacePro will create the race plan and tell us at each lap the pace we should take according to what we have requested.
On the PacePro screen we will have, at the top, the target pace for that lap. Below and larger is the current pace (in this case we would be running faster than the target pace). The bar below the current pace corresponds to the distance remaining for the current lap, while the lower field will indicate you are ahead or behind the overall goal for the race and how long.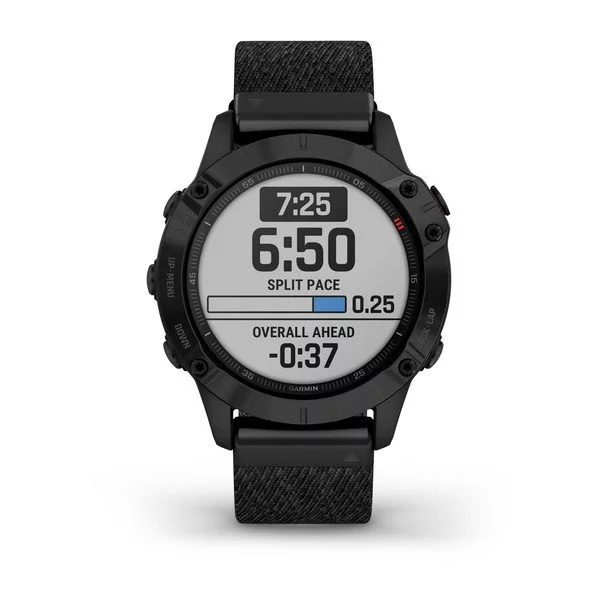 PacePro is based on a navigation route, although you can also assume a completely flat circuit and enter a target distance (for example, 10km). I say this because, being based on maps and altitude, the normal version also allows you to do this. The difference will be that while on the Fenix 6 we can only create the plan from Garmin Connect, on the Fenix 6 Pro we could load one from memory and make the corresponding settings in the clock itself, as the maps have the DEM altitude data.
To help you understand this, let's suppose you want to do a 10K in 40 minutes (because of the round number thing). The first thing you'll think is that it's easy, 10 laps at a pace of 4:00 min/km and that's it. This would be feasible if we do it on the track, but if it's a weird urban race it will be the one without any slope, no matter how small. 
PacePro will then design the plan and will tell you that maybe the first kilometer you should do it at 3:52 because there is a favorable slope, while the next one you have to climb a small bridge and you can do it at 4:10. This way you can do the 10 kilometers and everything depends on how you said you wanted to do the race (intensity in the climbs and do it in positive or negative).
It is a quite interesting concept, because it is a digital and intelligent kilometer-pass template, corrected from the altitude data that we are going to find (also assuming that the DEM data of the cartography is correct... which is not always the case).
In a way it's reminiscent of what Polar or Stryd offer with racing power, but seen from a different angle. Equally correct or incorrect (because it is still an estimation that is part of an algorithm), but expressed differently.
But the main objective is the same: that in a race with changes in inclination you can maintain a constant effort with a clearer metric to see, instead of being aware of the heart rate.
Solar charge
---
The solar charge was one of the main unknowns of the new Fenix 6X. It was not only clear how it got the charge, but also the actual performance of the function. So now with official data we have everything much clearer.
The Garmin Fenix 6X Solar incorporates what Garmin calls Power Glass technology, which transforms sunlight into energy. However, the watch will not last forever, it simply helps extend the Fenix 6X's already great range even further.
And how much are we talking about? Well, I leave you this picture with the basic autonomy in each mode along with the added time we can get thanks to the solar charge.
Use as a smart watch: up to 21 days, you can get 3 extra days (with 3 hours/day of sun exposure)
With GPS: up to 60 hours, plus 6 additional hours
With GPS and music: up to 15 hours, with 1 additional hour
Ultratrac mode: up to 120 hours, which can be extended by 28 hours
GPS Expedition mode: up to 46 days, with the possibility of 10 additional days
Clock with basic functions: 80 days + 40 days
All this data is talking about exposure to a light source of 50,000 lux. On a sunny day the illumination varies between 32,000 and 100,000 lux so in theory these are figures that would not be difficult to achieve.
You get better performance than I had initially thought, although it is true that we are extending a range that already covers 95% from the usual use of any watch. The truth is that I can't think of any activity where I need more than 60 hours of autonomy, at least it is something that is far from my plans!
Does this indicate that solar technology will be seen in future models? Probably. The Fenix 5X incorporated the maps for navigation, which later came to the Fenix 5 Plus in its next generation (and the FR945). In turn, the Fenix 5X Plus included the optical pulse sensor with Pulse Ox for pulse oximetry estimation, which has now reached the entire Fenix 6 range (and also the FR945). It is logical to think that in the medium term the Power Glass feature will reach more models of the brand.
Power Manager
---
More things that Garmin conforms to that offered by the competition, smart battery modes such as Suunto 9 or Suunto 5The clock will clearly indicate the remaining autonomy according to the different options that we configure, being able to know if we will have enough battery to finish the current activity.
This is already available on the Fenix 6, which now allows us to see how much battery time we have left, beyond just seeing a percentage of battery, which is something much more diffuse.
To this possibility we must add a new operating mode that Garmin has called GPS Expedition, with a very low power consumption GPS mode that can last for weeks. This is not something totally new in Garmin, as it was already present in the Garmin MARQ Expedition.
By activating this mode we also have a new screen with details of other sensors such as altimeter, barometer, compass or heart rate.
In addition, the Fenix 6X Solar also includes a graph of the solar recharge in the last few hours.
GPS Expedition is available on all models, and as its name suggests it is designed for long mountain escapes. And of course, extended range is obtained because the GPS record is super lax, getting the location only once an hour.
Display with 6/8 data
---
At Garmin it seemed that they had got a bit stuck on the possibilities of their data screens during the activity, because beyond changing the type of font or small touches, we hadn't seen much new. In fact until now the data limit per screen was 4, while for example at Suunto we had the possibility of making screens with up to 7 data.
It is now possible to have a screen with the 4 data in the center, but also adding secondary data at the top and bottom of the screen with a small reference chart.
So we actually have 6 metrics. This doesn't mean that all screens are like this, of course if you want to have data at a larger size (because your view could be improved), traditional screens are still available.
As for the Fenix 6X, thanks to its bigger screen size (1.4″) it allows to reach up to 8 data. It may seem a lot of data, but it is not a bad idea to create a summary screen that you can look at at a quick glance even if your usual screen has less data (3, 4, 5... whatever you think is appropriate).
Garmin Fenix 6, availability and prices
When will you be able to get hold of a Fenix 6? Well, right now, because from the date of its presentation it is available through some sellers. For the moment, it is limited to some models, although it will be extended to all the finishes over time.
As for the prices are very variable depending on the model and finish chosen, from 599 € of the "cheapest" to more than 1,000 € that costs the Pro Solar titanium. These are their prices:
Garmin Fenix 6 / Garmin Fenix 6S: 599€
Garmin Fenix 6 Pro / Garmin Fenix 6S Pro: 699€
Garmin Fenix 6X Pro: 749€
Garmin Fenix 6 Sapphire / Garmin Fenix 6S Sapphirefrom 799 ? (there are versions in titanium or with different straps between 899 ? and 999 ?)
Garmin Fenix 6X Pro Solar: 949 (1,099 with titanium finish and titanium armis)
At the moment you can buy some versions at El Corte Inglés and Wiggle, I will be adding more options as they become available.
Buy Garmin Fenix 6
Find the best offer
Garmin Fenix 6
Garmin Fenix 6S
Garmin Fenix 6 Pro
Garmin Fenix 6 Pro Sapphire
Garmin Fenix 6 Pro Titanium Sapphire
Garmin Fenix 6S Pro
Garmin Fenix 6S Pro Sapphire
Garmin Fenix 6X Pro
Garmin Fenix 6X Pro Sapphire
Garmin Fenix 6X Pro Solar
My opinion of the Garmin Fenix 6
The Fenix 6 is here officially, knowing all the details. Of course, the complete test is still to be done to know how each one of the present functions works, but that will come in a few weeks.
I'm not just talking about how GPS or optical heart rate monitor works, but also how PacePro or GPS Expedition works in the real world, beyond the text of a specification sheet.
I found it strange that the Pro finish was added. Honestly, it should be the basic model and that the entire Fenix 6 range offers maps and music playback, especially considering that the prices start at 599 euros.
The Garmin Fenix 6 does not represent any revolution. It is a renewal with the expected hardware and the usual small dose of software novelties. At least in the "mundane" models.
The effective increase of the screen size should be highlighted, something that other manufacturers like Polar or Suunto should also work on. The size of the visible frame is reduced, so that at the same circumference as previous models there is more information on the screen, with an appropriate resolution.
But it remains to be seen whether this will affect satellite signal reception in any way, something we know all manufacturers are struggling with with the new Sony chipset.
The solar function of the Fenix 6X is interesting, it certainly gives a better performance than I had initially estimated. But as I said before, maybe it is more of an advertising gimmick than a real use function. It is like giving an extra 10 litre tank to a car that already has a 100 litre capacity. Of course it adds up to 110 litres in the end, but is it worth the extra investment?
In short, a renewal that not for expected has not meant some interesting new features.
And with that... thanks for reading!