We've had a week of multiple leaks from new Garmin Fenix 6 Many of you have contacted me through social networks about it; with doubts and requests for information and impressions, so I guess it's time to talk about the elephant in the room.
I generally don't like to talk about rumors or brand leaks, mainly out of respect for them, even if I don't have a confidentiality clause (of course, if I did, I couldn't say anything at all).
Maintaining this respectful silence is something that does not benefit me. When the official presentation arrives, it is already an "old acquaintance" so it does not generate the same interest, but I still maintain my respect for the brands and I do not usually give too much room for leaks.
However, as many of you have asked for opinions and it is already everywhere, I will skip my usual rule to tell you what is known about the new Fenix 6 and all its versions and try to explain what it means.
Garmin Fenix 6 Features
Of course, the first thing you want to know is what's new with the Fenix 6. Of course, the new model comes with a hardware and software upgrade, so it matches its specifications to the new Garmin Forerunner 945 as well as adding some new features.
But for doing so quickly and clearly, there is nothing like a reference list. These are the main features we can expect in the new Garmin Fenix 6:
–NEW- PacePro, rhythm indication taking into account the difference in level
–NEW- Customizable battery modes that can be changed during the activity (by copying to the Suunto function)
–NEW- Solar charging on the Fenix 6X Solar
–NEW- Data display with up to 6 metrics including color coding
–NEW- Smaller screen frames which leads to a larger screen for Fenix 6 and Fenix 6X
–NEW- New navigation widget including weather data, barometer, solar hours, etc. in a more graphical way
–NEW- Watch dial with more complications on display
Sony GNSS chipset for longer range, with support for GPS/GLONASS/Galileo (found in Forerunner 945)
Advanced training and performance metrics from Firstbeat (present at Forerunner 945)
Acclimatization for temperature and altitude (present in Forerunner 945)
Incident detection with both manual and automatic warning (present in Forerunner 945)
New Garmin Elevate V3 pulse sensor with Pulse Ox for the entire range (found in Forerunner 945)
Complete maps in all models (present in Fenix 5 Plus)
Wireless payments through Garmin Pay (featured on Fenix 5 Plus)
Music playback and support for Spotify (present in Fenix 5 Plus)
That is, an update with the rest of the range, a new function (PacePro), slight design improvements with smaller frames, software-level tidbits and a new function exclusive to the most expensive model (solar charging).
This leaves out some of the rumored things, like LTE connectivity or the EKG sensor.
What's new with the Garmin Fenix 6
It's time to go into detail with all the new features announced by the Fenix 6 to try to give some clarity to what Garmin is expected to announce in the coming weeks. Regarding the features coming from the Forerunner 945 (and consequently from MARQ Athlete) there is not much to talk about, it is all perfectly detailed in the recently published analysis of FR945.
In addition to the hardware changes and the new chipset, performance metrics logically had to come to the Fenix range. The fact that they come to a new (and more expensive) model will make Fenix 5 Plus owners quite angry, although Garmin has yet to make a statement on this. We will have to wait for the official launch date of the Fenix 6 to see if metrics, temperature and altitude acclimatisation or incident detection will be included.
But I want to focus this article mainly on the news that we have less detail about, which is there and which no one has talked about so far.
PacePro
---
This seems to be the main new feature of the Garmin Fenix 6 software. According to the filtered images and in Garmin's own words:
"The PacePro feature provides a slope-compliant adjusted pace indication along with V02Max and training status estimates."
To put it in marketing language it looks very nice... but we have no idea what it refers to.
What I guess what PacePro does is to show an instantaneous adjusted pace as if we were not running up a hill. That is, if we are running at a 4:30 pace and we start to climb a 5% incline reducing our pace, the watch is going to show us an "adjusted pace" so that 1TP10We can compare it and, thus, continue at a similar level of effort.
We may be climbing that slope at 6:30-7:00 min/km, but the adjusted pace may indicate that we are at an estimated 4:45, so we can push a little bit more and keep running at a similar intensity.
For this estimation you can also take into account the temperature and elevation acclimatization data that have been previously included in the advanced training metrics.
And what is all this? Well, basically what Polar or Stryd offer with the power in race, but seeing it from a different angle. Just as correct or incorrect (because it is still an estimation that is part of an algorithm), but expressed in a different way.
But the main objective is the same: that in a training or race where there are changes in inclination you can maintain a constant effort with a metric that adapts much faster than the heart rate.
However, we must wait for Garmin to clarify this and see if this is indeed the case.
Screen with 6 data
---
Garmin has not made many major changes to the data screens in a long time. Yes, the font type has changed in the latest models and there are different layouts, but basically we have been the same for quite some time with a limit of 4 data per screen.
However, Suunto is able to offer more data on its displays; and both Polar and Suunto also provide graphics and color coding for different metrics.
At Garmin, we could add pages with those graphics or those encodings, but it had to be added on a specific page and we couldn't combine it with other data.
The filtered photos show a new data screen with 4 values as before, but include a graph with color coding both above and below.
In that image you can see that in the upper part we have a heart rate and in the lower cadence, both with an indicator that reflects a certain area and a codification that coincides in graphic and icon color.
Presumably we can select other similar data in these graphs, such as pace or power zone (for cycling, unfortunately we still don't have native support for running power), effectively making available up to 6 metrics.
Smart battery modes
---
More things that Garmin conforms to that offered by the competition, smart battery modes such as Suunto 9 or Suunto 5The clock will clearly indicate the remaining autonomy according to the different options that we configure, being able to know if we will have enough battery to finish the current activity.
Logically this approach is much more accurate than simply displaying a percentage remaining, because when you go to train and see a 20% remaining battery you have no idea if that's going to be enough or not, if you can afford to use music playback or if you're going so far as to change the GPS mode.
And presumably, as with Suunto, we can also change the mode of operation in the middle of an activity, so if we are recording a workout and the watch appreciates that you might run out of battery (or that you are aware of it), it offers you the option to turn off functions such as music or optical pulse sensor.
Solar charge
---
The main news on a hardware level is that the top-of-the-range model, the Garmin Fenix 6X, will have a solar-charged version. Yes, as it sounds, the watch will be able to charge the battery simply by basking in the sun.
Even lacking details and actual numbers I can guarantee you that this will not make the Garmin Fenix 6X Solar can be running."ad eternum". For several reasons: size, positioning, not always facing the sun, etc.
To put figures on the table, the Casio GPR-B1000, which is also a solar-charged GPS watch (but simpler and with a screen with much less resolution), needs 4 hours of charging at 50,000 lux - full sunshine - to achieve 1 hour of operation.
This means that the possibility of the solar charge is not there for the watch to be able to work simply by wearing it while we are hiking, but to be a complement to slightly increase the autonomy. How much will it increase? Well, for that we do need to wait for the official presentation and know all the details.
Garmin Fenix 6 versions
The Garmin Fenix 6 will continue with the same versions as we have seen so far, with the differences in size and range present, although there are new features with respect to the actual screen sizes.
There will also be a version with sapphire crystal, which in some images has been referred to as "Pro", but in others it has lost it and only appears as "sapphire".
Seeing that the inscription already appears on the cover of the watches, it seems that this is what will arrive at the market. Or maybe it will arrive as Pro in some markets and Sapphire in others...
It's strange that without Garmin having used the Pro nomenclature on any product it arrives to the Fenix 6 and that, in addition, in the shop leaks it appears simply as sapphire. Don't forget that the real filtered images are of test versions, so nothing is definitive.
In short, these are the versions we should have along with the changes on your screen:
Garmin Fenix 6S / 6S ProSame as 5S Plus (42mm) and with 1.2″ screen.
Garmin Fenix 6 / 6 ProThe equivalent of the 5 Plus. Also 47mm wide, but reducing the screen frame. So in this case we have 1.3″.
Garmin Fenix 6X Pro / 6X SolarThe size of the 5X Plus is maintained again, also increasing the screen size up to 1.4″.
There are no details regarding the screen resolution, although models with larger screens should see their resolution increased as well.
In terms of price, they are expected to cost 100 euros more than their counterparts in Fenix 5 Plus (so the new model will not make the current model go down in price), which leaves us with the following price range:
Garmin Fenix 6 / 6S: 750€
Garmin Fenix 6 / 6S Pro (sapphire glass): 850€
Garmin Fenix 6X Pro: 900€
Garmin Fenix 6X Pro Solar: 1.150€
Once again we are facing an increase in Garmin's prices, an escalation that seems to have no limit, but when Garmin presents the quarterly summary it seems that this continuous price increase is not a problem for its sales volume, so as long as the market continues to respond positively to its new products it is a matter of getting used to it...
And remember that the arrival of the Fenix 6 will not make the previous models disappear from the market. On the contrary, both Fenix 5 and Fenix 5 Plus will remain available for purchase for quite some time.
Submission date Garmin Fenix 6
The official release date has also been leaked. Amazon had the watches on sale for a few minutes, enough time for some catch to be stolen.
The presentation date, if we listen to Amazon, will be August 29th. This brings forward the date I had marked on the calendar, which was for CES 2020 (January), which until now has been the usual presentation cycle for the Phoenix.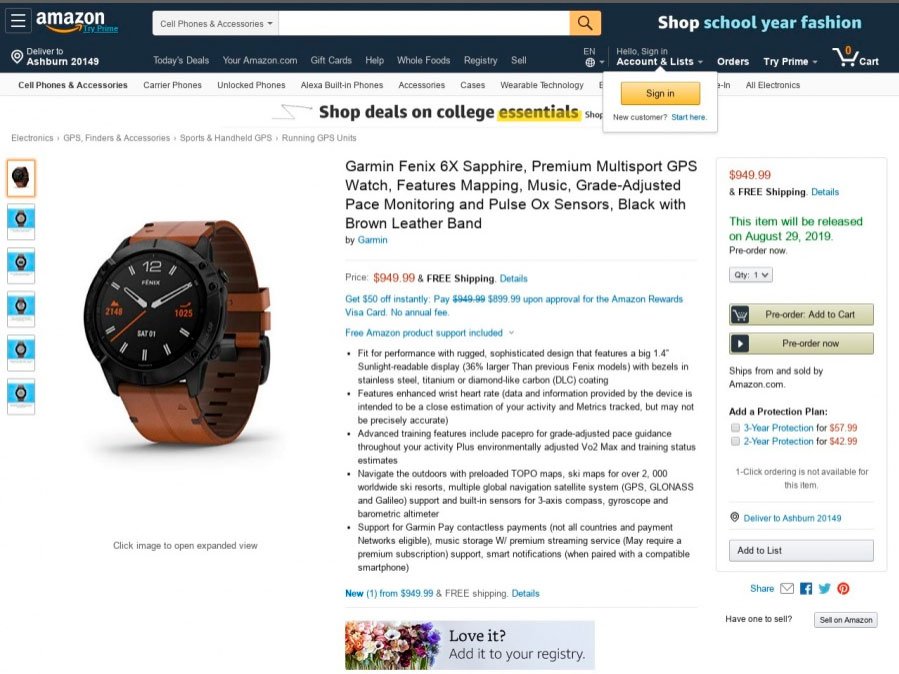 However, it seems that Garmin has preferred to bring forward the launch, perhaps to take advantage of the Christmas campaign
My opinion of the Garmin Fenix 6
The arrival of the Fenix 6 comes as no surprise to anyone, if anything the date of presentation and availability, August, when it has usually been presented in January.
With the new features it includes (which I need official confirmation of) it will be the most complete Garmin model at this time. PacePro may be added to the Garmin MARQ Athlete and perhaps the Forerunner 945, but that's less likely.
As usual in Garmin there is no revolution. Renewal of hardware, a couple of software details and automatically we have a new model on the market. Well, three in this case.
However, it is worth noting the effective increase in screen size, something that other manufacturers such as Polar or Suunto must also work on, but we must see if this can cause difficulties in the reception of satellite signals, something that we know all manufacturers are trying to improve from the Sony chipset.
In any case it seems that there is not much left to know all the details officially, so you know where you must come on August 29th to know all the details.
And with that... thanks for reading!