A few months ago, Garmin presented us with a new evolution of what has recently become its most iconic model, and in this way the Garmin Fenix 5 made way for new models. The Fenix 5 Plus, 5S Plus and 5X Plus represent today the top of the range of the American firm.
As its name indicates, it is an evolution from the original model. The base is maintained as well as the master lines of aesthetics, but there are new features in terms of software and of course in terms of hardware. This last detail is not exclusively to add memory for maps or music reproduction, it is also done to correct a connectivity problem with external sensors that some users have had with the original Fenix 5.
I've spent a few weeks with the Garmin Fenix 5 Plus to be able to know in detail all these novelties and to evaluate which are the differences with respect to the original model.
Sabes que habitualmente es el fabricante el que facilita una unidad «de prensa» para poder realizar las pruebas. En esta ocasión ha sido una mezcla, ya que en primer lugar he tenido que comprar yo una unidad ya que no había disponibles unidades. Al final me ha tocado acudir al mercado y «aflojar la cartera» para comprarlo directamente. Un hobby caro… así que recuérdalo a la hora de hacer la compra de tu dispositivo (o cualquier otra cosa), porque llevar esta página tiene sus gastos.
Luckily a few weeks later the test unit (a 5S Plus) arrived, and I only have to wait for the 5X Plus to be able to do the complete test of all models.
If you want to collaborate you can do it by buying on Amazon through the easy links, that way I will receive a small commission which is precisely what supports not only the page, but also this kind of extraordinary expenses. I am not a journalist with a salary, in fact this is not my main job.
Without further ado, here we go with absolutely every detail of the new Garmin Fenix 5 Plus, or its 5S Plus and 5X Plus versions, with all the information, like no one else has ever told you.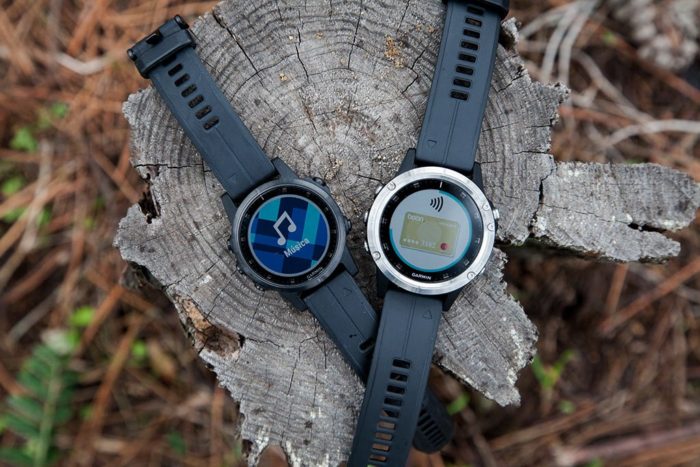 Summary
Overall - 9
Training possibilities - 9
Platform and applications - 9
Battery life - 8.5
Finish and comfort - 8.5
Price/performance ratio - 7
8.5
TOTAL
The Garmin has gone a step further with its Plus equipment. The Fenix 5 was already a very complete model and the inclusion of the maps, music playback and wireless payments is already the icing on the cake. But all this is in exchange for a rather large price tag. Is it worth it? Decide for yourself after knowing all the details of the test.

Check price

User Rating:

3.51 ( 6 votes)
---
The good
Maps in all models
Fenix 5S Plus screen with the same resolution as its brothers
Synchronisation with Spotify
It has everything, everything, everything that Garmin has to offer
The bad
El precio es «salvaje»
Did I mention that it's very expensive?
What's New in the Garmin Fenix 5/5S/5X Plus
Find the best offer
Garmin Fenix 5 Plus
Garmin Fenix 5S Plus
As I was saying, the 5 Plus is an evolution of the Fenix 5, although there are many new features under the hood. And in fact in my opinion the model name has not been changed to a higher digit because the watch maintains the aesthetics practically identical.
So, what's new? I'll leave the list with you so you can check it out quickly.
Color maps on all models. Previously available exclusively on the 5X
Altimeter calibration with accurate data possible thanks to integrated maps and GPS coordinates
Adds the ClimbPro function, separating the different climbs of a route into independent parts
Trendline function for route calculation directly on the clock (as with Garmin Edge)
Support for Galileo satellites (although the Fenix 5 also received an update and are supported)
Music playback via Bluetooth, both transferred to the watch and streaming platforms by downloading the music wirelessly
16GB capacity to store both maps and music
Wireless payments with Garmin Pay (first seen on the Vivoactive 3 but progressively incorporating it into the rest of the range)
User interface with new graphics and improved transitions
Privacy mode for notifications (only displayed if you press the button or turn your wrist)
Better antenna design for external sensors, increasing the distance the watch will receive data from
In the Fenix 5X Plus (exclusively) a pulse oximetry sensor is added to measure blood oxygen level
Indeed, many new features have been added, some small, some much more important, but if there's one thing you should keep in mind, it's this: maps, music playback and PulseOx sensor on the 5X Plus.
Do you have any doubts about any of the added features? Well, don't worry because that's what this analysis is for, where I'll try to answer all the questions you might have regarding the new Garmin model.
Garmin Fenix 5 Plus, 5S Plus and 5X Plus Basics
I want to keep this part short and concise, and this time for real, for two reasons: in the end it's tired of always talking about the same thing, and there's already a test of the Fenix 5 where I cover all these aspects with maximum detail, regardless of whether or not you know the previous model, take a look at the analysis of the Garmin Fenix 5 because it's tremendously extensive.
However, I would like to make a brief review of aspects that I think may generate doubts, to begin with, I would like to clarify the differences between models:
Garmin Fenix 5S Plus
The 5S Plus is the smallest model, with a diameter of 42mm. The functions are the same as in the larger model, except that due to the smaller size the autonomy is lessWith the use of GPS the duration is 11 hours (4.5 hours if you are playing music). In this model it stands out that, unlike the original Fenix 5S, the screen is the same as in the Fenix 5 Plus. Therefore in the 240×240 pixels the maps will be seen with the same quality as in the bigger model.
Garmin Fenix 5 Plus
With 47mm diameter it is the most classic version, and the only difference from the Fenix 5S Plus is the larger battery. autonomía 18 hours with use of GPS (8 if with music), and the straps are 22mm wide instead of the 20mm of the small model (in both cases the QuickFit system is used to replace them quickly).
Garmin Fenix 5X Plus
It's the biggest model, 51mm in diameter. It's also the most expensive (from £849, compared to £699 for the other two models depending on their finish). That £150 difference gives you the pulse sensor with pulse oximetry (it has a red LED), which allows you to measure the level of oxygen in your blood. I'll talk about the function in more detail later. Its range is also longer: up to 32 hours with GPS 1s recording and 13 if you combine it with music.
As for the development of its menus and the different options it presents, it's very similar to any other model in the Forerunner or Fenix range. If you've used one recently, there aren't many new features at this point. It's true that you can see changes in the interface, such as the transition between the different widgets that makes the notifications that first show the application that sends the notification to show it later (or even show it only when we interact if we activate the privacy mode).
But apart from these small differences, everything looks like the classic Garmin interface. And just to remind you briefly, you can browse through the different widgets on the clock where you'll find lots of information about both your daily activity and your workouts. And if those aren't enough, you can download many more through Connect IQ.
There are also different options for customising the clock face and, as with the widgets, there is also the option of adding other Connect IQ variants.
As far as daily activity is concerned, absolutely all the variables are followed: steps, distance travelled, heart rate during 24 hours including the minimum at rest, quality of sleep, level of stress... Practically your whole life is totally accounted for.
And what about sports? Well, the same as before. We have a lot of sports to choose from including multisport activities that you can make up in the way you choose. The way to do this is by joining individual activities that you have previously created, so those settings that you have already applied will be maintained.
When it comes to setting up screens, you can do it in a thousand different ways. You can add thousands of them. Well, I don't know about thousands, but more than I've ever tried to add. These screens can have from 1 to 4 data per screen, and if you want to have some more (compared to Suunto, it's a bit short at the factory), we can go back to the Connect IQ options. Of course, to the screens you set up you can add those for maps, music control, elevation, etc.
All your training will be reflected in the advanced performance metricsAgain, I recommend you click on the link and access the Fenix 5 test where you can answer all the questions you might have about recovery, training load, VO2Max or training status.
So much for that quick review. I think I've done it pretty well this time, and I've outlined it quite a bit. If you want to go into more detail, you know where to go, but once we've clarified the basics, we can move on to the main new features and innovations in the Garmin Fenix 5 Plus, Fenix 5S Plus and Fenix 5X Plus.
The maps The Garmin Epix already incorporated them (although the clock presented another multitude of problems that soon made it fall into oblivion). And why not say it, even in the Fenix 2 they could be added in parallel. And of course the Fenix 5X, but its size meant a toll that many did not want to pay.
But even though they are not new, this does not mean that they are the same as before, not at all. To begin with and compared to the Epix there is a notable difference in data processing capacity, which makes this function something that can really be used. And unlike the previous Fenix 5X, there are now more possibilities incorporated such as the Trendline function for route calculation or the possibility of calibrating the altimeter to a known height from the mapping data. But let's take it one step at a time.
I'll start with the possibilities of the maps. It offers exactly the same as Edge units and more. You can follow routes created on the computer or make them directly on the clock by indicating a point on the map or an exact address. Load a route that is sent to you or design a return route by marking a distance to go, etc. Of course typical options such as Sight 'n Go are still present.
All these route options make it not only a clock for your mountain escapes, but can be a fantastic tool for travelers.
The maps are with Digital Elevation ModelThis means that in addition to looking like a traditional map it also contains topographic information, so there is complete altitude data for any point on it. This allows us to be able to calibrate the altimeter at any time at a known altitude.
And in addition to the topographic information they also offer the Trendline function, which are the popular routes used by other users to get to the same direction. So when calculating a mountain route instead of randomly plotting it on a road that may or may not exist, or plotting it on the first road that appears; Garmin will use the data of all those who have passed through there before so it knows what the most appropriate route is. Or so the theory goes.
Of course, the watch comes exclusively with the maps of the market where it was sold, so if you buy it in Europe you will have the maps of the continent, but not of America or Asia. And vice versa, so be very careful where you buy the watch and why you let yourself be seduced, because if the watch comes from Asia it will come without maps of Europe and you will have to buy them separately. You can always install OpenStreetMaps (OSM) maps for free, but you will lose the Trendline route function to begin with.
Speaking of creating routes, depending on the options you choose in each sport profile will use some parameters or others. By default each activity is already predefined in the type of route that will prepare, but this can also be changed. These are the different options that allows when it comes to guide you on a path:
Each of these will allow the watch to choose a type or another path to guide you, so if you are in the cycling profile you will be able to prepare a route as such, and if you are going to do a trail ride the paths you look for will be totally different.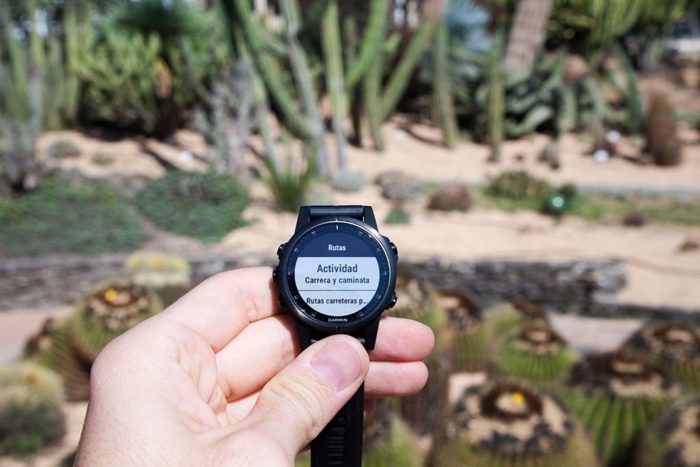 There are many ways to prepare routes, both on the clock itself and when loading a route externally. The latter is quite basic and if you are interested in the Fenix 5 Plus it is precisely because of the possibility of making routes directly on the clock itself, something that is perfectly possible thanks to the maps.
Of course, the clock doesn't allow you to create a route like you would with a Garmin Edge where you enter an exact address (25 X Street), mostly because a small screen and five buttons isn't the most practical way to do it.
But there are ways adapted to its small format. You can create a route by indicating a point on the map and the clock will create the route to that point from where you are or from another point that you have marked (and remember, the path chosen will depend on the configuration of the type of route chosen).
Or you can make a return route simply by selecting a distance and direction to do so.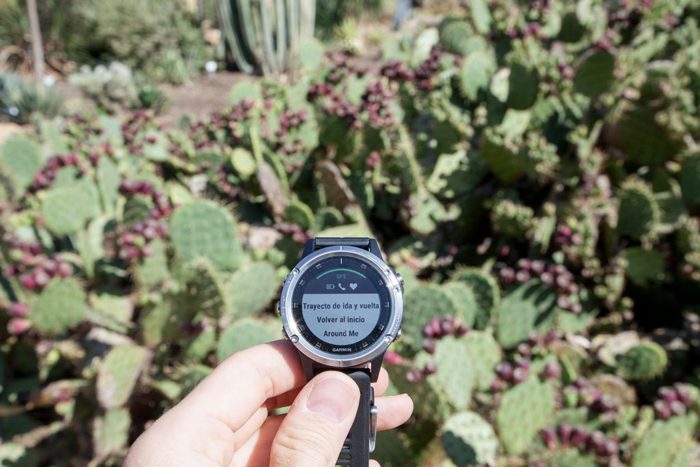 The watch will calculate three routes with the data you enter and present them to you on the screen. You will have a full map, turn directions and an altitude profile to decide if this is the route you want to take.
Pero hay más posibilidades interesantes como la función «Around Me». Con esta función se cargará el mapa y te permite explorar puntos de interés cercanos en la dirección que marques.
There are times when it doesn't make much sense to use this feature, like inside a city. It will bring up a list of points of interest that won't be much use to you when you're training (restaurants, parking lots, etc.).
Do it at the door of your rental cabin in the middle of the mountain, and what do you get? A list of real points of interest for what you're going to use: peaks or interesting areas to explore. Select any of them and the clock will trace the path you must follow to reach it. Are you there? Then repeat it and look for your next point. And when you're tired, use the back to start function and retrace your steps along the same path that will mark you as a route (not with an arrow).
Clearly the experience is not like using your Android or iPhone smartphone top of the range in terms of speed and immediacy of response. Don't expect to scroll on the map as if you were doing it in the Google Maps application on the phone. But the navigation and route possibilities are virtually limitless, far beyond what any other clock can do.
The navigation is the same as before, as the route is drawn on the screen, but it is done on a map, so choosing the right route is much easier, especially where there is a junction with several detours.
You can view the map at any time, whether you're on a route or just running (as long as you activate the map screen, of course). You can scroll up and down, left-right and change the zoom scale.
Finally, the new ClimPro feature is a more advanced version of the elevation profile page that was previously available, but Garmin takes it one step further.
Previously the elevation profile page showed the complete profile of the route with distances remaining, positive meters to be climbed and our location with respect to that route. But of course, if the route is long the level of detail available is not very high. This is how it looked on the Fenix 5.
That screen is still available in the new Plus, although there are slight changes. Now, in addition to indicating the total number of positive meters to be climbed, it also shows the meters we have already climbed.
But this is not ClimbPro. ClimbPro separates the route into small individual fragments, each of which is one of those climbs. That way you will have data for each of those climbs: Elevation, distance, average grade or vertical speed, time you have been making the climb and whether it is the 5th climb of 36.
All this data will be specific to the climb you are doing at that precise moment. Of course you can still access the global information, but the possibility of seeing the specific information for each of the climbs in a graph is very valuable information.
This is the screen you will see. At the top with a black background we see the total activity time (17:27), and immediately below it the indication that it is climb 1 of a total of 2. It also indicates the remaining distance to be covered (15.4km) and how many positive meters there are left to climb (429m).
The graph also has a lot of detail, since we can see perfectly the small undulations of the terrain next to the average slope for the entire ascent, which in this case would be an affordable 3%. This information always appears in the same way, but the lower field can be modified.
By default it's the vertical speed that is shown (50m per hour after not having walked much), but you can choose any other data if you find it more practical. And by the way, there is no zoom. This is where you can put some glitches, since there is no control over how the graph is generated or from what slope we want it to appear.
In this case that first 15km portion has been chosen by the watch, it is not possible to indicate that we want smaller pieces or that it only shows us from a certain slope. The elevation data will come through the route utility if you create the route through Garmin Connect, or through the watch's own mapping if you create the route directly on the watch.
Añadir también que ClimbPro no sólo muestra la información al subir una pendiente, también lo hará cuando iniciemos el descenso y permitirá ver la misma información que al subir, pero «para abajo». Por tanto estamos dependiendo completamente de información externa, lo que quiere decir que tal vez podamos ver comportamientos extraños en alguna ocasión.
For example, if ClimbPro says that you have finished climbing but you still have a few more meters to go, the important thing is that the possibilities offered by the altitude profile graph now increase even more, especially for longer routes and distance.
I've always said that it's a feature that I loved when Suunto first introduced it in Ambit3 Vertical, and when Garmin copied it for their Fenix 3. Whenever I go on a trip to the mountain, it's the only screen I pay attention to because it has all the information I need. And now that it shows the fragmented information for more detail, it's much better.
Music playback
The ability to music playback is becoming one of those functions to which I now devote a section to explain its behaviour, but which will end up becoming a basic feature of any clock and become part of a simple enumeration of characteristics. And it's something that will happen sooner rather than later.
But it deserves a special section because it is something relatively new for Garmin. The first model to incorporate it was the Garmin FR645 Musicand months later a version of the Vivoactive 3 que también añadía dicha función. Lógicamente es algo que no podía faltar en el nuevo modelo si es que Garmin lo quiere situar como absoluto «top».
When loading music into the clock we have two clearly differentiated options. The first is the more classic, simply connecting the clock to the computer and dragging the files to memory or, preferably, synchronizing from our music library (to maintain order in terms of artist, album, songs and cover art). You can do this by using the clock as an external memory or using Garmin Express for synchronization.
The clock has 16GB of capacity, of which about 14.5GB is available for our use, and this space will also be shared with the maps so depending on which you keep or add, you will have more or less space for your music libraries.
Pero la verdad es que en pleno 2018 no se trata de la forma «más moderna» de consumir música. La segunda opción es sincronizando de forma automática listas de reproducción de plataformas online, a lo que Spotify was recently addedThis opens the door to an ocean of possibilities, as it is undoubtedly Spotify In this case the synchronization will be by WiFi and you don't need to connect the clock to the computer to update the music frequently. You can see all the specific details of the integration in the introductory article.
Currently, in addition to Spotify, there are two other platforms that offer applications: Deezer and iHeartRadio Garmin performs the integration through Connect IQ applications so the door to other platforms is wide open, it's up to them to cross over. So there's always the possibility of bringing in Apple Music or Google Play Music but it's up to you to implement it, Garmin has already provided the necessary tools.
And finally we must not forget that we can also handle the music we are playing on our mobile phone without any problem, but this was already done by previous models.
To play music, you need to pair the clock with an external playback device. That is, not only wireless headphones, you can also play music by using external speakers. Garmin solves this very well because, as with the sensors, it allows you to have a multitude of devices registered, so if you add a new headphone it will not replace the previous one.
Among the data screens available in the sport modes you can add a screen to control the music, although without a touch screen the operation is somewhat more laborious.
To do anything, you'll need to press and hold the menu button to enter the music controls and then navigate through the different options to skip songs, change lists or even change libraries or applications. It's certainly not overly comfortable to do while you're running, but the possibility is there. And if your headset has controls, you'll always be able to make use of them.
In terms of overall performance it's satisfactory. There are no music cuts, although it's more related to the headphones and your own internal antenna, so your experience may be different from mine.
In case you do have cuts it is recommended that you wear your watch on your wrist on the same side where the antenna is on the headphones, which is usually where the control buttons are. In the case of wireless headphones there is always a master and a slave, so in case of problems, change the watch to the side.
Wireless Payments with Garmin Pay
Just like music, Garmin Pay is another feature that will have to be talked about less and less in each of the tests since the clear trend is that future models of the brand will include it. As with music playback was the FR645 that introduced this feature, which also came to the Vivoactive 3. Fenix 5 Plus that incorporates it and don't doubt that wireless payments for NFC will continue to make their presence felt in the firm's future models.
The penetration of Garmin Pay is slow but at least we can see movement. At this moment there are three Spanish banks that allow you to add your credit cards to Garmin Pay (CaixaBank, Santander and Openbank), to which is added a fourth option open to any user in exchange for a small monthly fee: boon.
This list will grow progressively, I have no doubt, especially since the number of models supporting the function will be increasing. You can check at any time what cards are compatible with Garmin Pay on the manufacturer's site.
In my case none of my usual cards are still supported, but with boon I can make those small payments for only 1.49 euro per month, recharging the account with the necessary amount.
With the wireless payments podrás pagar simplemente acercando tu reloj al datáfono. Sin llevar encima la cartera, el móvil o la tarjeta de crédito. En el uso diario del reloj puede parecer una función «chorra», pero es cierto que pensando en una salida de bici o carrera puede suponer que una vez terminado tu entrenamiento puedas acercarte a tu establecimiento habitual para rehidratarte. Lo único que tendrás que hacer es confirmar previamente que en ese sitio admiten pagos inalámbricos.
To add the card, you must first create a Garmin Pay wallet, where you can add all the supported cards and choose between them when making the payment. You will do this from the Connect application on your mobile phone. You must create a security pin so that, in case you lose your watch, not only will you lose one of your most precious possessions, but your bank account will also be emptied.
Once the activation process is complete, you will receive confirmation from both Garmin Pay and your bank within one minute that the card has been activated for use with the watch.
When you need to make a payment you must access the Quick Access Menu of the clock, by holding down the upper left button, and select the Purse option.
After selecting it, you will be asked to enter the security PIN you used when creating it.
It won't ask for your PIN again for the next 24 hours, so if you have to make a payment again, you'll just have to access your wallet again. You mean... what happens if I lose my watch within 24 hours? Don't worry, because as soon as you take your watch off your wrist, that 24-hour period disappears and it will ask for it again. So if you lose your watch, the card will be blocked by the PIN again. And how does the watch know that you've taken it off? Easy, by the optical pulse sensor.
In any case, once you have entered your PIN you can select your card (if you are lucky enough to have several Garmin Pay compatible cards) and you have 60 seconds to bring the clock closer to the payment terminal.
That's it! The clock will show confirmation on the screen and the payment will be made (unless you have to enter your card's PIN on the dataphone, which is usual for payments over £20).
It's a convenient technology that still has some way to go, firstly in terms of the number of banks that accept adding their cards to Garmin Pay, and also in terms of the availability of NFC payment terminals, although the latter is becoming less of a problem and it's already rare to find an old dataphone that doesn't support NFC payments.
PulseOx on the Fenix 5X Plus
For the time being and until I can receive a unit of the Fenix 5X Plus, I can only give you a rundown on the theory of what it is PulseOx and what new features the 5X Plus has to offer. Practice will follow. But let's get down to the details of this technology.
PulseOx is available exclusively on the Fenix 5X Plus, the rest of the models in the range do not incorporate it. The reason is simply that its optical pulse sensor is different, as the use of red LEDs is required to incorporate this technology.
But... what is it and what is it used for? It is simply the "trade name" that Garmin has given to the estimation of the blood oxygen level rate. It is not a function designed for sports performance, but is dedicated to its use in health and more specifically in the mountains. Knowing the oxygen saturation level allows you to know how your body is acclimatizing as you ascend a mountain.
If you're a mountain climber and a regular high mountain climber you'll know all about your blood oxygen level. If you don't... there's really not much reason why you should choose the Fenix 5X Plus over either of the other two models.
There are two ways to get a reading, manually and through the pulse oximetry widget itself (which is similar to the heart rate widget). The measurement takes a few seconds, and it is recommended that you remain still and, if possible, keep your watch at heart level while doing so.
This will be recorded in the widget for later reference and, of course, will also synchronize with Garmin Connect.
You can also activate automatic logging throughout the day, and the watch will log several times every hour when you are not making any movement. This will obviously lead to additional battery consumption.
The main question you may be asking yourself is whether you need this feature. After all, the pulse oximetry is the only difference compared to the other models (well, the additional range of the 5X Plus may also be a factor). Well, it all depends on how you use the watch.
I'm sure I wouldn't need to, as the vast majority of my training is at sea level and if I ever go to the mountains, I rarely go above 1,500m.
On the other hand, there are others that those 1,500m are their "base camp" and from there they go on to make peaks of 3,000 in 3,000.
Is the measurement reliable? Well, it must be, at least as reliable as any of the many devices on sale and that they cost less than £20.
Why is the pulse oximeter only on the Fenix 5X Plus and not on the rest of the range? It could give you a variety of reasons, such as increased battery capacity or a larger size to make room for the sensor. But the main reason is that it is the way Garmin can offer something unique on the 5X Plus that the other models don't have, and thus its justification for charging a little more for it.
Pulse sensor
By now you know everything there is to know about an optical pulse sensor, but I'll give you a quick review. Remember, with Garmin, you can measure 24 hours a day, constantly recording pulses and then see a full graph of your day. All of this data is synchronised with Garmin Connect and you can view all of the data at any time.
The heart rate widget is also available on the clock, where you can see your instantaneous heart rate with a graph for the last 24 hours, where you can see your maximum and minimum heart rate for that period.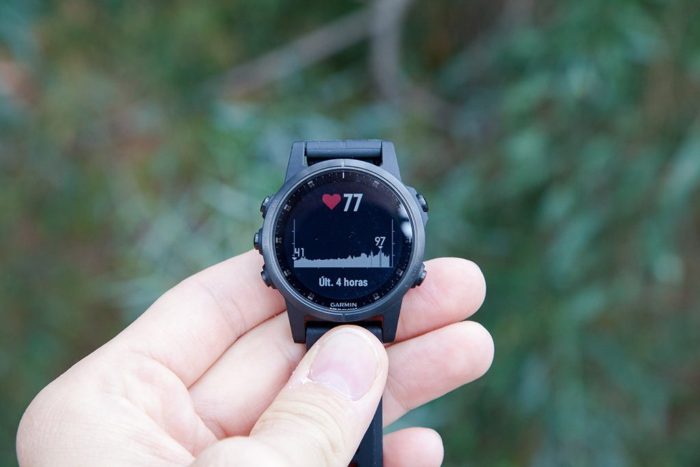 And if you enter to see more details you will be able to know your FC in rest of the last week.
As I say this is already commonplace at Garmin and there is nothing new about it, neither is the optical sensor and the sensations I have had are the same as ever.
There is also no change in the case of the Fenix 5X Plus even though the sensor has one more red LED, as this is simply for pulse oximetry measurement and does not affect pulse recording during exercise.
The usual behaviour of the optical pulse sensors is that at a constant running rate the data is reliable at virtually all times, a slight delay in intensity changes and poor performance when doing high-intensity short series. And as always it is not very friendly to cycling. Is this how the Fenix 5S Plus behaves? Well let's see.
These days have been complicated for the heart rate tests. Being in the beginning of preparation for the Malaga marathon I am still recovering from a somewhat strong accident on the bike, so I have been returning gradually to the race training. To finish rounding off, when I have recovered my leg I have been attacked ferociously by a lumbago. I have not had many quality trainings these last weeks, but they have been enough to be able to verify if the previous theory is true or not.
I start with an easy workout, starting very smoothly to see how the damaged sartorius muscle reacts. The Fenix 5 Plus of course making use of the optical sensor, just like the Suunto 9.
The Fenix 5S finds out late that I'm still recovering and thinks we're training at a regular pace. 15 minutes is hard for her to figure out how the story works. Suunto 9 more or less has the concept clear from the start.
From the middle of the training everything works normally, both with the sensors and with my leg. I don't know what the problem was at that time because it's not usual at all.
Second test in similar conditions and the Fenix 5S has already understood what the story is about. It still has to go very smoothly. It has a small fault at the beginning of the training, but it is quite common at the beginning of the training when the veins are starting to dilate.
At this beginning it's the Suunto that has some occasional ravings, but it quickly returns to the right path and from the 9th minute everything seems quite reliable in the world of optical sensors.
Another example of a long print run at a constant pace and intensity with the same results, i.e. with no major differences beyond the first few minutes.
We are going to introduce some change of pace which, as I said at the beginning, is what costs the most in optical sensors, in this case not for making series but for ups and downs.
For this test I am carrying two Fenix 5 Plus, a normal 5 Plus and a 5S Plus. An interesting test to see if the lower weight of the 5S Plus makes the pulse recording more accurate on the lighter model.
Here's a clear example that the chest sensor is not always the one to look out for. It's also susceptible to failure, especially if it's not wet and the environment is dry. However, optical sensors do a lot better (although the Fenix 5 Plus has a couple of drops).
Let's get on with the intensity changes. No objection can be made to either Fenix 5 Plus beyond a small delay in both the rise and fall of the heart rate. They are a few seconds slower than the chest sensor, much more immediate. You can see that it's not a one-off problem with either watch, it's simply how the technology works and how far it goes.
From there to the end without any other details to be noted, the three sensors are perfectly aligned. Do you want more abrupt changes in intensity? Ask and you will be granted.
Short intervals of 200m at full power, carrying a chest sensor (the Suunto Smart Sensor connected to Suunto 9) and a pair of optical sensors. The integrated Fenix 5S Plus and Scosche RHYTHM+ on the forearm paired to the FR935. And as always, if you want to do intervals you'd better have a good chest sensor handy, because the optical sensor is going to have a hard time. At least if it's short, intense intervals like these, if you're going to do a series of 2,000 I wouldn't worry too much about it either.
In cycling it's like always, in the end you don't know if when the graphs are right it's because the sensor is reading correctly or by pure chance.
Here it is not as simple as in the race because there are many more vibrations that the watch has to withstand. The watch moves on the wrist much more and more violently than in the race. That is why optical sensors placed higher on the arm always perform better (Polar OH1, Scosche RHYTHM+etc.), are less exposed to such movements and are also lighter.
There are therefore few changes compared to the typical operation of the optical sensors in the Fenix 5 Plus and all the theories indicated at the beginning are confirmed: correct operation at a constant pace, slight delay in pace changes and not very useful for cycling.
GPS
Every time I feel that GPS testing is becoming more and more repetitive, except for a huge fiasco or major new developments (like Suunto 9), there is really nothing great to talk about.
All brands have learned their lesson well and the performance of their model's GPS is always quite accurate. This does not mean that it is perfect or that it is not possible to improve it at all; but I do consider it to be a point where there are fewer and fewer faults to be found.
Although there are always details that can be highlighted as the case at hand, and this is none other than compatibility with Galileo satellites.
The Fenix 5 Plus were the first Garmin models to announce that they would be compatible with the European satellite system, but they are not the only ones. After that first announcement, Garmin included other previous models and updated them to receive the same update. These are the Fenix 5 range prior to the Plus and the Forerunner 935.
Since the update for FR935 was released I have been using it and I haven't really noticed any big differences, probably also because I haven't found really demanding routes with the satellite signal reception, which is precisely where you can see differences (and where it is advisable to activate it, as was the case with GLONASS).
He intentado hacer rutas variadas con los relojes, dentro de lo limitado que estoy en cuanto a «escenarios» y mi entrenamiento actual (preparando la Maratón de Málaga). Esto ha incluido zonas de asfalto puro con buena recepción de satélites, zonas que sé que son complicadas, calles con edificios y zonas de montaña.
But let's go with some of these examples, starting with a route that I let the clock choose for me (first time I explore this route).
Out of curiosity I left the Fenix 5S Plus with the standard configuration: intelligent GPS data, i.e. it collects GPS data at its leisure every 3-5 seconds in a variable way instead of every second.
This setting no longer makes sense today, as there is no memory limitation (even less so for a clock with 16GB of internal memory) and the impact on autonomy is practically non-existent. Even so, this option is not only still present but is always active by default in the clock settings. Incomprehensible.
Still, it is an interesting exercise to see how the same model performs in both configurations.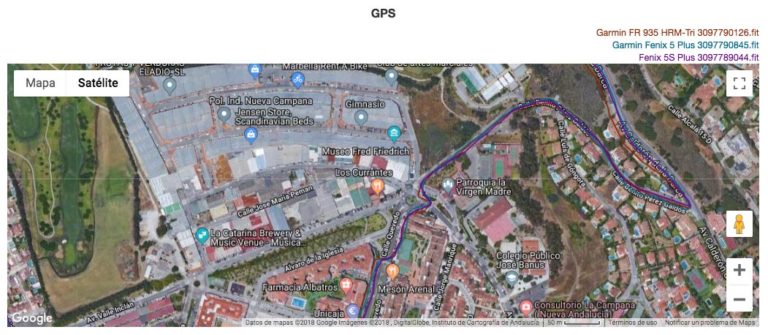 Both the Forerunner 935 and the Fenix 5 Plus are pretty much in line with the route followed, and the Fenix 5S Plus feels the same way most of the time. Occasionally there are slight variations of a meter or two in one of the watches, but remember that they are not precision devices.
But a general trend in the curves is that the Fenix 5S Plus makes wrong decisions. Why? Because of the already mentioned choice of intelligent GPS data logging.
You can see how in tight corners the Fenix 5S Plus takes longer to take because it has not noticed the change of direction, as it does not take data every second. Meanwhile both the Fenix 5 Plus and the FR935, both with recording per second, do not have those problems.
Let's go to another tricky part of the route, running on a narrow sidewalk next to a building.
Bad performance of both the FR935 and the Fenix 5S Plus, which give quite a lot of yawning when going up the street, turning and continuing the path. Especially remarkable how lost the FR935 is, even having the GPS+Galileo option activated. Meanwhile the Fenix 5 Plus has no problem.
Let's go with another training, this time by zones with good coverage and changing the Fenix 5S Plus for a Suunto 9 that, already in the first far view we see that it has had some incident.
But before going to that area where clearly the Suunto has been lost we can see this other area where in general, there is a little bit of bad performance by all. Arriving to the area of the roundabout the FR935 arrives quite lost, but nevertheless it is the one that better picks up the descent to the promenade.
And in the same way, both Suunto 9 and Fenix 5 Plus reach the roundabout more or less well, but then cut through the garden area and even the Suunto 9 decides to go down to the beach area.
And this is what I was saying earlier about Suunto. What happens to it there? I don't really have a clue, but even though it gets there perfectly, it falls over when it crosses the street. FR935 and Fenix 5 Plus behave perfectly.
Returning to a completely clear area, the reception by all three is perfect, with small differences between one and another of a matter of centimeters.
Let's go with another training where there are quite a few turns in an area of urbanizations with some coverage by trees, which makes it difficult to receive the signal. And also, a step under a bridge, perfect to see how they recover the signal after losing it.
This is the area of the bridge, which is reached by the roundabout above. Both Garmin draw the roundabout perfectly (although slightly shifted inwards), while the Suunto goes a bit long. When it comes to crossing the uncovered area it is the FR935 that wins the battle this time, because both the Fenix 5 Plus and Suunto 9 graphics show that they draw straight lines until they regain the signal.
In this more complicated area we can see that the Fenix 5 Plus (red line) behaves reasonably well at all times. It makes some cuts in two or three corners but without being noticeable. Both the other Garmin and the Suunto have larger caliber errors. Although only the Suunto 9 embroiders the corner turn at 3rd Street and 6th Street.
In cycling there is not much to wear, even if you wear your watch on your wrist and it is not facing the sky. Here are five graphs of different Garmin devices.
Dado que la velocidad es más elevada al ir en bicicleta los tracks son mucho más estables y dibujan perfectamente el contorno de la carretera. No hay más que ver estas «eses» en las que sumando entre la subida y la bajada hay un total de 10 líneas (5 a la subida, 5 a la bajada). Pues salvo el tramo de la rotonda en la que hay separación, no hay ninguna diferencia en todas ellas.
Logically, low speeds are the enemy of any GPS, as this is what can induce errors.
That is in terms of the graphical representation after synchronizing the training, but we must not forget that the GPS has other more important uses. For example, to show the rhythm or speed at which we are moving. Here you can see a comparison with the same five previous devices. The coincidence is absolute.
And since there is that coincidence it is clear that another of the main function of the GPS, the measurement of distance, is going to be correct. If the speed it records is correct, so is the distance.
As I say that's the easy test because the speed on the bike makes everything much easier, running there is a little more variation, yet there are no major differences.
All three models record the changes in rhythm without any problem. The Suunto graph is more filtered by the way it exports the Movescount files, but running the information provided by the three clocks is similar, marking the automatic laps almost at the same time.
And in the case of the race, what about the distance? Is it the same as on the bike? Well, indeed, the final differences they show are negligible.
30 meters difference between the highest and lowest clock for a 15km run. That's a margin of error of 0.2%. Do you see why I say GPS is no longer something to be taken into account so much these days?
And for lack of another place to put it, let's go with a comparison of the barometric altimeter. Again, I use the graphs from the three Edges and two Garmin watches from before. Of the five, only the Edge Explore does not have a barometric altimeter. The other four I calibrated at the beginning of the training.
You can see perfectly how the absence of the barometric altimeter in the case of the Edge Explore makes you miss out on all the ups and downs on any road - something that other devices record perfectly.
The two Edge and the Fenix 5 Plus are in complete agreement at all times. Only the FR935 has a slightly higher drift as I go up the slope. But all in all, perfect performance from the Fenix 5 Plus.
What is the summary? Well, what I have been saying so far, that except for changes in the chipset or notable differences in the antennas, there are not many errors that we will find in the GPS of the current clocks.
Obviously when you watch the synchronized training you will always find small positioning errors, and days when if you have done routes through extremely complicated places (canyons, very high glass buildings, very leafy forests, etc.) the errors will be much greater. But it is the same as with any model on the market, remember that it is not an exact measuring device and that the antenna to receive the signal from a satellite that is almost 20,000 kilometers away fits on your wrist.
Buy Garmin Fenix 5 Plus (5S Plus/5X Plus)
I hope that this complete analysis has helped you to decide if it is a valid device for you or not. All the work I do you can consult it without any cost, but if you want to support the web and with it the work I do, the best way to do it is buy your Garmin Fenix 5 Plus through the links I provide below. And if you don't buy it today, remember to stop by when you do!
Through these links not only will you get a very competitive price and the best customer service, but I will also receive a small percentage without costing you any additional outlay, which is what allows me to continue offering you proofs like this on the page.
If you have any questions, remember that you have the comments section at the bottom, where I will try to answer all your questions.
Find the best offer
Garmin Fenix 5 Plus
Garmin Fenix 5S Plus
Garmin Fenix 5 Plus Review
With each new version of the Fenix that comes out, Garmin has surpassed itself once again. The Fenix 5 Plus is an incredibly capable watch. The Fenix 5 was already a watch, but the small innovations that the Plus has make it even more interesting.
Now it also offers music playback (including Spotify sync), maps and support for wireless payments, and new mountain features such as ClimbPro and of course pulse oximetry in the Fenix 5X Plus.
Wearing the watch is a real pleasure because it offers hundreds of possibilities both during the day and while training. And it doesn't matter what your sports profile is, because it will do everything you need. Whether you run on the asphalt, in the mountains, are a triathlete or spend a whole weekend away from civilization, the Fenix 5 Plus will offer you everything you need.
The truth is that I can't put any stickers on it because in the time I've been testing the different models of 5 Plus and 5S Plus I haven't had any big problems. Maybe some weird stuff in the software when navigating or searching on the map, or separating uploads in ClimbPro. I haven't even had any connectivity problems with sensors, something that wasn't very well solved in the original Fenix 5 and that Garmin has revised for the new version.
Is it perfect? Well, almost... except for one detail that we can't help but check: its price. Starting at 699 Euros (although I paid a little less for the Fenix 5 Plus in the test), the price is brutal, excessive.
It's 100 euros more than the Suunto 9200 more than the Polar Vantage Vabout 250 more than the standard offers what's around the Phoenix 5 and more than twice what a Vivoactive 3 Music which probably satisfies the vast majority of users and also has wireless payments and music (although not Spotify). But Garmin believes that, being the only watch that offers all the features it does, it is ready to ask for that amount of money.
Would I spend that kind of money on this watch? Well, aside from the fact that I've already bought it (more for testing than for use as a watch), probably not. And not because I find a problem with it, but rather because I won't be able to use many of its features in my day-to-day life. In fact, I'll most likely return to the Forerunner 935 that gives me everything I need and is lighter in weight.