Four days ago I received the automatic email of Garmin's news release to the FCC (Federal Communications Commission, which has to certify all devices that emit signals in the United States).
Generalmente, cuando se publica en la FCC de forma pública, toda la información más «comprometida» está bloqueada para guardar el secreto del producto hasta unos meses después que su presentación haya sido efectiva. Es algo totalmente lógico pues a ningún fabricante le interesa revelar todos los detalles de su producto antes de que se de a conocer, ni al gran público ni principalmente a competidores.
I was surprised to find the Fenix 5 again and, above all, with the whole file open, so it could not be a new version of the Fenix 5 that included Garmin Pay and the possibility of playing music, like the new Forerunner 645I didn't give it much thought until yesterday when I received mail again with new documentation that had been uploaded to the fileThe IPH-A3119-00 is the first of its kind in the world, and it is known internally as the IPH-A3119-00.
This new document was a letter accrediting the permissions to make permitted changes to the regulation, due to an internal redesign of the antenna and the alteration in the signal transmission power.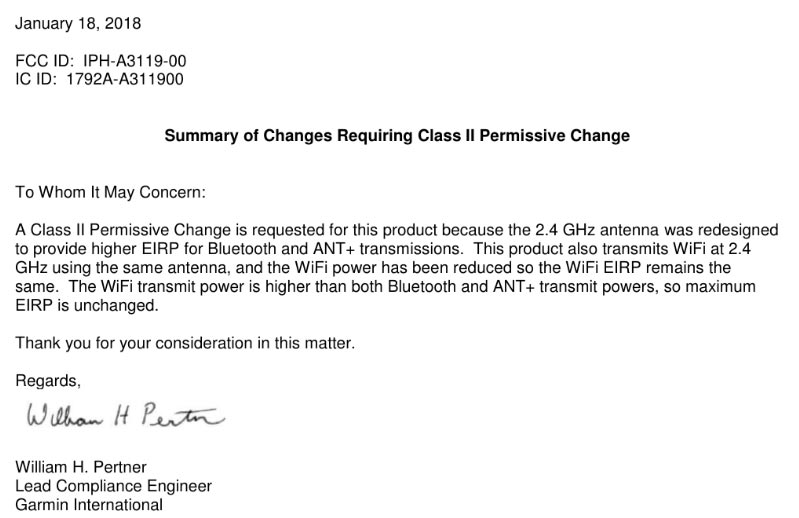 Garmin has made modifications to the antenna used for ANT+ and Bluetooth data transmission. These changes lead to an increase in the transmission power of Bluetooth and ANT+ on the 2.4GHz frequency. In turn, Garmin has had to reduce the transmission power of WiFi (which works in the same band) to maintain the same effective radiation power (or EIRP, equivalent isotropic radiated power). And now I will explain why.
The problem
Since the first arrival of the Garmin Fenix 5 on the market, some users have complained of problems with the use of ANT+ sensors - not so much heart rate sensors, but more related to cycling or running power meters. For example Stryd does not include the Fenix 5 among the supported devicesThe pulse sensor is always very close to the clock and nothing gets in the way of the signal, but power meters can be more critical because of the distance and because the body (composed mainly of water, which does not allow digital signals to be transmitted) could be placed in between.
I really didn't have any problem with the Fenix 5, and I used it with a lot of sensors as I always do, and far away devices, like power meter or even the Garmin Varia radar, which is the biggest problem because it is always located behind the body. In all the time of use I didn't see any kind of disconnection or warning.
I had noticed these disconnections before, but on other devices, for example with the Garmin FR735XT, which I tried two different units. The first one disconnected from the radar quite frequently, the second one never did. Similarly, the connection with the phone was much more reliable on the second model.
Simplemente achaqué este problema a algo similar a lo que a mi me ocurrió, algunas unidades «fabricadas un viernes». Pero está claro que si Garmin ha entrado en hacer un rediseño es que hay algo más detrás.
Models affected
At the moment the only model that has undergone the redesign is the Fenix 5. The Fenix 5S has another model number and so far there have been no changes.
The Fenix 5X is not affected as it maintains a very similar design to the Fenix 3 HR, which does not suffer from this problem. And the other model that could see similar problems, the Forerunner 935, is not affected either because no matter what design its antenna has, there is no metal in its construction so there is nothing that can interfere with the signal transmission.
In fact I use the FR935 very often and the connection is very solid and powerful, especially remarkable with Bluetooth as I can leave my phone upstairs and still receive notifications if I go downstairs.
The solution
As I indicated at the beginning, Garmin's solution was to modify the antenna design and vary the transmission power, at least in the case of the sapphire crystal models, which are the ones that include WiFi.
And I'm talking specifically about antenna redesign, not software modification, because that's what the letter you saw above includes. So it's not something that can be applied to previous models with a simple software update, or at least I understand that it wouldn't be applicable.
Will there be a mass call to technical service?
I doubt it very much. I think that not all watches are affected, at least in my case it wasn't because I didn't notice it at any time. I can say that the FR935 has more transmission power, but as I say it is something more related to the use of steel in the case (fiber in the FR935). In my case at no time the watch prevented me from using it normally.
Besides, not all users connect their watch with external sensors, beyond a heart rate sensor. Logistically, to call for a revision of the millions of Fenix 5 that have been sold is crazy. What I am sure is that now the warranty claims (and out of warranty) that may occur due to this circumstance will be better attended to, and I am sure that in one or two months all the technical services in the world will be ready to attend to the incident in a fast and effective way.
Should I contact technical service immediately?
No, because you won't solve anything. If you really have sensor disconnection problems, I would wait for a reasonable time because sending the watch to the technical service now won't solve any problem.
I'm going to buy the Fenix 5 now. Will it be affected?
It is impossible to know if it is a new model or a new reference, so there is no way to know if your watch will come with a redesigned antenna or not. If you are going to buy it in three months it is also impossible to know if it will be a new unit or if it comes from a store. But it is true that it is not the most comfortable situation to buy a watch that is not exactly cheap.
I hope I was able to clear up all the doubts about it. When I published the news yesterday on social networks, there was a certain amount of commotion on Facebook, and the lack of space and time to clear it up has generated quite a few doubts, so I hope you can now understand what the situation is and what has changed in the redesign.
If any telecommunication engineer has a free time this weekend and wants to take a look at the broadcast and transmission power reports, here are the initials (1 and 2) and you can compare them with the new ones (1, 2 and 3) I'm sure you can shed more light on this than I can, as my knowledge is limited.
And if you have any questions left... you know, below are the comments. Thanks for reading!