Presented by surprise during the 2015 edition of the Las Vegas CES (nobody expected it so soon) on Garmin Fenix 3 comes to combine the best of the Forerunner range with the best of the Fenix range in a single watch. And to spice up the cocktail, it came with a quality of materials we don't see in the 920xt (of which many have complained about its excessive use of plastic).
Garmin has combined all the training and racing capabilities of the Forerunner 920xt with the navigation options of the Fenix 2 in one device, resulting in the watch for this test. Have they been able to combine both ranges? Is there anything wrong with the Fenix 3? These questions and many more will be answered throughout this test.
As I always like to clarify, this time the clock has been bought in store for the development of the test. It is not a press unit, but the same clock that you can buy tomorrow (if in stock, the initial distribution is being complicated by the high demand).
I hope you enjoy this comprehensive review of the Garmin Fenix 3 and that it helps you in your buying decision, or if you already have it you can get the most out of it. That's why I created these extensive tests. My intention is to do them to tell you, athlete to athlete, how technology can help you in your training. If you finally decide to buy it and want to give me a hand so I can do more tests like this, buy it at Amazon through this linkYou will get a great price and I will get a small fee that will help the development of future tests.
---
RATING
Operation - 9
Connectivity - 10
Design, finish and comfort - 8.5
Battery life - 9.5
Aplicaciones - 9.5
Price - 7.5
User Rating:

3.65 ( 41 votes)
---
The good
No other Garmin model has received more updates
A multitude of sports to be practiced, it is not just a mountain clock
Huge battery life
Garmin abandona el clásico tacto de plástico de sus relojes y dota de una sensación «Premium» al Fenix 3
Compatible with a huge number of sensors
The bad
The model with the black bezel is easily scratched
It's big, not suitable for all dolls
The latest version of Connect IQ is not supported
---
(
733 opiniones de clientes
)
---
Garmin Fenix 3 versions
Puedes comprar el Garmin Fenix 3 en dos acabados diferentes: versión normal y versión zafiro. Y dentro de la versión normal, hay dos opciones de color diferentes. No sólo cambia el color de la correa, también el bisel del reloj, el aro que hay en el botón «Start-Stop» y detalles menores en la esfera. Puedes comprobar todas las diferencias en este montaje.
What are the differences between the normal version and the sapphire version?
The difference is in the glass, which is mineral in the normal version and, as you suppose, sapphire in the version with that name. As a complement the sapphire edition adds a metal strap that You saw In addition to this metal strap, it includes a rubber strap just like the normal version (in black), so that you can use it for your workouts or simply when you don't want to wear the watch as much as you used to. dressIn addition, if you look at the sapphire version, the outside of the dial has a different decoration, with each of the three versions having a different dial.
What is the price difference between the normal version and the sapphire version?
There is a 100 euro difference, which may seem a lot of difference, but you have to take into account that this amount covers the glass (undoubtedly the sapphire has a higher cost) and having the metal strap, which as an accessory would cost 130 euro.
Any other differences?
Yes, the weight. The sapphire edition, with the strap with all its links, weighs 186 grams. If we change the strap and put the rubber one, it loses up to 85 grams.
Which version should I choose?
Personally, I wouldn't base my decision on the hardness of the crystal. In my experience, I've never damaged a mineral crystal without destroying the rest of the watch. That is, if I've marked the crystal, it's because I've fallen or hit a wall or rock. And it's always been more than just a scratch.
La edición normal no tiene un cristal de plexiglass como un 920xt. Es cristal real y, como tal, mucho más duradero. Ten en cuenta además que el zafiro, a pesar de ser más resistente a arañazos, es más fácil que «estalle» ante un golpe fuerte que su homólogo en cristal mineral.
In short, if you like the metal strap and you're going to use it, buy the sapphire edition, otherwise go for the normal edition and pay for a shrimp edition with the difference.
Unpacking
If you want the quick version, I leave the video where you can see the content and I explain everything in detail.
But don't worry, if you're a photo lover, you'll get them too, as always.
The Fenix 3 I have for the occasion is the version with an HRM-Run sensor. This is indicated by the strap on the box. By the way, it looks like an expensive whiskey. Not at all, it's not expensive whiskey, it's just an expensive watch.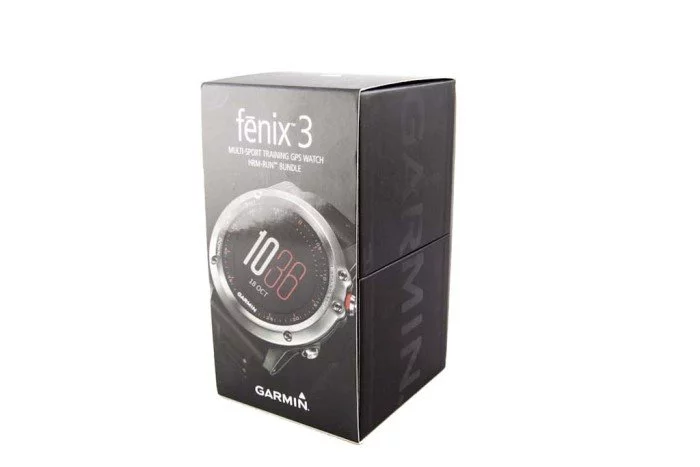 On the back you can see some details of what it includes. We see again the HRM-Run sensor and some of the screens. On the bottom icons of what Garmin wants to highlight: Bluetooth connectivity and ANT+, its technology Connect IQThe EXO antenna or GLONASS satellite holder are some examples.
But we're going to open the box, especially to make sure that what's inside is a watch and not the whiskey I promised you.
This is all you'll find. The Fenix 3 comes with a travel charger, which in the European version includes EU and UK adapters. With it you can charge your watch with the USB sync and charging cable, but you can also use your mobile phone's USB charger. In addition to the watch, chest strap and HRM-Run pulse sensor.
Here's the Garmin Fenix 3 after the protective sticker has been removed. It's still asleep. The bezel is made of stainless steel, while the case is made of polymer, a lightweight and resistant material. As with the Fenix 2, there are 5 buttons positioned in the same way.
It's a big watch, 51x51mm. Despite its width, it's only 16mm deep (1mm less than the Fenix 2) and weighs 82 grams in the rubber strap version. It doesn't get uncomfortable in everyday life, at least if you're used to big watches.
En el lado izquierdo del reloj puedes encontrar el botón de iluminación y los de desplazamiento por el menú. Como verás, tiene grabados unos logotipos, porque además de la función principal tienen funciones secundarias. Puedes apagar el reloj manteniendo presionado el botón de iluminación (o bloquear la pantalla). Si mantienes presionado el botón central entrarás al menú principal, y si presionas el botón inferior mientras te encuentras en actividad registrarás un «lap».
The buttons on the opposite side have nothing engraved, as they do not double their function. The large button with the red ring (only in the black strap version) is the one you will use to start or pause an activity, as well as to make selections in the main menu. The lower button is used to exit the different menus, or to go back.
The strap is fixed by a screw and counter-screw. It is easy to replace, so those who buy the sapphire version can change it quickly. And those who buy the standard version, you can replace it with any generic 26mm strap or one of those that Garmin offers as an accessory.
Let's wake him up. The screen, in colour, is transflective technology. It uses the light received to reflect it behind the screen and give visibility to its content. So, unlike your mobile, the greater the illumination, the easier it will be to see the content on the screen. Therefore, outdoors you will have no problem seeing it. And for times when there is no lighting, you can use the clock's own. The main advantage it offers is that it can always be on without having a noticeable consumption, while the screens of other smartwatches, in the case of LCD, will have a very high consumption if they are always on.
Colour reproduction is quite good (not quite as vivid as an LCD screen), much better than the first colour screens Garmin built into the Forerunner 620Its resolution is 218×218 pixels.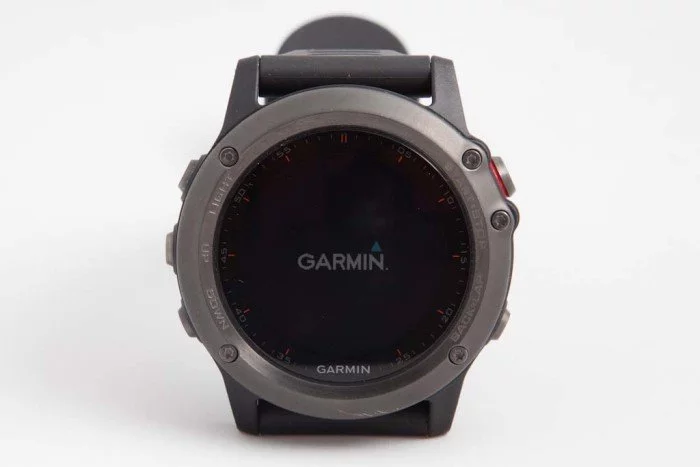 On the back you can see the synchronization and charging connection. And as indicated on the box, it is submersible up to 100 meters. You can also see the detail of the materials used, or its EXO antenna and compatibility with GPS and GLONASS.
Como con cada nuevo reloj de Garmin, el sistema de anclaje para el cargador cambia. En esta ocasión tiene cuatro «garras» que se fijan al reloj, por lo que una vez colocado no se moverá en absoluto.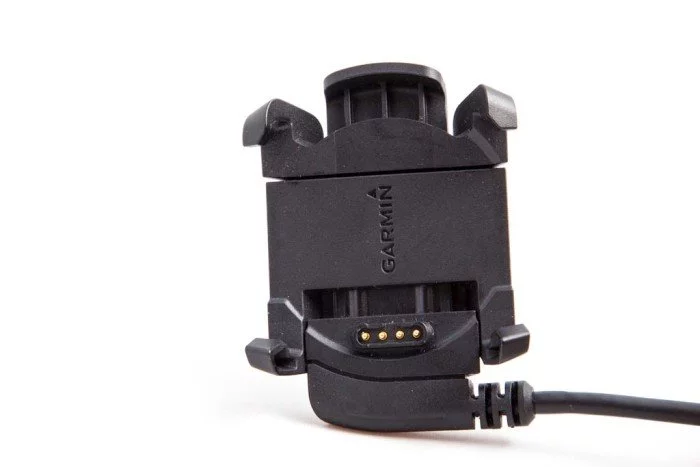 The advantage of this system is that it allows you to use it while charging, even on your wrist. You can carry an external battery to power the watch if the 20 hours of 1-second recording time is not enough.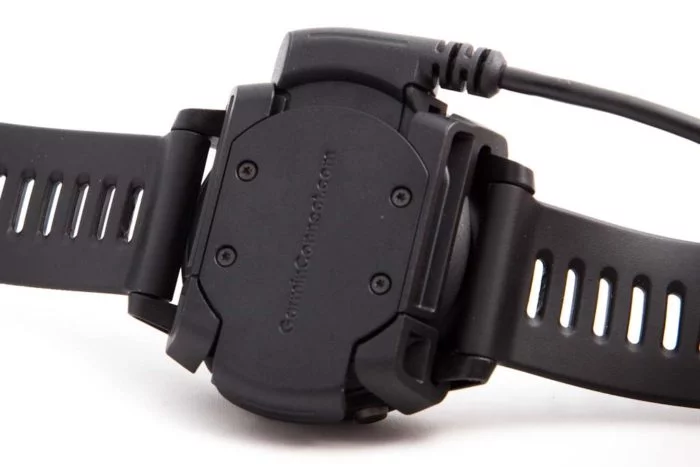 El sensor de pulso es el HRM-Run, que permite transmitir la oscilación vertical y el tiempo de contacto con el suelo al Fenix 3. Es parte esencial de la función «dinámica de carrera». El diseño de la cinta pectoral ha cambiado, y lo cierto es que me ha parecido algo más cómoda que el anterior modelo.
But let's stop staring at the clock, and let's do the initial setup. We need to start training.
Initial Setup
Before you start playing any sport, the first thing you should do, besides setting up your profile values such as weight and height, is to establish which data fields you want to have visible, on how many screens and how to represent them. The possibilities are immense, not only because of the amount of information you will be able to display, but also because of the variety of ways of displaying it.
The first thing you should know is that now the sports profiles are not such, but after the introduction of Connect IQYou can configure each one of them in Menu > Settings. Once inside, the first option presented is the data screens. You can configure up to 10 different screens, and to these you can add map screen, virtual partner and race dynamics. In each screen you can show 1, 2, 3 or 4 data and in different positions, depending on how you want to start the screen. The configuration you can do is absolute, shown in these images where you can see all the different options.
If you've done the mind operation, you'll have realized that you have a chance to show up to 40 data different. That's many But the possibility is there and nobody forces you to show them all, and this allows you to adapt to your taste in what size and order you can find the data you need for each sport. Here is the complete list of fields you can enter.
| Time fields | Distance fields | Rhythm fields | Speed fields | FC fields | High altitude fields |
| --- | --- | --- | --- | --- | --- |
| Weather | Distance | Rhythm | Speed | Heart rate | Height |
| Return time | Return distance | Average pace | Average speed | FC Media | Average climb |
| Last lap time | Distance of the last lap | Rhythm in return | Return speed | FC Zone | Average drop |
| Average lap time | | Rhythm in the last lap | Last lap speed | Training Effect | Maximum climb |
| Elapsed time | | | Maximum speed | maximum | Maximum descent |
| | | | Vertical speed | R | Height |
| | | | | % of maximum average CF | Total promotion |
| | | | | R average | Total descent |
| | | | | FC return | Return promotion |
| | | | | R per turn | Descent back |
| | | | | maximum turn | Last lap promotion |
| | | | | Time in zones | Last lap descent |
| | | | | | Minimum height |
| | | | | | Maximum height |
| | | | | | GPS height |
| | | | | | Glide factor |
| | | | | | Pending |
| Other fields | Running dynamics (running) | Cadence fields (running) | Power fields (cycling) | Power zone fields (cycling) | Pedal fields (cycling) |
| --- | --- | --- | --- | --- | --- |
| Calories | Vertical oscillation | Cadence | Power | Power zone | Pedal Fluidity |
| Back to | Average vertical oscillation | Average cadence | Work | Time in zones | Torque Effectiveness |
| Sunrise | Return vertical oscillation | Return rate | Power to weight | | Balance |
| Nightfall | Ground contact time | Last lap cadence | Average power in 3s | | Average balance in 3s |
| Time of day | PRO CSL | | Average power in 10s | | Average balance in 10s |
| Atmospheric pressure | Return ground contact time | | Average power in 30s | | Average balance in 30s |
| Barometric pressure | Cadence | | Average power | | Average balance |
| | Average cadence | | Return power | | Balance return |
| | Return rate | | Last lap power | | |
| | | | Maximum power | | |
| | | | Maximum power of return | | |
| Advanced power fields (cycling) | % fields of functional threshold power (cycling) | Time fields (swimming) | Distance fields (swimming) | Rhythm fields (swimming) | Stroke fields (swimming) |
| --- | --- | --- | --- | --- | --- |
| Intensity factor | % of functional threshold power | Weather | Distance | Average pace | Average stroke speed |
| Training stress score | | Interval time | Interval distance | Interval rhythm | Interval stroke speed |
| Normalized power | | Elapsed time | | The rhythm of the last length | Last stroke speed |
| Normalized power back | | | | | Interval stroke type |
| Normalized power last lap | | | | | Type of last stroke |
| | | | | | Last length strokes |
| | | | | | Average of last stroke length |
| | | | | | Interval/long stroke |
| Long fields (swimming) | SWOLF fields | Resting fields (swimming) | Temperature fields | Navigation fields | Compass Fields |
| --- | --- | --- | --- | --- | --- |
| Long | SWOLF media | Rest Timer | Temperature | Remaining distance | Course |
| Long intervals | Interval SWOLF | Repeat in | Maximum last 24h | | GPS Course |
| | SWOLF of last length | | Minimum last 24h | | Compass heading |
And as impossible as it may seem, if within all the possibilities that you find in the tables above you have not yet found the data you are looking for, you can add another one thanks to Connect IQYou can find more information in the section below, or click on the link above for more information.
Dentro de las posibilidades de configuración de cada aplicación podrás encontrar opciones muy típicas, como «Auto Lap», «Auto Pause», el cambio de pantalla automático o las alertas. También es posible seleccionar el color de fondo durante la actividad (en blanco o negro) o hacer que la aplicación se muestre en la lista a la hora de seleccionar deportes y en qué posición. Incluso cambiar de nombre la aplicación o borrarla por completo. Hay una nueva adición a la lista de configuraciones: «Auto Climb», que seguramente vayas a usar en tus entrenamientos de montaña. A continuación te facilito todos los detalles sobre ella.
Running
With the Fenix 3 set up, you can start running now. The running application is inherited directly from the Garmin 920xtIn this section I explain all the settings you can make on the applications, since, for example for cycling, the operation would be the same.
Prepararse para empezar a correr es muy sencillo. Un toque en el botón «Start – Stop» y seleccionar la aplicación que vas a usar, en este caso «Carrera».
After making the selection, the watch will start searching for satellites and sensors that you have paired (pulse sensor and pedometer - optional - in this particular case). While searching for satellites the screen will have an outer red circle that will change to green when it has already obtained the signal.
Thanks to the satellite caching function and the compatibility with the GLONASS satellite network, the search is really fast. By default the use of GLONASS satellites is deactivated, but you can activate it from the menu Settings > System > GLONASS. Activating this option will have an impact on the battery, but as a counterpart you will speed up the positioning and improve the accuracy when connecting to more satellites.
It's all set. Or not. Have you checked to see if your laces are tied properly? OK, now you can start running. Next you'll ask me how the Fenix 3's screen shows its rhythm, if it's stable when running and if it's fast in speed changes. Don't worry, I've taken another video to show you.
As a curiosity, and to see how effectively the Fenix 3 filters out rhythm, look at the distance when I start running and it's not pacing yet. Even though it's not pacing yet, the distance is increasing as I run.
As with the new Garmin models, the rhythm is displayed in multiples of 5. For some it may be a little uncomfortable, others you may be used to it. It is a slightly filtered rhythm, to avoid major jumps that used to occur in previous models that didn't filter data. But thanks to Connect IQ you can go back to the old way of displaying the rhythm with this applicationI'd love to see one someday, though, that combines GPS and cadence data, just like Suunto's FusedSpeed does, because that would be the most reliable way to display the current pace when combining GPS and cadence data.
If you have the Auto Lap feature activated, when you drive a kilometer (or the distance you have selected) a screen will appear with the information of that lap. This data can be configured from the Settings > Applications > Race > Auto Lap > Lap Alert menu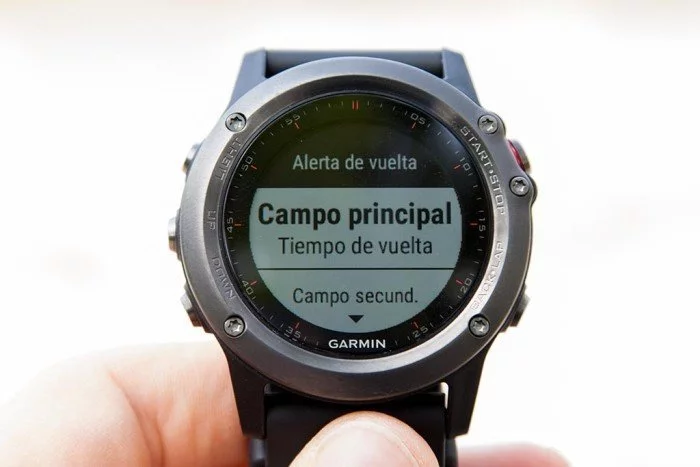 On top of the data you select you will have the lap number marked, which if it is set in kilometers will be the distance. Below are two fields that you can set with any other metrics you can select for the data fields. By default is set the lap time (what you have taken to do that distance) and the total time (the total time you have been running).
You can select any of the fields available for the screens, except for those in Connect IQ. I sincerely hope that they will also be added because it would open up a lot of possibilities. To give you an idea, you could add a Connect IQ data field with the estimated time for marathon and that the clock will tell you what your final total time will be as you complete laps, so you know when to start squeezing to reach your goal.
A new feature you find in the Fenix 3 is Auto Climb, also in the same application settings menu. This feature will automatically change the data screen to one that you can modify to give you specific data while you are climbing a slope. You can also set the screen to appear upside down to warn you of the situation (in case any of you don't realize that you are climbing a 20% slope, there are people for everything).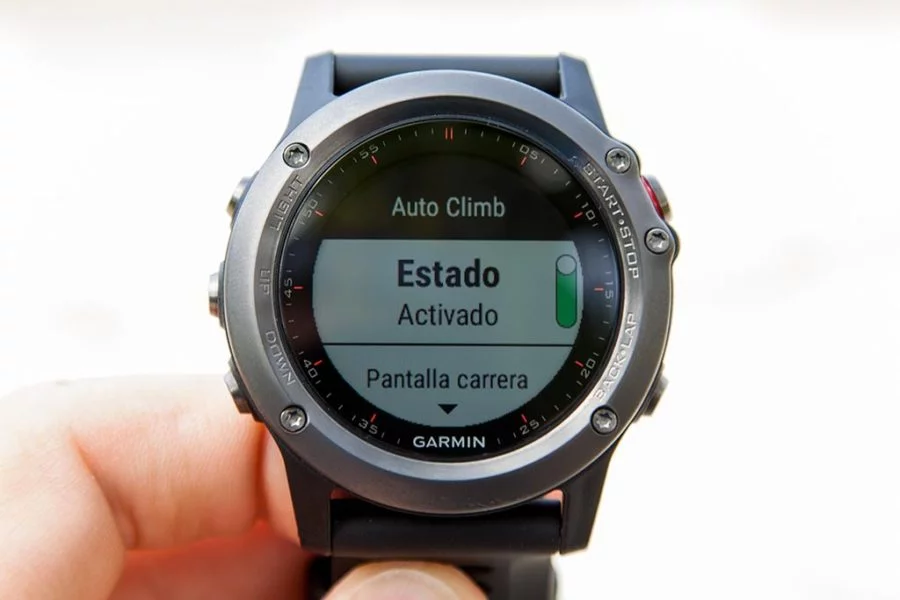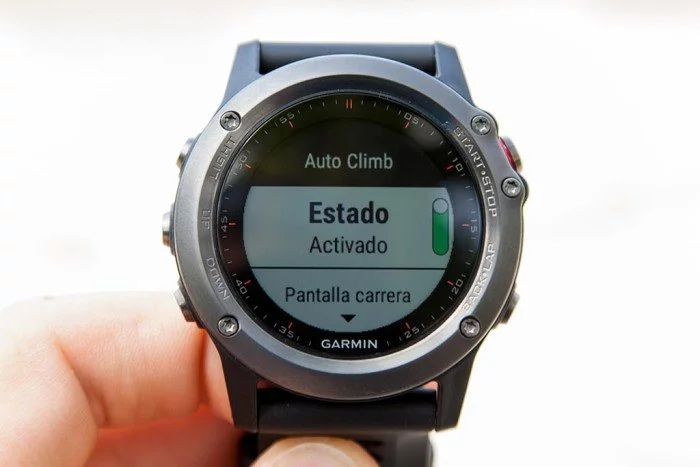 The configuration is done in two different places, and it's worth explaining in detail. From the Auto Climb configuration itself you can't select what data will be displayed when the screen appears, what you select is which screen will appear. Usually you have selected screen 1 as the main screen for the flat.
And for the Auto Climb function you select any other. In my case, I reserve the last screen, screen 10. Now you must go to the data screens and configure that screen 10 with the layout and data you choose. But you will do it by exiting the Auto Climb menu. In my case I configure it with specific data according to the situation, such as the percentage of slope or the total meters ascended, as well as maintaining rhythm and heart rate data.
Other settings you can make are to invert the colours, the vertical speed to activate the mode (which would be equivalent to the slope) and the speed of the mode change. These last two options will allow you to configure when this screen should jump, if quickly as soon as there is a small mound or better wait for the terrain to get really steep. In this video I explain it in more detail and you can see how this new function works.
Within the possible configurations you will also find the alerts. These are warnings that the Fenix 3 will present to us in case the event for which they are programmed occurs. You will be able to activate them independently for each sport mode; with the exception of the run/walk alert that, logically, you will only be able to use in the race modes. The possible alerts are the following
Customize
Heart rate
Running/walking
Rhythm
Weather
Distance
Cadence
Calories
Height
Therefore, they are the same alerts we can find in the Garmin 920xt, except for the altitude alert which is new for the Fenix 3.
Si te preguntas qué son las alertas «personalizar», serán mensajes que tu puedes crear para que se active en un tiempo o distancia determinada. Por defecto tendrás alertas para beber, comer, dar la vuelta o ir a casa, pero también puedes configurar el mensaje para lo que tu desees.
Finally I must mention the metronome, although it is not in the alert category.
You can only find it in the running modes, as it is an aid to perform cadence exercises. The Fenix 3 will beep (or vibrate) at the frequency you indicate. You can set the target cadence and frequency of the alerts, every 2, 3, 4 or 6 steps.
In the Fenix 3 you will also find the career dynamic, which first appeared in the Garmin 620You can enable it as one more screen, or select any of them to add it separately to a data page.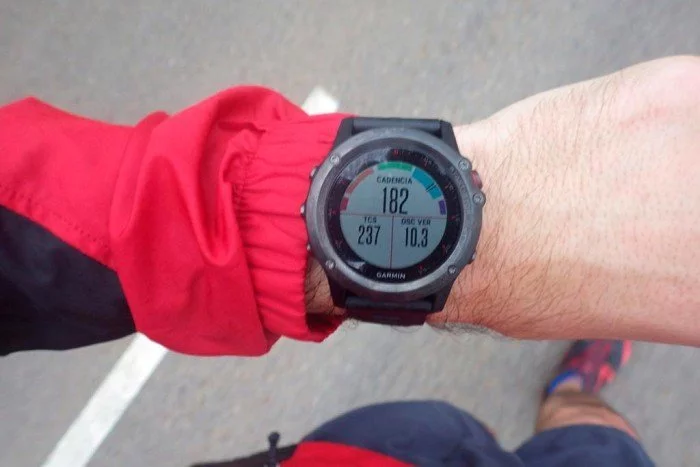 And you can even play a game... how fast can you go without dismounting?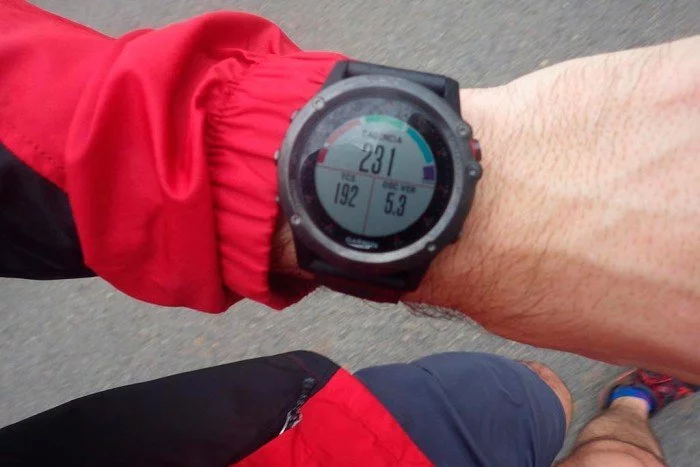 The first metric is always available, since it is obtained from the internal accelerometer of the watch, but to have vertical oscillation and ground contact time data you will need to use the HRM-Run pulse sensor. Inside there is another accelerometer to obtain this data that will send to the watch through a private channel to which only Garmin has access (it is not part of the ANT+ specification), so even if you have another device with ANT+ connectivity you will not be able to use this data.
When you are done suffering (or training), the Fenix 3 will present several screens with all the details of your training.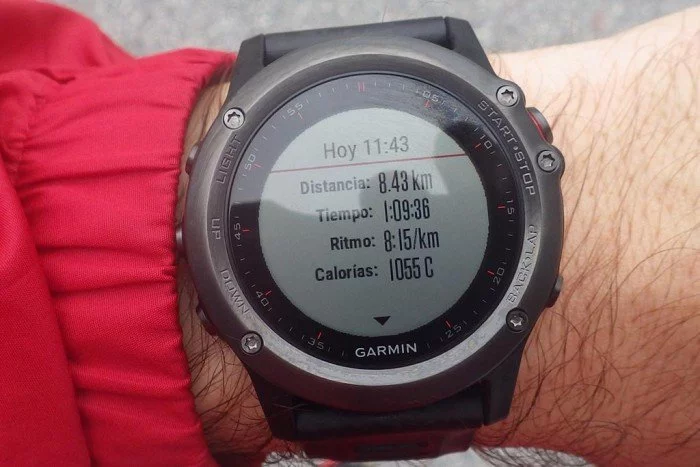 And this information you can shell out again and again.
Going into that lap, you can see the specific details for that lap.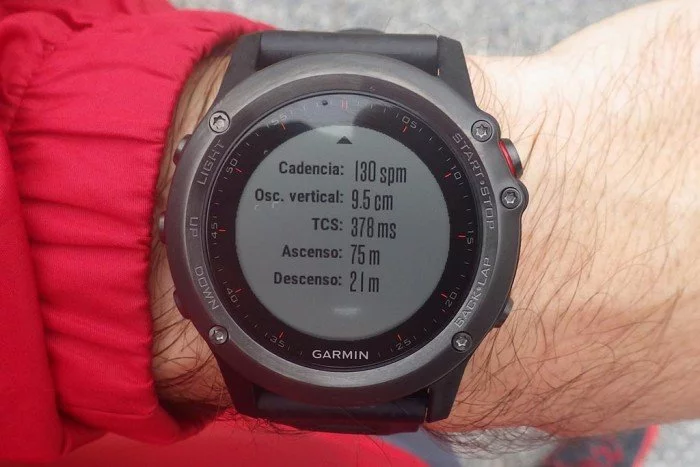 It will also reward you if you have achieved any personal records, such as longer distance or faster pace. By default, these records are the ones you have achieved with this watch, not the ones you had in Garmin Connect before. But you can synchronize the latter to the watch and thus keep all records at par.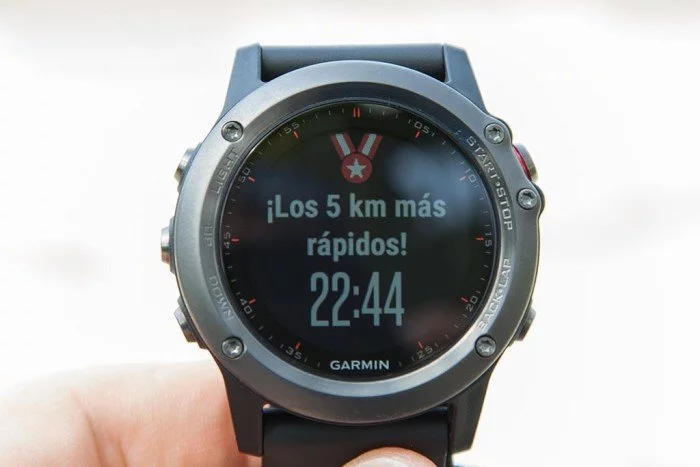 Of course, not only will you be able to access your race data on the clock, you'll also be able to view it in Garmin Connect, in much more detail. You'll be able to compare charts, view all race dynamics data, analyze intervals and segments.
Finally, remember that you can also run indoors with the GPS turned off. Usually we could do this by buying an external accessory, a pedometer connected wirelessly via ANT+. It's still the most accurate way to measure rhythms and distances when you run without GPS, but the new watches are taking advantage of the internal accelerometer for just that.
So while you're running on a treadmill you can also tell what rhythms you're doing and from the tests I've done, quite accurately. But you have to keep in mind that what's marking your rhythms and distances is your wrist, so when you have to adjust the speed or inclination of the treadmill, or you want to drink or dry your sweat, do it with your hand where you don't have the watch. Any alteration of the normal movement when running will affect the reading that the Fenix 3 is doing.
The last training I did on a treadmill (the truth is, on the Costa del Sol we don't have much need to run indoors...), the goal was to run 6 kilometers at a stable pace of 5 min/km. Here you have the result.
In the intervals automatically marked by the auto lap you can see how both the treadmill and the Fenix 3 were in line in terms of calculating the race pace.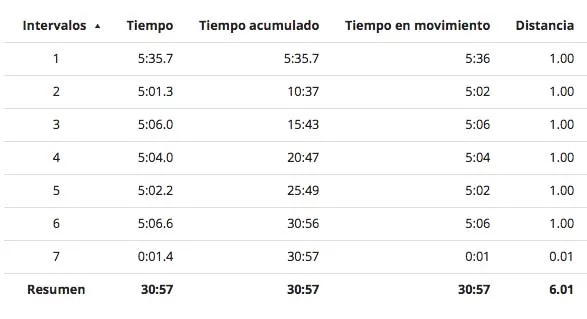 Difficulties can come when performing rhythm or interval change sessions. The change of speed will identify it perfectly, but in the rhythm you can find a deviation from 10%. But the data is very valid so that you can take advantage of the clock on those days when the weather is awful and you don't feel like going out.
Advanced training
One thing that Garmin has always boasted about is its advanced training. Of all the manufacturers, Kansas is the one that offers the most possibilities and bombproof reliability. Suunto has come closer with the launch of the new Ambit3 training, but they still have some fringe to touch up.
Perhaps because of this sudden pressure from the Finnish brand, Garmin has redesigned the tool to create the workouts. The functionality remains the same, but aesthetically it has taken a step forward. This is how the workouts used to look.
And this is the change that Garmin has recently made.
It does the same thing, but the new arrangement helps quite a bit with the creation of the trainings.
Además de poder crear tus entrenamientos (o pasar a «digital» los que te ponga tu entrenador) desde Garmin Connect tienes acceso a diferentes planes de entrenamiento con objetivos muy diferentes. Puedes programarte cualquiera de ellos y agregarlos al calendario del reloj.
Una vez que tengas tu entrenamiento preparado y sincronizado con el reloj, lo podrás seleccionar dentro del menú «Entrenamientos». Aquí puedes encontrar dos submenús: «Mis sesiones de entrenamiento» donde tendrás los entrenamientos genéricos y «Calendario de entrenamientos» que serán los que tu has añadido en una fecha específica.
As you progress in your training, the Fenix 3 will give you all the indications of what to do, not only the goals you have set for each phase.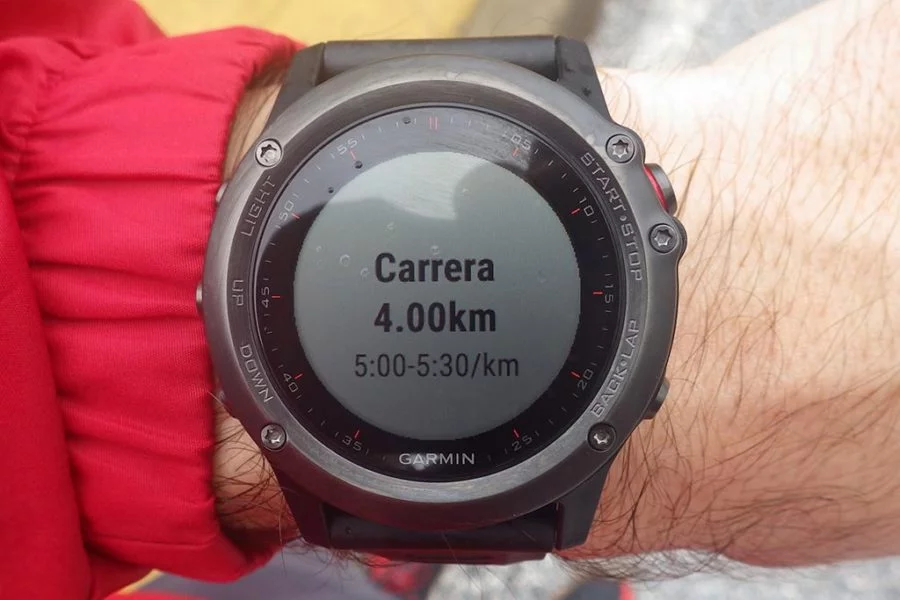 Also if you're off your target pace.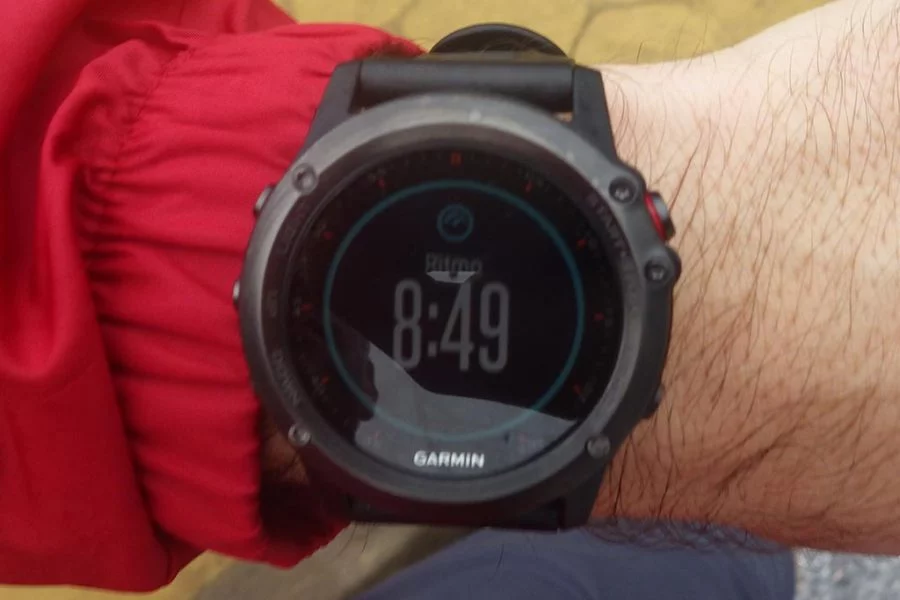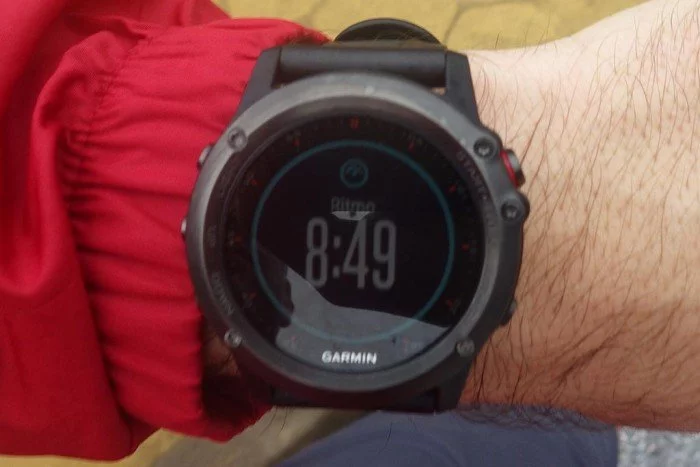 Because Garmin has always been used to us, their training options are the most complete of all the competition. Not only when programming the workout, but also when they have to present it on the clock screen and give you the indications. You could even train the cadence, if you set it as a goal, to try to train the recommended 180 steps per minute.
Cycling
Everything I have explained to you for running training could be replicated directly in the cycling part, because the operation is the same. Remember that you can configure the application independently, so things like displaying the speed instead of the rhythm, vary the frequency of the auto lap or configure the data fields specifically. You can also create alerts totally different from those you have configured for running.
As with the race, you can also have an indoor cycling application with the GPS turned off, but instead of getting the accelerometer data from the clock, you'll need to use an external sensor.
The factor that differentiates a good watch with cycling support is the accessories it supports. In this case, and as in the 920xt, the Garmin Fenix 3 does not disappoint and you can pair the watch with power meters and speed and/or cadence sensors. Of course also with the pulse sensor. All of them must be accessories with ANT+ connectivity, because although the Fenix 3 has Bluetooth you can only use this type of connection for data transmission to your phone, not for pairing to sensors.
The first is that if you like to wear your watch on the handlebars of your bike, you can't do so if you have a metal strap, for a very simple reason: you can't open the strap completely like you can with a rubber strap, so you're limited to wearing it on your wrist or changing the strap when you go to train.
The second is that the Fenix 3, despite having a multisport mode, is not a 100% triathlon watch. There is no quick release kit for the watch, so in competition you cannot quickly change it from the wrist to the handlebar and vice versa. So you will have to wear it on your wrist or lose some time in T1 and T2 putting and removing the watch from the handlebar.
Swimming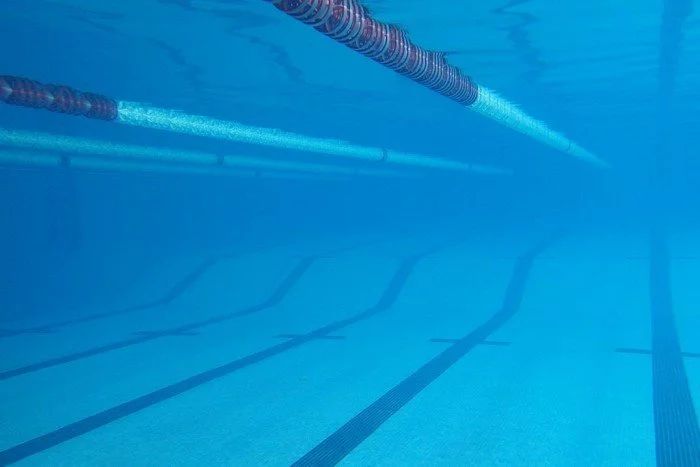 As you know, swimming offers two possibilities: swimming in an indoor pool or an outdoor pool that we know the length of (so Mickey's pool is not an option), or do it in a river, lake, sea or turtle pond.
Swimming in the pool
I'll start with swimming in the pool, as it will be the most common way of swimming and training for the vast majority of you, so it's time to start the application of swimming in the pool (remember, there are no more sports modes, now they are applications).
The first thing it will ask you is the size of the pool. Why? Because through the internal accelerometer it counts the number of strokes and detects when you have reached the end of the length and you turn around (either by turning underwater or simply stopping and starting again). Therefore it will count the number of lengths you make, so writing down the measurement is of utmost importance. It will only ask you the first time you start the application and will save the configuration for future occasions. If you change pools you will have to select the size of the new one again from Settings > Applications > Pool Nat.
You have the most typical pool sizes: 25 meters, 50 meters, 25 yards, 33 1/3 meters and 33 1/3 yards. If your pool does not fit into these sizes, you can configure it manually.
Now it's time to start swimming. The watch display will show the data you have selected for the sport profile, such as interval time or distance. The watch will count the strokes, and can even detect the swimming style you are practicing. It is important that you limit the swimming movement, at least until you reach the end of the lane, to avoid the watch confusing movements that do not correspond to a full length. Long by long, the watch will add up distance.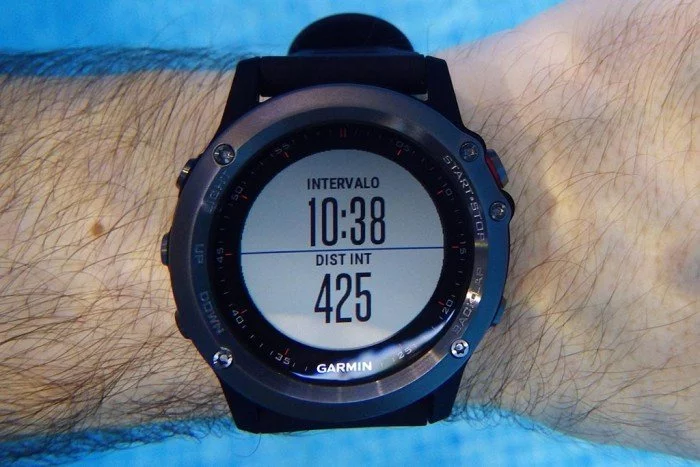 Cuando hayas terminado una sección de tu entrenamiento, o ya estés cansado y quieras parar un poco (en mi caso esto ocurre cada medio largo más o menos, tu seguro que aguantas más), si presionas el botón de «Lap» pararás momentáneamente el ejercicio. Esto separará el entrenamiento en partes, por lo que cuando vayas a revisarlo a Garmin Connect podrás tener los intervalos de forma independiente. Si en lugar de presionar el botón de «Lap» paras la actividad con el botón de «Stop», harás exactamente lo mismo, pero te vas a perder esta bonita pantalla de descanso, que además invierte los colores para que sepas que estás en ese modo.
Remember that in the case of the Garmin Fenix 3, you have no chance to have pulse data when you are swimming. Other brands have already solved this (Suunto Ambit3 and Polar V800 they do it, each in their own way), Garmin doesn't yet.
Once you have finished and after the corresponding synchronization, you will have access to all the details of your training.
Also, you can see the intervals with data and complete information to check how you have been in each of the long ones (it is important that you don't do as I do and stop at the end of the street to check the clock, that then the times go up...) thanks to the time table.
Or in a graphic way where it reflects the swimming style you have used, along with the time you have taken to complete the length.
Swimming in open water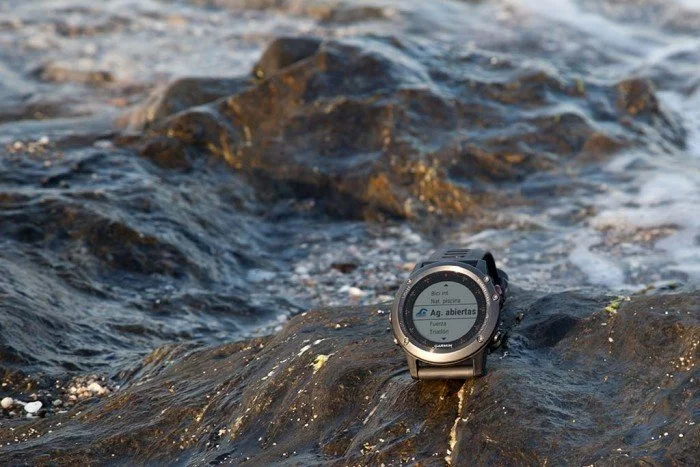 Cuando se habla de nadar en aguas abiertas es para referirse a toda actividad acuática que realices fuera de una piscina con medida determinada. Esto es, nadar en un río, lago, mar o simplemente jugar a «Marco-Polo» con tus hijos. En este caso el reloj no usará el acelerómetro interno para acumular distancia (porque no estás haciendo repeticiones de largos de la misma distancia), aunque sí lo hará para contar brazadas.
Ahora será el GPS el que tomará protagonismo para medir distancias. Y te recuerdo cuál será el funcionamiento cuando estés dentro del agua. Cada vez que das una brazada e introduces el reloj dentro del agua, perderá la señal GPS (porque no puede penetrar bajo el agua). Por lo tanto el GPS estará perdiendo y recuperando señal constantemente, con lo que la precisión baja significativamente. Aquí entra en juego el algoritmo que cada marca programe para sus relojes, en el que a partir de los puntos de localización que vaya memorizando cree el «track» que has ido siguiendo y, con ello, la distancia recorrida. En este caso la precisión es bastante inferior a la que ofrece mientras corres (en torno a un 10%), pero sigue dando información de distancias de manera bastante aproximada.
I thought that by this time of the year I could have already done some open water swimming test, but the reality is that it seems that we are back to winter and the water temperature in the Alboran Sea does not invite to get wet, not even the feet (13º today). But as soon as possible I will do some tests so that you have real data and you can check in an accurate way how it does the monitoring in open water. Stay tuned in the next weeks, because I will update the entry to reflect it.
Multi-sport and triathlon mode
We have already seen that with the Fenix 3 we can run, cycle or swim, but we also have a specific application for triathlon and another for multisport. The first one is already pre-configured to perform the most typical multidisciplinary sport of swimming/cycling/running, while the multisport mode can be configured with the sports you want and in an easy and fast way. You only need to add a new application.
You select the multisport mode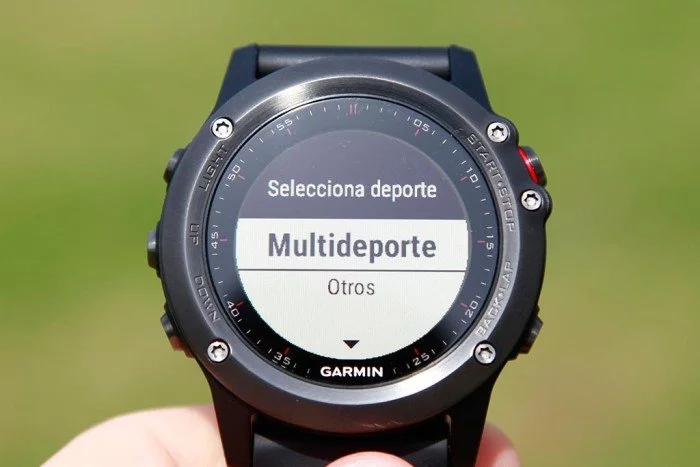 You set the name to a predetermined one (triathlon, duathlon or block) or you customize it as you wish to specify the hardness of the sport (beach/bar/walk).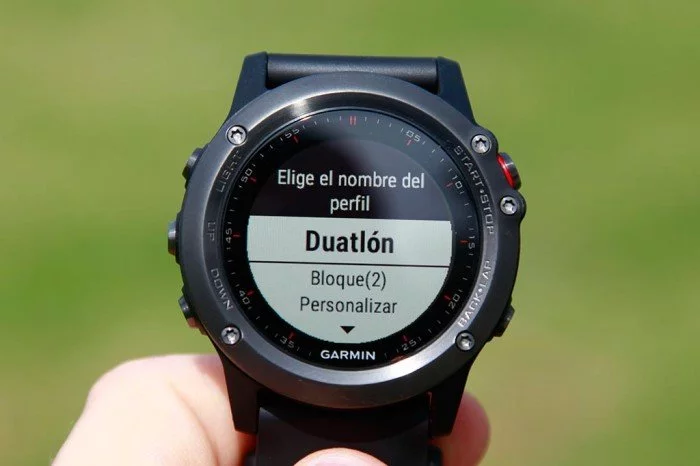 Then you select the sports you want to include in the mode, with a maximum of five (you can do pentathlon, but you can't do heptathlon anymore), and in the order you want them to appear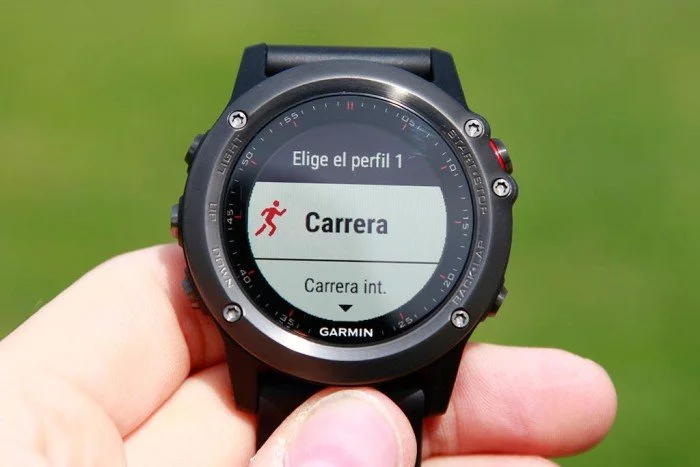 And you select if you want the transition times to be counted.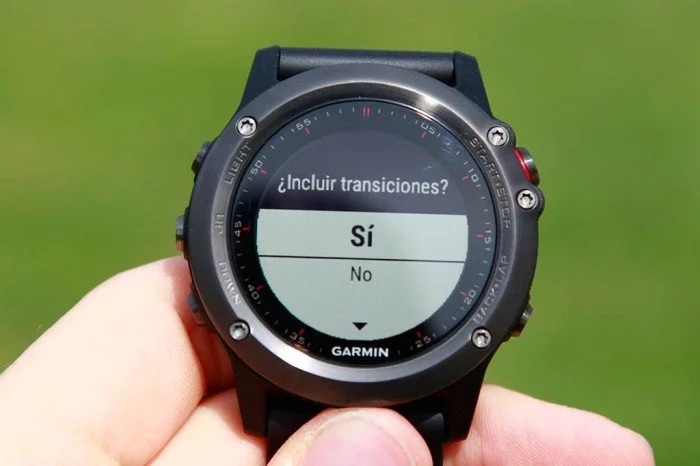 You will start the activity with the start button as usual, and by pressing the lap button you will go from the first sport to the first transition (if you have selected to have transitions saved).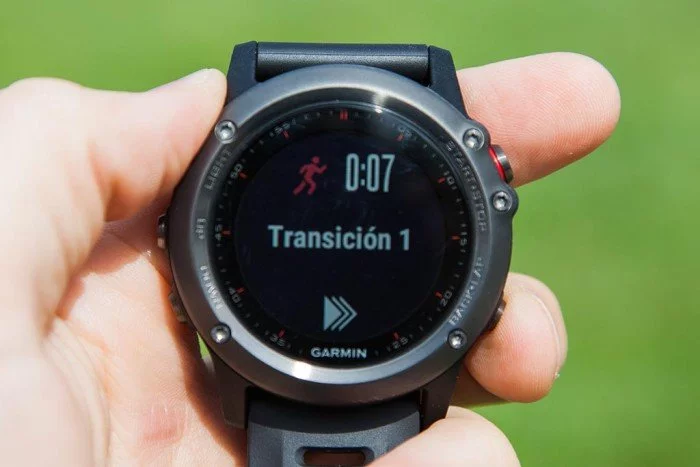 You will continue to advance through the different sports you have selected with the same lap button, until you have finally finished the competition. Always with the same button.
Muchas veces pensamos que nosotros no necesitaremos un modo multideporte. «Para qué, si yo sólo compito en una sola modalidad», pensaréis. Pero con seguridad, más de uno y más de dos hacéis entrenamientos combinados. Empezáis corriendo, después nadáis. O viceversa. O empezáis haciendo barra fija y luego danza (sobre todo los sábados por la noche…). Pues aquí también tiene cabida el modo multideporte, ya que en lugar de tener 4 o 5 actividades en un día a las que tengas que ir accediendo una por una, podrás tener sólo una actividad con todos los detalles separados.
For example, the following combined training: running, gym and swimming. With transition times between activities (in my case, time in the changing room and time in the swimming pool with my child). You will have a first page with the total of the activity.
You can click on each of the sports above, where you'll have access to all the activities separately, to analyze how you've performed in each sport. Transition times will also include speed and heart rate. I'm sure these multi-sport workouts will appeal to you more than they did before, when you simply tracked each activity separately (and ended up with four or five different files).
Navigation is one of the main selling points in the Fenix range, so the third version couldn't be less so. Although the Garmin Fenix 3 is virtually identical in most of its options to the Garmin 920xtNot only because of the ability to move around on routes, but also because of the integrated sensors, which are basic to any mountain clock (and which I will discuss in more detail in the next section).
The first thing you'll want to do is create your navigation routes. You can create a route through Garmin Connect After saving it, you can receive it on the clock at your next sync.
But it's not the only option. It's also compatible with the desktop application Garmin BaseCampIts operation is somewhat more complicated, but it offers greater possibilities for creation. In addition, through this utility you can import routes from friends or downloaded from the Internet.
Once you have your route loaded on the clock, you can access it from the main menu. The navigation menu offers you different options:
Routes: Navigate a route that you have created.
Activities: Re-navigate a route that you have previously done.
Saved Locations: Points of interest stored in the watch memory.
Sight N' Go: Navigation by compass.
Coordinates: Navigation to a set of coordinates that you enter.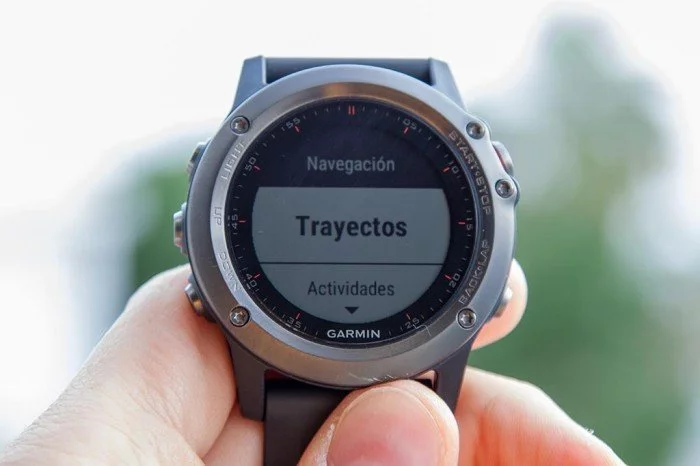 Before you start navigation, you will be able to see the details of your route, such as the map or elevation profile.
En este punto ya puedes seleccionar «Ir» y decidir en qué perfil deportivo de los que tienes creados vas a realizar la navegación.
After you start, specific navigation screens will be added that you can select and configure. You can have up to four pages with four data each, as well as the map if you have also activated it. All this will be added to the sport application that you will use to navigate.
The map does not have a fixed zoom. You can zoom in or out and scroll.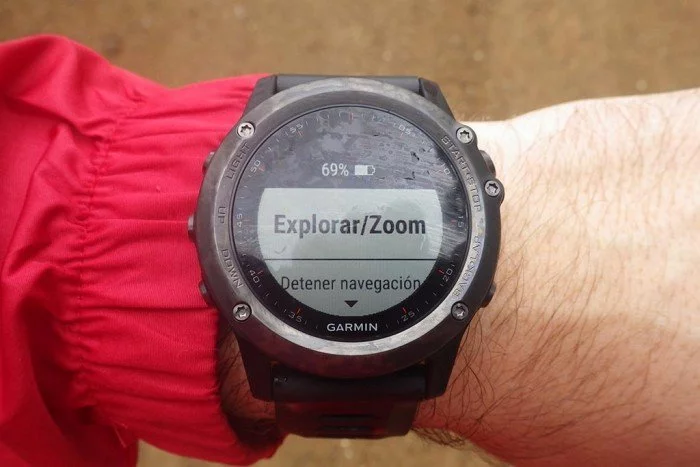 The moment you start sailing, the Fenix 3 will show you all the details of your route, both through an arrow marking the way.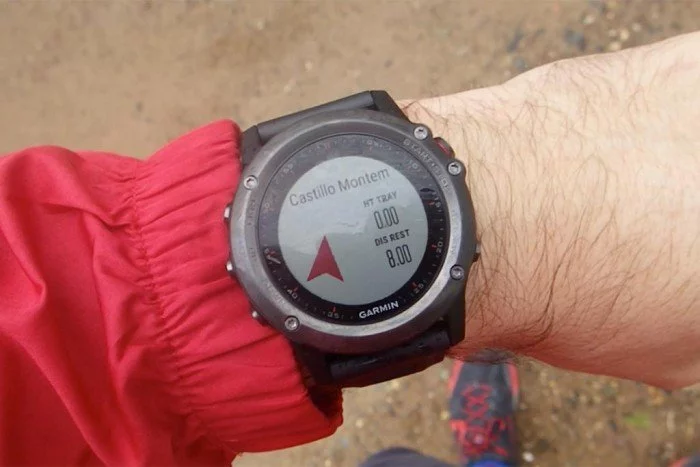 Like through the map, in which you will see your situation on the route and thus know where your detour will be.
Unlike the Fenix 2, the Fenix 3 does not allow you to install mapping, either officially or through the community, so if your navigation needs a higher map level you will have to go one step higher in the Garmin range and go to Epixwhich does allow for this feature.
Integrated sensors and external sensors
Like its predecessors, the Garmin Fenix 3, like a good adventure watch, is a GPS + ABC watch. This means that, in addition to GPS, it has an altimeter, barometer and magnetic compass. It also has an internal temperature sensor, although the records it shows will be altered by body heat when worn on the wrist.
If you want to have precise information about the temperature there is an external accessory, Garmin Tempe, que se enlaza a través de ANT+. Tiene la forma de un «footpod» y su batería interna permite tenerlo funcionando durante más de un año.
The compass is magnetic, which means that it is not based on GPS data and therefore you don't have to be moving in any particular direction for it to show you the way, so if you get lost at any point, you can stop and turn until you find the right way.
The altimeter will not only give you altitude data when you synchronize your activity, or through a data field that you can select on some data screen, it also has a widget on the main carousel with altitude information for the last 4 hours.
But you have to take into account how it works. You get the altitude through the air pressure data. So it is very possible that today you are sitting at 830m above sea level and tomorrow, in the same place, you get 805m. Why? Because it does not measure altitude as such, it measures the pressure, and from this it calculates the altitude. The higher the altitude, the lower the air pressure. As you know, the air pressure is not constant, and it varies with changes in temperature or weather. You should not take it as an absolute measure, but as a reference. However, it is the most effective way to count accumulated ascents or descents.
Similarly, you also have a widget with barometer information. You can configure it so that the graph shows the results of the last 6, 12, 24 or 48 hours, as well as program a storm warning if there are sharp variations in air pressure.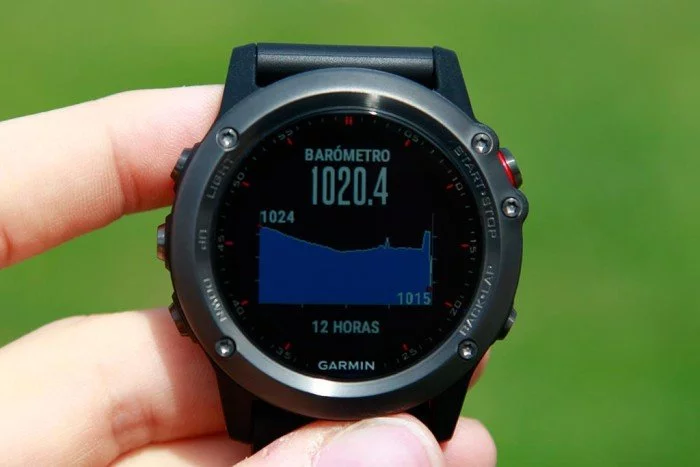 In addition to all the sensors that we can find integrated in the clock itself, but we can connect others through ANT+.
Although the Garmin Fenix 3 is compatible with Bluetooth devices, you can only connect sensors via ANT+. The BT Smart connection is only valid for data transmission.
Just like in the 920xtIf you have several sensors of the same type, you can connect them to the clock, and save them all so that you can use one or the other indistinctly. You can even change the name to make it easier to connect to them. This is very practical if you have several pulse sensors, for example the HRM-Run and an optical sensor such as Mio LinkOr you can have more than one bike, and each bike has a speed/cadence sensor, so you don't have to search again each time you change bikes or sensors, just turn on the one you're going to use with the Garmin Fenix 3.
If you have several paired sensors with you, for example two pulse sensors or two cadence sensors (imagine you lend one of your bikes and you carry the other next to it), the Fenix 3 will allow you to select which one you want to pair up with. When the watch detects two sensors of the same type it will allow you to choose which one you want to use.
Matching the sensors is very simple, just go to the Configuration menu > Sensors > Add New and select the type of sensor you want to add, or do a general search.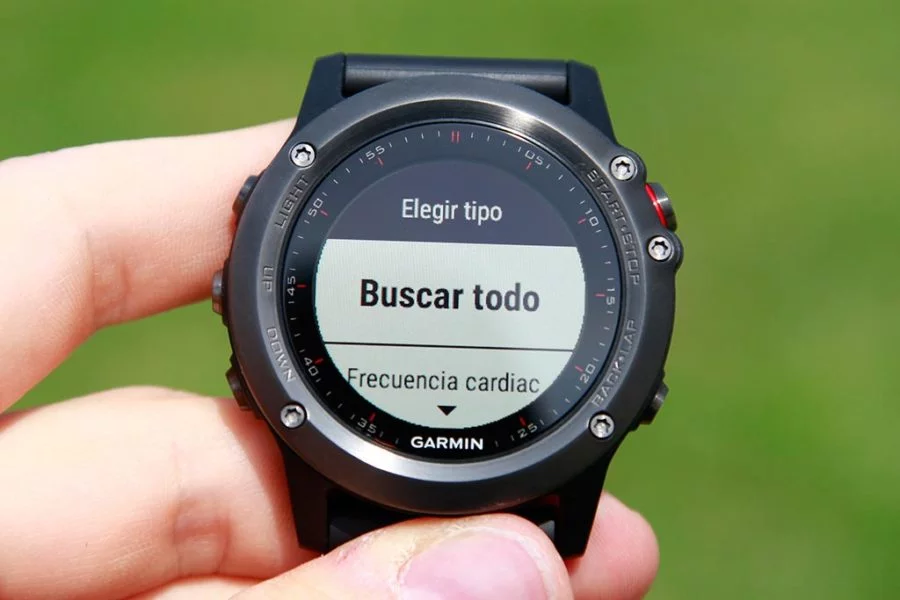 There are plenty of sensors with ANT+ support, not just the original Garmin ones. Being an open system, any brand can make a device with this kind of connectivity. In fact, most often you find that the new sensors incorporate dual and simultaneous connectivity for Bluetooth Smart and ANT+. These are the sensors you can pair with the Fenix 3.
Pulse sensor
Pedometer
Speed and/or cadence sensor
Power sensor
Garmin Tempe
VO2Max, recovery control and race forecast
Like the other high-end Garmin models that I have been analyzingThe Fenix 3 incorporates VO2Max calculation functions, race forecast from this data and a recovery control. And it all comes thanks to the collaboration of the Americans with the Finnish company Firstbeat. They are in charge of creating the algorithm to calculate not only this advanced data, but also the calculation of calories or training effectiveness.
VO2Max: This value is an estimate of what you can get with a dedicated stress test. So, as an estimate, don't take it literally either. It's a way of classifying your body's ability to transport oxygen to your muscles. The more oxygen you transport, the better your running performance. As with the Garmin 920xtThe oxygen consumption data will be provided for cycling as well, but you must have a power meter on your bike.

Career prognosis: With the VO2Max data and comparing it with other athletes with similar data (VO2max, age, height, etc) the Fenix 3 will give you target times that, in theory, you could reach. Of course, it would be training for that particular distance, because if you are a runner who trains for good times in 5k races and you do not train for a marathon, it will be difficult for you to achieve those rhythms without specific preparation.

Recovery control: It is divided into two parts. Firstly, the Fenix 3 will tell you your recovery status from the last training so you will know what your recovery has been since your last training. It will give you a message 10 minutes after you start your training, and it will get this recovery data according to your pulse rate variation (HRV) and therefore determine your state of exhaustion.

When you complete your training (and also by going to the menu My statistics > Recovery control) you will have an estimate of the time you will need to recover from your previous training. Please note that this data is only updated for running training, so if you set a 200 km cycling or 5 km swimming training, no matter how hard you finish your recovery time it will not be affected.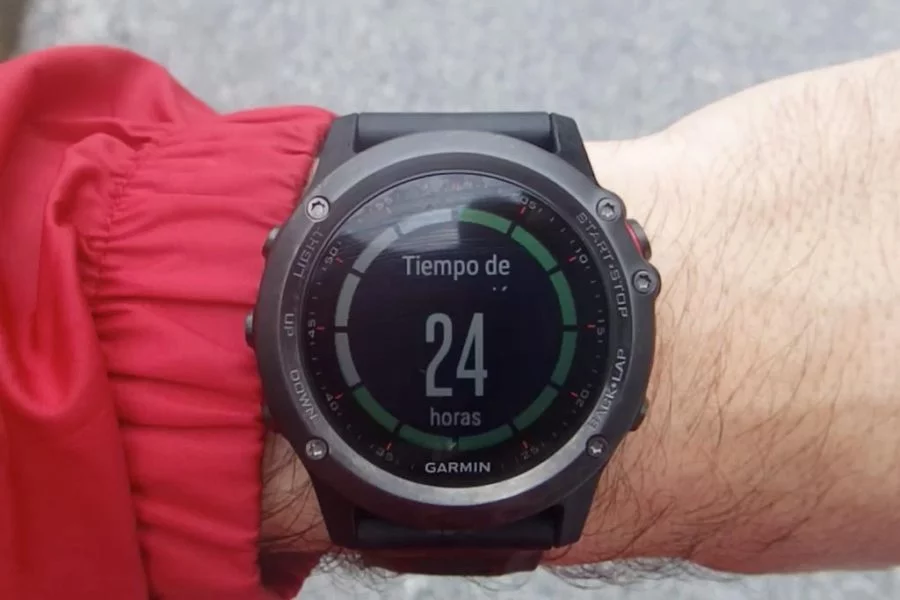 Activity monitor
The Garmin Fenix 3 follows the latest trend and also incorporates the activity monitor among its many available options. It will track all of your daily activity and provide you with data on distance, steps and calories consumed. It will also track your sleep and incorporate the sleep mode, which will alert you when you have not moved for a while, so you can get up and get your body moving.
Todo queda reflejado en el «widget» de actividad, al que puedes acceder presionando una vez el botón de desplazamiento inferior.
As you can see in the picture, there is a step target set. You have two options, either set it manually to a certain number of steps or, in the way I find most interesting, leave it in automatic mode so that it sets the target dynamically. It starts at 5,000 steps per day and will be adjusted based on your activity over the past few days. The more steps you take, the higher the target for the next day. But a long-distance workout on a single day will not change the data significantly, the increase is progressive.
The steps counted should not be taken as a scientific fact, it is an approximation and is calculated through movement. This is true for the Fenix 3 and any other activity monitor. It is a simple approach, because especially with monitors that go on the wrist, repetitive movements of your arm can increase the total number despite being seated. So do not take it as an absolute figure, but as a reference. If your daily goal is 10,000 steps and you have done 9,900, it is not a question of going out until you have completed 10,000, the idea is to stay active.
Todos estos datos serán sincronizados en primer lugar a tu teléfono móvil (que estará siempre conectado con el reloj si así lo deseas) y por último a la página web, donde podrás acceder para ver el resumen completo de tu actividad. Simplemente tendrás que seleccionar el menú de «Pasos» para acceder a todos los detalles del día en curso y de días anteriores.
This is the main screen you will find when you access this section. At the top you will find the total report of the day, and a breakdown of the hours with the most activity.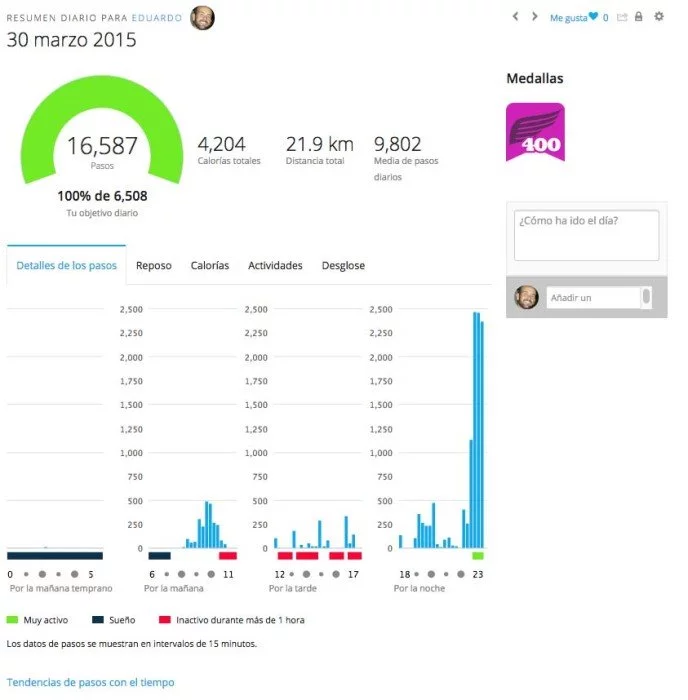 At the bottom you can select the different tabs, which will offer you various information, such as the breakdown of steps for each of the activities, along with the calories consumed in each of them. Note that the total calories include those of basal metabolism (the expenditure of energy you do simply by being alive).
You can also break it down by activity levels. Here you realize certain things, like that despite having taken approximately 16,500 steps and covered 21.9 kilometers, I have nevertheless remained 83% of my time at rest or just sitting. How much time was wasted...
The only thing left to talk about is sleep detection. As a novelty, Garmin has changed the way it works, not specifically for the Fenix 3, but globally for all devices that have this feature (Vivofit, Vivofit2, VivoactiveFR15, 920xt and the Epix This is something I noticed when doing the image capture, as I didn't used to activate the night mode and suddenly found that I was taking the data automatically. However, it is still possible to activate the mode manually.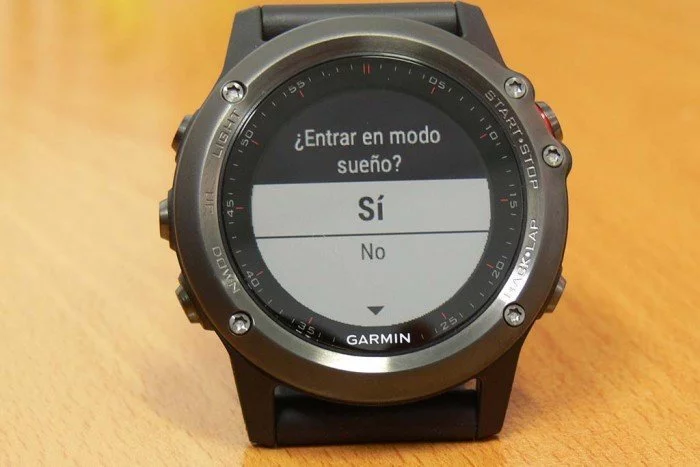 A pesar del cambio a detección automática (que es de agradecer), los datos de sueño aportados no son de mucha utilidad. Sólo una «colección» de movimientos de mayor o menor intensidad. En cuanto a las horas indicadas para la hora de dormir y de levantarme es bastante certero. Aunque la hora de inicio marcada coincide más bien con la hora en la que me tumbé en la cama, que es probablemente lo que detecte el acelerómetro (simplemente por la posición horizontal de la muñeca y la falta de movimiento). Probablemente la hora de sueño real empezaría alrededor de las 24h, cuando aparece un pico de movimiento. Eso si, la hora de despertarse prácticamente la clava, pues es probable que a las 7:40 es cuando le di el primer puñetazo al despertador.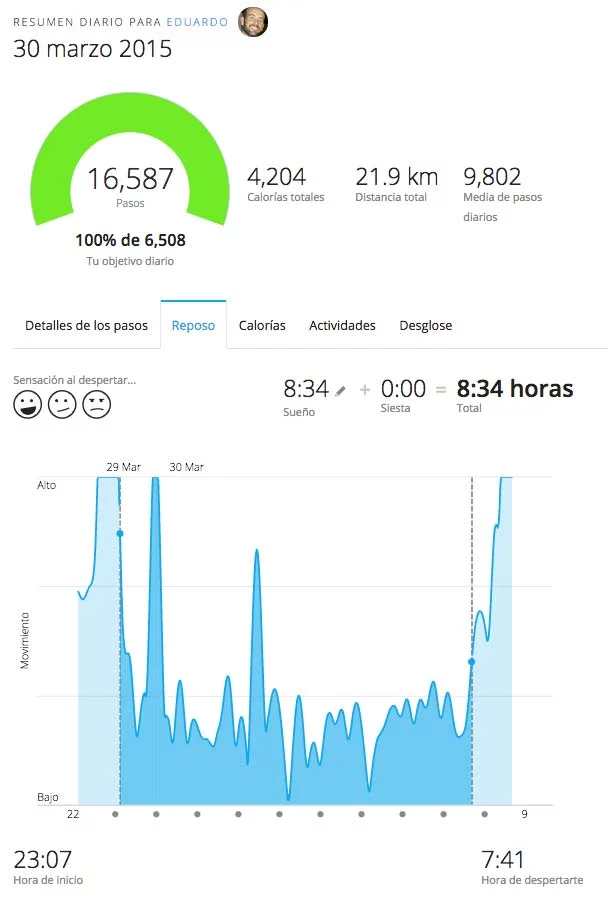 As you can see, the addition of the activity monitor to training watches is primarily a marketing thing. It is clear that if you train a minimum of 4-5 days a week and run more than 50 kilometers, you don't need a device to monitor your daily activity. You already have a regular intense activity. It might make sense in inexpensive devices intended for occasional runners (one outing a week, hopefully), but in such a watch, aimed at the advanced runner, it is more a feature to fatten up a list than for any other more useful purpose.
The hardware is already there, as it uses the same motion sensor we need to measure cadence. The software is shared by all Garmin equipment with this feature. The Fenix 3 would cost the same if this option was not added.
Lo que no quita para que sea algo que en momentos puntuales resulte muy práctico, especialmente en días donde tu actividad no es la habitual. Es una buena forma de medir registros de lo que has andado y de las calorías consumidas. Y también en días en los que no te toca entrenamiento, pero que tampoco hay necesidad de estar simplemente tirado en el sofá, puede ser un buen estímulo para «obligarte» a salir a dar un paseo, aunque sea con el único objetivo de conseguir una nueva medalla o quedar por encima de otros compañeros de trabajo o amigos que tengas agregados a la plataforma.
GPS Reception
The Garmin Fenix 3 also receives compatibility with GLONASS satellites, the Russian satellite network, from the 920xt. By default this option is off, but you can activate it to improve signal reception and positioning time. You can activate it in Settings > System. However, activating this option increases battery consumption.
But you should know that GPS's are not accurate. Most often they don't make a 100% measurement correctly and there will always be times when, when you check the recorded track, you will see that it is marked above buildings. This will happen with every single model on the market. A GPS is not a precision measuring instrument, so we cannot give it that consideration.
GPS offers an accuracy, with good satellite reception, of 3 meters. This is in optimal conditions, if you run between buildings the accuracy can easily increase to 20 or 30 meters. Those routes without any logic in the plane or the instantaneous rate jumps of 2:00 min/km is due to this.
Knowing this, I haven't had any problems in these weeks of using the Garmin Fenix 3. The behavior has always been correct and I have never lost a GPS signal. Proof of this is that whenever I have run, I have done it accompanied by another device, and the final distances have always been very similar.
| | Garmin Fenix 3 | Other clock |
| --- | --- | --- |
| Slope training | 10.05 km | 10.21 km (M400) |
| Training 6km intensity | 6.02 km | 6.13 km (M400) |
| Long print run 1 April | 15.03 km | 15.12 km (M400) |
| Fartlek | 10.85 km | 10.82 km (M400) |
| 4km + 4km | 8.01 km | 8.18 km (M400 |
| Pants training | 12.01 km | 12.08 km (Ambit3) |
| Tuesday night | 6.37 km | 6.42 km (Ambit3) |
| Cooling | 1.35 km | 1.29 km (Ambit3) |
| 5km recovery | 5.01 km | 5.01 km (Ambit3) |
| Cooling | 1.29 km | 1.29 km (Ambit3) |
Battery life
With regard to the battery, the first thing that stands out about the Garmin Fenix 3 specifications is that its capacity has been drastically reduced compared to the Phoenix 2If we found a 500mAh battery in its predecessor, in the Fenix 3 it stays at only 300mAh. This is an important difference, especially considering that now the screen is in colour and with higher resolution, it has WiFI and the processor is clearly faster. All this can mean more battery consumption.
In spite of this, both Garmin models declare a duration of up to 50 hours with GPS use (in UltraTrac mode). And to be more exact, up to 20 hours in training mode. But if there is something that surprises us, it is the battery life with Bluetooth activated. In the Fenix 2, activating Bluetooth to receive notifications from the phone in the watch meant having to charge it every two or three days. Added to the fact that it was not possible to have Bluetooth and ANT+ available simultaneously, it led to the fact that, in practice, the use of Bluetooth was merely testimonial. In the case of the Fenix 3, it has changed completely.
Now the feeling is that activating the Bluetooth is only a small expense of the battery. It is difficult to measure, as there is use of GPS for training, lighting, etc. But there have been weeks when I have not had to charge it. Now it is worth having the Bluetooth on, not only for the notifications, but also for the fact of synchronizing data automatically and continuously (not only of activities, but also of satellite cache and activity monitor data). I have honestly been quite impressed, used to the use of other smart watches (such as the Motorola Moto 360) where it was usual to have to carry it every day.
As I usually do for range tests, I have loaded the Garmin Fenix 3 to 100% and started an activity with activated GPS. The configuration has been GLONASS off (as it increases the battery consumption), Bluetooth on without connecting to the device, and no ANT+ accessories connected. Having a pulse sensor connected will slightly affect the battery, but the impact is not very important.
Efectivamente, el Fenix 3 ha cumplido la expectativa. Algo más de 20 horas hasta que el reloj se apagó por falta de batería. Al encenderlo seguía manteniendo la actividad pausada, dando la opción de guardarla o continuarla donde se había apagado. Y esto es con grabación cada segundo, si aumentásemos la grabación al modo «Inteligente» (UltraTrac) la duración sería aún mayor. Pero francamente, no hay necesidad alguna, con 20 horas de batería ininterrumpida tienes capacidad más que suficiente para la práctica totalidad de competiciones.
Lighting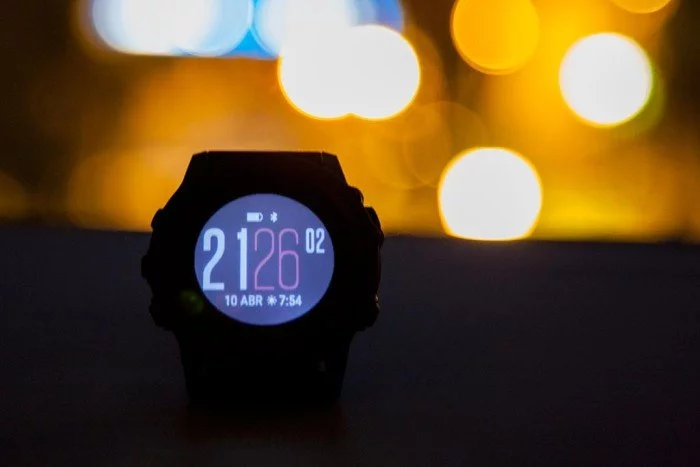 In the Garmin Fenix 3 we have many options when it comes to lighting the screen. Setting up is easy, but the menu for doing so is somewhat hidden. You must go to Settings > System > Backlight.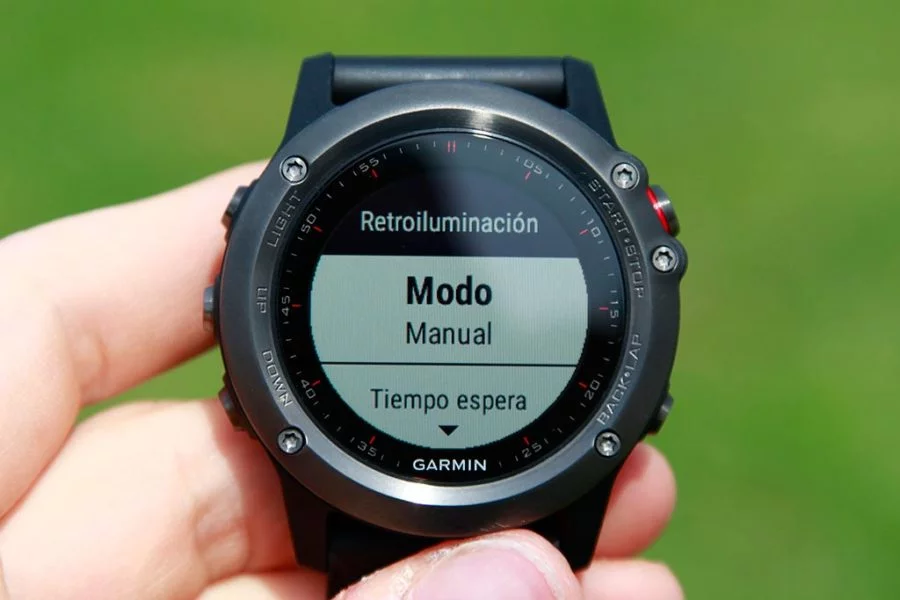 In addition to being able to set the brightness, you have two ways to configure it, so that the light turns on manually when you press the upper left button or turns on automatically when you press a button or receive an alert.
La segunda posibilidad de configuración es establecer el tiempo que permanecerá encendida la pantalla. Puedes seleccionar distintos periodos de tiempo entre 8 segundos y 1 minuto, aunque si acostumbras a correr de noche te gustará más la opción de «Permanece encendida», que dejará la pantalla iluminada hasta que vuelvas a presionar el botón.
More than a watch, a smartwatch
Garmin has fully understood the threat posed to them by the arrival of smart watches on the market, especially the Apple Watch and those equipped with Android Wear. These watches promise to do a thousand things, which could include specific functions for sports and running. So instead of getting defensive, they have countered with more watch-like functions, such as receiving notifications or the ability to install applications thanks to Connect IQ.
But before we go to the smart part of the clock, I want to briefly explain the classic part. Because even if I haven't told you yet, the Fenix 3 can also tell you the time. And many other things...
The first thing you can do is set an alarm by accessing the clock settings. But only one, and no repeating or selecting the days it will go off. So you won't be able to set an alarm to wake you up every day. What you will find is a stopwatch.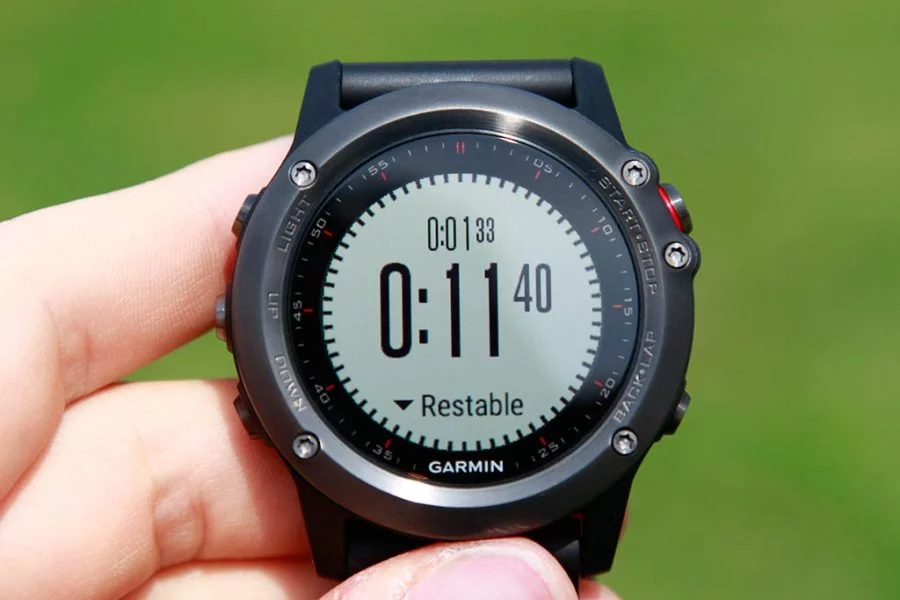 And also a countdown timer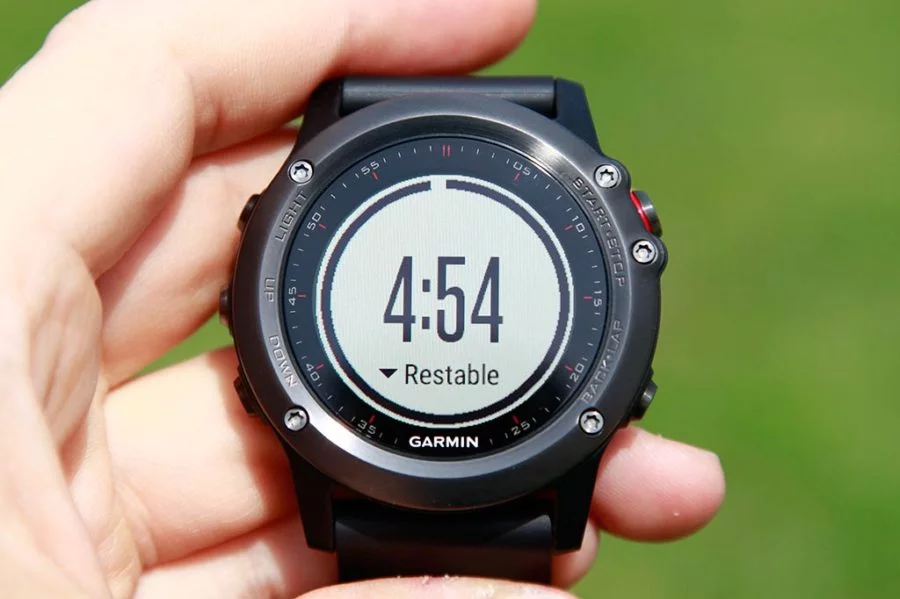 The more adventurous part of the clock also offers you a couple of time related alerts - you can select alerts that will warn you when there are X minutes or hours left until sunrise or sunset.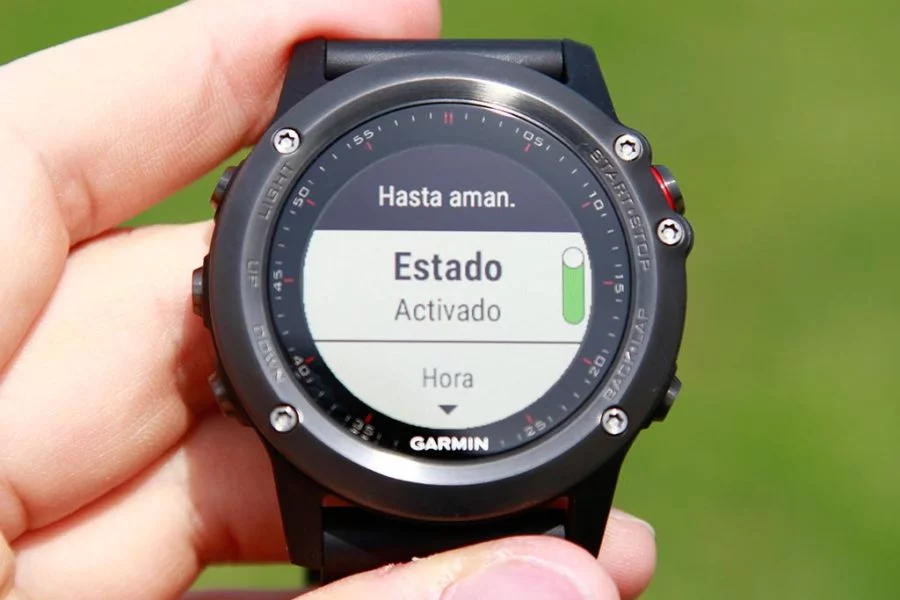 But let's raise the level of intelligence slightly. You can set the display for the clock in many ways. Not only does it show the time with digits or as an analog clock, but you can set any clock face from within Connect IQ.
There are many more options available, such as the background color, the color of the digits, the layout, additional information on the screen, etc.
In the next step of clock intelligence we find the widgets. They can be the ones that the clock brings or the ones that you install through Connect IQ. These widgets not only get data from the phone, they can also do it through the internal sensors of the clock (barometric, temperature, GPS, compass...). I have recorded this video where I explain it to you quite well.
Finally we have the notifications of the phone. This is totally controlled by the notification system of your phone, everything that appears in that list will appear in your clock. I say this so you can take into account, if there is any notification that you do not want to appear, you must set it on the phone. In that sense, in the clock you can not change any behavior about it. It should be said that if you carry the phone with you when training (in cycling is much more common than when you go running), you can configure whether you want to receive notifications on the screen and / or only be notifications of calls. In clock mode you can also change this behavior.
Notifications disappear from the screen in the time frame you set, 30 seconds, 1 minute or 3 minutes; but you will still be able to access them through the widget. What you will not be able to do is interact with them. That is, you cannot delete an email, or mark a notification as read, everything will have to be done through the phone.
One somewhat uncomfortable behavior I'm finding with the Android phone connection is that the notification is recurrent. You can mark it as read, but it can happen after a while to appear on the screen again as a new notification.
But if there is a major change from the Garmin 920xt (from which comes the intelligent clock part of the Fenix 3) is the operation of Bluetooth. In the case of 920xt became simply unusable. Making the pairing through the mobile application Garmin Connect Mobile cost quite a lot of work and launched continuous errors. After getting it, as soon as the connection was lost (by turning off the clock, the phone, or by separating them from the action range of Bluetooth) the synchronization was not restored and detected the 920xt as a new device, having to perform the pairing again. That if, after the latest version of firmware for the 920xt this should be resolved.
Now it just works. I paired my phone with my watch the first day and it's stayed that way until today. I've never had to pair it again. This doesn't mean that it's worked flawlessly all this time, because there have been times when I've received notifications on my phone and the watch didn't show anything, even though it's still connected (and indicated as such in Garmin Connect Mobile). In this case I don't know who's to blame, whether it's the watch or the phone, but it's usually easily fixed by turning off the phone's Bluetooth and then turning it back on.
All this connectivity is done through Bluetooth Smart. And most impressive of all, now, unlike the Fenix 2, the impact on the battery is less. I haven't tested with the Bluetooth turned off to see what the impact on battery life was because I simply haven't seen the need to do so. And the slight improvement in range would not be worth it compared to how much performance would be lost.
The Bluetooth connection is not only used to supply information to the widgets, but also to synchronize with Garmin Connect and to receive satellite cache data. These synchronizations will be automatic when an activity is finished, or you can force a synchronization from the Bluetooth menu.
The Bluetooth connection is also used for live activity monitoring. Unlike the Phoenix 2In addition to transmitting GPS location data, it is also possible to send data from pulse sensors, and not only that, you can also see it on screen and count on it when synchronizing the activity.
As with previous models, the Fenix 3 also features LiveTrack functionality, which requires you to carry your phone with you as it transmits all your activity data - not just your current position, but also altitude, pace or heart rate data.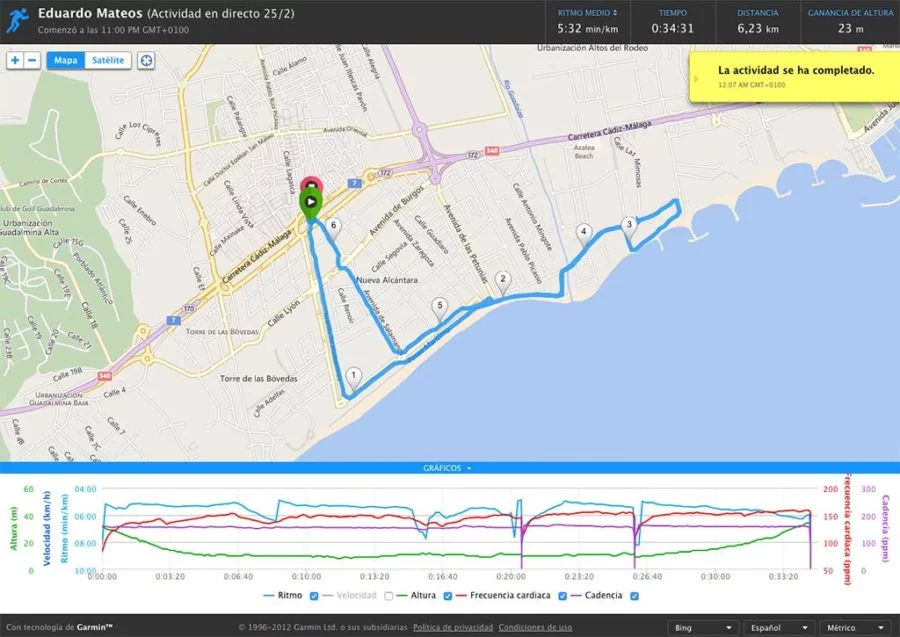 Connect IQ
Connect IQ is Garmin's new application platform. It represents a major effort by Garmin to not only add new features more typical of Apple or Android smartwatches, but also the ability to add new accessories and devices to the watch that previously had no ability to work together. Quickly described, Connect IQ will allow both Garmin and third-party developers to create "apps" that we can install on our watches. These can be training applications or to increase the smart possibilities of the watch.
Applications: Complete applications, more advanced than the simple creation of some additional screen. Here we can see how companies like Stryd can create a training application and make use of the power monitor, or mountain-specific navigation applications.
Widgets: Provide information obtained from other sources. A stock status widget that receives information from the phone would be a good example, or the current weather situation.
Customized fields: Data fields that you can add to the screens you have configured. I have one installed right now that estimates the completion time for a half marathon race. Or a beer consumption counter, so you know how much you have to run to make room for the 3 beers you will be drinking post-training with your teammates.
Clock dials: New screens to show the time, analog or digital.
These applications can be installed from Garmin Connect on your computer or from your phone. Just like in the application store on your phone, you only need to select what you want to install and it will appear on the clock after the next synchronization. I recommend that you read all about Connect IQ hereIn this entry I explain everything in great detail.
Connectivity
The Garmin Fenix 3 can connect in virtually any way you know how, both wired and wireless. The only thing it doesn't have is a 3G connection. Otherwise, you can sync your watch via USB cable, Bluetooth, or WiFi. But for simple convenience, you'll probably end up storing the USB cable in a drawer and taking it out once a week to charge your watch. With Bluetooth and WiFi connections, it's more than enough, and you don't even have to worry about syncing your activity when you get home from workout, the watch will do it itself.
Starting with the Bluetooth connection, you'll usually have your watch paired with your phone to receive notifications and make use of all the smart widgets. You can also use this Bluetooth connection to transmit data, synchronize workouts, receive data from satellite caches or install Connect IQ applications. The Bluetooth connection works really well, and as soon as the watch is in range with your phone it will be automatically paired (and will tell you so on screen).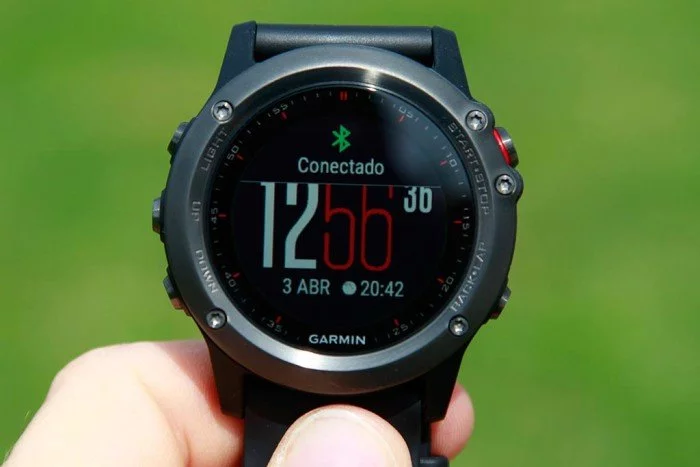 You can also force a manual synchronization at any time. For example, if you have just created a workout on your computer and want to have it on your watch right away, select send to device (in this case the Fenix 3) and then on the watch you can access the menu Settings > Bluetooth > Synchronization to force new data to be installed. The data transmission is also quite fast for a Bluetooth connection, it has nothing to do with the eternal transmissions of the Phoenix 2.
The second option for wireless synchronization is via WiFi. After completing an activity and for a period of time the Fenix 3 will search for stored WiFi networks. How long will it take? I honestly have no idea, because with both connections activated, when I get home and take a shower, when I look at the phone I already have a notice that the activity has been synchronized with Strava (which also does it automatically).
You don't even need to connect the clock to your computer to update, as the Fenix 3 downloads the update file to the clock memory via WiFi and alerts you with an on-screen message that an update is available.
To set up wireless networks, all you will need is the USB cable. Networks cannot be added from the Fenix 3 - imagine entering a 20-digit key from the clock... - for that you have to do it in the initial setup through Garmin Express (which you download from here) Incidentally, it has recently received a complete redesign.
You can add nearby networks by simply selecting from the list, or you can add any other network that you know its SSID and password from.
My opinion
Garmin ha dado un tremendo salto de calidad con el Fenix 3, y no sólo para el sector de los usuarios de relojes de aventura y montaña, sino en general para todos los deportistas. No creo que pueda haber nadie que no se encuentre satisfecho con este reloj en la muñeca, practique el deporte que practique. Sólo los triatletas más exigentes se encontrarán con el problema de falta de un «quick release». Pero todo tiene un precio, y el que marca la etiqueta del Fenix 3 no es precisamente bajo.
I have been testing the Fenix 3 thoroughly for over a month now and have had no problems in mentioning it, just a few sporadic hang-ups when notified (two, to be exact), and the blocking of the communications module making it impossible to connect to ANT+ sensors. In both cases this was resolved after restarting the clock. During the activity the operation has always been flawless. And even though it is based largely on the Garmin 920xtIt is also a great solution to Bluetooth connectivity problems.
I think that the arrival of this Garmin in the market will be a hard blow for the competition, at least in the high range. No other brand can surpass this device in terms of possibilities, options or general quality of materials. And I also don't see them capable of bringing out a product that is up to scratch in the short or medium term. But it's not just the competition that has a problem, Garmin has a problem too. And that is that when they bring out a replacement they are going to have to overcome it, and it's not going to be easy.
The Fenix 3 is a full-fledged punch on the table.
Did you like the test?
I hope this test has helped you. To be honest, it takes many hours to do such a detailed analysis. Training, photos, writing the article, new photos... it's a long and demanding process.
If you are encouraged by the purchase of the device, you can do it in the links belowThis way it will cost you the same or cheaper than the official price, and I get a small commission that will help with the purchase of new devices for further testing.
If you liked this review and you want to help me, write what you think in the comments. It will help me to know your opinion, in case I have left something out or you think there is something I should have taken into account and I have not indicated anything about. Ask your doubts if there is something that has not been clear. In short, I am just a runner like you who details the use of the watch from the point of view of a new user.
Show this post to your friends and share it on social networks, I'm sure if they are looking for a training watch they will thank you.
Buy Garmin Fenix 3
There are three different options to buy the Garmin Fenix 3. And each of them is split, because you can buy just the watch or in kit are the pulse sensor HRM-Run. So you can buy it in gray with black strap, silver with red strap or sapphire with metal strap.
Below are links to some very good offers. Buying through them will help you maintain the website and my work.
Also, these are the prices you can find on Amazon
(
733 opiniones de clientes
)
(
1363 opiniones de clientes
)
Price:
519,00 €
(
2130 opiniones de clientes
)
2 new from

490,00 €
0 Second hand