¿Es este el reloj para gobernarlos a todos? Algo así como el anillo de Frodo Bolsón, pero en formato de reloj GPS. Pues podría serlo para algunos, ya que desde que Garmin presentó el primer Fenix a mediados de 2012, la gama ha recibido una enorme transformación. Ya no es «sólo» un reloj destinado al público más aventurero. El Fenix 2 es un reloj que sirve para algo más que salir a la montaña. Sirve para algo más que para salir a correr. Sirve para algo más que ayudarte a entrenar.multi
I recommend that you don't miss a single line of what you can find below. Make yourself comfortable, grab a beer and in about 10 or 15 minutes you'll know if this GPS watch is right for you.
I hope that this test will be very useful and help you with the purchase of your new training equipment. It is clear that you will live with it for many hours, and for many years, so you will want to be totally sure of your purchase. Remember that if you find it useful and you are going to buy it, you can do it through the Amazon links you'll find at the end of the analysis. That way you'll help me run more tests like this in the future.
Unpacking
The Garmin Fenix 2 is presented in an elongated box, quite different from what we have typically seen in Garmin presentations (it was usual to see boxes with a blue colour and a more square format, to my taste quite ugly). Now it looks like a box from a bottle of wine. But a good wine. In this case, this Fenix 2 comes in a kit together with the HRM-Run pulse sensor, quite more advanced than the classic pulse sensor I will talk about later. And in my opinion, this sensor is essential with the Fenix 2.
To access the watch, we have to do it from the bottom. And that's when you realize that the box looks like a Matroska doll, since everything comes quite compartmentalized.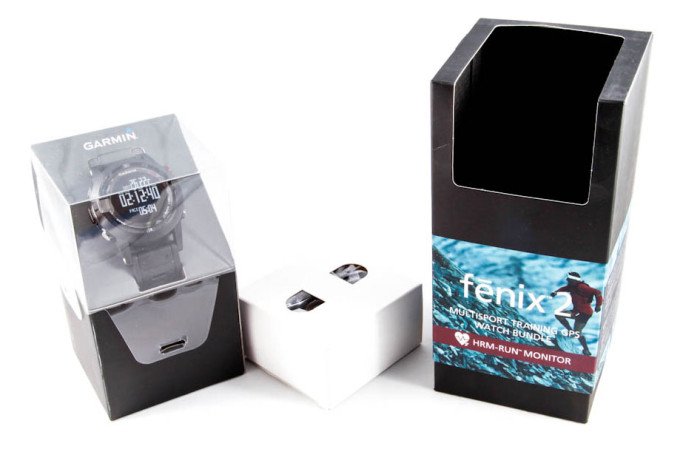 All you see in the picture is what's in the box. Once deployed, it's impressive. In addition to the watch, you'll find the Garmin Premium Soft Strap, a fabric strap much longer than the plastic one, a mains charger, a sync and charging cable, tools to replace the strap and, of course, the HRM-Run sensor.
It's a good thing that Garmin included the fabric strap with the Fenix 2, as it allows you to wear the watch on top of heavier jackets, such as ski or mountain jackets.
But let's go to the watch, which is the most important thing. It is quite big and military looking. The case is not made of metal, but of polymer. This obviously helps with the weight of the set, because despite being visually large (well, and really), it is something that is not reflected in the total weight of the set, which goes to 85 grams. The glass is mineral, which without being sapphire as in some Suunto models, is above other solutions made of plastic much less resistant.
The screen has a resolution of 70×70 pixels, inverted, that is, the background is black and the text is white, depending on which people this may be a problem, since it is not modifiable.
But if you prefer a traditional screen, Garmin has thought of you too. You have the Garmin Fenix 2 Special Edition where the display is normal (black text on a white background) and the watch strap is red.
El diámetro de la caja es de 49mm y el grosor de 17mm. Está claro que no está diseñado para muñecas estrechas, aunque para los que tenemos muñecas grandes no hay ningún problema, incluso algunos consideran «que queda bien».
The watch has a socket where the connector for charging and synchronization fits. This makes it very easy to connect the watch and does not stop charging in a hurry. It also allows you to charge it while you are using it, for example in the mountains, as long as you have a charging battery (the ones used for mobile phones, for example).
En la parte trasera podéis encontrar las conexiones de carga y datos. A pesar de tener las conexiones «al aire», el reloj es resistente al agua, hasta un máximo de 50 metros. Es decir, está pensado para natación en aguas abiertas y buceo ligero, pero no te vayas a las profundidades abisales a buscar monstruos. O, por lo menos, deja el Fenix 2 en la costa y luego tu puedes ir donde quieras.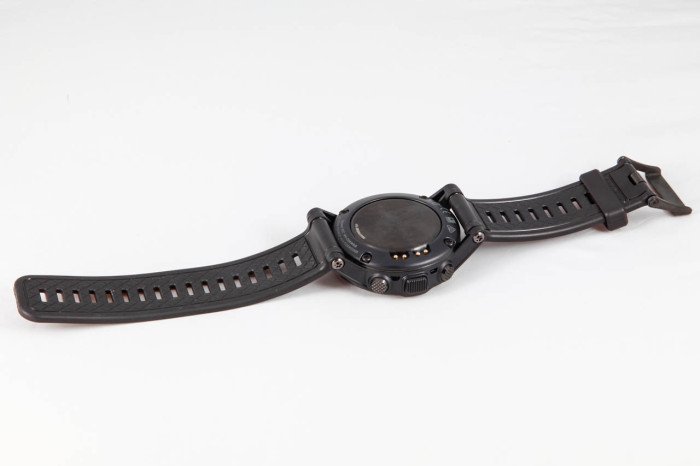 Here's the clip itself. There's not much mystery about it, a clip that fits the shape of the watch. By the way, when the Fenix 2 is created via USB, you can extract all the data manually without the need for management software. And you can also update the Fenix 2 to the latest version without needing the software installed.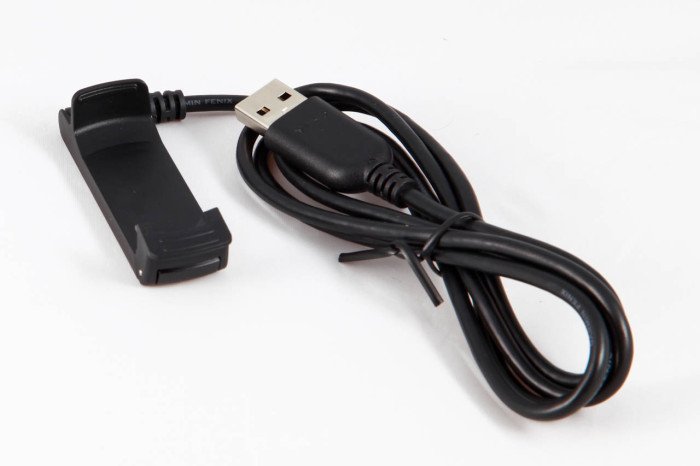 And finally, here's a little wonder: Garmin's sensor with the Premium Soft Strap. Same old thing, right? No, because now they've painted it a white muppet. What for? Well, to differentiate the normal sensor from the new HRM-Run, which is compatible with the new high-end Garmin watches (besides the Fenix 2, right now other watches that can benefit from its advanced options are the Forerunner 620 and 920xt).
As always in Garmin is an ANT+ sensor, so it is still compatible with other devices that have this standard of connectivity. For example, you can use it without problems with a Garmin 220. But what makes it special is that through a second channel transmits information needed to compose the race dynamics (Running Dynamics) that shows us the clock both at the end and synchronize the activity, and directly on the screen if we have so configured. Then I will talk about this more extensively.
Habitualmente comienzo las pruebas analizando cómo se comportan los relojes corriendo, y en caso de incluir algún modo de navegación lo detallo a continuación. En esta ocasión voy a hacerlo al revés, precisamente porque el Garmin Fenix 2 es «al revés». Antes que reloj GPS de deporte, es una herramienta de montaña. Por tanto es a la hora de realizar aventuras por la montaña donde el Garmin Fenix 2 cobra más protagonismo.
The Fenix 2 has been built on the foundations laid by the original Garmin Fenix, but has been given all the functionality of the Forerunner range. We might even see it as a triathlon watch, but first let's see how it performs when it's time to take us from one place to another when we're in the bush, and then we'll look at other uses.
When it is time to start sailing, the clock will present us with several modes to choose from, as we can do it in several different ways
Waypoints
A waypoint is a point that you can manually save, either from the clock while you are making a route (by pressing the DOWN button), or from any of the applications, and then synchronize it with the clock. This allows you to navigate without a predefined route, for example, or to return to a point that you have left marked.
To give you an example, imagine you are on a wide plain with no vegetation. There would be no point in navigating from a route here, as there is no marked path for you to follow. You simply select the location you want to go to, and go looking for it.
Routes
The route is created as a succession of waypoints. You follow each location, one by one, until you reach your final destination. It's like following a path of breadcrumbs. You can create these routes from Connect or from BaseCamp and then synchronize them with the clock.
Tracks
A track is the recording you have made of a route, or one that you have been able to download from the Internet (for example, from Wikilocs). The difference with a route is that they are files that have more information at each point and, generally, many more waypoints, since if, for example, you have the GPS configured to record data every second, with each data saved it would create a waypoint and therefore a new point within the track.
Coordinates
You can enter the coordinate data directly into the Fenix 2.
Sight n' Go
You would point your watch to your final destination, and it would be saved so that you could go to it. Imagine that you crown a mountain and on your way you see a small lake inside a forest, but you can only see it from the crest of the mountain. You can mark that direction so that once you are inside the forest, you can guide yourself until you find it.
TrackBack
At any time you can use the TracBack option, to return to the starting point. This will be active whenever you have developed an activity with the GPS connected. It allows you to return to the starting point of the route and will show you the way to follow.
When navigating, we can add a screen to display the map of the route. By default, the Garmin Fenix 2 does not include a map to display the information. This is how we can see our complete route.
Of course, it is possible to get closer to see the map and to better understand when we should take a detour, or see if we are on the route.
Whenever we are sailing we can add one more screen to the clock where we can receive information about the distance we have left, the time it will take to cover it taking into account the current pace and what is the approximate time of arrival.
In addition to showing us the navigation only through the route, we can add some basic maps on which we can move to help us in the orientation (although sometimes it can cause more confusion than anything else). These maps are thanks to the communityas it is not an officially supported feature of Garmin, and not even announced.
Personally, with the size of the screen and its low resolution, I don't see much interest in adding these maps. When navigating through the mountains on a route, it's more than enough to see the track that the clock itself prepares, because seeing the way the road moves allows you to clearly identify where you should go. Not having a color screen that allows you to differentiate which is your path and which of the lines shown is the one you should follow doesn't help at all.
Creating Routes
There are several options for creating a route to navigate with the Fenix 2. Garmin ConnectYou don't have to install any program on your computer and you can sync the route from any device. There are other options, such as BaseCamp, but you have to download the program, install maps and it's a bit more complicated to use.
Una vez que entras en Connect, sólo tienes que abrir el menú de la izquierda para seleccionar «Trayectos» (la última opción del menú)
La gran ventaja de hacerlo a través de Connect es que podemos hacerlo con los planos de Google, tanto con los de «mapa» como los de «satélite», mucho más conocidos para la gran mayoría.
Crear una ruta es muy sencillo. Sólo tienes que ir creando waypoints y se unirán de forma automática. En el menú de la derecha tenemos acceso a todos los datos, siendo el más importante el de «permanecer en carreteras». Con esa opción seleccionada tan sólo tenemos que poner un waypoint en cada uno de los cruces de camino que encuentres. Pero si quieres hacer una ruta por un camino que no está marcado como carretera, como un sendero que se vea en la imagen de satélite, simplemente deseleccionas esa opción y pones el próximo waypoint.
By playing with these options, you will create your route. As you put in points, you will have information about the distance of the route, as well as the height of the route with its profile. By entering an average pace, you will also know how long it will take you to do it.
In this route I have used a little bit all the options. I have started following the path of a river, so I have had to deactivate the option to stay on roads and I have created more waypoints. Once you arrive to a road, you select again the option and with only 5 or 6 waypoints you create a quite long route, until you arrive to a new point where you deviate from the road and you would have to make a climb by a small path, then you create again multiple points.
Una vez de vuelta al pueblo, tan sólo hay que seleccionar «Bucle con inicio» y automáticamente te termina la ruta a donde la has comenzado, creando una ruta circular y a través del camino más corto. Preparar esta ruta no ha llevado más de dos minutos, es una forma muy sencilla de configurar tus escapadas de trail.
Once you have finished you can save the route and then click on send to device, selecting your Fenix 2.
So as soon as you sync your watch, you have your route available for navigation. You don't have to do this via Garmin Express, from your own phone you can also sync your route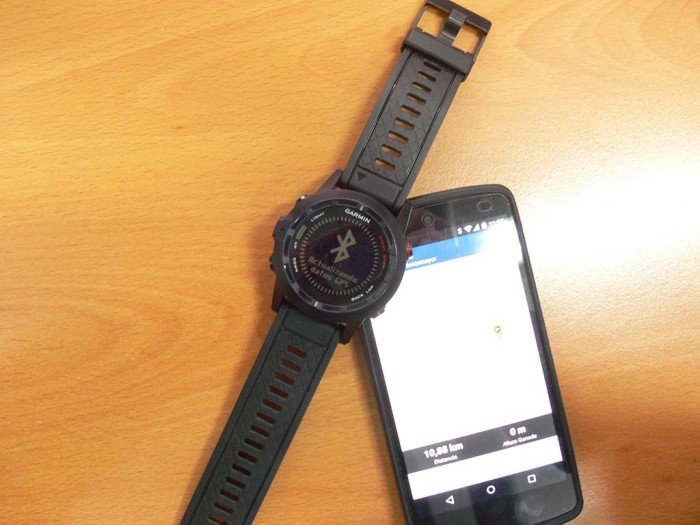 Running
Si en algo ha avanzado la gama Fenix (tanto el Fenix 2 del que trata esta prueba, como el Fenix original que ha ido recibiendo actualizaciones y ha mejorado este aspecto) es en su faceta como reloj GPS para correr. Originalmente el equipo de desarrollo del Fenix (que es diferente al de la gama Forerunner) se centró totalmente en la parte de navegación y de herramienta GPS. Pero esto ha cambiado totalmente con el Fenix 2, que ha añadido muchas de las opciones que podemos encontrar en sus «primos» de marca, como el Forerunner 620. En el Fenix 2 vamos a encontrar cosas como Running Dynamics, entrenamientos por intervalos, VO2max y predicción de tiempos de carreras, y muchas otras cosas más. Opciones que estamos acostumbrados a ver en relojes de carrera y que muchos se alegrarán de ver incorporados al Garmin Fenix 2.
But let's start at the beginning. As with any watch created for running, GPS is very important, not only during the activity but at the beginning of it, in the time it needs to get a satellite signal. In the case of the Fenix 2, Garmin has a built-in GPS cache function. Every time you synchronise your watch, either with your phone via Bluetooth or via USB with your computer, Garmin Express (or Connect if it's on your phone) will download satellite positioning data, which will help the watch in the initial search and reduce the triangulation time.
This happens when we start the activity, so after pressing the Start button and selecting Run (or whatever you have called it if you have changed the name) the clock will go to search for sensors. First it will search for the pulse sensor, and then it starts with the satellite search. As always, I leave you a video of a search so you can check how long it takes to find them
And once we get a satellite signal, the Fenix 2 is ready to go.
Shortly after starting to run the Fenix 2 will show you an alert. It usually warns me shortly after I have passed the first kilometer, although I suppose it is a coincidence along with my pace
The Fenix 2 calculates how you have recovered from your previous workout based on your heart rate variance (HRV). The watch processes the data from your previous workout, analyzes the heart rate variance in the current workout and determines the value so you know how you can exercise in this session.
Is there science behind this? I guess, because this data analysis is not a Garmin thing, but it's licensed through the company FirstBeat, specialist in pulse analysis and calorie calculations. So they know something about it. FirstBeat is also behind other functions of the Garmin Fenix 2, like the V02Max, the race forecast, recovery advisor and the training effects (I'll leave it for later).
As always, when training it is important that the clock is able to register changes in rhythm quickly, because if you are doing intervals you want the clock to show you real information at all times. Instead of saying that it is getting better or worse, I find it more appropriate to show you a video where you can see for yourself what that variation is like. I start walking, to move to a moderate pace and then walk again. Again I start running, accelerating little by little until I reach a slightly faster pace, at which point I stop in the dry.
Once we are in the race, in the Fenix 2 we have access to a lot of data, which we must previously configure from the activity configuration menu (which can be reached by pressing the menu, configuration and activity button). Here we find a series of activities that are pre-configured in the factory, such as cross-country skiing, climbing, open water swimming, swimming pool, etc. We can also configure three more profiles, which you can call in any way you like.
The purpose of all these profiles is that you can configure the data screens separately for each of them, because obviously you don't need the same data on screen when you swim or ride a bike.
There are different ways of displaying the data on screen, with a maximum of data per screen. Additionally, there are special screens with graphics, such as the height screen, or pre-configured pages like the one in Running Dynamics.
This is a page with four pieces of information
With three
With two
And with only one
And the data pages that are special, like heart rate
Barometer
Or altitude, among others
You can configure the screens that you want and in the order that you want, and remember that they are independent for each sport. So for example for racing you can make a page with only two details such as pace and pulse, in large to make it easier to see, and then another screen with more values that you will access less often.
There are other settings for each activity, and remember, we can configure the alerts in each of the profiles.
Alerts:
Heart rate: with minimum and maximum, or directly one zone. It will alert you if you go outside the marked range.
Running / Walking: you select time to run and time to walk, and it lets you know when that time has passed.
Rhythm: warning to be in a rhythm range.
Time: Marks an alert that you set from a certain time.
Distance: this is divided into interval, final distance and trip deviation.
Cadence: minimum and maximum cadence, if you go out of range you are warned.
Calories: warning when a certain calorie consumption is reached.
Proximity: you can program a warning when you are within the distance you determine from the point you previously recorded.
Altitude: we have four variables: minimum, maximum, ascent and descent.
Nav. to goal: safety alert - You will be warned when you reach intermediate or final points on a route, so you don't get lost and know when you have reached your destination.
Speed: you select a minimum and a maximum, and you will receive a warning if you go outside that range.
Battery: The Fenix 2 will alert you if you have less than, say, a 20% battery. The percentage is configurable.
Ignition: don't be fooled, it's a mistranslation. It refers to power, for cycling profiles.
All of them are alerts that you can activate or deactivate at any time and for any sport profile, and the moment something happens to alert you, it will show you the notification and it will do it the way you want (vibration, tone, both or only on screen).
Here for example I have programmed an alert to warn me if I go slower than 6:30 min/km.
Don't miss out!
TELEGRAM CHANNEL: The best deals on the minute and alerts with the latest news. Subscribe!
INSTAGRAM: Follow the day to day and reviews for other different things
It is not a training program like the ones you can program, but it can help you develop another type of training or career.
Te pondré un ejemplo. Quieres completar una media maratón a un ritmo máximo de 5:00 min/km, pero tampoco te quieres quemar y quieres saber en qué momento puedes comenzar a apretar, por si incluso quieres mejorar el ritmo objetivo. Pues para empezar te programas un Virtual Partner con el ritmo (y añades la pantalla en el perfil de correr), activas una alerta de pulsaciones para que te avise si superas, qué se yo, 165 ppm. Así te aseguras no «quemarte» antes de tiempo. Y por último te programas una alerta por proximidad a 3km de la meta (en linea recta) y puedes saber que a partir de ese punto podrías darlo todo.
Well, like this example, as many as you want and as far as your imagination will take you.
Autolap
If you want the Fenix 2 to create an autolap, you can configure it from here. By default it is set to 1 km, but you can change it to any value you want, from 9,999 kilometers to 0.01 kilometer.
Autopause
Perfect for running in the city where you're going to meet traffic lights, or on trail where you might stop more often to take off or put on your jacket, or riding your bike for when you get a flat tire and have to stop to change it. Simply stop the recording of the activity if you stop.
3D speed
Correct your speed with respect to elevation, i.e. if you are running or cycling on steep slopes, the Fenix 2 will correct for the value. Imagine that you are cycling up a slope of 60° (yes, that's a lot to imagine). If your speed is based only on latitude and longitude values, i.e. in 2 dimensions, it will give you a lower speed because it is not doing the calculation correctly by not taking the slope into account. Then when applying the 3D correction the clock will do the correct calculation.
3D distance
Same example as above but with the distance. You walk 2 km on the flat and then 2 km with a 45º slope, if you don't apply the 3D correction the clock will register less distance travelled, because in LAT/LONG points the space travelled is less. In short, everything is based on the Pythagorean theorem and the length of the hypotenuse (which would be the two km uphill).
Data Recording
You have two options to configure, smart mode or every second. For the runners, you will be interested in the per second mode since you will have the values at the moment. For activities such as walks in the field the smart mode is the most indicated, since the clock will be the one that chooses the moment to make the data recording.
GPS mode
The Fenix 2 allows you to choose between normal mode or UltraTrac mode, which I will discuss at length in the section on range.
Virtual Partner
Es tu entrenador virtual. Puedes configurar tu ritmo o velocidad objetivo y podrás competir contra ese «colega virtual». Además de activar la función para el perfil de deporte, debes añadir también la pantalla entre las seleccionadas para el perfil para que te lo muestre al desarrollar la actividad.
Automatic scrolling
Switching between screens automatically
Finally, you can find another option to show or not show this profile you are editing in the sports selection menu, that is, at the moment you press Start to start an activity. Therefore, if you do not climb or ski, you do not have to see it in the menu every time you start an activity. You can leave it hidden and leave visible only the sports you are going to practice.
Running Dynamics
The race dynamics works thanks to the HRM-Run pulse sensor. It gives you information about how your race is, starting from 3 values:
Speed: Steps per minute, depending on the running technique values, the ideal figure would be 180 steps per minute.
Vertical displacement: The distance you move up and down when you run. That is, your bounce on the ground. The greater that distance, the worse your running performance,
Ground contact time: The time the foot is in contact with the ground. The shorter the time, the faster we go
To understand these values, there is nothing better than an image, and I have a good example of a workout where there are values of all kinds, because I start well but soon I slow down, and I even have to stop running and walk through a digestive cut.
The picture has everything, and it speaks clearly of how the race went. The heart rate graph helps to understand every change.
You can see that I start at a good pace, with a high cadence and a short contact time with the ground, but as soon as I start to slow down to about 150 beats, the cadence drops and the contact time increases (obviously, the pace is lower). As soon as it is time to stop and walk, the beats drop, the cadence drops and the contact time increases, but consequently the vertical oscillation is in the protruding area, as there is hardly any bounce when walking.
As you can see a lot of data can be extracted from here. We can also look at it together with other graphs (height, pace and temperature), so you can perfectly analyze why your pace has changed and it will help you to better understand your running performance.
You can also add a screen to your running profile, so you can polish your technique while running.
Once you have the screen selected you can change the main value (the one shown above) by pressing the menu button for one second.
We select another value and that will be the one that appears as the main value
Además, la parte externa de la pantalla se transformará en un «cuenta revoluciones», como si fuese una aguja, y te mostrará gráficamente en qué punto estás.
The question is... are these data useful for anything? To a certain extent, I think so, but some more than others. I don't know to what extent we can take the values as absolute, because I think they will depend on each runner, not only on their athletic level but also on their height. I think that a cadence of 180 ppm is not the same for a 1.60m runner as it is for a 1.97m runner like me. The same goes for vertical displacement.
What is not very well founded is the time of contact with the ground, because it is pure logic. If you go fast, you spend less time touching the ground than if you go slowly.
So, as you can see, as soon as I tell you one thing (which is useful data to understand your performance) as the opposite (which is not all that nice anyway, because in the end it depends on other factors as well), I think that at popular levels it can be more valid for analysis as a curiosity than as a real utility, although at professional levels it can mean an important change. That is, if, over time and if you are in the process of changing your career mechanics, this data can be very useful since you will be able to compare results between different trainings.
All this doesn't change the fact that you have to train your cadence (something I have pending) and, so that you can see its true incidence, I would like to tell you that an elite marathon runner has a cadence of about 200 ppm, so you can get perspective...
VO2Max and career forecast
The Fenix 2 calculates your Running VO2MaxOf course, if you want to know exactly what your VO2Max is (i.e. your aerobic capacity) you should do a full stress test. But as an approach it is well done.
This value depends on each individual athlete, and it is not common to see it vary frequently, especially if you have been training for years. If you have been a pro on the couch and are starting now, then you will see your improvement, but once you have reached your aerobic level you will usually not see much variation unless you vary your workout quite a bit.
Thanks to the VO2Max calculation, the Fenix 2 will also offer you a race prognosis, a table that, taking into account your aerobic capacity, age and sex, will indicate your target times in different events, or at least the times that other athletes with similar figures can achieve.
It doesn't mean that if you don't get those times you're doing wrong, because it doesn't take into account the training you've been doing or what test you're preparing. Take it as a future goal, something you could reach if you keep training and your body is capable of achieving.
The Fenix 2 will also inform you of your recovery time after a workout, or by entering your own section from the menu. The watch gives you an estimate of the time you should wait before planning your next high-level workout, with the idea of not overtraining.
It doesn't mean that you can't do any sport in the time period marked by the clock, especially considering that this value will only be affected by the runs you do, since we won't be able to find it in any other sport profile. Everything you do in swimming or cycling won't change the recovery time (like the rest of the ratings such as VO2Max or race prediction).
Post-training information
At the end of our training we will have access to all the data of it (and at any time through the menu of History). Among the data that we can find we will have duration, distance, average pace, etc. In addition we have access to data for each of the laps that have been marked manually or automatically.
También muestra información del «Training Effect» o efectividad del entrenamiento, que mide el impacto de la actividad que hemos realizado en nuestra condición aeróbica.
This value depends on your personal profile, the exercise performed and the heart rate during the exercise. Again, it requires some learning time to understand you better as an athlete and to be able to give you more appropriate values. Garmin provides a table so that you can compare the result obtained and know how you have trained.
Training sessions
In the Fenix 2 you have several options when it comes to training and setting your goals. We are talking about interval training with automatic alerts, because obviously you can always do a manual workout where you set your lap times manually and look for the goal as you wish.
Firstly, you can create a session directly from the clock by pressing the start button and scrolling to training sessions.
Here you will have the previously synchronized sessions, the training according to calendar that you can create or an interval session that you can modify directly from the clock
This last option is not intended for you to create a series of workouts and save them. It's more like a quick menu where you can configure an activity, so when you enter the menu you'll be editing the last workout you created from here.
Desde este menú la creación es muy sencilla. En primer lugar introduces el intervalo de trabajo, después el tiempo de descanso y el número de veces que te vas a castigar con estos intervalos (el número de repeticiones). Estos valores pueden ser en distancia, tiempo o «abierto», donde irás marcando los laps libremente, normalmente en el momento justo anterior a echar el hígado por la boca. Por último podrás establecer unos tiempos de calentamiento y de enfriamiento.
As an option to create a quick workout it is very valid, and it is a good option if you have not planned anything in advance and want to do something fast. In this case we cannot select the target of the intervals (to stay in a range of pace or heart rate). To do it that way, we have to create it from the computer through Garmin Connect. These workouts will be stored in the memory and will be accessible from the clock any day you want to repeat them.
As with manually created training, you will set up warm-up, cool-down, how you want intervals and recovery intervals, which you will then repeat or not.
You can do a basic training without any objective where you will mark the rhythms you want
A session with a target pulse to be achieved
Or seek to achieve and maintain certain rhythms.
Once you have created and saved the training sessions, you can send the training session and you will find them in the training sessions menu. It is therefore important to give a name to each session so that you can identify them quickly.
Once you are training, the watch will mark the steps as you progress in your workout, indicating what period you are in (warm up, recovery or interval, in which case it shows you the target), and the duration or distance to be covered. In this case, it asks me to run for 1 km at a pace between 5:15 and 5:25.
But don't worry, you don't have to keep an eye on the clock screen. If you get too excited and run more than you're supposed to for that stretch, the Fenix 2 lets you know
Just like if you go too slow looking at store windows, it will also warn you that you are going below what you had planned.
As you can see, the training development is very complete, but I recommend that you know beforehand what you have to do in each interval, because with the screen resolution of the Fenix 2 it's quite difficult to see what the target time is while you're running. I, at least, have a hard time with it.
Running indoors with the Garmin Fenix 2
With the Garmin Fenix 2 you can run not only on the street, but also indoors (on a treadmill or in an indoor track). And you can get the rhythm and distance data in two different ways. On the one hand, the way we are used to, by connecting a foot pod through ANT+ and placing it in one of our shoes. From the sensor configuration menu you can add it very easily.
But in the Fenix 2 you have the possibility to run only with the watch on your wrist, and you will have the calculation of rhythm and distance thanks to the internal accelerometer of the watch. To do this, the watch has a learning function that will take data as we run outside with the GPS activated. When you buy it you have to know each other. You have to know how to use it, and the Garmin Fenix 2 will have to know how you run. That way you will be a perfect couple.
And the more miles you run with the watch outside, the more it will know about your running and give you more reliable data, so don't expect to take the watch out of the box and run on the treadmill.
But it's not enough that I tell you this is so, period, I test it and you make sure it works the way you want it before you buy it. For the test, I'll take a Garmin 620 with the GPS activated that will set the tone.
I did a short race starting at a steady pace and then trotting to gradually increase the pace, and thanks to the Garmin Connect graphics, we can analyse the result.
To begin with, let's look at the distance measured in each case. I remember that the Garmin Fenix 2 has its GPS turned off.
The Fenix 2 has calculated 1.67km while the 620 has marked 1.81km. 140 meters between both means less than a 10% difference that I consider a quite positive result, since it is making the calculations exclusively through the movement of my arm.
Now we are going to compare the rhythm graph, in blue the 620 and in red the Fenix 2. There is a strange jump at the beginning of activity in the 620, but from that moment on the graphs are very similar. Even in the case of the 620 the graph appears slightly corrected, with less abrupt changes, while the Fenix 2 picks up the change of rhythm before the 620.

So the Fenix 2 makes a fairly accurate approach to running indoors, and you can keep track of your indoor training with this Garmin utility.
Cycling
In the Garmin Fenix 2 you will find a specific cycling profile, which means that you can set up the screens for the sport profile completely independently from the other activities (for example, setting the speed information to km/h instead of min/km).
So far, more or less what many other watches can do, but where we find the real differences between what the mid-range models offer or what we can find in high-end watches, as is the case of the Fenix 2, is in the external sensor support.
The Fenix 2 allows us to pair up the watch with a multitude of ANT+ sensors. From speed or cadence (or speed/cadence) sensors, to single crank or left/right power sensors. In addition, when you connect a speed sensor you can tell the Fenix 2 when to take information from the sensor, whether only indoors or at all times. Therefore, we can find an indoor cycling option, to train on a roller and disable the use of GPS automatically.
On screen we can select, as in the rest of sports, all the data we consider appropriate and with a maximum of 4 data per page. You can place the watch on the handlebar with a suitable support, or wear it on your wrist as you usually do. In this case I would recommend not putting too many fields on each page, if you want to have a quick readability of the data (no more than 3).
As you may be used to see, in the clock we can get the instantaneous speed directly through GPS data. In the case of the Fenix 2 I found it a bit slow when updating the speed, so if you are going to use it frequently to ride a bike I would recommend you to get a speed and cadence sensor, that way you will get the speed directly from the sensor, being totally real at all times (as long as you set the wheel measurement correctly).
I leave a video for you to judge for yourselves whether or not you need an external sensor for your use.
Swimming
The Garmin Fenix 2 will give us two options when it comes to getting in the water, swimming in open water or in a pool. This has been an important addition to the Fenix 2, something that the original Fenix does not enjoy. However, we still do not have the possibility of obtaining pulse information, something that Suunto and Polar have already been able to solve in different ways but that Garmin still does not contemplate in their watches.
Open water
By open water, the Fenix 2 refers to any water activity that does not take place inside a pool. That is, if you swim in a river, lake, sea or watering hole, you should use this mode. Anything that is not inside a pool with a certain size and that is in the open air.
Due to the time of year we are in and the lack of a wetsuit (I remember that I am mainly a runner and I don't have more typical triathlete material) I haven't been able to test exactly the benefits of the Fenix 2 in the sea.
In this case, the Fenix 2 will use the GPS data, but before continuing I would like to remind you how the satellite signal works. Every time the watch enters the water (that is, with every stroke) it will lose the GPS signal. This is a complicated way to implement for all manufacturers, because as they do not have a continuous signal, the watches must apply a correction algorithm to determine which is the route that you have followed at each moment, because if you do not do it, the activity plan will jump continuously.
In addition to the GPS, the watch will also take data from the internal accelerometer to record other information, such as strokes per minute.
Of course, the data pages can be configured with values specific to swimming, with specific information on distances and strokes. All data is treated in a way that is specific to the sport in question.
In the case of swimming in open water, we must give greater margin of error to the distances offered, since by losing and recovering satellite signal continuously, the data provided will be more of an approximation, so you should not take the distances covered to the letter.
Swimming pool
In the swimming pool mode the GPS will be completely disabled (even if you are swimming in an outdoor pool) and all the information will be provided by the internal sensors of the watch. Information such as distance and number of strokes
You will get the distance because before we start swimming we must enter the data of the size of the pool. Then the Fenix 2 will be able to identify when we are doing a stroke and when we have reached the end of the pool. At that time it will know that we have completed a stroke and we are starting a new one.
The size of the pool can be selected directly (e.g. 25m or 50m) or the distance can be entered manually.
En definitiva, toda la información que registra el reloj está basada en el movimiento, tanto de brazadas como a la hora de terminar un largo y empezar uno nuevo. Así que la recomendación que nos da Garmin es que los movimientos sean enérgicos, para que el reloj sea capaz de registrar todos los eventos de forma satisfactoria. Es decir, al finalizar el largo da la vuelta con decisión. Y si te encuentras con un amigo del instituto tres calles más allá y quieres saludarle, pon el reloj en pausa o «marearás» todos los registros que estés haciendo.
The watch will also give SWOLF data, which is the sum of time in making a long stroke plus the strokes needed to do so. The acronym comes from swimming and golf, and as in the latter sport, the lower the number of strokes, the better the level of your game.
Within the activity's own configuration we can also set alerts, based on distance or time, and at the end of the activity we can always return to the clock to check how the session went.
And you will be able to analyse, just like in a race, all the exercise data: time, distance, calories, average pace, total strokes, average length and finally the average SWOLF of the swimming training session you have just done.
And remember, when you synchronise your watch, you'll have all the details of your workout in Garmin Connect - data such as distance, pace and SWOLF.
You will have access to the splits or laps, which will also reflect the breaks, if you do so (in this case I didn't do any). You will also be told the number of strokes and the swimming style.
And since man does not live by numbers alone, you can also expand the data graphs, which of course you can compare between them.
Multi-sport mode
Dear triathletes, this is the point that many of you wanted to reach. Yes, the Fenix 2 has a mode called multisport, which is commonly known as Triathlon. But duathletes, do not feel discriminated against, because at Garmin they have also thought of you and you can also use the Fenix 2 in your competitions.
The way to work with this mode is really simple. Once you enter the multisport menu you will be able to select which activities you are going to do, and therefore leave prepared which pattern you will follow. The most typical will be the swimming - cycling - running
But as I say, it doesn't mean you can't think about signing up for other disciplines, like cross-country skiing, and then jumping in the water to swim. Very refreshing.
When it comes to displaying sports, it will display them individually, both on the screens shown on the watch and when synchronising with Garmin Connect. So in swimming you'll have the screens set up for swimming and in cycling or running you'll have your own. You can also activate the one that includes the transition times from one sport to another.
Therefore, it is not a specific sport profile, but the union of two or three profiles. But using it in this way you will have the advantage that the activity time will count from the beginning of the competition and you also gain the possibility to know the transition times.
Internal sensors
In the Garmin Fenix 2 we can find a series of internal sensors, for the use and delight of the most adventurous. In the case of the Fenix 2 we are in front of a clock that is commonly known as a GPS + ABC clock, that is, with altimeter, barometer and compass. And to this we can also add an internal temperature sensor.
Barometric altimeter
The first thing we want to find in an adventure watch is an altimeter. This way we will be able to know the altitude data in a more real way, because in GPS watches without this feature the altitude we get is the one given by the GPS, which is not very accurate, or at least not the one a mountaineer needs. However, if during the training you do not consult the altitude it will be worth this system, because normally after synchronizing the activity all the programs already have this value corrected, so when analyzing the data it will be more or less correct.
But if you're in the middle of a mountain, the altitude data will be relevant at the time, and depending on how your screens are configured (even if you're not recording activity you can still access this information), you'll have the current altitude data as well as a graph of the elevation you've been going through.
The altimeter can be calibrated, either automatically at the beginning of each activity, you can set it to be continuously calibrated, or you can do it manually, for example if you are at sea level or if you are at a point where you know exactly what the actual altitude is.
Let's remember that this is a barometric altimeter, so its operation is based on the relationship between pressure and altitude. As the atmospheric pressure decreases with altitude, its exact operation is conditioned by the weather changes. Not that this is bad, is that the other option is to put a radio altimeter, which comes to be a radar. And maybe it is a little excessive to carry on your wrist ...
The barometer, besides being able to calculate the altitude, is also useful in predicting the weather. In fact it is possible to set a storm alarm based on the drop in air pressure in the last three hours. It can be set to warn you if the drop is between 2mb and 6mb, in 0.5mb intervals.
That is, if you set it to 4 mb / 3 hrs, if the air pressure changes from e.g. 1010mb to 1006mb in less than 3 hours, the Fenix 2 will alert you in the way you indicate (tone, vibration or both).
Temperature
The Fenix 2 has an internal temperature sensor, not that it is very practical in normal use and if this is important to you I recommend the Garmin Tempe external accessory (which I will tell you about in a moment).
The internal sensor can be useful if you want to know the approximate temperature, because when you wear it on your wrist it will be affected by body heat, although if you use the Fenix 2 with the fabric strap over a jacket you will be able to record more real temperatures, as it will not be in contact with your body.
The question is, does it really work well? Well, there is nothing better than putting the clock in a controlled environment where we can know exactly the real temperature, so that we can evaluate the accuracy of the sensor. Looking at the kitchen, it occurs to me that I can check it by putting the clock in the oven at 200ºC or in the fridge at 8ºC. After evaluating it carefully, I choose the second option, so I send the clock to the fridge, on top of the yoghurts (so that it is not in contact with metal parts, normally colder). And here you see that after a while locked, it marks 8ºC.
This is to check that the thermostat on my fridge is working perfectly.
But in addition to this internal sensor, as I mentioned Garmin sells an external accessory that connects via ANT+ and is called Garmin TempeIt is priced at £30 and in addition to sending the actual temperature to the clock (and other compatible devices) it also stores the temperature data for up to one year.
It has the same format as the Foot pod, and in fact the support is the same. You can wear it on your shoe laces or put it somewhere like your backpack, so you avoid it being in direct contact with your body and confusing your reading.
Magnetic compass
Finally there is the magnetic compass, very useful when making navigation routes. Unlike the digital compass, with the magnetic compass you do not have to be moving in one direction for the clock to know where to mark the north. You can be still and rotate, the clock will continue to mark correctly.
When navigating with the Fenix 2 the use of the compass is important and it will make your task easier. Not only will it change the way the compass is displayed by an arrow, indicating the way to go, but it also adds the two marks on the outside of the screen that you will have to align with the mark on the top of the clock (above where it says Garmin).
Tools
The Garmin Fenix 2 is more than just a GPS clock for running, it is a tool. And as a good tool, it has several tools (worth the redundancy) for all kinds of uses, from the most adventurous to the simplest. Among the most typical we can find obtaining data from satellites, mark points or see what is the current route. But there is some other tool that surprises, like these I put you below.
Sun and moon
It tells you the time of sunrise and sunset, through the information downloaded from GPS. Very useful if you are in the middle of a route and want to know when to start looking for a camping area. It will also tell you what phase the moon is in.
Hunting and Fishing
Al más puro estilo Bear Grylls. Imagina que te tiran en mitad de un bosque, sin comida, y tienes que buscarte la vida. Pues el Garmin Fenix 2 te echará una mano. No es que te vaya a hacer la comida, pero sí te dirá cuáles son las mejores horas para «ir a buscarla». Está basado en la Solunar theoryYour attraction to the refrigerator in search of food (or beer) does not correspond with this theory, although it coincides with the times shown in the Fenix 2.
Area calculation of an area
Suppose you want to measure a certain area, but it's not a square, and you don't feel like doing complicated calculations or using topographic maps. Simply activate this tool, walk around the perimeter of the area of interest and the Fenix 2 will give you the total area. Easy, right?
Jumpmaster
Are you a skydiver too? You're a box of surprises. Well, don't worry, because at Garmin they've thought of you too. There are three modes for skydiving, HAHO (high altitude, high opening), HALO (high altitude, low opening) and Static. What's the difference between the three? If you're a skydiver, you're bound to know it. And if you're not, you'll have to find one to clear it up for you.
MOB
It's the acronym for Man Overboard, meaning man overboard. Think of going on a boat and throwing someone overboard. You can mark the position where you've thrown him, so you can come back and get him later. It's also a very useful feature if you want to run a successful drug transport business.
Battery life
Taking into account the type of user this watch is aimed at, it is clear that one of the most important things will be autonomy. And Garmin has taken this into account, providing the Fenix 2 with a fairly large lithium battery, with 500mAh capacity. And it is not only that the battery has a large capacity, it is also that you can configure different modes of use of GPS (which is what produces more consumption in the watch). We can record data every second, which is the usual. This includes data taken from GPS as well as other sensors that we may have connected to the watch, such as pulse sensor, cadence, speed or power. This would be the Normal mode that appears on the watch, and according to indications from Garmin is capable of recording up to 16 hours in a row.
But also from the activity menu (and configurable for each activity independently) we can modify the interval in which to record data in order to increase the total autonomy. According to Garmin data, with a data update every 15 seconds the clock will give us an autonomy of 20 hours, and doing it every 20 seconds would be more than 24 hours.
And if in spite of all this you still run out of battery power, you can opt for a third mode which is UltraTrac. It will record GPS data every minute and will not record anything from ANT+ sensors. In this mode of operation it can reach up to 50 hours of recording in optimal conditions.
Entre las pruebas de batería que he hecho, te puedo decir que hace unas semanas estuve de viaje en Disney. Para empezar, hice el «track» completo del vuelo, con una duración de 2h23m. Al día siguiente realicé la grabación de todo el día que pasamos en el parque, un total de 9h23m. En ambos casos la grabación era en modo 1 segundo. Después de estas dos pruebas de larga duración, y con el uso normal de reloj durante unas cuantas horas, así como sincronización de la ruta en avión por Bluetooth al teléfono, al reloj todavía le seguía quedando más de un cuarto de batería. Unos resultados impresionantes.
Lighting
In the case of the Garmin Fenix 2, the clock's illumination is red. Within the configuration menu, there is a specific one for the illumination.
We can regulate the lighting intensity in increments of 10%, we can change the time it stays on when we press the button dedicated to the lighting (5s, 15s, 30s, 1m or 2m), as well as disable the automatic switch-off function, that is, we turn the light on when we press the upper button and it will stay on until we press it again.
There is a third option, which is the automatic illumination. You can leave the automatic illumination on, or only from sunset; and it will remain on for the time you have previously defined. It will be activated when there is an alert or you press a button.
Daily use clock
Además de usar el Garmin Fenix 2 como tu reloj de entrenamiento, también lo podrás usar a diario (¡y usarlo como smart watch! más adelante hablo de ello). Puedes configurar la pantalla de formas muy diferentes, cambiando la información que aparece junto a la hora así como el efecto del «segundero» que bordea toda la esfera del reloj, al igual que contar con información adicional como la salida y puesta del sol, el día o la fecha, o la batería restante. Puedes pensar que la información ofrecida por el reloj es otra página de datos, y como tal, puedes configurar a tu gusto.
You can also program alarms, and more than one. They can also be recurrent (i.e. sounding more than once) on a daily basis or only on weekdays, and can alert you silently, by sound, by vibration or by sound/vibration together.
Connectivity
You can connect the Fenix 2 to your computer with the USB cable it comes with, which is also suitable for charging. This is the connection you will probably end up using by default, both for syncing with Garmin Express and for charging routes with Garmin BaseCamp or those you create from Connect. This is because it is the easiest and quickest way, and you can also charge your watch from your computer while you work on analyzing the downloaded data, checking or preparing a route through the mountains, or simply leave it connected and charging.
But in addition to the cable, the Garmin Fenix 2 lets you connect wirelessly via Bluetooth to both the Android and iOS Connect applications. In order to make use of this functionality, your phone must have Bluetooth 4.0.
The truth is that synchronization takes a long time, you even wonder if the phone has hung up, the clock, both or if you want to hang up while you wait. This waiting time depends on the amount of data you have pending to synchronize. But it is an option that is there, you can take advantage and if you do not have a computer at hand can save you in more than one situation. What takes longer is to transfer the cache with the satellite data as well as data from longer activities, because they are larger files. But on more than one occasion can save you from a rush and if you do not have access to the charging cable at that time will be grateful to have the possibility.
And thanks to this Bluetooth connection, you can also broadcast your workout or race live to anyone you want, just send them the link. Garmin calls this Live Tracking, and what it does is broadcast your location to the Garmin Connect website and that's where your friends can connect to follow your workout, as long as they have the link to the activity. You can provide this link privately via email, or you can post it on Facebook or Twitter and give all your followers a chance to see your workout. And I can think of many possibilities for this option:
Elite athletes who want to have more contact with their social network followers. Imagine Kimetto broadcasting some of her workouts, I'm sure her Facebook followers (if she had any) would be happy to see it
Less elite athletes (like you and me), who like the family to encourage us in long runs, can know where you are so they can go there to encourage you and once you have passed, go and find the next meeting point.
Follow up your training by a coach. He doesn't even have to be in your town. He sets up a training plan for you and can do live training analysis, even for several athletes at once.
Going out on a mountain route so that your family can see, for their peace of mind, that you haven't got lost. Of course, for that you will need a satellite phone, because if you have coverage on your mobile phone, you have certainly not gone far.
To make use of this option you must carry a phone with you, because the Fenix 2 does not have 3G connectivity (there are some watches that have this option, but it is not common, especially because of complications with different operators in each country). Sounds good, right? Well, now comes the catch, and is that the use of Bluetooth can not be simultaneous with the use of ANT +. This is something specific to the Fenix 2, because with the Garmin Forerunner 620 or 920xt this does not happen and you can use Bluetooth simultaneously with ANT +.
So, since there is no simultaneous use of Bluetooth and ANT+, you have to choose if you want to do a LiveTrack session or if you want to have information from the sensors paired with the clock.
Finally, you can also turn your Fenix 2 into a smart watch, receiving alerts from your phone on the watch screen. Simply pair your phone with the watch, leave Bluetooth on, and activate notifications from the watch menu.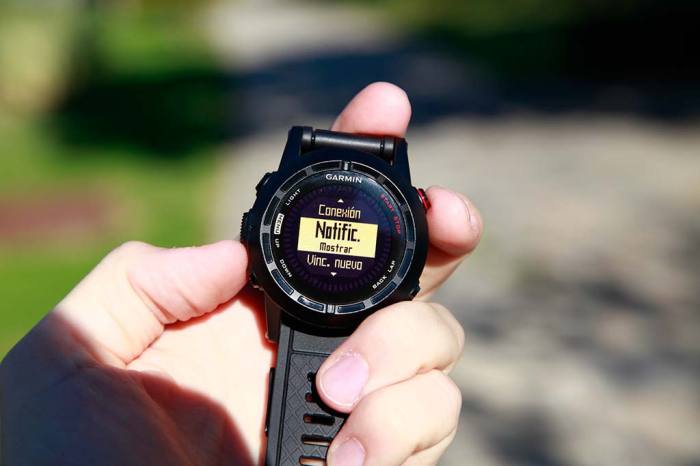 From that moment on, you can receive notifications on your phone. It doesn't reach the integration level of, for example, Android Wear, but it can certainly help, although obviously the autonomy will suffer and you will have no choice but to charge your watch more frequently.
Garmin Connect
Garmin Connect is the trunk where everything we do with the Fenix 2 will go. This is the page where we can analyze the data of all our activities, as well as schedule workouts, routes, see personal records, check how other friends are training and much more.
As soon as you log in to Connect, you'll have access to the complete control panel, with all the information available at a glance.
On the left side you have the complete menu that will give you access to all the different options. Activities, calendar, segments...
Under that menu you will have the inbox in case you have messages, the data to be synchronized (training sessions or trips, for example) and finally the section of your profile where you can modify all your user data as well as information regarding how you want the information to be displayed.
You can enter the section of activities to see all the ones you have done and synchronized, with a small reference information for each of them with specific data according to the profile, such as swimming data.
Entering each one of them you will have access to a multitude of information, in figures or in graphs. You can customize which graphs you want to see and passing the cursor through each one of them you will be able to have more exact data, both from that graph and the upper or lower ones. In the lower part you have access to the more detailed statistics and changing the tab you would have the splits (autolaps or laps created manually) or segments that you have marked.
You can click on any graph if you want to enlarge it to analyze the details more slowly, and also compare it with any other of the values obtained (in this case I examine the vertical oscillation graph along with rhythm and cadence).
There are many other sections, as you can see in the image of the breakdown menu: reports, segments, personal records, etc. I will not cover them all because it would be quite extensive and really the information you will consult most often is that corresponding to each activity, and it is not a question of making this test even longer than it already is.
Summary
There's no doubt about it. The Garmin Fenix 2 is a great watch, in every way. Not only is it big in size, but also in functionality and in the amount of things it will be able to do. After about six weeks, where the Fenix 2 and I have shared many hours, you can be sure that I have finished impressed. From its ability to help you navigate in the mountains, to Garmin's most advanced racing features, and even making you think it might be the perfect watch for a triathlete.
But not everything is perfect. The screen could be better in terms of readability and, above all, resolution. This is something that when we use data pages with four elements or in interval training with smaller text, it shows. Compared to a Polar V800For example, you can see quite a difference (in favour of the Polar).
Not being able to use Bluetooth with ANT+ simultaneously makes a feature like LiveTrack virtually useless, as I can't think of anyone who can do without all the pulse data when recording an activity, in favor of sending the live training. These are things that we are sure to see improved in future editions of this tremendous watch. Worth the wait? Hard to decide. If you need a training partner, I don't think you should wait. This device will satisfy the 90% of its users. in any of its many uses.
¿Es este es el reloj que estabas buscando? Si estás dispuesto a gastar esta cantidad de dinero, me parece complicado no aconsejárselo a nadie. No encuentro ningún motivo por el que poder decirte «no, no lo compres». Es probable que no haya nadie en el mundo que pueda aprovechar el reloj al 100% y que vaya a sacar partido a todas sus funciones. Aunque quién sabe, quizás hay triatletas que saltan en paracaídas, esquían, practican escalada y tienen como costumbre medir grandes áreas mientras cazan y pescan. Pero con que uses el 50% de todo lo que ofrece estarás más que satisfecho.
If you only want it for road running and you are not going to use navigation functions it is probably too much and it will be the only time you can say that this watch is not for you. But if you are someone who practices a lot of sports or who likes the world of trail running do not hesitate, if you choose the Fenix 2 you will not be wrong.
Did you like the test?
I hope you enjoyed this comprehensive review. It took many hours to put it together. If you liked it and want to help, just comment below what you thought of the test, or ask your questions, as I may have left something along the way. Comment on this post with your friends and share it on social networks. If you are encouraged by the purchase of the device, you can do it through this link This way it will cost you the same or cheaper than the official price, and I get a small commission that will help with the purchase of new devices for new tests.
Be sure to keep an eye on him too Amazon Germanyyou might find it a little cheaper.
Buy Garmin Fenix 2
You can find the Garmin Fenix 2 in two versions. On one hand the normal one, with black strap and inverted screen. There is also the special edition, with red strap and normal screen (black text on white screen). Within both versions you can buy only the watch or in kit are the pulse sensor HRM-Run.
In these links you can find very good prices (and many times there are offers in Amazon in Europe really interesting) and remember that buying through them will help the maintenance of this page.
(
115opiniones de clientes
)