Garmin's Edge Explore saga has been around for years, and until now it has always been a model-specific version. The Edge Touring came from the Edge 810, the Edge Explore 1000 from the Edge 1000, and the Edge Explore 820... from the Edge 820.
In addition to the fact that we were starting with another, better-known model, there was another problem, a price that hardly varied from the full version, which made little sense.
Until today, because the Garmin Edge Explore is a model in itself and since it is not derived from any other specific model, its price is much more interesting than in the past.
It doesn't mean it's any different from the rest of the range, not at all. In fact, it drinks from them in every way: aesthetics, menus, etc. But now it's a specific device with its own characteristics and, in my opinion, they do it much better to cover the segment you want to cover.
If we add to these features a very interesting price for the type of user offered I think we are in front of a winning device.
Summary
Overall - 9
Training possibilities - 7
Platform and applications - 9.5
Autonomy - 9
Finishes and comfort - 9
Price/performance ratio - 9.5
---
The good
Point-to-point navigation with the possibility of creating routes from your own computer
Very interesting price
Enough inches to comfortably navigate
The screen is of good quality, in some situations with more contrast than the Edge 1030
The bad
The most important absence for most users is the lack of a barometric altimeter
No front support included, only handlebar support
Find the best offer
Garmin Edge Explore, what's it like?
Garmin Edge Explore sits somewhere between Garmin Edge 520 Plus and Garmin Edge 1030. It's a simpler version of Edge 1030 with a more contained size, but with a screen large enough to comfortably follow routes, something neither Edge 820 nor Edge 520 plus can claim.
Its aesthetics are totally reminiscent of Edge 1030, but it is much more contained in size, but far superior to Edge 520 and Edge 820 which, with a screen size of 2.3″ is a worse choice when it comes to following a route.
And it's not just a matter of size to display the maps, but also to represent the numbers at a larger size (those who have a vision problem will understand perfectly what I mean).
The fact that it's a simplified version doesn't make it an unhelpful device. In Edge Explore we're going to find the features that, let's face it, most riders look for in a bike computer: a good-sized color display, route navigation, data screen customization, support for external sensors, and even mobile phone notifications.
So, where has it been cut? Well, everything that has to do with training functions, starting with the impossibility of connecting a power meter.
Be that as it may, let's clarify what features we do find in Garmin Edge Explore:
Colour touch screen from 3″ with 240×400 pixel resolution
Complete navigation with maps, turn-by-turn advice, points of interest, route creation and direct route calculation
Possibility to create a route on the device to a specific point of interest or address (take me to the nearest gas station or to the main square of such a village)
Creation of routes based on a certain distance (for example, ask him to design a 50 km route). These routes are also based on the Trendline function to find routes for cyclists
Ability to upload routes externally (from files or created through Garmin Connect or other applications)
16GB of internal space with map of the region where you buy it (in our case, Europe)
Compatibility with external sensors both Bluetooth and ANT+: heart rate, speed and/or cadence, external lights, Garmin Varia radar...
Several data pages, two of them customizable
Incident Detection, Tracking Other Friends with GroupTrack, Messaging Between Group Cyclists, Sharing Live Training with LiveTrack, Mobile Phone Notifications
Support for Connect IQ applications and data fields
Up to 12 hours of battery life
Guest mode for companies to provide the device with specific configurations (bike rentals, routes, etc.)
Therefore, almost all basic functions for most cyclists are included, and 100% for tourists or cyclists whose objective is entertainment and not competition.
But I'm sure you're wondering what we're missing compared to similar devices in the Edge range. So here we go:
No power meter support, including no performance metrics such as FTP or VO2Max
No possibility to create advanced trainings
Only one profile is available, we cannot have several with different data screen configurations
We only found two pages that can be configured, and without as many data fields as other models
We don't have any Strava segments
Without a barometric altimeter, the accumulated altitude and meter data will come from the GPS data (less accurate)
No light sensor to control the brightness of the display
No WiFi connectivity available
Yes, there are quite a few things, so only you can know if they are features you need or will miss.
Perhaps the most conflicting part of the cycling profile is the absence of a barometric altimeter, everyone likes to have accurate data and the accumulated meters in cycling is a very important aspect of every outing. Although remember, Garmin Connect corrects the altimeter data after synchronizing the activity, so the accumulated meter data you see in the activity summary is not the one recorded by the computer using the GPS.
What it offers and configuration possibilities
The Edge Explore's simplicity is certainly reflected in its user interface, which lacks as many options as the Edge 1030, but this in turn is a good thing because it makes it easier to use.
This is the main screen you will find when you turn on the device.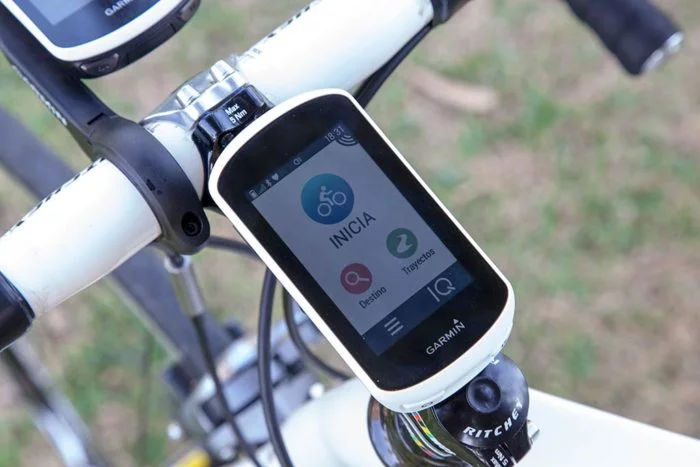 You can only start the activity or choose one of the ways of navigation (I will explain later the difference between destination and routes).
At the bottom of the screen we have access to the configuration menu or the Connect IQ applications you downloaded from the store.
This is the first place you'll want to go, because this is where you'll set up your data screens. Garmin Edge Explore supports two data screens that you can set up as you wish (or one, if that's enough), along with other screens that you can turn on, off, or specify when you want them to appear.
When customizing the data screens you can choose up to 10 values on each screen, but it is not mandatory to choose 10, it can even be 1, and the fewer values you have the bigger the screen will look.
Once you have selected the number of data you want to display you can also select the layout, giving more importance to any of them so that it is the most visible (for example speed).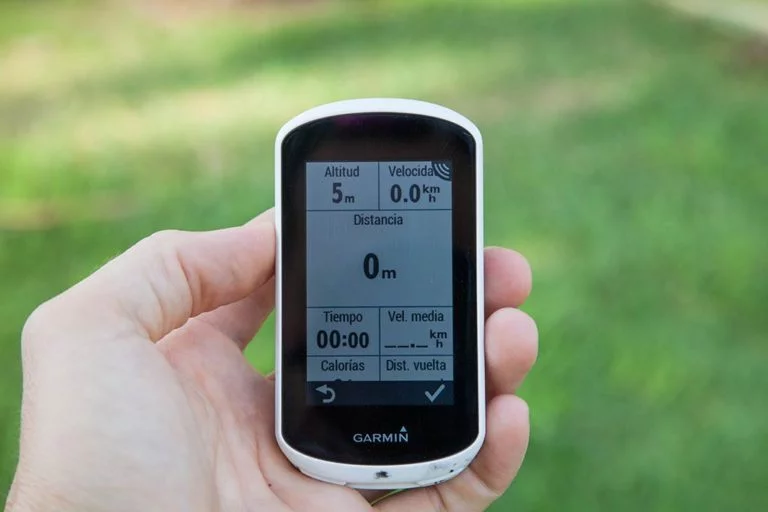 You can also change where a particular metric appears by simply clicking on it and then selecting its new location.
As for the predefined pages we have four more: map, altitude, GroupTrack and compass. In them you will also be able to configure two data that accompany the graph in question (except in the GroupTrack page). They are the ones that appear in the lower part of the screen.
I don't show you the GroupTrack one because it only appears when there are friends in the area. And apparently, I don't have any friends :(.
As is customary with customizing any Garmin Edge activity profile, there are a number of other settings you can make. Pause, lap and auto-scroll, alerts, route type settings, and more.
When you have everything set up you can start pedaling from the main menu you saw earlier, but now the buttons at the bottom of the device come into play. Pressing the one on the right starts or stops the training while the one on the left will mark laps manually.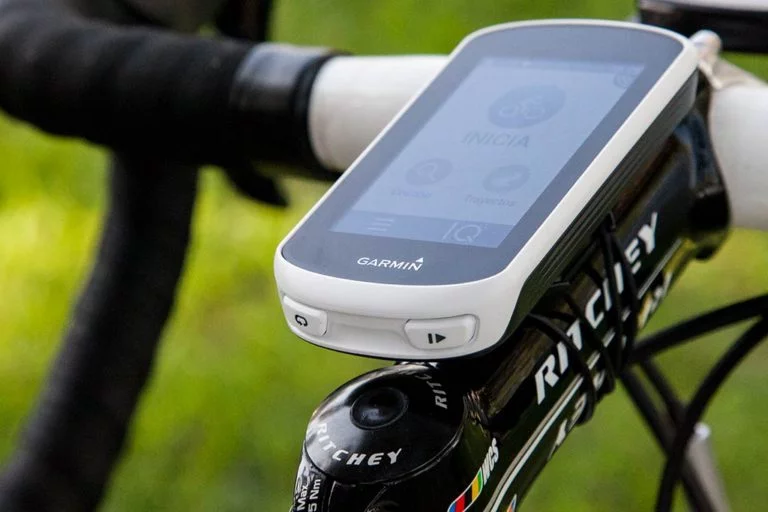 The side button will allow you to lock the screen (or turn off the Edge Explore if you hold it down). Locking the screen does not mean you cannot move from one page to another, that gesture is supported, what it does not allow is to slide the top menu or return to the home page.
And now that I'm talking about the top menu, you can access it by sliding up and down. Here we have direct access to sensors, settings, notifications, etc.
As for the recorded activity, it's the usual Garmin thing. After pairing by cable or Bluetooth with your mobile phone - instant if you have it with you - it will be uploaded to Garmin Connect and you can review all the details on the web or in the mobile application.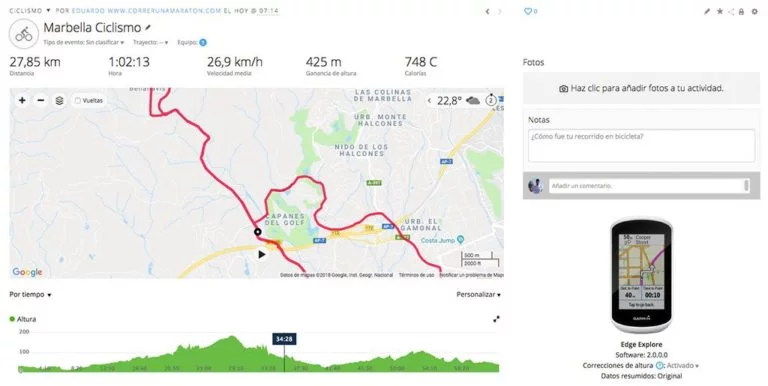 As far as GPS signal reception is concerned, it is not worth creating a specific section because there are simply no problems, at least on the road, where I spend 95% of the minutes I train. On a mountain bike there should also be no problems unless you are riding through heavily wooded areas, at low speed or through very steep canyons.
Cycling computers have it much easier than clocks to obtain quality GPS data. First of all by position on the bike, since they are always fixed on the handlebars and totally oriented to the sky. Their surface area is much larger, so no inventions have to be made to design a small antenna. In addition, the speeds at which we ride the bike are much higher than those we run or walk, so the distance between the points is greater (even recording at rates of 1 second). For all these reasons the tracks are almost always perfect.
Of course not everything is the track of the route, also the distance and speed when measured by GPS. But for the same reasons as before there is no problem. In fact I have the speed sensor connected to only one of the devices while the other gives the data exclusively by GPS, and the differences between them are minimal.
Where there is a difference is in the altimetry and cumulative meter information. As you've read, Garmin Edge Explore does not have a barometric altimeter, so altitude data is obtained through GPS 3D triangulation, which is not very effective. In fact, the altitude calculation has a typical margin of error of +/- 23m.
Is this a problem? Well, it depends on when the accumulated altitude and positive meter data are important to you. If it is during your bike ride, and if you want to have reliable data at any time (which are not exact, since they are also affected by changes in atmospheric pressure) your best option is to have a device with a barometric altimeter. The same thing happens if you want to consult it on the device immediately after finishing.
But if you want to check it quietly after you finish your trip and you don't care too much about the data at the moment, then you don't have a problem. Both Garmin Connect and other platforms (Strava, etc.) make a corrected calculation with known data, so your synchronized activity will show the revised altitude data (and not the data recorded by the GPS).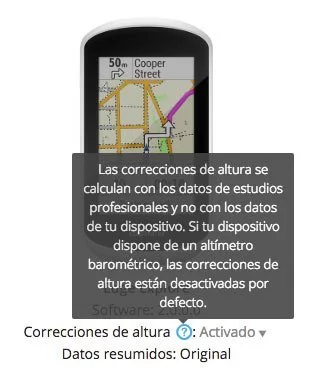 - Note of interest
I was preparing a good comparison between three devices with barometric altimeter and the altitude data through the GPS of the Edge Explore. In fact I was even "announced" in social networks...
https://www.instagram.com/p/BoEBZLTnu6p/
It was finally something else I ended up trying...
https://www.facebook.com/correrunamaraton/posts/968291653370752?__xts__[0]=68.ARCMs_4uSfFcQyouEZv35qxvg8dCxyKef4FPJzDE2EnKf7EbYFcbR47veB4_SYG7FjGHdUtIq1ihRgz68-AYVDQsO3oPHd99rGoRcaIrxmETLSO3rLJJe05ZL52Z5lYJxQyJhpmxxxW5habPvFXsDtZMj6yDTUlxry8mbYmRPJn1QOIPC6Wq&__tn__=-R
A mishap at the exit of a roundabout ended a day of important training and a lot of tests I wanted to do that day, ending up embedded against a guardrail.
Luckily it all came down to a sharp blow to the inside of the leg and a lot of scratches, as if I had fought a tiger.
I don't know if I will be able to repeat the test before sending the device back (because I don't know when I will be able to mount it again), although really the result is very similar to what I can get with any other device that gives altitude data exclusively by GPS.
The positive side? We know the accident detection function works properly.
Navigation
If you are interested in the Garmin Edge Explore it is for its navigation and maps. It's not for nothing that this device is focused on. Well you can rest assured, because the Edge Explore offers "the most of the most" that is available within Garmin. In navigation the options are the same as the Edge 1030 that doubles its price. Same maps, same navigation possibilities, same route calculation, etc.
The only difference is that while on Edge 1030 everything is under the same Navigation menu, on Edge Explore it has been separated on the main screen between Destination and Routes.
The first option of Destination is similar to what you can find in your car's navigation system. It offers you these options:
Search on the mapShow the map and mark the location where you want to go
SearchSearch: search for points of interest, coordinates, crossings, etc. Both nearby and in the location you mark
Address searchYou enter a known address and the route to that point is calculated
Saved LocationsObviously, if you have saved a location before (such as your home location)
RecentLast searches you have made
So in this option we'll create a route to a certain point, from A to B, in the traditional way. But the most interesting part of doing it from the device instead of creating a route from other places - for example, Google Maps - is that Edge Explore has the Trendline function for route calculation. So it won't take you to the fastest route that includes motorways, nor to the most appropriate one for pedestrians, nor even to the one that a priori might be more suitable for cycling but crossing hundreds of scary urbanizations. Garmin includes in its maps the data of routes in popular roads used by cyclists, that's the Trendline routes and they are the roads that the calculation will give preference to.
And how does Garmin know which roads are the most popular? Because it uses the millions of synchronised workouts in Garmin Connect to heat map which roads are the most popular, so it's important to select the right route mode depending on whether you're riding a road bike or a mountain bike.
The second option of navigation is Journeys. It has three possibilities:
Saved journeysA route that you have downloaded or synced from Garmin Connect
Create JourneyYou can create an A-B navigation route as in the address search option, or do something more complex by going through several A-B-C-D places.
Round tripEdge Explore: routes where you specify a desired distance you want to travel, and Edge Explore will return three suggestions based on that distance, starting location (in case you are not going to start at the current point), and even starting direction of the route. But always circular routes and not going back and forth on the same road
Once you have your route designed you can start your training. The navigation offers all the information you expect. It shows you the map with the indicated route, warns you in advance before you have to make a turn (both on-screen warnings and audible warnings), in case you get lost it will recalculate the route, etc.
I insist, in this respect Garmin has not made any cuts with respect to the superior models.
Buy Garmin Edge Explore
I hope that this complete analysis has helped you to decide if it is a valid device for you or not. All the work I do you can consult it without any cost, but if you want to support the web and with it the work I do, the best way to do it is to buy your new device through the links I provide below. And if you don't buy it today, remember to stop by when you are going to do it!
Find the best offer
Through these links not only will you get a very competitive price and the best customer service, but I will also receive a small percentage without costing you any additional outlay, which is what allows me to continue offering you proofs like this on the page.
If you have any questions, remember that you have the comments section at the bottom, where I will try to answer all your questions.
My opinion of Garmin Edge Explore
Garmin has finally succeeded in bringing an Edge Explore to market. Gone are the models that are simply trimmed versions. It's still software like any other Garmin model with less features, but now it's a model in its own right. And above all, it's temptingly priced and not slightly trimmed from the original model, of which it's simply a rehash.
The screen is high quality and perfectly sized to make navigation comfortable. In fact, I would love the Edge 1030 to be this slightly more compact in size.
Otherwise it has all the functions that we can ask from a device of this type, perfectly valid for the vast majority of weekend cyclists.
There are only two details that may be missing from the Edge Explore if this is your profile: the barometric altimeter and the Strava segments. And of course, if you use a power meter, it becomes a no-go. If none of this is a hindrance, you'll be just as happy with the Edge Explore as you are with an Edge 1030. It's the best possible choice for a computer with a color screen and navigation, period.
As I say rather than liking the device - which is not new in any way - I like Garmin's proposal and that they have finally hit the nail on the head with what this type of user wants.
For me it is not an option because it is not compatible with a potentiometer, but in case it is, it could perfectly be my reference cyclocomputer over the very expensive Edge 1030.