At last the Garmin Edge 540 and Edge 840 are going to hit the market, and they will do so possibly next week (mark your calendar for April 11). As expected these two new models will bring with them the new features of the Edge 1040 announced late last spring, but adapted to the smaller sizes.
As you might guess, the difference between the Edge 540 and Edge 840 is in the touchscreen. The new features they bring with them are those already presented in the Edge 1040, as well as versions that will have solar charging. Along with a new processor, multiband satellite reception, greater autonomy and finally leaving behind the microUSB connector in favor of USB-C.
New Garmin Edge 540 and Edge 840
The new features of these Garmin Edge 540 and Garmin Edge 840 come in both hardware and software. It is, in short, a smaller and non-touchscreen version of the Garmin Edge 1040 presented almost a year ago, and makes an important qualitative leap with respect to the Edge 530 and Edge 830.
E
etically it is a very similar device, although it grows slightly in both width and height, mainly to make room for solar charging.
Edge 540/840 and Edge 540/840 Solar versions available
Same 2.6″ screen size.
It grows to 57.8×85.1mm (from 50×82 of the Edge 530/830). Thickness is virtually the same, just 0.4mm thinner in the new model.
It increases the weight to 80 grams (85 grams for the solar-charged model). The Edge 530 weighed 75.8 grams.
USB-C charging connector at last
Autonomy of up to 26 hours in the normal versions and up to 32 hours in the Edge 540 Solar and Edge 840 Solar.
Up to 42 hours in power saving mode (60 hours Edge 540 Solar / Edge 840 Solar). The Edge 530 offered 20 hours of autonomy, so we have a minimum increase of 30%.
Multiband satellite reception
SatIQ function, in which the device automatically selects the best satellite configuration at any given moment
Configuration via cell phone
Connect IQ store directly on the device, with the possibility to update items via WiFi
ClimbPro on any output, without having any loaded route
Power Guide, allows you to create a power strategy for a given navigation route (something similar to what BestBikeSplit offers). Inherited from the Edge 1040
Suggestion of training sessions based on competitions or events scheduled in the calendar, as in the FR255 and FR955, to focus the fitness peak on a specific day
Stamina function, an algorithm that allows you to manage your effort during a full ride by indicating your remaining energy. Very similar to what Xert.
Classification as a cyclist, in which the computer will give information about what type of cyclist you are based on power and heart rate data for at least one week (climber, time trial, sprinter, etc.), highlighting strengths/weaknesses
16GB of internal memory in the Edge 540, 32GB in the Edge 840.
Estimated Edge 540 price: $399 for Garmin Edge 540, $499 for Garmin Edge 540 Solar
Estimated Edge 840 price: $499 for Garmin Edge 840, $599 for Garmin Edge 840 Solar

Differences between the Garmin Edge 540 and Garmin Edge 840
There are very few differences between the Edge 540 and the Edge 840, being practically centered on the touch screen of the top model. That touchscreen will be useful if you're going to be doing a lot of navigation; it allows you to scroll around the map, zoom in and out, tap to navigate to that point... anything you need to interact with in the middle of an outing will be much more convenient on the Edge 840.
Therefore the recommendation is to opt for the Edge 840 if you are going to do a lot of navigation, being able to stay perfectly in the Edge 540 if your interaction with the computer is going to be very reduced. Because unlike the previous models, in the new podrás already do the configuration of screens and other details comfortably through the phone.
Additionally the top model has double the storage space, as while the Edge 540 makes do with 16GB of memory we have up to 32GB of memory in the Edge 840. Unlike the Edge 1040, however, the solar-charged versions do not offer more storage.
Of course, if you're interested in route navigation, and given the prices involved, perhaps the smartest option is to go straight for the larger screen of the Edge 1040.
Highlights
Compared to the Edge 530 and Edge 830 there are several features that will surely catch your attention. In my opinion the renewal of ClimbPro is the most remarkable since now pod We can have information of the climbs in any output, even if you do not have a route loaded. Garmin follows in the footsteps of Hammerhead that already offered this possibility.
Previously to have the information of each climb it was necessary that we had loaded a route, so that ClimbPro would know where we were going. But it didn't show anything even if we were climbing a pass and that was the only possible route.
Now it is no longer necessary because the device will show us the information of the upload we are doing at that moment automatically.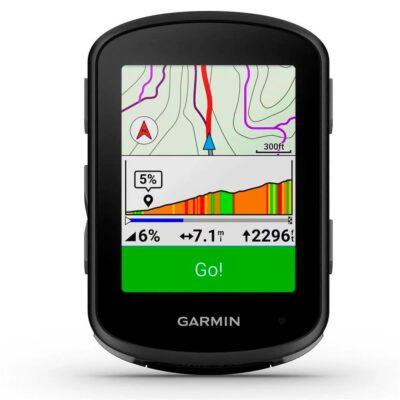 I think it is the most interesting feature of the new models and, if you are a user of any of the previous models, the one that will lead you to make the decision to renew your device. But it is not the only one, both Stamina and Power Guide can be other good reasons.
Stamina has been present in Garmin devices for some time now. It will tell you how much energy you have left, so you can calculate whether you are going to poder finish your ride or if you are going to have to "call the tow truck".
Power Guide debuted with the Edge 1040 and goes one step further than Stamina. It is a power plan set for a given circuit, but obviously being a power plan you will need to have a potentiometer.
In Garmin Connect (web or app) you select a route, weight, type of bike and terrain. And based on your FTP, power targets will be set for the different sections. These targets go by GPS location, not by time, so don't worry if you're ahead or behind the estimated target time.
Obviously it is something interesting if you are doing a ride on your own or if it is a non-draft competition, because as you ride in a peloton the power targets and the actual power will differ tremendously.
—
That said, in a week's time we will have all the details officially, although I can already tell you that they will not be very different from what I have told you today.