Reviews
Garmin Edge 530 | Complete test and review
The Garmin Edge 530 promises to not only match the success of the Edge 520, but surpass it. And the truth... it has countless reasons to do so. Before this Edge 530 there was an Edge 520 Plus, but the truth is that it went through the market without any shame or glory given the small differences with the rest of the range and, above all, considering that the Edge 820 was also there at a very similar price.
History has changed as the Edge 530 has made a remarkable leap in quality. It is almost at the level of the Garmin Edge 830from which very few things separate him. 
I'm not just talking about a remarkable leap in performance or speed (which is very obvious), but also in features. Garmin has given the Edge 530 a lot of new software and has not saved anything for its big brothers. So I see a tougher future for the Edge 830 in this generation because, except for the touch screen and small navigation details, both offer the same.
After many hours of testing with the Edge 530 I'm in a position to tell you all the details of Garmin's latest cycling product. These last few days have seen a lot of pedaling -if you follow me on Strava you'll have noticed- The pressure from Garmin to return the press units has been high (they have to rotate them through the media), but it's been enough time to check the operation of both this Edge 530 and the Edge 830 and to be able to tell you all their strengths (and weaknesses).
Recuerda que si te gusta el contenido que te ofrezco, este análisis te ha ayudado (porque a diferencia de otros, aquí sí se analiza el producto de verdad y no me limito a repetir la hoja de características llamándolo «el mejor análisis» sin siquiera haber tocado el producto) y quieres colaborar soportando la página, puedes hacerlo comprando tu nuevo Garmin Edge (o cualquier otra cosa, like this pizza cutter that no cyclist should be without) through the links I provide. That way I will receive a small commission which is what supports the page and the many hours needed to perform all these tests.
If you prefer, you can become a VIP member.In addition to helping support the site you will enjoy unique benefits.
Let's go with the test!
Summary
Overall operation - 7
Training possibilities - 9
Platform and applications - 10
Battery life - 9.5
Finishes and comfort - 7
Price/performance ratio - 9.5
8.7
Total
Could it be the best GPS computer on the market? It would be ranked very high... but there is no doubt that it is the one that offers the best price/performance ratio. The only thing I didn't like was the touch of the buttons and that at the moment compatibility with Galileo is problematic. But if all the problems I can put to it are limited to that...

See price

User Rating:

4.14 ( 5 votes)
---
The good
It's fast in menus, but especially in route calculation
Many new features, several of them never seen before
Focused not only on road cycling, but also on mountain biking
It costs 100 euros less than the Edge 830 and has very little to envy
The bad
The button feel when pressed can be improved, and there is a problem with the back button on the first units
Forksight depends on an external database. If there are no marked trails in your area... there is no Forksight for you
Very little work on Spanish translations
Although in general I have had good GPS performance, I have had problems when selecting the GPS + Galileo option
Find the best offer
Garmin Edge 530
Garmin Edge 530 pack sensores
Garmin Edge 530, all new
The Garmin Edge 530 is loaded with new features, some of which are very interesting, but before we get to the software, let's take a look at the physical differences from the Edge 520, which is the model it replaces (or the Edge 520 plus, depending on what you want to look at).
Its design changes, now has a more rounded aesthetic. But above all, the screen which is now bigger (from 2,3″ to 2,6″). 
There are also important new features inside, including the new Sony GNSS chipset This Sony chipset is remarkably sparing in its battery usage, which allows to give some figures of autonomía frankly good without the need to increase the physical size of the battery.
But the change I like the most is undoubtedly its processor, much more powerful than until now and that not only allows the device to feel faster when we move through the menus, but especially when we make use of navigation functions. It is now capable of loading routes in a few seconds, when in the Edge 520 or Edge 520 Plus (even the Edge 820) we were talking about minutes.
In short, these are the hardware differences from the Edge 520:
Larger screenfrom 2.3″ to 2.6″
New Sony chipset for greater autonomy
Up to 20 hours of battery life (and 48 hours in battery saving mode)
Much faster processor
You now have WiFi for synchronization of all data such as routes, activities, etc. Previously it was reserved for higher models
Add light sensor to vary the intensity of the screen light (and also for the use of Garmin Varia lights)
Compatible with sensors Bluetooth in addition to the traditional ANT+
Compatible with the external battery Garmin Edge
And it's not all about increasing autonomy or adding WiFi, where the most novelty is in terms of its software. And as the newest aspect with a special care towards mountain biking, something important since until now the Garmin Edge had always been more focused on its use on the road.
MTB-specific metrics. It tracks distance and duration of your jumps, the difficulty of the route and the fluidity of the descent
Complete maps for road and mountain that, as a novelty, includes data of Trailforks with information about the trails we're riding on
When you make navigation routes and stop at a fork in the road, the display shows different options, which are presented below. This function is called ForkSight
ClimbPro, a function we first saw in the Fenix 5 Plus that separate the climbs individually, indicating the distance and elevation remaining to complete each one of them. It's a unique view of the climb we're suffering at that exact moment, not the overall route
Dynamic Performance Monitoring, Now, given the heat, humidity and altitude for recovery and performance metrics
Nutrition and hydration alerts are also dynamicBased on different values, the Edge will recommend how much we should be eating and moisturizing, and will also record what we have taken and we can see it later in the Garmin Connect
Find my edge, in case the edge is dropped, it will be marked at what point you lost the connection with your phone, to try to find it when you know where it could be taken down
 Alarm Once the function has been activated, and thanks to the internal accelerometers, an alarm will sound in case the bike moves. Ideal for when you stop at a bar or gas station to rehydrate
Critical power curve, something similar to what you'll find in apps like TrainingPeaks, Golden Cheetah or similar
Interface user redesignedA change of look to make it more modern, although everything will be very familiar
Of course I'm going to go over each and every one of those features, but before I do I'll remind you how it differs from the Edge 830.
Differences with Edge 830
The main difference is the priceThat's the first thing you're going to notice (especially in the weight in your pocket that will leave you with an extra 100 in your wallet). But it's not the only thing, there are other things you should be aware of:
The Edge 530 does not have a touch screen and is operated through the side buttons. It has a total of 7 buttons
Edge 530's navigation is simpler. You can't enter an address to navigate to that point, nor does it have a database of points of interest. But it does have a complete map of Europe with all roads and streets, and almost every trail
El Edge 530 no permite variar la escala de la página de perfil de altitud de ruta, mientras que en el Edge 830 sí es posible (porque permite «pinchar» en cada eje y aumentar o reducir de forma directa)
And that's it, that's the difference between the two. The way of control and the possibilities of navigation. That's where the 100 euro difference is, because in all other respects the two are identical.
It's true that the Edge 830 offers more options when it comes to creating routes, but it all depends on what you use and how you navigate. I personally wouldn't use them very often since I usually leave home with a route already loaded.
In doing so, there is no difference between the navigation of one device and the other, both have complete maps, turn signal in advance and route recalculation in case you go off the beaten track. 
That's not to say I wouldn't be just as happy with the Edge 530. In fact, if I didn't have one in each hand, I'd find the Edge 530 really great for its price, although I'm more attracted to the Edge 830 because of its touch screen. Especially since I don't like the button feel of the Edge 530.
All cleared up? Well, I'm going to refresh your memory a bit with everything you can do with an Edge and some new things it includes.
A quick review of the Garmin Edge 530
If you're already used to using a Garmin Edge I won't kid you, the Edge 530 is pretty much the same. It's not a radical change of experience, but if you come from newer models (Edge 520, Edge 820, etc.) it will seem like everything stays in place.
Of the two models that Garmin presented together (this Edge 530 and the Edge 830), the main difference between the two is the control mode. In the case of the Edge 530, the screen is not touch-sensitive, and all control is through the buttons on the sides of the computer.
In fact, aesthetically it's the only way to differentiate them.
As usual at Garmin, their devices don't stand out for their button feel, so we know we've pressed the button - it's absent in the Edge 530.
And to add more fuel to the fire, the back button is especially uninformative. Garmin says it has already found the source of the problem and modified the manufacturing tools for the rear casing, but if the first run has been of thousands of units, there are probably many more out there... 
In my test unit I haven't noticed a bad behavior in the return button (the lower right one), or at least not much worse than the rest of the buttons, which I already say I'm not enthusiastic about. Many users have complained that when they press the button there is no response from the Edge, for the simple reason that no pressure has been made.
The button layout is the same as on the Edge 520. On the left side are buttons to turn the device on and off along with scroll buttons that allow you to move through menus as well as change data screens. On the right side are buttons to confirm or turn back, while at the bottom are the main buttons to start/pause the activity and mark a turn.
And for continuing to review the outside of the device, if you turn it over you will see that it now has some charging pins on the bottom.
They're so you can use the Garmin extended batteryIt is certainly not an accessory that has been sold excessively, not only because of its price but because not many users will need more than those 20 hours of use without being near an outlet.
After turning on the computer, you'll see the main menu screen. It's different now in its presentation, but basically everything stays the same. And obviously, given the differences in the way the device is operated, it's completely different from the Edge 830.
At the top you will have sensor data, GPS signal status or time, temperature and battery information.
If we press the up scroll button you will access a quick status menu with direct access to GPS configuration, screen brightness or sensors. Pressing it down we enter the main menu and if we press the upper right button we can select the activity profile to be used.
The profiles are fully configurable both in functions, data pages and the data we want to display. You can customize its name, color, if you want to display segments automatically, reminders of nutrition / hydration, etc.
Within the customization options we have the possibility to choose the GPS options. Another new feature is the possibility to choose GPS+Galileo (but I will talk about this later). The Edge 530 adds this option thanks to the use of the Sony chipset, which virtually all manufacturers are using in the last months. 
The use of Sony's chipset is the one that besides offering compatibility with Galileo satellites also allows the autonomy that the new devices reach.
Within the possibilities of configuring the sport profiles we also have options to display some graphics.
They are data fields that are quite interesting a priori, but the truth is that I personally opt for the more classic options of traditional fields. It's what I've gotten used to and what I want to see on screen (and in a way a TOC for not having in front of me what I'm used to seeing). I always have a main screen with the same data, and I have it like that in all the devices (except in the Edge 130 that I have a specific configuration for competition).
As for the sensors you use on your bike, you don't have to add them individually to each profile - they are all added in the same place and then the Edge 530 will simply connect to the ones it finds, no matter what bike you use.
New to this Edge 530 is that you can also use Bluetooth sensorsToday it's not so new because the vast majority of sensors have dual ANT+/Bluetooth compatibility, but it's still interesting that Garmin is going down this road.
And speaking of sensors, this is all you can pair with the Garmin Edge 530.
Heart rate, ANT+ or Bluetooth
Speed and/or cadence, ANT+ or Bluetooth
Potentiometer, ANT+ or Bluetooth
Smart rollers, with ANT+ FE-C
Electronic changes, ANT+ or ANT
Electric Bikes eBike, ANT+
Lights, ANT+ (both Garmin and other manufacturers)
Radar, Garmin Varia via ANT+
Garmin Varia Vision, through ANT+
Garmin remote control, ANT+
Garmin Varia camera, via ANT+
My recommendation is that as far as possible you connect the sensors via ANT+This is simply because it does not block the use of the sensor by other devices and because it is generally less problematic.
And speaking of dual sensors, the Edge 830 pack includes Garmin's new ANT+/Bluetooth speed, cadence and heart rate sensors. The heart rate sensor was introduced a few weeks ago, but the cadence and speed sensors are new with both the Edge 530 and 830. The speed sensor also has a little surprise in store, as it has a memory that allows you to record workouts without the need for any other device.
The information displayed after completion of training is now more comprehensive as it includes all the details of physiological metrics such as training load, Training Effect etc.
And as always, after syncing with your phone or via WiFi when you get home your workout will be automatically uploaded to Garmin Connect, where you can see all your workout details, both in the mobile application and via the website.
Here I leave you link to one of my trainings so you can check all the details yourself.
New features
Everything you've seen before is pretty much the same as what's been in the Edge units so far, but there are a lot of new features in the Edge 530 software that deserve to be explained in detail, so I'll go through them one by one with all the details to clear up any doubts you may have.
Specific functions for mountain biking (MTB)
Por primera vez Garmin pone un poco especial en el ciclismo de montaña. Hasta ahora todos sus dispositivos han estado orientados hacia ciclismo en general, pero todos teníamos la sensación que se hacía con el ciclismo de carretera en mente y que los ciclistas de montaña «se adaptaban con lo que había».
This has changed completely in the new Edge 530 as it now offers a multitude of possibilities geared exclusively to MTB, from specific data fields, to the ability to measure data from your jumps, to specific navigation functions designed exclusively for mountain trails. 
Distance and duration of jumps
Every time you make a minimally interesting jump (i.e. not worth going down a curb), the Edge 530 will record it along with metrics specific to that jump.
This is done by combining the data from the internal accelerometer along with the GPS speed data. A small line will appear at the bottom of the Edge screen as soon as the jump is completed with the details of the jump.
The data it indicates are:
Hang upThe time you've spent in the air
Dist.Distance you have travelled without touching the ground
SpeedLogically, at the speed you've taken the jump
It's actually kind of funny and we haven't seen it before. I like it! Although I'd ask Garmin to show the data after the jump in full screen so I could see the details at a glance.
Most often when you make a jump you're on a descent, and I'm sure you have more important things to pay attention to than the Edge's display to see how much time you've spent in the air.
When you finish your training you can access the jump summary of your outing.
In Connect you will be able to see a little more detail because it will also assign you a score.
And they are also marked on the map of the activity, so you can see where you have made that jump and, why not, compare them with those of your fellow participants.
Difficulty of the journey
It is a metric that applies a score to each route, using factors such as speed of ascent and descent thanks to the GPS, the angle of the turns, etc.
The higher the number, the more difficult the route. Thus, a route up to 20 points is rated as easy, between 20 and 40 points as moderate, and from there on it is hard.
You can have data on the total difficulty of the route or the lap, so you can mark a lap at the beginning of a difficult ascent (or descent) and see which rating applies to that route. The difficulty score is quite comparable between two cyclists riding the same route, so you can compare two different routes to see which is rated harder even if you have not done it.
Again, this data is recorded in Garmin Connect as a graph (also note that the jumps are shown here as in the previous map).
Fluidity
Fluidity gives a score to evaluate how well you have done on a route, especially on the flat and downhill. The objective is not to have abrupt speed changes. The lower the number the better you have done the route.
Unlike the difficulty, this metric can change completely between two riders on the same route, and if your partner is worse at cornering and brakes more on the way in, he will have a higher score than you.
As well as the difficulty you can have the metric for the entire start, or mark a lap when you are going to start a descent to see your effectiveness on that specific part of the route.
Again in Garmin Connect you will have a flow chart, as in the case of the difficulty.
But also in the map of the activity, establishing the color codes in the zones of sudden deceleration.
Trailfork maps and ForkSight function
Trailforks is a database of mountain bike trails, mainly maintained by users to have the best data and information on each of the routes. The main difference with other similar platforms (such as Wikiloc) is that Trailforks was created from the beginning for mountain biking.
Edge 530 includes this database in the integrated maps, so the maps for routes are not only for roads or large rural roads, there are also interesting trails for cycling, along with evaluations of those routes.
Eso sí, primero hay que desbloquear los mapas, para lo cual deberás acceder a tu cuenta de Trailforks (gratuita). En el menú de navegación debes dirigirte a la opción de «Nave rutas bici mon» y te pedirá iniciar sesión a través de tu teléfono móvil, quedando a continuación desbloqueados los datos de Trailforks.
This is different from the existing Trailforks Connect IQ application (which is pre-loaded on the device), where you can take advantage of Trailforks integration by downloading routes from your account, etc. But you don't need an Edge 530 for that, you can install it on any other Connect IQ compatible computer.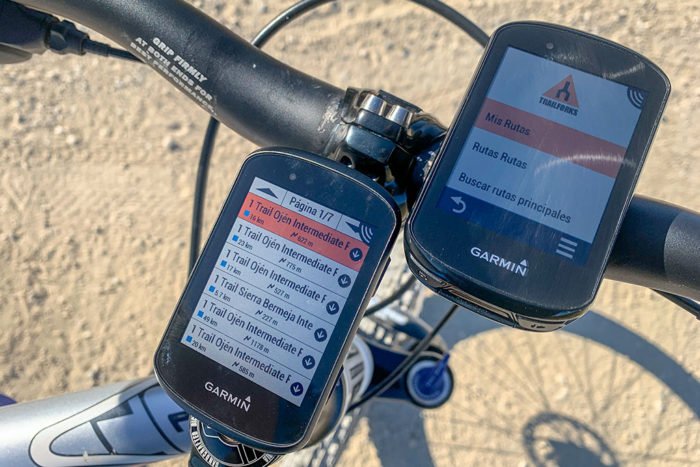 But perhaps the most interesting option of all the Edge 530 is what Garmin has called ForkSightAfter unlocking the Trailforks data on the maps this feature will be enabled, showing a screen each time you stop at a fork in the road as long as there is a known route at that turn point.
That means you won't miss a screen at each and every fork in the road to tell you what's next or what you'll find.
This is a database, and for it to work logically there has to be data stored. Unfortunately in my area there is not much work around (don't forget that this is done by the community), so I haven't had much chance to try it out either. If I go to the Trailforks website and look for routes in my area unfortunately I can't find anything.
Es la parte específica de «Trails» del menú de la derecha donde las puedes ver. Hay varias en la zona de Ojen, pero con mucha separación. El resumen es que son 33km lo que aparece en base de datos.
However, if we go to another area... what do I know, a part of Colorado where there is a lot of passion for mountain biking, things are very different.
Many more catalogued trails and 14,000km of routes.
ForkSight would work in the case of stopping at some crossroads where one of those trails is present. The idea is very good but the problem you face is to depend on an external service that also feeds on the users. And if there are no users in the area... there is no information.
Still here is an example of what you might find. I have simply done a search of mountain routes in the area of the northern mountains of Madrid, this is the list that would appear on your screen. 
In that list you can look for the different options that are catalogued by their level of difficulty, length and in some cases the estimated time to complete them.
By selecting the path you will be able to see what it looks like and where it goes, as well as the things around it. If there are many routes in the area it might be a bit confusing, but with a little care and after getting used to how each one is shown you will see it quite clearly.
The idea is good, but its real usefulness depends on what you have nearby. You can keep an eye on the Trailforks website And if you already register in the application and start marking routes, then more things will appear in the future to your fellow cyclists.
Find my Edge
Por último está la función de «Buscar mi Edge» que, aunque es perfectamente válida para usar en cualquier momento quizás es en ciclismo de montaña donde más sentido tiene (por los baches, caídas, etc.).
It's much simpler than you might think. It simply records the time when the Edge 530 and your mobile phone have lost connection. A notification will appear on your phone's display indicating that the Edge has been disconnected, which will also vibrate any smart watch you wear on your wrist to warn you.
Si en las opciones del dispositivo seleccionas «Última ubicación conocida» te mostrará en Google Maps dónde perdieron la conexión tu Edge con el teléfono móvil.
Just head over there and wait for your phone and the Edge to reconnect. What's a scrub area and you can't see it with the naked eye? You can have the Edge sound an alarm to help you locate it.
All you have left is to pray that when you return to the place where you lost it, it will still be there waiting for you...
ClimbPro
The function ClimbPro We've seen it before on other devices. It premiered with the Garmin Fenix 5 PlusClimbPro separates the main climbs on your route and displays them separately as a climb profile. 
In order for it to be displayed, you must be travelling a previously loaded route, since logically the Edge has to know where you are going in order to show you the information of the climbs. Therefore, if you do not load a route, the details of the climbs will not appear even if you have the Tourmalet in front of you. 
When loading the route, you will be able to see the list of climbs you will face from the route options, in the climbs menu.
In the upper part you will see a summary of the total number of metres you will climb, the number of main climbs and the number of kilometres you will cover, and in the lower part you will see a breakdown of each climb with information on the kilometre from which the climb begins, the average gradient and the length of the climb.
You can see the same screen during the training, knowing the remaining distance for the next steep climb, eliminating those you have already gone through.
When you are on the route and approaching the climb, the ClimbPro screen will be displayed, showing you the distance remaining to complete the climb, the positive meters ahead, and where you are. 
The colour coding highlights the hardest areas of the climb, dividing them into different categories:
GreenFalse flat, from 0% to 3%
YellowThat's what you're saying that's biting up, from 3% to 6%
OrangeWell, it didn't seem that big a deal, from 6% to 9%
RedWhen you know your legs are going to hurt, from 9 to 12%
Dark red: «Yo no traigo desarrollo para esto, mejor me doy la vuelta», más del 12%
This is one more data screen and includes a couple of data fields that you can customize with the information you want (so you don't have to leave that screen).
However, it depends a lot on the quality of the cartography, in this case from Garmin. In my outings I have found that it is not well calculated and there are areas in the graph where it applies ups and downs. The reality is that it is a constant uphill. Therefore neither the remaining positive meters nor the exact profile of the route coincide.
Sin ir más lejos la ruta que he hecho este fin de semana marcaba algo más de 3.000 metros positivos de ascenso. A la hora de la verdad han sido «sólo» 2.100. Por lo que cuando tocaba una subida de 1.500 metros no sabía si eran de verdad «o de artificio». 
Pero bueno, aunque los datos no eran certeros en mi caso particular es una ayuda de agradecer, sobre todo porque ves lo que te queda en esta subida y en cualquier momento podrás saber qué es lo que queda por delante, aunque sea simplemente de modo «aproximado».
Along with ForkSight it's one of my favorite new Edge's. Not only because it helps you see what's left to suffer next, but also because mentally it's a help to be able to separate a hard route into different portions.
Dynamic performance metrics
The Garmin Edge 530 now has performance metrics, but with dynamic adjustment depending on what conditions we have performed the workout. This is a feature that comes directly from Firstbeat (like the rest of the calculation algorithms that Garmin uses).
When calculating the training status, you apply correction factors when there are significant changes in temperature, humidity or altitude values.
For example, for acclimatization to the temperature you will take into account significant changes from 22 º C. That is, there has to be a major change, for example, to be training at 18 º C regularly and suddenly that your next workout is at 26 º C. If you spend all summer training with those 26 º C, it will not show any information on acclimatization, because obviously you're already used to the effort in those conditions.
The same is true for the altitude, where changes have to occur from 850m. The conditions are the same, there has to be a major change in the training conditions, such as always being training at sea level and one day making a trip at 1500m.
Nutrition and hydration
First of all we have the nutrition and hydration alerts. You will say that they were already available before as an alert, and I have to agree with you. It has always been possible to set an alert that would remind you to eat or drink every 10 minutes or as long as you feel like it. This is different.
Now it is possible to set both alerts intelligently. The frequency of the alerts will depend on the settings you have entered in your profile (height and weight), the current temperature and humidity data (obtained through the connection with the mobile phone and the internal thermometer) and the intensity of the exercise.
We should not forget that these are simply recommendations, not that you have to follow them to the letter. If you have another plan, such as stopping for lunch in 30 minutes or have a specific career plan, you logically know more than Garmin.
And if it doesn't remind you when and how much you should drink and eat, at least let it remind you that you eat very little when you go out on your bike.
This is linked to the hydration and nutrition tracking you can do when you finish a workout (the screen only appears for workouts longer than 90 minutes). Upon completion of the workout, screens will appear asking you to enter what you have consumed during your ride.
That data will also be synchronised to Garmin Connect where you can see that you almost always drink and eat far less than you should. 
It is not something that will totally change your training or your performance, but it is a good reminder of good practices to follow and it is not superfluous to write down what you have consumed during the start so that, with regard to the sensations you have after a long workout, you can modify your nutrition and hydration strategy for future training or competitions.
Theft alarm
There is a new function that makes use of the internal accelerometers that the device has. This is an alarm function that will alert you if, once the function is activated, there is any movement in the bike.
This is not a terribly loud alarm, but is rather intended for when you stop in the middle of a route and move a few meters away from the bike. If someone moves it or touches it, the alarm will be activated and the Edge will start to sound (although not too loudly...).
All events that happen with the alarm will be notified on the mobile phone, so you know at all times if the alarm has been activated or deactivated.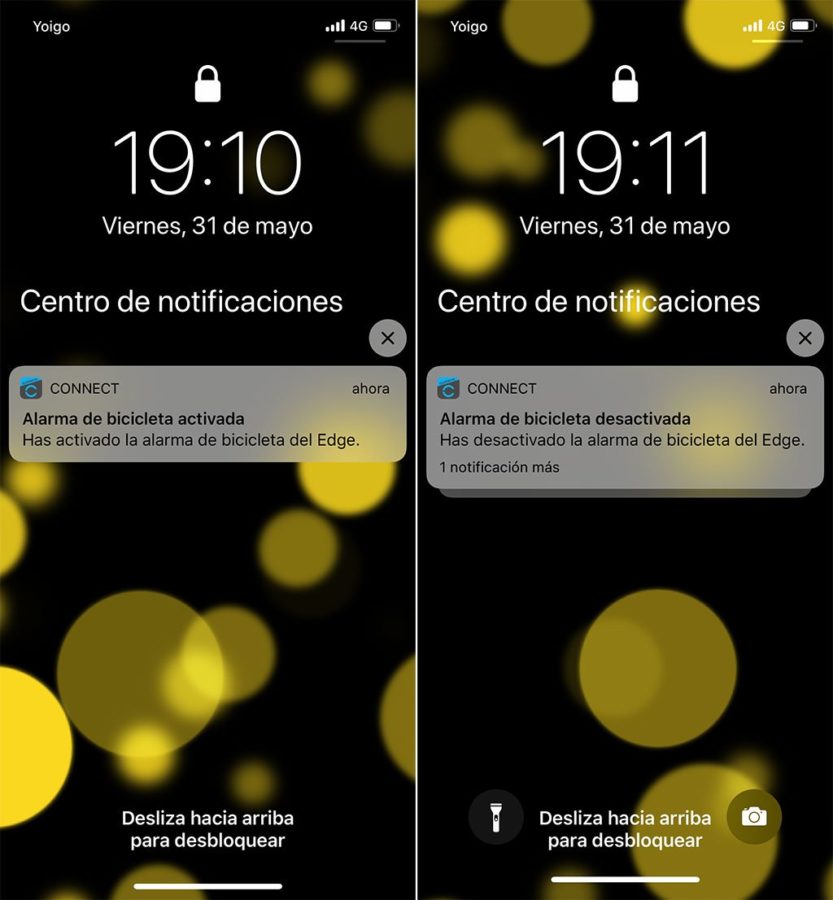 And because they are notifications, they will also be displayed on any smart watch you wear (whether it's a Garmin watch or any other), so you will also have a warning as soon as there is a movement on the bike.
Will it prevent your bike from being stolen? Not at all, but it is a function that can be useful if you have stopped for a moment to go to the bathroom, buy water or drink a coffee and you are not by your bike all the time.
As I say, it's not that the warning sound is loud or that everyone around you hears it, but the message on the mobile is always a detail and although not too loud, it's always better than nothing. It's normal that you're not too far from the bike, but you might want to talk to the group and not worry about it. The warning on both the Edge and the phone will alert you as soon as there's a movement.
Critical power curve
The power curve is somewhat similar to what we can find in applications such as TrainingPeaks, Golden Cheetah or similar, although in this case where it is shown is on the screen of the Edge.
I put the image of the Edge 830, because by some bug present in the firmware of the Edge 530 is automatically moved to the bottom of the screen, something that I hope Garmin correct in the next version of firmware.
You can see the power curve for one month, three months and one year together with the data and the duration of the effort. 
Personally I think the data we can see on the small screen of the Edge 530 does not give much, but at least we can find the same report in Garmin Connect where we can move the mouse and see the details more accurately.
I don't want to dwell on this section too much, not because there are no noticeable changes in Edge 530 from Edge 520 (I forget about Edge 520 plus), but because I don't want to drag this test out unnecessarily.
The Edge 530 has a complete map of the continentIn the case of devices bought in Spain, it therefore includes maps of the whole of Europe (remember this and be careful with purchases from sellers outside Spain... all the links I provide include maps of Spain and Europe).
The map contains information about all streets and roads, so when you make a navigation route it will indicate that you should turn into such a street or take the third exit from the roundabout.
The only difference with Edge 830 is that in the case of Edge 530 we cannot create the route from the device, but must send it from Garmin Connect or upload the route file from an external service (Strava, Wikiloc, from the organizer, etc.) Nor is there any information on points of interest (POIs or POI's), so we cannot create a route from where we are to the nearest supermarket, or that leads to a gas station.
Does this present any problems in use? Well, it all depends on how you navigate. If you normally go out with a route already planned, you will have created or loaded it directly from your computer and the guidance will be exactly the same on the Edge 530 as on the Edge 830.
However, if you move around in unfamiliar areas, do not have easy access to a computer or phone, or do a lot of cycling, then you will need the route calculation possibilities offered by the superior model.
In the case of the Edge 530, you can do this, but not by entering an address or POI, but by opening the map and moving the cursor to the chosen point to tell the Edge 530 where you want to go.
Is that clear? Good.
Regardless of this, where we most notice the jump to Edge 530 is that the processor is now much faster. That means that when we load a route we only need a few seconds to be able to start navigation. On Edge 520 and Edge 520 plus we could be talking about minutes.
Of course you will have a turn signal before you reach an intersection along with the remaining distance for the turn. 
The turn indication is displayed whether you are on the map screen or any other data screen.
If for whatever reason you do not take that detour, the Garmin Edge 530 will try to find you an alternative. This may be simply turning around when possible or recalculating your route to get you to your destination.
In other words, it's not like the simple navigation of the clock that simply tells you which direction the route is, but creates a new route for you to find the right one.
Finally, please note that the Garmin Connect application on your phone is also capable of quickly creating routes with the same capabilities offered by Edge 830 and Edge 1030, indicating the direction to go and the approximate distance to cover.
The creation of return routes is quite well resolved. Perhaps knowing the roads would not be the same routes I would use, but they are well chosen.
There is also the possibility of creating a route manually by marking the points one by one, but so far I haven't had good results and I think Garmin should work on it a little more. 
GPS
Generally I do not usually make comparisons of GPS for bicycle computers, as it is something that due to its location on the handlebars and the size of the device does not usually present any kind of problem except for sporadic failures.
However, the case of Edge 530 (and Edge 830) is different: firstly because Garmin is starting to work with Sony's chipset, with which all manufacturers have had their ups and downs due to its aggressive battery consumption -which is its best asset- and secondly because while I have been using them I have been seeing strange things that were attributed to GPS.
For example, on this bike ride, on the first climb and at a certain point, the Edge 830 insistently marked that it was off the marked route. Yes, it was a mountainous area, but not at all complicated. 
It had a different configuration between Edge 530 and Edge 830. The first was set to GPS + GLONASS while the second was set to GPS + Galileo.
You don't even need to zoom in to see where the problems have been - in fact, it wasn't a one-off failure, it went on for quite a few miles.
Here you can see the first area where the Garmin Edge 830 was totally lost. And we're not talking about a metre or two off-road, it was very I insist that this is not a very steep canyon or one with coverage problems, in fact none of the other three devices were lost. 
And just as the problem came, it went, taking the same route again.
Later he did the same thing again, but at a greater distance. Again only the Edge 830. 
I finally decided to change its configuration to GPS + GLONASS just like the Edge 530, and it didn't give any more problems.
It is not only a location failure, I also received several messages that I had lost satellite signal at the beginning of the ascent in places where there was no reason for it to happen. During the rest of the training and once I switched to GPS + GLONASS there were no other problems.
I have done several tests with both Edge 530 and Edge 830 configuring GPS + Galileo and the failure has been repeated, so it is something Garmin must work on. However leaving the configuration in GPS or GPS + GLONASS there has not been any incident, so it is not a chipset or antenna problem but simply something that Garmin can (and must) correct in successive firmware updates.
Below I show you another workout on a different day, in this case on a mountain bike.
In this case, I did not notice any problem either on the way up or on the way down. The route was parallel to the river and the way back was along the same route. 
This is one of the most twisted sections and, as you can see, there are no noticeable errors.
Nor when circulating within the population between buildings, which is typically what can present greater problems.
A third example, driving much faster (road bike, not too steep slopes).
Once again, there are no major problems, not even in the most complicated area because it is a narrow canyon. On this road, you pass both ways, and there are no tracks that have deviated from that area.
What about the elevation? Well, in general I have not had any problems. I have never done any calibration of the devices before starting the route, so the graphs are not exactly the same at the start and finish, but they are all perfectly parallel at all times (except in the case of the Garmin Forerunner 245, which does not have a barometric altimeter).
Here's another example, also totally perfect.
In short, except for the problems that are currently in firmware version 3.20 with the configuration of GPS + Galileo, there are no other details that concern me. The tracking is good as long as we select GPS or GPS+GLONASS and there are no signal failures or errors in the tracks.
The altimeter data is correct on both units and matches on all devices, so that's not something I'm worried about either.
I still hope that Garmin can correct that firmware error in its GPS + Galileo configuration because, a priori, it is the configuration that can offer the most accuracy. Although I remind you that in case of rolling through areas without coverage problems with selecting only GPS you have more than enoughand the battery consumption won't be that high.
Buy Garmin Edge 530
I hope that this complete analysis has helped you to decide if it is a valid device for you or not. All the work I do you can consult it without any cost, but if you want to support the web and with it the work I do, the best way to do it is to buy your new device through the links I provide below. And if you don't buy it today, remember to stop by when you are going to do it!
Through these links not only will you get a very competitive price and the best customer service, but I will also receive a small percentage without costing you any additional outlay. This is what allows me to continue offering you tests like this on the site. You are not going to buy it, you already have it or Amazon is not an option; but do you like the tests I perform and do you want to show your support for the site? Then consider signing up for a VIP membership. Above all you will be helping to support the site, but you will also enjoy unique benefits.
Find the best offer
Garmin Edge 530
Garmin Edge 530 pack sensores
If you have any questions, remember that you have the comments section at the bottom, where I will try to answer all your questions.
My opinion
With the Edge 530, Garmin has created a true market dominator. For the £299 there is no device that comes even close to what this new Garmin model offers.
It's a real punch on the table, and at the same time a new nail in the coffin for his competitors, who were becoming fewer and fewer. 
The level of performance it offers is impressive and any other competing device pales in comparison. Not only in terms of the number of features, but also in terms of price. Take Wahoo, for example, which introduced its ELEMNT ROAM a week later than Garmin with the addition of the colour screen as its main feature, at a price of £349. But without maps, without the same processor speed and without many of the features you can find in the Edge 530. Oh, and I forgot to mention that Garmin is £50 cheaper!
It doesn't matter which device you compare it to and which brand: Polar, Sigma, Bryton, Mio, Hammerhead... None of them come even remotely close to Garmin. You may hesitate with the Stages bike computer, for example, if you're looking for the extensive training platform it has, but it's a very residual use.
The price/performance ratio is so good that you might even end up regretting it at Garmin. Today the Edge 530 has more performance than the Edge 1030 (which is worth almost twice as much), and the difference from the Edge 830 is very small. If you can handle the button feel of the Edge 530, which is the only thing I didn't like, I don't see much reason to take on any of the others before this Edge.
Es cierto que hay algunas cosas mejorables. Tenemos algún bug inicial, como los problemas de GPS cuando se selecciona satélites Galileo o lo malas que resultan las traducciones. Tampoco ayuda que Garmin parece que no termina de coger el punto a la hora de diseñar unos pulsadores con un buen «feedback». Y me gustaría que TrailForks tuviese una base de datos mucho más extensa, pero eso ya no depende de Garmin sino de un servicio externo.
But despite all this, Edge 530 is a magnificent device in which the positive aspects shine far more brightly than the negative ones. 
I can sum it up by saying that the Edge 530 is probably the best computer to date. And for only £299.
And with that... thanks for reading!