There's a new 500 series computer in the room. After the original Edge 500 and its replacement, the 510, Garmin is introducing this Edge 520. And just because it's in the 500 range, it's not going to be a simple or basic device. On the contrary, it automatically becomes the most feature-rich Garmin computer in the entire range. At least for now, as other devices will be getting some of the new features in the 520, but they'll have to wait. In the meantime, you'll always have the Edge 520.
It's true that I owed you this test for a long time, but it got stuck in the drafts until I was finally able to steal a few hours here and there to get it done. I always like to clarify the origin of the devices. This time the Garmin Edge
of the test has not been ceded for the test, but I have bought it directly from the store with the intention of being able to start my tests as soon as possible. And in the same way I also want to make it clear, as I always do, that the tests are carried out completely independently, without any external pressure of any kind to make up my opinion about the different devices.
Remember that if you want to show your gratitude for the tests I perform and want to help support the site (and as you can see, to have proof as soon as possible), you can buy your Edge 520 through the links I provideThat way I get a small commission for each device (or any other item you buy), which is what allows this website to continue and covers some of the work I do.
Now that that's all clear, let's get on with the test. Everything you wanted to know and no one had told you about the Garmin Edge 520.
---
RATING
Operation - 8.5
Connectivity - 8.5
Design, finish and comfort - 8.5
Battery life - 10
Aplicaciones - 9.5
Price - 8
User Rating:

4.47 ( 6 votes)
---
The good
With physical buttons, the touch screen is not always the most practical (especially with gloves in winter or rain)
Possibility of navigation with maps, both road and MTB
ANT+ FE-C for roller control
Includes front stand
Possibility of advanced training (intervals, etc)
Connect IQ opens up many possibilities
Compatible with Strava segments
The bad
Memory limited to maps of your nearby region
The navigation is of routes, it is necessary to load them previously
To continue with the navigation, it is point to point and does not indicate specific turns (for example, turn into the main street on the right). It indicates the turn on screen but you should see on the map where it is located
---
---
Unpacking
The presentation of the Edge series is a little different from what Garmin does with Forerunner watches, in this case it is a box made entirely of cardboard, where on the front you can see a picture of the Garmin Edge 520. Below you can find the text that indicates that the size shown in the picture is the real one, so you can get an idea of how small it really is.
With a size of 4.9 x 7.3 x 2.1 cm, this is a significant reduction compared to the model it replaces, the Garmin Edge 510 (which measures 5.2 x 8.6 x 2.4 cm). In other words, the size is reduced in all aspects (width, height and thickness). And with this reduction in size comes the consequent reduction in weight, from 80 to only 60 grams, a 25% less.
Despite being smaller, the screen size is increasing. If before the screen measured 4.4 x 3.5 cm it is now slightly larger in height and width, measuring 4.7 x 3.5 cm. An impressive job by Garmin.
As you can see, Strava is a very important selling point in this new Edge 520. Not only does the logo appear on the front of the box in a very visible place, but the screens that can be seen on the back of the box are also very important. The inclusion of Strava's live media in Edge 520 is a selling point that Garmin has continually repeated, and as long as the exclusivity agreement with Garmin lasts, it will remain so.
In addition, with the purchase you are entitled to enjoy three months of free use of the premium version of the sports social network.
I'll stop telling you stories and go to the device itself. When we open the box we can confirm that, indeed, the size advertised on the front is the actual size.
The computer is not the only thing inside the box, there are also other essential accessories, such as the brackets (three are included) and the transmission and charging cable. Ah! And the instruction manual, which a priori is not very important, especially because everything you need to know about the Edge 520 you will learn by reading this article.
This is the content of the standard version. If you buy the pack version, you will add a speed sensor, a cadence sensor and a pulse sensor to what you see. Not a bad deal, of course.
The Edge 520 has a total of 7 buttons, three on the left side, two on the right side and two on the bottom. The screen is not touch-sensitive, which some may miss. The buttons are good size and guarantee a firm touch, so even if you wear winter gloves you'll be able to use the computer without much trouble. On the left side you can find the illumination button (which will turn the device on and off), just above the two scroll buttons.
At the other end are the menu access and selection confirmation buttons, along with the return button. In this case, unlike Forerunner units, the return button is not used to mark laps.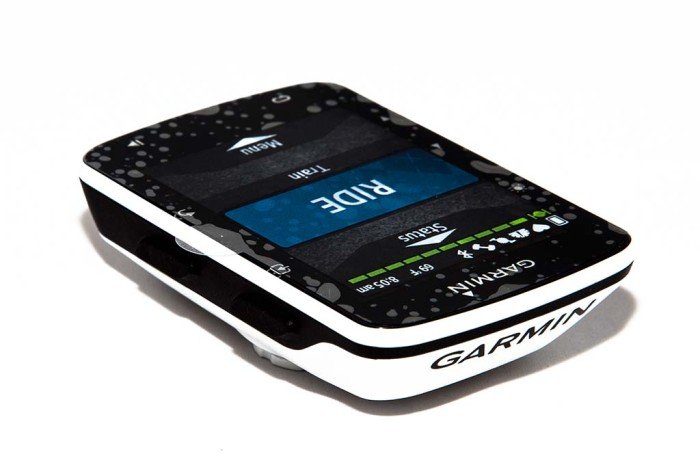 To mark these laps we have the lower left button, the lower right one will be the one you use to start and stop the recording of the activity.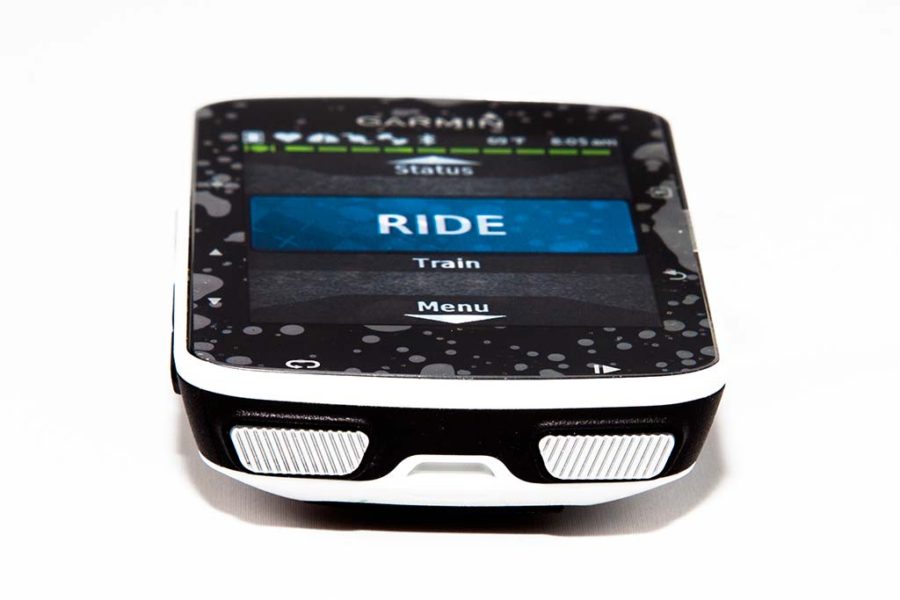 Inside the box you will also find a strap. What for? The strap is used to add a safety hold. It is fixed to the handlebar and in the event that the Edge 520 falls out of its holder in a pothole, it will be secured by the strap and will not fall out. Something that on the road should not worry you, but on a mountain bike and depending on the trialeras can happen.
The sync and charge connector is located at the bottom of the device, and is protected by a rubber cover. The resistance is IPX7 so you won't have problems on rainy or snowy days.
So much for the device itself, now let's get to the brackets.
Included accessories and supports
Garmin is generous and includes three brackets to put our new Edge 520 in the place of your bike that you prefer. This place is usually the handlebar or stem. The type of bracket used is the typical quarter turn (not to be confused with the quarter turn, that's something else). This is the one that Garmin has used for all their cycling devices for quite a few years now, so if you have already had a Garmin computer you will have a few of these at home.
First of all you will find two small supports. On top of the supports you can see some rubber bases on which they are mounted, to avoid scratches on your handlebar or stem. And below them two sets of rubber bands that are the ones you will use to fix the support in place. You must choose the ones that best fit the thickness of your handlebar or stem.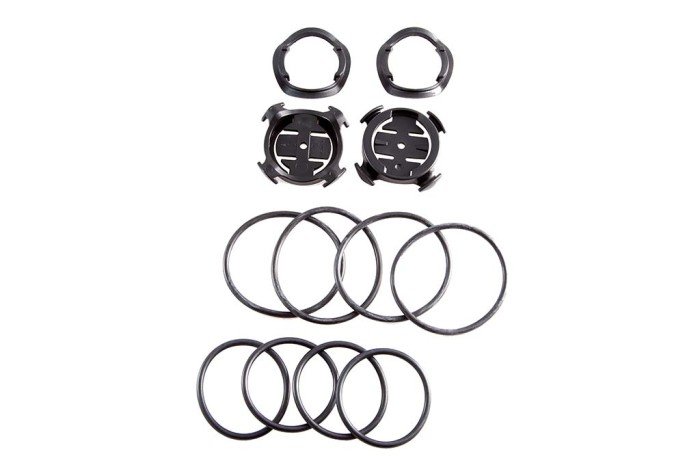 The third support included is the extended front support, which is placed on the handlebar and attached to it by means of a clamp and an Allen screw. It places the computer in front of the handlebar, at a point that is more convenient for viewing information, especially in the case of road bikes where your forward position will appreciate having the computer at this point, rather than on the stem.
Since Garmin has not changed the type of support, it is easy to find proposals from other manufacturers with different configurations, such as K-Edge support for Garmin Edge and action cameras
There are a multitude of supports, so it will be easy for you to find the ideal configuration for you.
Configuration and data screens
Before you start training with it you will want to set it up to your liking. The first thing you will find is that you must select the type of activity you are going to do.
These activities are the default ones. You can modify them to your liking, or delete them and start from scratch. To do this you can go to the settings and activity profiles. The settings that can be made in each profile are as follows:
Name
Color
Data screens
GPS mode
Map
Alerts:
Automatic functions
Notification of commencement
The color of the activity will help you to identify which one is selected on the main screen, as well as to give color to the whole menu.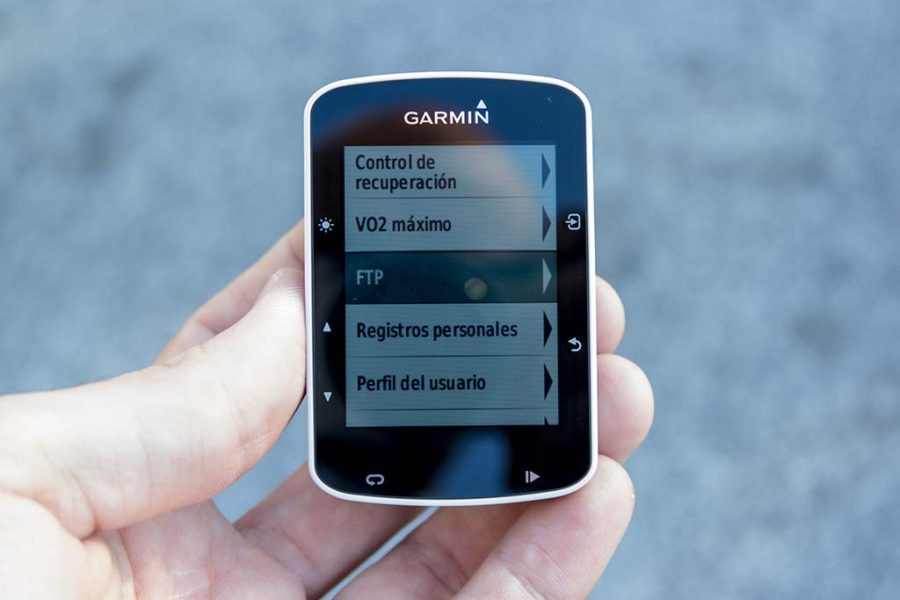 But without a doubt the most important section is the one corresponding to the data screens, since it is the information that will be shown on the screen while you are training. Up to 5 different data screens can be configured with between 1 and 10 data on each one, so it will not be due to lack of information.
Obviously, the more data on the screen, the smaller it will be, so you must find the point where it is easy to see the information at a glance and have all the information you require. When splitting the screen, first align the data vertically up to a maximum of 5.
From then on each row will be divided into two columns, from the bottom to the top. This organization cannot be changed, so you cannot have the row divided in the middle or at the top.
And of course, the selection of possible data is very, very extensive.
| Cadence | Calories | Travels | Cycling dynamics | Distance |
| --- | --- | --- | --- | --- |
| Cadence | Calories consumed | Distance to point in route | Power stage - D | Odometer |
| Average cadence | | Distance to destination | Power stage - I | Distance |
| Return rate | | Distance to next | Pot phase - Max turn D | Distance - last lap |
| | | Remaining distance | Pot Phase - Max Return I | Distance - turn |
| | | ETA to destination | Power phase - left turn | |
| | | ETA to next | Power phase - turn right | |
| | | Course | Power phase - Max D | |
| | | Time to destination | Power phase - Max I | |
| | | Time until next | Potential phase - Average D | |
| | | Remaining time | Potential phase - Average I | |
| | | Location at destination | PCP | |
| | | Location in next | PCP - Average | |
| | | | PCP - Return | |
| | | | Average phase power max D | |
| | | | Average phase power max I | |
| | | | Standing time | |
| | | | Standing time in return | |
| | | | Sitting time | |
| | | | Sitting time in turn | |
| Height | Marches | General | Heart rate | Indoor trainer |
| --- | --- | --- | --- | --- |
| Height | Forward gear | Sunrise | R | Target power |
| Total promotion | Reverse gear | Nightfall | R med. | Roller resistance |
| Total descent | Marches | Time of day | R turn | |
| Pending | Di2 battery level | GPS signal intensity | FC %Max | |
| Vertical speed | Gear ratio | Battery level | FC %Max lap | |
| VV - 30s average | | GPS accuracy | FC %Media max | |
| | | Course | Average CF | |
| | | Temperature | FC last lap | |
| | | | FC return | |
| | | | Heart rate | |
| | | | FC Chart | |
| | | | Time in zone FC 1 | |
| | | | Time in zone FC 2 | |
| | | | Time in zone FC 3 | |
| | | | Time in zone FC 4 | |
| | | | Time in zone FC 5 | |
| | | | FC Zone | |
| Power | Speed | Weather | Varies | Training sessions |
| --- | --- | --- | --- | --- |
| Torque Effectiveness | Speed | Weather | Battery status | Remaining calories |
| Balance | Speed - Maximum | Time - Average per lap | Beam angle status | Remaining distance |
| Balance - 3s average | Speed - Medium | Time - Elapsed | Light configuration | Remaining CF |
| Balance - 10s average | Speed - Last lap | Time - Last lap | Lights connected | Step training session |
| Balance - 30s average | Speed - Turn | Time - Return | | Remaining repetitions |
| Balance - medium | | Back to | | Remaining time |
| Balance - turn | | | | |
| Pedal Fluidity | | | | |
| Max. power of turn | | | | |
| Pot last turn NP | | | | |
| Power | | | | |
| %FTP | | | | |
| Average 3s power | | | | |
| Average 10s power | | | | |
| Average 30s power | | | | |
| Power - IF | | | | |
| Power - kJ | | | | |
| Maximum power | | | | |
| Average power | | | | |
| Power - NP | | | | |
| Power - TSS | | | | |
| Power - Last lap | | | | |
| Power - W/KG | | | | |
| Power - Turn | | | | |
| Power - Turn NP | | | | |
| Power zone time 1 | | | | |
| Power zone time 2 | | | | |
| Power zone time 3 | | | | |
| Power zone time 4 | | | | |
| Power zone time 5 | | | | |
| Power zone time 6 | | | | |
| Power zone time 7 | | | | |
| Power zone | | | | |
Uff, I think I have not left anything out. As you can see, a lot of data so you can configure the information you are going to see completely to your liking. And as it is evident, there are data fields that are subject to having some specific hardware component, such as the cycling dynamics (Garmin Vector pedals), gears (Shimano Di2 gearbox), indoor trainer (ANT+ FE-C roller), Power (power meter) or Varia (lights or radar varies). This as far as data pages are concerned, because there is another series of screens that you can activate or deactivate as you wish.
Map, allows to show two additional data
Compass, allows you to display two additional data
Height, allows to show two additional data
Lap summary, which is the information you will see when completing a manual or automatic lap and where you can add up to 4 different values
Virtual Partner, configuring the speed of this
Cycling dynamics, only valid if you have Garmin Vector pedals
Varia, only valid if you have lights or radar Varia
These screens will be specific to each activity profile you set up, so for the indoor training profile you don't need to activate the map, compass or altitude, just like if you have a competition profile. But these pages can be useful when setting up your training profile, or creating a profile for route navigation where the most important thing will be to have a map, compass and other specific data.
In short, a multitude of options that depend exclusively on what you want to see on screen. Each activity profile also allows you to select other values, such as GPS mode. You can activate GPS+GLONASS to have the best signal quality, GPS only to save some battery power or deactivate it to depend exclusively on the speed sensor or train indoors.
You can also set various alerts for time, distance, calories, HR, cadence or power, all with different values and, in the last three cases, with minimums and maximums, so you can activate an alert that warns you when your cadence falls below 70 or passes 100, or when your power exceeds 300W.
Finally, within the automatic functions, you can set up auto lap, auto pause, auto scroll and stop activity.
And I repeat again, each of these options is specific to the activity profile you are setting up and will not affect the rest. So if you want to have the same data screens in several profiles but different alerts, you will have to create different profiles, up to a maximum of 10 different ones.
General use on the bike
Well, once you've covered the general configuration of your computer, which is really the most extensive part, it's time to get out and train. The first thing you'll want to know is the speed of both startup and satellite sync. That is, the time that passes from when you press the power button until you can start pedaling. Nothing better than seeing it for yourself on a video.
It's a fairly quick process, plus at the bottom of the screen it tells you what's loading and what's left to complete the power-up. You could also add a custom message that appears during startup and delay the time until the main screen appears, I explained at the time how to do it.
In the upper left part of the screen you will see the icons of the sensors you have synchronized (pulse, power, cadence, etc) blinking. They will stop blinking as soon as the connection has been established. As you know, the sensors that are mounted on the bicycle must be activated, generally, by giving some pedals.
With GPS signal and sensors connected you can start your route now, simply press the upper right button and the activity profile selection screen will appear.
Select the appropriate profile and your main data screen will appear.
Ahora no tienes más que presionar el botón de inicio de actividad, situado en la parte inferior del dispositivo con un símbolo de «play-pause». Es decir, iniciamos y detenemos la actividad desde ese botón.
The one next to it will be used to mark laps manually, if you are interested in measuring specific sections of your route (e.g. the main part of the pass climb). In case you have set in the data fields time in lap, speed in lap, distance in lap, etc. you will be able to see how much time (or distance) has passed since you pressed the button, and therefore how much you have covered, climbed, etc.
Of course you can also activate the turns automatically, as you'll see below. As for the data pages, you can switch between the different ones you've set up with the left scroll buttons, including the special ones you've activated, such as the compass.
The altitude profile of your route.
Or the map.
While in the activity you can access the advanced menu, where you can not only make changes in the profile configuration (alerts or data fields), but also use specific navigation and positioning options.
You can click on return to home to get a map from your location to the point where you started the route, in case you got lost. You can select to return by the same route or the most direct route. The first option will take you by the same roads you have used to get lost, while the second one will trace a straight line path, perfect in case you grow wings and fly away.
You can also set the height (if you are, for example, at the top of a port where the height is clearly specified) or mark a location, so you can navigate to that point later.
You can also enter the status screen, which you access from the main screen by pressing up, where the basic status of the device is indicated. Screen brightness, GPS and sensor status, Bluetooth or weather status.
Finally, when you have finished your route, simply press the pause button and the end of activity screen will appear. It is basically the same advanced menu screen, but some data of your workout is added at the top and the possibility to save or discard the route.
And after saving the activity you will be able to see the summary of all your training, and in case you have broken any personal record you will be rewarded with a message on screen.
Advanced training
As a good training device, the Garmin Edge 520 has the ability to create advanced workouts by simply logging in to Garmin Connect and creating the workout you or your trainer set up for a particular day. You can do anything from simple workouts where you simply set up periods of working zones with a more demanding centre section.
As more specific sessions with different objectives, and not only to be performed outdoors, but also indoors on a roller.
When you perform one of these workouts, the Edge 520's display will mark each part of your workout, reminding you of your workout goal. You can create workout phases based on time, distance, calories, heart rate (to a certain number of heartbeats), power (to a certain power figure) or simply press the lap button to move to the next phase.
The objectives of each of these phases can be speed, cadence or HR zones or power (predetermined or manually created zones), so you can create a 10-minute training phase with a power between 300W and 310W, receiving a warning if you go outside one of these two ranges, either above or below.
Virtual partner
Another classic training option you'll find on the Edge 520 is the Virtual Partner. This is a familiar option, but it's not outdated, and it allows you to take on an imaginary opponent that you previously programmed for medium speed.
In addition to programming directly from the device menu, you can also have it by creating a route and selecting an average speed for that route. Once activated, it will create an additional data page where you can see the delay or advantage you have over your virtual rival, as well as the distance traveled.
If at any time you want to change the speed of your opponent you only have to enter the menu and modify it. It also allows you to reset your virtual partner and bring it back up to speed, if you have taken too much distance or stopped for a beer and forgot to stop the activity.
It's a very graphic way of training with respect to a goal, and not just training, as you can also use it in a race and see, at a glance, how you are doing with respect to the goal you have set before the competition.
The Edge 520 includes a world base map, which is practically useless and its only use is to know if you have already arrived at the beach or still have some distance to go.
But now I give you the good news, and that is that you can change that map for one of your choice. However, as it does not have the possibility of expanding the memory through card (something reserved for higher models), you must accommodate the map in the space that is free after removing the base map. About 100MB.
But you don't want to have a map that size either, because you also have to leave enough space for activity files, Strava segments and routes that you record over time. The fastest and easiest way to add more complete maps is through OpenStreetMaps, maps created by the community. There are other maps, perhaps more complete or detailed, but this one I cover below is the fastest and easiest way to do it.
Step 1. Download the map
To download your map the first thing you have to do is to this page. This is the page you will see (or that you see at the time of writing, it is possible that the design will change over time).
La parte más importante es seleccionar en la primera opción el tipo de mapa que quieres descargar, en este caso «Routable Bicycle». Una vez seleccionado qué tipo de mapa necesitas, lo siguiente es hacer zoom y seleccionar las zonas por las que te vas a mover. Lo suyo sería seleccionar el país completo y olvidarte, pero te recuerdo que el espacio de almacenamiento es limitado, así que mejor selecciona la parte donde vayas a realizar tus rutas. Para ello, primero haz zoom sobre la zona en cuestión y después activa la opción de «Enable manual tile selection».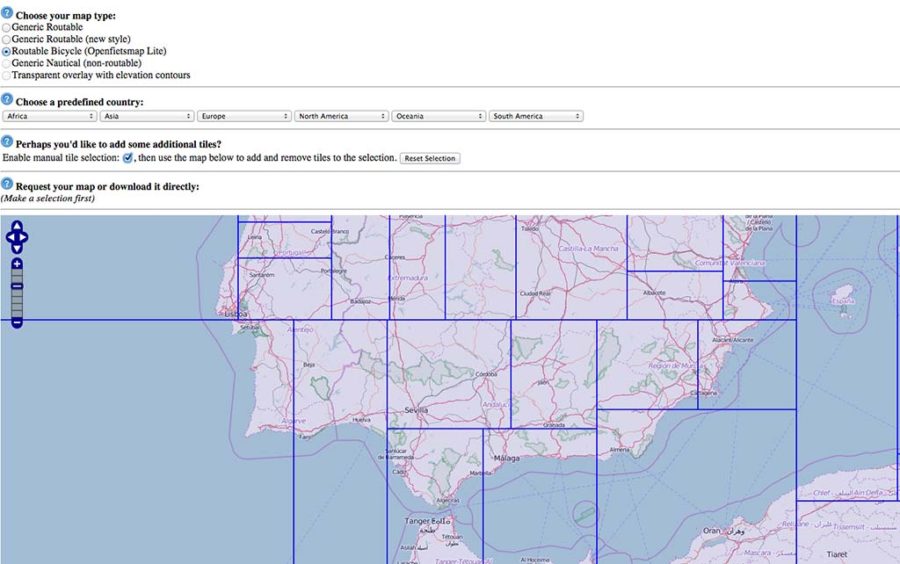 Ahora pincha en cada recuadro que sea de tu interés. En mi caso, la zona que cubre la costa de Málaga, por tanto selecciono esas casillas. Sólo te queda introducir tu dirección de correo electrónico y presionar el botón de «Build my map».
You will receive two emails. The first one will indicate that your request is queued, it is an automatic notification. Secondly and depending on the workload of the OpenStreetMaps server (I usually get it immediately after the first one) you will receive the email with the download link.
And by clicking on the link you will access the download page of your map. The file you are interested in is the one I have pointed out.
Download the file, unzip it and put it in an accessible place (for example on the desktop), because we are going to use it next.
Step 2. Install the map
Ya tienes tu mapa descargado, descomprimido y a mano en el escritorio. Lo primero que debes hacer es cambiar el nombre de «gmapsupp.img» a «gmapbmap.img», pues es el archivo que buscará en la memoria el Edge 520. Si no ves la extensión de archivo no te preocupes, sólo debes cambiar el nombre del archivo. A continuación conecta el dispositivo al ordenador con el cable USB y accede a la carpeta Garmin, donde vas a encontrar el gmapbmap.img original.
You must delete the original file, although it's best to make a copy and save it first (you never know what it might be needed for). After deleting it, if you're on a Mac, you must empty the recycle bin before disconnecting Edge 520 so that space is effectively freed (a very important step). This is not necessary in Windows. Copy the file you downloaded to the device and you're done.
To summarize, and to put the guide in a clear way, these are the steps you must follow
Download the map you need from garmin.openstreetmap.nl
Unzip the file and rename it to gmapbmap.img
Connect Edge 520 to your computer
In the Garmin folder, find the file gmapbmap.img and save a backup, then delete it (and if you're using a Mac, empty the recycle bin)
Copy the file you downloaded and renamed to the same location
Disconnect the Edge 520 from the computer and go out and pedal.
As you can see, the difference in the information present on the map is quite remarkable.
Well, one thing you should be clear about is that despite having maps, there is no point-to-point navigation, as there is with a car GPS, so you can't just stand in the middle of nowhere and ask Edge 520 to take you home and calculate the fastest route to get there, indicating the intersection on each street or road to get there.
En su lugar lo que tenemos son rutas de punto a punto. Por tanto, un punto en cada cruce, que te indicará cuándo debes girar (pero sin especificar si es la calle A o la calle B). Y evidentemente, esta ruta deberás crearla antes en de salir en Garmin Connect. El mapa es un «apoyo logístico» que te puede servir para usarlo de referencia. Si quieres opciones de navegación más avanzadas deberás mirar los Edge 810 o Edge 1000 (o Edge Explore 1000).
And if you are going to navigate in another location tomorrow, the procedure is the same. Replace the map you just installed with the new one you downloaded and that's it.
Strava
Without a doubt, the most important new feature of the Garmin Edge 520 has been the arrival of live Strava segments on the cycling computer. Until now, Garmin segments have been available on many of its devices, but they are not as closely tracked as Strava segments can be.
The fact is that in this sports social network, the bites are the order of the day. That KOM that was taken away from you a week ago and that you had so much trouble getting. Being the first of your friends in a certain segment. Or simply, beating your previous record in a certain segment, like the climb to the top of your town.
This new option allows you to compete against Strava segments that you have previously marked as favorites, for which you have a set goal, or simply that Strava thinks might be of interest to you. However, in order for the data to be constantly updated you must have a current Strava Premium subscription. When you purchase the Edge 520 you are entitled to 3 months of use at no cost.
Strava segments from A to Z
The first thing you need to know is how to get the Strava segments to your device. There are three ways for those segments to appear
The most direct, mark them directly as favorites (the star you can find in a certain segment)
Those segments where you've set a goal
Finally, segments that Strava can randomly select in your area and that you may find to be of interest
The first two cases are pretty obvious. For the third case, Strava's magic has to work; although in my case that magic has been a bit muted, as he has selected some segments that I doubt very much that I will visit. Yes, they are relatively close, but not on routes that are of interest to me.
These selected segments will be updated each time you connect your device via USB or each time you perform a Bluetooth synchronization with your mobile phone. In addition to receiving the relevant information for that particular segment (data such as distances, location, elevation, etc.), you will also get the updated list of times at that precise moment.
If a friend of yours updates their time from the time you last synced until you complete the segment, you will still be shown the previous time, as the data update is not constant.
When you're training, you'll be alerted when you're about to approach a segment you've marked as being of interest, and it will mark the distance you have left to go so you can prepare to beat that time (obviously, gain speed before starting the segment).
At the top you will see information on the target time (which can be the leader of your contact list, your personal record or the absolute record for the segment), while at the bottom the remaining distance to the starting point will be deducted.
You can select this goal by entering the options through the menu button, either before starting the segment or while you are doing it.
You can also check what the target time and average speed is for each of these targets.
As soon as you reach the start of the segment, the display will appear so you can start giving it your all.
As you progress through the segment, the information will be updated to tell you how much distance is left and how you are doing in relation to your target, behind or ahead, and in how much time.
There is also the possibility of not following the route with the map, and simply changing the data screen to another Virtual Partner screen, probably more representative of how you are doing with your objective.
When you reach the end of the segment it will tell you your final time as well as whether you have set a particular record or, as in the case below, it has been quite poor.
Segment completed and results obtained. Now you can go for another one or, if you think you can improve it, turn around and try again. These results are not available on Strava at the precise moment you complete the segment. They will be as soon as you finish your current training and synchronize your activity
Indoor ANT+FE-C training
Another new feature of the Garmin Edge 520 is support for the ANT+ FE-C standard. And what is this? The FE-C (Fitness Equipment Control) profile allows different devices to control the resistance of intelligent rollers that obviously also have to support this function. This allows you to use applications such as ZwiftThe BKool simulatorThe Trainer Road advanced trainings, etc.
That is, the application controls the resistance of the roller to simulate climbs or descents, or to set training goals per watt. The Edge 520 also allows you to connect to these types of intelligent rollers and have our computer control them in various ways, for example, in one of these ways:
Set a few watts as a target, for example 275w. The Edge 520 will tell the roller that this is our target and will maintain the necessary resistance to work that intensity.
Follow a workout created in Garmin Connect. You can access the Connect workout section and design a workout or schedule one as directed by your trainer. After doing so, the Edge 520 will send the appropriate resistance information to the roller for each phase of the workout.
Repeat an activity that you have already done, for example the last outing that you have done outside. It will reproduce the tilt points in the same way that you have done it before.
Route tracking: it allows you to create a route on the map and reproduce the inclinations present on the route, so you can follow the route of a race, such as the queen stage of the Tour de France.
These are really interesting options, especially when it comes to the route of a race you are going to do, so you can see beforehand the effort needed for each point of the race and thus establish a pattern of rhythms to follow.
History, statistics and records
The unit allows you to access your entire workout history directly on the device's screen, if you do not currently have access to your computer or phone for Garmin Connect data.
You can review the activity data again.
See the map of your route.
The height profile of the activity.
Detail of time by laps marked manually or automatically.
And on each of these laps, you can see the specific details of the marked lap.
The time in each heart rate zone
It also offers you the possibility of creating a route from that activity, in case you want to travel it another day. Not only is there information on each of the activities in detail, but it will also offer you total data on all your activities, as well as breaking down the distances covered in each of the profiles you have created.
Among your personal statistics you can find values for your maximum VO2 in cycling and your FTP. For both values you need a power meter. The VO2 is the maximum volume of oxygen you can consume per minute per kilogram of body mass. That is, the higher this value is, the greater your athletic ability. The theory is that this value will increase as your physical condition improves, so it allows you to track how you are improving.
Of course, if you are just starting out in sport this figure will increase rapidly in a matter of months, but when you have been playing sport for years it is much more difficult to see variations in this figure. I usually move between 57 and 58, but I don't usually get out of these values. At first it is possible that they will vary significantly, as the algorithm needs a few training sessions to get to know you better as an athlete, so you should give a time frame of about 5-7 starts for this figure to stabilize. Remember, this is a mere approximation, it can never replace a real stress test where your VO2max will be measured accurately with a spirometer.
The FTP (Functional Threshold Power) is an increasingly important value in cycling. It is the power figure that a cyclist can maintain in one hour of effort (or during 40km). Its importance lies in the fact that it establishes a power threshold. If we make a continuous effort above this figure we will end up running out of power. Very important in triathlon events (where you have to run after the bike) or in long cycling events where you can still be hours ahead.
Finally, the Edge 520 keeps track of your personal records, such as furthest distance, fastest 40K, maximum power maintained for 20 minutes or maximum climb
These records are not only indicated in the statistics menu, but also appear on the screen at the end of the activity if you exceed any of them. The records are device specific, so if you have better records stored in Garmin Connect you should go to the corresponding section and indicate that you want to synchronize those values with your new Edge 520.
Compatibility with Varia and Varia Radar lights
After the firmware upgrade to version 3.0 the Garmin Edge 520 was supported to connect to the Garmin Varia lights and the Varia Radar rear vehicle detection system.
The way to connect to these devices is somewhat different from a traditional sensor. The radar and lighting devices do not connect directly and separately to the Garmin Edge, but first form a network with each other. This allows the Edge to use a single ANT+ channel (since they are limited) to communicate with all the lights, instead of having to use one for each light.
The only thing you'll notice that the connection is something special is that you'll now find a menu in the Edge 520 where you can see which lights you've connected and you can change some of the settings for their operation.
With the radar already paired, you'll receive on-screen alerts of approaching vehicles, both by the colors that will illuminate the edges of the screen and by a line on the right side, where there will be a dot for each vehicle driving behind you.
But this one I'll talk about later in the specific radar test.
Battery life
This is the second time this has happened to me, and in both cases with cycling units. The first was the Garmin Edge 25And now with this 520. The fact is that from the officially announced autonomy figures to the real figure is far from it. But in a positive sense (much more battery life than was supposed).
En el caso del Edge 520, Garmin indica que la duración de la batería es de «hasta 15 horas». Pues bien, tras someter al Edge 520 a mi prueba de autonomía habitual (cargar el dispositivo, comenzar una actividad y esperar que se agote la batería), éste es el resultado de la misma.
Over 21 hours of total life, even with the GPS + GLONASS option activated (which increases battery consumption). It's true that the test was performed without ANT+ sensors or a connected phone (but Bluetooth was activated), but it certainly doesn't have such a high impact on battery life. It's certainly an outstanding result, but I find it hard to understand why Garmin only announces a maximum of 15 hours of autonomy when it goes well beyond that duration.
Internal and external sensors
When talking about sensors, we have to differentiate between the sensors integrated in the device itself and the external sensors. The first ones are the ones the Edge 520 has inside, and the second ones are the sensors the device can be connected to. The Garmin Edge 520 obviously has GPS. What we have to point out is that it is equipped with GLONASS, so it can also receive information from the Russian satellite network. This increases the location accuracy and speed when establishing the initial position, at the cost of a little more battery consumption, around 15%.
No less important is the barometric altimeter, which you can use to know the elevation. But not as an absolute value, since it depends on the atmospheric pressure. What it will allow is to count the meters of ascent and descent in a quite precise way. By default the altimeter will be automatically calibrated when you start an activity, through the GPS data.
If you want to have accurate altitude data throughout your route, you can get it by making a manual calibration at some point where the altitude is specified with total accuracy (for example, the highest part of a mountain pass). This can be done from the menu within an activity.
The compass we can find is not magnetic, but it is through GPS, so while we are moving the direction indication will be accurate (because we are moving in one direction), but if we stop it will not be able to determine where we are looking.
This can present a problem if you are navigating a route and try to decide which of the two paths to choose, because the map will start to turn on itself as it cannot identify your orientation. This magnetic compass is present in clocks, but not in cycling computers, and it is certainly not something you will miss (especially for more complicated routes such as those made by mountain).
Finally, another sensor integrated into the device is the thermometer. Like the compass, there are also watches where it is possible to find this temperature sensor, but here it makes sense. While the sensor in the watch is affected by our body temperature, in the Edge 520, when mounted on the handlebars, it will provide a correct temperature.
The temperature will be displayed on the main screen, at the top next to the time, or during the activity by entering the menu options (by pressing the top right button) so that the top status bar appears. You can also add a temperature data field, however.
As I say, those are the sensors built into the device. But thanks to the ANT+ connectivity we can connect to a lot of external sensors:
Pulse sensor
Speed and/or cadence sensor
Power meters
ANT+ lights (like Garmin Varia or Bontrager ANT+ lights)
Garmin Varia Approach Radar
ANT+ rollers, receiving power and speed data
ANT+ FE-C rollers, controlling their resistance (and of course receiving information from them, if they support it)
Garmin VIRB cameras
ANT+ scale
When you connect to these sensors, not only will you see the information they provide on the device screen, but it will also be saved in the FIT file of the activity, so when you finish and synchronise, you can review all the data in Garmin Connect.
Connectivity
With the Edge 520 you can connect to two types of devices wirelessly, thanks to ANT+ and Bluetooth Smart. In the case of ANT+ you can connect to external sensors or training rollers as discussed above. That is, it is capable of connecting to all the sensors you would expect from a high-end cycling device, with the inclusion of the new ANT+ FE-C profile that debuts with the 520. Like the Garmin Edge 1000, the Edge 520 also has Bluetooth connectivity to pair with your mobile phone. This pairing gives you different features.
First of all, and being already a classic in the Edge series, we find the LiveTrack. It allows you to transmit your position in real time, and it does it together with data of speed, pulses, cadence, etc. The tracking can be done through the Garmin website. To start the session you will have to do it through the phone application, and of course you will have to take it with you while you train, since it is the one that sends the data to the server.
Anyone you give the link to the application will be able to follow your training. It's a very useful way to keep your family calm, knowing that nothing serious has happened to you, even though it's a double-edged sword. Now they'll know that the reason for going out with your bike is not to go training, but to go out for a beer.
On the Edge 520's screen you'll also receive notifications from your mobile phone, but the service isn't as extensive as it is with watches. On the cycling computers we'll only receive call alerts (both ongoing and missed calls) and SMS messages, so you won't receive alerts for social networking messages, e-mail or WhatsApp. And it makes a lot of sense, because the idea is to keep an eye on the road and not the latest joke in group chat.
One of the options offered by Garmin Connect is to update the weather data for your area. And when I say area, it is a very large area. For example, in my case the weather provided is for Gibraltar, as it must be the closest weather station to my actual location (Marbella).
By scrolling down we can access the forecast for the next few hours.
Alerts are offered along with the weather information, something that only works in some cases and I suppose it will depend specifically on whether the weather station you are getting data from sends out these kinds of alerts.
Finally, thanks to the Bluetooth connection, we will also automatically synchronize activities as soon as you complete them, so you don't have to connect the Edge 520 to your computer to transmit the data. This synchronization is bi-directional, so when the Edge 520 connects to your phone you will also receive updates on satellite cache data, time changes on Strava segments, workouts or routes created.
This time, Garmin has not included WiFi connectivity in the Edge 520, something that the Edge 1000 has. has already announced is the arrival of the platform Connect IQ to the Edge devices, which will allow you to install applications and data fields not only on the clocks, but from the first quarter of 2016 on any of your cycling computers, starting with this Edge 520.
My opinion
As a training unit, the Garmin Edge 520 delivers on its promise, and it does so on a very good note. This device has absolutely everything you could possibly want in a cycling computer you'll be using for training, and more. Despite its small size, it comes loaded with all the training options already seen in the rest of the range, and there are exclusive new features such as the ANT+ FE-C roller control.
There will be some features that some of you may miss, such as the absence of a touch screen, not being able to insert a memory card to install larger maps or navigation being too simple. The absence of WiFi is also noteworthy, not for its usefulness itself but simply because it is something we are seeing as usual. But it is clear that something must be left for future models of higher ranges (for example, when it is presented substitute for the Edge 810).
Personally, the only problem I can see is that sometimes it is a bit clumsy in terms of processor. Going from one page of data to the map, and then to another page of data makes it freeze for a moment. The problem is that there is no indication on screen that it is working, so it feels like hanging up, and you press the button again in case you haven't pressed it properly the previous time. But more than a defect of the device, it is a deformation of the fact of using tremendously powerful phones (and with much less autonomy), and we want everything to work just as fast.
If you're looking for a training partner, the Garmin Edge 520 is one you can get right down to business. The only people I won't recommend the Edge 520 to are those who do a lot of sailing, because that's the only place this Edge is loose.
Did you like the test?
I hope this test will help you decide on your next purchase. As you know, each of the analyses you can read on the web requires many hours of effort. If you like the work I do and want to lend a hand and support the site you can buy the Edge (or any other item) through the links belowYou get a very good price and they return a small commission which is a great help. All without any cost to you.
As you know, if you have any doubt or you think I should have commented something else, you can leave a comment and I will answer you as soon as possible. Share this test with your friends, don't be selfish, I'm sure they like it too. You can do it through social networks or, as we have done all our lives, by word of mouth.
Buy Garmin Edge 520
There are two versions available for the Garmin Edge 520. On the one hand the standard, cheaper version, which is the one I tested. But there is also a pack version, which includes the pulse, speed and cadence sensors. If you don't have any of them, it's a very good opportunity to get them. Below I provide you with links to good offers.
[/box]