Garmin has been in full swing for a year now, and among the new additions we have made this 2015 are the Garmin Edge 20 and Garmin Edge 25.
They are positioned as access devices for the Edge range, such as an economical cycling computer with basic functions combined with the use of GPS. In addition, in the case of the Edge 25, it incorporates ANT+ and Bluetooth connectivity.
Designed mainly for less demanding users, these two devices come to offer a computer of very reduced size and weight, easy to handle and without an excessive number of options that may scare the type of buyer this device is aimed at: those who seek simple handling or who are intimidated by technology.
Before I start the test, I always want you to know the origin of the devices I test. I often buy it in store so I can offer the test as soon as possible, and other times I depend on the units sent by the manufacturers through their press departments. This time the little Edge 25 of the test has been temporarily loaned by Garmin, and as soon as I press the publish button I will put it in a little box and send it back.
Remember, you can buy your Garmin Edge 20 or Edge 25 at Amazon through the links I provide at the end of the articleThat way you will help the web a lot (and you can save another lot too).
And after this brief introduction, let's get to the full test.
---
RATING
Operation - 8
Connectivity - 8.5
Design, finish and comfort - 9
Battery life - 7.5
Applications - 9
Price - 7
---
The good
Small, light and discreet
Includes route navigation, more than enough for city or road
Bluetooth connection to synchronize workouts, receive notifications, Live Track...
It's like a simple speedometer... but just better
The bad
If you're short-sighted, you may be too small
Not compatible with power meters
---
https://www.amazon.es/dp/]B010LY8NKS&tag=c1mes-21
---
Unpacking
Unlike the Forerunner, the Edge comes in a fully enclosed cardboard box. That means there is no plastic window through which you can see the device. But as detailed on the front, the image of the Edge shown here is life-size. What you see in the box on the store shelf is what you take home.
The test unit is an Edge 25 and, as you can see from the icon below, it is the pack version with the pulse sensor.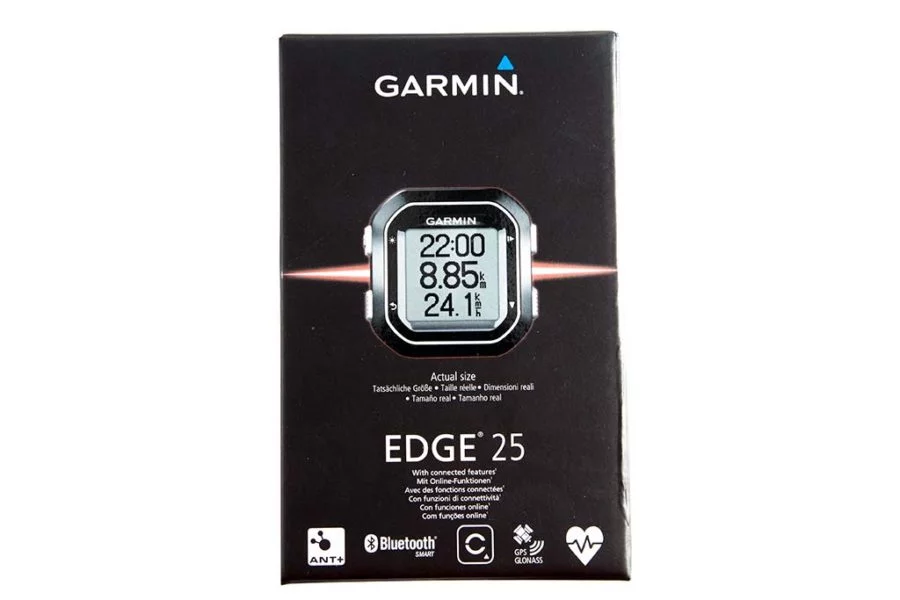 The ideal location for such a small device, as shown by Garmin in the side picture, is in the stem, where it is best integrated, since its size is practically the same as a standard stem, with only 4×4 cm. And it is a featherweight, weighing only 25 grams on the scale.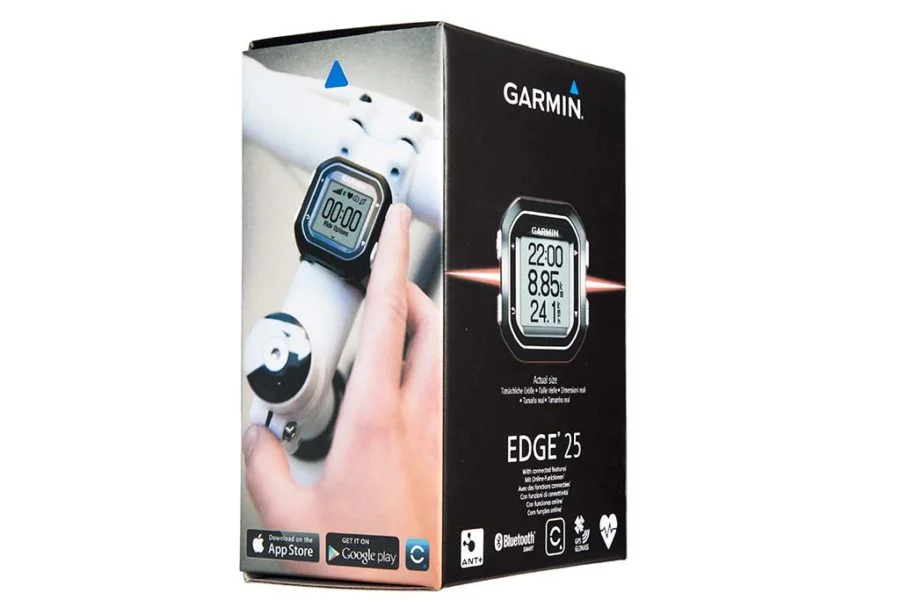 If there is one thing that makes this small computer stand out from classic computers it is the analysis possibilities it offers after completing your route. And that is detailed on the other side of the box.
But let's go slowly with everything you'll find inside the box. To start with you have two complete sets of mounts, so you can mount the device on two different bikes. From top to bottom, you can find first the rubbers that are placed under the plastic support, to avoid both the movement of the support and damage to the paint.
Underneath them, in the shape of a star, is the classic Garmin quarter-turn stand. And last but not least, the stand's attachment rubbers in two different lengths, which you should choose depending on the thickness of your handlebar or stem.
If you buy the version with a pulse sensor, this is the sensor you will receive. It is not the "premium" sensor that we are more used to seeing, but the basic sensor, with a rather rigid plastic band. It can be a bit uncomfortable to wear, the truth is that I would have preferred the premium sensor to be included in all devices and for this rigid version to disappear.
The transmission and charging cable, of course, changes its design and is unlike any other we have seen so far.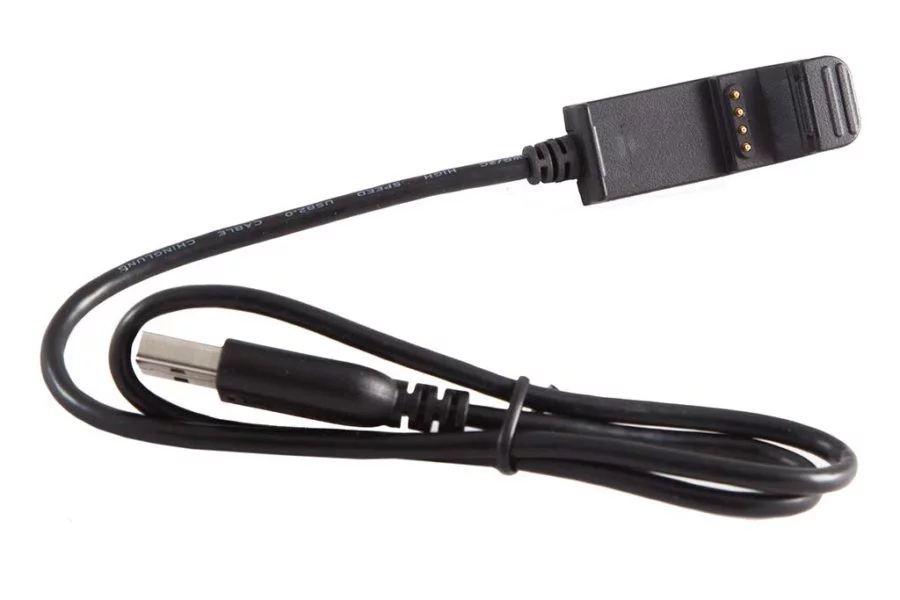 And this is the device itself. As you can see, it's really tiny. As usual with lower range devices, we have four buttons. On the left side the button for the lighting (if you hold it down you can turn the device off) and the one to return to the previous menu and manually mark laps. On the right side the button to confirm options and to start and pause the activity, while the lower one will allow you to scroll down the menus and when you're training, it will allow you to switch between the different data screens.
Despite the small size of the device, the screen is large enough, at 2.3×2.3cm, but it is mainly in resolution and contrast that it stands out. 128×160 pixels guarantee good visibility.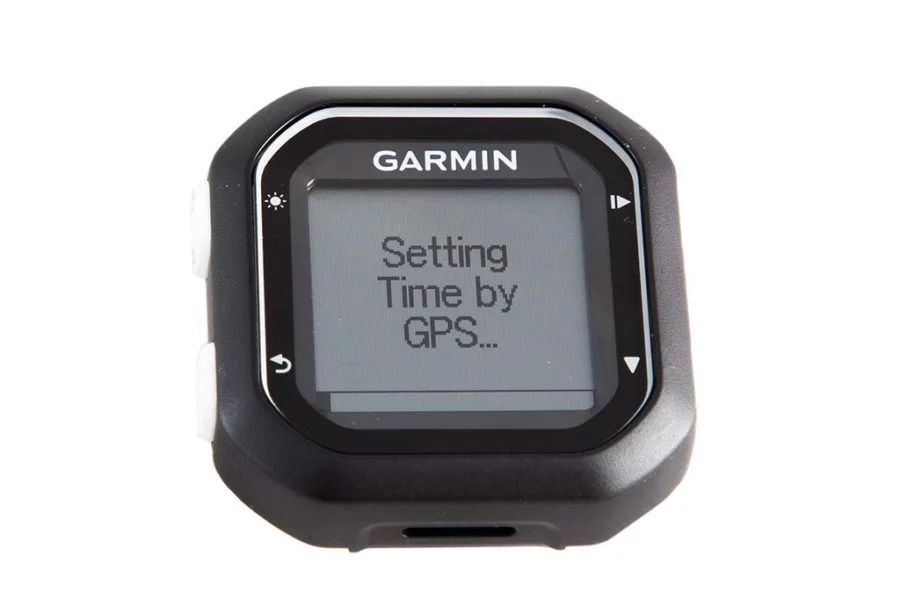 And in case you have no idea of its size, here it is compared to other devices, along with a coin you know perfectly.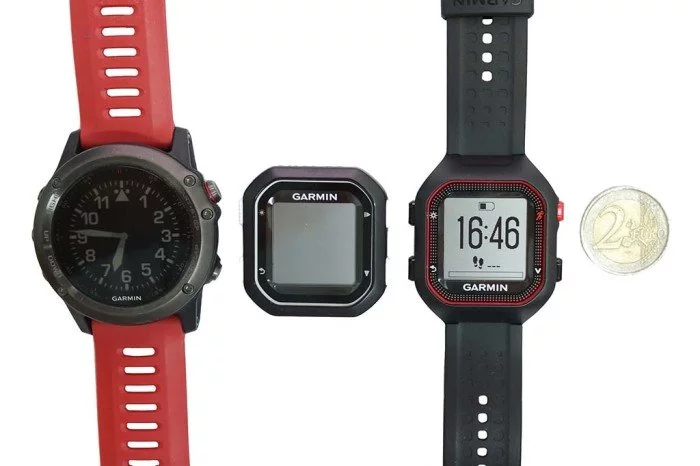 Before you start shooting with it, you must first install it in its place. So let's go over the basic tips.
Installation
The Garmin Edge 25 includes a bag with two handlebar or stem mounts, allowing you to place the mounts on two different bikes and switch your device between the two. Of course, if you have more bikes, you can buy more mounts, not just from Garmin as many manufacturers make quarter-turn mounts, such as the K-Edge mount I have on my handlebar.
When placing the stand, the only thing you have to be careful about is to place it in the right direction, that is, with the base inserted vertically, as in the image.
The device is inserted and rotated 90º until it "clicks". Therefore, if you mount the bracket "horizontally", when you rotate your Edge it will be on its side.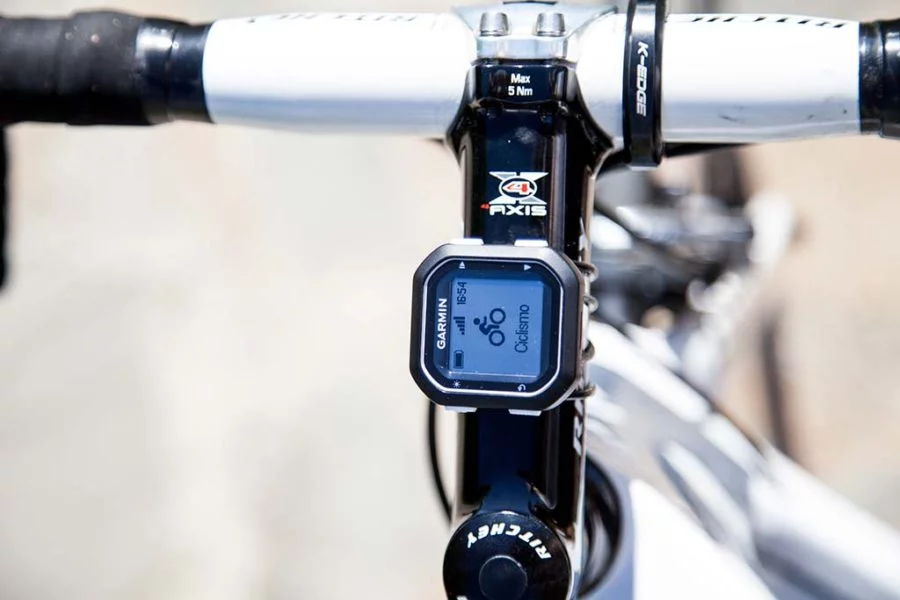 And that's definitely not what we want, right?
Basic Use of Garmin Edge 20 / Edge 25
The Garmin Edge 20 and Edge 25 are essentially very simple devices, not only because of their small size, but also because they are designed to cover a very specific market segment, that of the user who is looking for basic functionality. The configuration is very simple, as it does not have long lists of options that you can activate, nor dozens of different data fields to help you with millimetric training.
Both Edge 20 and Edge 25 are designed for the cycling world, providing basic data on screen. We have two editable screens, with three data in the first and two in the second, along with two additional screens: a specific heart rate (with current frequency and zone) and another with the time of day, so you won't be late for lunch.
Therefore the first thing you have to do is to configure what information you want to see on screen, being able to choose between the following metrics:
Weather
Distance
Speed
Average speed
Calories
Cadence (Edge 25 only)
Total promotion (GPS data, neither Edge 20 nor Edge 25 have a barometric altimeter)
And that's what they look like on the screen, both the three-data
Like the one with only two, slightly larger.
And as I mentioned, these are the heart rate zone and time displays (which also include battery and date).
If you have noticed, in all the images you will see an icon in the lower left margin. This icon confirms that the Garmin Varia radar is connected. Although the screen of the Garmin Edge 25 is quite small, at the moment of truth it allows to show a lot of information on screen. It is in this area where the warnings of the vehicles that are behind will appear, as you can see in this image.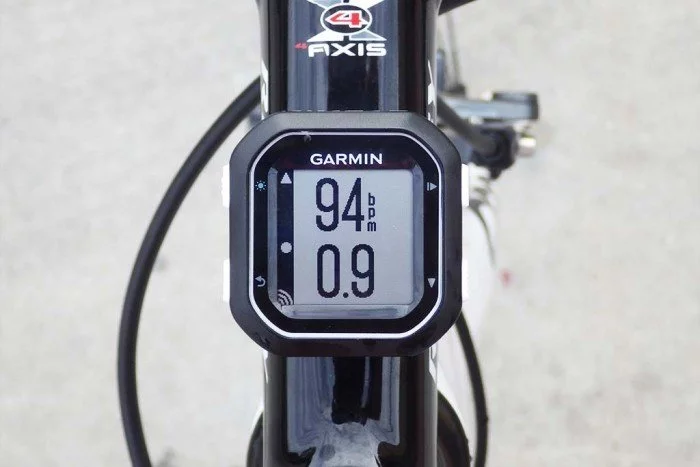 When you are out and about, you can choose from several cycling modes, all of which are selectable on the device itself and very easy to understand. You can access your settings from the activity screen (before you start) by pressing the scroll button (marked as cycling options).
There are three options here: Cycling mode, heart rate alert and outdoor use. The following cycling modes are available:
BasicThe default mode: You start pedaling and make your route.
Follow the routeRoute: Follow a previously downloaded route. This is the same as the route option in the main menu.
WeatherTime target, in multiples of 5 minutes.
DistanceSpeed sensor: Requires matching a speed sensor for exact distance calculation.
CaloriesSpeed sensor: Requires matching a speed or pulse sensor.
All modes add additional data screens, specific to the selected mode. So if you want to train for 50 kilometers and enter the figure, a new screen will be added indicating the remaining distance to your goal. The same goes for the other modes.
Heart rate alerts are available and can be activated to warn you if you exceed a certain frequency range by zones, or manually set.
As for indoor use, if the GPS is deactivated you can use it on a roller saving a lot of battery power, as long as you have a speed sensor (if not, it will simply serve as a stopwatch).
These are not the only settings you can make. Within the configuration menu -> cycling settings you will find four more traditional options.
Back toTo activate the use of the back button to mark laps, as well as to activate the car lap (every km or every 5km).
Auto PauseStop: Allows you to stop the activity if you stop.
Automatic screen changeYou can change the data screen manually, or activate this option, with three different speeds, to pass them automatically.
Data fieldsI have already spoken about them above.

External sensors
The Garmin Edge 25 allows connection to external sensors, but the Edge 20 does not have any connectivity (ANT+ or Bluetooth).
The sensors we can match are as follows:
Speed and/or cadence sensor
Heart Rate Sensor
Garmin Vario radar and lights
Therefore it is out of this list power monitors, not supported by the device.
Adding sensors is usually quite easy on any device, but I found problems with Edge 25. Not really problems per se, more like difficulties that made me need a couple of minutes more than usual, so I'll explain it to you so you don't get the same thing.
The sensors are added from the configuration menu.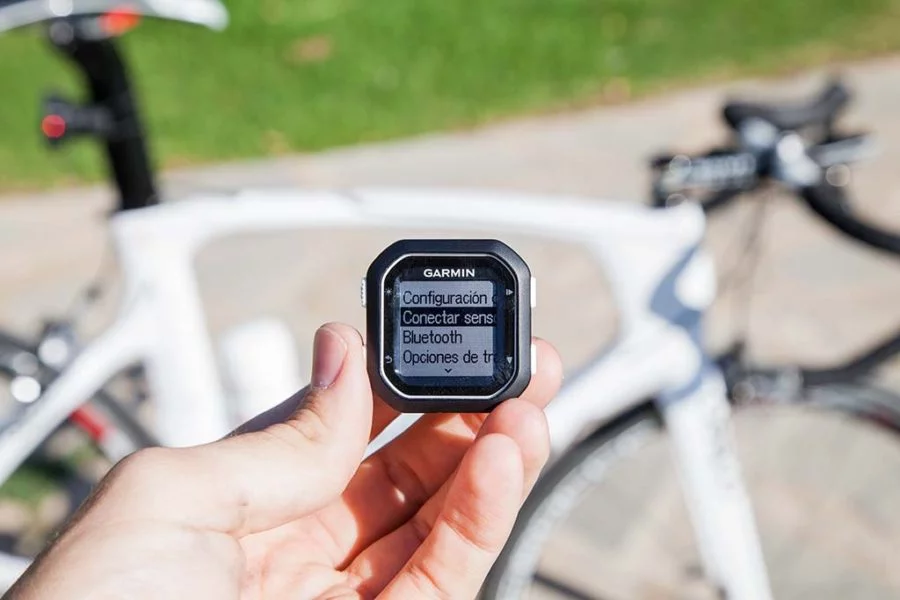 To do so, just activate the sensor (in the case of speed and/or cadence) and perform the search with the Edge. Nothing that deviates from the normal, but there are two cases in which special care must be taken.
First, when pairing a device, a message appears on the screen asking you to keep the Edge 25 and the sensor close by to perform the pairing. After many attempts where I was unable to pair the Wahoo speed and cadence sensorI chose to do what he asked me to do, and I did a search next to the sensor, and on that occasion it did detect the sensor correctly. Of course, during all the activities carried out there were no problems connecting the Edge 25 and the sensor, each one being in its usual place, so there are no problems in receiving the signal, but it is a calibration to avoid that, if you do the sensor search next to other bikes, you connect to sensors that are not yours.
The main difficulty came in knowing if the sensors were paired. When the sensors are connected, the confirmation message appears very briefly on the screen, while you continue to search for new sensors.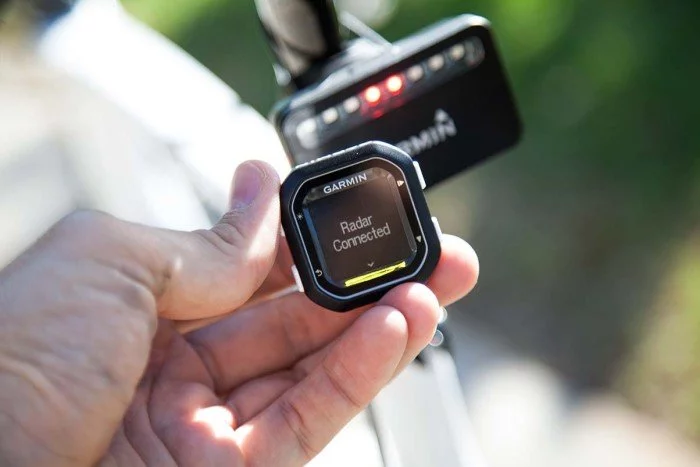 So you probably think it hasn't been paired up yet and keep looking. And since the sensor is already synchronized, you won't find it again. However, knowing if you have the sensor already connected is easy, if you try to start the cycling activity you'll be able to see which sensors are connected to the Edge 25 (the ones that appear fixed on the screen).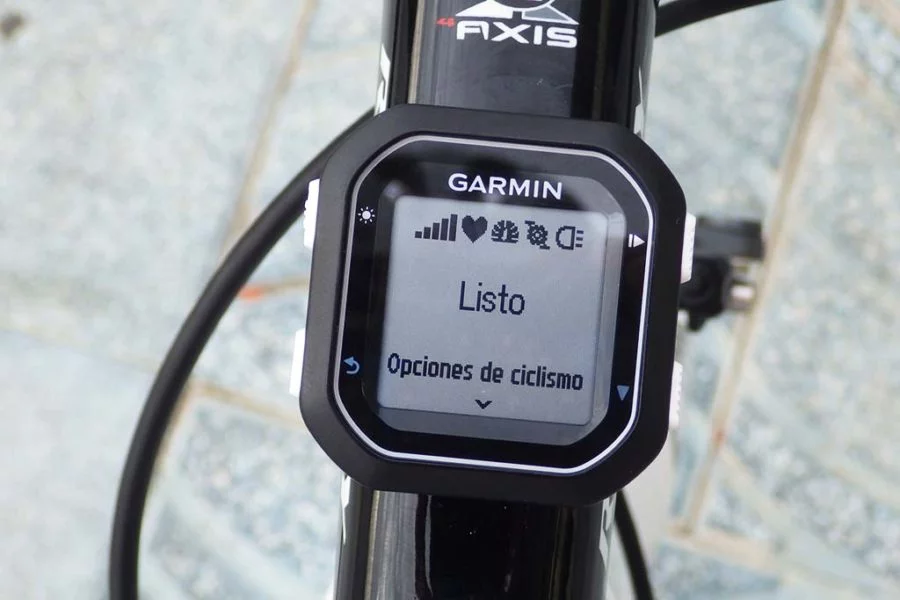 As far as the sensor system is concerned, the operation differs from the rest of the new Edge range. In the higher models the sensors are added, being able to duplicate sensors and have several similar sensors paired (that are not synchronized at the same time). In the case of the Edge 25 we can only have one of each type paired. Therefore, if you use more than one bike with sensors, you will have to search again every time you change the location device.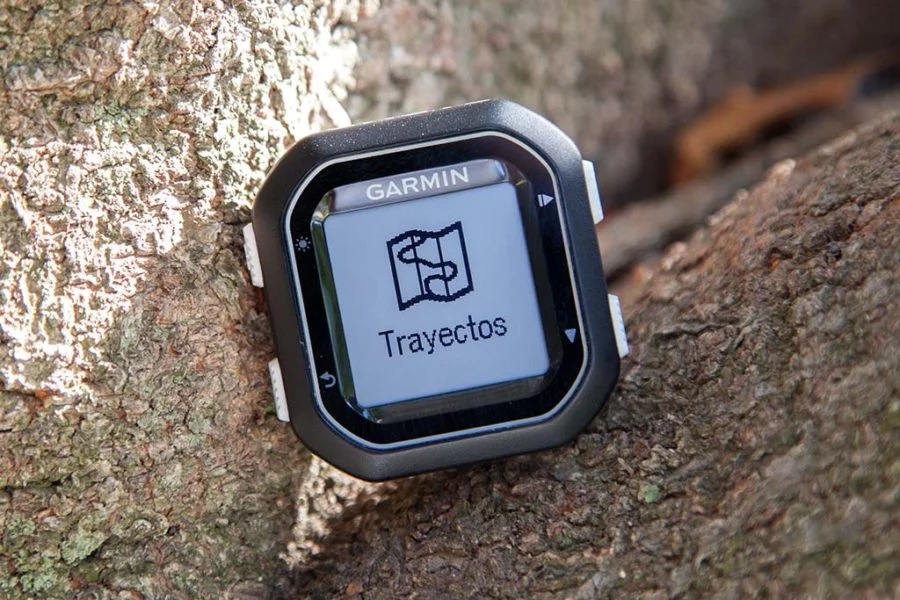 The main surprise that Edge 20 and Edge 25 give us is that, despite its tiny size and basic features, it is more than just a GPS odometer. It also allows us to follow tracks easily.
The first thing you'll need to do is create a route, which you'll need to sync with your Edge device (both Edge 20 and Edge 25). It's easy to do, and you can do it directly from Garmin Connect by accessing the route section of the website.
Above the map, on the right, you will see a button indicating "Create route". Click it to start the wizard.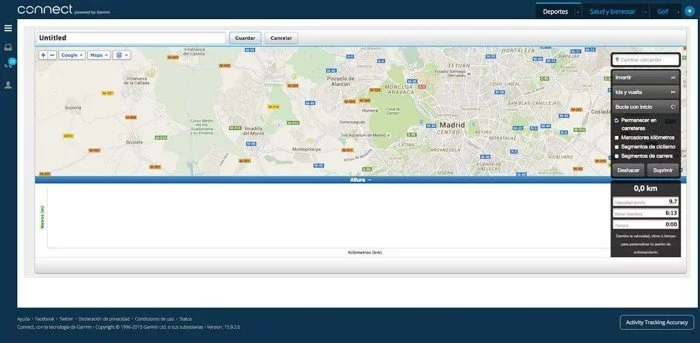 On the right side you will find the control panel for the route. Start by looking for your location, or the one where you want to start the route. You will simply have to click on the map, adding points for places or crossroads you want to pass. If you leave the option to stay on roads activated, the route will be done by the shortest way, so setting up your route is very easy.
However, if you are preparing a mountain route by road, you must turn this option off and add more waypoints. You can activate the segments (from Garmin not from Strava) in case you want to route through them.
At the bottom of your route you will have the altimetry detail of your route along with the total distance, and it allows you to add an average speed so you can estimate how long it will take you to complete your route.
When you are done with your route, simply name it and click on "Save". podhen select "Send to device" and mark your Edge 25.


And once the route is sent, it will be synchronized with your Edge 20 or Edge 25 the next time you connect it to your computer via data cable or via Bluetooth with your mobile phone, so you can navigate it.
When you start your route, you'll have the track on screen, so you can follow the appropriate road or path, and you'll receive route directions that let you know in advance when to take a detour.
Keep in mind that the Edge 20/25 doesn't have a magnetic compass, so you must be in motion to get the right direction. In case you stop to look for your turn, the reference will not be valid because the plane will most likely start to turn on itself, that's why having the turn warning in advance is so useful (and it warns you well in advance, up to 400 and 500 meters before).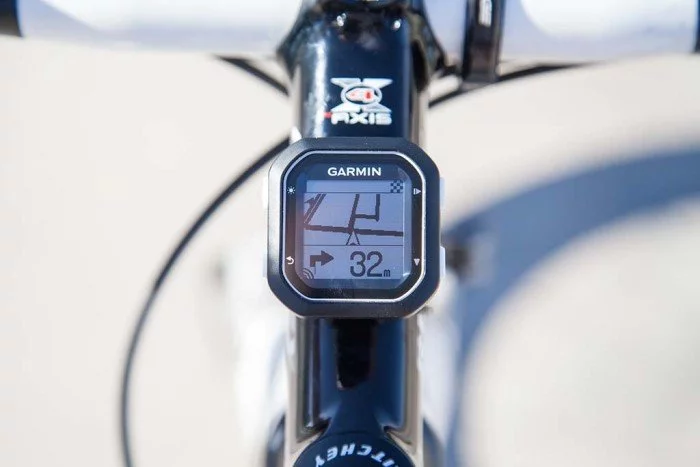 If you stray off the route, you will be warned on the screen to avoid going off course.
This indication will remain on screen, but will return to the map screen to help you take references.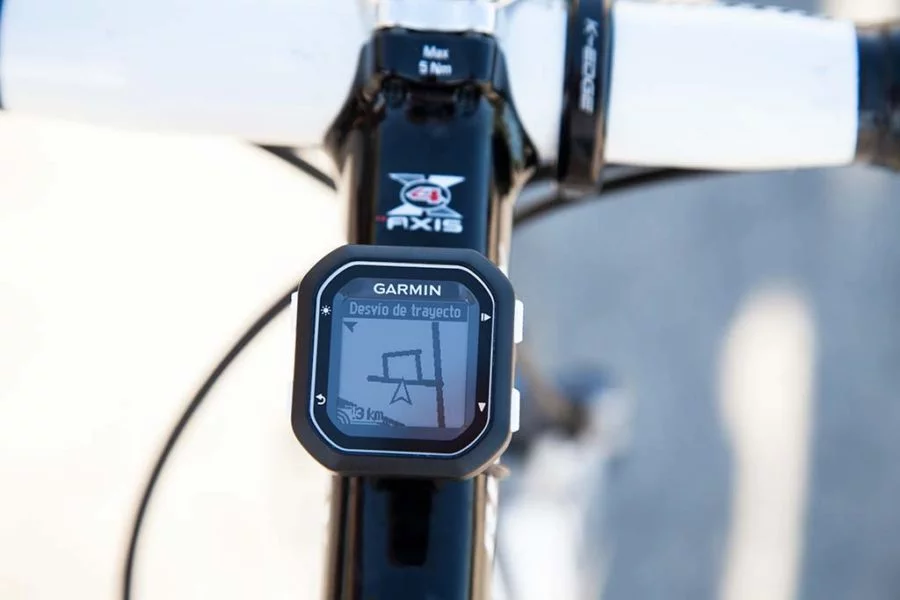 Naturally, you will also receive an on-screen warning as soon as you return to your marked route.
And if you are on the road, but driving in the opposite direction, it will also indicate that you should turn around.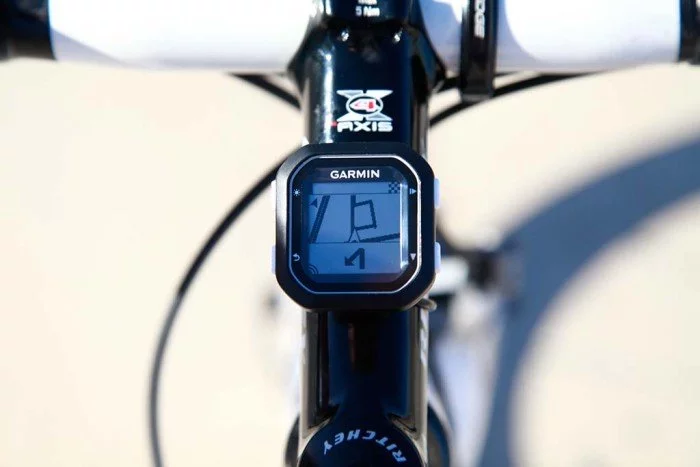 You do not always need to have the navigation screen with you, as the directions are also received on the data screens, so you can go with your standard screen and receive the audible warning when you need to take a detour.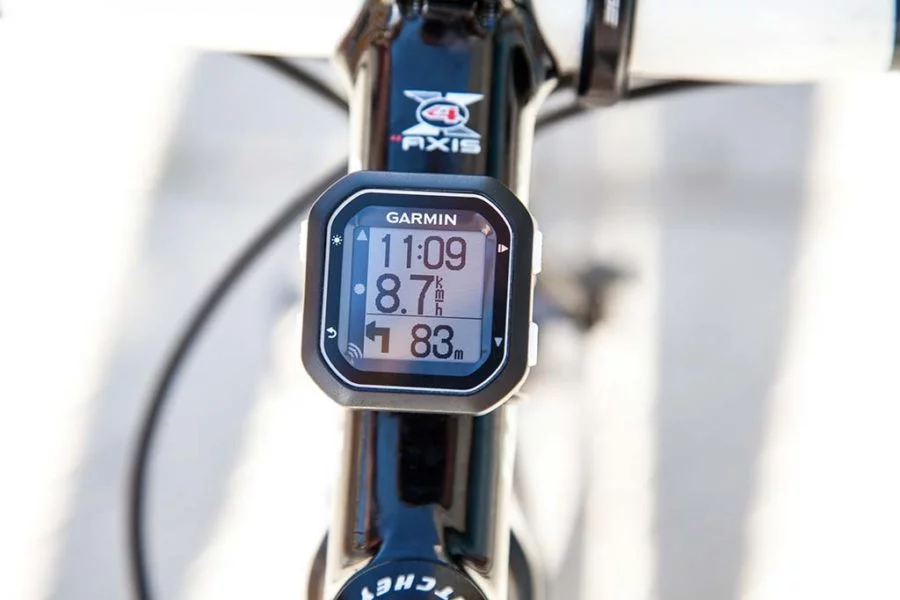 The map of the route is not the only screen added to the existing ones. If you remember, when the route is created you can specify an average speed for it. You will have a screen to estimate the time you have left to pedal.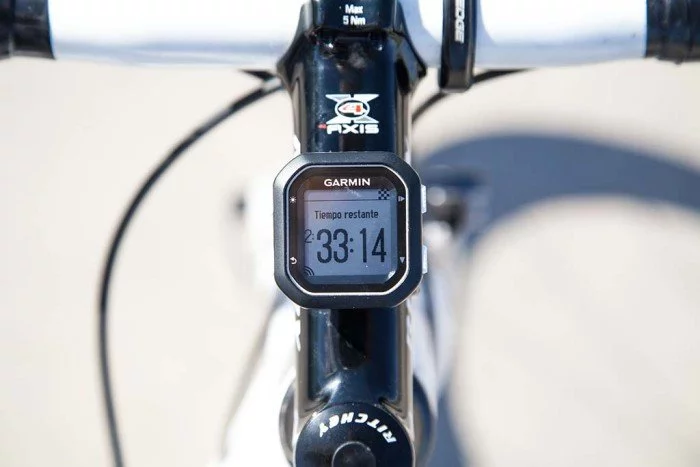 And another with the remaining distance to go, along with the time above or below your marked goal (as if it were a Virtual Partner mode).
The navigation is always done on routes that you have created previously. The device does not have loaded maps or the possibility of storing them. And of course the navigation is point to point, you do not have the possibility of indicating that it takes you to a point X starting from where you are (ie you can not ask him to take you to the nearest ice cream shop for your ice cream cone).
GPS and route recording
Both the Garmin Edge 20 and Garmin Edge 25 have GPS to help you find your way around. This GPS is also compatible with GLONASS satellite reception, which is disabled by default and can be enabled in the settings menu. However, you should be aware that enabling this option will reduce battery life, usually by about 15-20%, although it can add a bonus in terms of better data (simple, more satellites, better location).
The GPS we find in Edge 20 and 25 is similar to any other model in the category. The only variation is the size of the antenna. Logically, the total footprint of this device is much smaller than other more advanced computers, such as Edge 520 or Edge 1000, which thanks to its larger size can be equipped with a larger antenna. Not that there is a substantial difference, but I have noticed more accuracy in the tracks recorded with Edge 520, especially in places with more complicated coverage.
What we don't have in Edge 20 and Edge 25 is a barometric altimeter (nor a magnetic compass). The altitude data that it offers us both en route and in the activity review will be given by the GPS, a rather inaccurate calculation method to measure the altitude. You will see, when positioning in a plane, the GPS is a very valid instrument; but to place yourself in a position in three dimensions is much more complicated, because of the variable angle in which the satellites are located.
The end result is that the altitude data and altitude gain will be unreliable. To show this profile of a route done with the Edge 25 and an Edge 520. You can see that the final profile is the same, but the graph of the Edge 25 is full of saw teeth with continuous ups and downs, which ends up resulting in 230m more positive in the case of the Edge 25.
Another difference we find with the top models is that Garmin still doesn't get rid of intelligent data recording. In this mode of operation, GPS data is recorded in a variable way when the device deems it appropriate, which usually occurs every 5 or 7 seconds. This method of recording has been used for years. In the past it made sense as it was a way to save memory and battery space. But today this is no longer an impediment, and maintaining intelligent recording is simply for business reasons and to provide a differentiation from top-of-the-line equipment.
This is not really a major problem, as the total distance measurement (if no speed sensor is used) in the tests I have performed has always been less than 2%. In fact, on long straights there is absolutely no difference.
But it's when we get on to the more twisty roads that the track mistakes start, eating up the corners. In this case you can see how Edge 520 traces the curve perfectly, and in the case of Edge 25 we see which two landmarks it has recorded and how it traces a straight line from one to the other.
Because, as you know, the fastest way between two points is a straight line. So, what's the point of having roundabouts?
As I say, it's more of an aesthetic issue when it comes to analyzing tracks in detail. In real life it hardly matters, and one example is that the speed recording between the Edge 520 connected to the speed sensor (blue line) and the Edge 25 with GPS data, barely offers any points of differentiation.
Records and history
In the main menu you will find the history option, which will store all the activities that you have been doing and which you can consult once they have been completed. When you access each of them, you will have complete data on time, distance, average speed, etc.
Basically, it's the information you synchronise with Garmin Connect when you finish any of your activities.
Something more interesting is the records option, where you can keep track of your personal achievements. There are three different records, of which you will receive notification when you complete the activity, if you have passed any of them. They are as follows:
40 km faster
Longer distance
Maximum climb
The ones you will see on the device are the ones you have done with the Edge 25. Therefore, my fastest time in 40 km that appears on the Edge 25 is from my training with it these days, not my absolute record.
So if you have other records stored in Garmin Connect, podransfer them to your new Edge 20 or Edge 25 from the "Send to Device" option on the website.
Battery life
The device I've been testing these weeks is the Garmin Edge 25, which according to technical specifications has up to 8 hours of battery life with GPS use. If you use it indoors with the GPS turned off this duration will be longer. To test it something as simple as charging it to 100% and start an activity until the battery runs out.
The result obtained is surprising, as it greatly exceeds the figure provided by Garmin, exceeding eight hours by a long way.
More than enough time to endure the longest rides you make, because if you spend more than 9 hours using Edge 20/25 without interruption, you don't need a bike, you need a transport pass.
Connectivity (Edge 25)
The main difference between Edge 20 and Edge 25, apart from the small aesthetic changes, lies inside the device, because Edge 25 has ANT+ and Bluetooth connectivity, something we won't have in Edge 20.
First of all, ANT+ connectivity will help you to connect with the external sensors, as you have seen in the specific section. Bluetooth connectivity is simultaneous, but we must make it clear that it is only valid for connection with your mobile phone, and we will not be able to add Bluetooth sensors.
Pairing your Edge 25 to your mobile phone will be useful in three cases, which I detail below.
Data Synchronization
In addition to synchronising activities via the data cable, you can also synchronise directly with your phone, without having to connect your device to the computer every time you finish a route or workout. Synchronisation is up and down, so you also receive the records or routes you want to synchronise with your device on your phone.
Receiving notifications
If you carry your mobile phone while training (which I guess you do, if only for safety) and keep the Bluetooth connection active, you can receive on the Edge 25 screen notifications of calls and SMS messages, but only these two notifications, not from other applications such as WhatsApp, Facebook, Twitter or email.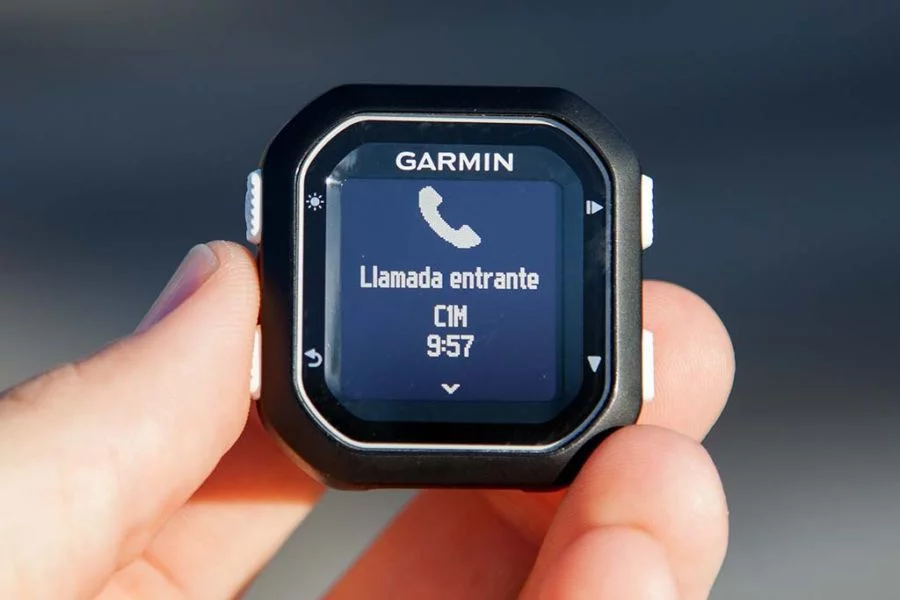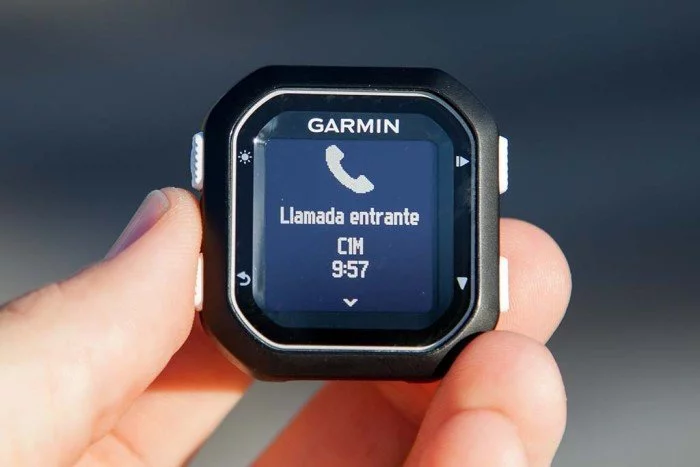 Livetrack
You can also create a Livetrack session, which will allow you to transmit your position along with speed data, keystrokes, etc. Tracking is done through the Garmin page, and is initiated directly from the mobile application. You can share the link through social networks or as a text link, and the person you send it to can track your entire route. Very useful, especially for giving it to family members so they know where you are and that your heart is still beating (and it's a good excuse for your other party to approve the purchase...).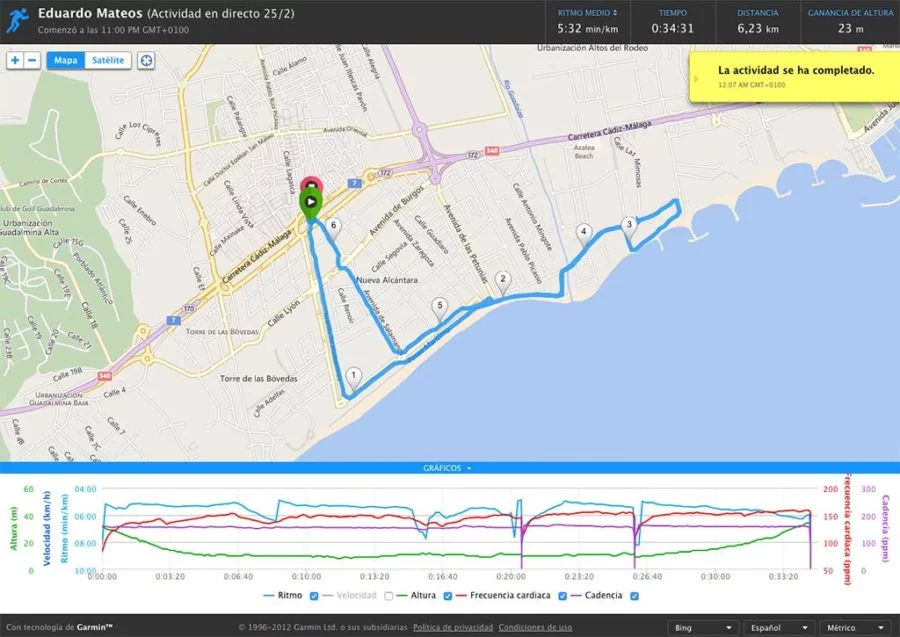 The training session would look as you can see in the image above. It is a running session, but the operation in the case of cycling is exactly the same.
My opinion
At first glance, the Garmin Edge 20 and Garmin Edge 25 may seem extremely simple units with features far from what we would expect from their price tag. It is true that for the cost of an Edge 25 we can get a Polar M450 which offers a lot of features for the same amount of money (barometric altimeter, different profiles, data recording per second, support for power meters (although only Bluetooth), longer range, workout tracking), but also keep in mind that there are other things you will not find in Polar, such as receiving notifications, the LiveTrack function or the possibility of creating navigation routes.
I think the Garmin Edge 20/25 is aimed primarily at the road rider who is not interested in specific training sessions, and I would say that it perfectly meets the requirements of the 95% for this type of user, with the smallest possible handlebar tread and a truly contained weight.
Did you like the test?
I hope this test will help you decide on your next purchase. And if you already have it, that it will help you understand how it works. I always tell you, performing each of these comprehensive analyses requires many hours. If you like the work I do and want to support the site you can buy your Garmin Edge (or any other item from the Amazon store) through the links belowYou get a competitive price and they return a small commission which is very helpful, and all at no cost to you.
As you know, if you have any doubt or you think I should have commented something else, you can leave a comment and I will answer you as soon as possible. Share this test with your friends, don't be selfish, I'm sure they like it too. You can do it through social networks or, as we have done all our lives, by word of mouth.
Buy Garmin Edge 20 / Garmin Edge 25
There is only one version of the Garmin Edge 20 available, but the Edge 25 can be found in two different options. Either the regular device-only version or a packaged version that includes the Garmin pulse sensor. Below are links to some great offers. Buying through them will help you maintain the website and my work.
In addition, these are the prices you can find on Amazon throughout its European network
https://www.amazon.es/dp/B010LY8NT4&tag=c1mes-21
https://www.amazon.es/dp/B010LY8NKS&tag=c1mes-21
https://www.amazon.es/dp/B010LY8O0M&tag=c1mes-21