If a week ago Garmin released watches (the Forerunner 255 and Forerunner 955) today it's time to renew cyclocomputer. And it is that today is presented the new Garmin Edge 1040 which comes in two versions, the traditional one as up to now and a new one with solar charging (obviously called "solar charging"). Garmin Edge 1040 Solar), perhaps the device that makes the most sense to incorporate this technology.
But there is another good news, Garmin has finally used the USB-C connector! Gone is the now very old microUSB that has been used so far in all its devices and gives way to the connector that you will be using in most of the devices you have at home.
There are also changes at the software level with a new user interface or new metrics and functions, such as the Stamina function (which debuted with the Fenix 7), rider type categorization or Power Guide.
New Garmin Edge 1040
There are new hardware and software features. As always, the easiest way to show them is through a small list, so here it is below. Obviously the comparison is made with respect to the Edge 1030 Plus, which is the previous model of this same range.
Slightly taller, wider and thicker than Edge 1030 Plus (from 114x58x19mm to 117.6×59.3x20mm)
2 grams more weight (from 124 grams to 126 grams, or 133 grams in the Solar)
Finally with USB-C charging connector
Metal quarter-turn anchor, instead of plastic which is prone to breakage or wear and tear
35 hours of autonomy, and up to 70 hours with power saving mode (the previous model offered 24 hours of battery life).
In the Solar version, the estimated battery life is up to 45 hours or up to 100 hours with energy saving.
Multiband satellite reception
Configuration via cell phone
Connect IQ store directly on the device
New user interface, with a main screen with widgets that give access to the different options. We can change the widgets or order them in any way.
Power Guide, allows you to create a power strategy for a given navigation route (similar to BestBikeSplit).
Classification as a cyclist, in which the computer will give information about what type of cyclist you are based on power and heart rate data for at least one week (climber, time trial, sprinter, etc.), highlighting strengths/weaknesses
Stamina function, an algorithm that allows you to manage your effort during a full ride by indicating your remaining energy. Very similar to what Xert.
Suggestion of training sessions based on competitions or events scheduled in the calendar, as in the FR255 and FR955, to focus the fitness peak on a specific day
Increased power for route calculation, POI search, etc.
Up Ahead function to see the remaining distance to the next POI
New graphical data fields, including the ability to have a thumbnail map on any screen
Direct access from the watch to the Connect IQ store to update items via WiFi
32GB of internal memory, or 64GB on the Edge 1040 Solar
From 599€ for the normal version, 749€ for the Solar version
Solar charging is finally coming to a cyclocomputer, which is perhaps where the use of this technology makes the most sense. Because we have the habit of cycling only if it's sunny, it's mounted completely flat on the handlebars or stem and we spend quite a few hours pedaling. So this is where 1TP11We can take advantage of solar charging.
Obviously we must also think about the type of use we are going to do, because the 35 hours of autonomy of the standard model is already a really good data. Garmin announces 45 hours for the Solar version, but obviously that will depend on the amount of sunshine it receives, so it may be more or less.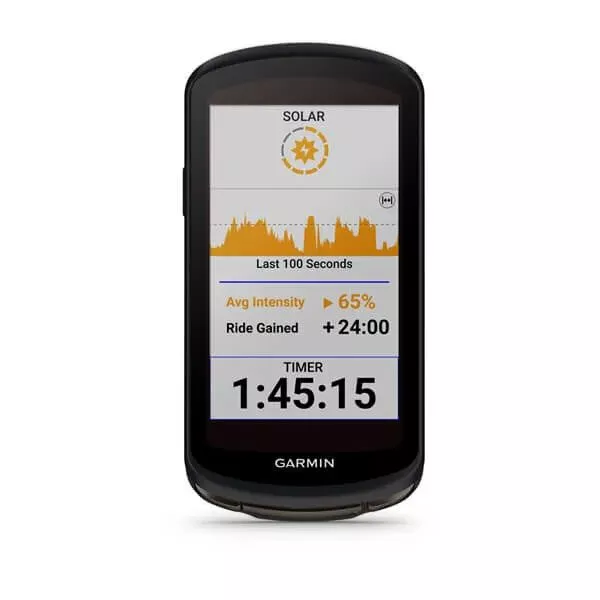 Where are you going to take advantage of solar charging? If you do bikepacking, Camino de Santiago or similar. Probably in a regular training use you are not going to take advantage of it.
Something that was also obvious that we would see was the multiband satellite chipset. Mainly because after including it also in the 255 it seems that it will be the default version, although in cycling the signal reception problems are quite minor.
But we again have an important omission: LTE connectivity. As with solar charging, if there is one device where this technology makes sense and has a place, it is in a cyclocomputer. I do not understand what is going on at Garmin because, after developing not only the technology with the 945 LTE but mainly the worldwide network of operators to rely on, they are not giving continuity in their products.
It is time to talk about new developments in training and performance.
Power Guide on the Garmin Edge 1040
Of the various functions that have been added to the Garmin Edge 1040, this is the one that I find most interesting. Not because it is new, because, as I said at the beginning, it has been available for many years with the BestBikeSplit without going any further. But the fact that it's built into the computer makes everything so much easier.
Power Guide is a power plan set up for a given circuit. I often consult it when I have a competition where it's interesting to see what the power strategy might be for the climbs and descents I have.
Obviously, a potentiometer is necessary to enjoy this function, otherwise it would be meaningless.
The first thing we must have is the route to cover. You can use the one provided by the organizer or create it on your own. Through Garmin Connect (in app or web) you will select the route, weight, type of bike and terrain. You can also podrans modify the FTP if for whatever reason it is not correct.
With all that 1TP11You'll take it to your Edge 1040, where 1TP11You'll see the navigation route as well as the power targets for each segment. The best part is that the target is set for specific GPS points, so it doesn't depend on how much time or distance you've spent.
There is a specific screen with the target details along with instantaneous and cumulative power data for the particular part of the segment. Plus Climb Pro data, so you know what the climb you are doing is like.
Obviously it is something interesting if you are doing a ride on your own or if it is a non-draft competition, because as you ride in a peloton the power targets and the actual power will differ tremendously.
Cycling level
The cycling level part, rather than a training function, is more of a consultation method to see what kind of cyclist you are. Not for you to dedicate yourself professionally to it, but to assess if the training you are doing is the one you are interested in for the events you are going to participate in (time trial, mountain, gran fondo, etc). And also to see what your strengths and weaknesses are, to poder work on them.
This is not a new idea, because again other applications already did this in the past. I seem to remember Golden Cheetah had such a feature. But again the advantage it brings is simplicity as you simply train and ride your bike, and it's the computer that collects and analyzes the data for later display.
And once you have a rating, the Edge 1040 will give you little tips on how you can make progress on your weaknesses in case you want to work on them.
Garmin Edge 1040, availability and pricing
It is starting to be available, at least in the Solar version, which is the one that Garmin is launching more units to the market lately (due to its higher price). In any case, the normal version will also be available in stores in the next few weeks.
As for the price, it is 599€ for the standard version, while the Solar version goes up to the not inconsiderable figure of 150€. Yes, not only do we get the solar charging glass, but also 32GB of additional memory. But I think it is too high a jump for what it brings in return (considering that the normal version already has a remarkable autonomy).
Opinion Garmin Edge 1040
A more powerful Garmin Edge, with more functions, more precise... Basically what 1TP11We could say with any renewal of the Edge range, especially if, as is the case, we are talking about the top of the range.
But in a basic day-to-day use we will not notice big differences with previous models (especially if we compare with the Edge 1030 Plus). Power Guide is certainly interesting to compete in triathlons, but you may not want to carry such a large computer on a goat. And in a gran fondo it won't give you very reliable information because you're riding in a group at all times.
The Stamina function can be very relevant in this case, because it can serve to give you a reality check and confirm that the 200km you had planned may be too much for you if after 50km you are at the 50% of Stamina... You may save yourself from leaving home 70 or 80 kilometers to realize that you will need someone to come and pick you up.
If you're coming from an Edge 520 or Edge 1000, it's certainly a major leap and a recommended purchase. But if what's on your handlebars is an Edge 830 or 1030 Plus maybe the investment won't have all the return that the big money outlay implies.
But I reiterate... what about LTE connectivity?
Either way, stay tuned in the coming weeks because, of course, there will be full reviews.
And with that... thanks for reading!