The Garmin Edge 1030 is the update of your top-of-the-range bicycle GPS, the Edge 1000. This update comes as a simple renewal of the range, not because it is necessary to stand up to a market segment where, frankly, no one is overshadowing it.
Even so, it is not a simple aesthetic renovation, it comes with a few new features already seen in other devices or that are premiered in the Edge 1030.
With a few weeks of training together, we're getting to know each other better. This test unit has been temporarily loaned by Garmin, but once completed and published it will be sent back, as it always is. What do I mean by this? That there is no brand fee for these analyses and that when I need a device for both my use and the comparisons I buy them exactly the same way you do. I go to Amazon and make my purchase.
Remember, if you want to support the site you can do so by purchasing through the links you will find in this test (either your new Garmin Edge 1030 or a ring of 176,000This is the only way to finance and pay for all the work I do here. Don't forget that this works exclusively thanks to you and your trust.
Let's see if the Garmin Edge 1030 justifies its price.
Summary
Overall - 9
Training possibilities - 9
Platform and applications - 9.5
Battery life - 10
Finishes and comfort - 8
Price/performance ratio - 6.5
8.7
TOTAL
One of Garmin's big announcements in 2017 was this Edge 1030. Not only because of its importance, but because of everything users were expecting. After the launches of the Edge 520 and Edge 820 Garmin had to incorporate new features to satisfy all users. The Garmin Edge 1030 arrives to replace the famed Edge 1000 as the top of the cycling range. And to do so, it has to offer advantages that the Edge 520 or Edge 820 did not offer before.
---
The good
Large, clear outdoor display
Great autonomy and possibility to extend it with additional battery
Many functions and possibilities
Now also compatible with Bluetooth sensors
The bad
VERY high price
Lack of power to calculate slightly faster routes
Accustomed to navigation with a smartphone, it is increasingly difficult to accept the navigation offered by these devices. It is the toll to pay for greater autonomy
A large screen is perhaps too big
Find the best offer
Garmin Edge 1030
Garmin Edge 1030, the
The Edge 1030's design pattern continues much of what you'd expect from a Garmin GPS bike. It's the perfect blend between the Edge 1000 and the Edge 520. The display now takes up virtually the entire top surface, moving the two lower buttons to the back of the device. This is good news because there's a cleaner top surface with more room for the display, but the buttons are slightly hidden, especially if you use the front mount, having to push the buttons in the space between the Edge 1030 and the handlebar.
And speaking of front mounts, just like the Edge 1000, it's not compatible with the smaller models. It simply doesn't fit. And it can't be worn horizontally like the Edge 1000 either, since it's a function that's no longer present.
Luckily, the Garmin box includes its specific stand, so you don't need to reuse the stand you've been using so far.
But let's go back to the device. These two buttons are used to pause or resume activity (the one on the right) or to mark turns (the one on the left).
In addition to these two buttons, there's a third button on the side to turn on the Edge 1030. And when in use, a short press turns off the screen to save battery power, but the device will still function. And if you hold it down, you can turn off or lock the screen to avoid unnecessary touches.
And that's all we do with the buttons, for everything else there's the touch screen. Nice and fast for some things, but also worse in some situations. I'd really appreciate having buttons in addition to the touch screen and being able to, for example, change screens by pressing buttons and not just sliding your finger over it.
For battery charging we still rely on a microUSB connector, which I'm sure we all have spare cables at home. And on the back there are two things that stand out.
First, on the top of the device is a cover, where you can place a microSD memory card if you don't have enough of the 16GB that the Edge 1030 has.
And secondly, one of the main new features of the new Garmin model, the external battery connectors, which allows you to mount an additional battery for even more battery life and can be used with the front bracket included with the Edge 1030.
In theory, thanks to this battery the total autonomy would be 44 hours: 20 of the Edge 1030 plus 24 of the battery. A solution that certainly not everyone needs, but that will be appreciated by those who make bicycle trips or compete in ultra-distance. Or who knows, also perfect for the Way of Saint James and not depend on finding free plugs in the hostels or dedicate them to recharge the mobile phone or other accessories.
The battery is also charged via USB and, as an interesting detail, also has a USB output so you can use it to charge any other device via cable. But for 129 ?, it is an external battery of 3300mAh very expensive, even if it has IPX7 protection (supports immersion in water at 1m for 30 minutes, so no problem to rain no matter how intense it is).
The most sensible ones will be with me in that for that money you can buy many external batteries capable of giving much more autonomy, but it's true that none of them integrate under the Edge 1030 in the same way that Garmin's does. And it's equally true that not many users will benefit from this accessory, so prices are not very scalable for something with such a specific use.
But... what are the main differences from other devices? You naturally want to know where your money goes on top of Garmin's range. I'll get straight to the point:
Firstbeat Performance Metrics - The Edge 1030 is the first Garmin bike GPS to receive these metrics that were first introduced with the Phoenix 5 and the Forerunner 935.
Integrated external battery can be used - I've told you about her before.
Higher battery life - Garmin ensures 20 hours of autonomy for the Edge 1030, which can be extended to 44 hours of uninterrupted use with the external battery.
Creating routes with the Trendline function - Make no mistake about it, Edge 1030 is still Garmin's most navigation-focused cycling computer. Like Suunto before it, Garmin will use all the data synchronized by other users to its Garmin Connect platform to give you the best routes on the road and in the mountains - in short, it will take you where the riders are.
Updated Strava segments - Now Edge 1030 will update in real time with nearby Strava segments, not just the ones you've bookmarked.
Communication between users - Allows you to send pre-defined messages to other users on your friends list. This feature is currently only supported on the Edge 1030, so you may find yourself pretty much alone in that chat.
Support for Bluetooth sensors - Just like with watches, Garmin is starting to support Bluetooth sensors on its cycling computers as well. Now you can use both ANT+ and Bluetooth pulse, speed, cadence and power sensors simultaneously.
New Connect IQ applications preloaded - The Edge 1030 comes with new applications: Strava Routes to download routes created on the platform directly to the device, Best Bike Split and Training Peaks to download your workouts. These applications will also be available for all other Connect IQ-compatible cycling computers.
Incident detection - It was already on Edge 820 and Edge 520, but not on Edge 1000. In case of an accident it will send a message to the emergency contacts with the location.
In general, the control menu has also been updated in many aspects: not only the main menu, but also the screen for controls, notifications, additional data profile settings, the new Strava profile screen, etc.
As you can see, one by one, there is no one that makes a major change or revolution, but it is the whole that stands out. And above all, the screen does, with a very high level of outdoor clarity that makes it very easy to see the data on the screen.
---
Edge 1030 Basic Operation
Setting up the Garmin Edge 1030 is fairly simple, and the new model is not very different from previous models. As usual with Garmin cycling computers, we can set up several different activity profiles, depending on where you are riding. Road, mountain, indoor... this is shown on the Edge 1030's main screen, where you can change the activity type.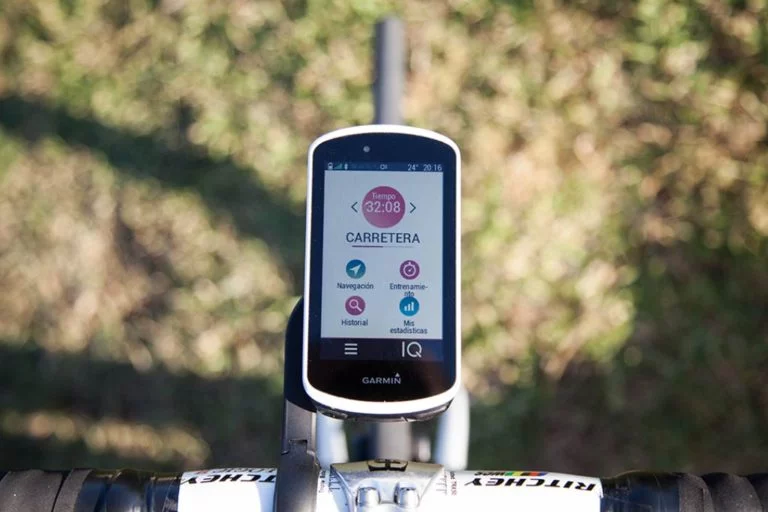 In each of them you can configure the different options you want to show, both data screens as alerts, graphics or navigation and Strava segments. There are many options you can configure, many screens to display and dozens and dozens of different data to look at. Garmin has slightly improved the configuration procedure to make the task somewhat easier.
Part of this improved configuration process is that we can select different data fields from the extensive list offered, and then reorder them on the screen to appear as we want to show them.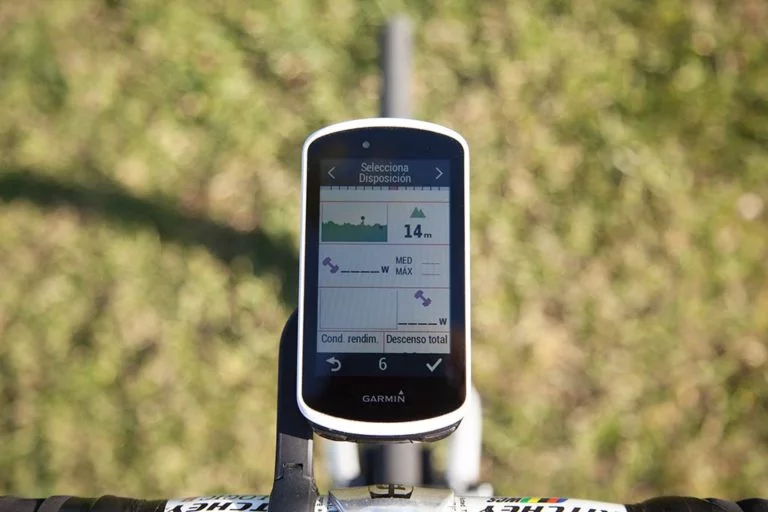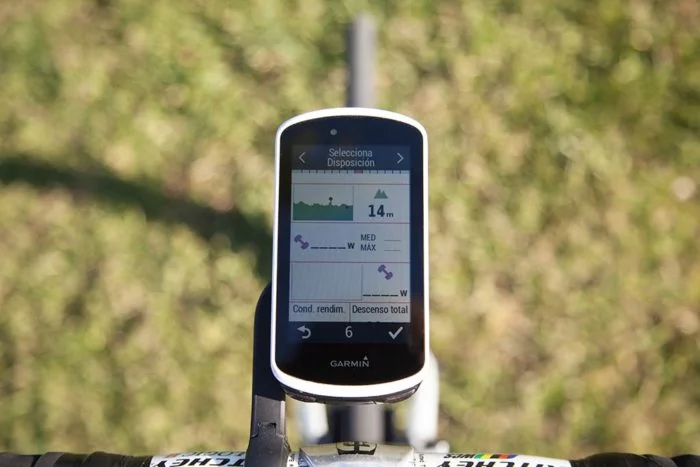 It would not be out of place for Garmin to think in the future about the possibility of configuring it through the mobile phone, similar to what Wahoo offers in its ELMNT and ELMNT Bolt, making use of a screen with better response and more speed.
Once our screens are configured we can go pedaling. Both before starting the activity and during the workout you can access the menu that is displayed by sliding your finger up and down, which is also new both in its layout and in the number of options it offers. There are five screens: main settings, mobile phone notifications, different controls and alerts, the time and Strava segments updated in real time near your location (not just those you have previously marked as favorites).
And from here, as in any other device, you pedal, the computer records and when you finish it synchronizes the activity for later analysis, via cable, Bluetooth with the phone or WiFi you have previously configured.
Where there are changes with respect to previous models is in the possibilities offered by Strava, not only in applications that can be installed through Connect IQ, which although they come by default in the Edge 1030 can also be installed in compatible equipment, but in the function of the segments themselves.
Although these changes don't really come from Garmin, but is one more point that gives Strava in his bet for offering benefits to the platform's premium users (and with it, increasing the number of them - and let me tell you, they do a very good job of achieving this).
To start with, Strava's segment display is now redesigned and offers much more information than before. Now you will see on screen not only the time you choose, but also all other relevant times automatically. For example, it will show if you are ahead of your PR and at the same time see if you are also approaching the KOM of the segment. But perhaps more interesting, it offers you your best recent time and the last one, something much more accessible to beat at all times if you have achieved the record, for example, in competition.
Another important detail is that you will be fighting against your real speed at that moment and not against the average of the segment, which is why it used to happen before that if you go at the same time you would be 8 seconds behind the time.
The segment screen can also be customized, by selecting both the fields you want to appear, how many to view, the size of the graphics, and so on.
We also have a display of nearby segments updated in real time thanks to the connection with the phone.
As you progress along your route, these segments will be updated and those closest to your location will be displayed. Previously, only those you marked as favorite segments were displayed, something you can still do manually,
In theory, when you select a segment you should activate the navigation to take you to the start of the segment, but this has not worked for me, which brings me to the other added feature which is the Connect IQ Strava Routes application (and which is available for all other devices).
This application will allow you to download the routes that you have created in Strava directly to the device (through the connection with the mobile phone), starting the navigation directly.
---
Route navigation and the possibilities it offers are still the Edge 1030's strong point, which is why it is the one with the largest screen and the one that offers the most specific functions. The device has a complete map specifically for cycling, it has points of interest, it creates navigation routes with a street turn warning, etc. Any route you need can be created directly from the GPS itself.
All this is what differentiates it from other inferior models like the Edge 520 or the Wahoo ones, in which we need to create the route previously from the computer or from the mobile phone. The Edge 820 does offer this same possibility.
Within the navigation options there are multiple choices:
There are some new functions in the menu, such as recent searches or the possibility of scrolling the map. We can open the map and click on any point, and then ask to trace the route to get there.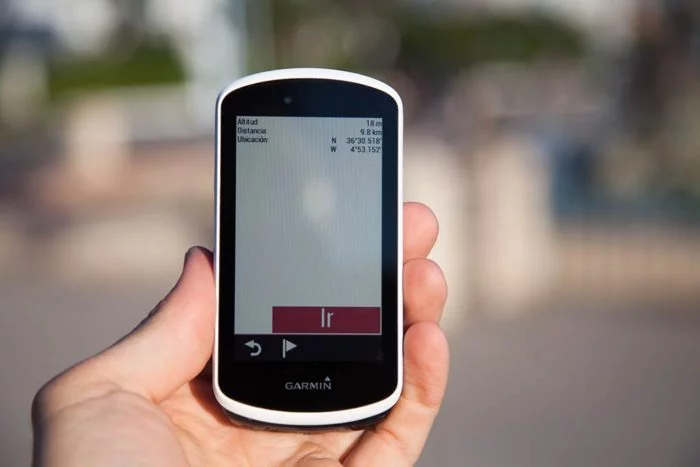 When making trips we can do it by saved routes or create it on the spot by adding different points of passage: streets, cities, points of interest, coordinates, etc. But everything is similar to what we already saw in the Edge 820.
The main new feature is what Garmin calls Trendline, using route data stored by all users in Garmin Connect. Garmin theoretically knows which routes are most used by cyclists because there have been millions of synchronized workouts with the platform before.
We can select different types of route mode to adapt the results we get when calculating them, because obviously it is not the same to go out with the mountain bike as to go out with the road bike, depending on each one of them we want more or less asphalt.
This is all theory, but the reality is that in my area I haven't had much luck with the type of routes created and the places where I want to go. For example, asking for a route of a distance that I know would fit perfectly with what I'm looking for... but it doesn't show up. And instead offering me alternatives for roads that, as much as I have activated the popular roads feature, I'm sure don't have much bike traffic.
I think it's because of how Garmin interprets the roads and roadblocks it imposes on itself. In my case, to take almost all the routes, I have to use a national road with a lot of traffic to a greater or lesser extent (N340). I guess Garmin considers this a highway or a road not suitable for cycling so it cuts off any possible development that includes even a single meter around here.
However, if I select a different starting point, for example Ronda, it offers me three extremely attractive options with the indicated parameters.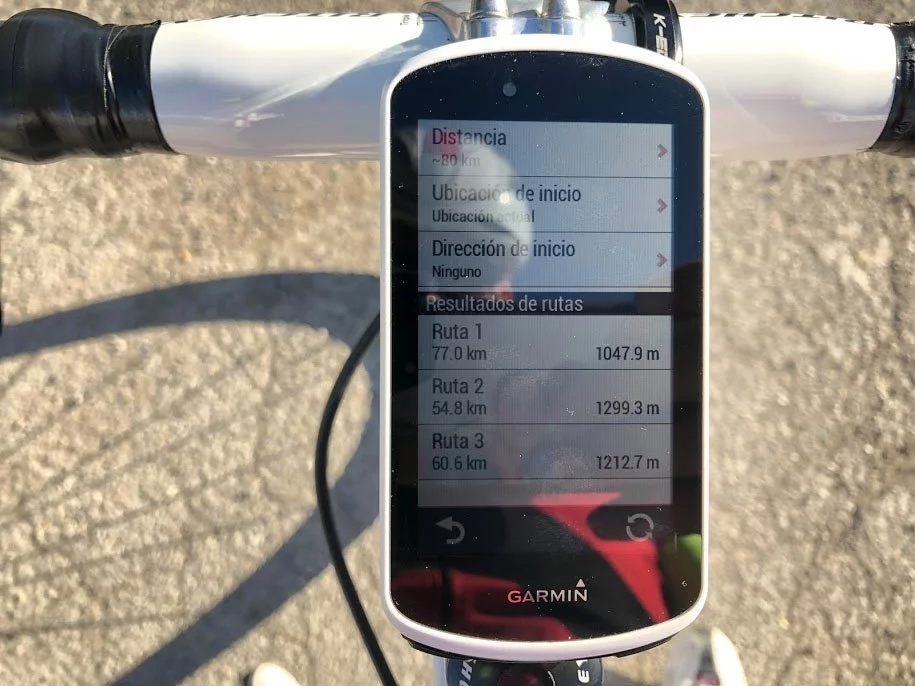 Of course I have the advantage of living in the area and knowing exactly where I can and cannot train. This is impossible to match by an operating system, no matter how much data I have. At least for the time being. But this feature can be more interesting if you are in unfamiliar places.
In this case and without problems of "forbidden" roads, the choice is totally in line with what I would have chosen and they were on "cycling friendly" roads. Moreover, I was not the only cyclist riding on them. This may be evidence that Trendline's functionality works, or simply that in a city in the middle of a mountain range any road is going to be pleasant for cycling.
As far as navigation is concerned, it provides the information you expect: it shows the map, warns you of a turn in advance so that you don't miss a junction, calculates an alternative or draws a new route to reach your destination, etc. The warnings are both on-screen messages and audible warnings.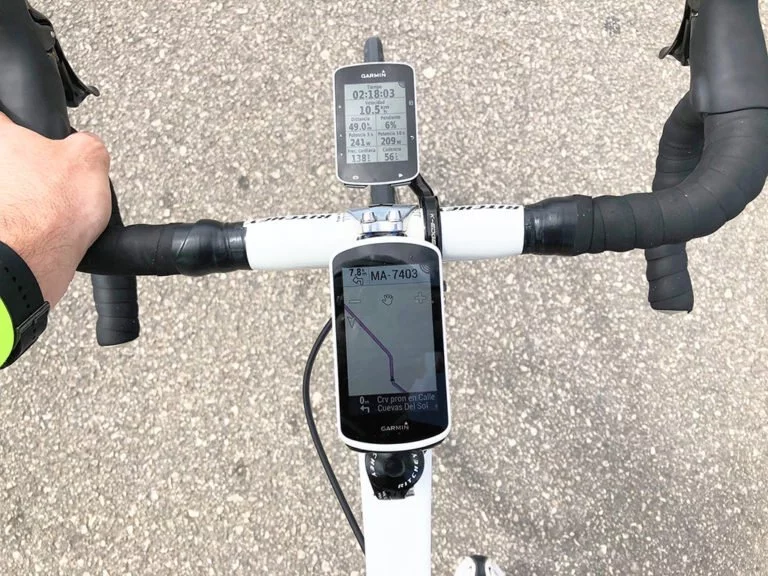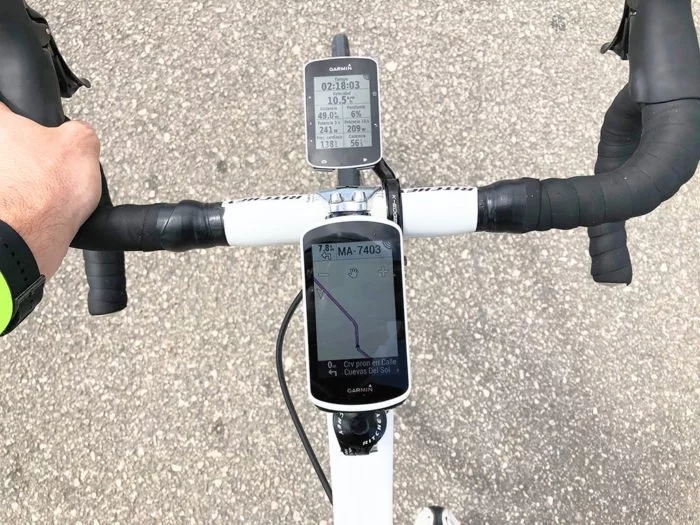 And just like in a car, when you approach a junction to take, a screen will appear indicating the junction along with the distance and time remaining.
My main complaint, however, is the calculation speed. It may be slightly faster in calculation than the Edge 820, but it's still tremendously slow. So much so that if you're preparing the route right at the time you just hit the road you'll most likely discard it and take another route.
I've actually been writing about 6 paragraphs while I was calculating a test route with a given origin and destination point (no more than 20km), and for it to show me the mountain bike route, and it's been stuck on the "Calculating" screen for over 5 minutes with a 64%.
So you better do this route-finding while you're drinking your coffee.
---
Performance Metrics
The Edge 1030 was the first Garmin cycling computer to incorporate the advanced performance metrics that first came to the brand with the Fenix 5. As I always say, these metrics aren't Garmin's invention and they aren't out of the bag by any means, it all comes from Firstbeat.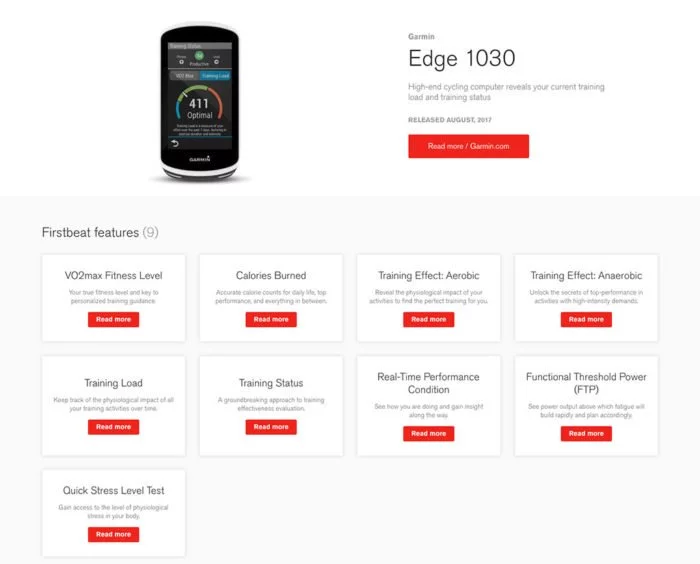 I'm not going to go into too much detail, because I already did it on the occasion of the Garmin Fenix 5 testSo if you want to know all the details I recommend you visit the link. But I do want to clarify some important points.
On the Edge 1030 all this data is located on a dedicated page accessed from the main menu through the "My stats" menu. On this screen you will have all the data pertaining to these metrics. They are the same as you would see on the watches, but displayed all in one easy to access screen.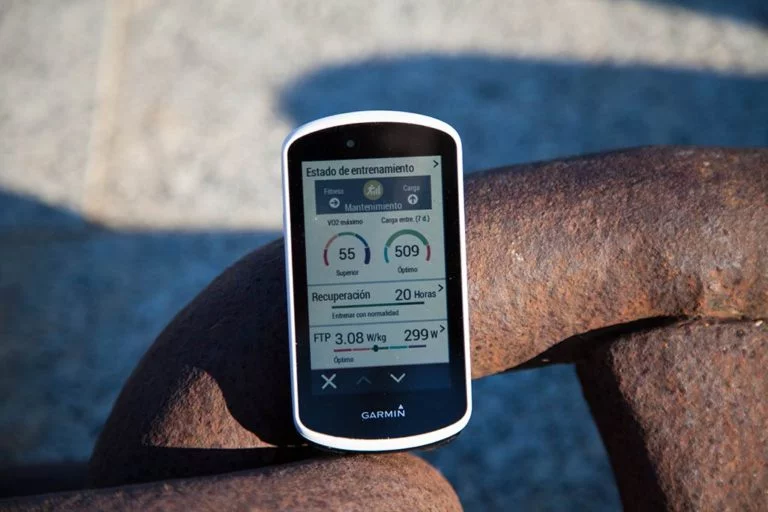 Remember that for these metrics to work properly you need weeks of data and good workouts so that the device can learn more about you as an athlete.
There was one thing I didn't like, and that was that this data was totally disconnected from the platform and not synchronized with other devices. This was a major problem if you have more than one (usual not only in triathletes, but also in cyclists) there was no way for both to show the same information beyond bringing both devices to all your trainings.
Well, that changed just a week ago with the presentation of Garmin Physio TrueUpThese will even be displayed in the menu's activity history, and your training, load and VO2Max status data will be updated accordingly. Here are all the details of this new feature.
---
GPS Reliability and Altimeter on Garmin Edge 1030
This section is more of a check and confirm than a test itself. GPS recording on cycling computers should not present a problem on any device, for several reasons:
The cyclocomputer is positioned in a fixed position facing the sky, so the satellite reception is maximum
The speed of travel is high, so the points are quite far apart from each other and therefore there is not as much parasite movement as there is when you run or walk
They are larger devices so there is no compromise on the design and placement of the GPS antenna
In the case of the Edge 1030, it should also be remembered that is compatible with GLONASS satellites.
This can be especially useful for mountain biking activities, since really on the road we will rarely find situations where we need more satellites to triangulate our position.
But as I say, if there is any problem with the GPS tracks it is more a problem of a complicated area (very narrow streets, being covered by a gorge, etc) than a failure of the device. For example in the case of the navigation route you have seen above the recorded track is almost perfect.

Fully open road and high speed? All three devices make the same measurement to the millimeter.
It is in the urban areas where we can find more complications. For example in this case the one that suffers before is the Suunto 3 Fitness, which depends on the GPS of the mobile phone. In this section of the town where I start snaking between the streets both the Edge 1030 and the Edge 520 register perfectly, but the mobile phone (an iPhone 8) is not able to keep up.

You'll find that there's an area where there's some pretty weird stuff.

But it is normal, since there we are all standing "under a stone", so it is logical that if in addition to being stopped there is no GPS signal, the device is confused. But it is an obligatory stop in Setenil de las Bodegas.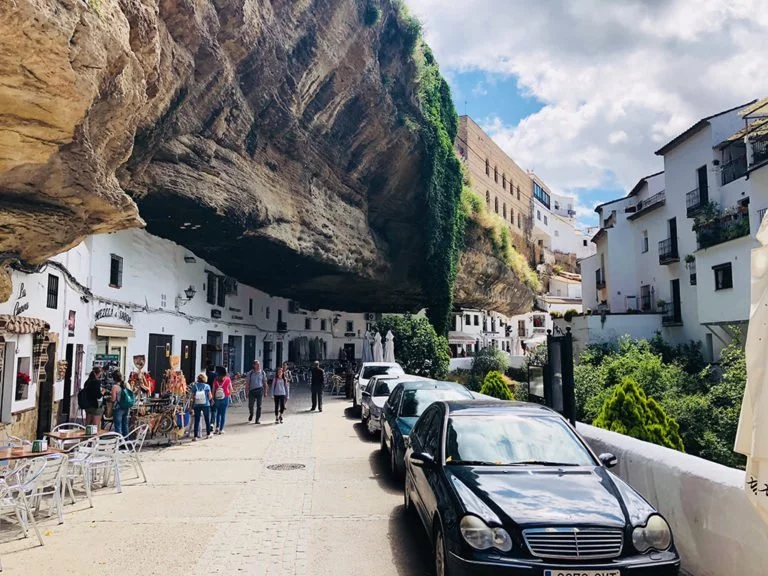 And what about the elevation on that same route? Well, there's not much to report on the graph either. It's just that until 1:30 the data is only from the Edge 520 and Suunto 3 Fitness because I had to go back to the beginning of the route due to a breakdown (I broke a shoe cleat) and wait for a bike shop to open. That's why the line is completely straight between 0:50 and 1:30.
In short, both the GPS and the altimeter show totally reliable data that I can't put too much stock in, the Edge 1030 does its job perfectly.
Buy Garmin Edge 1030
I hope that this complete analysis has helped you to decide if it is a valid device for you or not. All the work I do you can consult it without any cost, but if you want to support the web and with it the work I do, the best way to do it is to buy your new device through the links I provide below. And if you don't buy it today, remember to stop by when you are going to do it!
Through these links not only will you get a very competitive price and the best customer service, but I will also receive a small percentage without costing you any additional outlay, which is what allows me to continue offering you proofs like this on the page.
If you have any questions, remember that you have the comments section at the bottom, where I will try to answer all your questions.
Find the best offer
Garmin Edge 1030
---
My opinion of the Garmin Edge 1030
I have to say that I like the Garmin Edge 1030 very much, even in spite of its large size. Even though in its current production firmware version there are some problems, which I have suffered (blockages, sudden loss of connection with sensors, etc). It is something that should be solved soon, but I still think that it is something that should also be highlighted.
It is an impressive device, covering the basic needs of any cycling computer and adding many others that make training more special.
More battery, more navigation functions, better and more complete integration with Strava, a display with greater visibility...
I say it again, an impressive piece of equipment. But with one basic problem, and that is that it is very expensive. Would I like it to be my reference bike GPS permanently? I would certainly be happy to train regularly using it. Would I pay the more than 500 euros it costs? Honestly, I find it difficult to justify. At least in my case since I do not usually require the navigation functions constantly.
This "small detail" is without a doubt the biggest drawback of a device that is unrivalled. There is no other cycling computer with this level of performance, period. But everyone must assess whether in their particular case the investment is justified or whether they can do the same with an Edge 520 plus, an Edge 820 or a Wahoo ELMNT.