Exactly a month ago Garmin released the Edge 1030 Plus, the revamped version of its top-of-the-range bike computer. We are already beginning to be used to these Plus versions within the Garmin range, which means receiving some minor improvement over the previous model, but without being a substantial change in the concept of the device.
This is what happens with the Garmin Edge 1030 Plus. It's an update on hardware (faster processor and Sony chipset) along with small firmware improvements that add to the amount of updates that the original Edge 1030 has already received since its release to the market. Basically, all the new features that both the Edge 530 and the Edge 830 brought under the arm.
Among these new features are the suggestion of daily workouts, new navigation options and the quick setup process.
I've been toying around with these new features for a few weeks, long enough to see what and how they work (and what doesn't work), all so I can tell you what good and bad the Garmin Edge 1030 Plus has to offer.
The bike computer you see in the pictures has been temporarily handed over by Garmin. Once the test is done, it will return to its box and be sent back. What does that mean? That there is no compensation from the manufacturer for any of my reviews, so all the opinions I pour are totally and absolutely free and without pressure. What you read is what I think.
If you like this analysis and find it useful to decide the purchase of your next GPS bike computer, please use the links on this page to buy it (well, you can buy that device you want or anything else). You won't pay more than it's price, but the seller returns a small percentage which helps to cover the cost of hosting the site and obviously my work. Or you can also become a VIP member..
I won't hold you up any more. Let's see what's new in this Edge 1030 Plus and analyze in detail what each one of the new features it comes with means.
Garmin Edge 1030 Plus
Overall operation - 8.5
Training possibilities - 10
Platform and applications - 9
Battery life - 9.5
Finish and comfort - 8.5
Price/performance ratio - 7.5
8.8
TOTAL
The new Garmin Edge 1030 Plus brings new features over the previous model. Are they worth enough to justify the price?
---
The good
Without discussion, the most complete bike computer
The leading navigation device, now with more options
Huge battery life
Initial setup is now much easier
Twice the memory and now it includes world maps with no extra charge
The bad
The price will throw many back (although not a surprise)
It still uses a microUSB connector
You can not change the tones volume, depending on the situation they may be too high
I haven't been able to get Live Track to share my route
What's new in Garmin Edge 1030 Plus
Find the best offer
Garmin Edge 1030 Plus
Garmin Edge 1030 Plus Pack
Many of the new features of the Edge 1030 Plus come directly from the Edge 530 and Edge 830, with some things as obvious as the GPS chipset (which is now Sony, as in all other products from both Garmin and other manufacturers) and the MTB features that were released on smaller models and already reached the Edge 1030 via firmware update, except for the Forksight feature that we had to wait for the new model (mainly for licensing issues).
In short, this is the new stuff that we have in the Edge 1030 Plus:
Daily workouts suggestions, based on your 7 days training load and your VO2max
New quick setup procedure. Now it imports profiles and sensors from your older Garmin (it will also be available to Edge 530, Edge 830 and Edge 1030 later on)
World maps
Possibility to pause navigation and continue it later (so we do not receive constant warnings that we are not on the right track), or perform a route recalculation
Livetrack now allows you to share the route, if you send someone your session via Livetrack and have a loaded navigation route, they can see where you are and where you are going (it will also be available to Edge 530, Edge 830 and Edge 1030 later on)
MTB metrics: Grit, Flow and jump measurement. Already in the Edge 1030 since firmware version 8.00
TrailForks integration, which was already present before, but now includes Forksight to choose any route halfway, something that did not reach Edge 1030 for licensing reasons but is present in the Plus
Bike theft alarm. When activated by moving the bike or bike computer, the alarm will go off on the Edge and on your phone. Already in the Edge 1030 since firmware version 8.00
Garmin InReach support
Sony GPS chipset for extended battery life. Up to 24 hours (instead of 20), or double if we use the external battery accessory. Which doesn't look like a lot increasing 4 hours more... but ultimately it's an additional 20%
New faster processor, which will help calculate routes and above all recalculate them
32GB of storage (instead of 16GB of Edge 1030). But in return it loses the microSD card reader
New color, now it's totally black (to match your carbon handlebar), just like that custom Bontrager Edge 1030 that was released a few months ago
Slight interface changes with redesigned icons
These are the main new features that it packs. I've prepared specific sections for some of them, but before I delve into them I will do a quick review of everything that the Garmin Edge 1030 Plus offers (which is a lot). At least it will refresh your memory.
A quick review of all the features of the Garmin Edge 1030 Plus
Before we go into detail on what's new, I think it's best to take a look at what the Garmin Edge 1030 Plus looks like, at least to refresh the memory.
Aesthetically it is exactly the same as the model that precedes it, the Edge 1030. The only change is that while the Edge 1030 Plus is black, the previous Edge 1030 had white edges.
So we find the same buttons layout that we had up to now. At the bottom are the activity buttons. The one on the left serves to mark laps, while the one on the right allows us to start or pause the activity.
On the left side we find the power button, which in addition to allowing you to turn on or off the device will also be able to give access to lock the screen. And if you activate the option in the menu, to take screenshots, which is how I got many of the images you will see in the test.
That's all about buttons, there aren't any more. That means that we have to control the device through its touch screen, both by swiping and tapping on it.
The response is exactly the same as other Garmin Edge devices. I haven't seen any changes from Edge 830 or Edge 1030. It is accurate in the keystrokes, but not so much when it comes to swiping or displaying the top menu.
One of the negative aspects it presents is that Garmin continues to bet on a microUSB connector. Yes, surely we already have dozens of cables of this type at home and in a way it is a joy to have a known connector, but we also all know that it is a fairly fragile and prone to failure connector.
When will Garmin switch to USB-C connectors?
The back of the device has changed. Now we no longer have a cover under which we can find a microSD card holder. This possibility has been overridden in favor of an increase in internal memory up to 32GB, but this is left for later in the navigation section.
What is still present are the connectors for an external battery. The internal battery remains the same size, but thanks to the Sony GNSS chipset the total battery life has increased to up to 24 hours (20h on the Edge 1030) in the most demanding configuration with navigation and numerous external sensors.
This external battery will allow us to provide more than 24 hours of additional battery life. Surely not everyone needs this possibility, but if they want to take advantage of it, there it is (for example, for ultra gran fondos). However, you can always recharge via an external battery while using the device , but naturally the integration and solidity of the package will not be the same.
The main screen gives us access to the basic functions of the device. At the top we find our cycling profiles (which can now be automatically imported from the previous device, as you'll see below). And below them are the direct access to navigation, training options, history and statistics.
At the bottom of the screen we find access to Connect IQ applications as well as the main menu where we can configure all aspects of the device.
If we swipe from top to bottom, shortcuts, controls, phone notifications, weather data, nearby segments and network lighting settings will appear.
This top dropdown menu is also present when performing the activity, so if you want to stop and adjust sensors or activate the bike alarm at any time, you can do so from this place.
As for sensors, all sensors that you have used previously are synchronized (again, it has its reserved section). Just remember that it is compatible with absolutely all existing cycling sensors on the market, both via ANT+ and Bluetooth. Oh! and it is also capable of controlling smart bike trainers thanks to ANT+ FE-C, so you can perform indoor interval sessions, as well as replicating routes, the slope of the road or simply regulating the hardness of the trainer.
Moreover, it offers the same possibilities as any Garmin before it. Road visibility is really good, obviously thanks to its huge screen. That makes the device large too, so there will be conflicting opinions between those who prefer a large screen or those who are more inclined towards a smaller device.
So below I will focus on three key aspects, which are at the heart of the new features of this device: Navigation, workout suggestions and the new Quick Setup procedure. Because you're probably already familiar with the general use of these devices, otherwise you can always take a look at the Garmin Edge 830 review that offers the same features as the Edge 1030 Plus, except for those new points you'll see in the following lines.
New quick setup process
It's probably one of the features you'll use the least of the new features that the Edge 1030 Plus brings, but it's one of the ones that excites me the most. Garmin finally improves the way in which the device is configured the first time we use it and, in this case, it does so by copying the settings we had on our previous device.
What it'll copy from our previous device are the created sport profiles (with their data display settings), next to the list of external sensors. In my particular case, this means jumping out of joy, especially on the sensor side of things. Of course, my use is special and I have quite a lot more sensors than 90% of the remaining population... but I still think it will be a relief for many of you.
This quick setup will depend on which device you are upgrading. If it is a moderately recent one (from the Edge 520/820 range onwards) and you have it updated to the latest firmware version, then you already have the necessary configuration. It's important to be up to date, because this is something that has to be in the firmware and Garmin quietly released an update for it not long ago.
What Garmin does is send the information of what needs to be configured to the Garmin Connect server with each activity sync. This is saved under your account information, and when the app itself sees that you're setting up a new compatible device, it will ask you if you want to import activity profiles and sensors.
Sensors sync is complete, including the name you have given to each sensor. In my case it saves me a lot of time (and patience credits) not only by not having to do the full search but especially by not having to name each one of them.
The same goes for my data screens. The Edge 1030 Plus has downloaded the profiles I have created on the Edge 830 and maintains the same screen settings.
For the sensors, it will download all those we have synchronized with the platform in the past year. I have found many sensors that I have never paired with the Edges but I have done so with watches (for example, the HRM-Swim heart rate sensor) and with a maximum of 30.
Still, there are things that won't be transferred. If you have Connect IQ apps installed on your old device, they won't automatically install on your new device. Also not the specific CIQ data fields, you will also need to download and configure them. And by the way, you'll also have to configure the settings of WiFi networks, of metric system (Garmin, when will you understand that I do not use the status system and that I look at the temperature in celsius? It's what I've been doing with all the devices...) data recording, etc.
Initial setup is now faster than before. Quite a bit. It's still not perfect, although it's an important step along the way. However, I have another question... when will I be able to perform the setup from the app or the web?
The largest model in the Garmin Edge range has always been very focused on navigation, and with the Edge 1030 Plus it couldn't be otherwise. One of the new features that this model has received is precisely related to navigation.
Although I speak of "one of the new functions", when in fact there are several. I will try to be as brief as possible with this section and not to go into basic navigation functions that the previous model already had (and that of course 1TP10You can find in the full test of the Garmin Edge 1030), and try to focus on which functions we did not know about.
Well, before you get into those new features, it might be worth taking a look at all the ways you can get routes into the Edge 1030 Plus:
Straight from the Edge 1030 Plus in the search option on the map. We move on the map to the point where we want to go, mark it and the device will create the right route.
Creating a route from the device through POI, address, cities, junctions, coordinates, saved address, etc. And not just to one of those points, you can create the route by adding several (first a specific address, then a POI, etc.)
Requesting a round trip based on an approximate distance. You can ask the Edge 1030 Plus to find you a route of about 80km and it will give you up to a maximum of 3 options.
Navigate a route you've uploaded from an external file in FIT, GPX or TCX shared by someone else. For example, the organizer of a race or gran fondo.
Create a route from Garmin Connect, either on the web with your computer or with the smartphone app.
Get directions for a route you've made before.
Using Trailforks for specific MTB navigation (something the original Edge 1030 never received).
Synchronize routes from supported platforms such as Strava, Wikiloc, RideWithGPS, Komoot...
Last but not least, activating the back to start option at any time to navigate you back to your starting point.
As you can see you have a lot of possibilities to choose from. And remember that you have full maps, so navigation will be turn-by-turn and it will show the street names as well as the turns you need to make.
You can have the map screen always visible, or be on any other screen (data, workout, whatever you want) and when you reach the turning point, the screen will appear indicating the direction you need to take.
This screen allows you to configure the two data fields at the bottom, which by default are the ones you see. And as you can see, we can reject that screen by simply tapping on the screen (in case you're in the middle of a workout).
One of the things we've lost with respect to the Edge 1030 is that the Plus no longer has a microSD card reader. Instead, Garmin has doubled its internal memory to 32GB and, for the first time, includes maps from around the world (except Asia, I don't know why).
Maps are downloaded exclusively via a computer connection. Although the device has WiFi, there is no possibility to download them that way. So if you're planning to take a trip to another continent, remember to download the maps before leaving if you don't want to have problems.
Returning to navigation, one of the main improvements you'll find compared to the Edge 1030 is the route calculation speed. Garmin says that the Plus processor has been on par with that of Edge 830, achieving similar loading speeds. This is important because it is not only visible when it comes to starting a route, but also at any time when we have to make a route modification or recalculation.
I have tested it along with the Edge 830 and, indeed, route loading times are very similar. However, although the calculation speed is higher, when starting a route you don't have to wait for the route to load completely, the calculation starts from the beginning and you can start pedaling and let the Edge work on the calculation.
This is different from Edge 820, where if you didn't want to have issues (basically, having to wait many minutes to have the route loaded), it was necessary to wait for the route to be generated completely before you could start your workout.
Any route you load, regardless of where it comes from, will offer the ClimbPro specific screen. Remember, it is that screen that shows us the information of how much we have left to complete a hill, where we are and average percentage of it.
At any time you can also check which ascents are ahead of us on our route.
It's a new feature that came with the Edge 530/830, and also received the Edge 1030 after its firmware update.
There are more news. For example, we can now pause navigation at any time. This is useful when, for whatever reason, you want to momentarily deviate from the planned path (for example to search for water). On the map screen we now find a pause button at the bottom left.
Which is a relief because you won't be constantly getting the "Riding off course" message on the screen with the resulting beeping from the cycling computer. And since the Edge 1030 Plus has a noticeably louder volume than previous devices, trust me... you don't want to be constantly hearing the beeping.
And if at any point we return to the original route, it will start the navigation again without us having to do anything. With the example above, suppose you pause the navigation to go for water (we all know you did it to go for a beer with the group). Once you have filled the bottles of your bike (you drank your beer), you return to the established route and the Edge will understand that you will continue riding it, so it will start it again.
Now there's more control when we leave a route. As soon as the Edge 1030 Plus detects that you are no longer following the intended path, a screen appears to tell you that you are off coures, but now it gives us different options.
At this point we can choose to pause the navigation in the same way as I indicated before, or tell the Edge that you want to modify the route. When we deviate from the route now it presents us with three different options:
Rejoin the route where you left off
Go ahead to the next closest point
Cut the route through a shortcut
Depending on each route, where you are on it and what your destination is, the result of choosing one or the other option may be the same or totally different.
It may happen that really the only way to go is the one initially planned in which case this screen will not appear. Or that there are only two possibilities to make the route, the one started at first and the one you have taken as a detour. In both cases the selection screen will not appear because simply there are no possible selections to make.
And in the same way, if to go to your destination it is only possible to do so through a single road (imagine a mountain pass), in case of changing roads the only thing that will ask you is to turn around because, in those circumstances, it is the only real possibility that exists.
In short, the behavior will not always be the same because it depends on our initial route and where you are driving. One day the option will not appear, or if it does, the three options will be practically identical. Or the shortcut will cut your route too much. As I say, "it all depends".
Finally, another of the new features is found around the LiveTrack function. Now, by sharing our workout, it also allows you to share the route you are following.
This way the person you send the automatic link to will be able to see which route you plan to take and where you are in it.
At least that's the theory. The reality is that LiveTrack has always been a source of problems. And my tests with the Edge 1030 Plus haven't been without those issues. In my case, whenever a LiveTrack session has been shared, it has never included the route. I tried to start the activity with the loaded route, without loading it, create it on the device or do it with a downloaded one... There was no way I could make it work.
In short, the Garmin Edge 1030 Plus further expands the navigation possibilities of previous models. They are small improvements, but now it gives us more control of the situation especially when we go off route.
Yes, it is true that before it did the recalculation of the route automatically, but I did it the way it felt most convenient. Now it allows us to decide how to do it.
It is common for example that at some point on the route you want to shorten part of it (because it is simply taking longer than you thought) and take a detour you know will take you to your final destination faster. Previous devices will tell you insistently that you have to turn around and only after a good time of insistence, will think that you really want to go there and change the route.
Now it is us who can decide at any time what to do with our route. Or just stop listening to the off track beeps, which can really end up being annoying.
Daily workout suggestions
Garmin has given two main approaches to the Edge 1030 Plus. The first of them was the route navigation, which is what I explained in the previous section. The second is training. And for this it premieres a new function of recommended workouts.
This workout suggestion is quite similar to what Polar does in some of their watches with Fitspark in which, depending on past workouts and training load, suggests a workout for the day. What it's new here is that these are cycling workouts and so far all the recommendations (both from Polar and from other manufacturers) have never used cycling.
This is the last metric released by Firstbeat before the purchase by Garmin, although given the level of integration perhaps the purchase was already agreed but not announced.
Workout suggestions are very prominent, because as soon as you turn on the Edge 1030 Plus, a suggestion for the day will appear.
At this point you can expand the details of the training by clicking on "Review training session", and a screen will open with the details of the proposed session. If we like it we click on "Go", if we want to review anything else we leave without any problem.
In any case we will always poder return to these suggested workouts, just select the Workout option in the main menu, finding the recommendations of the day under the "Training sessions" option.
That initial screen will only appear if you have nothing on the calendar for the day. If you have something scheduled through Training Peaks or another training platform, then that workout will be the one suggested to you at first.
So if one day that I have a workout scheduled by my coach I turn on the Edge, what it will tell me is if I want to perform the training that I have scheduled in the calendar.
And where do those daily workout suggestions come from? Basically from previous workouts information including: training load, VO2max, FTP and training balance.
In short, all the data that can be found under the "My statistics" option.
These metrics depend on two fundamental data to be obtained through external sensors: heart rate and power. It is therefore necessary to train with heart rate data and a power meter, otherwise you will not have VO2max calculation (power) or training load (heart rate).
And obviously, when it comes to workouts, you will also need a power meter. Most of all because the workout goals are around power.
As for the workout, on the screen we will be able to see what the structure is, number of repetitions and their intensity.
As you see, it's estimating us a final training effect, which are the metrics it uses to identify if that's the kind of training we need right now. For comparison, this is the training I have prepared by my coach for this very day.
Truth is they look similar...
Returning to the workouts suggestions, Garmin (or rather Firstbeat) relies on the accumulated training load. That may present some problems:
Firstbeat training load metric is heart rate based. If you do some workouts that do not have HR data, they will not accumulate load. For example, if you swim 4,000m and then want to do some bike, unless you have swam with a compatible sensor or your watch allows you to use the integrated optical HR sensor (only new ones do), the recommendation will not include load from that workout.
With gym workouts something similar will happen. There will beHR data here, but since they are not relevant to the exercise itself, you may end up being crushed to lift weight but it hasn't reflected in your heart rate.
Finally, if you work out with Zwift, TrainerRoad or similar platforms, they sync with the Garmin platform seamlessly and appear in your activity list. However, they do not accumulate any training load (even if they include heart rate data). You can fix this if you also record that same activity with the Edge.
These are things to keep in mind, and as I always say, we're talking about algorithms. Your sensations and your own knowledge must be what prevails over what the suggested workout indicates. If you've done a leg session in the gym and the Edge 1030 Plus recommends a sprint session... maybe it's not a good idea.
When doing a workout, a new specific screen will appear, which is the one that we can use to see our progress at the different repetitions.
Or create a specific data screen for this type of workout. Here's mine, in case you need some ideas.
Finally a small comment on a little highlight, and that is that similarly to Polar Grit X, we can see before doing the workout what we would need to take in the training in terms of hydration and nutrition.
And remember that throughout the workout we will receive messages that remind us that we will have to drink and eat.
GPS Performance
The GPS performance of any bike computer, usually, is always spotless. It's not like a GPS watch where there may be some additional problem when it comes to getting a good GPS signal. A bike computer has advantages that the GPS watch does not enjoy, namely:
It's placed with full visibility of the sky at all times.
Generally without elements that complicate the reception of satellites (trees, buildings, etc.).
A larger antenna, being larger devices.
Reduced power restrictions due to larger batteries.
Circulation at higher speed so the separation between points is greater and the algorithm works better.
In other words, except for specific errors like the one that occurred in the first firmware versions of the Edge 530 and 830 with the GPS+Galileo configuration, the tracks of the bike computers tend to be rather boring.
So I won't extend too much into this section because, really, there's not too much to see either.
I've made the different workouts using the GPS+GLONASS or GPS+Galileo configuration. I have not noticed performance differences and of course what I have not had is loss of satellites, that bug was already fixed in the Edge 530/830 quite a while ago.
But I'll leave you some examples for you to see the performance. This workout, for example, is the climb of El Madroño, a first category of the Vuelta a España or the Vuelta a Andalucía.
It's an ascent of about 20 km. Without being too hard, the truth is that the speed ascending is not as if we were rolling on the flat.
It's in that situation that there may be some difference or some GPS error due to the lower speed. However, there are no errors in the entire climb.
However, the start is somewhat strange on the part of the Edge 830, probably because I didn't notice that it had not yet completed GPS reception. You can see that it takes a little longer to start registering the track. But once it has correctly triangulated the position, there are no more incidents to report.
Not even in the slower parts of the climb (and of course faster on the descent).
Another day, another climb, similar results.
At least on the part of almost everyone. The connected GPS of the Polar Unite (i.e. the GPS of my iPhone 11 Pro) has some issues.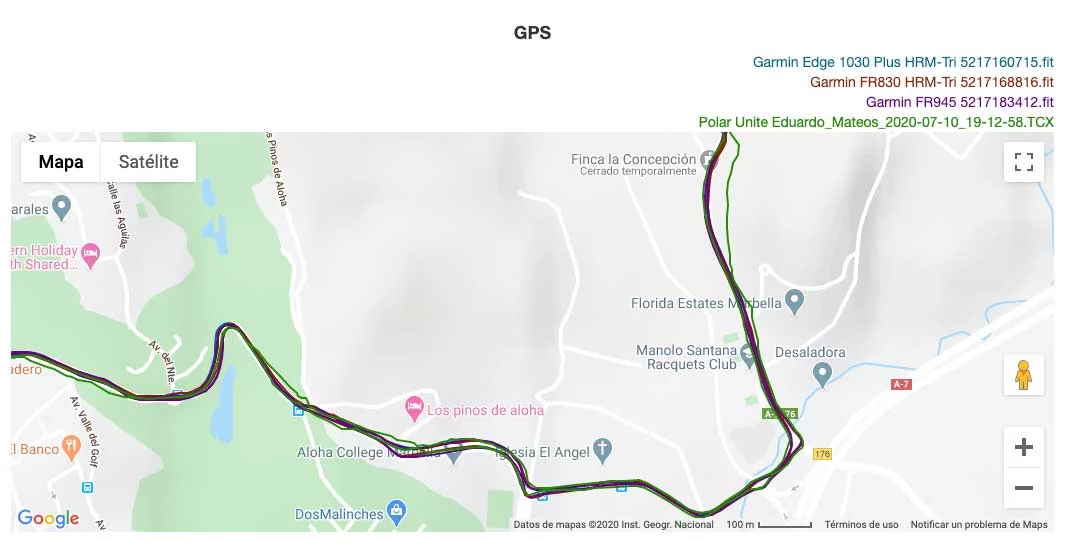 It is also something that is repeated later during the same workout.
That's when we talk about a workout in which we move slower and there may be problems with the lower speed. But when the speed is high, it's even simpler. This workout is with the TT bike on the flats.
In this situation it is normal to see tracks fully aligned with each other.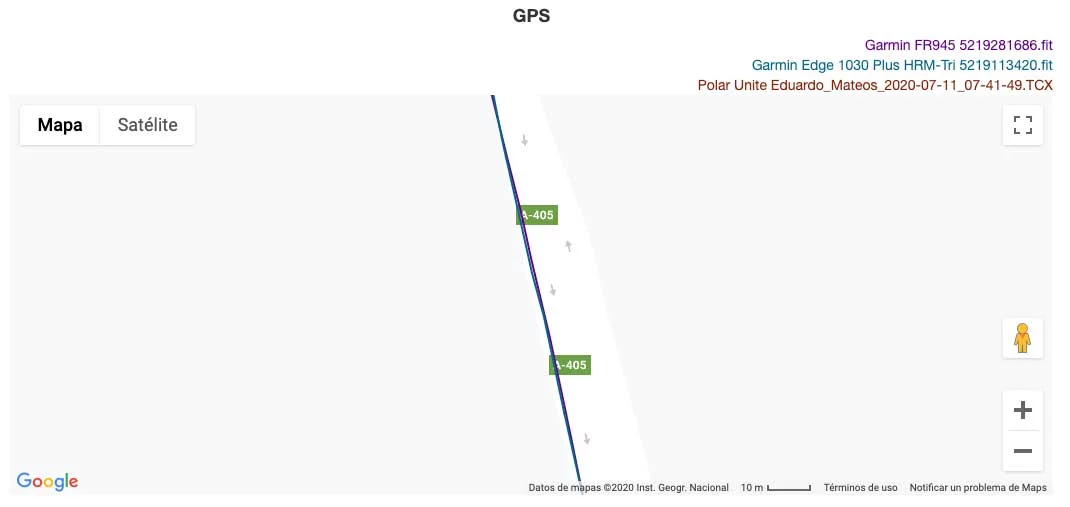 As I say, there has been varied workouts, and in all of them without any impact on the part of the Edge 1030 Plus.
And the same goes for the barometric altimeter. All devices show very similar graphs, with the small differences that may exist due to not having made an initial calibration or the small differences that may arise during the training due to the operation of the barometric altimeter itself.
As I said at the beginning of the section... there's not much to see. Nor did I expect to encounter errors of any kind, unless there was some specific situation according to the satellite configuration, as was the case with other models in the past.
But having done the tests in GPS+GLONASS and GPS+Galileo, the result in both cases has been totally satisfactory.
Buy Garmin Edge 1030 Plus
I hope that this in-depth review has helped you to decide if it is a valid device for you or not. All the work I do you can consult it without any cost, but if you want to support the page and by doing so the work I do, the best way to do that is to buy your new device through the links I provide .
And if you don't buy it today, remember to stop by when you do! Through these links you will not only get a competitive price and the best customer care, but also I will receive a small percentage at no additional cost to you. That's what allows me to keep offering you reviews like the one on this page.
Find the best offer
Garmin Edge 1030 Plus
Garmin Edge 1030 Plus Pack
Garmin Edge 1030 Plus opinion
That right now the Garmin Edge 1030 Plus is the most complete and advanced model of all bike computers on the market is something out of doubt. It's also what the price tag says, which obviously is high. But that price is just as high as the Garmin Edge 1030 when it came to market.
Therefore, unlike what Garmin usually does lately, it hasn't taken advantage of the launch of a new model to increase the price. It has to be recognized as well, even if it is expensive. But of course, it's one thing to be the best bike computer and another to be the one with the best quality/price ratio.
It is also to be appreciated that everything works correctly. Well, almost everything. I have not managed to send a LiveTrack including my planned route, even though I have tried it in several different ways.
The new features on the Edge 1030 Plus are well worked out and bring something new. Whether you're going to use these features or they give you something different is another matter, and everything depends on the usage profile you have.
That is, for example, the impression I have of the daily workouts suggestions. The workouts are varied and similar to those that a coach might offer. However, I do not know many people who perform structured cycling training and are not guided by a coach. If you already have a powermeter (which are not cheap), you are worried about improving your performance and have 600€ on your wallet that you don't mind spending on a new bike computer, I find it hard to believe that you don't already use the services of a coach.
In the end, the Garmin Edge 1030 Plus has its own competition at home. On one hand the Edge 830, cheaper and almost with the same features (which will also get the initial quick setup and I wouldn't be surprised if the navigation features as well). You will have to decide which screen size you want to carry on your bike, as well as how much weight you want to remove from your wallet.
On the other hand, Garmin continues to offer the Edge 1030, which sometimes comes with significant discounts, and has the same features as the Edge 830. But the processor speed of the Edge 1030 is lower than both the Edge 830 and the Edge 1030 Plus, and it's something you'll notice in route calculations or overall device operation.
While perhaps we should not forget that it has maps of almost everyone in the world, this might affect more people than I consider at first.
In short, is the Edge 1030 Plus a good device? Without a doubt, and if the features it offers cover everything you are looking for or need, there is no objection to it.
And with that... thanks for reading!