Garmin has been in the wearables, wearable technology, wearable technology or whatever you want to call it for a long time. Despite this, they have never been very prolific in enabling functionality with non-sport specific devices.
With the introduction of Connect IQ, Garmin opened the development to other companies to interact with the brand's devices. That is, companies in the industry (or other industry not specifically related to sport) podwill now develop applications that allow not only to display information from other ANT+ devices, but also poder interact with them. Not only will they be apps, there will also be other "knick-knacks". Let's get to know them:
Applications: Complete applications. With their own internal menu, capable of saving data or displaying specific information from other devices. This is the closest thing to the "apps" we know in the field of mobile telephony.
Widgets: Quick information thanks to additional screens that will be placed in the main screen carousel (where we can find the clock, activity monitor or notification screens).
Customized fields: Data fields to add to the screens configured for each sports profile.
Clock dials: New screens to show the time, analog or digital.
The platform is still under development and not everything has hung the "open" sign yet. At the moment 1TP10We can install clock screens and custom fields, widgets and applications should be fully available before the end of the first quarter of 2015.Today, March 6, Garmin officially launched the applications and widgets, making Garmin Connect IQ fully operational for everyone.
I'm going to explain in a little more detail what each of these options is.
Clock Screens
It is the easiest to understand, as it allows you to replace the main time display with a different one, with more or less information. Here each developer is free to include the information and graphics he prefers, such as the time next to his triathlon team logo. Or show the information in a different way, like this analog display that adds two smaller clocks, also analog, with battery information and activity monitor.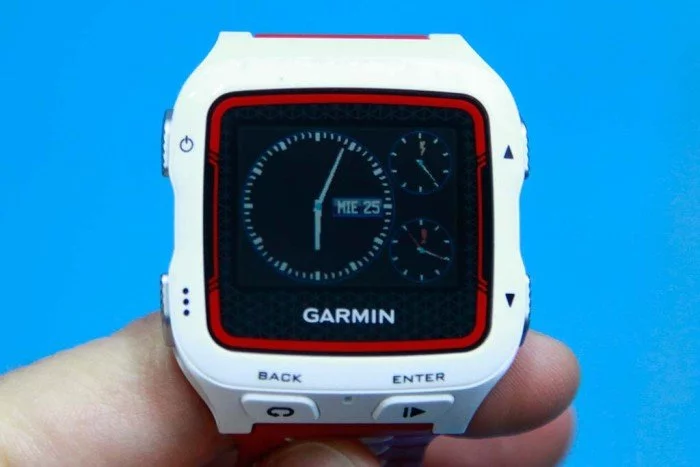 Or show screens similar to the one Garmin offers as standard, but by changing the type of font or the placement of the different fields.
These screens can be in square or round format, depending on the clock they are going to be used for. Given its simplicity, it is quite likely that in a very short time this section will be filled with different proposals.
Data fields
Each activity profile allows you to configure your own data screens, so in the race profile you will normally set your pace, average pace, last lap heart rate and similar running-related data. Similarly, for cycling you will want to set your speed and you can also set total ascent, maximum speed or average speed.
To all this data that comes by default, we'll be able to add new fields through Connect IQ. And it can be from simple and funny things like how many beers you've burned during the workout you're doing (you'll drink twice as many as it says, and you know it.) or much more convoluted things with complex algorithms, like this pulse meter.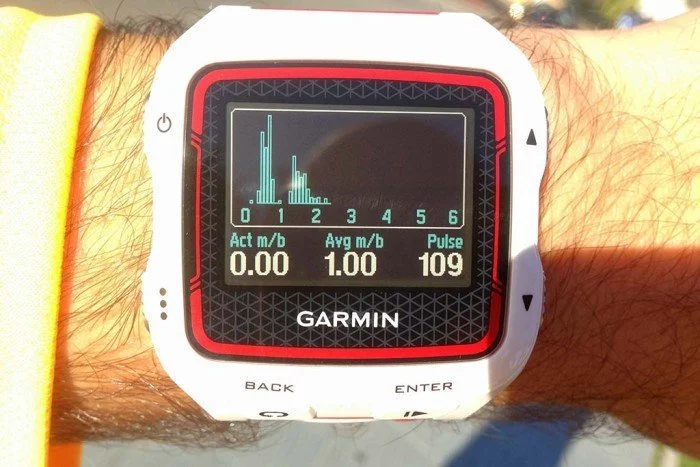 Or something already seen in the Polar M400Thanks to this field you can check what your final time will be with your average pace, the pace at which you are running and the remaining distance.
Adding it is very simple, you just have to go to the configuration of some activity and replace or add any of the fields by one you have downloaded.
But it has limitations. You can download several data changes (with the memory limit of the device).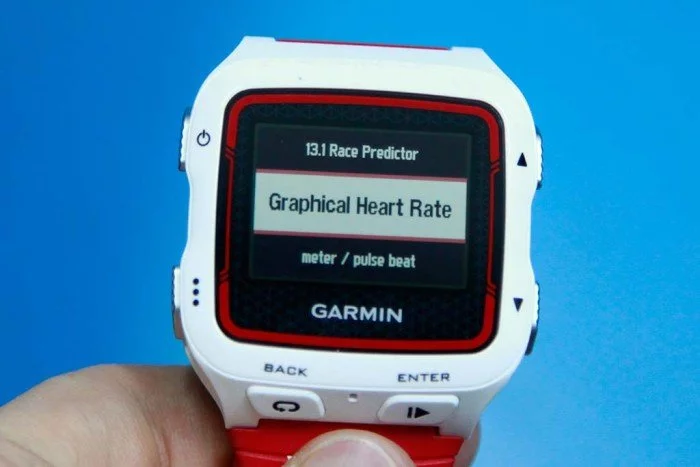 But when adding fields to a profile, two are the maximum you can select.
The final use of this data depends on the developers, but at the moment it is not possible to give it the most interesting use, to allow manufacturers to develop accessories with ANT+ connectivity to display information on the watch screen. I can think of for example StrydIn order to access sensors that are not supported by the clock at source (as is the case with Stryd), they must be accessed through an application, and not through a data field, which would be ideal. I will detail this later in the limitations section.
Widgets
Widgets are the screens that appear in the "carousel" when you are out of an activity. On the main screen of the watch, if you scroll down, 1TP10You will find different default information screens. For example in the case of the 920xt you have the activity monitor data and then the cell phone notifications. The widgets would go here and allow you to get external information from the internet via your mobile data connection,
In these rendered images you can see how they work. AccuWeather for example is developing a widget with weather data. You don't have to worry about battery consumption as they work in low power mode.
Tempo works on a widget that will show you your calendar data, and even let your contact know that you are not going to arrive on time.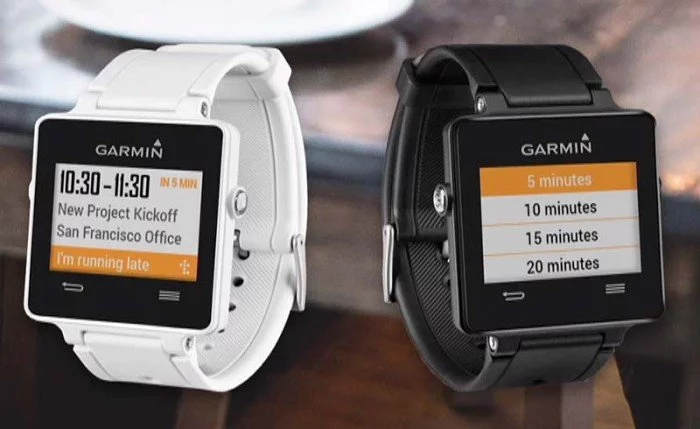 Many of the applications will be accompanied by their corresponding widgets, as is the case with these two examples (Tempo and AccuWeather).
Applications
Finally we have the applications. This is the most complete and important option for all the possibilities it offers. You must think of them as the applications you can find for your mobile phone (saving the distances in terms of memory and processing power).
To give you an idea of the complexity they represent, the Garmin Vivoactive presents all its training functions as one application, instead of different training modes. You can have the running application, the cycling application, or a golf application. That is, you open an application, not a sports profile. And just like the sports applications, you can complement the watch with other functions.
iSki prepares an app with which you can have information about the weather along with data about the state of the snow, the situation of the ski lifts and information about the slope.
Moxy is an oxygen sensor. Through the application it is preparing it monitors the oxygenation of certain muscles while you are training. Obviously this type of accessory would previously need an additional screen to display the information, as it would be a closed communication between the Moxy device and the display. Now thanks to Connect IQ that data can reach the display of the watch with all the necessary information.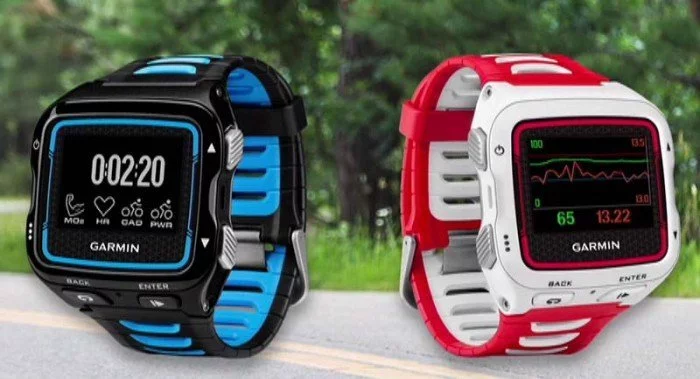 Komoot is a navigation application that provides turn-by-turn directions. Instead of showing a predefined route that you are navigating, it would show you when you have to take a detour and how much distance is left to do so. Currently Komoot already has a cell phone app with thousands of running and walking routes.
The functionality of these applications will not depend on the clock where they are installed, regardless of the size or shape of your screen (square or round). That is, the applications will work the same in the Vivoactive, a midrange clock, or an Epix, which will be the maximum exponent within the Garmin range.
Supported devices
At the moment there are four devices that support the Connect IQ function, three of which are about to come on the market.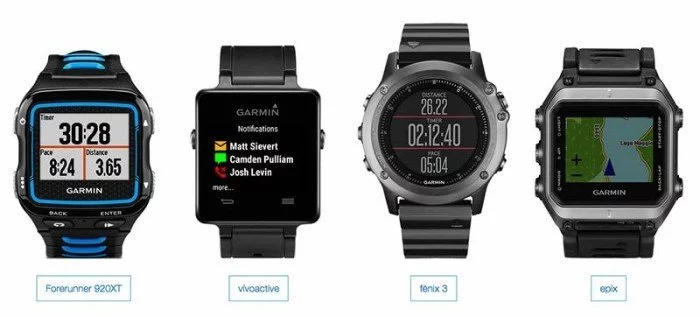 Garmin Forerunner 920xt
Garmin Vivoactive (available April 2015)
Garmin Fenix 3 (available March-April 2015)
Garmin Epix (available April-May 2015)
Monetization
Here we are at an important point, both for you and for the developers. Obviously, without money in between no one will create applications, or at least with a minimum of quality. There are three ways in which a developer can earn money thanks to Connect IQ, but what you should be clear about is that everything you find in the application store can be downloaded for free. How will developers benefit? In one of these three ways:
HardwareThe company sells a new accessory, and accompanies it with its corresponding application in order to synchronize it with the clock. This is the clear example of the Moxy sensor I spoke about earlier.
Purchasing within the applicationThe application will be free, but you will have to pay for those maps that you install.
SubscriptionsSubscription to information services, such as iSki station data
Installing Connect IQ elements
Installing the applications, data fields, widgets or clock screens is very simple, and can be done from the computer or, most conveniently, from the phone.
Installation from the phone
You simply go into the Connect app and, if you have paired a watch that supports the feature, the Connect IQ Store option will be enabled in the menu. Here podhen browse through the different categories and see what you can install on your watch. Once you have found what you want, simply click on "Send to device" and it will be transferred to your watch.
Installation from the computer
From your computer the process is very similar. You will find in Garmin Express a new applications section. In this screen you will see what you already have installed, and you can search for new items by clicking on "Get more".
Just like on your phone, the Connect IQ App Store will open, where you can browse through the different options on offer.
When it comes to installing an item, again it's the same as in the phone app. "Send to device", and when you sync the watch, you will receive the field or app you have chosen to download.
Limitations
It's time to talk about limitations. We still can't do everything we'd like with Connect IQ. Clearly, it's something that still needs to improve and evolve, and probably over time these limitations will be resolved, if not all, then the vast majority. At least, if Garmin listens to the developers, who are the ones who will ultimately provide the feedback on what they need to create quality applications.
The most important limitation is that there is no support for sensors that are not supported from the beginning, such as a data field. And to support it, you would have to create an application with support for that sensor, replicating everything that the sport profile would do (whether it is running or cycling...). That is, the Garmin 920xt does not support the Tempe temperature accessory. Ideally, through a data field, we could show the value directly on the screen. But instead Garmin (or the developer who has some free time) should create the support for the accessory and, in additionIt is a huge barrier for companies like BSX Insight or StrydGarmin says they are working on a solution, but there is no specific date. I hope they will put all their efforts into improving it, because it is one of the main reasons why Connect IQ can succeed.
It is only possible to add two data fields per activity, so you have to select which fields you want to display, but you can install more than two and change them according to your interest in one or the other.
There is no such thing as multitasking as we know it from phones and computers, so every application you create has to be complete - things as simple as configuring autolap, calorie consumption data, scheduled workouts, etc. Everything has to be created again (and that's not an easy task, Garmin has years The application will be a sport mode, not an add-on to one. You can't just think about going out for a run and activating your running profile, and then launching Komoot to point the way. Instead, you can simply launch the Komoot application, and all training data, the recording of the activity FIT file, or the type of ANT+ sensors supported will be determined by this application, not the sport profile.
So much for this entry, which has gone on longer than I had originally planned, which was a quick look at Connect IQ and has ended up being over 2,200 words long. If you want to learn more about Connect IQ or you are a developer and are interested in the platform, I recommend that you visit the Garmin subforum where you will find more developers like you. As for the SDK, you can download it from here.