The function of a GPS watch is not only to provide rhythm and heart rate data during your workouts, but also to help you analyse the different metrics you have recorded, and to do this correctly you must know what information you can consult and what each section means. Because having a lot of information can be a very powerful tool, but without the ability to analyse it, it is useless. And that is where this complete guide to Garmin Connect comes in, so that you can learn how to use the platform.
Many users simply look at the average end data. Average rate, heart rate graph or meters ascended and descended. That is, the basic data of each output. But the possibilities of analysis go far beyond that. Where have I started to slow down? When do I start to get overly tired? How far am I able to go and for how long?
I want to start a series of articles where I can make an approach to all these terms and values, so that you can know what each one of them is, how you can use it in the analysis of your training and how observing them will allow you to improve your sport performance. And not only for the race, but also for cyclists and triathletes.
Since we have to start somewhere, I have chosen Garmin because it is the one that concentrates more users. It is simply a matter of mathematics, since they are the ones that put more models on the market (and with a wide difference from the second one). And because I don't make tremendously extensive articles, in this entry I will simply deal with the career data.
Common (and basic) Garmin Connect terms
There are basic terms that will appear in all sports. Things like distance traveled, calories consumed, average and maximum heart rate... These are elementary metrics that need no explanation. They are the ones that most people look at as a basic aspect of a workout without looking much further. I'm not going to go into describing what heart rate, calories, or distance traveled is, you know what those basic terms are. But I want to stop for a moment in the activity time.
Three values may appear, as you see in this screenshot.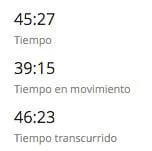 The first value is the total time you have been training (including breaks), from the time you started the activity until you stop it, regardless of what you have done during the training.
Because in that training time period many things can happen, like you stop to talk to a friend, fill up water in a fountain or stop to take a picture. In the example I have taken is from a swimming training, and the time in motion is the effective time between sets (5 in that case, so there were 4 breaks between sets). That is the time used to estimate the average pace, eliminating the breaks. And this time will be so calculated as long as you have the automatic break activated in running or cycling.
The key is that simple. Time in motion is your time in training and total time is time in motion plus breaks you have taken. So what is elapsed time?
This is the actual physical time from the time you press the start of the activity until you stop it for good. It is very rare for a different data to appear than the total time, as it is usually similar to the total time. However, in this case it is an activity with series and pauses in between, so the clock may have marked several points in the activity file. If you start the recording at 6:00 pm and stop it at 6:30 pm, the time will be 30 minutes, regardless of the breaks you have taken in between.
Career analysis in Garmin Connect
Let's go over the values you can see in the Garmin Connect race summary. In addition to the basics of distance, calories and height, there are many other values to pay attention to.
The summary records the average and maximum heart rate for the entire workout accompanied by a number, Training Effect, which translates the intensity of your workout into numbers.
It is a scale from 1 to 5, classified in the following grades.
This will help you to evaluate the intensity of your workout as a whole, but it will only be useful if you are training at a constant pace or with a slightly longer series. Imagine training 25 series of 50m sprints with 2 minute breaks. Your average heart rate will be low (because of the delay in heart rate response to exercise) and the Training Effect rating will be equally low, but you will be devastated. It is just an algorithm that combines the values you have entered for your heart rate zones to quickly indicate what a particular workout has required of your body.
The use you should make of this value is to observe it daily, and try to "touch all the sticks". If one day you do a training session in which the TE reaches 5, the next one should be between 1 and 2 to recover. That is, do a varied training to improve in all aspects, not limit yourself to go out after outing.
Let's move on to rhythm, which essentially follows the same pattern you've already seen with respect to activity time, so you know what average rhythm and average pace in motion is.
From what appears in Garmin Connect I want to highlight the "best pace" section for a simple reason, and that is that the value you see here does not mean that you have gone at that pace at some point in the training, for that you should review the graph and see how and where it happened.
You can clearly see if you have indeed run at that speed or, as in this case, it is preceded by an abnormally low pace. Why does this happen? Because the GPS has been lost, and it is jumping from one position to another very quickly. The signal at that time was simply low and the positioning triangulation has lost accuracy, so it is possible that it has recorded a point 15 meters away from the actual point, and hence that jump in the pace.
Therefore, by analyzing the graph you will be able to know if the data is correct or not. If there is a very low peak followed by a very high peak, you can be sure that it is a GPS error and it is not that you have had a gas leak that has temporarily propelled you. The recording of data also has an influence, in that graph the data is recorded per second, if you have selected the intelligent recording the rhythm data will be much more filtered (but the instantaneous rhythm will take longer to update).
Using Garmin Connect for your own benefit
Regardless of your watch range, you'll have access to basic data on heart rate, pace, altitude, etc. How can you use that data to find turning points in your training or especially in your running? Through Garmin Connect graphs.
An average value is not much use, beyond being able to tell you whether or not your training has been demanding. A graph of all your activity will allow you to know when you have started to lose energy and weaken, whether from fatigue, dehydration, poor nutrition or whatever, but simply to know where your performance has dropped.
I'll give you two examples. Firstly, a career in which everything went according to plan (Valencia marathon).
There is not much to highlight, no major changes in rhythm or increases in heart rate. What can be said from that graph is that the rhythm chosen has been conservative and perhaps I could have tried to push a little more and lower my final time.
Now look at the chart below.
The pace is fairly stable throughout the race. Very flat except for a few bumps that you can see how it affects you by slowing down and increasing the heart rate. But you can clearly see how from the hour and twenty minutes the heart rate starts to rise without any change in pace or height. I'm simply paying for the wear and tear and the fatigue is already taking its toll. If you read the entry I posted on your Marbella Half MarathonYou will see that I tried to increase the pace after the last refreshment stand (where you can see a final drop in pace), but I simply didn't have the strength to do it.
It could have been due to lack of nutrition, dehydration (it was quite hot), accumulated fatigue from training (I was in the middle of preparing for the marathon), even the simple change of pace after refreshments. But it already gives a clue as to where the lack of energy occurred and helps to find remedies for the next occasion.
Career Dynamics in Garmin Connect
Here we go into much more specific data that will not be present in all models. Only the higher ranges of Garmin record this data, which is obtained through a special pulse sensor. Not only do you need a high-end watch, but the pulse sensor you use must have internal accelerometers (HRM-Run, HRM-Run v2 or HRM-Tri).
And which clocks support this additional data? Well, as of today the Garmin Forerunner 620, Garmin Forerunner 630, Garmin Forerunner 920xt, Garmin Fenix 2 and Garmin Fenix 3And in fact not all of them support the advanced race dynamics data that came along with FR630 (FR620 or Fenix 2 will not be updated to support the new data).
These are much more specific metrics with a rather questionable utility - simply because Garmin Connect provides the data, but does not offer recommendations on what to do with it or how to improve your running efficiency by focusing on your position or the way you run.
Let's see a sample image of any training. The data has been obtained with a Fenix 3, so the dynamics data shown is the maximum information available in all the watches with the last update available at the date of this article.
Cadence
First of all we have the average and maximum cadence. It is a very well known concept since many years ago. Not only you will have it in advanced models, but it is also present in watches that incorporate internal accelerometer (all of them since a couple of years ago), or you can connect a footpod through ANT+. Surely you have read and heard many times that the recommended cadence is 180 ppm.
I think it doesn't have to be like that, because it will also depend on many other variables: height, running pace, surface... It's not the same to run at 3:15 intervals as a recovery run at 6:00. In my case, for example, in fast series my cadence is around 170 ppm, while if I'm recovering I can go down to 150. Far from the recommended 180 ppm? Yes, but you also have to take into account weight, height, etc.
And what can cadence do for you? Well, in a race where you are running at a constant pace, a drop in cadence is a clear sign that fatigue is coming. In other words, that maybe you started too fast. In this graph you can see perfectly how in this short 3 km race that fast start to get comfortable in the first positions has taken its toll and in the last third of the race I end up paying for it.
The cadence decreases as the race progresses, and in the end it is my pace that ends up falling, except for the obvious final sprint. The analysis of these two graphs (together with the altitude graph) will allow you to see different patterns that can be repeated in different training sessions or races. This drop in cadence usually comes about by losing concentration after reaching the moments of fatigue.
Stride length
Firstly, because the length of your stride depends entirely on your rhythm, and if you try to maintain a more or less regular cadence (which is logical), the other variable you can alter is logically the distance you travel at each step you take, so the information it gives you is not very informative.
Secondly, because the distance data is collected by GPS values. So if there are peaks in that record (as you saw before when I explained the maximum pace) the interpretation is totally impossible. If by the GPS positioning it says that your pace goes from 4:30 to 6:00 and your running cadence remains stable, obviously the clock interprets that your stride has been reduced a lot. When it is not true.
As you can see from the graph, the surface is totally flat and it's a steady pace workout. And no, I don't usually run "backfire" by increasing and decreasing my stride like that. I'm simply in an area with a bad GPS signal in that fragment, hence the jumps in stride length.
Personally, it's a fact that doesn't give me any information.
Vertical oscillation
The vertical oscillation is the centimeters that your body goes up and down in every step you take, that is, every bounce you make when your foot pushes you off the ground. This oscillation depends on the rhythm, since the faster you go, the greater the impulse and therefore the resulting vector of displacement in the air.
In theory better running efficiency would mean that the less bounce there is, the less energy we waste on what is not our primary task: moving forward. But then you see studies that say that the most efficient runners have more vertical oscillation, and that's when you "get your panties in a bunch".
It is therefore a relatively useful piece of information, since by itself it does not provide you with much information. Like the cadence, it is something quite personal for each runner and their technique, so it is not comparable between different people. You should focus on having good technique and doing specific running technique exercises, rather than trying to reduce your vertical oscillation by 0.5cm, especially since I find it quite difficult to achieve without quite constant studies.
Vertical relationship
The vertical ratio combines the vertical oscillation with the stride length. It is represented in a percentage that indicates what the relationship is between the distance of your stride and your vertical movement. Therefore, how much of your energy is being spent on the upward movement instead of moving forward.
Although it is influenced by the stride length and its problems in giving an exact figure, it is a graph that I like more than the previous one, because its analysis will allow you to find the point where you started to get tired.
Let's see a vertical relationship graph to explain it to you, although the sudden change you can see is not related to tiredness, but to a drop in pace. But it helps me to explain the concept to you.
You can see that the beginning of the training includes a warm up and then the vertical ratio goes down to correct figures, and then it goes up sharply as soon as I loosen the pace to make recovery. If the cause of this change was not deliberate, obviously the cut would not be so abrupt and noticeable, but it would be seen more gradually. Wait, you still can't see what I want to explain.
Let's see the same graph along with the vertical oscillation data.
There is a slight change in the vertical oscillation, as it changes at a slower rate it rises slightly, but not enough to justify such a significant rise in the ratio. Therefore it is clear that we must look at the other variable in the equation, the stride length.

In a race you can see how, when you start to be tired and your concentration goes down, the stride length will get shorter and therefore the vertical ratio will start to increase (because you move less horizontal meters, but the bounce is more or less similar). You will also lose some cadence. This way you can determine when, if it was a totally flat race, you started to falter.
So you can play with the different values that on their own don't provide much information, but in combination it gives a much clearer idea of what may have happened.
Ground contact balance
Ground contact balance simply refers to whether there is an imbalance between your left and right leg in your run. That is, if one of your feet spends more time on the ground than the other, there is a problem. If this happens constantly, it is best to have a dynamic study of your run so that a professional can assess whether there is any kind of abnormality in your body, such as a deviation from the run, a difference in leg length, etc. The usual rule is that balance is 50-50 for completely flat surfaces, with a few tenths of a difference on either side.
Obviously, we are talking about a race on asphalt or a track. If you train regularly in a field with uneven terrain, forget about this parameter, because obviously the stones, potholes and other irregularities in the terrain will upset your balance as you overcome obstacles.
Ground contact time
Finally, ground contact time only measures how much time your foot spends on the ground. Obviously, this is closely linked to rhythm. If you have a high rhythm, you will fly over the asphalt; if you slow down, your foot will spend more time on the ground.
There's not much mystery about it.
Marketing or real utility?
The amount of data that you can analyse in your workouts can be overwhelming, in my opinion perhaps too much, especially since Garmin does not offer many indications as to the different metrics it allows to collect, especially in terms of advanced racing dynamics.
Is the data you offer really useful, or is it just a marketing move? In my opinion it's a bit of both. Some of those advanced metrics don't provide too much relevant information, not only for the average user, but also for the advanced one.
However, the more data you have available when performing the analysis, the more likely you are to find patterns and identify possible weaknesses in your preparation or race tactics.
The problem is that not everyone has the time to analyze each training for 20 minutes, nor the knowledge to interpret such an overwhelming amount of data. For the time issue I can't give you a solution, but I hope I could help you with the interpretation.
Cycling on Garmin Connect
The following values will only appear if you have a power meter, if not you will have the same data as in the race training: heart rate, distance, speed, etc. At most cadence if you have such a sensor.
If you've decided to make the investment in a power meter you probably know all these terms, but just in case it doesn't hurt to go over them. And if you're deciding to make the leap into power training you'll certainly be interested to know all you can get out of it.
To show you the difference between the two cases, firstly the version without additional data. As you will see, the data is quite simple.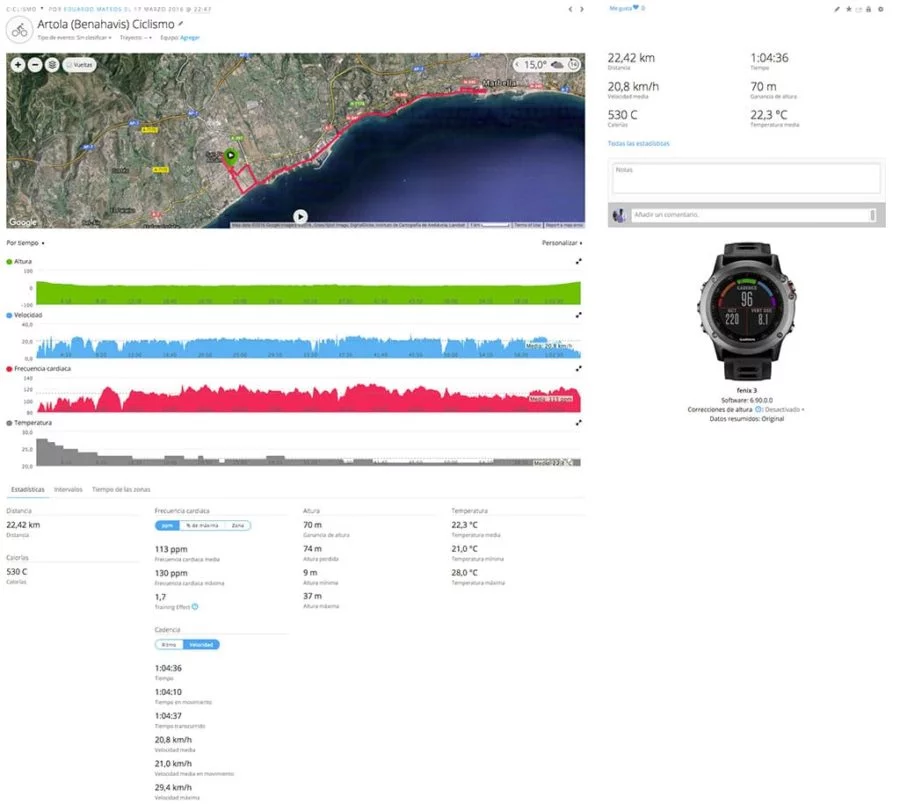 In the following screenshot you can see a workout with much more data. Power, cadence, etc. There is a substantial difference, right?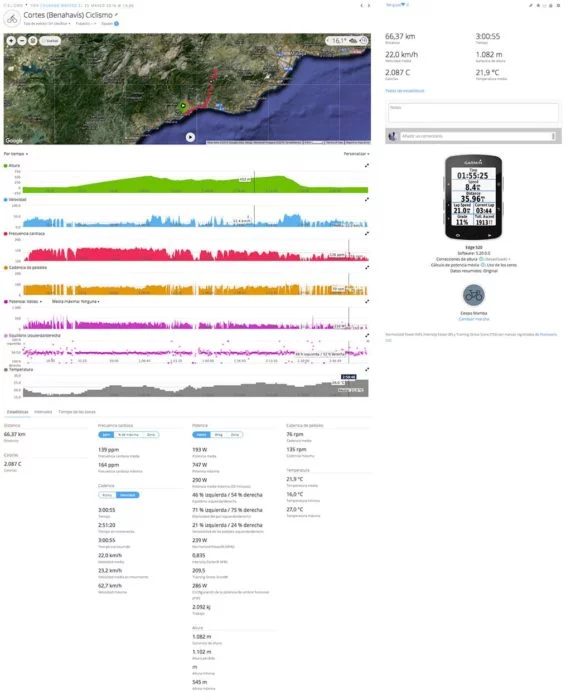 Well, let's get down to business. First we go over the most basic power data.
The first data is the average recorded during the whole training, followed by the maximum power at 1s and the maximum average power during 20 minutes, which is the maximum sustained during that period of time. This last record can give you a little bit of an idea of how your training has been, because if you have marked 20 minutes at 400W and 3 hours very quietly at 120W, your average power will be very low but it will not reflect the monstrous training you have done holding 400W during that time.
At the top you will find two other options of W/kg and zone, they simply give you the average and maximum power data based on how many watts per kilo you have moved (which is much more important than absolute power) and which zone it would correspond to, calculated with respect to your functional power threshold (FTP).
The power is not comparable between different riders. I can do a race averaging 300W in the cycling sector and it can happen that someone is faster than me with an average of 250W. That absolute measure is not comparable between different subjects, in the same way that the 100HP of a car is not comparable with the 100HP of a motorcycle.
When that power is reflected in W/kg it is possible to compare it, and see why someone with 50W less average power has been faster than me. My 300W divided by 93kg weight gives the modest figure of 3.22W/kg. Now suppose that the person I have competed against has a weight of 60kg, so he would be in a much more competitive figure with 4.16W/kg. Now you can clearly see why I am slower despite generating more power, right?
But more important than all this is the standardised power and the other parameters below, which become the A, B and C of understanding the intensity of any cycling training.
Standardized power
First of all I will talk to you about normalized power, a power estimation that helps to give a much clearer picture of how your training has been. This estimation balances all the factors of the training and provides a data equivalent to the physiological cost if the power was totally constant (for example, training on a roller), instead of having the different variables that you can find in an outdoor training (climbs, descents, turns, traffic, etc.).
Therefore the standardized power is a more correct value when comparing between different trainings or races; for example critériums or duathlon or triathlon segment in closed circuit, where there are usually closed turns where you have to stop pedaling in advance but with a high intensity output.
In these cases the average power will be lower if we compare it to having made a race of the same duration and intensity in an open circuit, where the average power will be higher and very close to the normalized power, but we will have applied it constantly. If we look at the normalized power of both activities then it will be very similar.
Intensity Factor (IF)
If the normalized power is to bring the average power to a standard value between different workouts by eliminating variability; the intensity factor puts the effort of that workout into context.
This is an indication of how demanding a workout or race is compared to your FTP (functional power threshold, or UPF) value. It is calculated by taking the normalized power value of the workout and dividing it by your FTP value. With the data from the example of the capture you saw above, it would be 258W/286W, which gives an intensity factor of 0.903. You don't have to calculate this data for every workout, because Garmin Connect does it directly for you and you will see it reflected in every workout.
So it helps you to understand how demanding a workout has been, beyond your own feelings. Because you may be very tired and have had a hard time completing the workout, but if you see that the intensity factor of the workout is 0.75 it is clear that you were simply not in a position to perform correctly. All this assuming that the FTP value you entered has been calculated correctly, of course.
It is also used to compare training sessions between several individuals, since it takes into account the form of each one of them (since it includes their particular FTP).
You may also find values above 1, which indicates that you have been training at values higher than your FTP. It may be that you have simply done a short training or race (sprint triathlon segment, for example) and have been able to perform above your FTP (which is your maximum power that you can maintain for 60 minutes). But if you find values above 1 ,05 in training or races of more than one hour it is a clear sign that your FTP has increased and that you should do the threshold test again.
According to the values described by Dr. Andy Coggan in Training Peaks (to whom all these calculations belong), we can use the intensity factor to classify trainings or races as follows
IF value less than 0.75 - Recovery output
IF value between 0.75-0.85 - Resistance rhythm training
IF value between 0.85-0.95 - Long runs (more than 2.5 hours), training at running pace or interval work in the anaerobic zone
IF value between 0.95-1.05 - Races of less than 2.5 hours, criteriums, cycling segment in triathlon or intervals in lactate threshold zone
IF value between 1.05-1.15 - Cycling segment in triathlon or duathlon sprint
IF value greater than 1.15 - Pursuit at velodrome or similar races of very high intensity in very short periods
Training Stress Score (TSS)
The training stress score, better known as the Training Stress Score or TSS, is the numerical value that indicates the fatigue produced by a given workout or race. To obtain the value it is necessary to take into account the normalized power, the intensity factor and the duration of the workout. The calculation formula is as follows:

TSS=[(s×NP×IF)÷(FTP ×3600)]×100
s = Duration of training in seconds
NP = Standardized power
IF = Intensity factor
FTP = Functional Power Threshold
Therefore this formula includes not only the intensity, but also the volume, because not only the intensity is an important factor in a workout. Normally when the intensity increases, the volume decreases (a more intense workout but of shorter duration). Because if you are dedicated to high intensity training for long periods of time I predict a very black future.
Not only does it allow you to know the physiological effort of a training session or race, but it also helps to determine the recovery time between training sessions.
TSS less than 150 - Typical recovery in less than 24 hours (low training load). In a short time you'll be up and about
TSS between 150 and 300 - The next day you will have some fatigue, but in 48 hours you will be fully recovered (average training load)
TSS between 300 and 450 - At least two days of recovery (high training load)
TSS over 450 - You've had a real kick out of it. Sofa for the next few days (very high training load).
Garmin Connect does not, but other more advanced applications (such as Training Peaks, WKO4 or Golden Cheetah) will accumulate these TSS values to give a more accurate picture of what your training is like over periods of several weeks or months, to balance the training load and prevent you from overtraining.
Distribution values
Garmin Connect also displays information relevant to the distribution of pedalling, provided your power meter can measure both legs independently. If your power meter only measures one leg and multiplies by two (e.g. Stages) or measures total power (e.g. Powertap G3), this information is not available.
And what are these percentages? Well, let's see.
Left/right balance
It's self-explanatory. It's the percentage that each leg contributes to the total power.
There has been much discussion about the appropriateness of a symmetrical distribution and the need to work to make it so. There are two sides to the argument, those who believe that work should be done so that one dominant leg does not become tired before the other and those who believe that, as long as the balance is within the normal range (i.e. the distribution does not go to 25-75), it is not of the least importance.
My opinion? I have no idea and it's not something that works specifically. I simply know that I have a dominant leg and that when I'm testing a power meter that doubles the values of my left leg I will get a lower total power value than the real thing, in the same way that I also know that when I'm fatigued my dominant leg becomes even more dominant.
Torque effectiveness (TE)
The effectiveness of the pair is mainly oriented to show numerically how your technique is. To explain it clearly I can use the image you see below. In the graph you can see two opposing forces: P+ and P-. This represents a complete 360º pedal stroke.
P+ is the positive movement of the bottom bracket, that is, the part of the pedal stroke where you apply power (if it were a clock, between 3 and 9 o'clock). P- is the negative movement, the moment when you are not applying pressure on the pedal or you are helping the pedal to rise on the opposite side. The formula is as follows:

Torque efficiency = (((P+) + (P-))/(P+)) X 100
What does this percentage indicate? It reflects in an easy to interpret number how your pedaling technique is. A low percentage indicates that you do not lift the weight of the opposite pedal and therefore your watts, in addition to serving to propel the bike, are also being used to move the opposite leg up and that you are leaning on the opposite pedal.
If you have a percentage close to 100% it is proof that you have a good technique and that you are not accumulating negative power readings (P-). That is, that you are able to unload weight from the pedal on the climb or that you are even helping the pedal stroke by "pulling" the pedal on the climb).
So a high percentage "is good". A bad percentage "is bad".
In my case you can see that I need to improve my technique, but I also know that I am around the average, as it is common to see values in the range of 60%-100% and, as you will see later, it also depends on your state of fatigue and it will be easy to see variations in different workouts.
Sensitivity of left/right pedals (Smoothness pedal, PS)
The term used leads to confusion, as it seems to refer to the state of the hardware and the ability to detect power. Nothing could be further from the truth, because what it refers to is the smoothness of pedaling. The English term is "pedal smoothness" which, literally translated, means smoothness of pedaling. Quite a bit more correct than sensitivity. Well, let's see what pedal smoothness is.
It is calculated on each leg by dividing the average power (Pavg) by the maximum power (Pmax) in each pedaling cycle, and represents whether you have applied the power evenly or, to put it simply, you kick the pedal and then drag it until the cycle is over. The difference would be a more rounded pedal where you apply the force more consistently or a high peak of power that is not constant.
The one you see below is the calculation formula:

Pedal sensitivity = (Pavg/Pmax) X 100
Should we be concerned about this metric? Not really. At Garmin, they determine that after collecting thousands of data in workouts uploaded to the Garmin Connect platform every day, this metric is typically in the range of 10%-40%. But unlike pedaling effectiveness, there is no clear method of increasing the percentage in this metric. That is, there is no clear way to make your pedaling as consistent as possible, nor is it clear that it can help improve performance.
It is therefore interesting to compare these data on cycling effectiveness between training sessions of different intensities (and also put it into perspective with regard to your accumulated fatigue), as it is more common for there to be variation from one day to the next. At least this is something that happens in my case, as you can see in the different examples I give you after different training sessions and competitions.
Also look at the normalized power, TSS and intensity factor values to see how demanding each workout is and how the data for the different parameters vary. Through these data you can quickly see if the workout in question has been a major burnout or a simple walk.
Yes, there's a repeat. But I realised after I did the montage and it wasn't a question of changing it again. The important thing is that you understand the concept.
Cycling dynamics
There's even more data that pod could see and analyze. Because in case your power meter is a Vector or Vector 2, you will also have what Garmin calls "cycling dynamics". Additional data that will provide you with the following information:
Sitting/standing timeIn this case the Garmin pedals are able to detect when you are sitting and when you are standing. After training podr you can see how long you have been in one way or the other and check other data such as cadence or speed in each of these cases. Of course, if non-drafting triathlon is your thing, you could practically forget about this, unless you want to use it to know when you've gone "to the toilet..."
Power phaseThe problem with this metric is what to do with it. If the smoothness of pedaling already presents problems of interpretation, imagine when we put in values of angle and moment of pedaling in which you print the power.
Movement on the platformThe Vector and Vector 2 pedals are able to detect where the most power is being applied, so you know if the cleat is positioned correctly or if you should move it slightly. But once you have done this, it won't give you much more information, as the displacement from the centre is usually quite similar even if you are pedalling standing up.
All this data will be displayed on your Edge screen and saved in the activity file for later analysis, but unlike the generic power and intensity factor data, the specific values you can obtain with Vector pedals will not give very relevant information about your workouts or races.
Swimming in Garmin Connect
Phew. So far, between career analysis the other day and cycling we've got enough text to write a book. And I'm actually thinking of combining it all into an e-book so you can have more on hand. But hopefully I still have to talk to you about swimming.
The data we can get from swimming in Garmin Connect is much more concise, as you can see in the screenshot below.
It is true that in the capture I have not added heart rate data (which could be obtained thanks to the sensors HRM-Tri or HRM-Swim), but it is not decisive for the (scarce) analysis we can make of our swimming training.
Actually, almost everything on that screen is self-explanatory. But of course I want to dwell on some issues. Otherwise, why did you come in here?
Medium pace and better pace
I'll start at the average and best pace of the training, in this case the average pace of the whole session is 1:49 100m/min (which, in case you don't know, is the way to express the pace in swimming and means that it would take 1m49s to cover 100m). And a faster pace of 1:24 100m/min.
Just like in the race, this information can be real or not, depending on where it comes from. If you have the clock set in a 25m long pool and you swim 12m, you stop and turn around, the clock will interpret that you have swum that 25m in half the time. Because what the clock does is detect turns and changes in the swimming pattern to interpret that you have reached the end of the street and you have turned around, as this is the only way it can do so.
As I was saying, that value can be real (if you have measured all the lengths correctly) or wrong (if you have made strange movements that confuse the detection). In this case it is a real value and it corresponds to the first 50 meter interval that you can see in the graph, but as I said at the time of the analysis of the race, it is convenient that you check in the graph where it comes from.
Average and maximum stroke speed
Watch out because this is important. Stroke speed is how many strokes we do in a minute. And by cycle we mean two strokes (left and right), that is, from the time the right (or left) hand enters the water until it enters again the next time.
It's important to know this number because it gives you information about your rhythm and timing. If the number is low, it means that there are dead ends in your timing (that is, there are times in your stroke when you are barely exerting any propulsive force). Conversely, if the number is high, it probably means that the length of your stroke (the length your arm travels when you swim) is too short and you need to lengthen it.
And what is the right speed? Well, it depends on the rhythm, and for this there are many utilities that allow you to make the calculation, for example the calculator that you will find at this link.
If we take the average data from the top capture (25 cycles per minute and 1:49 average pace), we can see that looking at the training as a whole, I have to work on the stroke speed, which is a bit slow. That is, I may stop too much trying to slide in the water instead of using that time to push myself with my arms, which is not surprising, because swimming is definitely the segment in which I have the worst performance.
What happens if we repeat the calculation with the maximum data corresponding to that first interval I have made? Well, let's see.
The improvement is remarkable, being already in the right area, so obviously what I have to work on is being able to make that 50-metre interval rhythm (both stroke rhythm and length) become a stable rhythm.
These two examples are simply to show you what you can use the data for, but you should not just measure your average and maximum values. Where it becomes more important is in working out the technique. Separate your training into several phases and then analyse the data (which you can get from the intervals or from the graphs) to try out different things and see when you are most comfortable swimming and have the best feeling. Then, with the data in hand, you can confirm whether your initial impression was correct.
Average strokes
Stroke averaging lets you know the length of your stroke, which Garmin Connect does not provide.
In the example used, the average is 11 strokes (11 cycles or 22 times the left and right arms have entered and left the water). The pool in which I train is 25 meters, so the average stroke cycle length is 2.27m. So in each individual stroke I go 1.14m.
Since speed can be defined by frequency per stroke distance, both data are equally important. If you want to increase your speed you must therefore increase the frequency or stroke distance.
By observing this value, you will know if you are improving and increasing the distance travelled in each cycle. If you lower the number of strokes per length, it will be because you are covering more distance in each one.
SWOLF
Finally we have the SWOLF, which tries to capture the relationship between the two previous metrics (the number of strokes per length and the distance of each stroke). It comes from the mixture of the words "swim" and "golf". The objective, as in golf, is to try to take as few strokes as possible. The lower the SWOLF value, the better your performance.
That is, using the averages of the example, if I use 1'49" to cover 100m, it means that I need 27.25s to cover one length. The average number of strokes is 11 per length. So if we add both records (27.25 +11) it gives the average SWOLF indicated by Garmin Connect, which rounds up. In this case 39.
You can see the clear relationship between the SWOLF value, because if I can get down to 4 seconds per length and give 2 strokes less, I would lower my SWOLF to 33. This kind of math simply serves to help you understand where the data comes from, but you don't need to memorize how the calculation is done, that's what Garmin Connect is for.
The SWOLF is therefore a reference index for comparing different swimming intervals or sessions with each other. It only serves to compare you with yourself and provided that the length of the pool is the same. Logically, the SWOLF of a 50-metre pool is not the same as that of a 25-metre pool. Nor does it allow you to compare yourself with your training partner, for the simple reason that you will not have the same span (different stroke length).
Final summary
This is the end of the second part of the Garmin Connect data analysis, and I hope it will help you better understand all the data you can get from your devices and that the different analyses you do of your activities will help you improve your sports performance as much as possible, so all you have to do is go out and train and get more and more data to analyse.
And with that... thanks for reading!