These days the ANT+ symposium is taking place, a conference where the main manufacturers meet to talk about different possibilities that the market offers. Basically it is a private club for all those manufacturers that use the (free) ANT+ protocol.
As you know (and if you don't know, I remind you), the ANT+ Alliance is managed by a company called Dynastream Innovations Inc, which is a subsidiary of Garmin. Therefore, although ANT+ is not directly operated by them (although it is practically), they take advantage of it to make announcements of their platforms in this conference. Announcements that go beyond devices.
It was here that Connect IQ was introduced last year. It is the application platform on which they place a lot of hope for the future and from which you can read all the information in the article from a few months agowhen the platform officially reached the general public.
This year, Garmin is talking about Connect IQAs is usual in this type of conference, we always start by talking about figures and showing a little muscle. During this year 2015, more than 1,000 applications/data fields/widgets that have been published in the Connect IQ Store. And they are available for over a million devices that support the platform that, until today, were 920xt, Vivoactive, Phoenix 3 and EpixTo further increase the platform's relevance, they are introducing new features: Connect IQ goes to the Edge and introduces new possibilities with Connect IQ 1.2.
Garmin to bring Connect IQ to Edge devices as well
The most important news for us ordinary people who don't develop is that Connect IQ will be coming to the Edge platform, so we will now be able to see applications on the devices where they are perhaps most important. This is a totally logical move, as developers will now have larger screens to display information, and it is in the field of cycling that we find the most variety of external sensors.
Not all current devices will be supported by Connect IQ, only the new Edge 520 (which has already been developed with this function in mind) and the Edge 1000 and Edge 1000 Explore Therefore, all other models, including the new Edge 20/25 (because of the small screen size) and the Edge 510 and 810, which would probably be able to move the platform, but it is an understandable move by Garmin to shift sales to its new products.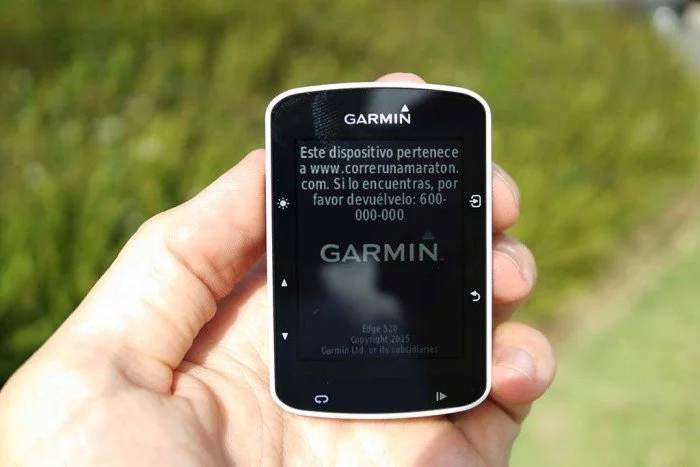 Edges will receive essentially the same type of applications as watches:
Applications: Complete applications that, just like watches, will run inside themselves, completely unrelated to the standard cycling profile. Therefore, if a developer wants to create an application (for example, managing a Shimano Di2-type electronic transmission), he will have to replicate the other data recording functions of the cycling profile.
Widgets: In this case it's a little different from what we see in the clocks. They will be small applications that will probably appear in the status bar at the top. Their mission, however, will be the same as in the field of wearables, and is to display information quickly (such as sunrise and sunset time information).
Customized fields: Data fields to add to the already configured displays. Here we can include data from external sensors (such as specific data from power meters that go beyond the traditional configuration) or arithmetic calculation fields, such as time estimation to cover a distance, or even estimated power in watts.
You will see that there is one point missing, and that is the clock faces. Logically this type of application would have no logic in the world of cycling computers, so it is ruled out.
Connect IQ 1.2, what's new
Today Garmin released the Connect IQ 1.2 SDK along with beta versions for the clocks that support the application platform and Edge 100, so you can start working with the new features that have been added to the platform:
Improved connectivity, including different modes and HTTP headers. It opens the possibility of better connections to different APIs through the mobile phone, as well as allowing the download of images.
New possibilities for applications, including application-specific options and alarms. Now the developer can create a menu for the user to make changes to the application. These settings can be altered from the computer with Garmin Express or through Garmin Connect on your mobile phone. Think about changing the colors of an application or selecting a specific parameter for a data field, such as switching between the estimated time for completion of a half-marathon and a marathon.
New APIs that allow access to the accelerometer and reminder alarms. Applications can now use the device's accelerometer or trigger an alarm to remind the user to check something, such as a warning after a certain time to renew the parking ticket.
More features for ANT, allowing access to multiple channels as well as allowing writing directly to the FIT file.
These new possibilities open the spectrum of possibilities offered by the platform quite a bit. With the new connectivity options, access to the different external server APIs is improved. I can already see Strava preparing its application, and accessing its API with segment data directly, without having to select them beforehand. It will also be possible to download images in real time, such as receiving a weather update with a rainfall radar. There will also be new features when representing data on screen, especially in the case of the Edges.
ANT+ Alliance has released some videos showing what the platform can do now, for example, using the accelerometer of a Garmin Fenix 3, it is possible to activate the Garmin Varia lights to act as turn signals and brake lights.
Finally and most importantly, third party access to write to FIT files is a very important step for external sensor developers.
Until now, all they could do was display information on screen, but without the possibility of saving that data for later analysis. For example, it would be possible for Stryd to create a data field for its new stroke power meterThe latter is certainly what the developers have been waiting for the most and will become even more important in the coming months, as even Garmin is planning to offer this data through Garmin Connect.
There are still conflicts to be solved, as a way to monetize these application developments, besides the sale of the device itself. As the platform works today, it does not allow to charge money for the download of an application.
The problem is for smaller developers who spend their time creating something, such as a clock face. Today, there is no chance of making a profit by creating a simple application, and if Garmin wants to attract quality developers to its platform, it must change.
Therefore, it remains to be seen how the development continues during 2016.