The Garmin 620 is Garmin's most advanced running-specific watch. Proof of this is that despite the amount of technology it incorporates and everything it's capable of, the footprint it leaves on your wrist is frankly small. In just 44 grams, it can integrate WiFi, Bluetooth, GPS, ANT+, a touch screen and a battery capable of supporting so much wireless technology. But surely your doubt will come with the price when you compare it to its little brother, the Forerunner 220. Is it worth paying around $100 more to have so much technology and add metrics such as running dynamics? Well, that's something you'll be able to appreciate after reading this analysis.
This time I have to thank Garmin for giving up the watch for the test, so once I've finished writing it, I'll send him back, he won't stay with meI hope that this test will be very useful and help you with the purchase of your new training equipment. It is clear that you will live with it for many hours, and for many years, so you will want to be absolutely sure of your purchase. Remember that if you find it useful and you are going to buy it, you can do it through the Amazon links you'll find at the end of the analysis. That way you'll help me run more tests like this in the future.
Unpacking
This is the box in which the Garmin Forerunner 620 is presented. Square, with a window where we can see our new training partner. In this case the unit provided by Garmin did not have the HRM-Run pulse sensor, although the box did have to bring it initially. You can distinguish it (besides the price) by the logo on the box at the bottom right.
Once the box was opened, and in the absence of chest strap and HRM-Run sensor, this is what we found: lots of literature (which after reading this test you won't need at all), the synchronization and charging cable and what we are most interested in, the Garmin 620.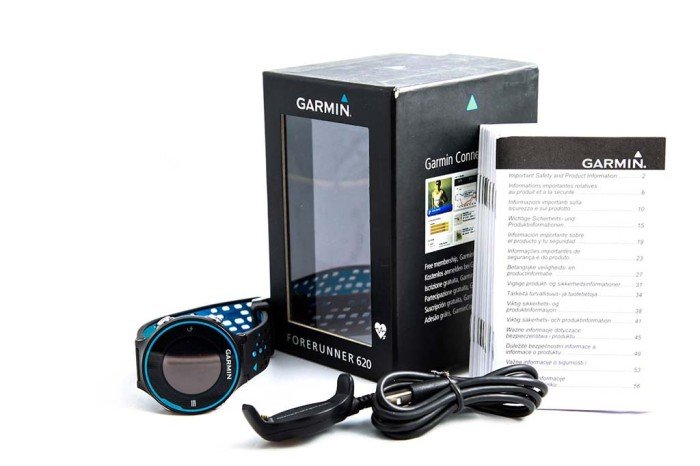 Attention to the detail of the examples of color displays of the watch. On the box (and in the promotional photos) it seems that the watch has a vividness of colors like that of any cell phone or television. In reality, although these different shades are visible, the colors are much more "washed out". It is not as pretty as it is painted....
But let's go with the watch. In this case the unit is black with blue details. You can also find it in white with orange details. Garmin has given Forerunner 620 small colour accents: the edge of the watch, the inside of the strap or a small logo on the strap.

The dial is not plain black. It has small diamonds drawn on it, to give it some more "depth". The whole watch is made of plastic, which has a good and a bad reading. The good one is that it is very comfortable to wear for running, as it weighs only 44 grams (despite the amount of technology inside). The bad one is that it is just that... plastic, and of not too much quality. To the touch it feels like a Casio of no more than 20 euros.
There are four buttons to operate with, plus the screen itself, which in the case of the 620 is completely touch-sensitive. On the left side you can find the button to turn the clock on and off (if you leave it pressed) and to turn on the screen light. The other button, as you can guess from the logo it has engraved, is to activate the time.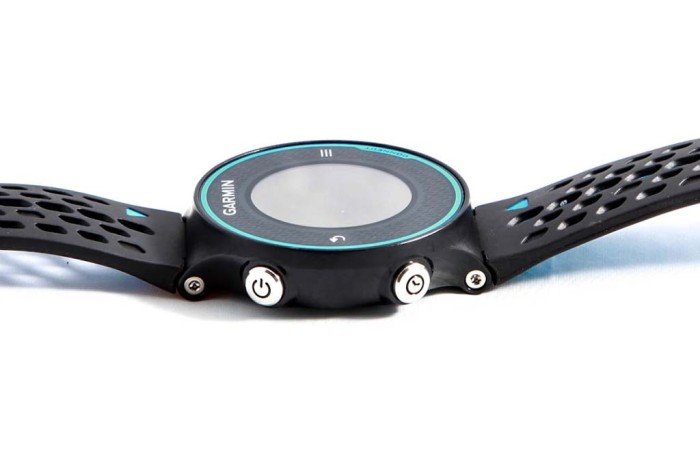 On the other side we have the button to start or stop the activity and the button to mark laps.
And in addition to the four physical buttons (yes, also plastic) we have two touch buttons on the screen itself. The left button will be used to return to the previous menu, while the right one, with three little grids, will be the one to enter the menu. All the navigation and selection is done through the touch screen.
The strap has small details. You can see the color of the inside of the strap when you tilt it slightly, and the pin has the Garmin logo engraved on it, as well as the blue triangle. Here we see the only piece that is not made of plastic, the buckle, which is made of steel.
On the back we have the timing and charging pins. Even if they are visible we have no problem getting the watch wet. In fact, we can dive it up to 50 meters. It doesn't mean you can go diving with the Garmin 620, but it does mean you can shower or run in the rain. Even swimming with it (even if it doesn't have any swimming metrics).
The charging cable is a USB connection. You can charge your Garmin 620 through your computer's port, or by connecting it to any mobile phone charger. The connection between the watch and the charger is magnetic, so it's not difficult to make the connection between the two as there's nothing to align. It simply attaches itself.
I'm going to charge the clock and train!
Running
Running is the main activity we're going to do with the Garmin Forerunner 620. It's what it's designed to do. And since you've bought a watch with GPS, the speed at which it gets a satellite signal is very important.
Accessing the satellite search is very quick. You only have to unlock the screen and press the time button to enter the activity menu. The one that appears by default will be the one you have selected in the menu, which will normally be the running one. On this screen the clock is already looking for signals, both GPS and pulse, and it indicates this through the two indicators that blink at the top.
In addition to this blinking, on the left side you have a bar that completes itself as it finds satellites.
The Garmin 620 has a one-week satellite caching function, which means you get a satellite signal very quickly. This cache will be loaded every time you sync your watch via USB, Bluetooth or WiFi.
Let me tell you that the 620 is one of the fastest clocks in obtaining GPS signal, at least of the ones I have tried (and there are already a few...). It is not only that it is a fast clock in general, when moving through menus or making selections and settings. It is that the search for satellites is immediate. But nothing better than that you can see it by yourself in a video.
I started with having the clock with the GPS deactivated. It was activated and the signal bar started to fill up to be ready in just a few seconds. This will be the most typical search you do: outdoors, with downloaded satellite cache information and a few days after your last activity. That is to say, an ideal situation. Of course, if you haven't started the clock for 3 weeks, you are on the other side of the world with respect to your last workout and you haven't connected the clock in all that time, the wait will be quite a bit longer.
So with satellite signal and pulse sensor connected, you can start running whenever you want. To start the activity just press the button with the drawn runner, which is the one on the top right.
And while I'm on the subject of buttons, the Garmin Forerunner 620 has a total of four buttons and a touch screen. I've told you about them before, but here's how it goes. At the top left you'll find the light button. A short touch will turn the light on or off, while holding it down will turn the clock off.
The button below this is the time button. It allows you to return to the clock screen at any time, even if you are in an activity, without having to pause or exit it. With the screen unlocked it will also allow you to enter the activity menus.
On the right side you have the activity and lap buttons. The first one will allow you to start or stop an activity, while the second one lets you manually mark laps while training, and when you are not in activity it will be the button you use to start a WiFi connection to download new data or synchronize your last races.
On the screen you will see the back button and to the right three horizontal lines, which will be the button to enter the menu. To move through it you will do it thanks to the touch screen, and you can do it in two different ways: sliding it as if it was the screen of a mobile phone or pressing up or down. You will make the selection by pressing in the center of the screen.
You may have some concerns about the touch screen, and you may think of many times when it may be uncomfortable, or simply not work properly, such as wearing gloves. Don't worry that even if you're running around with warm hands, it will recognise all your screen touches. You can check this out in the video I recorded using some pretty fat gloves. The watch is able to respond to all finger touches and slides on the screen.
And you probably don't have to worry about the rain either, because even if you're running under the perfect storm, you can still interact with the menu of the clock. In this little video you can see me moving through the different menus even under the tap.
Once you're in the activity, in addition to using the buttons to stop or mark laps, you can switch the view between the different pages of data you've set up. To do this, just tap on the screen and you'll be taken to the next page.
And this is another important point of any clock, the data that it can present to us while we are running, as well as the way we can configure it. In total we have 6 pages of data that we can configure: 4 pages of data of our choice, virtual partner page and race dynamics page. We can activate or deactivate any of them at our discretion. For example, if you are not interested in the race dynamics page you don't have to have it, you leave it deactivated and that's it.
Within the virtual partner page you can configure the pace you want it to follow, for example 4:25 min/km.
And that's how we'll see the page when we're training. In this case I'm 15 seconds over the target. In the graph you would be the red runner, while the target pace is the slightly smaller black runner. Below it indicates what your average total pace is throughout the race, which is different from the average lap or instantaneous pace.
That's if you're ahead of your target. If you're behind, the indication changes slightly. Besides indicating how long you're behind, the upper and lower stripes will be black (like my future if I keep running at that pace). Note that the runner is now standing still, because the clock has detected that I've stopped running to take the picture.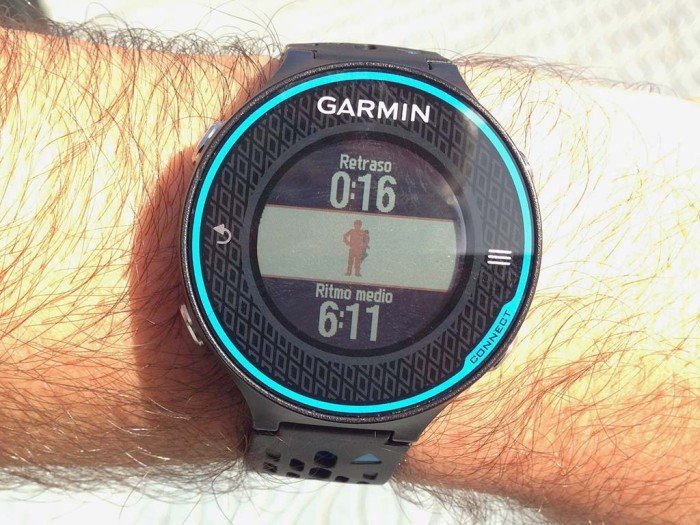 As we increase the distance with respect to the target, both in front and behind, the runners that represent us will move away. That if, at no time and no matter how much you separate you indicate something like "you're disgusting", all a gentleman.
As for the four pages of data, you can do the configuration easily and quickly directly from the clock . To do this, you must move to the menu Settings > Activity Settings > Data Screens and enter the page you want to edit. Entering here you will see the configuration that is made by default and at the bottom right a wrench that allows you to edit the page
First you would select how much data you want to display, with a maximum of four per screen. When you have selected the number of data to display, you will return to the previous screen (the one with the wrench) and by clicking on each of the data spaces, you can select the one you are interested in for that position. There are many metrics to choose from:
| Weather | Distance | Rhythm | Speed |
| --- | --- | --- | --- |
| Weather | Distance | Rhythm | Speed |
| Return time | Return distance | Average pace | Average speed |
| Last lap time | Last lap distance | Rhythm in return | Return speed |
| | | Rhythm in the last lap | Last lap speed |
| Heart rate | Career dynamics | Cadence | Others |
| --- | --- | --- | --- |
| FC | Vertical oscillation | Cadence | Calories |
| FC Media | Average vertical oscillation | Return rate | Height |
| FC Zone | Vertical oscillation turn | Average cadence | Rhythm |
| Training Effect | Ground contact time | | Back to |
| maximum | Average contact time | | Sunrise |
| R | Return contact time | | Nightfall |
| % of maximum average CF | Cadence | | Time of day |
| R average | Return rate | | |
| FC back | Average cadence | | |
| R back | | | |
When you see the data on screen, the less data you have on each page the bigger it will be, and therefore the easier it will be to consult it at a glance.
We have already configured our data screens and we know how to move through the menus. What else is left to know? To know how the Garmin FR620 shows the instantaneous rhythm. And as I always do, I leave you this video where you can check how the clock responds to my changes in rhythm, even stopping, and so you can see the time delay it has when calculating the current rhythm.
Other configurations
Within the options menu you will find other options, in addition to the activity settings, which are specific to each activity, so you can configure them independently for running or cycling (or for the competition profile).
Alerts: You can configure alerts for different events that may occur. These alerts can be for time, calories, distance, heart rate, rhythm or cadence. In the first three cases we can define the frequency (10 minutes, 500 calories or 2.5 km, for example) while the last three will be alerts based on higher/lower values (between 160 and 154 beats, between 5:00 and 4:30 rhythm or between 180 and 170 steps per minute cadence). Another alert that can be configured is for running/walking, something that can be useful if you start preparing a marathon. You can mark that you want to run for 5 minutes and walk for 2 minutes, and the repetition will be repeated indefinitely.
Turns: In addition to setting the automatic lap at the distance you want, or do it manually through the button, you can also set the information displayed when you complete the lap in two fields. By default it will be lap time and total time, but you can select the metrics that interest you most.
Auto pause: The Garmin 620 can stop recording automatically when you stop. By activating this option, the clock will automatically stop the activity when you stop at a traffic light, for example, and resume it when you run again. You can also set an automatic pause from a defined time, for example if you want to do a series of those to finish the liver in your mouth.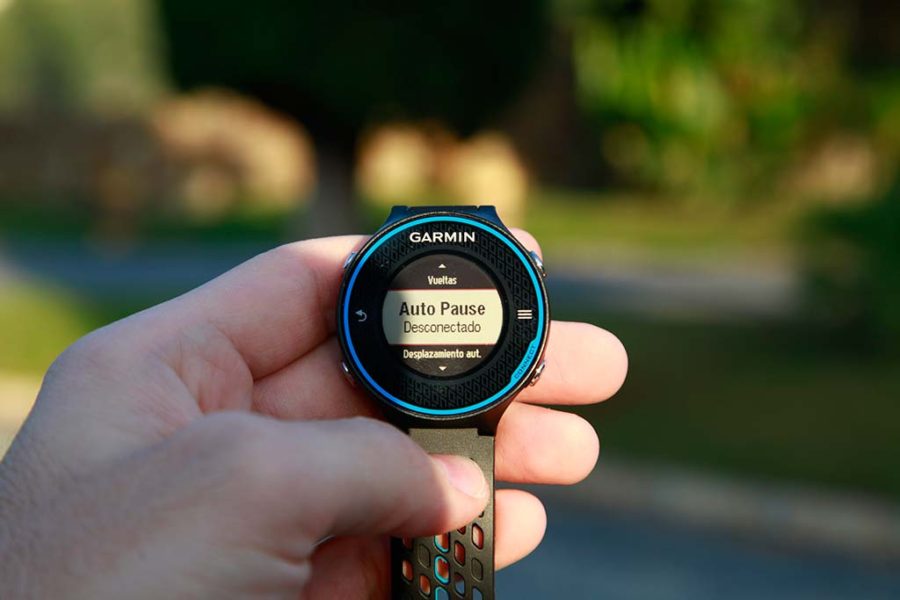 Automatic scrolling: Activate this option if you want the clock to automatically rotate the data pages. You can select the rotation speed between slow, medium and fast.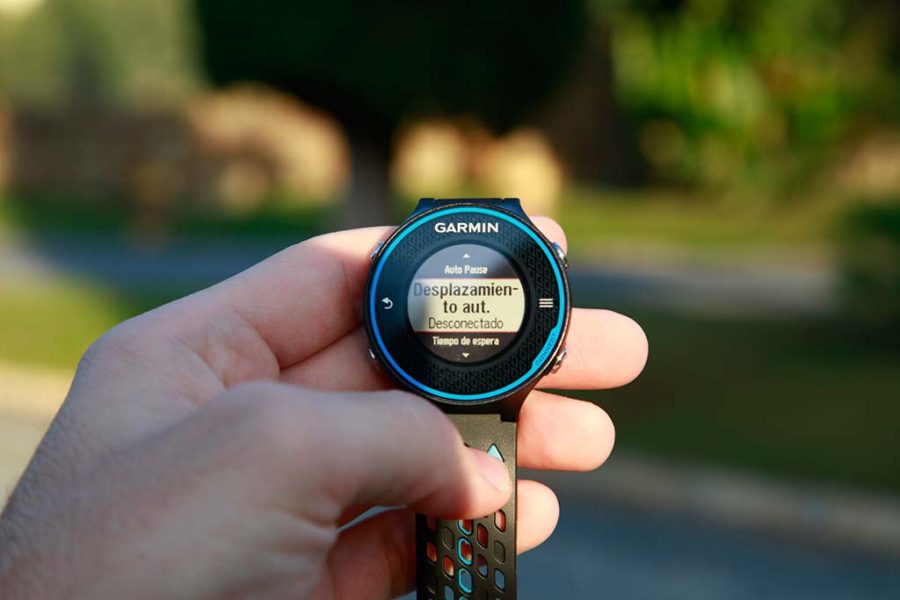 Time out: An interesting feature offered by both Forerunner 220 and Forerunner 620 is the timeout option. This allows you to set how long it takes for the watch to enter power save mode (i.e. return to the watch and stop searching for satellites). You can choose between normal mode, where the watch returns to sleep mode after 5 minutes or an extended mode, where the watch waits up to 25 minutes to enter power save mode. This option is designed for when you're at the start of a race that, as you know, has a habit of never starting on time, so you don't run the risk of the watch being asleep when the race is about to begin.
When you finish training, you can pause the activity from the top right button. Here you can save the activity or discard it, if you wish. Or press the activity button again and continue with it.
Personal records
The Garmin 620 keeps track of your personal records, and if you have broken a record for the activity you have completed, it will indicate this on the screen at the end. This record log is for the fastest distance (1 km, 5 km, 10 km, half marathon and full marathon), as well as the longest distance travelled.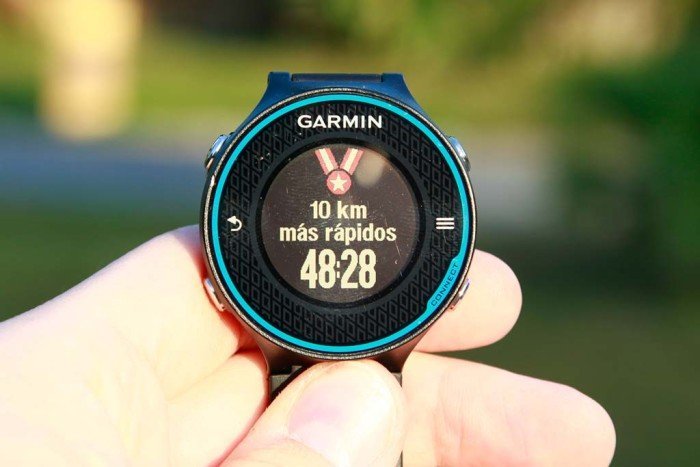 But don't worry if you've missed them, or if you want to show them to your training partner, because you can access them from the main menu, as well as a history of them, where you can access the last saved records.
In addition to congratulating you on your records, the display shows you information about your workout, such as time, distance, average pace or calories.
And other information unique to the Garmin 620, such as race dynamics information. And you can view the data for each lap that you've marked automatically or manually. All that information ends up being stored in the history, so you can always check it again by logging in from the menu.
Of course, we can see lap times individually.
Finally I want to point out that when running we can configure two different profiles. Besides the running and cycling profiles, we can find a third one called competition. The idea is that you have a specific profile for the days of running and that you can have it configured differently from the training profile with alerts or lap settings that may interest you at that moment, and that you don't want to be there when you are training (or vice versa).
Creating advanced trainings
Garmin allows you to design your own workouts from Garmin Connect, and then synchronize them with the clock to make them as comfortable as possible (easy to access, there is nothing comfortable about an interval session ending at 3:00 min/km...).
Creating a new training session is very easy, and the website itself will indicate the steps to be taken.
You name it, select what sport you're going to do and start adding steps and repetitions. The steps can be warm-up, cool-down, interval, recovery or rest. And when you enter the work zone, you can select different goals to achieve, such as cadence, rhythm, heart rate or speed. And you can select a duration in time, distance, calories, reach a heart rate, or if you prefer you can leave it in manual mode and press the lap button when you're about to stop your heart.
You can be practical and unimaginative and create simple workouts.
Or get fantastic and create a much more detailed, step-by-step workout. To show you what the Garmin Connect programming is capable of, in this workout I just created there would be a warm-up to do at 111-129 beats per minute and of indefinite duration, until you hit the lap button. This would be followed by a short five-minute interval with a target pace of 175-185 beats per minute, from which you would recover by slowing down to 120 beats per minute. Once you are back on track, we repeat twice an interval of five kilometres at a target pace of 4:30 min/km followed by a two-minute break. After the second break I would do another workout until I reached 185 beats per minute (one of those sprints of throwing everything away) and the workout would be over with a 10-minute cool-down.
Complete, right? Well, it's very quick and easy to do. Creating it is extremely intuitive and it won't take you more than 3 minutes to create each one, no matter how extensive and detailed it is. Of all the existing platforms, Garmin Connect is undoubtedly the most comprehensive and easiest to use.
Once you've finished editing your workout, you can save it and send it to your device, so it will synchronize with your watch the next time you connect it via USB, Bluetooth or WiFi.
Or you can add your workout to your calendar, so your Garmin Forerunner 620's calendar will automatically show you your workout on the day it's your turn.
On the clock, to access these trainings, from the main activity screen you will have to press on the bottom, where the small trophy appears.
In this menu you will have your sessions created from Garmin Connect or whatever you have added to your calendar. You can also find a third option, intervals. This menu allows you to quickly create an interval job, defining warm-up, cool-down, interval and recovery; but you will not be able to choose a target (pace or heart rate). It is simply a way to quickly create an interval job if you have not had time to do it at home in front of the computer.
Garmin Connect Training
In addition to creating your own workouts, Garmin Connect also gives you access to a range of training for a variety of races, from plans to run 5k to marathon, divided by week.
By clicking on any plan, you will have access to the training sessions programmed according to the objective, and you will be able to program them directly on the clock, either by the date you want to start them, or by the date on which the race will take place. If you choose the second option, it will tell you when your first training day will be. This will be synchronized on the clock, and you will be able to access each training session on a daily basis, being correctly structured to mark each step as if it were your personal trainer.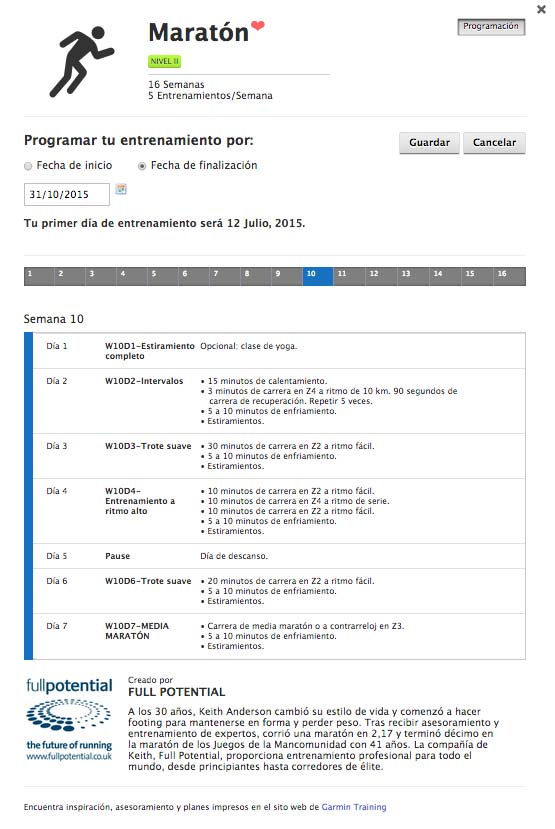 When it's time to train with your watch, your Garmin 620 will show you the steps to follow, and you can also access all the details before you start, to remind you of what you're up against.
And when you start training, it will tell you at each phase change what you are getting at that moment.
If there is a target marked for the phase, if it is above or below it will warn you through vibrations and sound. The warning tones will be different, which will allow you to identify what the watch is trying to tell you. It is easy to find out about these events, as both the tones and the vibrations are quite powerful.
When it's time to go to the next phase (in this case it's manual, pressing the lap button, but it could be automatic and would warn you seconds before the changeover), it will show you the new target on the screen: 5 minutes at 175-185 steps per minute.
It will also show the screen with all the information, how we are in relation to the target (in this case it marks 176ppm, therefore within target) and the time (or distance) that we have left to finish this phase of the training, which will end automatically.
And we move on to the next phase. In this case it's the first of the two repeats we've marked, and you'll remember it on screen.
As you can see, it's just as easy to plan your workouts as it is to follow them on the clock. It's another matter to keep them up, which is a little more complicated and depends on your willpower, which is not included in the Garmin box.
Running on tape
With the Garmin Forerunner 620, you can not only run outdoors, but also run indoors or on a treadmill. Of course, who's going to stop you from getting on a treadmill with your watch? No, what I mean is that you'll be running indoors and you'll have information about your pace and distance covered, even though you don't have a GPS reference.
Not that this is a super important novelty, since it has always been possible to do it through an external accessory, such as a pedometer connected by ANT+, but Garmin has solved it in the FR620 (and also in its little brother, the FR220) through the internal accelerometer of the watch.
Best of all, you don't have to do anything to set it up, since the watch has a self-learning function when you run outdoors with the GPS activated. That is, there is no menu option through which you can modify data about how the watch interprets each of your steps. Therefore, before you can run indoors, you must go outdoors to run with the GPS activated and have the Garmin 620 understand how you run. Once you have an average of how your strides are depending on your cadence, you simply have to apply a formula to do the distance calculation.
Nothing better to test it than against another clock that does have the GPS on. To do this, I chose a circuit that I have quite well-trodden. And let me tell you, I was very pleasantly surprised by the results.
The Garmin Forerunner 620, with GPS off, is on a wrist.
And on the other, a Garmin Fenix 2 with, of course, the GPS activated. Ahead of it, a small 3 kilometre route that I was going to use to put them to the test. And which in this case I have done in very different ways and rhythms, trying to put FR620 and its internal accelerometer to the test. These were the results.
What was even more surprising was that both watches were showing automatic lapses simultaneously, despite having varied the pace tremendously, from walking, to suddenly picking up the pace, to keeping it up.
But if we compare the rhythm charts, the surprise is greater (in blue Garmin FR620, in orange Fenix 2). Not only is it capable of marking the distances at the same time, but it has also shown itself to be more reliable. While the Fenix 2 has been slow to update the speeds correctly when there have been abrupt changes, for example in the last walk-run step, in the FR620 these changes have been immediate.
These are frankly good results, the best I have obtained so far with only the help of the internal accelerometer, and will surely be much more reliable than the data offered by the treadmill at the gym, which have always had a "regulera" calibration (and I'm being generous).
Running Dynamics
Garmin has launched Running Dynamics with the Forerunner 620. Phoenix 2 and the 920xt. But the first to receive these advanced metrics was the Garmin we're dealing with on this test.
Career dynamics comprises three different variables:
Cadence: It is not a novelty as such, since the cadence is already a value that has been used for years. But years ago, in order to have this information, we had to carry an additional accessory: a pedometer placed in the shoe through which we obtained the cadence data, that is, the number of steps per minute that we take. But now we also find it integrated in the watches themselves thanks to an internal accelerometer, which is capable of detecting the movements of your wrist and therefore, calculate our steps.
Vertical oscillation: The vertical oscillation is that parasitic movement that we make every time we take a step. That bounce that makes us move up and down and that we remember, we want to go forward. And this is its importance, every effort that is not dedicated to moving forward is a wasted effort.
Time of contact with the ground: This is the time that our foot is in contact with the ground. It is usually linked to the cadence and rhythm that we have. As it is logical if you go fast and with a higher cadence, the foot will spend less time in contact with the ground than if you go slowly taking fewer steps per minute.
You can have all this data directly on your watch, since you can add the race dynamics as one more data screen. To do this you simply have to enter the activity settings and data screens, activate the specific race dynamics. Although you can also add each value individually to a data page, both in real time values and in activity averages (during the current training) or in the average lap time (during the current lap).
From that moment, between your configured screens you will see the race dynamics with the three values. It will show the data with digits, and you will also have on top a graph as a tachometer that will indicate it in real time.
You can set the main value (with its graph above dedicated to that value) between any of the three.
But where does Garmin get this data? Well, the cadence through the internal accelerometer that has the Garmin 620, but to get data of vertical oscillation and time of contact with the ground we need to have a pulse sensor a little special, the HRM-Run. This sensor came to market along with the Garmin 620. In addition to being a pulse sensor ANT + has more accelerometers that are those that provide additional information. These data are synchronized with the phone through a private channel to which only Garmin has access, maintaining the exclusivity in these data as no other device (although it has ANT +) will be able to receive them.
That is, the HRM-Run sensor is compatible when sending pulse information with any other watch that has ANT+ connectivity, but the race dynamics data can only be received, at this time, in Garmin 920xt, Fenix 2 and the 620 of this test.
Of course, when synchronizing the activity, the race dynamics data will also be synchronized, which we will be able to access from Garmin Connect, both in average figures during the whole activity and in detailed graphs.
And you have the ability to overlay all three charts for more detailed analysis
VO2Max, career prognosis and recovery
In addition to the racing dynamics, the Garmin 620 brings other new features that have been retained in other watches in the range, namely VO2Max, racing forecast and recovery time.
Running VO2Max
The Garmin 620 estimates your VO2Max value. It rates your body's ability to carry oxygen during exercise. This value is usually not very relevant, as it is mostly genetic, so there is not much you can do to vary it in addition to getting in shape. That is, if you start training after a long time of being sedentary, the value will be low and will improve over time, but once you are in shape it will be difficult to see major changes.
The company responsible for this calculation is not Garmin, but First Beat Technologies, the creators of the algorithm that determines this value from your heartbeat, without the need for a specific stress test.
This value is presented at the end of each race, and we can also access it directly from the menu.
But we can also find it in Garmin Connect, where it will tell you where you are located (yes, I have changed a point between taking the photo and the screenshot...)
In addition, you can access a graph over time, where you can check your evolution as you train.
And, if you want a quick guide to what your percentile is, you can also find it on this page.
Career Forecast
So what can we use these VO2Max values for? Well, for the Garmin Forerunner 620 to predict the race times we can achieve, or at least, the times that other athletes of similar age and aerobic capacity have achieved. This data corresponds to tables that cross reference your age, sex and VO2max figure.
In my case, these are my estimates
These are figures that I have not yet reached, but which correspond to my objectives. Of course it is not an exact science, but as an approximation it is a fairly accurate guide.
Recovery
The 620 provides recovery data in two different ways. Firstly, when you start running it will analyse the variation in your heart rate during the first 6 minutes of exercise, to assess how you have recovered from your previous training or run.
This indication is given by the variation of your pulse, or HRV (Heart Rate Variability). This is the time between each heartbeat, and not all pulse sensors can obtain this information: for example, optical sensors. This does not take into account your general condition (for example, if your legs are tired) but how you have physically recovered from the last training session. It does not mean that you will run better or worse in this session, as it only indicates how your recovery has been.
In addition, when we finish the training the 620 gives us the estimated time to recover from the effort.
And in order to keep track of your recovery, you can access your recovery status at any time through the watch menu, by scrolling to recovery control. It can help you not to overdo it with your efforts and not to fall into overtraining.
Bicycle functionality
When Garmin launched the 620, it was done as a runner-only watch with no support for other activities. This is something that the new 620 lost to the 610, which did have a specific activity profile for cycling. It's not just that we can synchronize activities like cycling instead of running, it's having a specific mode that can be set independently, with its own data screens, alerts or lap settings. Basically, the cycling activity setting on the 620 was reduced to being able to show speed instead of pace, but without the specific profile or the ability to connect external sensors.
In mid 2014 Garmin listened to their users, and they created a specific cycling mode for the 620. And they did it, let's say, in parallel. Instead of going into the activities and choosing whether you want to race or cycle, the way to proceed is to go into the settings menu and select the cycling activity profile. Then we'll go back to the main screen, but instead of the racing profile we'll be in the cycling profile.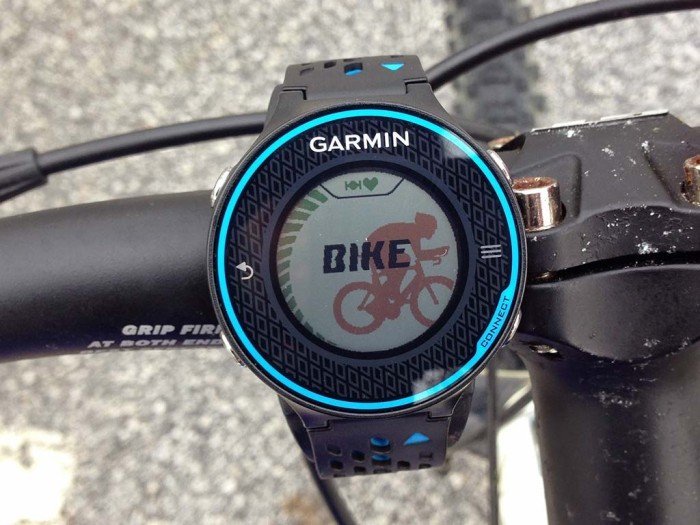 And what do we gain from this? Well, as mentioned above, it is now possible to set up the profile completely independently from the race (or competition), so we can select the data screens we prefer along with specific alerts, set up an independent autolap as well as the autopause. That is, prepare the watch to be worn on the handlebars instead of on the wrist, and of course, show the speed instead of the pace.
And it is with speed that the 620 displays very quickly when updating the data shown, so much so that unless there are frequent areas with tunnels or poor GPS coverage I find no reason to buy an external ANT+ sensor.
Compare it for example with the video I recorded in the Garmin Fenix 2 testwhich is much slower in updating the speed.
And an added benefit of adding the bike profile to the Garmin Forerunner 620 is that we can now synchronize the clock with a speed/cadence sensor via ANT+. So if you have such a sensor on your bike, congratulations are in order, because you can use it with your 620.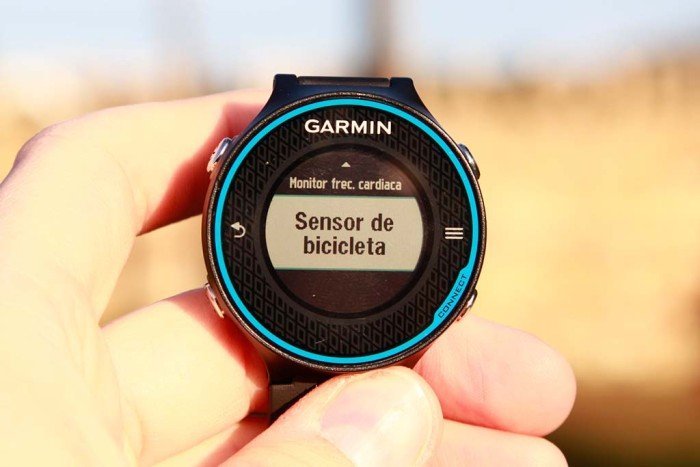 Screen illumination
I know that many of you train in the dark. I guess it happens to you like I do, night falls, you change your suit and go out. It's not that we're like Batman, but when your other duties force you to leave your training schedule for the night, the lighting of the clock screen becomes more important. And not only the amount of light and its uniformity, but the different options it offers and how easy it is to activate this lighting.
The Garmin 620 is one of those watches that understand us night racers, since it has several settings for the clock light. To select your options you have to go to the settings menu, enter the system and look for the backlight option.
From here you can select the operation mode and the timeout. There are two operation modes, manual or buttons/alerts (i.e. automatic). The difference? If you select manual, the light will turn on when you press the upper left button (the power button of the watch), while if you select the second option, in addition to lighting up when you press the button, it will also light up when you press any button or when you receive an alert (e.g. training or autolap).
The other setting you can choose is the timeout, which is how long the light will stay on. Here you can choose between 8 seconds, 15 seconds, 30 seconds, 1 minute or it stays on. I personally like to leave it in manual and light on, so when I run at night I activate the light at the beginning of the activity and if I want to consult something I can do it at a glance without having to look for any button.
Use as a diary clock
Not only can you wear your FR620 when training, you may also use it every day, although it will depend on your outfit, as it is quite a sporty watch in terms of conception and aesthetics (nothing to do with Polar V800), and I don't think anyone will be able to wear this watch in an Armani suit. But then again, it's every man for himself, and I won't be the one to judge you.
Within the configuration menu we can find some options, all very simple. You can configure the format in 12 or 24 hours, as well as set the time manually or automatically, through the GPS (for which you would have to make a GPS connection if you changed time zone). You can also change the color of the background screen when the clock is at rest showing the time, being able to choose between two colors. White background with black text
Or black background with white text
And one last option available is that some digits and the remaining battery are shown in the colour of the profile that is currently selected, i.e. if you have the running profile in blue and the cycling profile in orange, the time will be shown in one colour or the other depending on which profile is currently activated.
As for the screen, when you are out of an activity, it will be locked, so an accidental touch or a light breeze will not activate the screen or access any menu unintentionally. To unlock it you will have to press a button and then touch the touch screen.
The alarm configuration is very basic, as you can only create an alarm, but without repeating it in any way or specifying which days you want it to be active.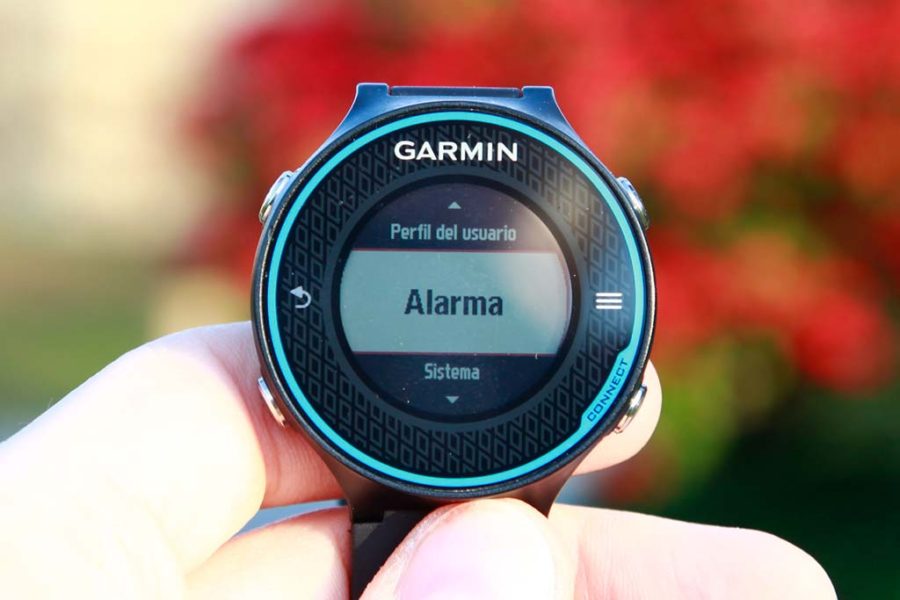 Battery life
Officially and according to the information provided by Garmin, the FR620 is capable of reaching 10 hours in GPS recording mode, more than enough autonomy considering the type of sportsman or woman the watch is aimed at, and that they will not go ultra far where they need hours and hours of battery life.
To put it to the test, nothing is easier than charging the battery of the clock to 100% and using it in the most demanding mode, during an activity. Since I didn't have an Ironman programmed for this time, what better way to do the test than simply recording an activity in the window?
So I placed the clock at night in the window with a direct view of the sky and recording an activity, until the battery died on its own, and I would rescue it the next day.
I was still there in the morning. Thank God, I could explain to Garmin that the clock had literally flown...
And as you can guess, it was off. After connecting it to the computer for charging, I synchronized the activity. It held up recording a total of 9:50:23, very close to the 10-hour maximum indicated by Garmin. However, it should be added that at no time was any external ANT+ sensor connected, so connecting a pulse or cadence sensor would reduce the total duration.
And if there are any inquisitive ones, this is the total result of the activity.
And this is the track of the activity.
The clouds and the bouncing of signals from adjacent buildings mean that the GPS does not have a stable 100% positioning during the almost 10 hours of the test. From now on you will surely see it differently when you complain that your watch has marked 21.5km when running a half marathon...
Connectivity
The Garmin FR620 has several ways to update data. These updates are of all kinds, from synchronizing workouts to Garmin Connect, updating the satellite cache, synchronizing workouts, or streaming a workout over the Internet. But let's take it one step at a time.
Bluetooth Smart
In the 620 we find Bluetooth Smart connectivity, or Bluetooth 4.0. This is a new standard with a lower battery consumption, which will serve us exclusively for data transmission. In other watches we can connect sensors through Bluetooth, but in the case of Garmin it will only be used for connections between watch and mobile phone, since to connect to other sensors (mainly pulse and cadence) we must do it through ANT+. Something normal if we consider that ANT+ depends on Dynastream Innovations, a Garmin subsidiary company. So we will continue to see Garmin devices and accessories with ANT+ connectivity for a long time.
In order to make the connection between phone and watch your phone must also have Bluetooth Smart. This on iPhone is from 4s and on Android almost all new models incorporate this new standard, but it will be specific to each and you must also have the operating system version 4.3 or higher. The Connect application is available for both iOS and Android and both offer the same functionality.
In addition to being able to synchronise activities, we will also use the Bluetooth connection to broadcast our workouts or races to friends or fans via the Garmin Connect website, which I will tell you about a little later in its specific section.
WiFi
If synchronizing activities via Bluetooth already seemed quick and easy, you'll see when you learn that you can also do it via WiFi. And not only to synchronize, but it will also download from your "cloud" the workouts you have pending to load on the watch or firmware updates as soon as they become available.
Setting it up is very simple, but you can't do it directly from the clock and you'll need the support of your computer and the Garmin Express application. This is normal, because if you had to type in the WiFi network passwords from the clock screen it would be a bit tedious.
This is the screen you will see in Garmin Express with the clock connected. Go to the device section (top right)
Inside the device screen, podrás find the information of your watch, including serial number in case you need it at some point to process the warranty. Do you see the option that says "Manage Networks? This is the one we are interested in.
This is the screen where you 1TP10After adding new networks. Simply click on the "+" to start the process.
Two options are presented. On the one hand select any of the ones that appear in range (which will be the usual, since you will be doing it at home), or select "Add network manually" if you want to set the network manually. For example, if you are doing it at home and you want the clock to synchronize when you are at work.
In case you choose a nearby network, the security type is already selected by default.
So just enter the network password and save it.
If you enter the network manually, you must specify the name of the network and the type of security it uses.
Once configured, you will be able to synchronize your activities automatically, and the clock will do it by itself. When you finish an activity, and in case it is enabled, the clock will start searching for any of the networks you have saved, and it will show this icon at the top.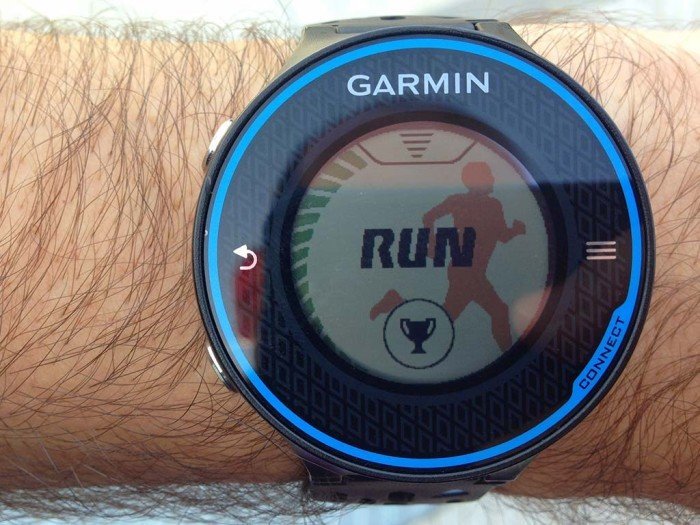 When it has found the network it will start synchronizing the activity, changing the icon with these arrows that indicate that it is transmitting data.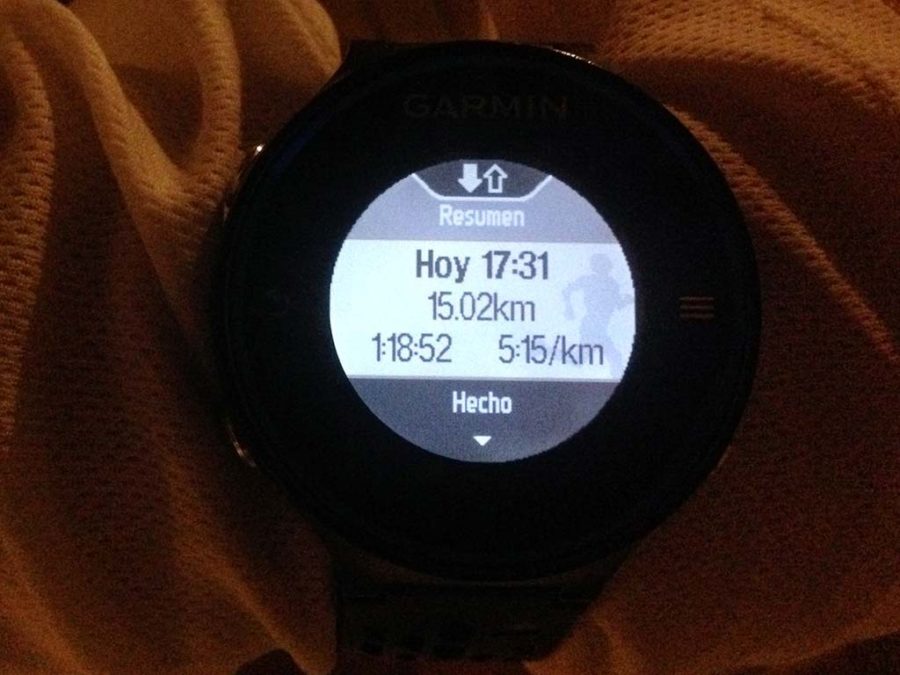 LiveTrack
Garmin released the LiveTrack feature for the first time on its Edge 510 and 810 cycling teams. What does this feature do? It allows you to broadcast your workout or race over the Internet to your family or friends, directly from the Garmin Connect page. How does it do this? Well, it does it through Bluetooth and your mobile phone, so you can do it, you have to carry your phone while you're training.
Starting to broadcast your live session is very easy, you just need to have the application installed on your phone (iPhone or Android version 4.3 or higher and Bluetooth Smart support). In the menu you will find the LiveTrack function.
To invite friends, you can either type in the name of a contact (and they will receive the invitation in the mail) or you can invite all your followers via Facebook or Twitter. There is no support for sharing via other applications (WhatsApp, for example), but you can send the mail to yourself and copy and paste the link where and to whomever you want.
As an example, this is the invitation that will be received by whoever you select from the application
From that point on, your session will begin broadcasting (a few seconds late and regularly updated, but not instantly) the moment you press the start button on the Garmin FR620.
Everyone who connects to the live session will have access to the map where you are doing the activity, either normal or satellite, as well as Bing or Google maps. Also, at the top you will have a summary of your average pace, the time you have been active, the distance traveled or the height gain. At the bottom there is a blue drop-down strip, where we would have access to data graphs, such as pace, height, heart rate or cadence.
Once the activity has been completed, it will be indicated at the top (so that the person following you knows that you have not been hit by a car) and you will have access to all the final activity data. Likewise, each kilometer will be marked with the point where it has been completed, and you will have access to the statistical information for that kilometer. Of course, we still have all the information regarding the graphics at the bottom.
This link can also be opened on mobile devices, where you can track just like on the computer (although with less data available). There is no operating system problem here, as it depends on the device's browser. In this case, the LiveTrack on an Android phone.
And this is what it would look like in an iPhone browser
Once you have finished the activity, and taking advantage of the fact that the watch is connected to the phone, it will synchronize the activity with Garmin Connect automatically via Bluetooth. It will first pass the activity to the phone and the phone will then synchronize it with the Garmin "cloud".
Garmin Connect
Garmin Connect is where all the activities you do with the FR620, both running and cycling, will end. Here you will not only keep a record of your activities, but you will also have access to your personal records, you can schedule workouts, you can add friends to follow and as a new feature after the last update received, you can track your equipment and its use (e.g. miles of shoes or bikes).
This is the main screen you find when you log in at http://connect.garmin.comThis screen, called the control panel, can be customized to your liking by adding the fields that interest you most, as well as creating new tabs to separate them (you can create a running tab and a bicycle tab, for example).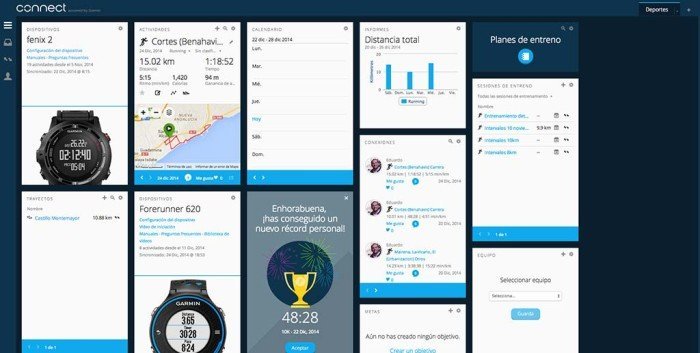 On the left side of the screen you will have the complete menu, being the first icon of all where you will find all the available options.
If you move your cursor over the arrow in each section, a drop-down menu will open where you can see the information you can add to the control panel, as well as the information it contains.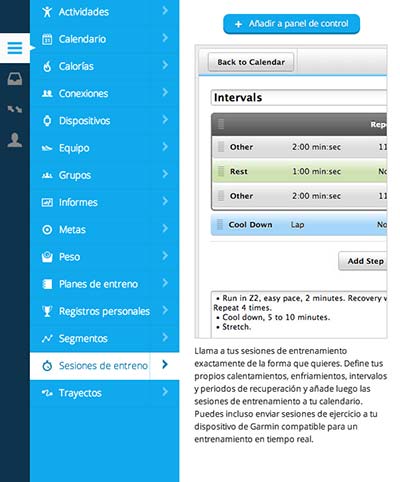 But for us the most important will be the section of activities, where you can find all the activities you have done with quick information. You can find them ordered by date, but you can order them by any parameter, such as faster pace or longer (or shorter) distance. You would only have to click on the header to reorder them.
And if you click on any activity, you will access the complete information, where you can break down all the data and analyze it, to know why you have been so fast (or what you have failed to be so slow).
In addition to having access to the activity map, you also have charts that you can customize by showing or hiding them. Clicking on the two arrows you can open the charts in a new screen at a larger size, and you can compare it with other variables (cadence and height, for example). At the bottom you will have the complete summary of the activity, and you can change the screen between the intervals marked (automatically or manually through the lap button on the clock), as well as the segments you have defined, if you have done so.
If you look, to the right and under the image of the Garmin Forerunner 620, in addition to finding information about the watch (such as the firmware version) there is an icon with a shoe. This is the new section that was added a few days ago to Garmin Connect, and it allows you to add to each activity the equipment you've used to keep track of how many kilometres they have. We have access to the equipment from the menu on the left, where you can configure all our shoes, bikes and any other item you use on a recurring basis and want to keep track of (swimming goggles, T-shirt or the St. Sylvester medal).
All in all, Garmin Connect is a great site where poder keep track of your workouts and races. It is probably the most complete tracking website among all the manufacturers of training devices. And what's more, it's "free" (you've already paid for it when you buy your new watch).
Summary
After spending several weeks with the Garmin Forerunner 620, I can say that I like everything I've seen. It's a very, very complete watch, geared toward runners who also practice cycling as another way to complete their training. It's amazing the amount of technology they've packed into such a small space, from the GPS itself to ANT+ and Bluetooth simultaneously, WiFi synchronization, race dynamics metrics and all controlled conveniently from a touch screen that responds at all times.
It may not have navigation functions like you might have a Fenix 2. Or it may not compute pool metrics like a 920xt. But if you're a totally dedicated runner and don't intend to make the jump to the three disciplines (triathlon), you can have everything you need (and more) in a very, very small watch.
I have to admit that the only thing I don't see is the price tag. At around 350€ in its kit version with the HRM-Run sensor I think it is in no man's land. Because for more than 100€ savings you can get a watch "equal" (in terms of what you see from the outside, although it has fewer options) as the Forerunner 220 and saving a month more you can access watches like the Fenix 2 or 920xt. And all this without leaving Garmin and look at the ranges of Suunto or Polar, which in this price range offer very good products like the Ambit 3 or the V800.
In my opinion, the Forerunner 620 offers everything you could ask from a GPS running watch, but it may be difficult to reach your target audience in the price range it is in. But as a simple yet complete watch, easy to use and without having to break your head to wear it; it is the best choice. Light, fast, reliable and comfortable, but expensive.
Did you like the test?
I hope that this test can help you decide with your purchase. If I tell you the truth, there are many hours needed for each of them. Training, photos, writing, new photos ... is a long and demanding process. If you liked it and want to help, just leave me your impressions in the comments below will serve to know your impressions, if I have to change something. Or ask if there is something that has not been clear, it can always happen that I leave something in the inkwell. Show this post to your friends and share it on social networks.
If you are encouraged by the purchase of the device, you can do it through this link directly on Amazon. This way it will cost you the same or cheaper than the official price, and I get a small commission that will help with the purchase of new devices to perform new tests. So you can support this page. It doesn't even have to be the purchase of the watch, you can buy accessories, socks or shaving foam, any small purchase you make through this link will give a small commission to the site that will be a big help. Believe me, any little gesture helps.
Buy Garmin 620
You can buy the Garmin 220 in two colours (black/blue or white/orange) and two variants (with or without pulse sensor). Below I provide you with links to very good offers. Buying through them will help you to maintain the website and my work.
In addition, these are the prices you can find on Amazon throughout its European network
https://www.amazon.es/dp/B00G5DABNW&tag=c1mes-21
https://www.amazon.es/dp/B00G5DABGO&tag=c1mes-21
https://www.amazon.es/dp/B00G5DABCS&tag=c1mes-21
https://www.amazon.es/dp/B00G5DAEZM&tag=c1mes-21