After a few weeks of getting to know the Garmin Forerunner 220, training in a variety of conditions and with variable distance and pace, I want you to get to know it too. The Forerunner 220 is in the Garmin mid-range and from there it should struggle with the offerings that other manufacturers provide in a similar price range. If there is one thing that makes the Garmin 220 stand out, it is its simplicity, but that simplicity should not affect the performance we demand from a watch in this range. And that is what we are going to check in this thorough analysis. And try to answer the question you are asking yourself, is this the watch I am looking for for my training and racing? You will soon find out.
As I always like to clarify when I do any review, on this occasion it's a watch I bought in the storeis not a demonstration or press unit, so what you see is what you buy.
Remember you can buy it on Amazon through this link and that way you'll generate a small commission that will help buy more watches so you can see more tests and analyses like this.
Unpacking
This is what the messenger brings you when you buy it. A fairly contained measurement box, where through a window on the front you can see the clock.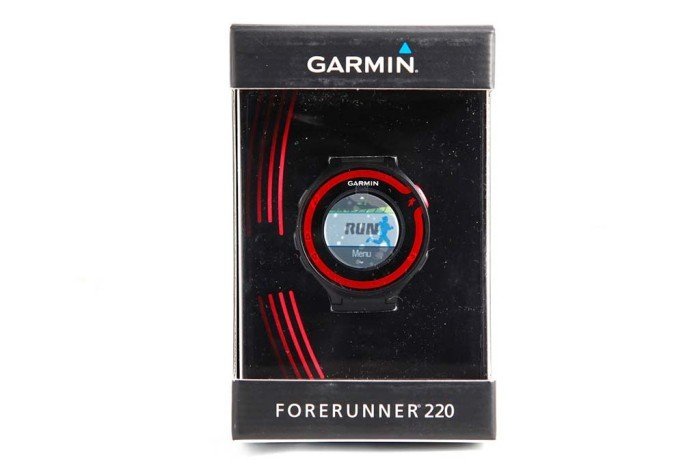 On one side of the box you can find generic information about Garmin Connect, the web platform where all our trainings will end.
In the other, some reference to the product. Pairing to phones through Bluetooth, three data fields simultaneously on the screen and a summary of the end of the race. In the back, generic description of the watch in several languages.
But let's cut the crap and get to what we're interested in, get what's inside. And what will you find? Well, if you bought the Garmin Forerunner 220 without the sensor pack, like I did, basically what you see in the picture. A watch and two plastic bags. If you buy it with a sensor, add it to what you're looking at.
Let's remove the plastics and see what's inside. On one you have the timing and charging clip, and on the other literature. A few instruction manuals (which you and I know you won't read) in a multitude of languages.
And this one you see here, is your new watch. As you can see, it has a total of 5 buttons with their corresponding indications on screen. The red button, the biggest of all, is the activity button. With this button we start and stop an activity, and make the selections in the different menus. Below you can find the back button and exit the menu, which in turn will serve to mark laps when you are running.
On the other side you can find the buttons to scroll through the menu, and the upper one that will serve to activate the screen illumination. Also, if you hold it down it will allow you to turn off the clock (or turn it on if it's off).
If we turn around you can see the charging and connection pins. Despite being visible the watch is water resistant (5 ATM), and although it will not give you pool metrics, you can swim with it if you wish. The watch is made entirely of plastic, so don't expect high quality finishes. It is a watch for training, not for showing off.
In this position is how you'll have it when it's synchronizing (and charging). Although the screen is not too big it has good resolution, 180×180 pixels. The watch assembly if made a little bigger, as it has a total diameter of 45mm. That's only 12mm deep. And quite light, a little over 40g that won't be noticed when you're running.
This is the clamp. The left side is fixed, while the right side moves to open and close the access to the clock. You can leave it hanging without fear of it falling off.
Girls, Garmin has also thought of you, and you have Forerunner 220 available in more feminine tones. In addition to red and black you can also buy it in white and purple. However, the size of the watch is the same, there is no slightly smaller version for narrower wrists.
Let's get down to business. We stop looking at the clock and start training, that's why we bought it.
Running
The first thing you should do, first of all, is to set up the data screens. In the case of the Garmin Forerunner 220, the configuration options we have are not very extensive. We have two screens to set up data, with a maximum of three data on each screen. In my case, I like to have a first screen where I can see distance, rhythm and heart rate.
On the second screen I put two data, average pace and total race time.
In addition to these two screens that we can configure to our liking, we can activate two more. Heart rate (with the heart zone) and a clock with the time, but there are no more options on these data screens.
In short, we have two screens to configure with one, two or three data in each of them, plus the heart rate or clock screens. These are the data you can configure in each of the screens.
Configurable data fields in FR220
| | | |
| --- | --- | --- |
| Timer | Return time | Distance |
| Return distance | Rhythm | Average pace |
| Rhythm in return | Speed | Cadence |
| Calories | Heart rate | Average CF |
| FC Zone | Height | |
Once you've set the clock to your liking, the next thing you'll do is go outside to start running. The process to start the activity is very simple, just unlock the screen with the activity button. One tap on the screen and you'll see the following message.
And the second touch will unlock the screen, so it's pretty hard to get the watch to activate in a hurry when you're wearing it, since you have to press the same button in a short period of time to activate it.
Now the clock is already looking for signals, as shown above. Satellite signal and pulse sensor signal. Below those two icons you can see a bar that will fill in as the Garmin 220 finds a satellite signal.
If you want to set something on the clock, simply press the scroll down button and you will access the menu. If you press the scroll up button you can turn off the GPS, in case you want to do a gym session or go for a run on a treadmill
I get confused. We were looking for a GPS signal. And while you're looking for them, I want to remind you that Forerunner 220 has a satellite cache function. This function allows the watch to have prior information about the location of the satellites, which tends to reduce the waiting time to get a signal, and makes it extremely fast. But since I'm not telling you this to make you believe it (humans are that suspicious), I'll leave you a video and you can see for yourself.
The search is about 11 hours after the last activity, about 30-40 kilometers away from where I had finished. Clear sky and no buildings nearby. Nearly ideal conditions.
As we already have a GPS signal, everything is ready to start running. What many of you will be interested to know is how the clock behaves when showing the pace and how fast it is reflecting the changes in pace, especially important when training for speed changes or series. So as before, I have recorded three videos where you can see how the clock behaves to those speed changes we make while running. As in the search for satellites, the conditions of the test were quite good. Slightly cloudy day and open sky between single-storey buildings, which are quite good conditions.
You may have noticed that the rhythm is displayed in 5-second increments, something that Garmin has started to apply as a standard on their new models. Despite the fact that the instantaneous rhythm is selected, it is somewhat slow to update. If you are running at a steady pace, you will not notice it, but when you plan to fartlek it may be a little uncomfortable if it is a very short series. But it is not something that makes it unusable.
Other activity configurations
Alerts: In addition to the data screens, we can also make other settings. Forerunner 220 allows us to set alerts to receive notification of events that occur when the marked range is exceeded. The alerts you can set will be for heart rate, run/walk or pace. In the first case we can set maximum and minimum heart rate ranges and you will receive a sound and vibration warning if you exceed it, both above and below. The pace alert works in a similar way, being able to create a range in which to move and if you go out of range, you will receive the warning. Finally there is the run/walk alert, which is very common in marathon training these days, or if you are starting to run and are not yet able to run for a long time in a row. It is possible to set a run and walk time (for example, 5 minutes run and 2 walk) and it will repeat indefinitely.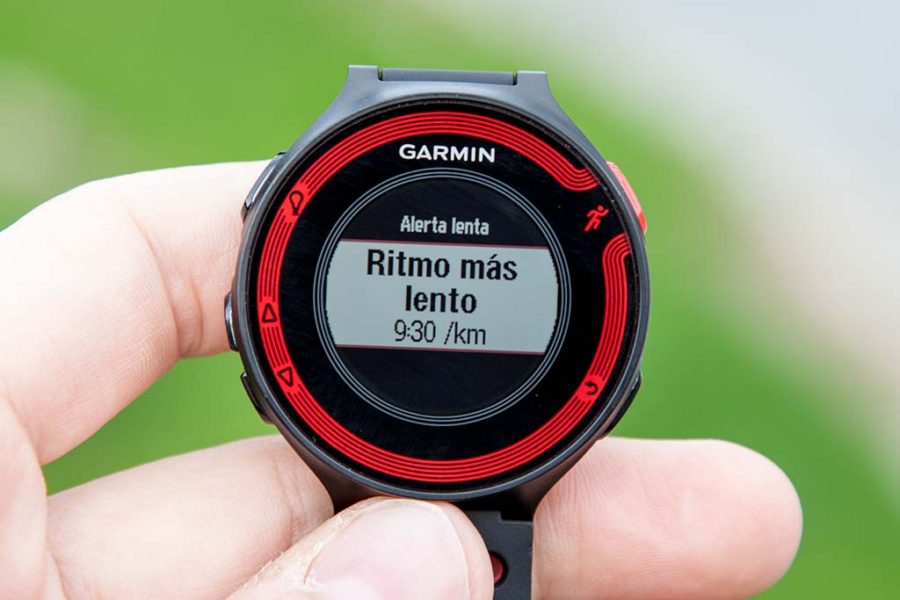 Auto Lap: You can turn on or off the automatic lap timer and the distance. By default it will be on for a distance of 1km, but if you want you can modify it to suit, say, the circuit you are racing on. For example this weekend I did a race where there were 6 laps of a 1.5km circuit. I could have set a lap car of this distance and so on each completed lap I would have had the specific data for that lap. It is worth noting that the manual of the watch indicates that we can customize the lap warning message by setting the data fields it displays. This is not the case, as the option referred to in the manual is not present on the watch.
Auto Pause: If you are a city runner, this feature will be very useful for you. If you activate it, the Garmin 220 will stop the activity recording if you stop. And it offers you two different options to configure it, besides deactivating it. First of all you can make the recording stop when you stop. Or you can select a rhythm from which the recording will stop. This second case is useful when you make a series and have a break. You can configure that from a rhythm of 8 min/km the recording will stop and when you run again, the recording will start again, but you can move or walk without activating the activity recording again.
Automatic scrolling: If you want the screens to rotate with the data automatically, you only have to activate this option. You can select the speed between slow, medium and fast.
Time out: This characteristic can be found both in the Forerunner 620 When we're about to start an activity, whether it's a race or a simple workout, the watch stays in active mode, looking for satellites and the pulse sensor, and you only have to press the activity button to start the race. By default the watch stays on that screen for 5 minutes and returns to sleep mode, to save the battery. So if you're caught at the start line waiting for the gun, you may find that when you have to start running the watch is showing you the time and you have to do the whole process. By selecting the extended mode those 5 minutes will become 25. More than enough time to stretch if you're going to train, or to stay at the start line until they decide to launch the race.
Personal records
Dentro del menú del Garmin 220 encuentras una opción que se llama «Records».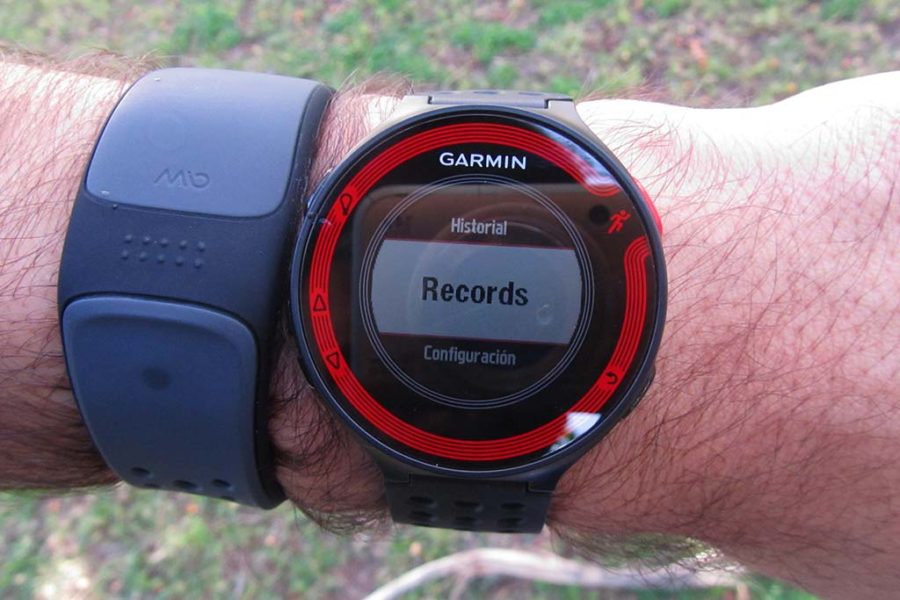 Your best records will be stored here, so you can keep track of them as you train and improve. When you finish a race it will show you those records at the end, and then you can access them again from this menu.
These personal records are for faster times over a given distance (1 km, 1 mile, 5 km, 10 km, half-marathon and marathon), and for the longest distance traveled. These records are synchronized with Garmin Connect, but synchronization is not bi-directional. So the records you find in this section will be the ones you have recorded with this particular clock, since if you have made better times with other devices (as is my case) it will appear in Garmin Connect, but you will not receive the updated information when synchronizing. To give an example, in the time I have been using Garmin 220 and until I write these lines I have only had the opportunity to make training sessions of maximum 10 kilometers, and so it appears on the clock.
While in Garmin Connect the longest race that appears is 21km.
So the first time you run with the watch you will break all records: the fastest kilometer, the fastest mile, the fastest 5 kilometers and of course the longest distance, because whatever it is, it will be the longest that the watch has registered. But Garmin has finally solved this problem and has enabled a button inside the personal records section and it is possible to send to our watch the data we have stored here.
And now yes, once the clock is synchronized we will find updated data.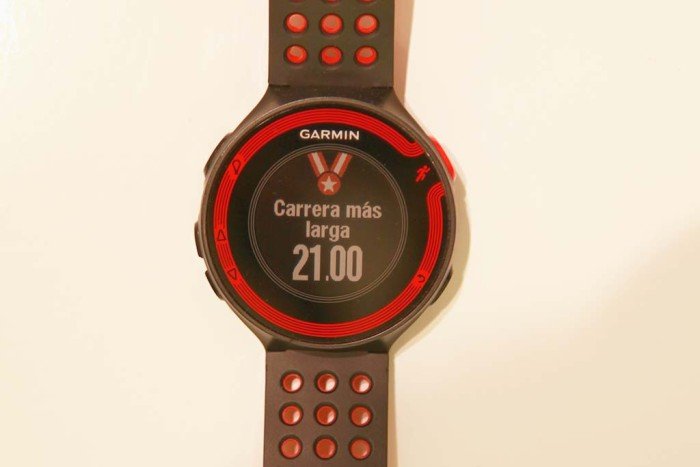 Also within this option we have a history of the best records. You will have your best time for a distance along with the best previous record. For example, my previous fastest time for 1km.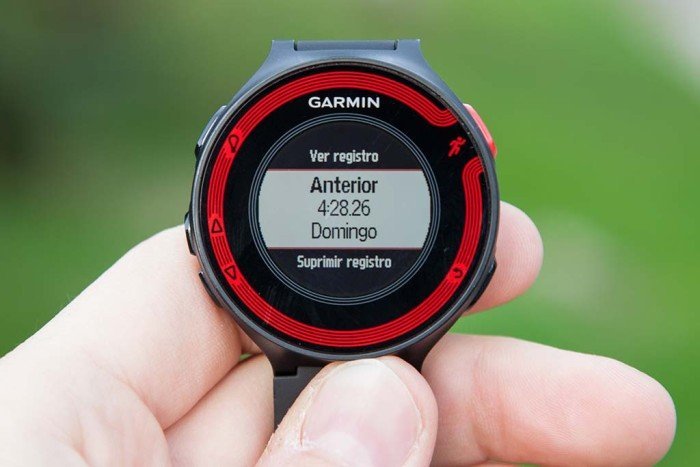 History
On the Garmin 220 you also have access to your race and training history, which is the same information that is displayed on your watch once you finish an activity.
Once you finish your workout, Forerunner 220 automatically takes you to the history of that activity, where you can check the details and laps. You can even delete the workout if it's incomplete and you've only recorded 30 seconds.
Dentro de la opción «Detalles» podrás ver los datos principales de tu entrenamiento. Distancia, tiempo, ritmo, datos de cadencia o frecuencia cardíaca media o máxima.
It is divided into two screens, so you will have to scroll to get the full information.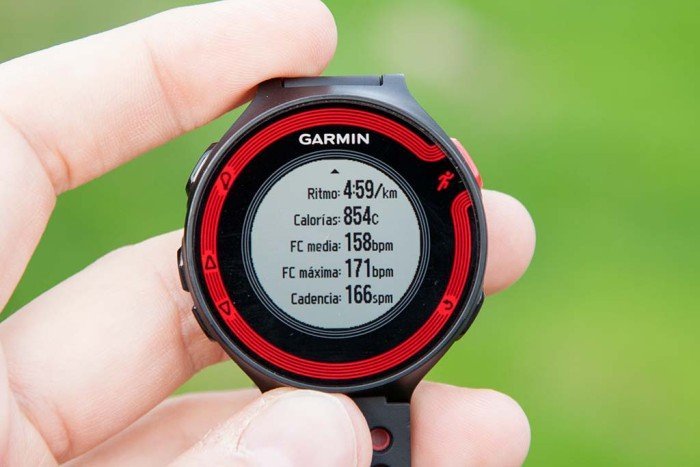 Si accedes a «Vueltas» tendrás los datos de cada una de las vueltas, sean automáticas (por auto lap) o manuales (presionando el botón de lap de forma manual).
And just like in the full details of the race, we can access to see the specific details of each of the laps, so if you are doing cadence exercises, for example, you can check the average cadence in each of the laps you have marked.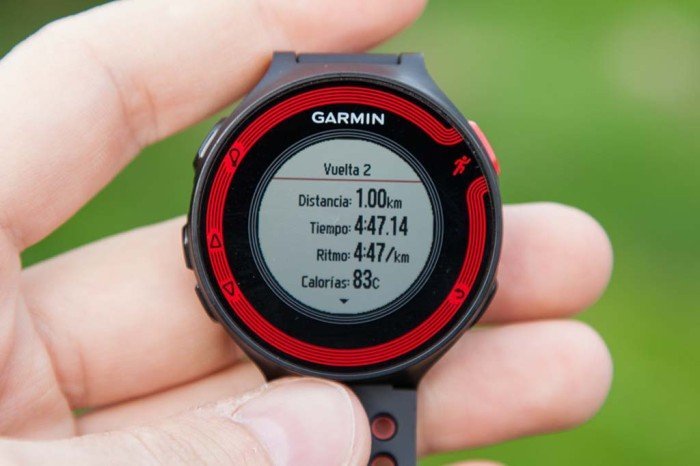 Within the history there is a last option, which is to be able to check the totals of the week and the month. Many of you can use it, because you start running like crazy and when you want to realize it, you make easy 100km a week. And that doesn't have to be good...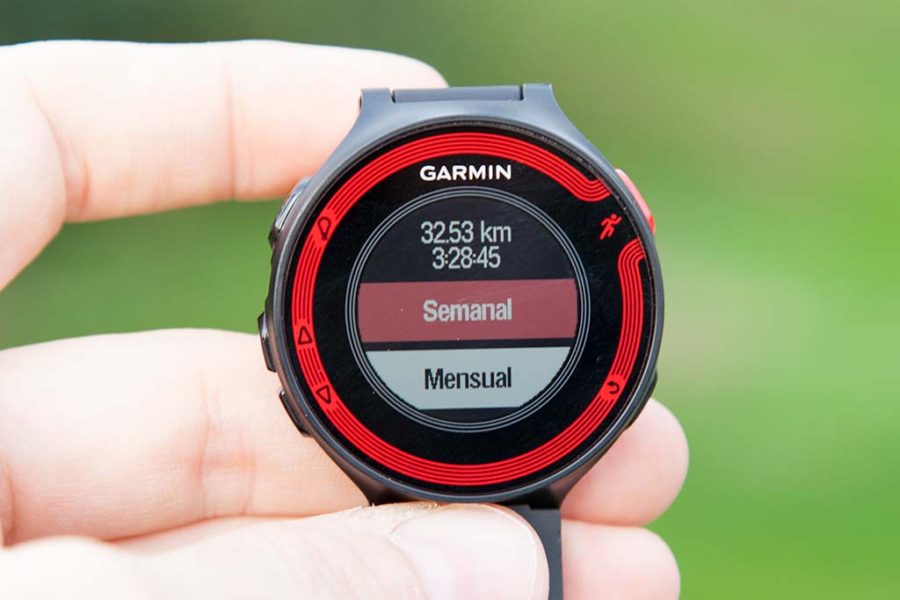 Advanced training
Unlike the Forerunner 210, which it replaces, the Garmin Forerunner 220 allows you to create workouts through Garmin Connect on your computer, then pair them with your watch, either via USB cable or Bluetooth connection with your mobile phone.
Creating your own training sessions is very easy and the website itself will tell you the steps you need to follow, you name it, select the sport (in FR220 only race) and add steps and repetitions.
You can give these workouts the complexity you want, from a simple 8×400 repetition in zone 5 heart rate, with warm-up and cool-down.
Up to a much more complete workout where you can combine duration (time, distance, calories, heart rate or manual by pressing the lap button) and target (heart rate zone, speed, pace, cadence or no target).
Once you've finished setting up your workout, simply save it and send it to your device so it's available on your watch after pairing (by USB cable or by connecting the watch via Bluetooth to your phone).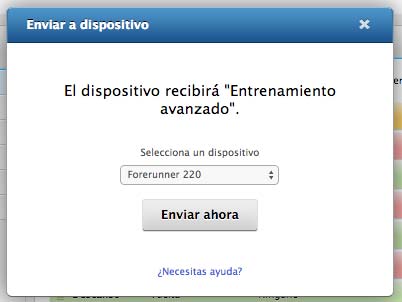 There is also a second option, and that is that you can add the workout to the calendar, and that workout will appear on the chosen date.
Tras hacer la sincronización, en el reloj encontrarás las sesiones creadas en el menú «Entrenamientos». Dentro puedes encontrar las sesiones (las que normalmente usas de forma recurrente) o el calendario, si es que has añadido un entrenamiento para una fecha concreta.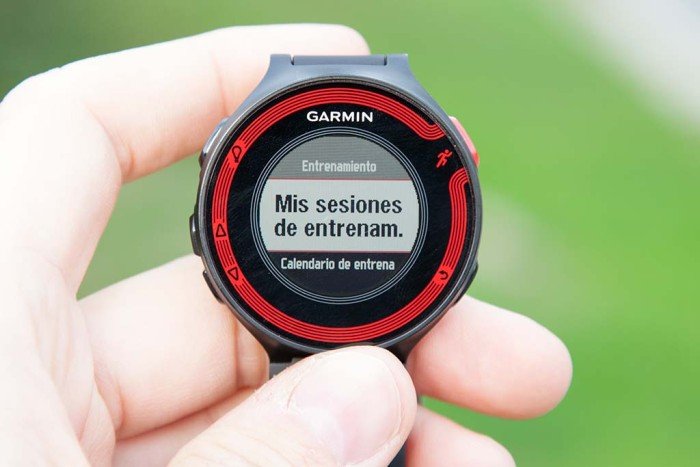 You can define your target zones for a training session based on speed. This is a quick way to create a training session if you forget to synchronise your training session and are already out on the road. In the case of the picture, a 4×1000 with 1 minute rest between sets.
Garmin Connect Training
In addition to the workouts you create, Garmin also offers a series of workouts for different races and goals. And they're free. Within each race there are several difficulty settings you can choose from.
You can take a quick look at each of them to decide which one is best suited to your current condition and the time available for training. You can schedule it based on what date you want to start (today, never leave it until tomorrow) or from the date the race is held, in which case it will tell you when you will start with these specific trainings.
Training with the Garmin 220
All right, you've got it all organized, your workouts are set, and you're out on the street ready to run. Luckily, the easiest part is that the clock is ticking. To get started, you simply head to your workout scheduled for that day. Before you start training, you can remember the steps you're going through.
And once you start the training, you will always have a reminder of what to do, so you don't get lost. Both on the screen at the beginning of each phase (which I will show you later), and during the phase itself, in this case, warming up until you press the Lap button.
If the phase is of manual termination (by means of the lap button) it will end when you want. If it is of automatic termination (time or distance) it will warn you with some previous beeps so that you can be attentive. And when the new phase begins, the target and the time or distance to be completed will appear on the screen.
As you can see, the display has now changed while you are training, because above the pace it will show you the target pace for this part of the training. And at the bottom it indicates the distance (or time) left to finish this phase.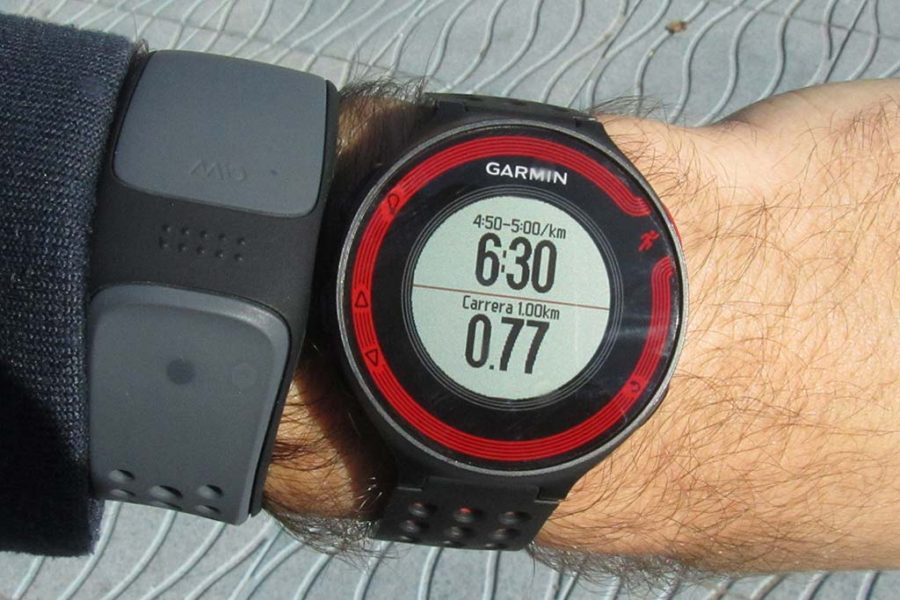 The Garmin Forerunner 220 alerts you with tones and vibration if you're off your target pace. If you're below the time, it will notify you with a descending sound and show you on the screen.
It will also warn you if you are going too fast. Change the colour of the screen and the sound will be upwards.
Two short tones will mean that you are in the desired range. And of course, it will also indicate this on the display.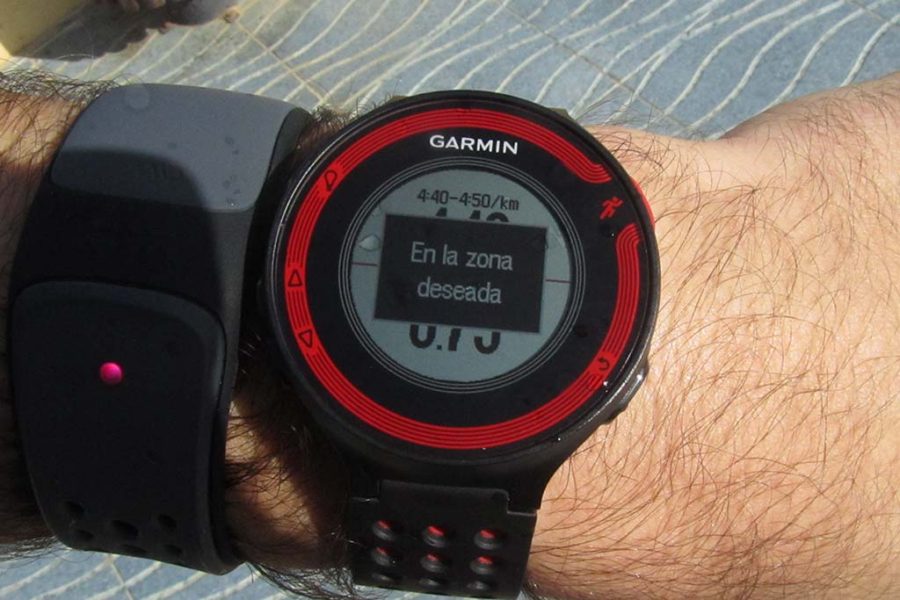 So if you don't do the intervals like I was playing, you can't blame it on the fact that you've been absent-minded or that no one has warned you, you've been on a lazy day.
Running on tape or inside thanks to the internal accelerometer
Thanks to the Garmin Forerunner 220's internal accelerometer, the watch gives you information about your running cadence. But it doesn't just do that - it lets you run on a treadmill or on an indoor track and still have pace and distance data available without having to connect an external accessory (in this case, a footpod). It's not as reliable as this accessory, but it's close enough.
You don't need to do any configuration on your part, nor enter your stride measurement. It's much easier. This function is automatically configured as you go out running with the GPS activated. The clock will learn from your running and will know exactly how your stride is. So before running on the treadmill and getting correct results, you must go out running.
What better way to check operation than to go for a run and compare it with GPS data? Simply put Forerunner 220 on one wrist, turn off the GPS, and put any other watch on the other, with the GPS on.
In a way the test was not performed on the best day. Or yes, because this way we can see what affects the measurement made between one and the other. Let's start with the total distance recorded by both, and then we'll go into details and graphics, to see if we can find the why of things.
The watch that did have the GPS activated has marked 10.51 kilometers. 500 meters less than the Garmin 220 that has measured distance only through the internal accelerometer. It is an error lower than 5%, so the first impression is positive. But let's compare data obtained between the two to see what the evolution has been.
Before going in with the cold numbers, comment on the conditions of the race. I went out looking to complete 11 or 12 kilometres at an average pace of 4:50. I started well, but as the minutes went by the air began to blow, with a lot of fuerza. De estos días que corres y corres, y parece que no te mueves. Supongo que alguno de esos ya lo habéis «disfrutado» vosotros y sabéis cómo son. Empiezas bien pero a medida que vas corriendo, el cansancio llega mucho antes y bajas ritmo. Y eso se ve claramente en la gráfica. En azul los ritmos marcados por el Forerunner 920xt con GPS activado, en naranja los del Forerunner 220 a través del acelerómetro interno.
As I say, bad day to do this test because of the continuous changes so abrupt. But good, because this way we can find the weaknesses. The beginning of the test has been quite similar in the rhythms that I marked, and in fact the laps marked automatically were scary because of the precision with which I registered the rhythms (then we see numbers). But from the 30 minutes, where the wind has started to affect me more (coinciding with the way back, blowing in a frontal-lateral way), you can see how the graph of the 920xt has been suffering peaks of descent and ascent of rhythms as I was shaking, but those changes have not been picked up by the internal accelerometer of the Forerunner 220.
Let's go over the numbers now.
In the first kilometer the difference is produced by stopping at a traffic light, but the following two kilometers the difference between one and the other is practically negligible. From this point on, the differences begin to grow as my performance decreases due to the wind. The cadence rhythm decreases slightly, but above all it is the strides that are shortened, and that has no way of being registered by the clock that does not take GPS references.
Therefore, the sensations after the analysis are not as good as those at the beginning, where there was simply a 500-meter difference between the distance offered by one and the other. Despite this, I consider this to be a correct result, since when you are running on a treadmill, the speed variations you will make will be based on changes in cadence, maintaining the length of your stride (unless you are playing with the slopes). In this mode, the Garmin Forerunner 220 will be able to give you very correct current rhythm data, as we saw during the first kilometers of the test, and as I already noticed when I did the same test with the Forerunner 620.
Garmin 220 GPS Reliability
As far as the reliability of Forerunner 220's internal GPS is concerned, I find that it has the average accuracy of any other GPS available on the market. Like all of them, if the conditions are ideal (clear skies, no buildings or obstacles, outside wooded areas) the behaviour is quite reasonable. And if we go into more complicated areas such as lush forests or streets with tall buildings, the quality of the signal received will deteriorate, both because of the number of satellites from which we can receive a signal and because of the signals bounced off the surrounding buildings.
This map you see is from a cross country race where 6 laps were done on the same circuit. Except for one of the tracks where it deviates slightly, the six laps go through the same places. You can see that where there are changes is in the wooded area, and when it was outdoors the track marked is always the same.
The concern of most of you is that you don't know the exact distance travelled, and if your partner's watch is reading exactly 10 kilometres from yours, why is it reading 80 metres more or less? Considering the operation of commercial GPS and the reliability they offer, it is very strange that you can see the same distance data on two watches, even if they are both of the same model. But the data you will have will always be very similar between them.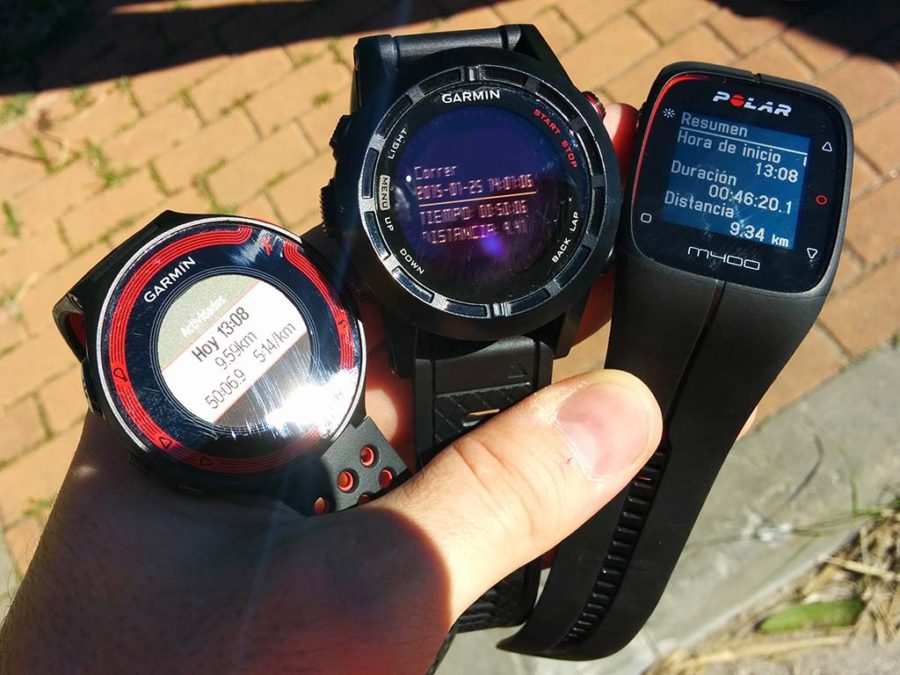 Garmin 220 and bicycle
The Garmin Forerunner 220 has no specific mode for your cycling activities. This doesn't mean you can't use it for cycling. You can, and you should. Its big brother, the FR620There are some differences between the two watches. The first is that when you synchronize your activity to Garmin Connect, in 220 you must change the type of sport from running to cycling if you want to keep track of all your activities, and not mix them up with each other. Of course, if you don't do this, all your personal records will be affected, such as the fastest 10km or the longest distance. When you synchronize your activity, and after changing the type of sport, in the next synchronization you will get back the correct data for your records in the watch.
The second difference is that since we don't have a specific mode, if we don't touch anything in the clock configuration we won't have speed information, but the data will be given in rhythm, that is, minutes per kilometer. But at least Garmin allows us to change between seeing the rhythm or showing the speed, and by accessing Configuration -> System -> Format, we can select how it will look on the screen. Once the speed format is selected, you can put the Garmin 220 on the handlebars and start pedaling.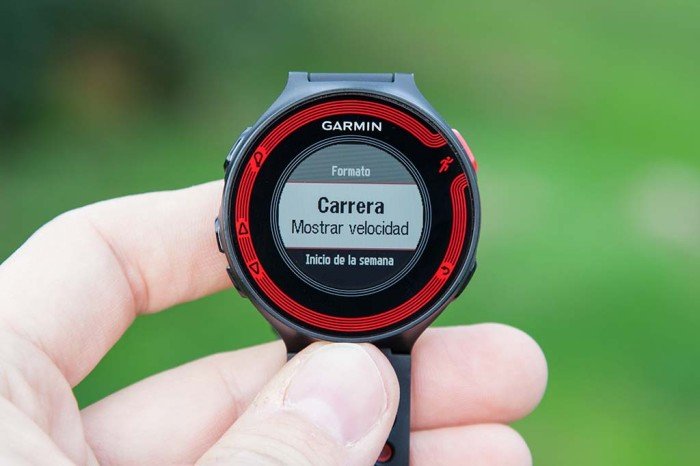 Another negative part of not having the cycling mode is that we will not be able to connect any kind of external ANT+ accessory beyond the pulse sensor or the footpod to run. Therefore if you have a cadence and speed sensor on your bike, you will not be able to pair it with the Garmin 220, so you will depend on the speed data obtained through the GPS of the clock at all times. If your routes are in open areas you will not have a major problem, but the moment you are in wooded areas, tunnels or in the city between tall buildings, the data obtained will be less real, especially if there are speed changes.
Finally, remember that the data screens will be the ones you have configured for running, since we do not have a different profile to make specific settings for cycling.
Screen illumination
Those of us who are used to training at night place a lot of importance on the lighting of the screen, not only the quality of the lighting itself, but also the configuration possibilities it offers. In the case of Forerunner 220 you won't have any problems, neither on the side of the quality of the lighting (which is uniform and powerful) nor on the part of the configuration, as we will be able to establish when and how it should be lit.
You can set the lighting manually, by pressing the button for that purpose (the one on the top left), or it can light up automatically when you press a button or when there is an alert, such as a lap or workout notification. You can also select the time the light will stay on, which varies between seconds or my favourite, staying on until I tell you when I want it to go off.
Use as a diary clock
Unlike other GPS watches (such as the 910xt), the Garmin Forerunner 220 can be worn as your everyday watch. It's not excessively bulky and because the strap is standard (i.e. it has no GPS antennas or any components as part of it) it's just as comfortable as any other watch. With a depth of 12mm it won't look like you're wearing a computer on your wrist and the little more than 40g it weighs (40.7g exactly) means you won't notice it while you're wearing it. And if you wear it just as a watch you'll hardly have to worry about battery life, because in this mode it can last up to 6 days on a single charge.
Forerunner 220 has different settings, not only for the time, but also for how it is displayed on the screen. You can set the time manually (and its format, 12 or 24 hours) or automatically. This second option will synchronise the time with the GPS every time it connects to satellites.
As for the clock display, it lets us select the screen background, which can be white
Or black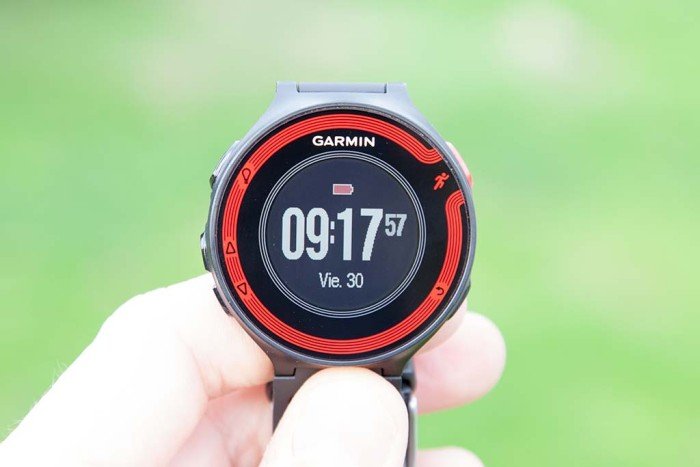 Y también podemos seleccionar el color de ciertos detalles (la hora y la batería restante). Para hacerlo tan sólo debemos activar la opción de «Usar color de tema» y a continuación seleccionar el color elegido en Configuración -> Sistema -> Color del tema. Podrás elegir entre azul, verde, naranja, rojo, amarillo, rosa o morado. Es una chorradita, pero es una opción más de configuración, que siempre se agradece.
As for the alarms, you can only create one, but you can't set a schedule, that is, you can set the alarm for a specific time, but you can't indicate that it sounds daily or only on weekdays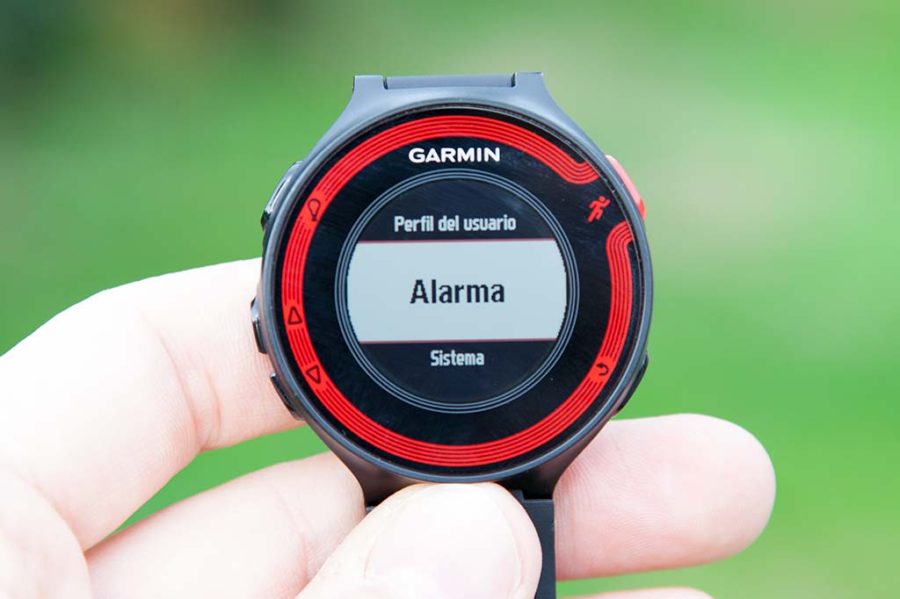 Battery life
Garmin announces a range of 6 weeks in power-saving mode (working only as a clock) and up to 10 hours in training mode, i.e. with the GPS and ANT+ sensors connected. This 10 hours is not the time it will hold while you train, but the theoretical maximum. This means that if we are using the clock on a regular basis (we don't have it saved and turned off) and we do five workouts of 2 hours each, the last workout will probably not end, and I even doubt that I will be able to start it.
From those 10 hours of maximum autonomy you should subtract the usual use you make as a watch, Bluetooth connections you make, connections to ANT+ sensors, etc. So if you don't want to get hung up in the middle of an activity, calculate 9 hours of maximum autonomy.
For my part, I've done the autonomy test in the simplest way: I'm going to watch the clock while it records an activity and I'll go get it when it's off.
El resultado final es el que veis en la imagen. Iniciando la actividad con el 100% de batería hasta que se apagó sólo, un total de 11 horas y casi 6 minutos. Superior al que anuncia Garmin, pero ten en cuenta que no había ningún sensor ANT+ conectado, que siempre tendrá su impacto en la batería. Y como curiosidad, 1.88km «recorridos» sin haberse movido del sitio en toda la noche, salvo que se lo haya puesto algún gato juguetón…

Fixing translation errors
Garmin introduced a translation error into Forerunner 220 about 8 months ago, and despite several more updates, it has not been fixed yet. This bug is purely aesthetic, but leaves a feeling of carefreeness on Garmin's part.
¿En qué consiste este fallo? A la hora de entrar en el menú, el texto en el menú de configuración aparece como «Configu?ración».
As I say, it's pure aesthetics, but it wouldn't cost anything for Garmin to solve it. Meanwhile, I'll explain to you how to do it yourself. It's very easy to do it thanks to the way Garmin files are structured, and when we connect the watch, a drive appears, as if it were a pendrive.
You have to access the GARMIN/TEXT path, where you will find all these files.
Lógicamente, el que nos interesa es el archivo SPANISH.LNG. Ábrelo con un editor de texto y busca lo siguiente (sin las comillas): «Configu?». Encontrarás dos palabras, que son las que debemos corregir.
Pero cuidado, no es suficiente con borrar el símbolo de interrogación, pues estaremos desplazando toda la cadena de texto a un lugar diferente por lo que el resto del menú aparecerá modificado. Así que lo que tenemos que hacer es añadir un espacio después de la palabra, y por tanto cambiar «Configu?raciÛn» por «ConfiguraciÛn » con un espacio al final. Guardas el archivo, reinicias el reloj y…
Fixed! If you want to save the whole process, here is the corrected file. You just have to replace it in the same path as the original. Make a previous copy of the version you have, in case there were any changes between different versions since I write this entry until you correct it. Click here to download.
Connectivity
Although the Garmin Forerunner 220's connectivity is not as complete as its big brother's, the Forerunner 620 (220 does not have WiFi), if we have a Bluetooth Smart connection. This offers great convenience, as it allows you to synchronize your watch wirelessly with your mobile phone. And not only that, but also allows you to broadcast your workout or race live through the LiveTrack functionality.
In terms of compatibility, we must know that to be able to connect Garmin with the phone we must have an iPhone or Android with Bluetooth Smart. This means iPhone 4s or higher and Android with Bluetooth 4.0 that also have operating system version 4.3 or higher. You can find Garmin Connect applications at App Store and in Google Play.
LiveTrack
LiveTrack was first released on the Edge 510 and 810 cycling units, and Garmin has since added this functionality to more devices in its range (Forerunner 220, 620, 920xt and Fenix 2 at this time). Operation is the same as with Forerunner 620So if you've already read the test of that model you know how it works. If you haven't, let me copy it for you then, and save me rewriting it.
LiveTrack allows you to broadcast your training or race over the Internet to your family or friends, directly from the Garmin Connect page. How do you do it? Well, through Bluetooth and your mobile phone, so you can do it, you have to carry your phone while you're training.
Starting to broadcast your live session is very easy, you just need to have the application installed on your phone (iPhone or Android version 4.3 or higher and Bluetooth Smart support). In the menu you will find the LiveTrack function.
To invite friends, you can either type in the name of a contact (and they will receive the invitation in the mail) or you can invite all your followers via Facebook or Twitter. There is no support for sharing via other applications (WhatsApp, for example), but you can send the mail to yourself and copy and paste the link where and to whomever you want.
As an example, this is the invitation that will be received by whoever you select from the application
From that point on, your session will begin broadcasting (a few seconds late and regularly updated, but not instantly) the moment you press the start button on the Garmin FR620.
Everyone who connects to the live session will have access to the map where you are doing the activity, either normal or satellite, as well as Bing or Google maps. Also, at the top you will have a summary of your average pace, the time you have been active, the distance traveled or the height gain. At the bottom there is a blue drop-down strip, where we would have access to data graphs, such as pace, height, heart rate or cadence.
Once the activity has been completed, it will be indicated at the top (so that the person following you knows that you have not been hit by a car) and you will have access to all the final activity data. Likewise, each kilometer will be marked with the point where it has been completed, and you will have access to the statistical information for that kilometer. Of course, we still have all the information regarding the graphics at the bottom.
This link can also be opened on mobile devices, where you can track just like on the computer (although with less data available). There is no operating system problem here, as it depends on the device's browser. In this case, the LiveTrack on an Android phone.
And this is what it would look like in an iPhone browser
Once you have completed the activity, and taking advantage of the fact that the watch is connected to the phone, it will automatically synchronize the activity with Garmin Connect via Bluetooth. It will first pass the activity to the phone and then synchronize it with the Garmin "cloud".
Garmin Connect
Esta es la «nube» de la que te he hablado antes. El lugar donde podrás analizar todos tus entrenamientos y llevar el control de tu progresión como atleta. Cuando entras en Garmin Connect te encontrarás con el panel de control, que puedes configurar a tu antojo con los «widgets» que tu quieras, y que podrás mover, desplazar y ordenar como creas más conveniente.
Each widget will take you to its own section to expand the information you're looking at at a glance. You can also access each section directly through the menu on the sidebar, and by hovering over the arrow you can add the widget to the main screen.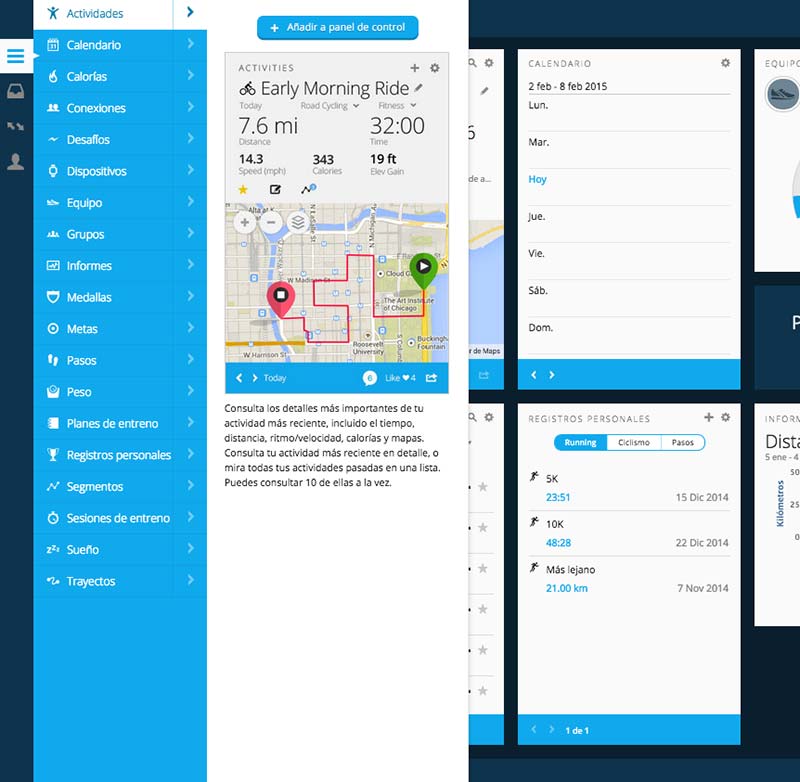 But among the many options that you find, and that I recommend that you consult calmly, what interests us most is the analysis of our activity. When you click on the activity carried out you will have complete data with rhythms, heart rate, plan, etc. You will have data in addition to the laps, whether manual or automatic. You will also be able to add your equipment to carry the calculation of kilometers that you make of your shoes and know when you will have to change them.
You can also expand any of the charts and compare it to another of the metrics, for example pace, cadence and heart rate, to determine training patterns.
In addition to all this, within Garmin Connect you will see more options where you can find other data such as personal records or training plans that we have seen in the previous section. Connect is a fairly intuitive website and full of information. However, if it is not enough for you, you can always use any other website where you can import files that you can download directly from the clock in FIT format, or in FIT, TCX, GPX, CSV format or export to Google Earth if you have already synchronized your activity with Connect. To do this you will have to upload the file manually, although some third-party services also support automatic file import, such as Strava, which you will have to configure on their own website.
Summary
Forerunner 220 is an easy to use GPS watch, with options that any beginner or intermediate user may need. If you think you are one of these athletes, this Garmin won't let you down. If your level is intermediate-advanced or advanced, the additional options you can find in the Forerunner 620 (WiFi, race dynamics, 4 on-screen data fields, recovery analysis, race forecast, virtual partner, etc.) make you decide on the top model in the range for runners.
What I liked most about the 220 is how fast it scrolls through its menus, not only because the clock is fast to scroll through them, but because the options it displays are clear and concise, so finding what you're looking for will be very easy. But where I'd like it to be faster is when it comes to changing the pace while we're training, because despite selecting the instantaneous pace on the data screen it often takes too long to display the actual pace, which becomes too uncomfortable when you're training with pace changes.
Is it the right watch for you? If you're just going to be running on the road and don't need the extra options you can find in Forerunner 620, it will be able to satisfy the 90% of its users. You should also consider the Polar M400However, the Forerunner 220 outperforms the M400 in something that's important to many, the volume of the sounds and especially the vibration, which you won't find on the M400.
Did you like the test?
I hope that this test can help you to decide with your purchase. If you want to know the truth, there are many hours needed to perform each analysis. Training, photos, writing, new photos ... is a long and demanding process. If you liked it and want to lend a hand, just leave me your impressions in the comments below will serve to know your opinion, in case I have left something uncommented or you think I should change something. Or ask your questions if there is something that is not clear. Show this post to your friends and share it on social networks, I'm sure if they are looking for training watch will thank you.
If you are encouraged by the purchase of the device, you can do it through this link This way it will cost you the same or cheaper than the official price, and I get a small commission that will help with the purchase of new devices for new tests.
Buy Garmin Forerunner 220
You can buy the Garmin 220 in two colors (black/red or white/purple) and two variants (with or without pulse sensor). Below I provide you with links to very good offers. Buying through them will help you maintain the website and my work.
Also, these are the prices you can find on Amazon
(
403opiniones de clientes
)
(
10opiniones de clientes
)
(
445opiniones de clientes
)
(
128opiniones de clientes
)
2newfrom

249,00 €
0Second hand