We continue with the day of presentations. This time it's Fitbit who has just finished his press conference announcing Fitbit Blaze, his new activity monitor.
Aesthetically, this is where the new Fitbit stands out, which looks more like a smart watch than an activity bracelet. The case, with its hexagonal design, is made of stainless steel, and is accompanied by an elastomer sports strap. The LCD screen represents the arrival of colour to Fitbit's devices, which until now had always had OLED or electronic ink screens (if not simple information LEDs). Despite this, the autonomy is still quite acceptable, capable of reaching up to 5 days without having to go through the plug.
As with the Surge, it has the ability to change the clock faces and will be connected to your smartphone to display the most basic notifications (calls, SMS and calendar). But it still does not offer notifications from other applications (social networks or email) and does not allow you to install applications of any kind. The only new feature here is that it will allow you to control the music on your mobile phone and a new function that allows you to reject calls.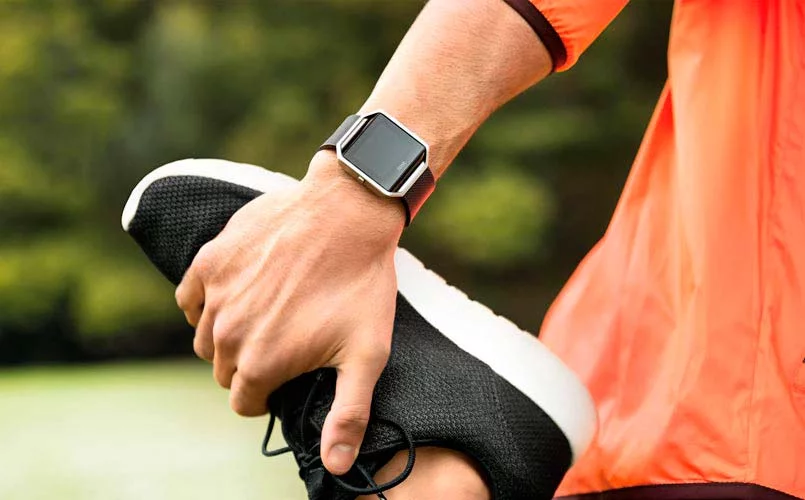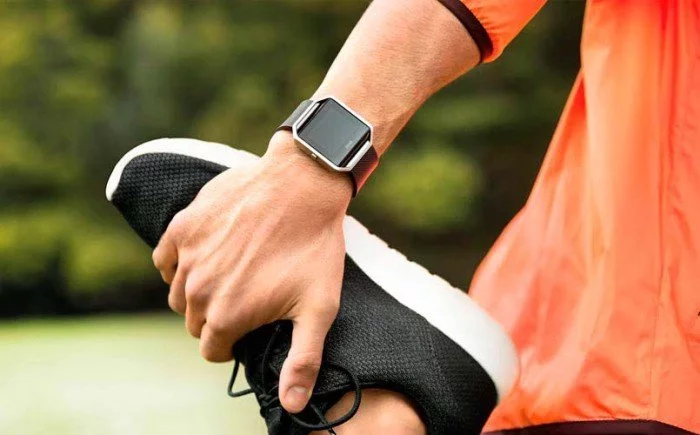 Similar to what was present in Charge HR and Surge, Fitbit indicates that it has improved the technology to offer greater reliability, especially in the most demanding exercises for optical sensors, for example interval running. It will take readings every 5 seconds in the daily activity and every second when you are playing sport.
It integrates several technologies. For example, SmartTrack, a specific algorithm that allows to automatically detect the type of exercise we are doing, without you having to start any activity from the device or indicate what you are doing. Therefore, whether you are running or playing football, Blaze will be able to track the activity by identifying the sport correctly. How does it achieve this? According to Fitbit, thanks to the amount of anonymous data amassed in all the time they have been in the sector.
It will not track swimming, mainly because the watch is not waterproof. It is resistant to sweat, rain or splashes.
It also has an application called FitStar (www.fitstar.com), thanks to the company with the same name that Fitbit bought last year. This application will offer you different guided trainings on the screen of the device.
To the sadness of many, Blaze doesn't have a GPS receiver, but instead he can use the GPS on your smartphone while you run, if you don't mind carrying it around with you during your workouts.
What you can be sure of is that, as a good activity monitor, it will count your steps, distance, calories and thanks to the integrated altimeter, also how many plants you have climbed.
Fitbit Blaze. Availability, price and opinion
Fitbit Blaze will go on sale in March-April this year. Its price will be 229.95 euros with the basic sports strap in black, blue or purple. Later on, in addition to the stainless steel version, the catalogue will be completed with a black and a pink gold version.
After the purchase you will have several possibilities of personalization thanks to the different straps, starting with the sport one (29,95 ?), continuing with a leather strap (99,95 ?) and finally a metal strap with a price of 139,95 ?.
The new Blaze is a not too risky bet by Californians. Obviously it improves aesthetics and possibilities thanks to a bigger screen and the use of better materials. But it still fails to show notifications, as it continues to provide the basics, without any notification for e-mail or social networks.
Today, where the odd thing is precisely receiving phone calls or SMS messages (are there still people sending them?), continuing to not offer full notifications can be quite detrimental to Fitbit's new model.
The lack of GPS may keep it away from the most demanding user, but I don't think it's a determining factor. Fitbit and its platform is more oriented to the world of fitness, never to cycling or running, but the possibility of using the phone's GPS is a point in its favor.
It will have to be proved to give the final verdict. Or wait to see if Obama changes his activity monitor
And with that... thanks for reading!
Support this siteDo you like this page and the information you find here? You can do it by buying your Fitbit Blaze through Amazon.
https://www.amazon.es/dp/B019VM3F2M&tag=c1mes-21
https://www.amazon.es/dp/B019VM3IJ2&tag=c1mes-21
https://www.amazon.es/dp/B019VM3LUS&tag=c1mes-21